Approx. 582 cu. m. of rock fall along Calbayog-Allen Road, KO705+500 - KO705+520 Brgy. Cagnipa, Tinambacan District, Calbayog City.
Agaton's heavy rains result to rock fall
By MAE ANGELICA R. COMOTA
January 4, 2018
CALBAYOG CITY – The Calbayog-Allen Route going through Brgy. Cagnipa, Tinambacan District, Calbayog City suffered another rock fall brought about by the continuous heavy rains of tropical depression Agaton.
The rock fall happened around two (2) in the morning of January 3, 2018 rendering the whole road unpassable to all types of vehicles. Fortunately, no one was harmed. However, one (1) SAMELCO light post and an uninhabited house made of light materials were not spared from the falling rocks.
Maintenance Point Person (MPP) Ronalie Pelotos and her team arrived at 3:00AM to begin clearing operations. Warning signs were installed and traffic advisories were posted to redirect traffic to the Calbayog-Catarman Road.
Approximately 582 cubic meters of rocks were detached from the mountain slope, leaving behind rocks that may result to another road slope disaster. Assistant District Engineer Denis Cagomoc, who arrived in the area at 9:00AM, assured the residents of Brgy. Cagnipa that DPWH Samar First will put into action the necessary precautions to prevent another disaster.
As of January 3, 2018 5:00PM, one lane is passable to all types of vehicles and clearing operations in the area are still ongoing.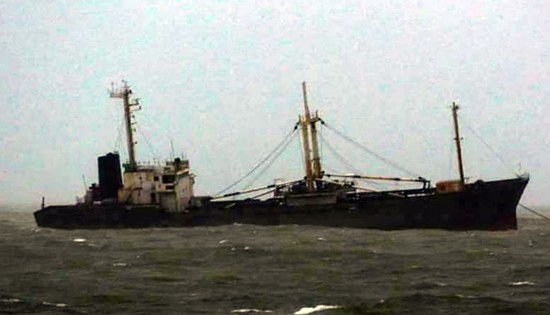 The Chinese-registered cargo vessel "Jim Ming No. 16" with 9-crew on board made an emergency anchorage off the coast of Brgy. Pinadurogan, Pambujan, Northern Samar on January 2, 2018 due to strong waves brought by tropical depression Agaton.
Chinese cargo ship sends distress call in Northern Samar
By DPAO, 8ID PA
January 3, 2018
CAMP LUKBAN, Catbalogan City – A Chinese-registered cargo vessel marked "Jim Ming No. 16" with nine crews on board made an emergency anchorage approximately 300 meters from the shoreline of Barangay Pinadurogan, Pambujan, Northern Samar on January 2, 2018 due to strong waves brought by Tropical Depression "Agaton."
The distress call was received by the Pambujan Municipal Police Station at 12:30 p.m.
The 803rd Infantry (Peacemaker) Brigade, Philippine Army in coordination with Philippine Coast Guard Northern Samar sought the availability of a bigger seacraft to rescue the nine crew members and established an Incident Command Post (ICP) in coordination with the local chief executive to supervise the conduct of the rescue operations.
At that same day, personnel from 20th Infantry Battalion conducted rescue operation with one rubber boat from Provincial Disaster Risk Reduction Management Office (PDRRMO) Northern Samar which is operated by personnel from Coast Guard Laoang Northern Samar. Four crew members were rescued immediately while the rest followed.
Upon the instruction of Maj. Gen. Raul M. Farnacio AFP, 8ID Commander, Brig. Gen. Cesar M. Idio AFP, the Assistant Division Commander coordinated with Commander, Naval Force Central for naval support, considering that the Chinese cargo vessel is carrying oil to prevent major oil spill that will affect the marine ecosystem and livelihood of the coastal communities in the said areas.
P1.584B to fund for Biliran's infrastructure projects for FY 2018
By CHELSEA QUIJANO-SALLOMAN
December 28, 2017
NAVAL, Biliran – The Department of Public Works and Highways Biliran District Engineering Office (DPWH-BDEO) will be implementing a total of P1.584 billion for the FY 2018 Infrastructure Program based on the FY 2018 National Expenditure Program (NEP).
According to Engr. David P. Adongay Jr., District Engineer, it is the first time that the district passed the one billion mark of infrastructure funds as the result of President Rodrigo Duterte's "Build, Build and Build" mantra.
DPWH-BDEO's lined up projects for the FY 2018 comprises of 57 projects, five of which are to be implemented by the Regional Office and 52 by the District Office.
Engr. Rosario B. Rosete, Chief of Planning and Design Section revealed that the major projects with biggest allotted budget are under Asset Preservation Program which an appropriation amount of P409.166M.
This includes P75M Asphalt overlays; P14.166M Rehabilitation/ Reconstruction from paved to concrete road; P190M Construction of Road Slope Protection Structure and P130M Construction of drainage structure along the road.
A total of P390.609M is also appropriated under the Network Development Program with P300M allocated for the Road Widening project and P90.609M for the Construction of Diversion Road.
Furthermore, P34M is allocated under the Bridge Program with P10M appropriation budget for the Rehabilitation/ Major Repair of Permanent Bridges and P24M for the Widening of Bridge. There is also a P371.477M allocated budget for the Construction of Flood Mitigation Structure under the Flood Management Program.
Under the Convergence and Special Support Program, DPWH-BDEO will implement Construction of Concrete Road projects under the Department of Tourism (DOT) amounting to P175M and under the Department of Trade and Industry (DTI) amounting to P133.972M with a total appropriation amount of P308.972M.
DPWH-BDEO will also implement a total of P70M appropriation amount for the Local Infrastructure Program.
According to Engr. Rosete, out of the district's 52 lined-up projects, 42 projects were already bid out, 2 are advertised and preliminary and detailed engineering activities for the8 projects are still on-going as of December 2017.
The Planning and Design Section of the district is exerting its utmost effort to bid out all these projects within the timelines set by the Department.
Davao NCCC Mall fire is proof of zero enforcement and compliance to labor laws
By ALU-TUCP
December 26, 2017
QUEZON CITY – The fire at NCCC Mall in Davao City Saturday that caused the death of 37 call center workers is another proof that the core function of government's Department of Labor and Employment (DOLE) and employers' duty to comply with labor laws are not working in the country, said workers' group Associated Labor Unions-Trade Union Congress of the Philippines (ALU-TUCP).
"Had there been a routine and objective workplace DOLE inspection of the mall, this deaths-causing fire could have been minimized to the barest damage to property. Due to DOLE officials' negligence, workers' lives is sacrificed, again this time at the cost of the 37 workers trapped to their deaths," said ALU-TUCP spokesman Alan Tanjusay.
On May 13, 2015, 74 workers perished in Kentex rubber factory fire in Valenzuela City despite of certification of compliance to general labor and occupational safety and health standards made by DOLE.
The certification was issued without inspecting onsite the Kentex factory which was found to be a warehouse designed for storage not appropriate as workplace for rubber workers.
From January to November this year alone, the ALU-TUCP monitored at least 70 workers were killed and 190 others injured in different workplace fire and mishap incidents across the country.
DOLE Department Order (DO)131-B, the Revised Rules on Labor Laws Compliance System, is the implementing rules and regulations of the Article 128 of the Philippine Labor Code that gives the Secretary of Labor the power to inspect work establishments in the country at any time.
This power is transferred to all DOLE regional officers and deputized to all 550 labor inspectors or Labor Law Compliance Officers nationwide. DO 131-B requires that all firms must be inspected using labor law compliance assessment checklist once every two years.
Firms who violate the checklist's general labor standards are given 10 days to comply while those who violate the occupational safety and health standards are given 90 days to comply.
"The SSI call center company must also be held liable for the deaths of their employees. If they could have complied with the labor inspection standards on the fire exits, sprinkler system, ventilation, lighting, noise, entry and egress specifications, and fire evacuation plan, possible harm could have been avoided. By wanting to save cost, their employees' lives were paid for the heavy price of saving cost," Tanjusay said.
Call centers lease space in malls to save cost, improve profit
The ALU-TUCP is urging the DOLE to order the transfer of all call centers to a separate, independent building to prevent similar catastrophic incident.
To save cost and improve high margin of profit, Tanjusay said there is a current trend in many parts of the country for call centers to rent or lease out working spaces in shopping malls rather than constructing a building that specifically designed as round the clock work places.
"Call centers as working areas must be removed in malls. Call centers should have their own separate and independent building designed for human beings working on 24-hour work operation. Call center employees are not commodities and goods that can be consigned in a warehouse converted as work area," Tanjusay added.
The DOLE's occupational safety and health standard checklist requires all work establishments to have fire inspection certificate, fire protection equipment/facilities, fire extinguishers, fire hoses, fire detection devices, emergency exits, adequate aisles, passageways, proper office spacing, good housekeeping, materials handling and storage, waste disposal system, adequate lighting, work environment measure, noise pollution control, proper ventilation and safety and health organization plan among others.
Change in inspection approach
The ALU-TUCP recommends to DOLE to shift from soft approach to hard approach in conducting inspection and assessment of all firms and work establishments in the country.
"We can serve a sense of justice to the victims by making the right corrective measures to our inspection rules. Now is the time that DOLE changes its soft inspection approach by allowing voluntary compliance of firms. Inspection must now be strong. Meaning, violation of labor general and occupational safety and health standards at first instance must be treated with strong and harsh punishment," Tanjusay said.
"If we don't do this now, many more workers will be made to sacrifice in the name of improving margin of profit and cost-cutting," Tanjusay said.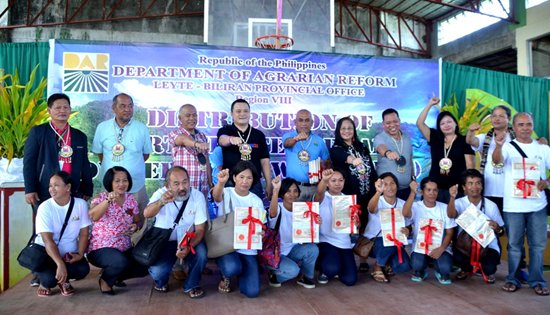 Recipients of certificates of land ownership award (CLOAs) pose during photo opportunity with Agrarian Reform Undersecretary for Field Operations Karlo Bello (4th from left) and other officials from DAR, LGU and RIGHTS.
921 Leyte farmers receive CLOA from DAR
By JOSE ALSMITH L. SORIA
December 23, 2017
CARIGARA, Leyte – The Department of Agrarian Reform (DAR) turned the Christmas of 921 Leyte farmers more meaningful as the latter received their long awaited certificates of land ownership award (CLOAs) here last week.
A total of 442 individual and collective CLOAs covering 941.5 hectares of farmlands situated in the municipalities of Barugo, Jaro and San Miguel were distributed by DAR Undersecretary for Field Operations Karlo Bello during the occasion.
Bello thanked the DAR personnel for doing their jobs despite various problems being encountered in the field.
To the farmer beneficiaries, Bello asked them to just continue believing in the government.
OIC-Regional Director Ma. Fe Malinao disclosed that these are part of the unreleased CLOAs pending at the Registry of Deeds (ROD) for several years. According to her, this is now the third distribution since November last year after thorough validation of agrarian reform beneficiaries.
Old couple Dulcisimo Sotto, 84, and Soledad, 82, of Barangay Bahay, San Miguel, Leyte thanked DAR for they now have the right to the land they are tilling.
Lolita Arpon of Barangay Malpag, San Miguel, Leyte thanked DAR also for she won't be going to Tacloban City anymore just to follow up when their CLOA will be released. To her, it was a wonderful Christmas gift she received this season.
Though speechless, a grandmother from Barangay Macanip, Jaro, Leyte Juanita Colangco, 87, can't hide her happiness when she received her CLOA.
Meanwhile, DAR Leyte Provincial Office Chief of the Legal Division Daniel Pen reminded the agrarian reform beneficiaries of their responsibilities and obligations during the said occasion emphasizing not to sell their awarded lands but make them productive instead, and pay their taxes as they are now the owners of the land.
Army recovers two high powered firearms in a clash with terrorist NPAs
By DPAO, 8ID PA
December 23, 2017
CAMP LUKBAN, Catbalogan City – Elements from 78th Infantry (Warrior) Battalion encountered more or less 15 terrorist NPAs at Barangay Utanan, Hilongos, Leyte on December 22, 2017 at 3:10 in the afternoon.
In a report from LtCol. Danilo I. Dupiag, Commanding Officer of the 78th Infantry (Warrior) Battalion, his troops were conducting peace and security operations when they chanced upon the terrorist NPAs passing also in the area. A ten-minute firefight followed forcing the enemy to withdraw leaving behind several war materials at the encounter site.
Among the items recovered were one M16 rifle with serial number: RP189460, one M4 rifle with serial number: 1010469, three units Cellphone, subversive documents and personal belongings. There was no casualty on the government side while undetermined on the enemy.
Maj. Gen, Raul M. Farnacio, Commander, 8ID, expressed his appreciation to the operating troops of the 78IB for their dedication and commitment in safeguarding the communities against the terrorist NPAs.
DTI gives livelihood to families of soldiers slain in Marawi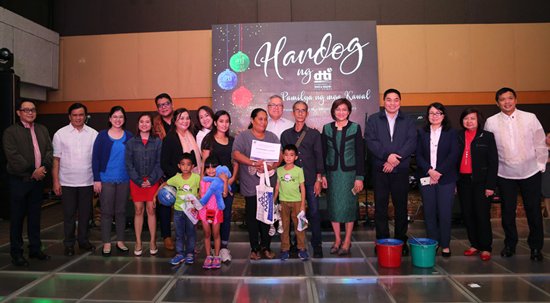 By DTI- OSEC-PRU
December 22, 2017
MANILA – The families of soldiers who were killed in action in Marawi were the recent (18 December 2017) beneficiaries of livelihood packages as part of a tribute organized by the Department of Trade and Industry (DTI) at the PICC in Manila.
"DTI acknowledges the ultimate sacrifice made by our soldiers who fought and died during the Marawi siege. In the spirit of the season and as a show of continued support from the Duterte Administration, we decided to forego the usual department-wide Christmas party and use the funds instead to help the families of the slain soldiers," Trade Secretary Ramon Lopez said.
Over 29 families of soldiers killed in Marawi each received a Kabuhayan Starter Kit, a book on stories of DTI-assisted entrepreneurs to inspire them, several gift items and gift certificates, and toys for their children.
We also offered equity financing packages for the negosyo they would like to pursue.
Likewise, the JVO Foundation also gave food packs for each of the families that attended the event. Gift certificates amounting to a total of P100,000 were also raffled off to the families.
Prior to this event, DTI reached out to help the soldiers who were wounded during the Marawi fighting by holding the "TNKS Po! Trabaho, Negosyo, Kabuhayan 'Kaya Natin 'Yan'" event at the AFP Medical Center in Quezon City on 3 December 2017.
DTI not only gave out Christmas gifts and raffle prizes to the wounded soldiers and their dependents during this event but also offered negosyo mentoring and consultations on how to start their own business. Livelihood packages also to be given once they select their preferred negosyo.
Rockslide befall major Samar highway due to continuous rain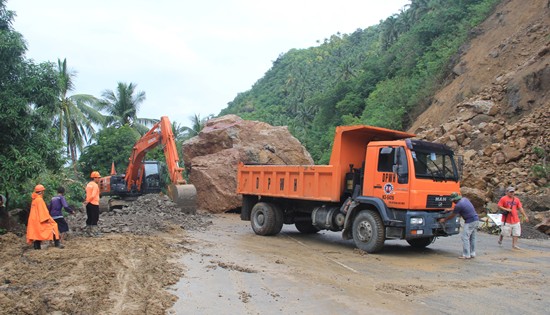 By BON JOSEPH N. ASTILLA
December 22, 2017
CALBAYOG CITY – Due to the rainy season being pretty dominant over the week, the soil surface on the mountainous sides along national road in the Calbayog-Allen Road Section, weakened to point of causing a rockslide. The road stretch of k0701+900-k0701+985 in Brgy. Malayog, Calbayog City was covered with almost 3,000 cubic meters of soil and rocks rendering the road unpassable.
The rockslide happened around 7:00 o'clock in the evening of December 21, 2017, Thursday covering the road with debris of dirt, mud and mostly big chunks of rocks. Some pieces of these boulders are even bigger than the trucks and other equipment that are used to clear the path.
Ongoing clearing operations are already undertaken in the vicinity since the very next day the disaster occurred. Meanwhile, DPWH Samar I installed barricades, warning signs and traffic advisory to warn the public of the condition of the road.
According to District Engr. Alvin A. Ignacio of Samar I, at 11:15 am today, 22nd of December, the detour road was opened to the 1st batch of light vehicles. Improvement of this temporary road will continue and passage of light vehicles is controlled and scheduled. If motorist are in a hurry and would prefer a convenient travel to Calbayog from Northern Samar, DPWH-SFDEO advises them to take Catarman-Calbayog via Lope De Vega Route. The public is warned that rockfall/landslide on the same site may still occur anytime due to the prevailing weather in the area. There are still a number of cracks on the huge rocks/boulder on the slopes.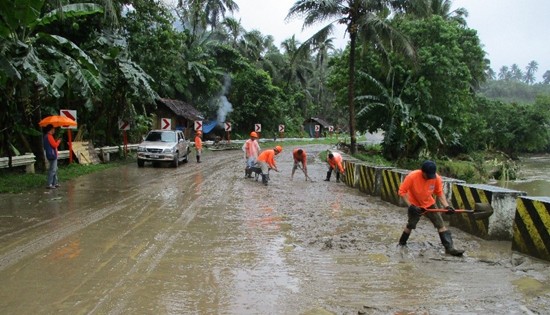 The DPWH Samar I Maintenance Team hard at work in clearing the mud caused by the flood in Brgy. Capacuhan, Oquendo District, Calbayog City.
Urduja-affected road sections in Samar I now clear
By APRIL VILLANUEVA and MAE COMOTA
December 21, 2017
CALBAYOG CITY – At 6:00 A.M. on December 16, 2017, Typhoon Urduja's strong winds and heavy rainfall was responsible for the significant damage caused to road sections located along Daang Maharlika and other national roads, affecting the various barangays in the municipalities of Sta. Margarita, Gandara, Tarangnan, and San Jorge as well as those in Calbayog City.
Along Calbayog-Allen road, DPWH Samar I's Maintenance Point Person (MPP) Engr. Ronalie Pelotos and her team quickly responded by clearing the rock fall in Brgy. Peña, rock slide in Brgy. Malayog, and the landslide in Brgy. Cagmanipis. In Brgy. Cagmanipis, the slope protection was damaged and two (2) SAMELCO posts toppled down which were immediately addressed by the maintenance team by putting up warnings signs and traffic advisories.
In the municipality of Tarangnan, Brgy. Palencia and Brgy. Tizon were also affected due to the collapse of the widened pavement. Meanwhile, the slope protection in Brgy. Aurora experienced minor damages. MPP Engr. Jeremias Lim and his team took action by installing barricades, warning signs & traffic advisory to ensure the safety of the passing motorists.
The intense rain caused flooding in Gandara Diversion Road; Brgy. Erenas and Brgy. Sapinit in San Jorge; and Brgy. Capacuhan and Brgy. Tarabucan in Oquendo District, Calbayog City. "Pre-caution" signs were speedily put in place courtesy of the MPP Mario Balane and his team.
As of December 20, 2017 (Wednesday) all roads have been cleared and all lanes are now passable. No damages to life and property were reported thanks to the quick action of the MPPs and their respective teams under the leadership of Maintenance Chief Engr. Ramon Calagos and District Engineer Alvin Ignacio.

Conduct of IMO Model Course 3.12 (Assessment, Examination and Certification of Seafarers) held at NMP Training Complex, Cabalawan, Tacloban City.
NMP achieved its target on training 10,000 seafarers/trainees
Press Release
December 21, 2017
TACLOBAN CITY – The National Maritime Polytechnic (NMP), a government maritime training and research center and an attached agency of the Department of Labor and Employment (DOLE) achieved its annual target in training ten thousand (10,000) trainees as stated under its commitment on the Office Performance Commitment Review (OPCR) as part of the agency's major deliverable for the calendar year 2017.
This entail significance of the agency in line with the Maritime Education and Training (MET) and the relevance of its training programs to answer the demand of the ever growing maritime manpower of the country.
As of to date, the total number of trainees trained is 10,231 composed of trainees who are either aspirants to become seafarers, active seafarers, maritime instructors and assessors and/or other allied personnel in the maritime industry. This means an accomplishment of 102.31% of the 10,000 target trainees to be trained for the year. While there is still an ongoing training that will add up to the existing number of trainees certificated.
As part of the NMP's commitment to prompt service, 100% of trainees received their certificates within 2 weeks from the successful completion of all courses requirements. Likewise, 99.55% of the respondent-trainees rated the NMP trainings as good or better. These figures reflect the NMP's untiring endeavors to ensure the quality of its training offerings.
Additional STCW courses are now on the process of MARINA accreditation and will soon be offered on the 2nd quarter of next year. This would mean an additional enrollees to be trained and certificated by end of next year.
Meanwhile, NMP continues to upgrade its facilities and provide maritime trainings required pursuant to the Standards of Training, Certification, and Watchkeeping for Seafarers (STCW) Convention as amended in 2010 including value-adding courses towards improving the qualifications of Filipino seafarers for their employment acceptability and enhanced competitiveness. It also regularly conducts maritime studies to come up with policies for the improvement of the manpower sector of the industry.
Those interested to take NMP training programs may visit the NMP website www.nmp.gov.ph and its Facebook page (www.facebook.com/nmptrainingcenter) where all related information on NMP trainings are available.