Various sectors raise alarm over 'deteriorating human rights situation' under Duterte
By Movement Against Tyranny
December 9, 2017
QUEZON CITY – On the eve of International Human Rights Day, concerned individuals from a broad range of sectors joined voices in decrying the worsening state of human rights in the country.
In a joint statement issued yesterday, Dec. 8, incumbent and former legislators, lawyers and doctors, artists and members of the media, academics and religious leaders, representatives of NGOs and peoples organizations, and prominent individuals warned of a "new and wider wave of killings and human rights violations in the country" under the Duterte government.
Among the signatories to the "Joint Statement of Concern on the Deteriorating Human Rights Situation" are: Sen. Francis Pangilinan and former senators Rene Saguisag and Wigberto Tañada; congressmen Edcel Lagman, Jose Christopher Belmonte, Sarah Elago, Carlos Zarate, Emi de Jesus, Antonio Tinio, France Castro, Ariel Casilao and Tom Villarin.
The statement reads:
"As December 10, International Human Rights Day nears, we decry the continuing deterioration of human rights in our country.
"On top of the premeditated killings by police officers of defenseless youth Kian delos Santos, 17, Carlo Angelo Arnaiz, 19, and Reynaldo "Kulot" de Guzman, 14, the recent killings of Catholic priest Fr. Marcelito Paez in Nueva Ecija. Pastor Lovelito Quinoñes in Mindoro Oriental, and human rights activist Elisa Badayos in Negros Oriental signal a new and wider wave of killings and human rights violations in the country.
"Such killings come on the heels of Pres. Duterte's closing the door on the peace talks with the NDFP, and his admonition to state security forces to shoot and kill suspected armed rebels. We are alarmed that just as Oplan Tokhang saw thousands of alleged drug users or peddlers mowed down based on mere suspicion and spurious claims of "nanlaban," the President's new order can also give state forces the license to kill unarmed civilians conveniently labelled as "rebels."
"The President's threat to crack down on activists, critics and all those whom he imagines are conspiring to topple his government has a chilling effect on the public and impinges on our people's exercise of their political rights and civil liberties.
"The continuing efforts to undermine the system of checks and balances in government – the impeachment proceedings against Chief Justice Ma. Lourdes Sereno, the threat to impeach Ombudsman Conchita Carpio-Morales, the bullying of the Commission on Human Rights and the continued detention of Sen. Leila de Lima – are equally worrisome. More so efforts of the President and his supporters to threaten and intimidate members of the media.
"And yet the greatest threat to human rights today is Pres. Duterte's moves toward authoritarian rule whether through charter change ostensibly to shift to a federal system of government, or an outright power grab through a so-called "revolutionary government."
"We call on our people to be critical and ever vigilant. Let us resist the erosion of our basic human and democratic rights. Let us unite in fighting tyranny and dictatorship."
Also among the signatories are: former cabinet members Judy Taguiwalo and Rafael Mariano, lawyers Pacifico Agabin, Ada D. Abad, Antonio La Viña, Jose Manuel Diokno, Pablito V. Sanidad, Arno V. Sanidad, Vicky Avena, Edre Olalia; former congressmen Lorenzo Tañada, Neri Colmenares and Teddy Casiño;
Catholic bishops Broderick Pabillo, Deogracias Iñiguez, and Arturo Bastes; IFI Obispo Maximo Rhee Timbang, UCCP General Secretary Bp. Reuel Norman O. Marigza, NCCP General Secretary Rev. Fr. Rex Reyes, Benedictine nun Sr. Mary John Mananzan, La Salle Brother Jose Mari Jimenez;
Artists Mae Paner a.k.a. Juana Change, Monique Wilson and Audie Gemora; filmaker Joel Lamangan, singer Chikoy Pura, UP Chancellor Mike Tan, activist RC Constantino, Dr. Margarita Holmes, former National Museum curator John Silva, anti-crime crusader Tessy Ang See, consumer advocate Raul Segovia, economist Men Sta Ana, advertising guru Yoly Ong, former CHR commissioner Mercedes Contreras Danenberg, and former general Guillermo G. Cunanan.
Massive protests against human rights violation under Duterte's violent presidency
By AHRC
December 9, 2017
HONG KONG – The Asian Human Rights Commission (AHRC) has been informed that different human rights groups across the country will hold protests and a series of other events tomorrow, December 10, to mark the International Human Rights Day.
Today, the Alliance for the Advancement of People's Rights (Karapatan), an alliance of human rights NGOs and people's organizations, holds demonstrations they dubbed as "What's cooking up in Malacanang?" Their protest is an attempt to satirized President Rodrigo Duterte's crackdown, not only of his political opponents, but constitutional bodies with powers to check his abuse.
In their statement, Karapatan said President Duterte's actions are recipes for a "full blown dictatorship", if he succeeds. One of these is Duterte and his political ally's ongoing action to impeach Philippine Supreme Court chief justice Maria Lourdes Sereno.
Also today, the Philippine Alliance of Human Rights Advocates (Pahra), another alliance of human rights groups, holds an "Alab ng Puso" concert, which aims to encourage Filipinos to stand up and defend human rights. Pahra's partner organization, iDEFEND (In Defense of Human Rights and Dignity Movement), said this event is meant to raise awareness on the importance of human rights, freedom and justice, and to stimulate outcry.
Tomorrow, Pahra and its partner organizations will hold protest actions in Metro Manila. Protest actions will also be held in major cities in Luzon, the Visayas and in Mindanao, including in Duterte's hometown, Davao. Pahra said these protests are meant to "counter the government's narratives of being pro-poor". They are meant to amplify a public outcry against human rights violations committed in the country.
Meanwhile, Karapatan's satirized protest is a prelude to a much bigger demonstration to mark the international human rights day, inside and outside the country. Outside the capital, Karapatan is expected to mobilize 7,000 demonstrators in Aklan, Capiz and Iloilo cities, all in Panay Island, in the Visayas. In Bicol region, about 30,000 demonstrators are expected to join.
Outside the country, the International Coalition for Human Rights in the Philippines (ICHRP), a coalition advocating for human rights and peace in the Philippines, will hold protests. In Japan, Hong Kong, South Korea and Australia in East Asia and the Pacific. In Italy, Belgium, France, Germany and the Netherlands in Europe, and in Canada. ICHRP is Karapatan's network of international organizations.
Meanwhile, the AHRC strongly supports these protests actions by local and international groups to draw attention to the worsening state of human rights in the country. The AHRC considers Duterte's presidency as the most violent and politically intolerant since Marcos. Duterte's crackdown on criminals and addicts, and the renewed killings of legal leftist after peace talks collapse with the communists, is a dangerous combination distinctive to his leadership.
"No president in Philippine history has ever combined, and still gets away with it, routine killings in national scale of supposed criminals and addicts, under drug war; and human rights defenders and leftists political activists, the supposed terrorists. Only Duterte has done that and continue to do so, as we speak", the AHRC said.
The Philippines attracted the world's attention in early 2016 with unprecedented level of killings by law enforcement agencies since President Duterte came to power. These killings are linked to his campaign to crackdown on drugs, which led to a wave of unlawful killings across the country. Many of these killings have amounted to extrajudicial executions, a persistent pattern in the country's long-standing problem of impunity by abusive state security forces.
The International Human Rights Day is an annual event to mark adoption of the Universal Declaration of Human Rights (UDHR).
Catbalogan songwriters top DILG-8 Federalism jingle contest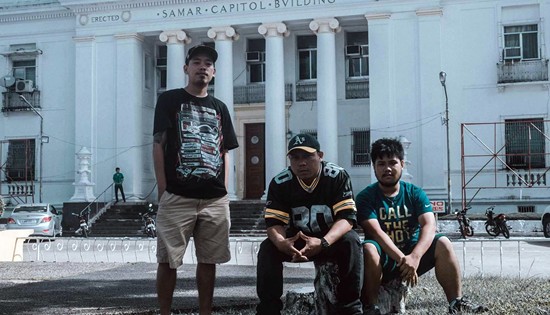 By MYLES JOSEPH E. COLASITO
December 7, 2017
TACLOBAN CITY – Three songwriters from Catbalogan City, Samar won the 1st Prize in the Federalism Jingle Writing Contest of the Department of the Interior and Local Government (DILG) in Region 8.
Louie Ebalde, Christopher Fermilan and Francis Rico Gonzales will receive the P15,000 prize as champions for their song, "Ito ang Pagbabago" as interpreted by Louie B. Chico.
Placing 2nd with a prize of P10,000 is the entry of Winston Jay C. Ladera of Brgy. Bito, Abuyog Leyte and Kristina Heights Tacloban City, for his song "Ora Mismo sa Federalismo", as interpreted by Jan Marc Pedrita, Leyte Idol Season 9 Grand Champion.
Rounding up the Prize Winners at 3rd Place and to receive P5,000 is Rolly Tagan of Libagon Southern Leyte, who himself sung his composition "Federalismo (Magkaisa)".
Regional Director Marivel Sacendoncillo lauded the winners and contestants for their active involvement and quality of work, saying, "The jingle will help raise awareness and discussion on federalism as a way to improve service delivery through greater local autonomy."
The members of the panel of judges which counted Dr. Dominador Pagliawan, composer/singer/social media expert Jerby Santo and Prof. Voltaire Oyzon during the evaluation meeting on December 6, 2017 at the DILG-8 Regional Office, likewise praised the maturity and sophistication of many entries.
The contest, which ended on December 1, 2017 was open to all amateur composers in Region 8 except for DILG employees and their immediate families. Contest pieces were judged based on Musical content (30%), Lyrical content (30%), Originality (30%) and Overall Impact (10%).
The winning song/s will be aired over radio stations as part of the federalism information campaign. DILG was mandated by President Rodrigo Duterte to lead the information campaign on federalism.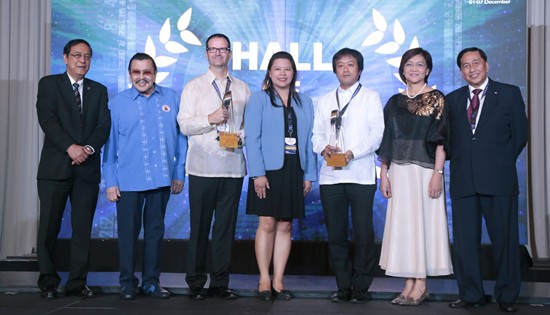 Hall of Famer awardees Texas Instruments (3rd from L) and Pilipinas Kao (3rd from R) with (from LR): DTI Export Marketing Bureau Director Senen M. Perlada, Former President Joseph Estrada, DTI Undersecretary Nora K. Terrado and PHILEXPORT President Sergio Ortiz-Luis Jr.
DTI honors outstanding exporters at 2017 NEC
By DTI-TIPG-EMB
December 7, 2017
MAKATI CITY – The Department of Trade and Industry through its Export Marketing Bureau (EMB) on 5 December awarded Philippine companies for their outstanding export performance during the National Export Congress (NEC) held at the Philippine International Convention Center in Pasay City.
Texas Instruments, Pilipinas Kao, and Metro Wear were conferred the Hall of Famer Award for posting the highest export revenues for the past three years in their respective sectors. Data from the Philippine Statistics Authority (PSA) in 2016 served as the basis for giving the awards to the companies.
Also recognized were top regional exporters from Luzon, Visayas and Mindanao, who stood out for their remarkable international success in penetrating global markets. Recipients were Peter Paul Philippines Corp. from Luzon, Profood International Corp. from Visayas, and Philbest Canning Corp. from Mindanao.
Honored for Top Sectoral Award were Texas Instruments Philippines Inc. (Electronics), Pilipinas Kao Inc. (Chemicals), Taganito HPAL Nickel Corp. (Other Mineral Products), Hanjin Heavy Industries and Construction Group (Machinery and Transport Equipment), Shin-Etsu Magnetics Philippines Inc. (Electronic Equipment and Other Parts), House Technology Industries PTE Ltd. (Woodcraft and Furniture), Nestle Philippines Inc. (Processed Food and Beverages), Dole Philippines (Fresh Bananas), Takata Philippines Corp. (Metal Components), Pilipinas Kyohritsu Inc. (Ignition Wiring Sets), Cargill Oil Mills Philippines Inc. (Coconut Oil), and Metro Wear Inc. (Articles of Apparel and Clothing Accessories).
Excellence Awards for Services Exports was also conferred on companies which have contributed significantly to their respective industries and exhibited excellence in their respective fields. Awardees were Advanced World Solution Inc. (IT-BPM), Affinity Express Philippines Inc. (Creative Services), Airworks Aviation Academy (Education Services), ExlService Philippines Inc. (Health Information Management), and Potato Corner (Franchising Services).
The awarding served as the highlight of the week-long celebration of National Exporters' Week (NEW) with the theme "Innovate. Collaborate. Export!." NEW is an annual event held during the first week of December organized jointly by the DTI's Export Marketing Bureau (EMB), the Export Development Council (EDC), and the Philippine Exporters Confederation Inc. (PhilExport).
"With this year's NEC, we hope to inspire more exporters to continue to innovate and collaborate with the government and private sector organizations in expanding their markets and contributing to the country's economy," DTI Undersecretary Nora K. Terrado said.
Also part of the celebration is the ongoing National Exporters' Week Bazaar, a retail selling event of Philippine products from the country's direct and indirect manufacturers, which started on December 4. About 20 exhibitors are participating by selling their products and services ranging from fashion accessories to food products in the DTI International Building along Gil J. Puyat Ave. in Makati City.
DTI announces next steps to implement i³S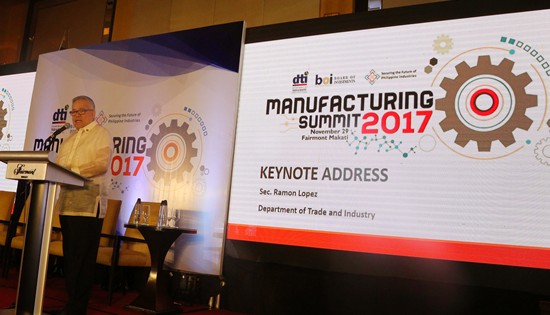 By DTI-OSEC-PRU
December 7, 2017
MAKATI – The Department of Trade and Industry (DTI) successfully conducted the Manufacturing Summit 2017 on 29 November 2017 at Fairmont Makati, bringing together more than 250 stakeholders from the private sector, industry associations, business chambers and stakeholders from the government and academic and research community.
Taking off from the 2016 Manufacturing Summit, which focused on "Trabaho at Negosyo" for inclusive growth, this year's Summit highlighted the remarkable performance of the manufacturing industry, the accomplishment of DTI's Manufacturing Resurgence Program, and the country's new industrial policy dubbed as Inclusive Innovation Industrial Strategy (i³S).
The i³S aims to grow and develop globally competitive and innovative industries with innovation at the front and center of industrial policies and programs supported by pillars consisting of building new industries, clusters, and agglomeration. These will also ensure Micro, Small, and Medium Enterprise (MSME) growth and development, human resource development, and improving ease of doing business and the business environment.
"With intense competition due to rising globalization, regional economic integration, and disruptive technologies, innovation is crucial for the inclusive and sustainable growth of the economy, particularly manufacturing," said Trade Secretary Ramon Lopez.
"Our vision is for the Philippines to have creative and connected communities of different stakeholders like innovators, start-ups, SMEs, and large enterprises that will collaborate to produce new products and services," Sec. Lopez said.
Moving forward, the Trade Chief indicated that DTI will focus on three major strategic actions: establish i3 zones or parks without walls, where universities and industrial hubs could work together and collaborate on innovation initiatives; using fiscal and non-fiscal support to promote local manufacturing of key products that are heavily imported like pharmaceutical products or medical devices; and continue the collaboration with industry, academe, other government agencies and stakeholders in building the inclusive innovation ecosystem.
To encourage more investments and change in mindset, i³S would provide incentives on R&D and innovation, as well as tax deductions on trainings and workers' skills upgrading. There will also be business matching, exhibits, and trade fairs.
Sec. Lopez shared that the establishment of domestic ecozones is vital in building industry clusters that can provide a fertile environment for innovation and inter-firm cooperation leading to competitiveness improvements. Incentives to be provided in domestic ecozones will be rationalized, with applicable domestic taxes like value added and excise will be paid by locators just like other companies located outside domestic ecozones.
"DTI will continue to fine tune the i³S, refine it to fully embed and integrate innovation, and ensure that new technologies can be applied to reduce poverty and promote shared prosperity for all," Sec. Lopez declared.
Gov't to set aside another P1-B for Pondo sa Pagbabago at Pag-asenso micro-loan program
By DTI-ROG
December 7, 2017
MAKATI CITY – Micro entrepreneurs throughout the country will get more aid to fund their businesses as the National Government, through the Small Business Corporation (SB Corp.), the micro-financing arm of the Department of Trade and Industry (DTI), will set aside P1 billion for year 2018 to continue the flagship program that will provide micro enterprises an alternative source of financing that is easy to access and made available at a reasonable cost.
"The President has vowed to provide affordable micro-loans for micro entrepreneurs and we are here to deliver this promise through the Pondo sa Pagbabago at Pag-asenso (P3)," DTI-Regional Operations Group Undersecretary Zenaida Maglaya said.
The Pondo sa Pagbabago at Pag-asenso (P3) program is a P1 billion financing program intended to give MSMEs better access to finance and to reduce their cost of borrowing and battle loan sharks preying on micro entrepreneurs. The fund will also give priority to the country's 30 poorest provinces.
Initially, the P3 Program was launched in Tacloban in Leyte on January 25, San Jose, Occidental Mindoro on January 27, and Alabel, Sarangani last January 30 and was launched nationwide in April, with an initial funding of P850.0 million, making available lower cost loans to Filipino micro entrepreneurs who are engaged in small business such as sari-sari stores and are vulnerable to usurious lenders in the absence of an alternative source.
Maglaya explained that through the P3, micro entrepreneurs can find relief from overly expensive borrowings and afford cost-efficient and affordable form of loan to add and expand their businesses.
"Through the P3, sectors can find relief from overly expensive borrowings as they pursue their livelihood activities," Maglaya said.
As of November 24, 2017, a total of 16,210 micro entrepreneurs have been aided by P3 with four national micro finance institutions (MFIs) and 90 local conduits assisting in delivering the micro-loans in the countryside while 45 MFIs are in the pipeline. A total of P485.41 million has been released to partner conduits and P307.80 million released to microfinance borrowers.
Following President Rodrigo Duterte's directive to replace the "5-6" money lending system, the P3 is also seen to help stabilize supply and cost of commodities in public markets, encourage small entrepreneurs to grow their businesses, and offer employment and generate income for Filipinos.
The P1 billion fund of the P3 program from the Office of the President will be coursed through the SB Corp., which will accredit partner institutions such as non-bank MFIs, cooperatives and associations to serve as conduit for the P3 funds. With borrowers identified through these, collection of repayments will be efficient.
"We're very grateful that this program has come into fruition, so we can help micro entrepreneurs who are at the bottom of the pyramid and create an entrepreneurial environment in the countryside that will also generate jobs for Filipinos," Maglaya said.
The primary beneficiaries of the P3 Program are microenterprises and entrepreneurs that do not have easy access to credit. These include market vendors, agri-businessmen and members of cooperatives, and industry associations.
P3 will also make it easy for borrowers since it will only require minimal documentation requirement; easy to access with only one (1) day processing of application; low cost interest at 2.5% per month; and easy payment with collection on a weekly or daily basis, as necessary.
Under the P3 Program, a micro enterprise can borrow between P5,000 up to P100,000 depending on its business need and repayment capacity with no collateral requirement. Interest rate and service fees, all in, do not exceed 2.5% monthly, which is a huge relief from the 20% monthly rate under the 5-6 loan system.
China's petrochemical company to expand in PH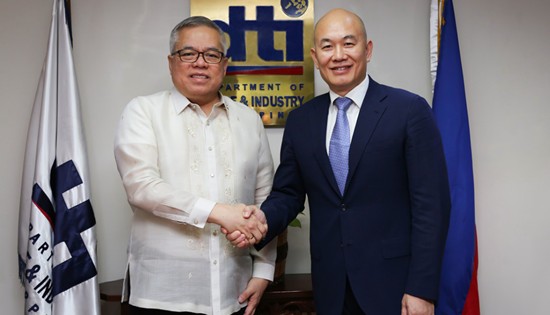 By DTI-OSEC-PRU
December 6, 2017
MAKATI – The Philippines (PH) continues to receive business intentions and expansion projects from large companies based in China (CN).
In a recent meeting between Department of Trade and Industry (DTI) Secretary Ramon Lopez and Handi Group President Hanling Wu, they discussed possibility of investments of the company in a petroleum refining and petrochemical manufacturing facility in the country.
"We welcome business intentions to strengthen our petrochemical industry, which the government actively supports. They expressed strong confidence on the business environment stability during the Duterte administration," said Sec. Lopez.
Handi Group is one of the largest and advanced private specialty oil producers in China. The conglomerate is based in Hainan Province and engages in multiple industries, including oil refinery, chemical industry, trading, investment, and financing.
The group, through its subsidiaries Hainan Handi Sunshine Petrochemical Co., Ltd. (HDS), Hainan Handi Petrochemical Co., Ltd. (HDP), Handi Lubricant Technology (China) Co., Ltd., Handi Sunshine Trading Co., Ltd., and Handi Investment, has established a full scale and long-term strategic cooperation with large international energy companies such as ExxonMobil, Total, Chevron, and BASF.
Sec. Lopez opened the discussion of putting up a facility in Mindanao, which will be suitable for the company's power, land, and accessibility requirements.
Mr. Wu conveyed the need of Handi Group for a pool of technical staff, specifically engineers, from PH and the availability of talents in Mindanao.
"There are a lot of universities in Mindanao that produce quality graduates and professionals in the field of engineering. We have good universities present in all parts of PH," the Sec Lopez said.
Terrorism is the massacre of eight Lumad in South Cotabato - SANDUGO
Press Release
December 5, 2017
QUEZON CITY – "The real terrorist is the one who sows terror in our communities, he who orders to massacre Lumad, threatens to bomb Lumad schools, orders to kill anyone who try to criticize him. For the national minorities, Pres. Duterte is the terrorist," Datu Jerome Succor Aba, co-chairperson of Sandugo said today at a press conference. During the press conference, the massacre of eight Tboli and Dulangan Manobo was announced to the public.
"This is by far the worst attack against the indigenous peoples," The incident happened last December 3, when, according to Karapatan-Socskasargen, 27th and 33rd Infantry Battalion shot and killed T'boli and Dulangan Manobo farmers at about 1pm in Sitio Datalbong, Brgy. Ned, Lake Sebu South Cotabato.
"The residents were about to harvest their crops in their farms that day. They have just claimed back their land from David M. Consunji Inc. (DMCI) who displaced the T'boli and Dulangan Manabo from their ancestral lands to plant coffee for Nestle. Around 300 hectares have already been replaced with corn and other sustenance food planted by the rightful owners – Lumad communities," Aba explained.
"DMCI attempted to again take the land but the Lumad residents resisted. The Philippine Army, a day before the massacre, told the media in Socsksargen that the Lumad should now surrender especially a certain commander Victor," Aba said. "Come December 3, Datu Victor Danyan, not a member of New People's Army but a community leader, was among those massacred by the soldiers," Aba continued.
Datu Victor's son, Victor Danyan Jr, was also killed along with Artemio Danyan, Pato Celardo, Samuel Angkoy, To Diamante, Bobot Lagase and Matend Bantal. Two others were wounded.
This came after Pres. Rodrigo Duterte announced the Pres. Proclamation 360, terminating the peacetalks with the National Democratic Front of the Philippines. "This was also after this tyrant President made pronouncements of targeting the NPAs next. The AFP took this as a cue to intensify counter-insurgency operations against civilians," Aba said.
"With the thousands of unaccounted lives during the fighting in Marawi, the hundreds of thousands of both Moro and indigenous peoples displaced from their communities, all because of Duterte's policy to wipe out his 'enemies,' this US puppet president has to be made accountable," Aba said.
"Just recently, 2,162 Lumad of Lianga and San Agustin of Surigao del Sur forcedly evacuated due to threats of bombing with the hovering of drones and a helicopter with missiles believed to be from the 75th IB of the AFP. The soldiers have imposed a food blockade to the evacuees, accusing it will be fed to the NPAs," Aba said.
"Tyrants and terrorists are one and the same. They sow terror to the common people because they are nothing but sell-outs to the big private corporations. They will try to hold on to their power by sowing more terror," Aba said. "We all know what happened to tyrants like Marcos, Pinochet – they were overthrown," Aba ended.