Quarterly PIO meeting cum workshop wraps up 2017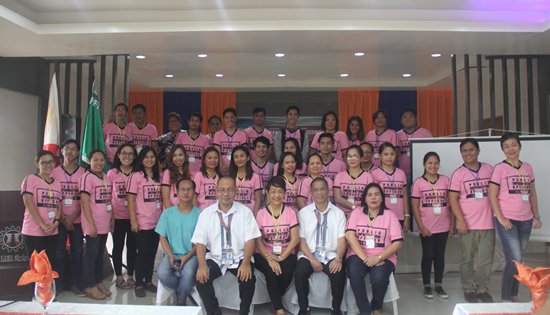 By BON JOSEPH N. ASTILLA
December 4, 2017
CALBAYOG CITY – PIO staff from DPWH Samar First District Engineering Office joins the 4th PIO Conference held at the Multi-purpose Hall in Baybay, Leyte on November 23-24, 2017 hosted by the joint forces of Leyte 4th, Leyte 5th, and Southern Leyte District Engineering Offices, popularly called as OBaMa Group (Ormoc, Baybay, and Maasin).
In line with the continuing capability-building effort for PIO designates and it's alternate, the quarter meeting cum workshop centers on updating writing skills, improving press releases and tackling Audio Visual Production (AVP).
The first speaker, Joey Gabieta of Leyte Samar Daily Express, instructs the public information officers that the latter's articles should be well organized and is written for the reader. This means it should be understood by the average newspaper readers and should attribute important statements and information.
Meanwhile, the basics of AVP was tackled by Jed Asaph Cortes, an instructor from Visayas State University. With the fast pace of the changing times, the PIOs know the value of using AVP, most importantly in making Communication Development Reports where presentation is a key factor.
The meeting culminated with updates from the Regional Public Assistance and Information Officer, Ms. Antonieta R. Lim. She emphasized the implementation of Communication Development Program as well as the formal designation of hotline and focal persons.
DILG warns public on fake OIC appointment scams under federalism and Revolutionary Government
Press Release
December 4, 2017
QUEZON CITY – The Department of Interior and Local Government (DILG) has issued a warning to all local government officials and the general public against scammers going around the country falsely claiming that they could have people appointed as OIC-barangay and local officials under a federal system of government and a revolutionary government (RevGov) and asking for money in return.
In a meeting with all DILG Regional Directors on Wednesday, DILG Officer-in-Charge Catalino S. Cuy said that numerous reports have reached the central and field offices regarding various groups masquerading to be affiliated or permitted by the government or by the DILG to campaign for federalism or RevGov and claiming that they could have people appointed to local positions.
Cuy directed all DILG field offices to issue a strong warning to all LGUs about this scam that has been going on for some time.
According to aggregated reports, scammers lure both incumbent and aspiring local government officials into being included in a supposed priority list of people to be appointed should the country shift to a federal form of government or undergo a RevGov. In exchange, unwitting victims give money to con groups for membership fees or donations.
Cuy says that President Rodrigo Duterte himself already made it clear during a November 21 event in Taguig City that claims that a Revolutionary Government will soon be established are all false.
"Sabi nga po ng Pangulo, huwag po tayong maniwala sa RevGov dahil wala tayong makukuha diyan and let us focus on building our country," Cuy says.
Newly installed DILG Assistant Secretary for Communications and Capacity Development Jonathan E. Malaya encourages the public to get in touch with his office or with the Local Government Academy (LGA) at telephone numbers (02) 6389649 or 6341906 local 116 or via email to lgamail@lga.gov.ph and rpdd@lga.gov.ph on concerns on the government's federalism campaign.
On Wednesday, Malaya has been assigned as the administrator of the DILG's federalism program as per DILG Order No. 2017-1212.
"I urge all DILG field officers to be vigilant and proactive and to immediately warn all barangay captains and local government officials in their respective jurisdictions of the scams being perpetrated by these unscrupulous individuals," he says.
"This scam is all over the country – from Cagayan Valley to Cotabato, from Metro Manila to Samar. The groups go by many names," he points out.
"Nakakalungkot na may mga kababayan tayong sumasakay sa pederalismo para makapanlinlang at nagpapanggap na inatasan sila ng DILG o ng Pangulo na mangampanya kaugnay sa pederalismo," he laments.
"Wala pong katotohanang magtatalaga ang DILG ng OICs sa kahit anumang local government positions. Kapag hiningan kayo ng pera o anumang bagay o pabor, magtaka na po kayo at agad ipaalam ang mga grupong ito sa pinakamalapit na DILG field office sa inyong lugar," he warns.
In September this year, the DILG announced the campaign dubbed as "One Nation, One Government: Transition to Federalism Project" which shall accredit civil society organizations (CSOs) as well as resource speakers as federalism advocacy partners.
Malaya says that only accredited CSOs are authorized to use the DILG logo or the DILG name in their respective activities.
He says that all federalism-related information campaign initiatives of DILG operating units, regional and field offices, as well as local governance stakeholders, are implemented within the standards and parameters set by the DILG in terms of content, activities, and resource management.
Activities include, among others, orientation sessions, seminars, knowledge exchange sessions, focus group discussions, forums, and symposia.
Further, the Local Government Academy, as the training arm of the DILG, is responsible for training resource persons on DILG's key messages and content parameters for all federalism information campaign activities.
Resource persons who successfully complete the training shall be issued certificates and their names will be included in the national database of resource speakers on federalism for the DILG's Transition to Federalism Project.
Local government units (LGUs) may also conduct their own federalism information campaign activities in coordination with DILG field offices whose staff will guide LGUs on the key messages and content to be delivered to ensure that these are consistent with those set by the Department.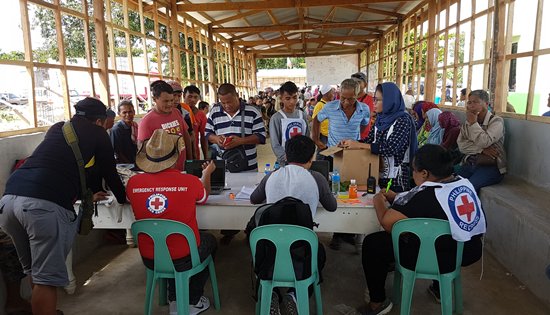 Undergoing verification process at the municipal hall in Shariff Saydona Mustapha, before the distribution.
Aid reaches thousands displaced by clashes in Maguindanao
By ICRC
December 4, 2017
MANILA – Thousands of displaced families in central Mindanao's Maguindanao province have been deprived of basic everyday necessities as intense fighting persists in the area. To help around 11,600 people in Shariff Saydona Mustapha municipality, the International Committee of the Red Cross (ICRC) has provided them with half-month food and other supplies along with household items in cooperation with the Philippine Red Cross.
"While the attention over the recent months has been mostly focused on the Marawi conflict, several communities in Maguindanao have also been seriously affected by armed clashes. We remain concerned about their plight as they have been displaced for more than three months," said Tomoko Matsuzawa, head of the ICRC's office in Cotabato.
Since early August, the Philippine military and various armed groups have been engaged in armed fighting in the area known as the SPMS Box (Barangay Salbu, Datu Saudi Ampatuan – Barangay Pagatin, Datu Salibo – Mamasapano – Shariff Aguak) in Maguindanao.
Over the past couple of months, though majority of the displaced families have returned home to plant rice and other crops, they're staying close to the main roads, ready to evacuate in case the fighting resumes. The remaining families, coming from areas more exposed to repeated armed encounters, have opted to stay in host communities.
"These families have reduced the number of meals to two per day, and also limited them in variety. It is important that as people try and restore their lives, they receive basic support to do so," Ms Matsuzawa said.
During the three-day distribution completed on December 2, each family from four barangays (villages) – who include those who have returned and those who remained – received 25 kg of rice, one litre of soy sauce, one litre of oil, 12 tins of 425 g of sardine each, 1 kg of sugar, ½ kg of salt, two jerry cans of 20 litre each and hygiene items for the household.
The ICRC is a neutral, impartial and independent humanitarian organization whose exclusively humanitarian mission is to protect the lives and dignity of victims of armed conflict and other situations of violence and to provide them with assistance. The ICRC also endeavours to prevent suffering by promoting and strengthening humanitarian law and universal humanitarian principles.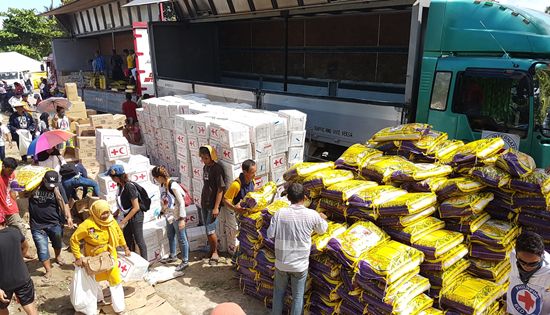 Around 2,300 families displaced by the armed clashes in Maguindanao received food, household and hygiene items from the ICRC last week.
5 NPA rebels surrender with firearms
By DPAO, 8ID PA
December 2, 2017
CAMP LUKBAN, Catbalogan City – Five members of the New People's Army surrendered to the different army units in Eastern Visayas last November 23 and 24, 2017 at Barangay Guirang, Basey, Samar and Sitio Canonghan, Barangay Osmeña, Palapag, Northern Samar, respectively.
The surrenderees were Alona Bojocan who turned-over a cal. 38 revolver and fragmentation grenade to Lt. Col. Arnel A. Floresca, Commanding Officer of 87th Infantry (Hinirang) Battalion; Tinny Laoreno Gerbon, Richard Albaseno, Mrs. Sheryl Rebay, and Arnel Aquino, all residents of Sitio Canonghan, Barangay Osmeña, Palapag, Northern Samar who turned over two .45 handguns, one .38 revolver and two 5.56 magazines to the soldiers assigned with 20th Infantry (We Lead) Battalion and 83rd Civil Military Operations Company.
They are now undergoing the process of enrollment under the Comprehensive Local Integration Program (CLIP) in order to avail of the financial and livelihood assistance from the government so that they can start a new and peaceful life.
In his statement, Maj. Gen. Raul M. Farnacio, Commander, 8ID said that "the surrender of the NPA guerrillas only shows that the intensified strategy of your Army to counter the insurgency problem in Eastern Visayas is effective. It is also the result of the pro-active cooperation of our stakeholders, above all the support given by the communities and local government units within our areas of operation."
He also encouraged the NPA rebels in Region 8 to lay down their arms voluntarily and live a normal life with their families thru reintegration programs of the government.
Karapatan files additional complaints on EJKs to UN experts
By KARAPATAN
December 2, 2017
QUEZON CITY – Karapatan submitted a letter of allegation concerning twenty-five (25) cases of extrajudicial killings perpetrated by State security forces in line with the Duterte government's counter-insurgency program to United Nations Special Rapporteur on Extrajudicial/Summary or Arbitrary Executions Ms. Agnes Callamard and UN Special Rapporteur on Human Rights Defenders Michel Forst today, December 2, 2017.
"From one counter-insurgency program to another, cases of extrajudicial killings against peasants, indigenous peoples, Moro, workers, women and youth continue to be committed with impunity under the murderous Duterte regime. Also, most, if not all, of the perpetrators of human rights violations under the administrations of former Presidents Gloria Macapagal-Arroyo and Benigno Simeon "Noynoy" Aquino III have not been brought to justice," said Karapatan secretary general Cristina Palabay in her letters of allegation to Callamard and Forst, adding that the current heads of the military, including AFP Chief Eduardo Año, are the same militarist brutes responsible for many rights abuses during past regimes.
On April 10 2017, Karapatan earlier submitted 47 cases of extrajudicial killings under the Duterte government's counter-insurgency program. Then Presidential Spokesperson Ernesto Abella said it was "not the policy of the Duterte administration" to violate human rights, adding that to attribute the killings to the government "is a serious allegation" and runs contrary to Duterte's stand of settling disputes in a peaceful manner.
"Eight months after and look where we are now. Any more claims from Duterte's mouthpieces regarding his so-called preference for resolving disputes through peaceful means will merely come out as a laughable and preposterous lie. Now that the masquerade is over, what we are left is a clearer view of State fascism," said Palabay, citing Proclamation 380 issued by Duterte which sought to terminate the peace talks between the government and the National Democratic Front, and his recent pronouncement and direct orders to crackdown on progressive groups.
From July 2016 to October 2017, Karapatan documented 104 victims of extrajudicial killings under Duterte's counter-insurgency program. "We allege that state security forces are primarily responsible for these killings that are all in the context of a government program that makes no distinction between armed and unarmed civilians, thus providing a pretext for the arbitrary tagging of individuals, groups and movements as "enemies of the state," the rights group added.
Karapatan earlier assailed Duterte for threatening to "slap" UN Special Rapporteur Agnes Callamard, repeating his hostility towards any plans of Callamard to officially visit the country to investigate the reported cases of extrajudicial killings in the country. Palabay commented that "this President acts like a spoiled child. The issue is that there is a growing number of State-perpetrated violations in the country, and thus he cannot begrudge Callamard for attempting to perform her mandate to investigate said violations. His feelings or tantrums are inconsequential to us because we are struggling for justice."
"We reiterate our challenge to the Duterte regime to introduce appropriate measures to stop these attacks and carry out impartial investigations on the cases submitted, to bring the perpetrators to justice. We will exhaust all means and all available mechanisms to hold the government to account for its fascist policies that have been the basis for these continued, intensifying attacks," Palabay ended.
DPWH equips engineers with traffic management techniques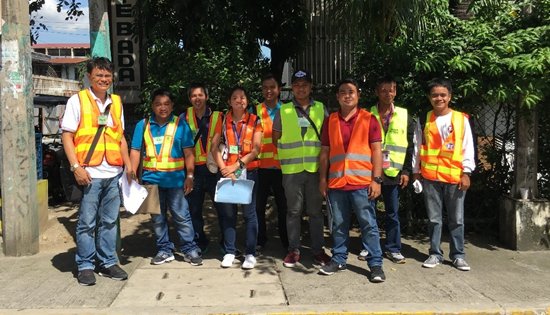 By APRIL FATIMA DIRA-VILLANUEVA
November 30, 2017
CALBAYOG CITY – In line with the DPWH efforts to build the technical capability of our frontline units in Traffic Engineering and Management, the Bureau of Quality and Safety conduct a workshop on the Fundamentals of Traffic Engineering and Management. The workshop was held on November 06-10, 2017 at the Central Office training room of the Human Resource and Administrative Service. SFDEO participants, Engr. Allan A. Lanuza and Engr. Idelberto M. Leopardas and their team, are awarded as the Best Performing Team for their case study presentation.
Traffic Engineering deals with the planning, geometric design and traffic operations of roads, streets and highways, their networks, terminals, abutting lands and relationships with other modes of transportation for the achievement of safe, efficient and convenient movement of persons and goods.
It is stated that the greatest obstacles a professional traffic engineer faces in applying sound principles of traffic engineering is the fact that "everyone is a traffic expert". The unfortunate result of this attitude of expertise is the creation of traffic hazards when false theories of individuals or groups are put into effect. "Without the training, the cure may be worse than the disease" said speaker Engr. Marites D. Reyes.
There are not enough roads to accommodate the growing volume of motor vehicles. That's why greater reliance must therefore be placed on traffic management techniques to increase the practical capacity of available space.
Special business lending program for Marawi
By DTI-OSEC-PRU
November 29, 2017
MANILA – Department of Trade and Industry's (DTI) financing and guarantee attached corporation, Small Business Corporation (SBCorp) attached micro-finance will be offering zero percent interest loans to help the constituents of Lanao del Sur, specifically Marawi micro entrepreneurs displaced by the war, starting early December 2017 up to April 2018 as part of government rehabilitation efforts of Marawi City.
"The recent events in Marawi raised the need to generate several programs that will aide in the rehabilitation of Marawi and the full assistance to affected residents. In support of government-wide efforts to help the people of Marawi, we will be working closely with our Maranao countrymen to ensure they have access to the needed funds to get their businesses back on their feet," said Trade Secretary Ramon Lopez.
After the interest free loan, we shall extend the Pondo sa Pagbabago at Pag-asesnso (P3) Program which is also the Microfinance program implemented by the SBCorp. This will be complemented by starter livelihood kits being distributed by the DTI.
For Micro Finance Institutions (MFIs) that want to start lending to the Lanao del Sur area in solidarity with the people of Marawi and the entire province, the P3 Program will provide credit risk support to MFIs in exchange for their timely and quick response. A DTI-SBCorp team has been assigned at DTI-Marawi to set up the P3 facility, which will also be supported by DTI-Cagayan de Oro.
To date, SBCorp – with the support of the DTI regional and provincial offices – has accredited a total of 94 MFIs, plus another 45 MFIs in the pipeline. Moreover, the P3 Program is now rolled out throughout the entire country from north to south except for a handful of provinces, with close to 40,000 borrowers to date.
Most of the MFIs that have signed up are cooperatives, i.e. self-help people's organizations that have a good grasp of the needs of their members to grow their businesses. Likewise, several large MFIs – including the Center for Agriculture and Rural Development (CARD) – have aired their support to the program for its timely scale up even in remote areas of the country.
"We laud SBCorp's untiring efforts to link up with finance institutions across the country to ensure conduits are in place for the P3 Program. We have the funds, and we now have the channels to help our MSMEs expand their businesses," said Sec. Lopez.
For 2018, the government will add another P1.0 billion to the P3 fund to support more micro enterprises in growing their small business.
The SBCorp will be accrediting least five local MFIs per province in the coming years to ensure that micro enterprises will have easy and reliable access to reasonably-priced credit within their own locality, with a total of 400 grassroots conduits targeted. The agency will also support these MFIs by way of capacity-building training.
Through the P3 program, the government hopes to encourage communities to organize themselves into cooperatives or other self-help units engaged in entrepreneurship.
DTI also opened the invitation to the rural banking sector to support the P3 Program, given the more than 2,000 branches nationwide that are mostly rural-based. These make the small banks a potent force for scaling up the P3 Program and for improving the fund-channeling system so that the fund reaches micro enterprises in a timely and judicious manner.
Launched last April 2017, the P3 Program supports micro entrepreneurs across the country with an initial funding of Php850 million via lower cost loans. The program is intended to help those people involved in micro enterprises and who are vulnerable to usurious lenders in the absence of an alternative source.
Under the program, a micro enterprise can borrow between P5,000 up to P100,000 depending on its business need and repayment capacity. Interest rate and service fees do not exceed 2.5 percent monthly as compared to the 20 percent monthly rate under the 5/6 system. Documentation is simplified and processing time is also reasonable.
Among those helped by the P3 Program were Rose Marie Obena of Tacloban City, Leyte and Hercolano Villasin of Calubian, Leyte. Obena was the sole survivor among her family after Typhoon Yolanda, and was among the first batch of market vendors that accessed a P3 loan to expand her store. The 78-year old Villasin, on the other hand, accessed the P3 Program through the Fatima Multi-Purpose Cooperative (FATIMA MPC) to support his dried fish business, which he had been doing since he was in his teens.
"Through the P3, our poor sectors can find relief from overly expensive borrowings as they pursue their livelihood activities," the trade chief said.
Members of factfinding mission in Negros shot; 2 dead, one wounded
By KARAPATAN
November 29, 2017
QUEZON CITY – Three members of the factfinding mission team were shot by unnamed men at around 2:40 this afternoon at Brgy. San Ramon, Bayawan, Negros Oriental.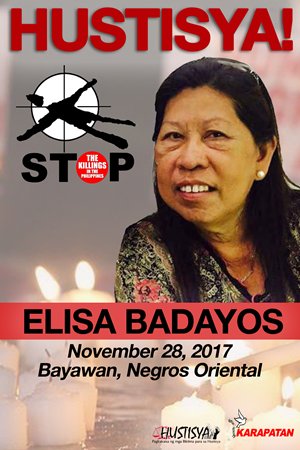 Elisa Badayos, coordinator Karapatan Negros Oriental and Eleuterio Moises, a barangay tanod and member of local peasant organization Mantapi Ebwan Farmers Association, were pronounced dead-on-arrival after having been brought to a hospital in Bayawan. Carmen Matarlo, a 23-year-old member of Kabataan Partylist-Cebu was also reportedly wounded.
The 30-member FFM team were in the area to investigate and verify reported human rights violations in the area.
"The attack on human rights defenders are becoming more rampant, more brutal, more fearless. The perpetrators know they will be dealt with impunity, as human rights have lost force and meaning especially under this regime. Fact-finding missions are a mechanism for human rights organizations to confirm reports of abuses, and this incident has only proven how fascism works to outrightly kill those who dare to question," said Karapatan secretary general Cristina Palabay.
Palabay added that "the space for human rights defenders is fast shrinking, as the Duterte regime is finding more and more ways to cripple defenders on the ground who voice out the real situation experienced by marginalized communities victimized by militarization, landgrabbing, and other forms of repression and oppression."
She cited the Negros Oriental Provincial Ordinance no.5, s.2008, or known as "An Ordinance Regulating Outreach Activities Through Medical and Fact-Finding Missions in the Countryside of Negros Oriental and for Other Purposes," wherein non-government organizations and other cause-based organizations are prohibited to conduct any humanitarian mission in Negros Oriental without seeking permission from the governor, municipal government and municipal police. Violators are sanctioned with six months of imprisonment and a fine of P5,000 on participants on the said mission.
The 30-member FFM team arrived in the mission area in San Ramon, Bayawan on 11am. They were blocked and harassed by elements of the mayor's private goons. Armed men inquired as to their whereabouts and the purpose of the mission. They were eventually allowed to pass.
At around 2:30pm, while the rest of the FFM team conducted the case documentation, a team composed of Elisa Badayos, Patrick Torres, executive director of Farmers Development Center-Cebu (FARDEC-CEBU), Elioterio Moises, Angel Trocio, staff of Women's Resource Center in the Visayas, and Carmen Matarlo readied to leave to go to Nangka Barangay Hall, Bayawan City for a courtesy call, and subsequently to the police station to file a blotter report regarding the harassment incident earlier. They went on two separate motorcycles – Patrick and Angel were on board the first motorcycle while CJ and Elisa were on the second vehicle driven by Elioterio. The two vehicles were on a convoy, with the motorcycle boarded by Patrick and Angel in the front.
While on their way, they were shot at by unnamed gunmen, suspected to be the same armed men who blocked their entrance to the mission site. The shooting led to the death of Moises and Badayos. Matarlo was brought to the Bayawan District Hospital before being transferred to Dumaguete. As of this writing, she is now in a stable condition.
Elisa Badayos is the wife of former labor leader and desaparecidos Jimmy Badayos.
"We condemn in the strongest terms this recent attack on human rights workers. Even as human rights workers conducting factfinding missions in Batangas, Negros, Mindanao and elsewhere are being subjected to attacks by state forces, we will never relent in struggling alongside with the Filipino people in contending against this murderous Duterte regime," Palabay concluded.