DPWH-BDEO: 2016 project status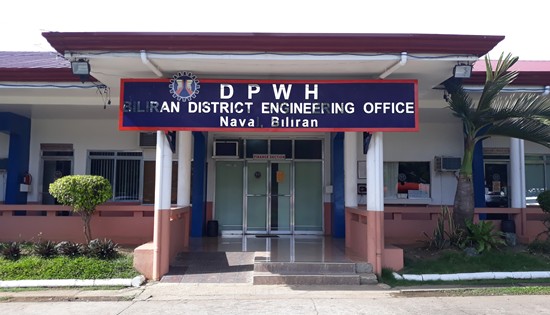 By CARL MARK D. PEDRERA
October 25, 2017
NAVAL, Biliran – As we are approaching halfway of the 4th quarter of the year 2017, the Department of Public Works and Highways - Biliran District Engineering Office (DPWH-BDEO) expedites its remaining projects for the year 2016.
The Department of Education with its Basic Educational Facilities Fund, twenty-two (22) projects on school buildings was implemented having a total programmed amount of P172.6M.
Fifteen (15) of these projects having an actual accomplishment of 100%. Six (6) school project in Naval, Biliran, Caibiran, Kawayan and Maripipi is still on-going but is already more than halfway from completion. One (1) school project in Biliran has not been started yet due to the project being temporarily suspended due to weather condition and unforeseen source of water within the project site which affects the foundation works. Thousands of students have benefited from these newly built school and more will be upon full completion of the remaining projects.
For the Health Facilities Project with a programmed amount of P10M, the Rehabilitation of the Biliran Provincial Hospital (BPH) is 100% completed and more patients will be accommodated.
The Department of Agriculture's P42M projects for its construction of seven (7) farm to market roads is 100% completed. The project was purposely implemented for residents and merchants to have a short and easy access to towns especially to those who lived on remote sitios.
With a programmed amount of P3.2M for the Rain Water Collector, it has an accomplishment of 100%. This greatly help in reducing the consumption water by distributing the collected rainwater to supply to toilets, washroom and utilities that needed water.
Having a total actual accomplishment of 98.997% of the Infrastructure Program, the DPWH-BDEO has completed sixty-five (65) out of sixty-six (66) projects. The remaining project that has yet to be completed is the Construction of Biliran Diversion Road including Slope Protection and Right-of-Way having an actual accomplishment of 87.2%.
Issues concerning the delay is the obstruction of three (3) electrical posts. Construction is still on-going. Completion of the project will mean that more road users can lessen their travel time and be able to avoid traffic congestion within the streets of Biliran.
The BDEO have completed substantial number of projects as of September 30, 2017 and will continue to finish the remaining projects on time if problem/issues should not rise to hindrance the operation.
PH to be a regional automotive hub – trade chief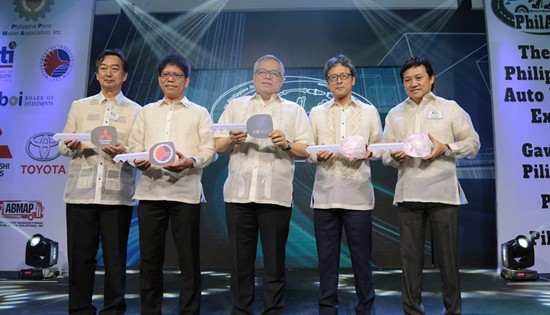 By DTI-OSEC-PRU
October 23, 2017
MAKATI CITY – At the first ever Philippine Auto Parts Expo (PhilApEx) in Pasay on 12 October, Department of Trade and Industry (DTI) Secretary Ramon Lopez urged local auto parts manufacturers to take part in the automotive industry revitalization initiative of DTI that will also complement the thrust of President Rodrigo Duterte and the Department of Transportation (DOTr) to realize Philippine made modern Public Utility Vehicles (PUVs).
PhilApEx was convened to showcase and promote the gains of the Comprehensive Automotive Resurgence Strategy (CARS) Program, which will hopefully assist the local industry to level up against importation into the country, reaching 700,000 units by 2022.
"The overall goal of the program is in line with the 10 point socio-economic agenda of President Duterte, developing the Philippines into a regional automotive hub, assisting MSMEs to grow, and eventually generate more job opportunities for those at the bottom of the Pyramid," said Sec. Lopez.
To further push the automotive industry's resurgence, DTI decided to shift the unsubscribed third slot budget under the program to support the local manufacturing of replacement vehicles for DOTr's PUV Modernization Program, wherein local content and auto-parts to be manufactured domestically could generate 65,000 additional local employments, thus improving industry capacity across time.
"We are looking forward for the Philippines to be a trade surplus country in the coming years, with seven to eight percent growth in the manufacturing sector from the former one percent, positive six percent from agriculture industry development and not to mention the robust growth in the service sector," he added.
Sec. Lopez mentioned that DTI vows to champion the event's slogan "Gawang Pilipino, para sa Pilipino," wherein the government would be providing subsidies for local car parts manufacturers, who qualify as suppliers for the Eco-jeepneys for the PUV modernization program.
He also shared that DTI with DOTr are working hand in hand to monitor developments as manufacturers are submitting prototypes to be used for the nationwide PUV modernization scheme.
Also at the event were Land Transportation Franchising and Regulatory Board (LTFRB) Chairman Martin Delgra III (2nd from L), Philippine Parts Maker Association (PPMA), Inc. President Engr. Ferdi Raquel Santos (rightmost) with two participating car-maker executives: Mitsubishi Motors President Mutsuhiro Oshikiri (leftmost) and Toyota Motors Corporation President Satoru Suzuki (2nd from R).
Samar I extends support to future artists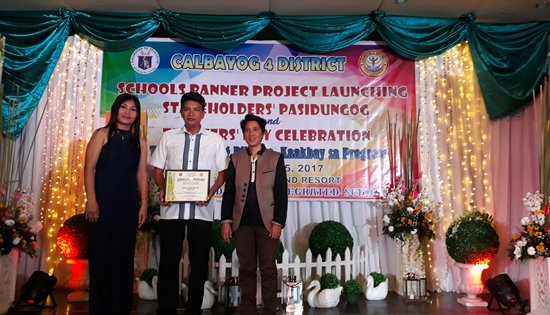 By APRIL FATIMA DIRA VILLANUEVA
October 20, 2017
CALBAYOG CITY – Samar First District Engineering Office is given a recognition as the Most Outstanding Education Stakeholder, for actively engaging and sharing responsibility for developing life-long learners through lending the DPWH Heavy Equipment for Construction of Calbayog Arts and Design School of Eastern Visayas (CADSEV) access road for school year 2016-2017.
The Department of Education, Region VIII-Eastern Visayas headed by Ms. Teresa D. Villa, Public Schools District Supervisor, during their Schools Banner Project Launching, Stakeholders' Pasidungog and Teachers' Day Celebration on September 25, 2017 at Ciriaco Hotel and Resort, handed the award to DPWH representative Engr. Hendrix Ortega.
Calbayog Arts and Design School of Eastern Visayas is the only school in Region VIII that caters to students who love to express their creativity and passion in Arts and Design Track. Established in October 13, 2015, during their first year of operation in June 13, 2016 they had an enrollees of 34 students in 1st Semester and 28 students in 2nd Semester.
For this year, 96 students for 1st Semester coming from Leyte, Eastern Samar, Samar, Northern Samar and Calbayog City flocks to CADSEV for learning.
A showcase of their learnings can be seen from various awards garnered by students from the school in almost all competitions such as: Champion - Raul Isisdro Body Painting Competition 2016, Best Model - Raul Isidro Body Painting Competition 2016, 2nd Place - Hadang Dance Festival 2016, 3rd Runner-up - Miss Hadang 2016, 1st Place - Kuratsa Dance Competition, 1st Place - Ballroom Dance Competition, 1st Place - Pop Dance Competition, 1st Place - Cheer Dance Competition, 1st Place - Vocal Duet Competition, 1st Place - Vocal Solo Competition, Miss Siglakas 2016 and 1st Runner-up Mr. Siglakas 2016.
Mr. Aris Ventures, school teacher in CADSEV extends his grateful appreciation to DPWH for their continued support to their school in providing the equipment and everyday maintenance of their area.
They are looking forward for the extension and construction of their buildings in the future to cater to more talented and future artists in the likes of the renowned Raul Isidro, Ombok, and Florence Cinco.
DPWH Samar I constructs the first arts and design track school building in Eastern Visayas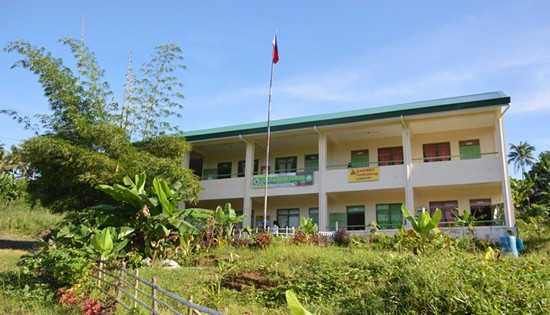 By JASON T. DE LOS ANGELES
October 20, 2017
CALBAYOG CITY – Samar First District Engineering Office completes the construction of two (2) storey with eight (8) classroom school building for Calbayog Arts and Design School of Eastern Visayas (CADSEV), located at Brgy. Gadgaran Diversion Road. It is accessible by a 15 to 25 minutes Multi-cab and or Jeep service ride from the city proper.
The project is implemented by SFDEO and is under contract with B. Vicencio Construction costing P11 million, from the 2016 basic educational facilities fund (BEFF).
CADSEV is the only Regional Senior High school in the entire Eastern Visayas offering arts and design track. The students come from all over the Eastern Samar region, Northern Samar region, Leyte, and are even from the capital city of Manila. This new school building will directly benefit around 96 students who are currently enrolled in the school and will encourage locally artistic inclined residents to hone their skills in various forms of art.
Mr. Aris Ventures, one of the teacher-in-charge said students will be exposed to the various forms of art such as visual arts, media arts, performing arts and literary arts, to improve their knowledge, innate skills in arts and design. He expects an influx of enrollees for the next school year from adjacent cities and municipalities.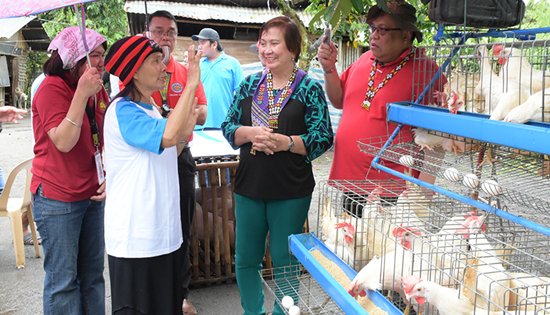 DAR Secretary Rosalina Bistoyong listened as ARB member Gloria Aguilar explained the strategies she will employ to sustain and expand the egg-laying chickens with egg dispersal machines project she received during the turnover ceremony on October 18 in Barangay Centrala, Surallah, South Cotabato. Secretary Bistoyong was joined by DAR-12 Director Nasser M. Musali (right) and other top officials of DAR in the region.
DAR beneficiaries told to sustain, expand livelihood projects
Press Release
October 19, 2017
SURALLAH, South Cotabato – Beneficiaries of the government's agrarian reform program were encouraged to develop, sustain and expand the livelihood projects that are part of the comprehensive support services they receive from the Department of Agrarian Reform (DAR).
DAR OIC Secretary Rosalina Bistoyong spearheaded the distribution of various livelihood projects to Agrarian Reform Beneficiaries (ARBs) in Barangay Centrala, Surallah, South Cotabato on Wednesday, October 18.
Bistoyong urged the beneficiaries to take care of the projects, make them sustainable to benefit the other ARBs in the area.
The distribution of livelihood projects was made possible through the joint efforts made by DAR, Pilmico Foods Corporation, a subsidiary of Aboitiz Equity Ventures and Aboitiz Foundation.
Bistoyong said the livelihood projects is the first Public Private Partnership (PPP) endeavor that DAR entered into to help ARBs augment their income.
A total of nine selected ARBs from three barangays in Surallah received egg-laying chickens with egg dispersal machines and hog dispersal kits.
"Our responsibilities do not end upon receipt of these livelihood projects. We need to ensure their sustainability to benefit the other ARBs," she pointed out.
An increase of household income of ARBs through livelihood projects will also help end cases where awarded lands are leased or sold, Bistoyong emphasized.
The turnover ceremony was also joined by Apol B. Castro, vice president for corporate strategy and business development of Pilmico; Surallah Mayor Antonio Bendita; Director Leomides Villareal of the Public Affairs and Media Relations Service of DAR Central Office; DAR Region 12 Director Nasser M. Musali and other top DAR officials in the region.
In her message, Castro said the aim of the project is to develop and build a purpose-driven community through sustainable livelihood.
She also emphasized that support to ARBs in the area is part of the corporate social responsibility of Pilmico and Aboitiz Equity Ventures under the project "Mahalin Pagkaing Atin" which aims to support home-grown products and backyard farmers who aspire to become farmer-entrepreneurs.
Among the recipients present was Gloria Aguilar who expressed gratitude in lieu of her fellow beneficiaries.
Aguilar assured they will take care the projects, sustain and expand to elevate their way of life.
Mayor Bendita also thanked DAR and Pilmico for choosing the ARBs of Surallah as recipients of the project.
He also expressed full support to the thrusts and programs DAR to help farmers uplift their lives.
Cuy: DILG is open to suggestions on MASA MASID drop box
By DILG
October 15, 2017
QUEZON CITY – Interior and Local Government Officer-in-Charge Catalino S. Cuy said today that the DILG is "open to suggestions" regarding the drop boxes for the Mamamayang Ayaw sa Anomalya, Mamamayang Ayaw sa Iligal na Droga (MASA MASID) and that there is no need to scrap the budget allocated for the purpose altogether.
Cuy made the pronouncement after the MASA MASID, along with the "drop box mechanism", was grilled in the Senate plenary debate for DILG's budget and was deemed as "prone to malice and abuse which can possibly lead to unnecessary deaths".
"We can do away with the MASA MASID drop box but not the whole budget earmarked for the mechanism," he says.
MASA MASID is a barangay-based anti-criminality, anti-corruption, and anti-illegal drugs program which encourages multi-sectoral partnership to intensify the spirit of volunteerism at the community level.
Cuy acknowledges the adverse reactions from various sectors on the drop box scheme but maintained that it is meant as a feedback mechanism that will encourage the people to take an active role in ensuring peace and order in communities.
"The drop box is not meant for 'Tokhang' as claimed by different groups. We just want the people to be on board in the government's efforts for peaceful and progressive communities," he says.
He also clarifies that contrary to reports of the alleged cost for each of the MASA MASID drop boxes, there was no finality as to how much will be spent to purchase the controversial drop boxes, though proposals were lobbied for consideration.
"Even prior to the issue becoming public, there was no tag price for the drop boxes," he says.
According to Cuy, instead of wiping out the budget for the drop box, it is better that some of the funds be allocated to other DILG programs with similar functions in monitoring peace and order, data-gathering, and surveillance.
He says that the Department currently has existing programs where the concept of the 'drop box' can be utilized. He said that these programs are "cut from the same cloth" as the MASA MASID program.
"The possibility of realigning the MASA MASID budget as an augmentation for programs like peace and order councils (POCs) and barangay anti-drug abuse committees (BADAC) will help in the continued efforts for peace and order down to the grassroots level," he adds.
POCs are reorganized in the national, regional, provincial, city and municipal levels of the government to counter threats posed by criminality, insurgency, violent extremism and other issues on peace and order.
On the other hand, BADAC is the grassroots program of the DILG aimed at organizing barangay officials and other stakeholders as first line of defense at countering drug-related crimes in barangays.
Former DSWD Sec. Judy Taguiwalo on Pork Barrel
By Bagong Alyansang Makabayan (BAYAN)
October 13, 2017
QUEZON CITY – Former Department of Social Welfare and Development (DSWD) and retired University of the Philippines (UP) professor Judy M. Taguiwalo today reacted to the declaration of House Committee on Appropriations chairman Karlos Nograles that the P3.767 trillion budget for 2018 is "pork barrel free," saying that while no pork allocation is apparent in how the budget is presented or written, the only way that a no pork assertion can be true is if lawmakers refrain from demanding from national government agency heads for "their money" and the agency heads stand firm in resisting the pressure of these lawmakers.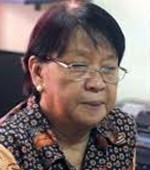 After all, what was declared by the Supreme Court as illegal pork is the post-enactment hand of the lawmakers in the implementation of the budget. A number of lawmakers sanitize the pork by asserting that they are merely fighting for the money that they worked so hard for their constituents when they know that such intervention post-enactment is illegal, not to mention, that irregularities, including corruption occur.
Taguiwalo said that when she assumed office in DSWD, her commitment was to provide a leadership that gives no room for corruption by ensuring that fund allocation is guided by the General Appropriations Act (GAA) and by shielding DSWD funds from external forces that sought to influence how the department disbursed its funds and implemented its programs beyond or outside the specifications in the national budget.
With the declaration of the Supreme Court that any form of direct allocation to legislators in the budget is unconstitutional, the former practice of specific amount allocated to a legislator in the approved budget was officially removed from the GAA. But it appears that some legislators have not internalized this ruling or are finding ways to circumvent it.
"I am not a lawyer, but I know that the disbursement of funds is not among the functions of legislators. Their function is primarily and strictly legislative, not executive, but they choose to ignore this and continue to engage in patronage politics. They use pork barrel funds to wield influence over their constituents. There was even one lawmaker who in an effort to talk me out of my opposition to specific allocation to individual legislators assured me that it is not about corruption but about patronage or 'in aid of re-election', making it sound as if there is nothing wrong at all with patronage, not to mention that I did not buy the idea that it's just all about patronage," she shared.
"I believe there is a need for us to continue the fight against pork. It did not end when cases were filed against Napoles and her cohorts. It still exists and its evils are staring us in the face.
Local Government Code's 26th anniversary celebration highlights LGU best practices
By DILG
October 11, 2017
QUEZON CITY – In line with the 26th anniversary of the Local Government Code (LGC), the Department of the Interior and Local Government (DILG) opened today a two-day event that will highlight the best practices of local government units (LGUs) that are worthy of emulation.
Dubbed as the "Festival of Best Practices", the market-place and fiesta-themed event, which is ongoing at the Novotel Manila in Quezon City, aims to showcase the remarkable initiatives and programs of LGUs that they have implemented using the powers and authority granted to them under the LGC.
Signed in 1991, Republic Act 7160 or the Local Government Code, which is considered as the bible of local governance, provides for a more responsive and accountable local government structure whereby LGUs are given more powers, authority, responsibilities and resources instituted through a system of decentralization.
The best local government practices that will be showcased revolve around the following themes: Environment-Protective, Climate Change Adaptive and Disaster Resilient LGUs; Business-Friendly and Competitive LGUs; Socially Protective and Safe LGUs; and Accountable, Transparent, Participative, and Effective Local Governance.
Among the local chief executives who will present their respective programs are: Batanes Gov. Marilou H. Cayco on The Epitome of Disaster Resiliency; Cauayan City Mayor Bernard Faustino Dy on Public-Private Partnership in Localizing the Sustainable Development Goals; Piddig, Ilocos Norte Mayor Georgina Salazar on Organic Coffee Plantation and Farm Consolidation; Dumingag, Zamboanga del Sur Mayor Mark Pacalioga on Organic Agriculture and Governance; and Quezon City Vice-Mayor Josefina Belmonte-Alimurung on Tahanan Drug Rehabilitation Program.
Other presenters are Iloilo City CDRRMO Donna Magno on Disaster Risk Resiliency Hub; City of San Fernando's Regulator Simplification: Agaplikar, Agbayad, Alaen; and Carmona, Cavite MPDO Mildred Purificacion on Your Embrace, My Hope: Transforming the Lives of PWDs.
Organized by the DILG's Local Government Academy (LGA), in partnership with the Galing Pook Foundation (GPF), the event also includes the presentation and awarding of the 2017 Galingpook Outstanding Local Governance Programs, and a Forum on Renewable Energy for LGUs.
"The Festival of Best Practices is a festivity wherein the LGUs can learn and further push good local governance in their respective communities. We hope to promote, encourage and bring forth considerable harvests of best practices in local governments which were significantly brought about by the passage of the Local Government Code," says DILG OIC-Secretary Catalino S. Cuy.
Cuy says the event is also a platform for the DILG to promote their program, the Local Governance Innovative Solutions Bank, a web-based application that enables LGUs to access or "withdraw" the best practices that exemplar LGUs have "deposited".
P19 million multi-purpose building projects near completion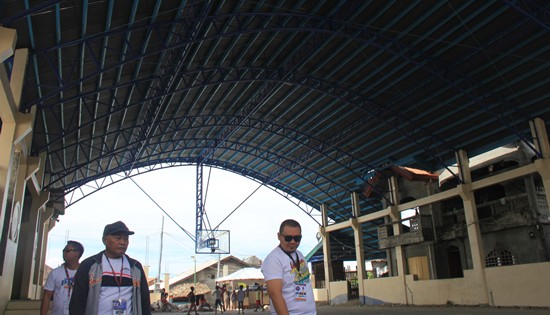 By JASON T. DE LOS ANGELES
October 10, 2017
CALBAYOG CITY – Samar First District Engineering Office is aspiringly and in progression of providing each barangay with multi-purpose halls. The construction of multi-purpose building projects in 5 Barangays and one (1) municipal has a total appropriation of P19 million. These projects are located in Brgy. Anislag, Brgy. Bagacay, Brgy. Binaliw, Brgy. Central, Brgy. Cagboborac and Brgy. Poblacion 2, San Jorge, Samar.
The projects are beneficial to the residents of said barangays as well as students that used it as venue for school activities. The project can also be used by all Barangay residents including its neighboring barangay in whatever activities they will have. This project will have a great impact to the community for it will provide a decent venue for their community-based, socio-cultural and economic activities. On the otherhand, it will serve as temporary shelter to the affected families during times of man-made and natural calamities.
As of this writing, out of six (6) multi-purpose building projects, three (3) projects are completed while three (3) projects are still ongoing.
P21 wage hike for 5 million NCR workers effective October 5
By ALU-TUCP
October 5, 2017
QUEZON CITY – Starting today October 5, the minimum wage in the National Capital Region is now P512 a day after a P21 salary increase into the basic pay announced by the wage board two weeks ago.
Under the wage order No. 21 issued September 14 by the seven man members of the Regional Tripartite Wages and Productivity Board-National Capital Region, the minimum wage for non-agriculture workers will now be P512.
Stated in the same wage order, those workers in the agriculture plantation and non-plantation and those in the retail, service and manufacturing sectors employing less than 10 workers will be receiving P475 a day.
More than 5 million minimum-waged workers from Metro Manila and workers from Bulacan, Cavite, Laguna and Batangas working in the metropolis are bound to benefit from the wage hike.
Inspite of the increase, however, wage petitioner Associated Labor Unions-Trade Union Congress of the Philippines (ALU-TUCP) who filed in June a P184 additional increase said the P21 increase will not trickle down the economic wealth the workers help created and is inadequate to meet the daily nutritional and survival needs of the standard family of five amid rising the cost services and surging prices of basic commodities.
"The P21 increase will not lift workers and their families from living below poverty. This 4 per cent increase is very small compared to the recent increases in prices of electricity, water, LPG used in cooking and in the price of gasoline. This increase will not definitely close the widening gap between the rich and the poor. There is no shared prosperity here," said Alan Tanjusay ALU-TUCP spokesperson.
Citing the Bangko Sentral ng Pilipinas (BSP) and the National Wages and Productivity Commission (NWPC), Tanjusay said the buying power of the new P512 daily minimum wage is only P362 a day.
Because of this, the ALU-TUCP is seeking additional P500 monthly of P16 a day subsidy from President Rodrigo Duterte utilizing the unspent and unused budget from different government departments and agencies to help minimum-waged earners cope with the rising inflation.
"It is important for workers to cope with the rising cost of living and meet the basic daily food needs of workers and their families because they are essential partner of employers and capitalists to helping and sustaining the country's economic growth at a competitive level. Yet the wealth created remains at the top and it's not trickling down," Tanjusay said.