Army troops join Peace Workshop for Women in Samar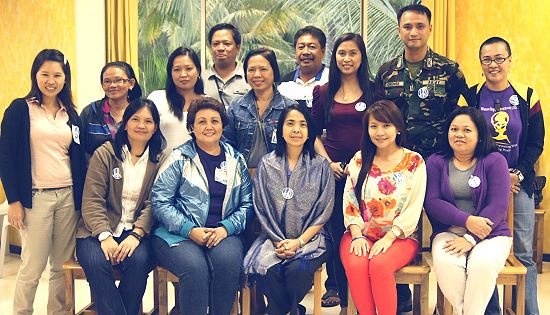 By DPAO, 8ID PA
September 26, 2012
CAMP LUKBAN, Catbalogan City – The 8th Infantry (Stormtroopers) Division, Philippine Army participated in the two-day seminar workshop on women, peace and security at Caluwayan Palm Beach Resort, Brgy Caluwayan, Marabut, Samar last September 24-25, 2012.
The event was organized by the Women engaged in Action (We Act) 1325, a coalition of women organizations and civil society groups working on women, peace and security issues in the country together with the local partner Katungod han Samareña Foundation (KSFI) in partnership with the Office of the Presidential Adviser on the Peace Process (OPPAP).
The workshop also focused on the implementation and localization of Philippine National Action Plan on United Nations Security Council Resolutions (UNSCR) 1325 and 1820 to three conflict affected municipalities (San Jose De Buan, San Jorge and Matuguinao) of Samar Province.
Ms Jasmine Nario-Galace, We Act 1325 National Coordinator and the over-all facilitator discussed the importance of the localization of the National Action Plan on Women, Peace and Security. The plan must be based on the USNCR 1325 in which it addresses the disproportionate and unique impact of armed conflict on women; it recognizes the under-valued and under-utilized contributions women make to conflict prevention, peacekeeping, conflict resolution and peace-building; and it also stresses on the importance of women's equal and full participation as active agents in peace and security as mentioned in Ms Galace's presentation.
Director Aileen Jose, OPPAP Luzon-Visayas Coordinator together with Cpt Gene Orense, PIO, 8ID, PA briefed the participants about the current Peace and Security Situation and latest PAMANA projects and programs in Samar Island Provinces and the Context of Samar Conflict and World Development Report.
Interested and significant topics related to women, peace and security were also discussed during the two-day event which included the International and National Mechanisms on Womens Human Rights; The Gender Dimension of Peace and Conflict; Integrating the Philippine National Action Plan on 1325 in the work of the Sangunian Bayan; Legislating National Action Plan on UNSCR 1325; and the Local Development Planning Cycle.
At the end of the seminar workshop, the participants were able to capacitate on the issues and concerns related to women, peace and security; Identified the priority programs, projects and activities (PPAs) related to women, peace and security for inclusion in the LGU participants' 2013 Annual Investment Plan and Gender and Development (GAD) plan; and drafted a local resolution/ legislation adopting the identified PPAs.
PRO8 campaign againts PAGs gains headway, arrests 2 leaders
By RPCRD, Police Regional Office 8
September 25, 2012
CAMP SEC. RUPERTO K. KANGLEON, Palo, Leyte – The crackdown of the Philippine National Police in Eastern Visayas against Partisan Armed Groups (PAGS) is gaining grounds more than 7 months before the mid-term elections next year.
Police Regional Office 8 Director PCSupt Elmer Ragadio Soria said that the relentless efforts of his office to dismantle the PAGS in the region had made headway with the arrest of two other PAG members operating in Samar recently.
"The credibility of elections is threatened because these PAGs are used by the politicians to intimidate, harass and coerce voters as they sow terror in communities by terrorizing people, thus, an intensified police actions against them months before the elections is being undertaken by this office', Soria said.
The top police official disclosed that his men even conducted operations in Metro Manila and nearby provinces resulting in the arrests of two leaders maintained by an influential politician in Samar.
"All partisan armed group members with arrest warrants should be arrested and placed behind bars while the firearms they are carrying should be accounted for," he said.
The Regional Director said that in the early morning of September 23, at Sitio Quarry, Brgy. Sapang Palay, San Jose Del Monte, Bulacan, elements of Special Task Group against PAGs led by PCInsp Marben M Ordonia, Chief, Provincial Intelligence Branch of Samar PPO and PInsp Fritz B Blanco, Chief of Police of Gandara Municipal Police Station arrested one Nicanor Moloboco alias Nick-Nick, an escapee from Samar Sub-Provincial Jail, Calbayog City, Samar, leader of Moloboco PAG by virtue of an arrest warrant for the crimes of Murder docketed under Criminal Case Nos. 11-0495; 05-0277; 11-0521; 10-0494; 05-0297 and Robbery in Band docketed under Criminal Case No. 0087 issued by Hon. Judge Feliciano G Aguilar of RTC Branch 41, Gandara, Samar.
Moloboco is ranked Number 1 in the list of Most Wanted Persons in Samar Province with approved DILG Monetary Reward of One Hundred Forty Pesos (P140,000.00).
Relatedly, at about 6:00 PM of September 22, at Victory Mall, Caloocan City, same PNP team arrested one Rely Cabogoy alias Nonoy Nguyit, member of Moloboco PAG by virtue of Warrant of Arrest for the crime of Murder docketed under Criminal Case No. 11-0495 issued by Hon. Judge Feliciano G Aguilar of RTC Branch 41, Gandara, Samar. Said person is ranked Number 2 in the list of Most Wanted Persons in Gandara, Samar.
The Regional Director further disclosed that he directed his intelligence operatives to intensify information gathering on any planned activities by PAGs in order to neutralize the two remaining groups operating in Samar, adding that his office is trying its best to dismantle these two PAGs the soonest possible time considering that elections is getting nearer.
"Our effort to dismantle PAGs is a necessary stop to end election violence in the region," Soria said, adding that President Benigno Aquino III himself has issued marching orders to the Philippine National Police to dismantle private armies with only 7 months left before the May 13, 2013 polls.
Soria further averred that PRO8 will continue to implement preemptive police operations to neutralize the remaining PAGs through the conduct of checkpoints; strengthening of linkages with AFP counterparts; deployment of personnel to areas with previous election-related violent incidents, police intervention against loose firearms and case profiling.
Cybercrackdown on gays feared
By PROGAY Philippines
September 25, 2012
MANILA – Transgender and gay members of an activist group are wary that the Cybercrime Prevention Act of 2012 signed this month by President Benigno Aquino III will unleash a massive wave of extortion, harassment, and sufferings in the hands of law enforcement and anti-gay groups.
The Progressive Organization of Gays (ProGay) said that Republic Act 10175 (http://www.gov.ph/2012/09/12/republic-act-no-10175/) contains vague provisions that can criminalize a wide array of shared electronic activity between consenting lesbian, gay, bisexual and transgender (LGBT) adults, and also invade their personal privacy.
Particularly worrying to LGBTs is the definition of Cybersex crime, which could fetch six to ten years of jail time or a fine of up to half a million pesos (USD 11,950). "The willful engagement, maintenance, control, or operation, directly or indirectly, of any lascivious exhibition of sexual organs or sexual activity, with the aid of a computer system, for favor or consideration".
"There are many transgenders who are forced by poverty into baring their bodies before a webcam just to feed their families and send their siblings to school, and they are unwilling victims of trafficking by profiteers. This law can potentially double the victimization of poor trans and gay persons because the terms 'willful' and 'favor and consideration' are so vague. The law can deem trafficked persons consented to work for pay," explained Clyde Pumihic, secretary general of ProGay Baguio.
Pumihic added that for almost a century, transgender and gay Filipinos engaged in sex were targetted by police who used the recently abolished Anti-Vagrancy provision of the Revised Penal Code in the streets and bars. "But now, they have this PNP and NBI fielding the Office of Cybercrime agents who will stalk LGBTs by the thousands without even having to prowl on patrol cars, they just have to use a keyboard to down LGBTs. It's like having the Vagrancy Law on Internet."
Pumihic also warned that the Cybercrime law can also be used by thugs, syndicates, and other private violent groups in entrapping and blackmailing innocent LGBTs who are simply surfing online for dates or fleeting acts of exposure.
"Instead of protecting us from the real cybercriminals, this law is indeed unwittingly turning us into cybercriminals!"
The group also foresees increase risk for HIV and STD transmission if online sex is criminalized. "Consenting online sex using just shared images and words in real time are a safer alternative to meeting strangers who may use force to commit unsafe sex or life-threatening violent behavior. This law clearly can contribute to deaths by hate crimes or illnesses if online sex is penalized."
The ProGay leader appealed to the Supreme Court to declare the law unconstitutional because of its invasive threats against the private lives of LGBTs. The group also called on Aquino to instead work to pass the Antidiscrimination Law in Congress and provide decent jobs with living wages to save trans and gay persons from the clutches of cyberprostitution.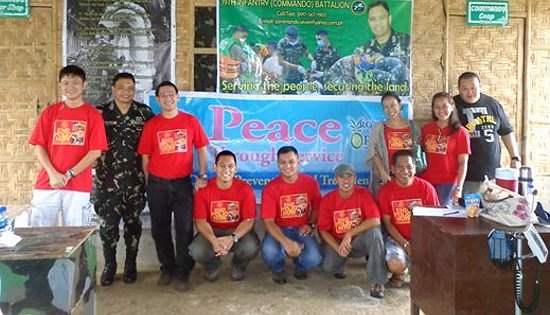 Lt. Col. Nacnac with fellow Rotarians during the blood letting activity at Brgy. Aguting, Kananga, Leyte on 22 September 2012.
Stakeholders back 19IB's 39th anniversary blood letting activity
By 19th Infantry Battalion, 8ID PA
September 25, 2012
KANANGA, Leyte – A total of 24,750 cc or 55 bags of blood were collected by the Philippine Red Cross-Ormoc City Chapter from soldiers and civilians who participated the blood letting activity of the 19th Infantry (Commando) Battalion in Brgy. Aguiting, Kananga, Leyte.
This was confirmed by Lt. Col. Joel Alejandro Nacnac, commanding officer of 19IB when the activity was completed about 1:00 p.m. on Saturday, Sep. 22, 2012.
Lt. Col. Nacnac earlier announced that the blood letting was launched as a kick-off program in connection with the unit's 39th Founding Anniversary on November 1. Hence, he expressed his gratitude to the Rotary Club of Ormoc City headed by Mr. Wesley Chu and the various stakeholders from the municipality of Kananga and Ormoc City who responded 19IB's invitation.
"We believe that we can save lives by sharing our blood to those who need it. That is why I am indebted to the donors who made this activity possible." Lt. Col. Nacnac said.
Stakeholders who participated the blood letting activity were the members of the Rotary Club of Ormoc, security personnels of Energy Development Corporation, National Grid Corporation of the Philippines, Kahugpungan sa Mag-uumang Ormocanon, Ormoc City Police Office and Commando Leyte.
Lt. Col. Nacnac was previously informed by the Philippine Red Cross that the demand for blood in Ormoc City and its nearby towns is at 450 to 500 bags per month. For this reason, Lt. Col Nacnac encouraged his troops to support the humanitarian cause of the Philippine Red Cross and donate blood at least twice a year.
Chiz eyes expanded pensions for retired gov't workers
By Office of Senator Chiz Escudero
September 25, 2012
PASAY CITY – Senator Chiz Escudero is pushing for a bill granting monthly pensions to retired government workers upon reaching the age of 70.
Escudero said government pensioners are provided gratuity under Republic Act 1616. But the law, which was enacted in 1957, can no longer sufficiently provide for the needs of the government retirees five years after the retirement age of 65, he said.
The senator filed Senate Bill 2106, titled "An Act to Grant Monthly Pension to Government Retirees under RA 161 Who Have Reached the Age of Seventy Years."
"The proposal recognizes that majority of this class of retirees has been living in abject poverty, and many of them have to depend on dole-outs from close relatives and friends. Aged government personnel who retired need monthly pension because at their late age their opportunities of earning are already almost nil," Escudero said.
"The lump sum they have received from RA 1616 was greatly eroded by the economic slump and high cost of living. Their economic difficulties were aggravated when the country suffered from devastating effects of natural calamities," he added.
Under RA 1616, the gratuity is payable by the last employer. The employee is also entitled to a refund of his retirement premiums he paid to the GSIS, personal share with interest and government share without interest.
The requirements to qualify are: 1) the retirees must be in government service on or before May 31, 1977; 2) has rendered at least 20 years of service regardless of age and employment status; and 3) his/her last three years of service prior to retirement must be continuous, except in cases of death, disability, abolition or phase out of position due to reorganization.
Escudero's bill is included among the 19 consolidated bills in the Senate through SB 2854 under Committee Report No. 41 by the Government Corporations and Public Enterprises Committee in the Senate on May 31, 2011.
The consolidated bill is currently in the period of interpellation.
Two other bills of Escudero were consolidated in SB 2454. These are SB 2090, which pushes for the establishment of an education trust fund for the grantees of GSIS and SSS members, and SB 2093, which seeks to provide both teaching and non-teaching personnel of the education sector more representation in the GSIS policy-making body with the inclusion of the Department of Education Secretary.
PSSLAI donation to boost PRO8 capability, mobility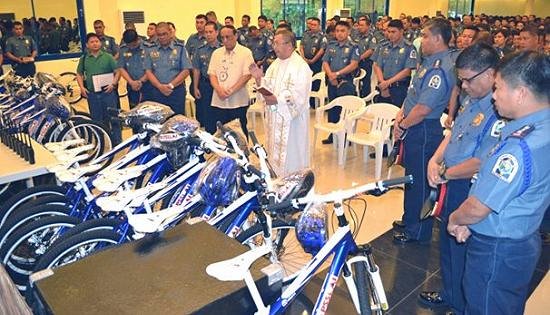 By RPCRD, Police Regional Office 8
September 24, 2012
CAMP SEC. RUPERTO K. KANGLEON, Palo, Leyte – Efforts by the Police Regional Office 8 (PRO8) to further minimize the number of crimes committed in the streets of downtown Tacloban City and neighboring towns have been boosted with the turnover today of 20 units mountain bikes and 10 units handheld radios for use in its anti-crime operations.
PCSupt Elmer Ragadio Soria, PRO8 Regional Director, disclosed that the newly-donated equipments were meant to advance police capability against crimes being committed on streets and enhanced police visibility especially with the forthcoming celebration of the Leyte Gulf Landing on October 20.
"Using bicycles is an effective crime-fighting tool because of its maneuverability on crowded sidewalks and its ability to navigate narrow driveways over cars and similar vehicles. On the other hand, handheld radio provides operatives with an instant communication resulting in a quicker response time", the Regional Director disclosed.
He said that the mountain bikes, a donation by the Public Safety Savings and Loan Association Inc. or (PSSLAI), will be utilized to patrol city streets, highways, nearby schools, financial and commercial centers in Tacloban City and the Mac Arthur Landing Memorial National Park in Palo, Leyte.
"Aside from city streets, the policemen who will be assigned to use these bikes will also be deployed to guard nearby schools and highways to help prevent crimes from taking place," he added.
In line with the Tourist-Oriented Police for Community Order and Protection (TOP COP) program, Soria also recognizes the uniqueness of police bike patrol for the protection and safety of tourists as well as securing tourist destinations in the region, moreso with the forthcoming Leyte Gulf Landing celebration which is expected to boost tourist arrival in Eastern Visayas.
"We expect an increased tourists arrival in the region next month so this is a part of our stepped up effort to ensure the protection of local and foreign travelers and to help sell the DOT slogan "It's more fun in the Philippines.", the police official averred.
The formal turn-over of the 20 units of mountain bikes and 10 units Kenwood VHF Handheld Radios was held during the Monday Flag Raising Ceremony at the PRO8 Matapat Hall with PSSLAI President and Chief Executive Officer Retired Police Director Ernesto V. Belen. It was then followed by the blessing of said equipment by the Regional Chaplain PCInsp Rev. Fr. Apolinario Abing Jr.
The PSSLAI is a non-stock, non-profit savings and loan association for the PNP that began its operations on July 1, 2003, and whose main objective is to provide PNP uniformed and non-uniformed personnel investment opportunities and immediate access to funds and help them cope with rising needs of daily living. The donation is part of the association's corporate social responsibility.
DOLE intensifies youth enterprise support program in Samar
By Philippine Information Agency (PIA 8)
September 23, 2012
TACLOBAN CITY – Fully convinced of the significant contribution of the Youth Enterprise Support program to lessen the percentage of the unemployed, Chief Labor and Employment Officer and head of the DOLE Samar Field Office Fe A. Estrella recently, conducted two YES orientation activities to the students and administrators of two Samar universities.
The first orientation was conducted at the Samar State University in Catbalogan City on September 12 and the Northwest Samar State University in Calbayog City on September 13.
DOLE SFO Estrella said that her office has been trying to penetrate all the schools in the Province of Samar. She said her office is in the right track considering the favorable response from the school administrators of the two schools.
Labor Communications Officer Virgilio Doroja, Jr. informed that the two schools are currently preparing for their accreditation as DOLE partners in the implementation of the YES program.
Meanwhile, NWSSU President Dr. Socorro Orbeta-Bohol and SSU Dean of the College of Industrial Technology Dr. Alex Cardoso both agreed that the Orientation was very timely considering that by the second semester the students will be having their on-the-job training where they have the option to venture into entrepreneurship undertaking related to their course of study.
DOLE through its YES program will be of great help to start up the students' project, the two school administrators said.
The program, Mr. Doroja said, which is intended for graduates and graduating college students envisions these young would-be-members of the labor force as productive, resourceful and self-resilient entrepreneurs.
The YES program provides capability building and capital assistance to deserving YES buddies. Deserving YES buddies are those whose business plan has passed the evaluation criteria of the DOLE Regional Office.
The seed capital for the YES business undertaking can be initially sourced from other funds intended for the rationalized DOLE livelihood program, which also covers young workers.
In the engagement of their production or service workers for the business enterprise, the YES Buddies shall, as much as possible, prioritize the underemployed and unemployed members of DOLE-registered working youth organizations.
AFP-PNP: Strengthening partnership in Region 8
By DPAO, 8ID PA
September 22, 2012
CAMP LUKBAN, Catbalogan City, Samar – The Police Regional Office 8 and the 8th Infantry (Stormtroopers) Division, Philippine Army strengthened their partnership as both groups participated in the Joint Peace and Security Coordinating Council (JPSCC) Meeting held last September 20, 2012 at Matapat Hall, Headquarters PRO8, Camp Kangleon, Palo, Leyte.
The RJPSCC meeting was orchestrated by the JPSCC (National Level) chaired by BGen Roberto T Almadin AFP and was participated by Senior Officers from General Headquarters Armed Forces of the Philippines; Senior Field Commanders from 8th Infantry Division headed by MGen Gerardo T Layug AFP, Commander, 8ID and Senior Police Officers from DIPO-Visayas and Police Regional Office 8 headed by PCSupt Elmer R Soria, CEO VI, Regional Director, PRO 8.
Significant topics were discussed during the meeting which included the presentation of best practices of the AFP-PNP JPSCC Cooperation in Region 8 and the filing of cases against insurgents/New People's Army (NPA) and other threat groups in Region 8, particularly, the cases which do not prosper in the courts.
In his message, MGen Gerardo T Layug said "the recent joint operations between the PNP and 8ID in Eastern Visayas gain headway" and "noted that from January 2012 to present, not a single Human Rights case has been filed against the PNP and the 8ID in the region which only proves that the military and police in joint operations strictly follow, observe and adhere to the provisions of Human Rights, International Humanitarian Law, Rule of Law and the rules of engagement."
"We also recognize the strong support and collaboration of the Local Chief Executives in all 'Bayanihan' activities conducted by 8ID and PRO8 in the region which have contributed to the over-all success of the police and military operations" added Layug.
According to the statement by PCSupt Ricardo Cornejo Marquez, JPSCC Co-chair, "the AFP and PNP will remain strong partners in Internal Peace and Security Operations and Anti-Criminality Operations, in which the AFP will be the lead agency in the conduct of IPSO while the PNP will be the primary agency in all Anti-criminality Operations".
"The joint operations between the AFP and the PNP will further be replicated down to the provincial and the municipal/city level so as to maximize the impact on the community" added Marquez.
Aside from the police and military operations, the AFP-PNP will also perform joint community relations activities in collaboration with Local Government Units in order to deliver basic services to the communities and will also conduct Information Awareness Programs to the primary sectors of the community to present the current peace and development programs of the AFP and the PNP in the region.
LP widens memberships in Leyte's fifth district
By AHLETTE C. REYES / Provincial Media Relations Center
September 22, 2012
TACLOBAN CITY – The Liberal Party widens its membership in the province of Leyte as it swore in new members in the province's fifth district with incumbent local officials and new political hopefuls.
Leyte Governor Carlos Jericho Petilla, himself a new member of the Liberal Party, administered the oath taking of new members from the eight towns and one city in the fifth district in a simple oath taking ceremony in Baybay City.
Abuyog Mayor Octavio Traya, Bato Mayor Nathaniel Gertos, Hindang Mayor Elpidio Cabal, Jr., Inopacan Mayor Silvestre Lumarda, Javier Mayor Sandy Javier, Matalom Mayor Eric Pajulio and Baybay City Mayor Carmen Cari were among the local chief executives who took their formal oath as new members of the party.
Mahaplag town, whose incumbent Mayor Ronaldo Lleve is now on its third term, took his wife Daisy to be LP's new member and the party's standard bearer for the mayoralty post of the town.
The town of Hilongos, meanwhile, swore in another member to be its official candidate under the LP ticket.
The recruitment of LP members will continue and that the mayors who took their oaths will be the LP's official candidates in their respective towns and cities in the coming 2013 elections.
Vice-mayors and councilors also took their oath as new members.
The Liberal Party has continuously conducted 'Basic Orientation Seminar on Liberal Democracy' for new members and the mass oath-taking is part of the party's goal to rebuild the LP and make it the most dominant political party in the country.
New members are required to attend a basic orientation on the party ideology before they could become full members as new Liberals.
Gov. Petilla urged new members to believe in and support the cause of the party. The party's battlecry is "Sa daang matuwid, asenso'y walang patid".
The governor also added that the continuation of the reform agenda is also one of the important reason why the LP is strengthening itself from the ground up.
The second oldest political party, LP has a long lineage of icons in Philippine politics. Among them are Senate President Jovito Salonga and the late Senator Benigno "Ninoy" Aquino Jr and Interior Secretary Jesse Robredo.
LP also produced 4 presidents: Manuel Roxas (1946), Elpidio Quirino (1949), Diosdado Macapagal (1961), and Benigno Aquino III (2010).