NCPW kick-off ceremony draws multi-sectoral support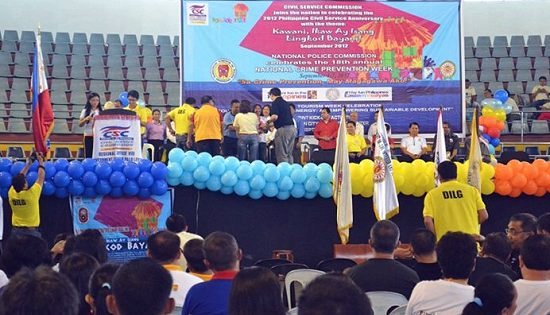 By RPCRD, Police Regional Office 8
September 3, 2012
CAMP SEC. RUPERTO K. KANGLEON, Palo, Leyte – The Police Regional Office 8 expressed its gratitude to the multitude of people who showed up during the kick-off ceremony of the 18th National Crime Prevention Week held at Tacloban City Astodome this morning.
"This is a good sign that people from all walks of life showed their support to this activity. This will send a strong message to criminals that people in Eastern Visayas will not tolerate and will unite against criminality", PCSupt Elmer Ragadio Soria, PRO8 Regional Director said.
The Police Regional Director earlier called on the populace to be actively involved in crime prevention. The activity was jointly launched with the Philippine Civil Service Week and National Tourism Week celebrations.
"As we celebrate the occasion, a much needed focus in providing the momentum towards long-lasting partnerships and active participation from our partners in the community must be done. Everybody must be encouraged to dedicate themselves in the crime prevention aspect", he earlier said in a statement.
This developed as Police Regional Office 8 which Soria heads tops in the execution of Police Integrated Patrol System (PIPS) among 17 PROs nationwide covering the period from January 1 last year to August 31, this year.
For the period, PRO8 implemented a total of 1,225,502 operations followed by PRO7 at 934,126 operations and PRO3 with 881,644 operations. This includes police operations such as establishment of checkpoints/chokepoints, Oplan Bakal/Sita, implementation of Search Warrants, Arrest of Wanted persons, Beat and Mobile Patrols and enforcement of special laws.
The PNP is implementing PIPS in line with the Peace and Order Agenda for Transformation and Upholding of the Rule-of-Law or PNP PATROL PLAN 2030 after re-examining and revising the integral component of the PNP Patrol system in line with the organization's Performance Governance System (PGS).
"With active community support as shown in the ceremony, we in PRO8 is optimistic that we could achieve more breakthrough results that will contribute to the realization of a highly capable, effective and credible police service by year 2030.', the top police official added.
The Regional Director further averred that PRO8 will sustain the implementation of PIPS in all Police Stations and renewed his call for the support from Local Chief Executives, barangay officials and other stakeholders in the community.
Every first week of September of every year is declared as the National Crime Prevention Week pursuant to Presidential Proclamation No. 461 dated August 31, 1994. This year's NCPW theme, "Sa Crime Prevention may Magagawa Ako" promotes, strengthens and empowers the citizens against crime victimization as well as enlists the public to engage in crime prevention projects of the government to increase awareness and support in promoting crime prevention, community and public safety advocacy.
The Kick-off ceremony started with an Integrity Walk from the Balyuan Grounds to the Astrodome followed by the Program Proper with top officials of the Department of Interior and Local Government (DILG), National Police Commission (Napolcom) and Police Regional Office 8 (PRO8) as well as officials and employees from other National Government Agencies, Local Government Units, NGOs, Socio-Civic Groups, Anti-Crime Groups, businessmen and students in attendance.
Law schools vie for top spot in humanitarian law competition
By ICRC
September 3, 2012
MANILA – The battle for the best resumes this year as students from 12 law schools participate in the annual National Moot Court Competition on International Humanitarian Law from September 3-7.
For the first time, the Justice Ines Luciano Best Mooter Award will be given, paying tribute to a passionate supporter of humanitarian law and of the competition. The award was named after the Court of Appeals associate justice and chairperson of the IHL Committee of the Philippine Red Cross (PRC) who passed away last year. It will recognize the highest-ranking oralist in the elimination rounds.
The event is the country's largest moot court competition, to be hosted this year by the De La Salle University Manila. Twelve teams using their argumentative skills and knowledge of international humanitarian law will try to win their case before a mock International Criminal Court.
"The moot court competition has gone a long way since 2005 with only six participating schools. It has taught many former law students, who are now in practice, to understand and appreciate international humanitarian law," said Evecar Cruz-Ferrer, legal adviser of the International Committee of the Red Cross (ICRC) in Manila.
To make the competition tougher, a "power-matching" system will be implemented so top-ranking teams will be pitted against the lower-ranking teams during the quarterfinals and semifinals. This should ensure that the two best teams will clash in the finals.
The participating law schools for 2012 are University of the Philippines College of Law, Far Eastern University-Manila, San Sebastian College Recoletos-Manila, San Beda College of Law-Manila, Ateneo de Manila Law School, Southwestern University, Saint Louis University, University of Batangas, University of Saint La Salle, University of the Cordilleras, Cor Jesu College Law School and De La Salle University College of Law.
The finals – to be held at the Supreme Court en banc session hall – will be judged by a panel of experts including SC associate justice Roberto Abad, Dr. Mario Aguja of Mindanao State University-General Santos City, lawyer and PRC governor Lorna Kapunan, ICRC regional legal adviser Christopher Harland, and Brigadier General Domingo Tutaan Jr. of the Armed Forces of the Philippines-Human Rights Office.
The competitors will also participate in a role-play challenge to simulate practical applications of the body of law that seeks to limit, for humanitarian reasons, the effects of war. A special ceremony at the National Museum's Marble Hall will be held for the launch of the latest volume of the Asia-Pacific IHL Yearbook, a publication of the University of the Philippines-Institute of International Legal Studies supported by the ICRC.
This annual competition for law students in the Philippines is organized by the ICRC, PRC and the Supreme Court. Last year, the University of Cebu swept the awards and ranked third overall at the Red Cross International Humanitarian Law Moot Competition, an inter-university competition for the Asia-Pacific region. This year's winner will also represent the Philippines in the regionals, to be held in Hong Kong in 2013.
Supreme Court pushes gay-friendly program for judicial education
By PROGAY Philippines
September 3, 2012
MANILA – Maria Lourdes Sereno has barely warmed her new seat as the first woman Chief Justice when the Supreme Court introduced another first gender innovation in its history last week.
On September 1, the tribunal's Philippine Judicial Academy (PHILJA) hosted its Focus Group Discussion on the LGBT Sector in what is surely the groundbreaking attempt of the judicial branch of government to address human rights concerns of the lesbian, gay, bisexual and transgender citizens of the country, in the wake of similar steps taken by the executive and legislative branches to address gaps in law, programs, and resources.
In partnership with the United States Department of Justice Criminal Division and its Office of the Overseas Prosecutorial Development, Assistance and Training (OPDAT), the PHILJA invited leaders of the LGBT community and the Congress to contribute inputs as basis for the training curriculum for judges with the aim of enhancing their understanding of LGBT issues.
Hon. Adolfo Azcuna, PHILJA's Chancellor, said the activity was opportune for judges because they can have special leadership roles in defending the dignity and equality of LGBTs before the law.
In the lively exchange of legal opinions and numerous social research data facilitated by retired Supreme Court Administrator Hon. Zenaida Elepaño, the discussions between judges, court personnel and the LGBT leaders listed many action points for resolving past jurisprudence that affected the LGBT community. Some sticky sore points brought up by transgender activists include the SC decision on Silverio vs. Republic of the Philippines that denied their right to change their gender in their birth records and passports.
Hon. Delilah Vidallon Magtolis, academic affairs officer of PHILJA, said that the judges' organization can try to instill gender sensitivity of judges all over the country to have better appreciation of sexual orientation and gender identity in future rulings. Meanwhile, Hon. Geraldine Faith A. Econg, the Supreme Court's Judicial Reform Program Administrator, said that LGBTs can possibly benefit from more inclusive rulings on questions of the Family Code in order to accommodate same-sex couples who seek protection of their rights on joint properties and child custody.
Oscar Atadero, the human rights officer of the LGBT advocacy group ProGay Philippines, proposed that PHILJA and the Supreme Court expand the mainstreaming of the Yogyarkarta Principles, a compilation of provisions from international human rights covenant, as basis for LGBT-compliant rulings and jurisprudence. Atty. Claire Padilla of the Engenderights legal advocates office said that judges can start becoming fairer to lesbian mothers who sue for child custody by ruling on strictly legal basis and not making moral judgments against homosexuality.
The focused group discussion produced sweeping resolutions for future PHILJA actions that include producing education modules on sexuality and gender and LGBT social issues. Incorporating concepts of sexual orientation and gender identity in trainings on subjects such as family courts, international law and commercial courts were suggested. Searching for best practices of judicial decisions on LGBT issues will help PHILJA produce publications that can help judges make creative means of resolving cases involving LGBT issues.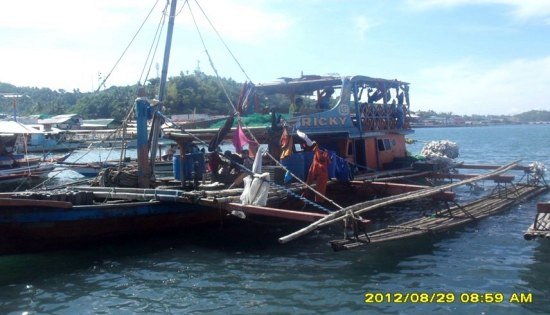 Fishing boats apprehended by RSOG8 during the seaborne operation conducted in the territorial seawaters of Catbalogan and Daram in Samar province last August 28.
PRO 8 steps up campaign against illegal fishing
By RPCRD, Police Regional Office 8
August 31, 2012
CAMP RUPERTO KANGLEON, Palo, Leyte – The Police Regional Office 8 strengthen the implementation of Letter of Instruction: KALIBUNGAN, its campaign against illegal fishing in Eastern Visayas.
"The region basically is surrounded by seawaters. It is our mandate to protect the environment, especially our marine resources, from any illegal fishing activity by strictly enforcing the Philippine Fisheries Code or RA 8550 and local ordinances", Police Regional Director PCSupt Elmer Ragadio Soria said.
Following the intensified enforcement of said LOI, in the afternoon of August 28, 2012, a joint team of Regional Special Operations 8 (RSOG8) and Catbalogan City Police Station conducted a seaborne operation within the territorial sea waters of Catbalogan City with grid coordinate N 11 40' 16.4", E-124 46' 50.5" and intercepted one fishing boat marked as F/B Ricky-LP.
Said boat was skippered by a certain Dominador Lazaro Cabalo, the boat captain, with fourteen (13) crew members on board and caught in the act of engaging illegal fishing. The fishing boat was towed and now docked at Pier 1, Catbalogan City while the apprehended persons and the fishing paraphernalia were brought to Catbalogan Police Station for proper disposition.
Investigation conducted disclosed that the owner of said fishing boat was identified as Fidel Papuran of Pier 1, Brgy. 6, Catbalogan City while the crew members are Louie Montano, Richard Barrantes, Randy Danday, Arjake Cabanganan, Joseph Merin, Arnel Lomenoque, Arsenio Ocenar, Rolando Danday, Guillermo Danday, Arturo Barrantes, Jecky Bagunas, Arselino Danday, Egas Ocenar, and Rex Labalo, all residents of Brgy. Bagacay, Daram, Samar.
Boat owner subsequently paid the penalty for the violation of the Catbalogan City Ordinance at City Treasurer's Office in the amount of Php10,000.00 under OR No. 7683875 dated 29 August 2012.
Relatedly, on the same date, same team intercepted illegal fishers at the seawaters of Barangay Casab-an, Daram, Samar intercepted two (2) fishing boats marked as F/B Ricky 3 and F/B Ricky 5 while engaged in illegal fishing locally known as "trawl fishing" skippered by Noel Jalayahay Magallanes, and Ali Camas, both of Barangay Estaka, Catbalogan City, respectively. Said vessels with its crew and paraphernalia were turned-over to Department of Agriculture of Daram, Samar.
Meanwhile, at the territorial seawaters of Tanauan, Leyte facing Barangay San Roque, elements of Bantay-Dagat operatives led by PO2 Gilbert Lopera and FLET Member Lauro Mendiola, Pelagio Cadion and Jose Allyson Tabuyan conducted a seaborne patrol and were able to apprehend William Asis, Roger Fabu and Randy Ibañez, all of legal age and residents of Barangay 89, San Jose, Tacloban City on board an unmarked green motor banca in the act of engaging illegal fishing and were brought to Bantay-Dagat headquarters for proper disposition.
PRO 8 is particular in implementing said LOI because illegal fishing destroys the coral reefs and breeding areas of fish and eventually kills small fishes even before they reach maturity, the Regional Director added.
Evardone gives reasons for inaction on FOI: Not President's priority, no Liberal Party stand
By Right to Know, Right Now! Coalition
August 31, 2012
QUEZON CITY – After reneging on his promise to put the Freedom of Information (FOI) bill in the "front burner" after the State of the Nation Address (SONA), Rep. Ben Evardone, chairman of the House Committee on Public Information, revealed his reasons for his continued inaction on FOI: it is not a priority of President Benigno Aquino, and there is no Liberal Party stand.
In an interview for the television program Failon Ngayon aired August 25 over ABS CBN, Evardone said that it is not him personally who is preventing movement on FOI.
"Ako matagal ko nang gustong ilabas yan dito sa committee ko eh dahil ako nga ang nabubugbog sa media. Eh dati pa akong taga media (I have long been wanting to get it out of my committee since I am the one who gets beaten up in the media. And I was even with the media before)," Evardone said.
He said, however, that given its sensitive and controversial nature, he cannot decide on the FOI bill by himself. "(H)indi naman priority ng ating Pangulo kasi wala doon sa legislative agenda na sinubmit sa atin, wala doon sa SONA." (It is not a priority of the President because it is not in the legislative agenda submitted to us, it was also not in the SONA.)
Evardone also pointed out that the administration party has no stand on the FOI bill. "Is there a party stand of the Liberal Party? There is none! Kung merong party stand ang Liberal Party, no problem, ako I toe the line." (If there is a party stand of the Liberal Party, no problem, I toe the line.)
The President, Evardone and Speaker Feliciano Belmonte belong to the Liberal Party.
Speaker silent
In Speaker Belmonte's speech at the opening of the third (and last) regular session of the 15th Congress on July 23, he referred to the FOI bill as a measure "ready for a vote." But the FOI bill remains at a standstill at Evardone's committee since then.
This has prompted more than 100 member organizations of the Right to Know. Right Now! Coalition to write to Speaker Belmonte as early as August 15 to appeal for his intervention.
"At this crucial juncture in the term of the 15th Congress, we appeal for your intervention and concrete action on the FOI bill, pursuant to the powers and duties of the Speaker to ensure full deliberation and swift approval of priority measures.", the coalition said in the letter.
The coalition also raised concerns to the Speaker over Evardone's statements in several media stories that his decision not to call a hearing was reportedly upon instruction of the House leadership. "We find this assertion incongruent with the commitment that you have so far expressed on FOI," the coalition said in its letter-appeal.
To date, Speaker Belmonte has not responded to the coalition's letter-appeal nor has he given any public reaction to the latest statements of Rep. Evardone.
The coalition, which includes civil society, academe, public employees and media as members, has been calling for the passage of the FOI bill since 2001as an effective tool to fight corruption in government.
On Sec. Lacierda's statement that Malacañang has a policy vs. Enforced Disappearances
Walk the talk – Desaparecidos
By DESAPARECIDOS
August 31, 2012
QUEZON CITY – Families of the Disappeared for Justice or Desaparecidos today, refuted Malacañang's claim that it "has a policy against enforced disappearances."
"That's a big fat Lie!" exclaimed Maryguy Portajada, Desaparecidos Secretary General. "If that were true, then why do we have 11 victims of enforced disappearance under the Aquino government?
"Magsasalita na lang sila, puro kasinungalingan pa," Portajada lamented. "That's what their good at, statements and PR spins. We have yet to see them do something tangible for the victims and their families. But they only have lies to dish out. They could not even bring out The Butcher, Gen. Jovito Palparan."
Desaparecidos said that even the Anti-Enforced Disappearance Bill is still awaiting Bicameral hearing. The House version was passed on March this year, while the Senate version was passed in 2011.
"Instead of helping us locate our missing loved ones, the Aquino Government's pretension is insult to us," Portajada continued.
For relatives of the disappeared, the Aquino government's statement is but a vain attempt to cover up its human rights record. "Malacañang's attitude is a perfect ingredient for more human rights violations, specifically enforced disappearances" Portajada warned.
The group demands from the government to stop its counterinsurgency program that has caused a string of human rights violations in the country. "Until they stop Oplan Bayanihan, until they have caught and punished the likes of Jovito Palparan, can we believe that the Aquino government is really doing something about the situation. Otherwise, we will consider him as no different from Marcos and his martial law which left behind hundreds of victims of enforced disappearance," Portajada concluded.
Advanced Media Skills Training for the youth conducted
By Philippine Information Agency (PIA 8)
August 30, 2012
DARAM, Samar – Thirty young children and youth participated in the Advanced Media Skills training conducted on August 24, at Barangay Saugon, in the island town of Daram, Samar.
The participants aged 11 to 17 were from the municipalities of Daram, Gandara and Santa Margarita, all in the province of Samar, according to Janice Tapil, a Plan Philippines youth volunteer.
The training was spearheaded by Plan Philippines, a non-government organization that advocates and protects the rights of children, and AnakTV, that advocates for child-sensitive and family-oriented television programs.
According to Camille Mapa, one of the participants in the said training, the participants were taught on how to produce music television or MTV, public service announcements or PSAs and mini documentary.
"The PSAs and MTVs we produced are not common because what we want to convey are stories about the concerns that young children and youth encounter and face in the present time," Camille informed.
To recall, last July 25-26, the Sinebata Kabataang Pinoy Media Festival participated in by children and youth from all over the country was conducted in Tacloban City.
The event was participated in by several young people from the municipality of Daram. In fact, several awards were won by the contingents from Daram.
European Parliamentarians say Filipinos need an RH law
By PLCPD
August 30, 2012
QUEZON CITY – European parliamentarians who are in the Philippines for a study tour said in a press briefing today that the Filipinos need a reproductive health law in order to have better access to health services.
Hon. Ricardo Baptista Leite, Member of the Parliament from Portugal, said an RH law can help people live better lives. A medical doctor by profession, Leite said an RH law will give "true information so the people can make informed choices" about various health services.
Leite and four other parliamentarians from Sweden, Cyprus, Lithuania and the United Kingdom, are here in the country for a five-day study tour on family planning and sexual and reproductive health rights. This is organized by the European Parliamentary Forum on Population and Development (EPF) and hosted by the Philippine Legislators' Committee on Population and Development (PLCPD).
Separation of Church and State
Leite, who comes from a predominantly Catholic country like the Philippines, said Portugal had similar health indicators as that of the Philippines 30 years ago when their own reproductive health policies have not been institutionalized. However, Leite said even their church became part of the process to conceive a law that helped the Portuguese people have better access to necessary health services which specifically lessened maternal and infant mortality.
The Portuguese Parliamentarian said that as a practicing Catholic himself, "there is no greater act of Christianity than saving lives as a reproductive health law would do."
Leite also said that the passage of a reproductive health bill in Portugal can be attributed to the fact that the separation of church and state is a reality. "The Vatican Church respects the constitution and is highly engaged in activities that can lead to a healthier population," he said. "In our country, the church is an ally in providing good health," he added.
Hon. Birute Vesaite, another parliamentarian from the predominantly Catholic country of Lithuania, echoed the sentiments of her fellow parliamentarian from Portugal. Vesaite said the reproductive health bill is, in fact, "a matter of social justice."
Vesaite particularly brought up the urban poor's lack of access to health services. The parliamentarian delegates to this study tour were able to visit urban poor communities who lived under the C3 bridge along Navotas, internal refugees who lived in an evacuation center in North Bay Boulevard South and tenements along Smokey Mountain in Tondo, Manila.
As part of their study tour, the Parliamentarian delegation also paid courtesy to the members of both Houses of Congress yesterday, August 29.
AAMBIS-OWA Partylist Representative Sharon Garin, on the other hand said that Filipino legislators should learn from the European Parliamentarians who fought for a law which gave their people better access to health services.
Since the period of amendments on the RH bill has been stalled in the HOR for the last two weeks since the plenary voted to end the debates, Garin called on her fellow legislators to put the bill into a final vote. "We have wasted too much time, energy and resources, it's about time that we as Representatives express the true sentiments of our constituents. There's no reason to be afraid. We just have to respect the will of the Filipino people."
PNP PRO 8 sustains anti-crime campaign
By RPCRD, Police Regional Office 8
August 29, 2012
CAMP RUPERTO KANGLEON, Palo, Leyte – The Police Regional Office 8 sustains its intensified campaign against all forms of illegal activities in the region with the arrest of several law violators the past days.
"This is in response to President Aquino's policy that his administration will not tolerate any form of illegal activity", PCSUPT Elmer Ragadio Soria, PRO8 Regional Director said. Police commanders who fail to arrest/seize law violators will be relieved from their post, he added.
Just recently, at about 2:00 PM on August 27, 2012, elements of Hindang Police Station led by PSInsp Anecito Garciano Martinez, Chief of Police, recovered ninety two (92) pieces lumbers of assorted dimensions of Narra and Molave species and 26 pieces round timber of Molave specie with estimated volume of 800 board feet and estimated market value of P48,000.00. Said lumber was allegedly owned by a certain Gerry Bantillan, of legal age, married and a resident of Barangay Pa-a, Hilongos, Leyte. Same were properly turned-over to Foresters Noel Lopez and Romeo Mazo of CENRO, Baybay, Leyte.
On the next day, at the sea waters of Cabucgayan, Biliran, elements of Cabucgayan Police Station led by PSInsp Vicentito Placiente Ontuca, Chief of Police, conducted a seaborne patrol which resulted to the interception of one small–scale fishing boat while in the act of engaging illegal fishing activity locally known as "hulbot-hulbot" at the vicinity of Barangay Bunga, Cabucgayan, Biliran seawaters.
Subject fishing boat and paraphernalia has an estimated value of P100,000.00 and is owned and skippered by a certain Ryan Ragasa Napoles, 30 years old, married, fisherman and a resident of Barangay Atipolo, Capoocan, Leyte together with his two (2) crew members identified as Leonard Nideria Sumayan, 19 years old, single and Alfred Pable Mateo, 19 years old and both residents of Barangay Daraupay, Capoocan, Leyte.
Subject persons and the fishing boat were subsequently turned-over to the Department of Agriculture for proper disposition.
On August 27, 2012 at Barangay Candag-on, Burauen, Leyte, a joint operation was conducted by the elements of RSOG 8, Sta. Fe Police Station, 8RPSB and Burauen Police Station led by PCInsp Santi Noel G Matira resulted to the arrest of one Marcelito Adonis, of legal age and a resident of said place.
Adonis was arrested by virtue of Warrant of Arrest for the crime of Rape issued by Honorable Salvador Apurillo, Presiding Judge RTC 8, Branch 8, Tacloban City. He ranked number 6 in the list of Most Wanted Persons in the municipality of Sta. Fe, Leyte and is now temporarily detained at Sta. Fe Police Station for proper disposition prior turn-over to the court of origin.
"Aside from intensified police operations, we also strengthened our partnership to various stakeholders for their full support in our relentless fight against all forms of illegal activities in the region", Soria ends.
PRO8 intensifies campaign against loose firearms
By RPCRD, Police Regional Office 8
August 29, 2012
CAMP RUPERTO K. KANGLEON, Palo, Leyte – Four persons were arrested as Police Regional Office 8 intensified its campaign against loose firearms in different parts of the region.
"The proliferation of loose firearm poses threat to the peace and order situation in the region that's why I ordered our men to conduct a sustained drive through Oplan Bakal in different places of convergence, increased police visibility and establishment of checkpoints", Police Regional Director PCSUPT Elmer Ragadio Soria said.
At around 7:50 o'clock in the morning of August 26, at Purok 1, Brgy. Aguit-itan, Calbayog City, a telephone call received by Calbayog City Police Station from a concerned citizen informed that a male person believed to be drunk was sleeping at the wooden chair at said place with a protruding gun tucked on his waist. Duty patrol personnel of Calbayog City Poilce Station proceeded to the area and arrested one Rolando Neri y dela Cruz alias Sam, 46, married, businessman and resident of above place. The police confiscated from the suspect's possession and control one (1) .22 caliber revolving marked Smith and Wesson bearing serial number 71417 loaded with 8 live ammunitions.
Relatedly, at 10:00 o'clock in the morning of August 25, one Cathy Pica of Brgy. Dolores, Ormoc City requested for police assistance regarding her cellular phone that was allegedly stolen by one John Mesario, 17 years old, single, and resident of Brgy. Bagon, Ormoc City. Team led by PSINSP Shevert Alvin Machete, Police Station 1 Chief, responded for verification and arrested the suspect and recovered from his possession and control one (1) piece MyPhone color white mobile phone owned by the complainant. The police team were also able to confiscate one (1) caliber .38 revolver with no serial number with three (3) live ammo from the suspect's possession.
At around 8:30 o'clock in the evening of August 25, at Quezon Boulevard, Tacloban City, fronting dried fish section, one Tessie Malate y Arsulon, 45, married, vegetable vendor and resident of Brgy 66, Paseo de Legaspi, Tacloban City, while vending her goods at the roadside, her live-in partner Samuel Clemente y Dawaton, 37 years old, resident of Brgy. 88, Alimasag, while under the influence of intoxicating liquor barged in and confronted the former in a temper manner. While arguing, suspect pulled out an improvised handgun and poked towards the victim's face causing a commotion in the area. Responding elements of Tacloban City Police Station, PO2 Jobel Centenaje and PO1 Gilbert Cesora, arrested the suspect and recovered from his possession and control one improvised handgun (sumpak) loaded with one ammunition of caliber 22.
Also, at around 9:00 o'clock in the evening of same date, at Brgy. 6-A, Sto Niño Extension, Tacloban City, suspect Joey Baclean y Odinada, 28, resident of said place was confronted by her live-in partner Rosie Oberes and a heated argument ensued causing the victim to run outside and sought police assistance. Responding elements of Tacloban City Public Safety Company arrested the suspect and recovered one cal. 22 revolver marked Gas.
The Police Regional Director further averred that with the onset of election period next year, PRO8 will further intensify the campaign against loose firearms to prevent the escalation of election-related violent incidents.