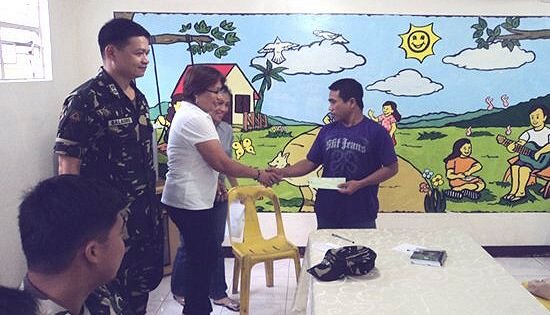 LTC Cerilo C Balaoro Jr, INF (GSC) PA, CO, 87IB with Ms. Tacal, PSWDO, Samar and FR Jeffrey Labong while receiving cash assistance worth P50,000 thru Local Social Integration Program (LSIP) at PSWDO, Catbalogan City.
Livelihood assistance given to FRs
By 87th Infantry Battalion, 8ID PA
September 14, 2012
CATBALOGAN CITY, Samar – The Office of the Presidential Adviser for Peace Process (OPAPP) in coordination with Provincial Social Welfare and Development Office (PSWDO) and the AFP represented by 87IB had been working hand in hand towards the implementation of the Local Social Integration Program (LSIP) in Samar province.
Highlighting this joint effort was the awarding of the livelihood assistance to four (4) Former Rebels (FRs) last Wednesday, September 12, 2012 at the Provincial Social Welfare and Development Office in Catbalogan City.
The simple ceremony was attended by Ms. Emy Bonifacio, OPAPP representative; Ms. Luz Tacal, the PSWDO herself and LTC Cerilo C Balaoro Jr. INF (GSC) PA, commanding officer of 87IB.
One of the FR namely Jeffrey Labong surrendered to 87IB on March 13, 2012 thru the encouragement and initiative of his father, Artemio Labong who earlier surrendered to said Army unit. The elder Labong had already received initial financial assistance worth P5,000 from OPAPP and another P20,000 given earlier by the Municipality of Paranas, Samar during the MPOC meeting on March 19, 2012.
The awarding of livelihood package marked a milestone in the LSIP of Samar Province. Further, this will serve as a good precedent for other insurgents to follow suit and avail the integration program of the government.
Gov. Petilla conferred Galing Likha-Kalusugan Award for Mother Bles Birthing Clinic initiative
By Provincial Media Relations Center
September 14, 2012
TACLOBAN CITY – Leyte Gov. Carlos Jericho Petilla recently received the Galing Likha-Kalusugan (GLK) Award conferred by the Philippine Institute for Development Studies (PIDS) for his innovative set up of Mother Bles Birthing Clinics in the province as well as in other parts of the country in partnership with Kakak Foundation.
The Galing Likha-Kalusugan (GLK) Award is a distinction given to public and private organizations that best exemplify the highest level of innovation in the country's health marketplace.
The governor received the award recently during a ceremony held at the Hotel Intercontinental in Makati City from top health experts in the country led by Dr. Eduardo Banzon, President and Chief Executive Officer of PhilHealth.
Mother Bles Birthing Clinics (MBBC) are networks of PhilHealth accredited birthing health facility started in Leyte Province. The program aims to provide poor pregnant women with accessible and affordable maternal and infant health care services.
Ninety-five (95) percent of clients of MBBC are PhilHealth indigent members, and the remaining 5 percent are either non-PhilHealth or paying clients. The business model of Mother Bles Clinics harnesses the comparative advantages of the following sectors through private-public partnership: KaKaK Foundation Inc., private practicing midwives, municipal and provincial government.
This is the second time that PIDS hosted such recognition rites in celebration of Filipino ingenuity and inventiveness in the healthcare sector.
Together with the Mother Bless Clinic program, also awarded were the Surveillance in Post Extreme Emergencies and Disasters (SPEED) and PhilHealth Link.
PhilHealth LINK is a call center for PHilHealth members, a collaborative enterprise supported by provincial local government units who want to maximize reimbursement from PhilHealth so that LGU health facilities can have a steady revenue stream. This project was launched by PhilHealth Region VIII in 2010.
Galing Likha-Kalusugan pays tribute to the best health market innovations in the Philippines, an initiative started in 2010 to scour the entire country for creative and fresh approaches to health service delivery as it stresses the importance of Public-Private Partnership (PPP) in the provision of accessible, efficient, cost-beneficial healthcare programs in the country.
PNP PRO-8 strictly implements "One-strike Policy"
By RPCRD, Police Regional Office 8
September 14, 2012
CAMP SEC. RUPERTO K. KANGLEON, Palo, Leyte – Police Regional Office 8 director PCSupt Elmer Ragadio Soria once again reminded all Provincial / City Directors and Chiefs of Police on the illegal gambling policy embodied in PRO-8 Letter of Instruction 03-2012 "Revised PNP Anti-Illegal Gambling Special Operations Task Force (AIG-SOTF) WARAY" to pursue its thrust to make Eastern Visayas an illegal gambling-free region.
"Be reminded on our stand against all forms of illegal gambling in Region 8. There would be no tolerance and I will not hesitate to implement the one-strike policy to relieve those commanders found to be remised in our efforts to stop the existence of illegal gambling", Soria told Provincial Directors and the Directorial Staff during a conference held recently.
There is no exemption as far as the "one-strike policy" of the PNP is concerned in line with the campaign against illegal gambling. It means that police officials particularly the Regional Directors, Provincial Directors, City Directors and Chiefs of Police, who fail to act against all forms of criminal activities, including illegal drugs and street crimes, in their respective areas of responsibilities will be immediately relieved from their posts the result of an inquiry on their culpability.
The PNP has to enforce the law without fear or favor and will double its efforts by concluding sustained operations to apprehend suspected illegal gambling collectors and financiers. The fight against illegal gambling will only succeed through stronger partnerships with various stakeholders including local officials, the members of the religious sector and the media.
Soria informed that PRO8 under his leadership has sustained its campaign against all types of illegal gambling operations. For the period January 1 to August 31, 2012, PRO8 has conducted 488 operations on illegal gambling that resulted in the apprehension of 538 persons, confiscation of P128,026.75 worth of bet money and 305 cases filed in court.
"It is only fitting for ground commanders to take our thrust seriously against illegal gambling activities. This serves as a fair warning. And existence of illegal gambling, particularly swertres in their respective localities will be a ground for their relief and filing of administrative case against them," Soria explained.
Moreover, Soria directed all Provincial / City Directors to submit certifications stating that no illegal gambling activities in any form exist in their respective areas of responsibility. He also warned all PRO8 personnel to never protect nor tolerate any illegal gambling activities in their areas in exchange for money and other considerations. Likewise, he directed all unit commanders to continue a forceful, aggressive and unrelenting campaign against any and all forms of illegal gambling operations in the region.
PRO 8 sustains LOI "Manhunt Charlie"
By RPCRD, Police Regional Office 8
September 14, 2012
CAMP RUPERTO KANGLEON, Palo, Leyte – On September 12, 2012 at around 3:35 in the afternoon, PRO RD commands the elements of Sta. Fe Municipal Police Station led by SPO2 Cyril Chu who arrested Alfredo Acebedo Daban, 23 years old, single, farmer and a resident of Barangay Victoria, Sta. Fe, Leyte on September 12, 2012 for the crime of Frustrated and Attempted Murder docketed under Criminal Case Number 2011-05-283 and 2011-05-284 issued by Honorable Salvador Apurillo, RTC Judge, Branch 8, Bulwagan ng Katarungan, Tacloban City with recommended bail of P200,000 and P120,000 respectively.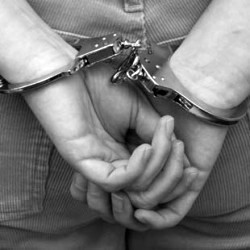 Alfredo Daban ranked number 10 in the list of Most Wanted Persons in Sta. Fe, Leyte and is now detained thereat for proper disposition.
Meanwhile, on the same date, Leonardo de la Cruz was arrested by Tacloban City Police led by SPO4 Eliseo Del Rosario III for the crime of Theft; Danilo Sabanal Catuday, 41 years old, married from Barangay Caglao-an, Dolores, Eastern Samar was also arrested by Dolores Municipal Police led by SPO4 Emmanuel Grata for violation of PD 705 (Revised Forestry Code of the Philippines) with recommended bail of P40,000 issued by RTC Judge Filotea Estorninos, Branch 4, Dolores, Eastern Samar.
Elements of Police Station 3, Ormoc City Police led by PCInsp Virgilio B Bayon-on also arrested Eric Tano Birio, 28 years old, married and a resident of Barangay Linao, Ormoc City for violation of RA 8294 (Illegal Possession of Firearm) issued by MTCC Judge Joshua R. Palalay of Ormoc City.
On September 11, 2012, four (4) wanted persons in the region were arrested. Burauen Municipal Police led by PSInsp Allan T Novales arrested a certain Juin Acedillo Jaro, of legal age and a resident of Barangay San Jose, Tacloban City for the crime of Estafa and Salvador Delias Trinidad of Barangay Central II, Palompon, Leyte for Violation of Section 5 of RA 7610 (Anti-child Abuse) both issued by Judge Yolanda U. Dagandan of RTC Branch 15, Burauen, Leyte.
27 years old Evelyn Lurica Bastasa was also nabbed by Hilongos Police Station led by SPO2 Mark David Belmonte for the crime of Oral Defamation with recommended bail of P6,000.
At around 3:00 o'clock in the afternoon at District 4, Babatngon, Leyte, Allan Bastida, and Bernabe Hidalgo, 30 years old, single, both residents of said place were arrested for violation of Sections 89 and 90 of RA 8550 (Philippine Fisheries Code) with recommended bail of P4,000 each issued by Judge Romulo R. Casiber of Babatngon MTC.
According to PCSupt Elemer Ragadio Soria, PRO8 continually adheres to the nationwide implementation of LOI "Manhunt Charlie" – the PNP's campaign against wanted persons as part of the Ten- Point Action Plan of the PNP Chief in accounting of wanted persons thru service of warrants.
The sustained build-up and information networking between the PNP and community lead to the immediate arrest of suspects with warrants of arrest, SORIA ended.
NSO bares agricultural / fishery growth in years
By PIA Samar / NBQ
September 13, 2012
CATBALOGAN CITY, Samar – As the National Statistics Office (NSO) will soon be conducting the Census on Agriculture and Fishery (CAF), it then bared growth and decline of the sectors defined in ten years time.
During, Wednesday's Provincial Consultative Forum on the conduct of the CAF, it bared important data from the census records.
From the year 1991 the number of farms increased from 4.6 million farms to 4.8 million farms in 2002, an increase of 4.3%, however, a decline of 3.0% was noted in the average farm size from 2.2 hectares to 2.0.
Central Visayas accounted for the highest number of farms, with 430 thousand farms covering 522.4 thousand hectares. Bicol Region meanwhile, had the biggest farm area with 892 thousand hectares.
In Eastern Visayas, records show that in 1991, it had 321,456 hectares of farms and increased in 2002 to 330,750.
The 2002 CAF also maintained that palay and corn are still the top two major temporary crops in the country, with palay accounting for 2.2 million farms with an area of 3.9 million hectares.
Corn, considered as the second major crop, has 1.5 million farms covering some 2.4 million hectares.
As to major permanent crop, the coconut topped them all with some 53.9 percent devoted to coconut plantation accounting to 2.6 million farms planted with some 320 million coco trees.
The coconut is followed closely by banana with 2.3 million farms planted with 168.9 million bananas.
As to livestock, the number of hogs increased by 14.6 percent from 7.58 million heads in 1991 to 8.6 million heads in 2002. Carabaos also increased from 2.7 M heads in 1991 to 2.8 M heads in 2002.
In poultry, a remarkable increase was observed, from 87.30 million chickens in 1991 to 126.7 million chickens in 2002 or an increase of 68.9 percent.
As to the gender of farmers, more males with 88.2 percent were engaged in agricultural operation than females.
In fisheries, the number of both municipal and commercial fishing operators significantly increased, while the number of boats weighing 3 gross tons or less and rafts doubled.
Aquaculture also recorded a dramatic increase in the number of operators from 27.3 thousand to 220.5 thousand or an eightfold increase.
Finally, as to the number of household members involved in farming, fishing and aquaculture, the CAF revealed that roughly 5.5 million household members were engaged in agricultural activities, 4.95 thousand household members were engaged in commercial fishing, while 177.6 thousand household members were engaged in aqua-farming operations.
These data will soon take a backseat as NSO will start another bout of census on agriculture and fisheries in February 2013 using the data of year 2012.
From martial law to Ninoy Aquino: hamletting and forced evacuation remain
Martial Law-style military operations drive away rural folks from their homes - Karapatan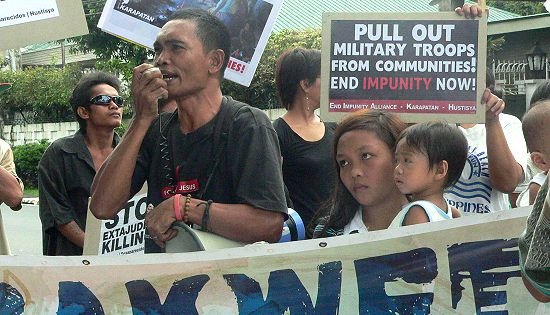 By KARAPATAN
September 13, 2012
QUEZON CITY – Karapatan today held a picket at the Times St. residence of Noynoy Aquino to call the attention of the government on the "Martial Law-style military operations especially in the rural areas and on the plight of the evacuees such as those from the Bondoc Peninsula in Quezon Province who left their homes because of these operations."
Karapatan secretary general, Cristina Palabay said, "There are now eight military battalions in Bondoc Peninsula, something that has never happened before, even during the time of martial law." Karapatan has documented several cases of threats and harassment against residents in the area, including those who are members of farmers' organizations.
The protest action coincided with the birthday of the late Ferdinand Marcos, whose reign was marked by tyranny and terror that resulted to countless human rights violations. "With evacuations going on in many parts of the country such as in the Caraga region, in Bukidnon, and in Bondoc Peninsula, we believe that the Marcos era never left us after martial law. The essential elements of Marcos' hamletting and forced evacuation happened during Cory Aquino's time and the succeeding presidents after her; and it is still happening now," Palabay added.
Quoting a study entitled IMPACT OF MILITARIZATION OF HUMAN RIGHTS IN THE PHILIPPINES, a document that traced the human rights violations during martial law, Palabay said that "reading through the text that described the hamletting and forced evacuation during the martial law years is like listening to the woes of the people in the rural areas who are currently displaced because of military operations in rural communities. Nothing changed."
"*By sowing fear through threats and by manifest violence, residents were made to feel that they had no other recourse but to evacuate and seek refuge in other areas... Mass evacuations...were triggered by harassment and intimidation of the residents by the military; intensified military operations like bombings and strafings; clashes between the guerrillas and government troops; and violent incidents like massacres or 'salvagings'.*
Palabay added that, "it is also significant to note that as in the martial law days, intense military operations are meant to drive people away from their lands. It preceded the entry of transnational corporations and agribusiness plantations or government projects such as dams. These days, military operations are similarly linked with the entry or expansion of mining operations by foreign big business as in the case of the Caraga region, the dams in Bukidnon, transformation of hacienda's into agri-business in Bondoc Peninsula, and other projects related to Aquino's Public-Private Partnership."
Karapatan said that the Armed Forces of the Philippines, through the U.S.-guided Oplan Bayanihan, attempts to sow terror in the communities that range from harassment and intimidation to strafing and bombings "that are no different from the Marcos era."
Karapatan called for the immediate pullout of the military troops from the communities and an end to Oplan Bayanihan.
PRO8 arrests 4 drug pushers
By RPCRD, Police Regional Office 8
September 13, 2012
CAMP SEC. RUPERTO K. KANGLEON, Palo, Leyte – Four drug pushers were arrested by the PNP Police Regional Office 8 (PRO8) during separate anti-illegal drugs operations in the region.
Police Regional Director PCSupt Elmer Ragadio Soria informed that this aggressive police operations were in compliance to the PNP's Letter of Instruction "Kontra Droga Charlie" issued recently.
"The directive sets forth revisions in the PNP anti-illegal drugs strategy to further strengthen our operational support mechanism to PDEA in the national anti-drug campaign consistent with the intent of Executive Order No. 218", SORIA said.
Said Executive Order which was issued on June 18, 2003 aimed at strengthening the support mechanism for the Philippine Drug Enforcement Agency.
Soria informed that joint elements of Maasin City Police Station led by SPO4 Rommel Roa, PAIDSOTG and PDEA8 conducted buy-bust operation at Brgy Tunga-tunga, Maasin City, Southern Leyte resulting in the apprehension of one Ronel Biong Banalo alias Nel, 20 years old, single, jobless and a resident of Brgy Ichon, Macrohon, Southern Leyte.
Confiscated from his possession and control were three (3) pieces heat-sealed transparent plastic sachet containing white crystalline substance suspected to be "shabu", two (2) pieces unsealed transparent plastic sachet containing suspected "shabu" residue, one (1) piece Five Hundred peso bill with SN CO65816 buy-bust money, one (1) Nokia 1108 cellular phone, one (1) Fifty Peso Bill, one (1) coin purse and one (1) Roble shipping lines passenger ticket.
The conduct of inventory and photograph of evidences were witnessed by Jani Arnaiz, media representative, Brgy Capt. Rodrigo Panel Opanelo and Ms. Josephine A Hatayna, DOJ Representative.
In Hilongos, Leyte, elements of Hilongos Police Station led by PCInsp Virgilio Plaza arrested one Wilson Fernandez, 37 years old, married, and a resident of Brgy. Owak, Hilongos, Leyte during the implementation of Search Warrant No. 01-2012 for Violation to Section 5 & 11 of RA 9165 issued by Hon. Ephrem S. Abando, Executive Judge of RTC, Br 18, Hilongos, Leyte which resulted to the seizure from his possession and control of the following: two (2) pieces small sachet of heat sealed transparent cellophane containing white crystalline substance of suspected "shabu"; three (3) pieces cut tin foil; two (2) pieces one hundred peso bills with Serial numbers BN583144 and RC996530; one (1) piece lighter; one (1) piece OPF syringe; one (1) piece of vial Liducaine HCL with Epinephrine; and one (1) piece TM SIM card.
Said search was witnessed by Brgy Kagawads Victor Lelis and Ariel Bautista of Brgy Owak, Hilongos, Leyte.
Also, in Hilongos, same PNP team nabbed one Jupiter Bryan Buenafe Y Gabisan, 35 years old, married, and a residence at Brgy. Lamak, Hilongos, Leyte during the implementation of Search Warrant No. 02-2012 for Violation of Section 5 & 11 of RA 9165 issued by Hon. Ephrem S. Abando, Executive Judge of RTC Br 18, Hilongos, Leyte which resulted to the seizure from his possession and control of the following: two (2) pieces small sachet of heat sealed transparent cellophane containing white crystalline substance of suspected "shabu"; seven (7) pieces assorted lighters; one (1) pad tin foil; one (1) unit Nokia cellphone; four (4) pieces one hundred peso bills with serial numbers CX034026, HZ670019, LF476937, RC999258; and one (1) pc fifty peso bill with serial number BT601164.
The search was witnessed by Brgy. Kagawad Renante Casas and Chief Tanod Eduardo Zamora of Brgy Lamak, Hilongos, Leyte.
Meanwhile in Catbalogan City, Samar, buy-bust operations conducted by a police team from Catbalogan City Police Station led by PSInsp Rex B Cantillep resulted to the arrest of Sonny Boy Borja Y Japson, 37 years old, married, jobless and a resident of Brgy. 12, Catbalogan City while selling illegal drugs locally known as "Shabu" to a policeman who acted as poseur buyer at the vicinity of Rizal Avenue, Brgy. 5, Catbalogan City. The team further recovered from his possession and control (1) five hundred peso bill bearing Serial Nr. ZQ641254 buy-bust money.
The police official averred that drug charges were already filed in court against the suspects.
"The reinvigoration of the campaign against illegal drugs is in response to the present emphasis and demanding issues of drug law enforcement since the drug problem will always remain as one of the primary concerns of PRO8", the Regional Director said.
Chiz backs a department of fisheries
By Office of Senator Chiz Escudero
September 13, 2012
PASAY CITY – Senator Chiz Escudero said he is supporting calls for the creation of a Department of Fisheries.
"Every department should have a field of expertise. Fishing is one of our main sources of income that can compete with the exports of other countries. We should focus on this instead of just focusing on imports," Escudero said during a recent visit to General Santos City for the 14th Tuna Festival.
The fisheries subsector accounted for 18.81 percent of the country's total agricultural output. Production reached 5.15 million metric tons in 2010 valued at P221.05 billion.
The Soccsksargen Federation of Fishing and Allied Industries Inc. in Southern Mindanao wants the Bureau of Fisheries and Aquatic Resources upgraded into a separate department.
BFAR is an agency under the Department of Agriculture.
But Escudero said any move to create a new department will have to wait since the Aquino administration is undertaking a rationalization program to streamline the government bureaucracy.
"The creation of a Department of Fisheries is currently being pushed in Congress but the current thrust of President Aquino's administration is to minimize the bureaucracy and red tape, and the only department the President has agreed to be created is the Department of Housing," Escudero said.
"We have been spending a lot in various government agencies that sometimes do not really function at all. Maybe after we have rationalized all government agencies," he added.
The proposed bill for the creation of a Department of Fisheries is still pending with the House of Representatives, and the Senate has yet to tackle the issue. But Escudero vowed to support the department's creation if the proposed measure reaches the Senate.
According to the DA's Bureau of Agricultural Statistics, the country's fisheries subsector continued to register a decline in production.
Downtrends in production were observed for marine and inland fisheries as well as aquaculture. Gross receipts for fisheries amounted to P117.4 billion at current prices. This represented an increase of 3.07 percent from last year's level.
At the same time, Escudero reiterated his support for the country's tuna industry.
"As chairman of the Senate Committee on Environment and Natural Resources, the tuna industry is one of our priorities. I want to make ensure that the country's tuna industry gets full support and at the same time ensure that production is sustainable," the senator said.
Tuna was the country's top fisheries export in 2010, earning P15.12 billion.
Escudero pledged continued support for the tuna industry, as well as the fisheries subsector of the country's agricultural sector.
"My late father (Rep. Salvador Escudero) was a former Agriculture secretary under two presidents. Agriculture is near and dear to me," the senator added.
IACAT nabs illegal recruiters in Taguig – VP Binay
By OVP Media
September 12, 2012
MANILA – Two female illegal recruiters also suspected to be involved in human trafficking activities were collared by authorities during an entrapment operation conducted by the Inter-Agency Council Against Trafficking (IACAT), Vice President Jejomar C. Binay said Wednesday.
"We were able to verify with the POEA (Philippine Overseas Employment Agency) that the two women are not authorized to recruit workers for employment overseas," the Vice President said.
Binay, who is also the Presidential Adviser on Overseas Filipino Workers (OFW) Concerns, said the IACAT conducted a surveillance operation after receiving a tip from a reliable source that the two were conducting illegal recruitment activities in Taguig.
"The operatives discovered that not only were applicants being illegally recruited, but upon arriving at their work destination, they were trafficked and made to work as prostitutes," he said.
"Three social workers of the Visayan Forum Foundation (VFFI) presented themselves as poseur applicants. Upon visit to the recruiters, they were told that they will be working as waitresses in Palau and that a lot of other applicants have been sent abroad and are now earning well," Binay added.
In a joint affidavit executed by the social workers, the three revealed that they were told by the recruiters that those who had already been sent abroad to work as waitresses earned a lot of money by sitting beside their customers and drinking with them at their tables.
"(They) further elaborated that we could earn more money if we go out with our customers," the three social workers said.
The rescued victims are now in the care of the Department of Social Welfare and Development and VFFI, while the arrested recruiters are currently detained at the National Bureau of Investigation.
The anti-trafficking czar said that to date, the IACAT has been able to secure convictions for 12 human-trafficking related cases this year, with 20 persons convicted.
"We now have a total of 47 human-trafficking related convictions since the start of President (Benigno) Aquino's term," the Vice President said.
DOT calls for entries to Icons of Greatness
By Philippine Information Agency (PIA 8)
September 11, 2012
TACLOBAN CITY – Department of Tourism Region 8 Director Karina Rosa Tiopes called on the youth of Eastern Visayas to participate in the recently launched DOT's Icons of Greatness, a program that seeks to involve the youth in the search for heroes and appreciation of important events through tour itinerary-making and poster-making competitions.
Director Tiopes informed that the competition is open to all Filipino Youth ages 15 to 30 who are residing in the Philippines. Submission of entries will be from August 28 to October 31, 2012. Judging and awarding ceremony will be in November of 2012, Director Tiopes added.
Organized by DOT in partnership with the University of the Philippines Manila and the National Historical Commission of the Philippines, Icons of Greatness is a three-tiered program: it involves research, creativity, and tour itinerary components. The project aims to enhance appreciation of the inherent greatness of the Filipino people and give new meaning to old places by re-contextualizing them in the life or event of an icon.
Entries for both tour itinerary and poster must feature at least one of the icons of greatness defined as significant people, places, and events in Philippine history that have been translated and memorialized into shrines, landmarks, heritage sites, and museums.
The icon must have any of the following distinctions to his, her or its name: the Order of National Artists, a National Shrine, the Order of National Scientists, National Observance Day, a UNESCO World Heritage Site, a National Historical Site, National Monument, a National Historical Landmark, Military Shrine, Order of Lakandula, Order of Sikatuna, Philippine Legion of Honor, Order of Gabriela Silang, Gawad sa Manlilikha ng Bayan, Gawad Mabini, Order of the Golden Heart, and Presidential Medal of Merit.
Participants in Icons of Greatness are encouraged to incorporate "It's more fun in the Philippines" into their work. The participant must remember, it's not a campaign; it's the truth, Director Tiopes added.
Each contestant must present a proof of his/her age by submitting a birth certificate and any of the following IDs: valid student identification card (ID) with photograph issued by the government (Driver's License, Voter's ID, Postal ID, NBI). If in case the contestant has no valid ID, a barangay certification should be presented stating the age of the contestant.
A person can only submit one entry within the contest period. A completely filled-out contest submission/participation form that can be downloaded from www.iconsofgreatness.wix.com/tourism or requested from the Department of Tourism, Rm. 417, 4th floor, DOT Building, T.M. Kalaw St., Manila.
Submission of entry should be in hard (printed in bond paper with legal size 8.5" x 14") and soft (CD) copies together with the participation form and valid ID.
All entries shall be considered as the intellectual property of the Department of Tourism. By submitting an entry, participants consent to the use of their work entry and personal information, including name, poster and itinerary, without compensation in any publicity (promo collaterals) carried out by the agencies, partners and sponsors.
All entries must include the theme – Icons of Greatness – It's More Fun in the Philippines.
All tour itineraries must include the following information: brief description of places to visit; Schedule and list of activities; Modes of transportation; Date of departure and arrival; other free amenities, if any (e.g. free breakfast, free museum entrance fee).
Submission must be presented in a flyer/brochure form with the size of 8.5" x 11". Each entry should have a creative title (e.g. "Lakwatsa ni Batang Jose Rizal").
Icons of Greatness is also supported by the Presidential Communications Operations Office, Philippine Information Agency, National Commission for Culture and the Arts, National Youth Commission, Philippine travel industry stakeholders, various educational institutions, and corporate sponsors.