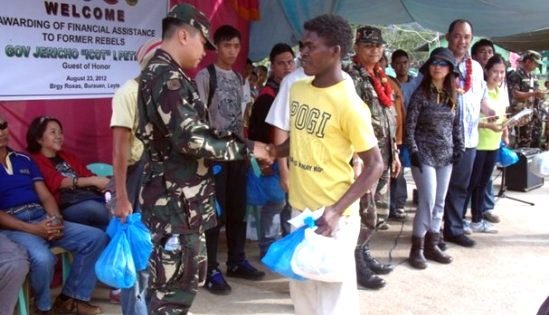 1LT Philip James Hocson (INF) PA, CMO Officer 19IB, PA during the awarding of financial assistance to the fifteen (15) former Rebels.
Cash assistance released to 15 former rebels
By 19th Infantry Battalion, 8ID PA
August 24, 2012
BURAUEN, Leyte – Fifteen (15) former rebels who surrendered during last year's focused military campaign against insurgents received the so called Basic Immediate Assistance (BIA) amounting to P10,000.00 in a ceremony held at Brgy. Roxas, Burauen, Leyte on Aug. 23, 2012.
Lt. Col. Joel Alejandro Nacnac, Commanding Officer of the 19th Infantry (Commando) Battalion disclosed that the BIA recipients were former members of Front Committee-Leyte (FCL), the infamous New Peoples Army group operating in the province of Leyte.
"These FR's surrendered to 19th IB because they want to live in peace with their family. Indeed, they have made the right decision, because the Philippine Army and the Provincial Government of Leyte are sincere with the peace and development stance so that remnants of NPA rebels fully abandon the armed struggle", Lt. Col. Nacnac said.
Each FR has its own story to tell. A certain Peter said that he and his comrades would keep on moving from place to place in the hinterlands of Leyte to evade government forces. Unfortunately, he and a comrade were arrested in a checkpoint operation of the Philippine Army. Likewise, a certain Jocelyn, former NPA courier experienced hardships in the underground movement that is why she decided to surrender to 19IB last year.
In behalf of the former rebels, Miguel Payod extended his gratitude to the Provincial Government of Leyte under the leadership of Gov. Carlos Jericho Petilla, to the Provincial Social Welfare and Development Office spearheaded by the Mrs. Clotilde Malatbalat and to the Philippine Army who worked together for the reintegration of the FR's into the mainstream of the society.
Last year, a total of P685,000.00 were released by the Office of the Presidential Adviser on Peace Process (OPAPP) through the Provincial Government of Leyte as additional reintegration assistance to fourteen (14) former rebels who surrendered to the military from years 2007 to 2010.
In his message, Gov. Carlos Jericho Petilla who was ably represented by Hon. Carlo Loreto hoped that the basic assistance and livelihood programs in store for the FR's can also be the foundation of their new lives.
With the Provincial Social Welfare and Development Office, the Philippine Army's Bayanihan campaign in the province of Leyte shall intensify to convince rebels to return to the folds of the law.
Number 1 most wanted person of Maasin arrested
By RPCRD, Police Regional Office 8
August 24, 2012
CAMP RUPERTO KANGLEON, Palo, Leyte – PNP PRO 8 under the leadership of PCSUPT Elmer Ragdio Soria, Regional Director, in line with the 10-point agenda of the Chief, PNP had intensified the implementation of Manhunt: Charlie, the PNP's campaign for the arrest of wanted persons.
"PRO8 is committed to run after criminals and have arrested several wanted persons the past weeks for them to face trial in the bars of justice", PCSUPT Soria said.
On August 20, 2012, elements of Maasin City Police Station led by PINSP Kerwin Sevillano arrested the Number One (1) in the list of Most Wanted Person in the city of Maasin, Southern Leyte.
PCSUPT Soria identified the suspect as one Renato Pero Costillas, 49 years old, single and a resident of Barangay Pananawan, Maasin City. The subject was arrested for the crimes of 2 counts of Attempted Rape; Rape by Sexual Assault in relation to RA 7610, both with a recommended bails of P120,000 and Acts of Lasciviousness with recommended bail P24,000.00 issued by Honorable Ma. Daisy Paler Gonzales, Presiding Judge of RTC Branch 25 and MTCC Presiding Judge Honorable Edgardo C. Leonido of Maasin City.
In related development, on August 18, 2012 at about 3:30 PM, the Number Nine (9) Most Wanted Person in the municipality of Sogod, Southern Leyte voluntarily surrendered to Sogod Police Station. Jessie Q. Seron, 33 years old, single and a resident of Purok 2, Barangay Buac Gamay, Sogod, Southern Leyte voluntarily surrendered to the Chief of Police, Sogod Police Station.
Seron has a standing Warrant of Arrest for the crime of Attempted Murder issued by Honorable Rolando L. Gonzales, presiding Judge of RTC Branch 39, Bulwagan ng Katarungan, Sogod, Southern Leyte with no bail recommended.
Subject persons were brought to respective police stations for documentation and subsequently turned-over to issuing courts.
These arrests are the result of the aggressive and intensified implementation of the LOI "MANHUNT CHARLIE" with the cooperative efforts of the community, Soria said.
The Regional Director further encouraged the public to help their police in pursuing lawless elements in the region.
Make barangay execs wage earners – Chiz
By Office of Senator Chiz Escudero
August 23, 2012
PASAY CITY – Senator Chiz Escudero wants officials of the country's 42,000 barangays to be given monthly salaries instead of just honoraria and allowances.
"Dapat naman siguro may sweldo na sila at hindi honorarium lamang. Mas araw-araw ang trabaho nila kaysa sa aming mga senador na four times a week lamang at may pension pa kami pero sa mga nasa barangay ay wala at honorarium lamang," the senator said.
Escudero has proposed Senate Bill 2868, which would increase the benefits of barangay officials and provide the prevailing minimum wage in the region per month for Sangguniang Barangay members, barangay treasurer, and barangay secretary.
The proposed bill also provides a minimum wage rate plus 20 percent for the barangay captain.
The bill seeks to amend the Local Government Code of 1991, which stipulates that a barangay captain gets a minimum of a P1,000-honorarium per month while other elected barangay officials get P600 per month.
"Our proposal is to significantly increase the monetary compensation being received by barangay officials. It would be the minimum wage rate in the region. If the barangay is rich, they can give more. This is in recognition of the fact that life is difficult nowadays. They are only receiving allowances and honoraria. The problem with allowances and honoraria is we can't use that as basis for pensions and retirement benefits of barangay officials," Escudero said.
He noted that there are some barangay officials who serve for three terms and sometimes for about 15 to 20 years.
"May tanod na 10 years, day care worker na 15 years nang nagsisilbi. But after they serve the barangay, they receive nothing. It's simply because they receive allowances and honoraria. If you convert it to salary, at least there is a basis to compute their pension, their retirement benefits," Escudero said.
While there is a proposal to postpone the coming barangay elections next year, the senator said it is time the government to review the use of barangay funds and come up with a comprehensive law on the election of barangay officials and the budget allotted to barangays.
Barangay elections are scheduled on the first Monday of October 2013, five months after the May mid-term elections. There is a proposal at the House of Representatives, however, to move the barangay election on October 2015.
EV officials one in saying SILG Robredo's death a great loss to PHL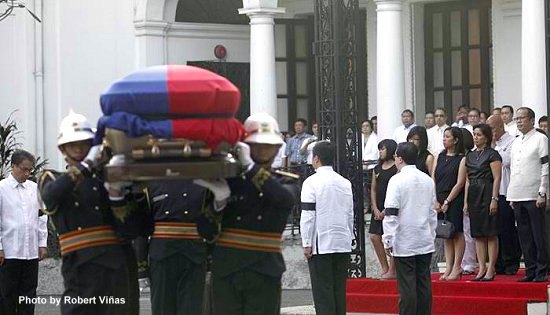 By Philippine Information Agency (PIA 8)
August 22, 2012
TACLOBAN CITY – Government officials in Eastern Visayas are one in saying that the death of Interior and Local Government Secretary Jesse Robredo is a great loss to the country.
The DILG Secretary figured in a tragic plane crash on August 20 off Masbate. His body was recovered on August 21 and was brought to Naga, with no less than President Benigno S. Aquino and several Cabinet Secretaries accompanying his remains.
Leyte Governor and Regional Development Council Chairman Carlos Jericho L. Petilla said Secretary Robredo's is a great loss to the country.
"He is one of the key players in the move to transform government towards transparency and a government of the people, by the people and for the people," Governor Petilla told the Philippine Information Agency through a text message.
He has set a standard for the next SILG will have to follow or even improved, the Governor added.
Second District Northern Samar Congressman Emil Ong said, "We lost a very dedicated public servant in the real sense of the word."
From the time he served as the youngest city mayor of Naga City up to being SILG, his performance has always been excellent.
Even in his death, Secretary Robredo should serve as an inspiration to all those in government service, Congressman Ong, added.
For his part, Congressman Ben Evardone of the lone district of Eastern Samar, expressed hope that the untimely tragic death of Secretary Robredo "will continue to inspire all of us to continue to implement meaningful reforms in government."
Congressman Evardone also commended President Benigno S. Aquino III for his determination to rescue and retrieve Secretary Robredo and the two pilots.
Palo Mayor Remedios L. Petilla who is the president of the League of Municipalities in Leyte said Secretary Robredo will "always be a source of inspiration and encouragement to us local government executives, towards honest, sincere and good governance."
He was a true friend, Mayor Petilla added.
Kananga, Leyte Mayor Elmer Codilla echoed the sentiments of the other government officials saying that Secretary Robredo will always be remembered for his full disclosure policy to achieve excellence in governance.
Meanwhile, Tacloban City Mayor Alfred S. Romualdez faxed his official message stating that, "My fellow Taclobanons join me in extending to the family of the late Secretary Jesse M. Robredo, our deepest sympathy on his untimely demise."
God in his wisdom took him from us, but his memory will forever remain with us, Mayor Romualdez added.
Mayor Lucia Astorga of the island town of Daram in Samar province said she is grieving the loss of an idol in the person of SILG Robredo while Mayor Emmelly Olaje of Tarangnan told PIA that she is learning a lot of new things about Secretary Robredo after his death.
Moreover, San Ricardo, Southern Leyte Mayor William Yu said "We lost a very good leader and role model." We will treasure his legacies, Mayor Yu added.
PRO 8 special operations group strikes in Samar
By RPCRD, Police Regional Office 8
August 22, 2012
CAMP RUPERTO KANGLEON, Palo, Leyte – The Police Regional Office 8, in its intensified campaign against illegal gambling, conducted a series of operations in Samar province recently resulting in the arrest of three suspects and recovery of several gambling paraphernalia.
PRO-8 Regional Director, PCSUPT Elmer Ragadio Soria said that he activated the Regional Special Operations Group (RSOG) to led in the conduct of police operations against all forms of illegal activities in the region, including the curtailment of illegal numbers game.
"I have instructed the SOG and all line units to re-invigorate the enforcement of special laws and enhance the campaign against all forms of illegal activities. We have a series of successful operations so far and we intend to continue this drive", the Regional Director added.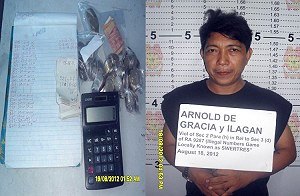 Suspect Arnold De Gracia y Ilagan, who was arrested by RSOG8 while engaged in swertres on August 18, 2012 in Catbalogan City. At left are the gambling paraphernalia confiscated from the suspect.
In Samar's capital of Catbalogan City, RSOG conducted anti-gambling operation at around 6 o'clock in the evening of August 18, 2012, an information was received that a known coordinator or "Encargado" of Illegal Numbers Game locally known as "swertres", identified as alias Dopo was reportedly collecting beats from his cobradors / usher at vicinity of Brgy 12 of said city.
Upon cognizance of said report, RSOG was dispatched to conducted anti-illegal gambling operation at above-mentioned place which resulted to the arrest of one Arnold De Gracia y Ilagan alias Dopo, 45 years old, married, and a resident said barangay. Recovered from his possession and control were: Eighty Four (84) pcs of stubs with entry of different number combinations and bets dated August 18 2012, scheduled for 9:00 o'clock draw; one (1) pc Casio Calculator; and cash bet amounting to Nine Hundred Forty Seven Pesos (P947.00) Philippine currency.
A case for violation of Sec 2 Para (h) in relation to Sec 3 (d) of RA 9287 was filed against the respondent through Inquest Proceedings before the Office of the City Prosecutor docketed under NPS No VIII-08-INQ-12H-00333 dated August 19, 2012. Recommended bail for his temporary liberty was fixed at Twenty Four Thousand Pesos (P24,000.00) Philippine Currency. Subject is presently detained at Catbalogan Lock-up cell pursuant to waiver under Art 125 of the RPC he executed.
In related developments, at 4:00 o'clock in the afternoon of August 19, 2012, at Catbalogan City Bus Terminal, elements of RSOG8 conducted anti-Illegal gambling operation that resulted to the arrest of Eustaquio Acas y Sabuco, 76 years old, widower, jobless and a resident of P-2, Brgy. Guindapunan, Catbalogan City, who was caught in the act of engaging in collecting bets for illegal numbers game operation locally known as "swertres". The team recovered from his possession and control one (1) bundle of stub with entry of number combination dated August 19, 2012; One (1) red ballpen and bet money amounting to Eleven Pesos (P11.00) Philippine Currency.
Another operation conducted at around 7:00 P.M. of same date, resulted to the arrest of one Danilo Mabini y Uy, 63 years old, widower, jobless and a resident of Pier II, Brgy. 3, Catbalogan City for violation of the same offense at Del Rosario St, Brgy. 4, this city and the recovery from his possession and control one (1) bundle of stub with entries of number combination dated August 19, 2012 (9:00 P.M. swertres draw) and bet money amounting to Seventy Pesos (P70.00) Philippine Currency.
Cases for Violation of Sec. 2 para (g) of RA 9287 against the suspects is now being prepared for filing in court as of this writing.
The Regional Director further averred that aside from anti-illegal gambling campaign, RSOG8 will also intensify operations against illegal drugs, illegal logging, illegal fishing and arrest of wanted persons.
PNP Director 8 salutes PNP Samar awardees
By PIA Samar and AVHA H. EBALDE
August 22, 2012
CATBALOGAN CITY – The Philippine National Police (PNP) newly installed Regional Director (RD) 8 Chief Superintendent Elmer Soria awarded some PNP officers and men during his visit to the Samar Police Provincial Office (PPO) in Catbalogan City on Monday, August 20.
The awarding held at the PNP Provincial Headquarters was presided over by Samar PNP Police Director Eusebio Mejos together with Regional Director Soria who presented the awards to the police.
The first "Medalya ng Papuri" was given to Police Chief Inspector (PCI) Marvin Ordonia for having demonstrated exemplary performance of duty as element of Samar PPO during a manhunt operations on May 22, 2012 at Dasmarinas City, Cavite which resulted to the arrest of Noli Fornillos number three Most Wanted Person (MWP) in Calbiga, Samar, accused for the crimes of two counts of rape and three counts of Acts of Lasciviousness.
The second "Medalya ng Papuri" was given to Police Senior Inspector (PSInsp) Rodelio Ong Quinto for his commendable performance of duty as element of Talalora Municipal Police Station, SPPO during the conduct of manhunt operation on June 08, 2012, at Talalora, Samar which resulted to the arrest of number two Most Wanted Person in Talalora, Samar, Jun-jun Arbalate for the crime of murder.
The third "Medalya ng Papuri" was given to Senior Police Officer 1 (SPO1) Gaudencio Rueda for his commendable performance of duty as element of Villareal Municipal Police Station, during a manhunt operation on March 08, 2012 at Barangay Mercado, Villareal, Samar, which resulted to the arrest of the number four most wanted person in Sta. Rita, Samar, Celfred Papuran for the crime of rape.
The fourth "Medalya ng Papuri" was given to Police Officer 3 (PO3) Salvador Suarez for his commendable performance of duty as element of Motiong Municipal Police Station, SPPO during the conduct of manhunt operation on March 02, 2012 at barangay Inalad, Motiong Samar, which resulted to the arrest of the number seven Most wanted Person in Motiong Samar, Warlito Mabingay for the crime of Attempted Murder.
"All this accomplishments have remarkably contributed to the maintenance of peace and order in Region 8," Soria expressed in his congratulatory message.
"These are the manifestation of your dedication and commitment to police service."
"All programs and activities must be aligned with the directives of the higher office," he added.
The morning activity was attended by the Chiefs of Police (COPs) of the 26 Municipalities in Samar, PPO police and members of the media.
PRO 8 in all out war against illegal gambling in the region
By RPCRD, Police Regional Office 8
August 22, 2012
CAMP RUPERTO KANGLEON, Palo, Leyte – The Police Regional Office 8, under the able leadership of newly-installed Regional Director, PCSUPT Elmer Ragadio Soria, had intensified its campaign against all forms of illegal activities especially illegal gambling in the region and there have been recorded successful operations of the latter.
"As I said during my assumption speech, we will declare all-out war against all forms of illegal activities through sustained implementation of special laws.' Soria said, adding that he is glad that ground commanders heeded his call. "The illegal gambling menace will be minimized as our men will continue to conduct police operations", he further stated. The fight against illegal gambling will only succeed through stronger partnerships with various stakeholders including local officials, the members of the religious sector and the media, the Police Regional Director said.
Just recently, two (2) persons were arrested for Illegal Gambling in Dagami, Leyte by Dagami Police Station led by PSI Romulo G. Alvarina on August 14, 2012 at Barangay Balugo, Dagami, Leyte.
Arrested persons were identified as Reynaldo Nayad Dumduma, 25 years old, married, jobless and a resident of Barangay Bahay, Pastrana, Leyte and Nelson Palaña Nirza, 29 years old from barangay Capahu-an, Tabontabon, Leyte.
Another person was arrested by Isabel Police Station led by PCI Joel R. Camacho on the same day identified as Fedelina Brigildo Doring, 62 years old, widower from Barangay Apale, Isabel, Leyte.
At Barangay Tuba, Jaro, Leyte, a certain Reynaldo Sacro Centina, 38 years old, laborer from said place was arrested by Jaro Police Station led by PSI Ricky C Reli, chief of police.
On the next day, August 15, 2012, four (4) persons were arrested at Southern Leyte for the same offense (Illegal Gambling) by Hinunangan Police Station, Maasin City Police and Malitbog Police Station led by PSI Castor R Cabilogan, SPO4 Rommel C Roa and PINSP Gracila M Sabas respectively.
They were identified as Wilfredo Pan Rios alias "Cading", a resident of Calag-itan, Hinunangan, Southern Leyte; Jonel Vales Myorca, 18 years old, single, jobless from Barangay Ibarra, Maasin City; Nestor Sajora Morales alias "Insot", 21 years old, single, jobless from Barangay Juangon, Malitbog, Southern Leyte; Arnel Lintao Magno, 24 years old from barangay Combado, Maasin, Southern Leyte and Janet Ratunil Resma alias "Net", 57 years old, married and a resident of Barangay Lungsodaan, Hinundayan, Southern Leyte.
Subject persons were arrested in the act of engaging illegal gambling activity locally known as "swertres" and were brought to respective Police Stations for proper disposition.
Since PCSUPT Soria assumed office on August 6 this year, Police Regional Office 8 have conducted a total of 57 anti-illegal gambling operations resulting in the arrest of 58 persons, confiscation of cash bet amounting to P10,349.00 and several illegal gambling paraphernalia.
Revolutionary forces join commemoration of Aquino assassination – CPP
By CPP Information Bureau
August 21, 2012
The revolutionary forces today join the commemoration of the 29th anniversary of the assassination of former Sen. Benigno "Ninoy" Aquino on August 21, 1983 masterminded by the Marcos dictatorship and its fascist henchmen.
Aquino was among the several thousand anti-Marcos political oppositionists killed, tortured, imprisoned and abducted during the martial law years from 1972 to 1986.
"Ninoy Aquino's assassination was among the historic watersheds leading to the fall of the US-Marcos dictatorship," said the CPP. "The Aquino assassination further militated the Filipino people. It highlighted the brutality of the US-Marcos dictatorship and spurred the gigantic mass demonstrations of workers, peasants, students, women and different democratic sectors in 1983-1986."
"Ninoy Aquino was among the prominent stalwarts of the anti-Marcos political opposition who touched base with the CPP and consulted the revolutionary mass movement in the struggle against the Marcos dictatorship," said the CPP. "Aquino recognized the revolutionary forces as among the most steadfast in the anti-dictatorship struggle."
"It is an outright distortion of history for certain groups, especially those identified with the ruling Aquino regime (by Ninoy's only son Benigno III), to lay sole claim to the anti-Marcos movement and deny the crucial role played by the CPP and the revolutionary forces in the struggle to end the Marcos dictatorship," said the CPP. "The atrocious claims repeatedly made by the military and certain reactionaries that the NPA, and not Marcos, was behind the August 21, 1971 bombing of the Liberal Party miting de avance in Plaza Miranda form part of such distortion."
"Despite being confronted by Marcos' far larger AFP forces, the CPP reestablished itself in December 1968, organized the New People's Army (NPA) in March 1969, and persisted in underground work and revolutionary armed struggle," said the CPP. "Several years into Marcos' martial law, the US-Marcos dictatorship had failed to stem the growth of the people's armed struggle and had even become the the NPA's biggest recruiter by negative example. The NPA would become the most formidable force delivering the biggest blows against the Marcos dictatorship."
"Before and during martial law, the forces of the national-democratic mass movement led numerous demonstrations against the Marcos dictatorship, including the huge student demonstrations of the First Quarter Storm of 1970, the workers' strikes of 1974 which shattered the terror effect of martial law, the nationwide student demonstrations from 1977 to the early 1980s, the workers strike movement and mass demonstrations from the early 1980s to 1986, and the peasant marches and demonstrations of 1984, among others."
"In the mass uprising of February 1986, national-democratic mass organizations were among the first to march to EDSA and Mendiola and served as the core of four-day million strong demonstrations leading to the ouster of the Marcos dictatorship on February 25," recalled the CPP.
VP Binay lauds rescue of 19 Pinay human trafficking victims; warns jobseekers of unlicensed recruitment agencies
By OVP Media
August 19, 2012
MANILA – Vice President Jejomar C. Binay lauded the Inter-Agency Council Against Trafficking (IACAT) and the Philippine National Police (PNP) for the successful rescue of 19 Filipina victims of human trafficking.
Joint elements of the IACAT and PNP rescued 17 women from a night club in Mandaue City Thursday. Three persons were arrested and will be charged with violation of the RA 9208 or the Anti-Trafficking Act of 2003.
Another two were rescued in an operation conducted on July 24-29 by IACAT prosecutor Atty. Jonathan Lledo, PSSupt. Rodilo B. Jocson, and PO3 Erwin Navarro, in cooperation with Interpol Malaysia and the Royal Malaysian Police.
"I am happy to note that our efforts to curb human trafficking our supported by our ASEAN neighbors. I am thankful that we were given full cooperation by the Malaysian government," the Vice President said.
He said the two victims, who were recruited by a prostitution syndicate operating in Mindanao, are willing serve as state witnesses against the syndicate.
Binay is the chairman emeritus of the IACAT. He is also the concurrent Presidential Adviser on Overseas Filipino Workers' concerns and the chairman of the Presidential Task Force Against Illegal Recruitment (PTFAIR).
The Vice President also congratulated the Philippine Center on Transnational Crime (PCTC) and the Zamboanga Sea-Based Anti-Trafficking Task Force (ZSBATTF) for their continuous monitoring of human trafficking activities in the Zamboanga City Wharf.
PCTC and ZSBATTF offloaded some 85 passengers headed for Malaysia in three separate inspections in July.
"The offloaded passengers came from as far as Cagayan and Ilocos Norte." Binay said.
As of August 1, the anti-trafficking czar said there have been 11 human-trafficking related convictions with a total of 18 persons convicted.
"This brings to the total number of human trafficking related convictions under President Aquino's administration to 46 compared to the 29 convictions of the previous administration over a six-year period," he said.
Moreover, Binay warned potential OFWs not to apply for jobs abroad through recruitment agencies whose licenses have either been revoked or suspended by the Philippine Overseas Employment Agency (POEA) due to numerous recruitment violations.
Government revoked the licenses of 20 recruitment agencies and suspended 17 others due to violations, said Vice President Jejomar C. Binay.
"Since January, POEA has cancelled the licenses of 20 agencies for premature collection of fees, overcharging, and reprocessing or recycling of job orders. POEA also suspended 17 other agencies for non-issuance of receipts, misrepresentation, falsifying or altering travel documents, deploying workers to employers not accredited by POEA, and failure to deploy workers within the prescribed period without a valid reason.," Binay said.
Stripped of their licenses were: Taifil Manpower Services, Lucky International Placement Services Inc.; Gold & Green Manpower Management & Development Service; Asahi International Manpower Corp.; Multi System Conexions International Inc.; Prime Stars, and Tria International Recruitment Agency;
Petra Personnel Employment Technical Recruitment Agency; Northwest Placement Inc.; Steadfast International Corp.; Acclaimed One Manpower & Recruitment Services; Bailey Corporation; Hannah International Manpower Services; and Marvic Overseas Placement;
Jerzon Manpower & Trading Corp.; Lucky Zoe International Manpower Agency; Philippine Integrated Labor Assistance; Unlimited Manpower Resources, Inc.; Cerel International Manpower Services Inc.; and Vogue Plus Promotions.
Suspended meanwhile were Alshiera International Manpower Services; Mi Amore International Services Inc.; Goldmine International Recruitment Agency; Awas Manpower Services, and Crown Overseas Placement Inc.;
Vogue Plus Promotion; Wavex Management; Morland Overseas Manpower; Asmara International; Emissary Recruitment; Richfield Overseas; Tessa Recruitment; Solidworks Manpower; First Cosmopolitan; PVE Placement; and Worldgoal Corporation.
"I appeal to our kababayans to be careful in accepting job offers abroad. Go through the proper channels and processes. This is the only way that you could protect yourself from illegal recruiters and human traffickers," Binay said.