SSS members told to register online, monitor accounts
By MAYIN DE LOS SANTOS / PNS
August 10, 2012
In compliance with the Aquino Administration's transparency and accountability thrust, the Social Security System (SSS) urged all members to avail of its electronic services and monitor their accounts.
In a press conference dubbed "Kapihan sa SSS" held at Hotel del Rio recently, SSS president and chief executive officer Emilio De Quiros Jr. said the SSS is trying to improve its system to effectively and efficiently service its members.
In his State of SSS report, De Quiros said members can now reach SSS through five main information and communication channels, namely: SSS website, call center, TEXT-SSS, email and social networking site, Facebook.
"We are trying to improve our system to service our members and these improvements are geared towards more transparency (in SSS operations)," said De Quiros.
"Magbibiyahe ka nang napakalayo pero magtatanong ka lang pala ng questions na pwedeng sagutin sa text," he quipped, and added that the move to electronic transactions also aim to provide convenience to its members by hastening the delivery and accessibility of SSS services.
He noted the surge in the number of registered members online during the first quarter of this year as well as the number of transactions coursed through their website.
De Quiros also announced that members can make phone inquiries through their 16-hour call center.
"SSS members can now make phone inquiries about contributions, benefits, loans and other SSS concerns beyond regular business hours, with the new SSS call center," he said. This is open to callers Mondays to Fridays, from 7 a.m. to 11 p.m.
De Quiros added that SSS plans to provide a 24/7 call center service to cater to overseas Filipino workers members despite the difference in time zones.
This shift to electronic transactions, said De Quiros, is also to ensure delivery of funds to members, particularly the short-term benefits and salary loans.
"Our aim is to institutionalize check-less transactions to eliminate problems that may occur with sending checks through mail, such as delayed, stolen, misdelivered or return-to-sender checks," he explained.
"Electronic reimbursement will offer greater convenience for members and employers since they no longer have to go to a bank to encash or deposit their checks, nor wait for the required check-clearing period," he added.
De Quiros noted the SSS signed a memorandum of agreement with CitiBank for the electronic release of salary loan proceeds and short-term benefits through a special cash card for individual members.
"The card is valid for three years and can be used in automated teller machines (ATMs) and for debit transactions," he added.
De Quiros said SSS expects to start issuing the new City Prepaid Card within the second half of 2012.
Meanwhile, with the online accessibility of members' accounts, the SSS and the members can monitor if the payments are religiously remitted by their employers.
De Quiros advised members to immediately report to their office any discrepancies between the payments deducted from their salaries and the payments reflected in their online account.
"We have teams created for the purpose of monitoring the employers' compliance in remitting their employees' payments," he said, particularly the large account employers.
Preventing the occurrence of another Guinsaugon landslide
By Philippine Information Agency (PIA 8)
August 10, 2012
TACLOBAN CITY – The municipality of Saint Bernard in the Province of Southern Leyte in Eastern Visayas is no longer a stranger to climate change-induced disasters such as flooding and landslide that are currently being experienced in Luzon Island.
It gained international attention in 2006 when one entire barangay perished in the Guinsaugon Mudslide tragedy. This prompted the government to conduct a rapid geohazard assessment of all the areas in the country, starting in Southern Leyte.
It was then found out that more than half of Saint Bernard's 30 barangays are at risk or vulnerable to at least five natural hazards.
Its Local Government Unit, led by Mayor Rico C. Rentuza, has since the 2006 landslide tragedy, made great strides to become an exemplary model LGU for disaster coordination and management.
As part of this effort, the LGU of Saint Bernard is set to conduct blessing of Daycare cum Evacuation Centers and turnover ceremony of a Landslide Early Warning System, established and provided with support from the German International Cooperation or GIZ on August 13, 2012.
The Program starts at 9:00 o'clock in the morning in Barangay Nueva Esperanza; at 10:30 in the morning at Barangay New Guinsaugon and at 2:00 o'clock in the afternoon at Barangay Mahayag, all of Saint Bernard in Southern Leyte.
Dr. Walter Salzer, Program Director and Principal Advisor of Environment and Rural Development Program-GIZ, informed that the dual-purpose facilities funded by GIZ can serve as emergency shelter for the 644 households in the 3 barangays. As daycare centers, they follow DSWD standards and can accommodate the 45 preschoolers listed.
Included in the day's program is a test-run of the actual landslide sensors placed at Barangay Lipanto. Guests will have the opportunity to witness how it is operated at the Disaster Risk Management Operation Center by way of radio, and observe the tilt and acceleration data coming in from the said barangay, Dr. Salzer said.
Dr. Salzer disclosed that the landslide warning system in Saint Bernard is among the first of its kind to be established in the Philippines.
Moreover, a Simulation Drill/Test of the community public address system in Barangay Lipanto broadcasting a test 'warning' to residents, will be also be conducted. The system, Dr. Salzer explained, is part of a communications network set up with GIZ support in seven (7) coastal barangays to warn the constituents of impending tsunamis. Since then, LGU Saint Bernard has replicated the system in three other barangays, also for landslide alerts.
Since 2008, GIZ, in cooperation with LGU Saint Bernard, has successfully operated a Flood Early Warning System now integrated with landslide and tsunami warnings. These early warning systems have reduced the risk of casualties due to the extreme exposure of the municipality to these hazards.
Saint Bernard lies within the Hinabian-Lawigan watershed, named after the two major rivers that drain the watershed's 4,536 hectares. According to experts, landslides in the loose rock slopes and flooding from these rivers into the plains area are triggered by excessive rainfall.
Biometrics for 4Ps beneficiaries to pilot in Leyte town
By Provincial Media Relations Center
August 10, 2012
TACLOBAN CITY – Leyte province, through its Income Creating Opportunities thru Technology Project – Information Technology (ICOT-P IT), recently developed a system that would use biometrics for beneficiaries of the Pantawid Pamilyang Pilipino Program (4Ps).
The new biometrics system, which underwent a 'mock test' together with the Department of Social Welfare and Development in the region, is set to be launched in Matag-ob, Leyte later this August.
The system, according to Leyte Gov. Carlos Jericho Petilla, who personally supervised the mock test that imitated various scenarios during actual transaction, was developed by ICOT-P IT students trained by the provincial government.
The governor disclosed that should the system prove successful after pilot launching in Matag-ob, the same system will be used in the Autonomous Region of Muslim Mindanao (ARMM) where there are thousands of 4Ps beneficiaries targeted for the program.
One of the main reasons in coming with such measures is to eliminate fraud in the implementation of the project.
Meanwhile it was learned from DSWD-8 Regional Director Letecia Diokno that this system is beig introduced to improve the modes of releasing the cash aid and the recording of data of the project's beneficiaries.
With the biometrics system, Dir. Diokno said that instead of the traditional Automated Teller Machine (ATM) cards that they are distributing to beneficiaries, the latter will be required to claim or withdraw the cash aid personally.
This as the DSWD has received reports that some of the project beneficiaries were making the ATM cards as collateral in some loan sharks. This new system is seen to avoid this arrangement made by the beneficiaries.
Also the DSWD earlier said that the government will save a lot of money with the technological advances since the government will no longer have to pay banks for the distribution of the cash aid.
East Visayas holds first-ever conference of professionals
By Philippine Information Agency (PIA 8)
August 10, 2012
TACLOBAN CITY – The first ever Eastern Visayas Professional Conference is set to be conducted on August 25 at the Tacloban City Convention Center, Philippine Regulatory Commission Regional Director Gerry Palabyab informed.
Director Palabyab said the Conference will gather together all professionals in the Region in order to identify, establish, and calibrate the role of professionals who are the most valuable economic resource input to nation-building and global competitiveness.
Spearheaded by the Federation of Active Professional Organizations in Region Eight (FAPORE) in cooperation with the Professional Regulation Commission (PRC-8), the Commission on Higher Education (CHED-8) and the City of Tacloban, the Eastern Visayas Professionals Conference has adopted the theme "Convergence of Professionals for Nation Building and Global Competitiveness" in support of the First Professionals Summit to be held in Manila in October.
All professionals under the aegis of the PRC from all over Eastern Visayas have been invited to attend the conference, Director Palabyab said. Among the invited participants are the Region Eight Administrators League (REAL) composed of directors, administrators, presidents, deans and local political leaders of their respective government agencies, SUCs, private Colleges and LGU officials.
Regional Director Pedro Noval of DILG-8 has graciously endorsed this conference as official business for LGU officials and professionals who will attend the conference, Director Palabyab added.
Leading the distinguished roster of speakers is Labor Secretary Rosalinda D. Baldoz as Keynote Speaker. She is expected to share the Labor and Employment Plan (LEP) of DOLE.
For her part, Secretary Corazon J. Soliman will rally all the Social Workers and Midwives in the region behind the Poverty Alleviation Program.
Meanwhile, Chairperson Teresita R. Manzala of PRC is expected to talk about the competitiveness of our professionals in Asia-Pacific and the rest of the world and the major milestones that are happening at the PRC.
Leyte Governor Carlos L. Petilla, Chairman of the Regional Development Council (RDC) will talk about the Regional Medium Term Economic Development Plan.
ASEC Elena R. Ruiz, Programs and Projects chief will talk about DepEd's K to 12 Curriculum as the academic foundation of the country's future professionals.
Chairperson Patricia Licuanan of CHED was invited to talk about preparation of our professionals at the Tertiary level. FAPORE has made arrangement for chairperson Licuanan and Secretary Armin Luistro to address the Conference via video-conferencing. This is one of the unique features of this conference. The video conferencing is being sponsored by Nimbus Technologies and SMART Communications.
Mayor Alfred S. Romualdez together with Congressman Ferdinand Martin G. Romualdez, First District of Leyte will welcome all the guests and participants as host LGU official and Representative respectively.
Registration fee is P500 before August 25 and P600 onsite (includes 2 snacks and packed lunch). For registration and information, interested parties may contact Architect Kendel Esperas, FAPORE President and PRC at (053)323-9729 (telefax), 0917-8407225 and at prc.taclobancity@gmail.com, or any of the FAPORE and Accredited Professional Organizations (APO) officials.
Paranas-SINP holds medical and dental mission in far-flung Tenani
By PIA Samar and AVHA EBALDE
August 9, 2012
CATBALOGAN CITY – In order to ensure good health among its constituents, the Local Government of Paranas in cooperation with the Department Environment and Natural Resources (DENR) Samar Island Natural Park (SINP) held a one day free medical and dental mission at Tenani Integrated School, Barangay Tenani, Paranas, Samar on August 08, 2012.
Paranas Mayor Felix Babalcon informed that some three hundred beneficiaries in Tenani and from other nearby barangays availed of the free medical and dental services.
Barangay Tenani is a remote barangay which is about 17 kilometers away from Barangay Buray of Paranas situated at the intersection road going to Eastern Samar and Northern Samar. Barangay Buray is one kilometer away from the town proper of Paranas.
The barangay constituents were very happy to avail of the services considering that the barangay is far from the poblacion and has very limited access to health services, Barangay Chairman Ruperto A. Jacosol said, considering that the barangay is far from the down town area and has a very limited access to health services.
Barangay Tenani is the site of the latest ecotourism adventure dubbed as Torpedo Boats Extreme Rides, Mayor Babalcon informed. The people are being trained to welcome the tourism development that will uplift their economic conditions but their health must also be looked into, the Mayor added.
Mayor Babalcon expressed his gratitude to the Office of the Vice President for the support given for the free medical and dental mission. The office of the Vice President Jejomar Binay through his representative Alvin Abejuela delivered 14 boxes of medicines as their support for the activity.
63rd IB contributes to the success of the Pambujan 149th Founding Anniversary Celebration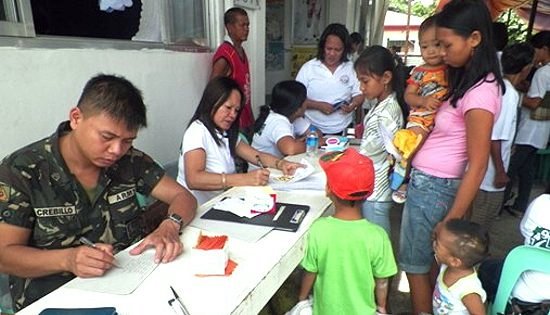 By 63rd Infantry Battalion, 8ID PA
August 8, 2012
BRGY. OPONG, Catubig, Northern Samar – On August 04, 2012, the 63rd Infantry (Innovator) Battalion, 8th Infantry Division, Philippine Army, participated in the celebration of the 149th Founding Anniversary wherein a "Medical and Dental Mission" was conducted at the Municipality of Pambujan together with the Local Government Unit and the Municipal Health Office of said municipality.
The activity is part of the celebration of the 149th Founding Anniversary of the said municipality to show the commitment of the different government agencies in delivering basic services particularly "Health services" to the people of Pambujan to promote a healthy and peaceful environment.
Four Hundred Forty Four (444) patients were given free medical attention through the medical and dental mission by the volunteer doctors coming from the different agencies who participated the activities. 259 of which were given Free medical check-up, 88 patients were given dental services, and 62 youth beneficiaries undergo Libreng Tuli and 35 senior citizen beneficiaries were given pneumococcal immunization.
Through the effort of the Local Government of Pambujan headed by Mayor Rogelio S Tan, Congressman Emil L Ong, 2nd District of Northern Samar, the 63rd Infantry Battalion, 8th Infantry Division, Philippine Army led by LTC Arvin R Lagamon, Cpt Josephus Emar M Rempillo, CMO Officer of 63rd IB and 1Lt Arvin Icaramon, 8ID Dental Officer and other volunteer organization, the said Medical and Dental mission become a success.
As part of the 149th Founding Anniversary celebration of the said municipality, a "Magic Show" presentation were also conducted by the personnel of 63rd IB together with Mr. Nestor De Guia to give additional color and entertainment to the anniversary.
According to Honorable Rogelio S Tan, Municipal Mayor of the Municipality of Pambujan, that he is very thankful to the Philippine Army, particularly the 63rd Infantry Battalion, 8th Infantry Division for the support given to his municipality in delivering basic services such as this Medical and Dental Mission that gives free medical and dental attention to the People of Pambujanon.
LTC Arvin R Lagamon, Commanding Officer, 63rd IB, said that his unit believes that activities like these make the people realize that the government is sincere in providing the basic services needed by the people. He also stressed out that the 63rd Infantry Battalion will always support all government initiatives for the welfare of the people whom they are mandated to serve in support to the peace and development in the 2nd district of Northern Samar.
Leyte to host Batang Pinoy 2012 Visayas leg
By Provincial Media Relations Center
August 8, 2012
TACLOBAN CITY – The province of Leyte is set to host again a national sporting event, the "Batang Pinoy Visayas Leg" set on November 21 to 24 at the Leyte Sports Development Center here.
To be played is the Philippine Youth Games – Batang Pinoy, mandated by Executive Order No. 44, which envisions to address the needs for a grassroots sports program centered on values formation inherent in the practice of sports and fair play.
Moreover, this program is designed to instill the benefits of physical fitness and core values that would help in addressing juvenile delinquency.
Leyte Gov. Carlos Jericho Petilla said the provincial government is proud to again play host to such a big sporting event.
Leyte played host to the Palarong Pambansa in 2009, with the Leyte Sports Development Center as the central venue of the various sporting events.
Those who can play in the Batang Pilipino Games are Filipino children (whether naturalized or Filipino-born) must be 15 years old and below (born in 1997 and the years thereafter).
"Foreign-Pinoys" may also join provided he/she represents a particular Local Government Unit hence, LGU representation of an athlete shall also be decided based on parents' voting residency.
Representation in this event is strictly by LGU which could be in the form of provincial, city or municipality representation; and no athlete shall be accepted without accreditation of a particular LGU.
The Batang Pinoy Visayas qualifying leg will gather together young athletes from Regions 6, 7 and 8.
Qualifying tournaments in this leg include: arnis, archery, athletics, badminton, boxing, chess, swimming, table tennis, taekwondo, tennis, and karatedo.
First and second placers in the Visayas leg are automatically qualified to join Batang Pinoy National Championships which will be hosted by IloIlo City on December 5 to 8 this year.
Beware of impostors on Salintubig projects, DILG warns LGUs
By Philippine Information Agency (PIA 8)
August 8, 2012
TACLOBAN CITY – Beware of unscrupulous individuals who are going around introducing themselves as SILG's friends, offering to prepare the Salintubig project proposals and to expedite its approval.
Department of Interior and Local Government Region 8 Director Pedro Noval, Jr. directed the call on local government units in Eastern Visayas especially the 20 intended beneficiaries of the Sagana at Ligas na Tubig (Salintubig) project.
The call was issued amid reports that several LGUs like that of Abuyog and Dagami have already been approached by fixers.
Only the DILG directors have been authorized to sign MOA and approve the implementation of the Salintubig project, Director Noval said.
The check is immediately issued to the LGUs, he added.
In Region 8, the Salintubig beneficiaries are 9 waterless municipalities that stand to receive P7 million each are Abuyog, Alangalang, Bato, Calubian, Carigara, Dagami and Tabango, all in the province of Leyte; Santo Niño, Samar; and Las Navas, Northern Samar.
Of the 9 LGUs, the town of Santo Niño in Samar have completed the requirements and was recently given P3.5 million by the DILG Regional Office, Director Noval disclosed.
On the other hand, 11 Eastern Visayas LGUs stand to receive P3 million each under the waterless barangays. These include the municipalities of Dulag, Julita, Mayorga, and Palo (Barangay Tacuranga) in Leyte province; Arteche, Dolores, General MacArthur and Llorente in Eastern Samar; Biri and Palapag in Northern Samar and San Jorge in Samar.
Moreover, five waterless rural health units / lying in clinics in Eastern Visayas are also beneficiaries of the Salintubig project. These are Culaba in Biliran, San Roque and Palapag in Northern Samar, Tolosa in Leyte, and Ma. Asuncio Barangay Health Station in Saint Bernard, Southern Leyte.
The DILG Director informed that the P1.5 billion Salintubig Program which is being implemented jointly under a memorandum of agreement by the DILG, Department of Health and the National Anti-Poverty Commission, there are two thematic areas: poorest or waterless barangays with high incidence of water-borne diseases and rural health centers without access to safe water.
The program is designed to provide water supply systems for the 455 waterless municipalities, waterless barangays, waterless health centers, waterless resettlement sites; and enhance the capacity of LGUs/water service providers in the planning, implementation and operation of water supply facilities.
Last year, the program covered 115 waterless towns, 62 waterless barangays, 55 waterless health centers, and 24 waterless resettlement sites.
For 2012, the program has been transferred to the DILG and will cover 150 municipalities, 46 health care centers, and 12 resettlement sites.
The remaining 290 of the 455 waterless municipalities and a number of waterless barangay, health centers and resettlement sites will be covered from 2013 to 2016.