In the Secondary National Roads Development Project in Samar
MCA-P CEO: Payment of affected properties reaches P5M
By PIA Samar / NBQ
August 14, 2012
CATBALOGAN CITY – Payment of project affected entities (PAEs) as what the Millennium Challenge Account- Philippines (MCA-P) Chairman and Executive Officer (CEO) Marivic Añonuevo bared has reached P5 million.
PAEs are those structures, properties and improvements affected by the road project in Samar.
During the 20th Samar Island Partnership for Peace and Development (SIPPAD) Assembly in Catbalogan City, Monday, Añonuevo gave the remarks:
"On resettlement, we started the payment of compensation to PAEs in San Julian to Balangkayan since June and we hope to finish it next month. So far, we have paid P5 million to about 145 PAEs out of 3,692 identified PAEs. The balance is in the process of validation and payment."
The MCA-P Chairman and Executive Officer also lauded the LGUs for the smooth negotiations.
"We are happy to note the support and cooperation being extended by the LGUs and by the people themselves, towards a smooth resolution of the resettlement issues," the lady told the SIPPAD participants from the three Samar provinces.
"In the true spirit of bayanihan, barangay folks help one another in moving houses affected by the project," Añonuevo noted.
Añonuevo also talked of KALAHI-CIDSS KKB Projects, a community driven development project implemented by MCA-P with the Department of Social Welfare and Development (DSWD) that has implemented more than one thousand sub-projects through the Makamasang Tugon.
She added that most of those address basic social services like school buildings, health stations and day care centers, concrete pathwalks and farm-to-market roads.
Añonuevo was joined by Office of the Presidential Adviser on the Peace Process (OPAPP) Director Eileen Jose who also shared the millions of PAMANA projects in Samar.
Sulat, 4 other Eastern Samar towns obtain DILG's Seal of Good Housekeeping
By BRYAN M. AZURA
August 14, 2012
BORONGAN CITY – The Department of Interior and Local Government Unit (DILG) Provincial Office revealed that Sulat and four other towns in Eastern Samar are also awarded the seal of good housekeeping for following fiscal standards set by Commission of Audit (COA).
According to Lydia Loyola, DILG provincial director, other than Sulat, the other municipalities that received the seal are Balangiga, Hernani, Maydolong and Dolores. I congratulate them for a job-well-done, Loyala said.
Engr. Nida dela Cruz, provincial focal person of DILG said that these municipalities has been awarded government support fund to be added in their Internal Revenue Allotment (IRA) and can be used in projects being implemented in their respective municipalities. Balangiga receives P600 thousand, Hernani receives P400 thousand, Maydolong receives P900 thousand, Dolores receives P1M and Sulat will get P700 thousand. Figures vary depending on the income class of the municipality.
Dela Cruz added that aside from the IRA augmentation fund, these LGUs will also have access to DILG's Performance Challenge Fund amounting to P1 million.
Loyola maintained that these financial awards are not intended as payment in exchange of good fiscal management but as incentives for the performance of LGUs.
To recall with, DILG Secretary Jessie Robredo made a challenge to LGUs to follow government standards. Just perform and I'll make you a millionaire, Robredo said.
In a memorandum circular dated October 31, 2010 signed by Sec. Robredo, all provincial governors, city mayors and municipal mayors are directed to post in conspicuous places, in the internet or in a newspaper of wide circulation their Annual Budget; Statement of Cash Flows; Statement of Receipts and Expenditures; Trust Fund (PDAF) Utilization; Educational Fund Utilization; Component of the IRA Utilization; Gender and Development Fund Utilization; Statement of Debt Service; Annual Procurement Plan or Procurement List; Statement of Debt Service; Items to Bid; Bid Results on Civil Works, and Good and Services; and Abstract of Bids as Calculated.
The DILG officials said that all municipalities undergo an annual evaluation conducted by the department and Civil Society Organizations (CSO). It's during these evaluations wherein the documents required are fully disclosed, dela Cruz said.
However, dela Cruz said that once an LGU is graded by COA with a disclaimer or adverse, these will automatically disqualify the LGU in the selection process.
For this year, the Citizen's Charter will be included in the selection of LGUs for the seal. This charter encourages LGUs to be client-friendly. Transactions in the government should be easier for clients, Loyola said.
Congressman Ben Evardone (LP, Lone District, Eastern Samar) meanwhile, congratulated Mayors Gigi Zacate (Sulat), Edgar Boco (Hernani), Henry Afable (Maydolong) and Emiliana Vilacarillo for promoting transparency in their respective towns. I encourage the other LGUs to follow the examples these mayors displayed, Evardone said in a statement.
Ochoa presents OP's P2.7-B budget for FY 2013
Press Release
August 14, 2012
MALACAÑANG – Executive Secretary Paquito N. Ochoa Jr. on Tuesday submitted to the Senate Committee on Finance the P2.7-billion spending plan of the Office of the President (OP) for fiscal year 2013, the bulk of which will cover funding for the wage adjustments of state workers under the Salary Standardization Law (SSL) and Malacañang infrastructure improvements.
Ochoa told the committee hearing that the OP increased to P552.9 million the budget for personal services from P513.9 million to meet the funding requirements for salary increases under the fourth tranche of the SSL that was implemented starting June of this year.
The Executive Secretary, however, said that money earmarked for Maintenance and Other Operating Expenses (MOOE) will be slashed by 4.1 percent to P1.88 billion from P1.96 billion, as a result of the improved system in the allocation of funds and enhanced expenditure assessment.
"Among these activities are the strict implementation of the Procurement Reform Law, the installation of energy saving devices, and the streamlining of processes within the OP," Ochoa explained.
Capital Outlays for 2013, on the other hand, will be increased to P300.4 million from P150.6 million to finance major repairs, rehabilitation and improvement of various buildings and facilities, some of which were built over a hundred years ago, within the Malacañang Complex.
BIR Eastern Visayas exceeds 1st semester target by P120M
By Philippine Information Agency (PIA 8)
August 14, 2012
GOVERNMENT CENTER, Palo, Leyte – The Bureau of Internal Revenue in Eastern Visayas exceeded its first semester of 2012 target by 5.5% or P120 million, BIR Regional Director Atty. Diosdado R. Mendoza informed.
Director Mendoza said the Region has an assigned goal for January-June 2012 of P2.18B and collected P2.30B for the period covered.
The January-June collection is 24.95% higher compared to the prior year's collection for the same period amounting to P459M.
The percentage contribution shares over the total accumulated collection of the different Revenue District Offices are as follows: RDO No. 85-Catarman, N. Samar, 8.42%; RDO No. 86-Borongan City, 8.17%; RDO No. 87-Catbalogan City, 12.53%; RDO No. 88-Tacloban City, 43.8%; RDO No. 89-Ormoc City, 19.13% and RDO 90-Maasin City, 7.95%.
Revenue District Office No. 85-Catarman, Northern Samar headed by Atty. Eduardo T. Obero was hailed as the Top Performing Revenue District Office for the 6-month period with an excess of 18.12% over its assigned district goal and 40.44% increase compared to its prior year's collection performance.
Director Mendoza said the positive collection was significantly attributed to the higher compliance on Income, VAT and Excise Taxes.
"Analysis showed an increase in the remittance of withholding tax on Wages & Compensation due to the implementation of RA 6758 (Salary Standardization Reclassification), increase in Withholding Tax Remittances on VAT, and in Expanded Withholding by government agencies and LGUs," Director Mendoza added.
RD Mendoza is optimistic that his Region will meet the collection target for 2012 and will ensure the generation of the much needed revenues in the succeeding months.
The six (6) Revenue District Officers identified various strategies to strengthen the collection efforts and efficiency through consistent monitoring and efficient management of Outstanding Delinquent Accounts and Receivables, RD Mendoza disclosed.
RD Mendoza further urged the RDOs to revisit the profiling of taxpayers in their respective areas to reinforce tax awareness and compliance.
Intensified tax campaign and implementation of the existing flagship programs such as the TCVD (Tax Compliance Verification Drive), developing of RATE (Run After Tax Evaders) and OPLAN KANDADO cases for non-compliant taxpayers, as well as strengthening the linkages with other government agencies to support and assist in the delivery of these programs will form part of the outlined activities of the Bureau, the BIR Director said.
Miss Pagsanghan bags "Mutya han Samar 2012" title

Mutya han Samar 2012 winner Miss Pagsanghan (center) with (L-R) Vice-governor Jimboy Tan, Governor Sharee Ann Tan, Miss Mutya han Samar 2011 and BM Von Zosa.
By PIA Samar and AVHA H. EBALDE
August 13, 2012
CATBALOGAN CITY, Samar – Mutya han Samar 2012 candidate from Pagsanghan Abigail Messenger wowed the audience when she answered the question on tourism.
The question posed, "If you would have a visitor coming from the other planets, how would you welcome them?"
She glibly answered that she will show hospitality and she will tour them to her place in Pagsanghan first and to the other beautiful places in Samar.
The answer, which resulted to an applause by the audience contributed to her points to get the Mutya han Samar title contested by 20 candidates from all over Samar province at the Samar Gymnasium, Catbalogan City on Thursday night, August 9, 2012.
Messenger is a 19-year old college graduate with a Bachelors Degree in Performing Arts, she also got three minor awards, Miss Gatorade, Miss Professionalism, and Miss PhilHealth.
All together her gorgeousness, posture, flawless white skin and a 5'5" height added to make her a stand-out beauty and earned her the title which also gave her P50,000 in cash.
"It is a true honor to be crowned as Mutya han Samar, and I will do my very best to promote the tourist spots in Samar and let other people see the beauty of the place," the newly crowned Ms. Samar said in an interview with PIA.
Other winners were 1st runner up Miss Tagapul-an Ma. Cassandra Y. Yu who got P25,000.00 in cash; 2nd runner-up was Miss Pinabacdao Cyril Varela with P20,000 cash prize; 3rd runner-up Miss Calbiga Menchie Nacario and 4th runner-up Miss Tarangnan Margarita Francesca Cruz who was awarded P10,000 in cash prize.
Other special awards were given to: Miss Gandara Glenna Marie Avenido as Miss Congeniality; Miss Calbayog Reina Isabel Delgado as Miss Eloquence; Best in Casual Wear was awarded to Miss Daram Diane Jean Gallardo; Miss Pinabacdao Cyril Varela as in Best Festival Costume: Miss Tarangnan Maragarita Farncesca Cruz was awarded as the Best in Swimsuit and in Evening Gown; and the Miss Photogenic and Charming Face was given to Miss Tagapul-an Maria Cassandra Yu.
The pageant which was one of the highlights of Samar Day was hosted by artist and matinee idol, Victor Basa.
Governor Tan bares accomplishments on Samar Day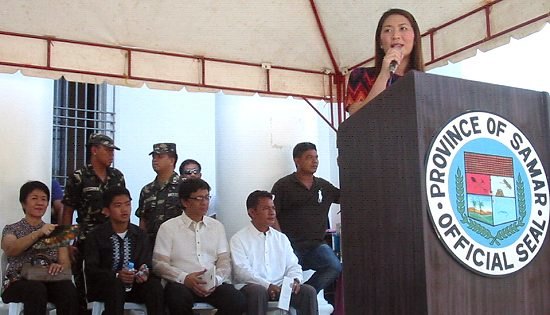 By PIA Samar and AVHA H. EBALDE
August 13, 2012
CATBALOGAN CITY – Samar Governor Sharee Ann Tan enumerated her accomplishments as she gave her congratulatory message to the talents of Samar after a cultural presentation - Pasundayag.
Pasundayag was a cultural show which was a prelude to the Samar Day celebration.
The governor discussed the airport project, and said that the province has already allocated P30M in 2010 for the Buri Airport, the fund is still waiting for a national counterpart amounting to P20 Million.
"Hopefully, we will receive the P20M pledge by 2013, if not, hopefully on my 2nd term as the governor and with the help of our Congresswoman Mila Tan, we will be able to realize this airport project."
"This project could bring us more tourists," she added.
She also mentioned that the province has put up a Small and Medium Enterprise (SMED) Center which is located beside the Capitol building, this is a display center where one can also buy products made from the different places of Samar.
She also encouraged the Samarnons to patronize and bring their relatives, friends from other place to visit the SMED Center (aka Pasalubong Center).
Tan glowed when she tackled the reforms she and her newly appointed Chief of Hospital Dr Pedrigal have done at the Samar Provincial Hospital.
She added that cataract and hernia surgery is now available at the hospital, she asserted that more reforms are in the pipeline to ensure that the social services will be felt by the Samarnons.
Tan did not also miss acknowledging Payapa at Masaganang Pamayaman (PAMANA) projects, for addressing the needs on road networks in the insurgents affected areas in Samar.
"I hope with this PAMANA projects we will achieve an insurgency free province like the province of Leyte," Tan said.
PRO 8 all out campaign against all illegal activities
By RPCRD, Police Regional Office 8
August 13, 2012
CAMP RUPERTO KANGLEON, Palo, Leyte – PCSupt Elmer Ragadio Soria, CEO VI, Regional Director of PRO 8 declared an all-out campaign against all forms of illegal activities in the whole region.
The newly installed RD sternly warns the people of Region 8 to avoid illegal mining, illegal logging, illegal gambling and all other similar illegal activities.
In relation to the unprecedented positive changes directly and principally relating to the suppression of criminality including those on illegal gambling, private armies, terrorism, organized crime and illegal drugs in the country, PNP PRO 8 has always and will always be in constant pursuit of attaining a more capable, effective and credible police force through innovative policing programs, projects and activities. Kudos to the community, which has always been the potent partner of the PNP in achieving this accolade.
Since Soria assumed office on August 6, 2012 he wants the region to and sustain its positive outlook and recent rating upgrades on account of sustained peace and order, strengthened anti-criminality campaign and improved fiscal transparency, among others, as a result of the rigorous implementation of the PNP Integrated Transformation Program and Performance Governance System (ITP-PGS). These are all aligned to the priority programs of the PNP Chief, PDG Nicanor A. Bartolome.
PNP PRO 8 will continue to undergo transformational change under the present dispensation as it embarks on a reform program anchored on good governance. These solid steps has started to bear fruit prior to the leadership of PCSupt Arnold Rayala Revilla (Ret) projecting the PNP's anti-criminality campaign to a better trajectory. The strengthening of law enforcement fundamentals and the inter-agency collaboration among and between law enforcement agencies, non-governmental organizations (NGOs) and all other stakeholders have significantly improved the peace and order situation in the region. This has to be carried on, Soria added.
VP Binay to OFWs: Register for 2013 polls
By OVP Media
August 13, 2012
MANILA – Vice President Jejomar C. Binay on Monday urged Overseas Filipino Workers (OFWs) to register for the May 2013 midterm elections.
"Nananawagan po ako sa ating mga kababayan na nasa ibang bansa na magpunta po sa ating mga embahada at konsulado para magrehistro bilang botante sa susunod na halalan," Binay said.
"Ang pagboto ay isang napakahalagang karapatan at responsibilidad na kailangan nating gampanan bilang mga Pilipino," he added.
Binay, the Presidential Adviser on OFW Concerns, issued the call after the Department of Foreign Affairs (DFA) announced it was still 200,000 short of its target of one million registrants.
"Napakadali pong magrehistro. Kailangan niyo lang pong ipakita ang inyong pasaporte at punuin ang registration form," he said.
"Kung kayo naman po ay nasa bansa ngayon ngunit nasa ibayong dagat sa araw ng halalan, maaari rin po kayong magpunta sa COMELEC (Commission on Elections) sa inyong lugar o sa mga registration centers sa NAIA (Ninoy Aquino International Airport) at POEA (Philippine Overseas Employment Agency)," he added.
The Overseas Absentee Voting Act of 2003 allows qualified Filipino citizens residing abroad to vote for President, Vice President, Senators and Party-List Representatives.
All Filipino citizens abroad who are at least 18 years old on 14 May 2013, and who are not otherwise disqualified by law, are allowed to register.
Filipinos with dual citizenship or those who have reacquired or retained their Philippine citizenship under RA 9225 may also vote.
The new registrants include 110,170 abroad and 101,839 who registered at local overseas absentee voting (OAV) registration centers at the DFA-Aseana, Commission on Filipinos Overseas, NAIA, POEA, Overseas Workers Welfare Administration, Joint Manning Group (JMG) and the Associated Marine Officers and Seamen's Union of the Philippines (AMOSUP), and Philippine Transmarine Carriers Inc.
As of August 10, the DFA said OAV registration has exceeded 800,000 with 212,009 new registrants.