Rep. Casiño renews call to outlaw homophobia, presses government to pass human rights bill
By Progay Philippines
May 14, 2012
MANILA – The House of Representatives today burst out in the rainbow colors of the lesbian, gay, bisexual, transgender and queer (LGBT) activism as leftist lawmaker Teddy Casiño welcomed to Congress human rights activists for the eighth annual International Day Against Homophobia and Transphobia (IDAHO).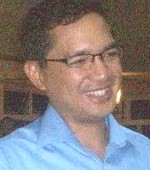 Rep. Teddy Casiño
Posing before media cameras were same-sex couples in tuxedos and wedding gowns while re-enacting a mock wedding ceremony, symbolizing the rising demand among Filipino gays and lesbians for legal recognition of their partnerships similar to ten countries in the world where gays can marry. They also waived a portion of the country's longest gay rainbow flag at the gate, doing the same colorful display of growing political power as in 70 other countries where IDAHO is being observed.
LGBT activists led by the Ladlad, GABRIELA and Metropolitan Community Church are pushing a bill filed last year by Casiño, House Bill 4635, declaring every 17th of May as the "National Day Against Homophobia and Transphobia" or NADAHO. The bill shall encourage government and private institutions to develop simple observances promoting the defense of LGBT rights patterned after the example of the European Union that officially recognize IDAHO in their individual countries.
Casiño said Congress should now pass the Antidiscrimination Bill that he filed as House Bill 1483 because of an urgent recommendation by the United Nations High Commissioner on Human Rights Navi Pillay (OHCHR) in a video statement released for IDAHO this week. In the two-minute video Pillay said that the human cost of homophobia which results in millions of LGBTs getting arrested, attacked, tortured and killed,e just for being in a loving relationship must be remedied by repealing discriminatory laws and ban discriminatory practices.
"I support Pillay's call to punish violence and hatred, not love, so let us wield the power of Congress to protect our LGBT families with the laws of love," Casiño said.
Casiño in his privilege speech called on President Aquino to take heed of the civil society shadow reports filed by activist groups Rainbow Rights Project and ProGay Philippines before the Universal Periodic Review committee of the Geneva-based Human Rights Council.
The separate reports highlighted the long list of human rights violations suffered by LGBTs in the Philippines such as transgendered women in Cebu getting shot with airgun bullets by drive-by goons and abused by doctors; lesbians being exploited with long working hours and reduced pay; and gay men being arrested by the police en masse during raids on gay saunas.
Casiño said that the Philippine government needs to take seriously the recommendations offered by shadow reports including the formal training of police and local government of sensitivity training.
"The government must take a proactive struggle against homophobia and transphobia by including LGBTs not only in legislation but actual everyday government planning and project implementation. This is the first step but not the only step if the Philippines wants to achieve zero level homophobia and transphobia according to global standards," Casiño added.
IDAHO was first observed in 2005, and the date was chosen to observe the 1990 declaration by the World Health Organization removing homosexuality from the list of mental disorders. It is now celebrated in more than 70 countries.
Army joins peace and development efforts in Samar
By DPAO, 8ID PA
May 13, 2012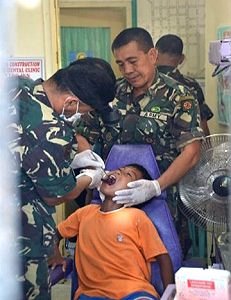 CAMP LUKBAN, Catbalogan, Samar – A Free Medical & Dental Mission was conducted in Jiabong, Samar on May 12, 2012 by the local government and cause oriented groups in Samar in coordination with Army troops.
Elements of the 801st Brigade, 8th Infantry Division (8ID), Philippine Army in collaboration with the Saint Camellus Hospital of Calbayog City and Local Government of Jiabong, Samar delivered a free medical consultation, dental extraction and circumcision as part of the peace and development efforts in Samar.
The activity is also aligned with the "whole of Nation" approach of AFP's Internal Peace and Security Plan (IPSP) Bayanihan. BGen Gerardo T Layug AFP, the Commanding General of the 8ID Stormtroopers division said "the 'whole of nation' approach seeks to bring about a concerted effort among stakeholders to address the root causes of insurgency. We acknowledge that a purely military solution is not the answer to insurgency, we have to join hands with the local governments and all stakeholders to intensify peace and development efforts in the area."
Hon Jocelyn Gabieta de Jesus, Municipal Mayor of Jiabong expressed her gratitude to the group for their efforts in bringing the services to her constituents. The overwhelming success of the activity is a glaring example of genuine cooperation, collaborative efforts and commitment of all stakeholders in bringing the services to our people that exemplifies the true spirit of Bayanihan. The Philippine Army together with the local government of Jiabong and other stakeholders, enjoins other cause-oriented organizations to advocate such convergence of effort to help uplift the lives of our fellow Filipino people especially those in the remote areas.
At the end of the activity, 264 patients availed of the free medical consultation, 166 patients availed of the free tooth extraction and 10 children availed of the free circumcision for a total of 440 residents benefiting from the said activity.
Writ of Kalikasan granted against Bt Talong field trials
DA's flawed GMO approval system must be scrutinized: Greenpeace
By GREENPEACE
May 12, 2012
QUEZON CITY – Greenpeace today called for greater scrutiny of the country's GMO approval system as it welcomed the Supreme Court decision to grant a Writ of Kalikasan in favor of the petition to stop field trials of the genetically-modified organism (GMO) Bt eggplant in the Philippines.
"Greenpeace believes the granting of the Writ of Kalikasan to be a recognition of the threats that GMOs pose to human health and the environment. We welcome this as a positive development: GMOs and GMO field trials clearly violate every Filipino's constitutional right to a balanced and healthful ecology, and their invasion into our fields and our diets must be stopped," said Daniel Ocampo, Sustainable Agriculture Campaigner, Greenpeace Southeast Asia.
"The Supreme Court has given hope to Filipinos as its decision now puts into the spotlight the country's flawed GMO approval system which has never rejected any GMO application, allowing dangerous GMO crops to be eaten and planted by Filipinos. This is an outrage and such a regulatory system which clearly disregards public good must be scrapped," he added.
There are serious uncertainties regarding the safety and long-term impacts of GMOs. Many independent scientific studies provide clear evidence that GMOs such as Bt eggplant, as well as Bt corn, can negatively impact the liver, kidneys or blood when ingested. These man-made organisms, when planted in open fields, have also been found to crossbreed with natural species, endangering biodiversity.
Last April 26, the environment group, along with fellow petitioners, filed a petition asking the Supreme Court for a Writ of Kalikasan and Writ of Continuing Mandamus against GMO field trials. The petition seeks to immediately stop the field trials of Bt eggplant. It also puts into question the flawed government regulatory process for approving GMOs, and highlights the need for a genuine and comprehensive process of informing and consulting the public, as well as ensuring the safety of GMOs first on health and environmental grounds before they are released into the open.
Despite the scientific doubt that surrounds GMO food crops, the Philippines has never rejected any GMO application, approving, since 2002, a total of 67 GMOs for importation, consumption and/or propagation. Most of these GMOs are approved as food for Filipinos. Several varieties of Bt corn have already been approved for planting, and are now being eaten, despite questions on their safety. Ironically, while other countries are taking the precautionary approach to GMOs because of the dangers they pose to human health and the environment, the Philippine Department of Agriculture (DA) has done exactly the opposite.
Greenpeace contends that the DA's track record favoring GMO approvals violates the very foundations of its mandate, and must be accountable. The environment group believes that both the approval process and the regulators, such as the DA's scientists, must be scrutinized. Currently, the agency and scientists who regulate and approve GMOs are the same people who promote and propagate them and therefore seem to be serving the interests of multinational agro-chemical companies, rather than upholding public good.
"We hope that this Writ of Kalikasan will compel the DA and GMO regulators to review their agenda independent of pressures and influence of multinational GMO corporations. We are also calling on Filipinos to be more vigilant in protecting our food and calling on government to be accountable for regulations that go against protecting our health and environment," Ocampo concluded.
Greenpeace is an independent global campaigning organisation that acts to change attitudes and behaviour, to protect and conserve the environment, and to promote peace.
PDEA operatives collar female pusher with 0.85 grams of shabu
By Philippine Information Agency (PIA 8)
May 11, 2012
TACLOBAN CITY – A 40-year old mother of four children will be spending Mother's Day at the lock up cell of the Tacloban City Police Office following her arrest for selling and possessing a total of 0.85 grams of shabu by PDA Region 8 operatives on May 3, 2012.
PDEA Region 8 Information Officer Liza Baoy identified the arrested shabu pusher as Grace Suarez y Gaspe who was collared at the downtown Tacloban City for selling illegal drugs.
Acting on persistent reports from confidential informants that Suarez was engaged in the sale of dangerous drugs particularly shabu in the commercial areas in the city and at her place of residence at Barangay 66A, Anibong, Tacloban City, the PDEA enforcement teams assembled an operational plan against the subject to verify such reports.
Once the information was adequately substantiated, an entrapment operation was conducted on May 3, 2012 resulting in her arrest.
Ms. Baoy said that Suarez was caught selling 0.395 grams of shabu to a PDEA agent who acted as a poseur buyer in a transaction for two thousand pesos, for which she was subsequently arrested.
After the fact of her arrest had been announced and she had been informed of her Constitutional rights, a body search was conducted where she yielded an additional two (2) large transparent plastic packages ("sachets") of shabu totaling 0.458 grams.
Ms. Baoy said that PDEA will continue in its fight against the proliferation of the illegal drugs in the region which include the conduct of information campaign on the ill-effects of using illegal drugs aside from their continued operations against those involved in the illicit trade.
It was learned that majority of the drug users from the region are using shabu or hydrochloride methamphetamine. The easy access to shabu could be the reason why it appears to be the favorite among illegal drug users, next to marijuana which is actually lower in price than shabu.
A sachet of shabu is worth between P250 to P500 or about P10,000 per gram, Ms. Baoy said.
VP Binay lauds rescue of minors in sex trade
By OVP Media
May 11, 2012
MANILA – Vice President and Chairman Emeritus of the Inter Agency Council Against Trafficking (IACAT) Jejomar C. Binay today lauded the IACAT's sustained efforts at rescuing victims of human trafficking, in light of a successful rescue mission this month by the IACAT Operation Center (OpCen).
"We are serious in the drive to rid our country of human trafficking. We want to send the message that we are out to prosecute and punish those who prey on hapless victims," Binay said.
The IACAT OpCen has reported that it has successfully conducted a rescue mission at the Area 51 KTV Entertainment Club in Roxas Boulevard. Sixty-two victims of sexual exploitation were rescued during the operation, which was a collaboration among the IACAT OpCen, National Bureau of Investigation-Anti-human Trafficking Division (NBI-AHTRAD), International Justice Mission, and Department of Social Welfare and Development (DSWD). Seven floor managers of the club were arrested.
Of the 62 victims, 19 were found to be minors. Meanwhile, 9 persons, including a Japanese national who owns the club, were charged with violations of Republic Act 9208 or the Anti-Human Trafficking in Persons Act of 2003 and Republic Act 7610 (Special Protection of Children Against Child Abuse, Exploitation and Discrimination Act.)
In April, the IACAT has also rescued four minors from the Boholano KTV Bar and Therese/Nakamura-Sakamura KTV Bar in Tondo. Seven persons were apprehended, including the owners of Boholano KTV Bar, and charged with violations of RA 9208 and RA 7610.
All the rescued minors are now housed at the DSWD Halfway House in Marillac Hills in Alabang.
"It is unfortunate that our people, children especially, are exploited and thrown into the sex trade. This is an issue that the administration has promised to address, and we who are tasked by President Aquino to arrest this problem are intensifying our efforts at going after those who insist on engaging in slavery," the Vice President said.
"I thank those who have helped, and continue to help us in our efforts. Sa aking mga kababayan, huwag po sana tayong mangiming tumulong sa pagsupil sa problemang ito. Huwag po tayong mag-alinlangang lumapit sa mga kinauukulan upang magsumbong ng anumang kahina-hinalang gawain sa inyong mga komunidad," said Binay.
Mining operation by Nicua helped cause the massive fish mortality in Lake Bito!
By SAGUPA-SB
May 10, 2012
TACLOBAN CITY – Contamination from Mining operation and turbidity are two of the three causes of the massive fish mortality in Lake Bito, MacArthur Leyte according to the final report of the Bureau of Fisheries and Aquatic Resources (BFAR). The report was made in Bgy Imelda, MacArthur to the fisherfolks and the barangay officials and to the municipal officials last May 7.
"The damage caused by Nicua Mining to Lake Bito, the food and livelihood resource for the people of Brgy. Villa Imelda and of the nearby barangays can no longer be denied. Hence, those responsible for the damage, those who failed to prevent the damage from occurring, as well as those who presented misleading information which sabotaged the fast and effective response to the problematic situation should be punished according to the full weight of the law" according to Nestor Lebico, Secretary-General of Samahan han Gudti nga Parag-uma ha Sinirangan Bisayas o SAGUPA-SB.
Massive fish mortality in the Lake started in March 14. According to Barangay officials and fisherfolk leaders, fish mortality has continued since then. The damage has reached 22 metric tons. Thus income from mariculture in the lake has been paralyzed.
"We challenge the LGU leaders of the municipality of MacArthur and of the province of Leyte to serve their constituents by helping them compel Nicua mining Corporation / Leyte Ironsands Corporation (NMC/LIC) to pay for the damage they made. We also ask MGB director de Dios to explain to the public how come his model for responsible mining acted irresponsibly," Lebico ended.
PhilHealth deploys CARES
By Philippine Information Agency (PIA 8)
May 10, 2012
TACLOBAN CITY – No less than 24 nurses who were trained to become Customer assistance, Relations and Empowerment Staff (CARES) of the Philippine Health Insurance Corporation (PhilHealth) were finally deployed to accredited hospitals in Eastern Visayas.
Ms. Luz Santiago, PhilHealth Tacloban's focal person for CARES, informed the Philippine Information Agency that the 24 nurses underwent a a two-week intensive training on various aspects of the PhilHealth operations and to equip them with the skills and knowledge necessary to perform their duties well. The trainings were conducted simultaneously in all regions nationwide from April 16-27, 2012.
Twelve CARES were deployed in the PhilHealth accredited facilities in the province of Leyte, Ms. Santiago disclosed. The Health facilities where one CARES each has been deployed, are Manuel Veloso Memorial Hospital in Palompon; Eastern Visayas Regional Medical Center in Tacloban; Ormoc District Hospital; RTR Hospital; Abuyog District Hospital; Burauen District Hospital; Mother of Mercy Hospital; Leyte Provincial Hospital; Divine Word Hospital; and Bethany Hospital.
In Northern Samar, six CARES have been deployed while three CARES were deployed in Eastern Samar province. One CARES each has been sent to Samar, Biliran and Southern Leyte provinces.
The CARES will be at their posts Mondays to Fridays, from 9:00 o'clock in the morning to 5:00 o'clock in the afternoon. On Saturdays, the CARES will be at their posts from 9:00 o'clock in the morning to 2:00 o'clock in the afternoon.
PhilHealth's move was designed to provide PhilHealth members with essential information about their benefits at the point-of-service.
PhilHealth initially sent 530 registered nurses nationwide to set up post at selected accredited facilities to provide customer assistance to the members and ensure that they are able to avail of their benefits outright.
The nurses were carefully screened from among 23,000 online applicants and were extensively oriented and trained on current PhilHealth policies and guidelines, benefits, membership procedures, accreditation requirements and other basic information that members and accredited providers might need.
Aside from responding to basic member and stakeholder inquiries, the CARES may also be tapped to administer surveys and studies initiated by PhilHealth.
Army condemns the use of land mines
By DPAO, 8ID PA
May 9, 2012
CAMP LUKBAN, Catbalogan, Samar – The 8ID is calling on the public and the members of the civil society to join this command in condemning the continued use of Landmines by the New People's Army.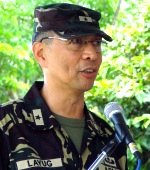 BGen. Gerardo Layug
BGen Gerardo T Layug AFP, the Commanding General of the 8ID, PA, said that the use of landmines is a violation of the Republic Act 9851 (Crime Against International Law). This is also a clear violation of the paragraph 15, Article II of the Comprehensive Agreement on the Respect for Human Rights and International Humanitarian Law. It is prohibited because such attack will cause incidental loss of life or injury to civilians. "I call on everyone to condemn this senseless act of violence against our troops and our people", Layug said.
Last 14 December 2010, the local NPA launched a landmine attack at vicinity Brgy Sta Fe and Brgy Perez both of Catubig, Northern Samar against the elements of 63rd IB which resulted to the death of military troops and a nine-year-old boy. Recently, the NPA also used landmines against our troops in Brgy Antipolo, Llorente, Eastern Samar and Brgy Nago-Ocan, Catubig, Northern Samar.
In other areas, NPA rebels employed landmines during an attack against the operating elements of 71st Infantry Battalion at Sitio Linaw, Barangay Panamin, Mabini town, Compostella Valley last April 28, 2012, killing one soldier and wounding seven civilians. Likewise, similar incident also happened last February 27, 2012 in the remote area of said place. Early this year an elderly woman died during a landmine explosion in CARAGA region and during the previous year another civilian was also killed due to landmine explosion at Maco, Compostella Valley.
It may also be recalled that in the early morning of March 5, 2012, the 8ID troops seized forty-four (44) improvised landmines and production paraphernalias in an NPA explosive factory in the hinterlands of the Municipality of Paranas, Samar. All of these only proves the NPA's tenacity to use landmines in complete disregard of the safety of the innocent civilians. The Human Rights Office is already preparing to file criminal charges against the NPA rebels for these blatant violations of IHL provisions.
Police file raps vs 2 illegal drugs suspects
By RPCRD, Police Regional Office 8
May 9, 2012
CAMP RUPERTO KANGLEON, Palo, Leyte – PNP PRO 8 have charged before the court two arrested suspects for illegal drugs.
Charged for violation of Republic Act 9165 otherwise known as the "Comprehensive Dangerous Drugs Act of 2002" a certain Brendo Miras alias "Brendo", 31 years old, single, jobless and a resident of Purok L. Galdo, Barangay Ichon, Macrohon, Southern Leyte.
Miras was arrested by the joint team of Southern Leyte CIDT led by PSI Ferdinand Mendoza and Macrohon Municipal Police Station led by PINSP Aljohn R Llanes on a buy-bust operation in coordination with the Barangay Chairman.
Confiscated from his possession and control were three (3) sachets filled with suspected metamphetamine hydrochloride or "shabu"; one unit red Q191 My Phone and a Five Hundred peso bill as marked money.
Subject person is also ranked as No. 1 on the watch list on illegal drugs personalities of Macrohon, Southern Leyte.
Another suspect charged for the same violation was identified as Edmund Delgra Montejo, 25 years old, single, jobless and a resident of P3, Barangay 11, Catbalogan City, Samar.
Montejo was arrested on May 9, 2012 by the elements of Catbalogan Police Station led by PSI Rex Berida Cantillep, Chief, IDM who responded thereat to a telephone call from a concerned citizen alleging of a commotion transpiring at the Catbalogan City Public Market.
Said suspect was found possessing a homemade gun known as "sumpak" loaded with one (1) live ammunition for caliber .38 pistol. Incidental to his lawful arrest was the recovery of two (2) heat-sealed plastic sachets containing white crystalline substance believed to be "shabu". He was brought to Catbalogan City Police Station for cases of violation of RA 8294 (Illegal Possession of Firearms) and RA 9165 (Comprehensive Dangerous Drugs Act).
Said arrests are manifestation of the PNP's intensified and continued war against illegal drugs in the region. And while the PNP is doing its best, it still needs the help of the citizenry, says PRO 8 Regional Director, PCSupt Arnold Rayala Revilla.