Cayetano launches BILIB I.T. program for inmates
Press Release
April 19, 2012
PASAY CITY – Senate Minority Leader Alan Peter Cayetano recently launched BILIB IT, an information technology (IT) program designed to provide inmates the necessary skills to rejoin the country's workforce, particularly, in the IT industry after they have served their jail sentences.
The senator, in cooperation with Informatics Philippines and the Bureau of Jail Management and Penology (BJMP), said the program seeks to enhance and underscore the significance of the reform and rehabilitation function of the country's criminal justice system.
He emphasized that after delivering justice by convicting and punishing crime offenders, the next important function of the Philippine criminal justice system is to rehabilitate criminal offenders and enable them to be rejoin society as productive citizens.
The senator pointed out that "the aim of the program is to give second chances to some of the inmates who are also victims of society."
"Most of our detainees are not sentenced to life imprisonment, so how can they be helped in their reintegration after they have served their time? We should give them the chance to gain livelihood and become productive members of society in the future," he said.
"Rehabilitation rather than retribution is the key policy of the State that we must adhere to," the senator added.
Cayetano explained that the inmates that can qualify to join the program are inmates who have served their jail sentences and are keen on acquiring new work skills needed in the IT sector, and inmates considered for minimum security whose maximum jail sentences are not longer than 6 years.
He said that while the program is being initiated in Camp Bagong Diwa in Taguig, he expressed the hope that other local government units will also be encouraged to set up similar programs.
Citing the United States policy allowing inmates to do call center work for non-sensitive services and products, the minority leader expressed his willingness to work with BJMP and the Department of Justice (DOJ) to draft the guidelines that would allow Taguig inmates to possibly work as call center agents as well.
"But first the qualified must be trained then we'll see if we can build call centers inside jail facilities where the trained inmates can utilize their training and gain employment," he said. "This is what rehabilitation is all about," he added.
The lawmaker said BILIB IT is part of his advocacy to promote IT as an industry in the country. His office provides scholarships on IT education to qualified scholars.
The senator's IT scholarship program in Taguig has provided 155 scholars opportunities to complete various IT courses such as Finishing Course for Call Center Agents (FCCCA), Computer Hardware Servicing (CHS), Computer Programming, and Web Design.
Wife of slain anti-mining village chief goes to national capital, protests killing of husband, threats against community
By KALUMBAY Regional Lumad Organization
April 19, 2012
MALAYBALAY CITY – The 19 families of Human Rights Defenders remain adamant in continuing their camp-out protest at the Bukidnon Provincial Capitol grounds. Instead of backing down from the pressure, they have stepped up their campaign, bringing the issue to both the national and international communities.
Liguyon's wife, Sharon, is joining this month other Internally Displaced Persons from Mindanao to bring their case to Manila. She is to lobby to the national offices of government agencies such as the Commission on Human Rights and the National Commission on Indigenous Peoples to demand for justice for Jimmy Liguyon and to ensure the security of the 19 families who have evacuated after Liguyon's death.
Previously, on April 11 Bukidnon Vice Governor Zubiri went to the camp-out of 19 indigenous families, telling them to leave the capitol grounds and settle at a relocation site. But the families, led by the women, explained the significance of their camp-out.
"Ang among pagkampuhan diri pagpadayag sa among pagprotesta, pagpangusog ug pagsiguro nga aksyunan sa gubyerno ang problema (We have camped-out to show our protest, our insistence to make sure that the government will act on the problem)," said Marlyn Gaguy, one of the women leaders of Kasilo.
"Wala mi problema kung unsa man ang itsura sa among balay nga puy-an basta natagaan og hustisya ang pagkamatay sa among kapitan ug maprotektahan dili lang kami kundi ang uban pang mga pamilya nga ginahulga sa mga paramilitar (We don't have a problem however our houses will look as long as we have achieved justice for our barangay captain and we have ensured the protection of not only our families but of the others who are being threatened by the paramilitaries as well."
The evacuees are also doubtful of the assurance of security for their families in the subdivision they were to be relocated. The following day, they saw Joas Lekawan, one of the actual members who was with Butsoy Salusad when he killed Jimmy, in front of the camp.
"Libre man gani nga mualigid ug magmatyag sa amo ang mga miyembro sa NIPAR nga naa mi sa capitolyo samot pa kaha nga naa mi sa sabdibisyon (Members of NIPAR are free to monitor us even if we are at the capitol grounds, how much more if we are already at the subdivision)?" said Marlyn.
Tribal leaders in southern Bukidnon who are recognized by the National Commission on Indigenous Peoples have also been asked by the government to negotiate with the evacuees. Lito Gawilan, a board member of the Federation of the Manobo-Matigsalug Tribal Councils, proposed a 'payment' of a horse to settle the problem.
"Ang kinabuhi ni Kapitan Jimmy dili mabayran og kabayo lang (The life of barangay captain Jimmy cannot be exchanged for a horse)," said Datu Domingo. "Ang iyang gibarugan para sa tibuok namong kabilin, para sa musunoray pa nga henerasyon. Usa namo nga gipangayo bag-o mi makig-negotiate kanila mao ang pagdakop usa kang Butsoy ug sa NIPAR kay hangtod naa na sila, dili masulbad ang problema. Dili man pud sila mupasalig (What he stood for is for our entire heritage, for the succeeding generations. One of our conditions before we negotiate with them is the capture of Butsoy and NIPAR because until they are there, the problem could not be solved. They could not assure us of that)."
ADB Mission visits Leyte to evaluate Kalahi-CIDDS engagement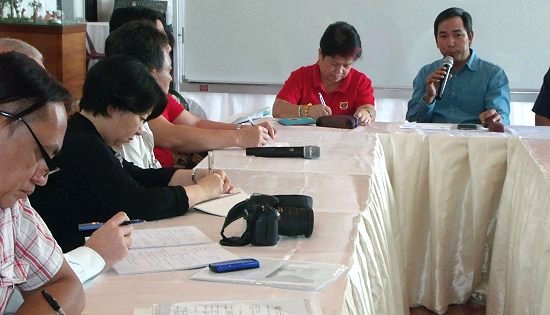 Leyte Gov. Carlos Jericho L. Petilla explains to Asian Development Bank (ADB) mission how the province supported the implementation of the Kapit-Bisig Laban sa Kahirapan-Comprehensive and Integrated Delivery of Social Services (Kalahi-CIDSS) in Leyte. ADB sent a mission to review provincial LGU's engagement in the Kalahi-CIDSS, particularly in Leyte in the Visayas, Compostela Valley in Mindanao and Albay in Luzon to strengthen capabilities for scaled up implementation of community driven development projects.
By Provincial Media Relations Center
April 17, 2012
TACLOBAN CITY – The Asian Development Bank (ADB) sent a team to Leyte province recently to evaluate the provincial government's engagement in the implementation of the Kapit-Bisig Laban sa Kahirapan-Comprehensive and Integrated Delivery of Social Services (KALAHI-CIDSS) through the Department of Social Welfare and Development (DSWD).
The mission, which comprised of Joel Mangahas as mission leader with Yukiko Ito and Gerard Servais as mission members, came together with DSWD Secretary Dinky Soliman and personally met with Leyte Gov. Carlos Jericho Petilla for a short meeting on how the province supported the project from the start.
Gov. Petilla said Kalahi-CIDSS principles provide the very essence of how his governance and project implementation has been administered in the province of Leyte.
"We have been very supportive of Kalahi-CIDSS as it mirrors our idea of a community driven development. The projects are identified by the communities and the implementation is done by the people themselves. This is actually the same process that we have been doing for our community development projects in Leyte," Gov. Petilla told the mission.
He likewise disclosed that the provincial government has always been supportive of the principle of engaging the community in identifying the projects they most need in the community and including them in the decision making. Kalahi-CIDSS implementation allows the community to "choose, design, and implement sub-projects that address their most pressing need."
The governor likewise disclosed that he approved the counterparting scheme employed by Kalahi-CIDDS for each of the project implemented.
"It gives the people and the community a sense of ownership of the project, and not just something that was financed by the province or the national government," Gov. Petilla added.
Kalahi-CIDSS seeks to empower communities in targeted poor municipalities to achieve improved access to sustainable basic public services and to participate in more inclusive LGU planning and budgeting.
Leyte province, for the Visayas, was among three chosen provinces visited by the ADB Mission. The province was chosen as the provincial government showed the greatest support and stronger engagement since Kalahi-CIDSS started. The other areas visited were Albay for Luzon and Compostela Valley for Mindanao.
ADB sent the mission look into current initiatives of KALAHI-CIDSS in engaging PLGUs (provincial local government units) in implementing the project as well as consult stakeholders on the possible design elements and framework that may be incorporated in institutionalizing community development driven programs of the national government.
Newly installed 8ID Commander joins Samar Island development forum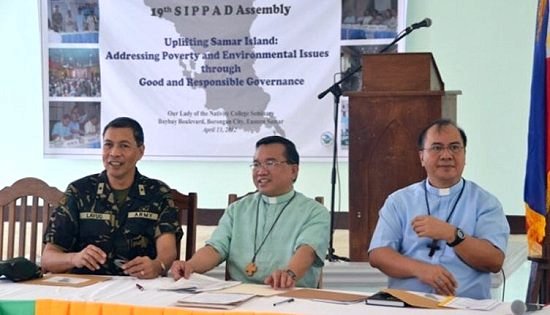 L-R: BGen Layug, Bishop Abarquez, and Bishop Trance.
By DPAO, 8ID PA
April 16, 2012
CAMP LUKBAN, Catbalogan City – Newly installed Commander of 8ID, BGen Gerardo T. Layug AFP joined the Samar Island Partnership for Peace and Development (SIPPAD) Conference on April 13, 2012 in Borongan, Eastern Samar. The Diocese of Borongan with His Grace, Bishop Most Rev Crispin B. Varquez, D.D. hosted the SIPPAD.
The SIPPAD is a multi-sectoral convergence group involving the religious, government and private sectors of society which hosts a quarterly assembly to advocate on Samar Islands' peace and order, good governance and environmental issues. The theme of this quarter is, "Uplifting Samar Island: Addressing Poverty and Environmental Issues through Good and Responsible Governance".
In his remarks, BGen Layug cited the 8ID's support to peace and development through the implementation of Internal Peace and Security Plan "Bayanihan" in Region VIII. He assured the members of SIPPAD of the Division's commitment to provide security and monitoring assistance as commonly required to ensure the completion of development projects.
During the conference, Undersecretary Ferdinand Cui of the Presidential Management Staff presented an update on approved development projects for Samar Island; Director Rogelio Trinidad of the Department of Environment and Natural Resources talked about the status of his agency's operations; Undersecretary Rafael C Yabut of the Department of Public Works and Highways discussed on the development of the circumferential road projects; Director Rogelio de Dios of the Mines and Geosciences Bureau tackled mining concerns in the Region; while Atty. Mario Maderazo of the Philippine Misereor Partnership, Inc. (PMPI) informed the group of his advocacy on the passage of a bill on mining.
Businessman arrested for illegal possession of firearms
By RPCRD, Police Regional Office 8
April 16, 2012
CAMP RUPERTO KANGLEON, Palo, Leyte – Catbalogan Police arrested a 37 year old businessman for illegal possession of firearms while conducting a checkpoint at the vicinity of Barangay Socorro, Catbalogan, Samar on April 13, 2012.
Elements of Catbalogan City Police Station led by PSInsp Luciano Cahimat Lopido conducted a checkpoint at said area and arrested a certain Egdar Cabato alias "Apang", 37 years old, married, businessman, former barangay official and a resident of Barangay 1 Poblacion, San Jose de Buan, Samar.
According to report, suspect was flagged down for driving without helmet on board a single motorcycle Honda XRM 125 bearing plate number HC5405 with no driver's license and OR-CR presented. Upon verification, he was caught in possession a caliber .45 pistol marked PARA ordinance with serial numbers 524037 with one (1) magazine loaded with three (3) live ammos without firearm license and PTCFOR. Along with the suspect was his back rider with no helmet also identified as Edgel Reyes Castillo, 29 years old, married, truck helper.
Respondents together with the confiscated items were brought to Catbalogan City Police Station for documentation.
VP Binay assures Filipino seafarers of support
By OVP Media
April 16, 2012
MANILA – Vice President Jejomar C. Binay today reiterated the government's commitment to uphold and protect the rights and welfare of Filipino seafarers.
"Bilang Presidential Adviser for Overseas Filipino Workers' Concerns, tinitiyak ko po sa inyo na ang administrasyon ni Pangulong Aquino ay hindi nakakaramdam ng pagod pagdating sa kapakanan ng ating mga tripolante," Binay said in a speech during the blessing and inauguration of the JSU-AMOSUP Maritime Museum and Sports Complex in Malate, Manila.
Binay cited different government programs like the Value Formation Seminars that help families deal with the absence or temporary separation from a family member. The program also offers psycho-social counseling and stress debriefing to help families whose members are stranded seafarers or victims of piracy and other sea disasters.
"Batid din po natin na ang sahod ng isang tripolante ay katas ng matinding pagod at paghihirap. Kaya naman upang tulungan silang mapalago ang kanilang inipon, nariyan ang ating Entrepreneurship Development Training program," Binay said.
"Dito po tinuturo ang mga mahahalagang kaalaman sa pagtayo at pagpapatakbo ng negosyo. Kasama na rito ang pagbalangkas ng isang maayos na business plan," he added.
Binay also stressed the importance of the OFW Family Circle program of the Overseas Workers Welfare Administration. Through this program, the families and dependents of seafarers are organized to expand OWWA's reach in the delivery of its programs and services.
He said these meetings also serve as a venue and opportunity for families to share experiences and draw lessons from experiences of others. This provides invaluable support to families who need added strength to cope with their separation from a loved one at sea.
"Upang matiyak na ang ating mga programa ay laging angkop sa pangangailangan ng ating mga mandaragat, tuloy-tuloy po ang mga ating konsultasyon sa mga pamilya ng mga tripolante, kasama po ang kanilang mga anak. Sa sama-sama nating pagtimon, tiyak na magiging maayos ang ating paglalakbay," Binay added.
Binay said that the Philippines has become the "crewing capital of the world" and at any given time, there are about 300,000 Filipinos at sea all over the world.
According to the Vice President, Filipinos comprise 30% of the 1.25 million people working on ships.
"Our seafarers have lent so much strength to their homeland's prosperity. They unfailingly contribute more than a billion dollars to our economy," Binay said.
"Last year alone, their remittances stood at an astonishing $3.8 billion and it appears these figures will rise even further in the coming years," he added.
10th highest monthly income record under its new management
PAGCOR posts P3.67 billion gross income in March
Press Release
April 16, 2012
MANILA – THE Philippine Amusement and Gaming Corporation (PAGCOR) continued to enjoy an upward income trend, posting a phenomenal P3.67 billion gross income in March 2012. This is the 10th time under its new management that PAGCOR was able to break its previous monthly income record.
PAGCOR Chairman and CEO Cristino Naguiat, Jr. reported that the agency's March income "was P686 million higher compared to the P2.98 billion earnings in March 2011. It was also much better than our P3.56 billion target for March by P109 million, and far better by P104 million against our P3.56 billion gross income last February."
The March record feat, according to Naguiat, now goes down in history as "PAGCOR's highest total income ever posted for a single month since the Philippine government went into the direct management of casino operations 26 years ago."
According to the PAGCOR Chief, income from PAGCOR's own gaming operations in March 2012 reached P2.49 billion, which was a huge P526 million increase compared to the same period in 2011. "Our upbeat operations during the quarter got an added boost from the strong performance of the other gaming establishments we regulate like the private licensed casinos, e-games, commercial bingo and poker clubs. They contributed P1.17 billion to our March 2012 earnings, higher by P160 million compared to the same month last year," he noted.
PAGCOR's robust income performance enabled the corporation to increase its remittances to its mandated beneficiaries. "Last March, we were able to allocate a total of P1.85 billion as the agency's contribution to nation-building. This was P556 million or 43% over the P1.29 billion contributions we made in March 2011," cited Naguiat.
Among the recipients of PAGCOR's funding contributions in March were the Bureau of Internal Revenue (P125 million for the 5% franchise tax); the National Treasury (P1.18 billion); the Philippine Sports Commission (P59 million); cities hosting PAGCOR casinos (P41 million); the President's Social Fund (P200 million); socio-civic projects (P221 million); Board of Claims (P3.5 million); and contributions to the BIR in fringe benefits tax amounting to P13 million.
According to Naguiat, his management's basic thrust is to make PAGCOR a reliable government ally in moving the country towards progress. "Our mandate is not only to generate more revenues for the government's various nation-building projects. We are also committed to help in other areas where we can make a difference and undertake programs that will directly benefit our fellow Filipinos," he added.
Among PAGCOR's ongoing major CSR projects are the P1 billion "Matuwid na Daan sa Silid-Aralan" project that will build 1,000 classrooms nationwide; the "P-noy Bayanihan project" for which PAGCOR gave an initial funding of P100 million for the production of armchairs for public schools out of DENR's confiscated logs from illegal loggers; the P31 million "Hundred Islands e-Kawayan project" that will build a fully functional bamboo factory in Alaminos City, Pangasinan where bamboo furniture and armchairs for public schools will be produced; and the P20 million funding for the Philippine Football Federation's "Kasibulan" project. It's a nationwide grassroots development project that aims to train young football players who shall be known as "Batang Azkals".
8th ID's psywar gimmicks of "disaster mitigation" and "development projects" scored
By NDF-Eastern Visayas
April 15, 2012
The National Democratic Front-Eastern Visayas today belittled the 8th Infantry Division's claims of working for "disaster mitigation" and "development projects" as psywar gimmicks. "How can the 8th ID's new chief, Gen. Gerardo Layug, claim to be working for disaster mitigation when the military is paving the way in the region for large-scale mining, a major cause of natural disasters like floods and landslides?" said Fr. Santiago Salas, NDF-EV spokesperson. "The 8th ID's military operations under Oplan Bayanihan are meant to put down the people's resistance to large-scale mining, a centerpiece program of the Aquino regime. Moreover, the 8th ID is busy with road construction projects to facilitate the movement of troops as well as the entry of mining firms under military protection in wide swathes of Samar and Leyte."
Fr. Salas also warned the people to fight against the escalation of human abuses under Gen. Layug, a notorious fascist in the mold of his predecessor in the 8th ID, Gen. Jovito Palparan. "Gen. Gerardo Layug is tagged as one of those responsible for the killing in July 2010 in Aklan of Fernando Baldomero, the first activist to die under the Aquino regime. This fascist general who was then brigade commander of the 301st IBde publicly attacked Baldomero in a military radio program for months as a "frontman of communist terrorists" and thus encouraged his assassination. But Baldomero was then a town councilor of Lezo, Aklan and engaged in peaceful struggle as the provincial coordinator of Makabayan. The people should thus guard against the mean and brutal Gen. Layug in light of the simmering resistance against large-scale mining and growing social unrest under the anti-people and pro-imperialist Aquino regime."
The NDF-EV spokesperson also belied the claims of Col. John Bonafos, 802nd IBde commander, that the NPA will not be able to retake the so-called "insurgency-free" provinces, particularly in Leyte island, and that the military is fostering development projects. "Col. Bonafos should know that he is too late; the New People's Army is already gaining ground among the people in Leyte and throughout the region who are restive and oppose the Aquino regime's anti-development agenda of selling out the country's interests to the imperialists and big business. The people are furious at Aquino for pushing large-scale mining, the privatization of the power industry and state services, the inutility to stop rising fuel prices in the deregulated oil industry, and other burning social issues. The people likewise despise the military for its continuing impunity under Oplan Bayanihan, a fascist pacification campaign for the Aquino regime's pro-imperialist, anti-people and anti-development agenda. On the other hand, the people welcome the NPA who are fighting for genuine change and development by overthrowing the reactionary ruling system. The NPA survived five previous regimes including a fascist dictatorship and continues to gain strength. From the strategic defensive, the NPA is now looking forward to advance to the strategic stalemate in the near future."
Tanauan folks get their share of 4Ps cash grants
By Provincial Media Relations Center
April 14, 2012
TACLOBAN CITY – More than two-thousand more beneficiaries were given their conditional cash grants under the Pantawid Pamilyang Pilipino Program (4Ps) in Tanauan, Leyte.
Tanauan, in Leyte's first district, is the newest addition to the list of municipalities in Leyte now enrolled under the 4Ps conditional cash transfer.
Leyte Governor Carlos Jericho Petilla led the launching of the program and the ceremonial distribution of the cash grants which was personally brought by bank personnel of the Land Bank of the Philippines.
Gov. Petilla again urged the newly enrolled beneficiaries to ensure continuous inclusion in this pro-poor, mass based program of the national government by following the conditionalities by which the grant was given.
He told beneficiaries that the government is spending billions of pesos for this program that it needs to be fully complied with.
"The government is spending a lot for 4Ps thus we would like to make sure that the recipients are really helped by the cash grants and deserve to be placed under such social pension," Gov. Petilla said.
The governor likewise shared that 4Ps beneficiaries would also be given priority health insurance sponsored by the provincial government of Leyte.
"We are giving this priority for as long as you are under the program. This is in line with the national government's efforts to converge all its social and pro-poor programs," Gov. Petilla said.
Under the 4Ps program, beneficiaries receive P500 every month for health and nutrition and P300 monthly per child aged 14 years old and below, to a maximum of three children, for educational expenses as long as they comply with the conditions that include availing of health services for their children, pre and post natal care for pregnant household member, sending their children to school and attending family development sessions.
The 4Ps program implemented by the DSWD aims to sustain the livelihood of the 4.3 million assessed poor households nationwide through the program.