Ormoc SOCA gets positive feedbacks
By RONNIE C. ROA
February 28, 2012
ORMOC CITY – The State of the City Address (SOCA) of Mayor Eric "Beboy" C. Codilla got positive feedbacks from different sectors after it was delivered last Thursday, February 23 at the Session hall of the New Ormoc City Hall.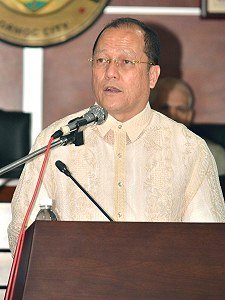 City Mayor Eric Codilla
The SOCA that lasted over an hour was full of excitement to the audience. Many said that it was the best delivered SOCA of Mayor Codilla in 8 years. Applauses and crowds' reactions of contentment were frequently observed.
LtCol. Joel Alejandro Nacnac, Batallion Commander 19th IB said that he was impressed of Codilla's speech and delivery of the SOCA. Everything said was very good and the accomplishments that he has done in the city, Nacnac added. He also said he sees no problem in the city with regards in peace and order situation. He assured the public his full support and cooperation at all times together with the Philippine National Police to maintain the peace and order in the city.
PSSupt. Eleazar Egloso, City Director, OCPO, said that the SOCA was generally appreciative. Ormoc's great progress is noticeable. Generally, Ormoc is very peaceful except for few isolated cases but those were immediately addressed by the police force.
A lady entrepreneur said, "The speech was very comprehensive and kudos to the mayor."
Councilor Jose Alfaro said that it was a very successful, very candid and very truthful. "It depicts what has been done in the past years and what will be done in the years to come," he added.
Councilor Sotero Pepito's comment was on the issue of LIDE Management Corporation-LMC's extraction of natural resources in the city. He said that it is high time that the city has to tell them that the patience has come to the limit. (We are not after for the money, we are after for our safety.) "Wa ta mag-apas og kwarta, ang ato safety," Pepito said. For many years, they have been using the natural resources (water). They are making business out of it but in no return, Pepito narrated. The councilman was anxious on mayor's apprehension about salt water intrusion and sink hole that could happen if LMC continues to extract water. He was too concern how to answer the people living in the area and the entire Ormocanon if that possibility comes. Pepito said that it was the best time to send the message to them (LMC) and they must act also. The city has just presented its stand and is waiting for their answer, Pepito pointed out.
Brgy. Chairman Wilfredo Rios of Lao believed that soil intrusion could affect their areas if the mayor will not act now. Rios said he learned lessons from the SOCA and the progress of the city gave benefits to the Ormocanons.
Manuel Chua said that the mayor has a lot of plans. He hoped that these plans be realized because he said Mayor Beboy's plans were all accurate. All his plans gained positive results, he said pointing out to the 45 million pesos award. "Saludo ako ni mayor," he exclaimed.
Bremie Restauro was amazed of what she learned after the SOCA. "It was amazing; I have no idea that things happen na diay in Ormoc. It makes me realize that attending SOCA is a learning process. Being an Ormocanon am being proud of myself nga taga Ormoc jud ko. He is the best Mayor so far in Ormoc," Restauro said.
Coun. Rolando Villasencio, minority floor leader, asked Ormocanons to support and be united for everyone's objective is for the progress of the city.
Coun. Demosthenes Tugonon in his view said that the mayor showed the tangible and concrete accomplishments and awards that the city of Ormoc earned. He recognized the support of the 12th Sangguniang Panlungsod and the barangay officials in getting these reputations.
Coun. Filomeno Maglasang rated the SOCA as outstanding. The public could see the projects and programs implemented in this administration that contributed the progress in Ormoc. The Codilla administration anticipated the problem in classroom shortage. It is one of the educational programs of this administration to give comfort to the public school children in the city, Maglasang said. He added that the unity of the city officials and other sectors in the city was the secret of Ormoc's progress.
The enterprise that love for candy-making and concern for people build
By Philippine Information Agency (PIA 8)
February 22, 2012
ALMERIA, Biliran – Several years ago, Santiago and Rose Nierra were about to return to Manila where they work, after a short visit to their hometown in Almeria, province of Biliran, however, they hesitated in going back as they thought how difficult it was to survive in the metropolis with their meager income as candy factory workers.
At about the same time, Santiago was tasked to lead his local church community, thus, the couple contemplated on starting a small business instead, Biliran Provincial Science and Technology Director Romeo L. Dignos informed.
At first the couple was indecisive as to what business to venture into, but after seeing many rural people having no work, they were encouraged to venture into business that will also provide employment. Thus, armed with enough knowledge on candy making, the couple decided to start a small candy business.
The enterprise was given the name SAN-ROSE Processed Food Products. Obviously, the name is a merger of the owners' first names.
The business initially produced milk candy (yema), hired unemployed women and youth as packers and sell the products to peddlers with motorcycle who in turn distributed the products around Almeria and the neighboring towns. So, San-Rose products became available in stores around the province.
Seeing young people, mostly women with hairnets and aprons, inspired rural folk with the thought of having a small candy factory in their remote rural community. This impression is what SANROSE has given to constituents of Barangay Caucab, Almeria, Biliran about 5 kilometers from Almeria town.
It was this same commitment that led SanRose to seek assistance from DOST Biliran which in turn enrolled the micro-enterprise under its Small Enterprise Technology Upgrading program (SETUP), Mr. Dignos said.
DOST went further as SanRose later received consultancy support through the DOST-Manufacturing Productivity Extension (MPEX) Program.
Mr. Nierra, a local church leader, set up a small area near his house as a processing area for milk candy, pastillas, peanut butter, and similar products. With the help of consultants from Naval State University commissioned by DOST's MPEX program, San-Rose was able to improve its processing lay-out as well as the formulation of its candy products.
Based on its operations last year, the firm generated about Four Hundred Thousand Pesos (P400,000) worth of products and was able to employ at least 12 workers from the community based on its operation last year.
This year, 2012 a technology acquisition support amounting to P85,000 which include improving the packaging system of its products, has been released to the firm.
Micro as it is categorized, the enterprise strives to increase its production by 20% through the assistance of DOST and other agencies in the coming years.
The 'Bottom-Up' approach for 2013 budget preparation process
By Philippine Information Agency (PIA 8)
February 14, 2012
TACLOBAN CITY – Budget and Management Secretary Florencio "Butch" Abad said, in his recent visit here, that national government will begin instituting a "bottom-up" approach to the ongoing 2013 budget preparation process.
This, he said, is in line with the present administration's goal to reduce poverty and achieve the United Nations Millennium Development Goals (MDGs) by 2015.
Secretary Abad said that budget preparations will be guided by needs identified at the grassroots level, so that the 2013 budget will most decidedly be a people-centric budget, aimed not just at the proper allocation of resources, but also at the substantial reduction of poverty.
"For the first time in our government's history, we will be preparing the national budget using a breakthrough 'bottom-up' approach," Secretary Abad told the local media in a press conference arranged by the Philippine Information Agency.
The good Secretary, who was in town to keynote the General Assembly and induction of the Region Eight Administrators League and the Region Eight Association of Leagues of Budget Officers, said that in the past, the General Appropriations Act (GAA) was crafted from top to bottom, with state leaders and officials exclusively deciding where public funds should go.
"This time, however, budget preparations will be guided by needs identified at the grassroots level, so that the 2013 budget will most decidedly be a people-centric budget, aimed not just at the proper allocation of resources, but also at the substantial reduction of poverty," Secretary Abad said.
He added that the bottom-up process will focus on engaging about 600 poorest Local Government Units. Around 55 among these LGUs are from Eastern Visayas, the Secretary said as he requested DBM Regional Director Imelda Laceras to confirm the figure. Local-level engagement will be facilitated via relevant government agencies, local community leaders, LGUs, and partner civic organizations.
According to Secretary Abad, the DBM will invite an initial set of agencies to spearhead the new approach. These have been identified as the Rural Development agencies which include the Departments of Agriculture, Agrarian Reform, and Environment and Natural Resources and the Conditional Cash Transfer Program agencies which include the Departments of Social Welfare and Development, Education, and Health.
The agencies will combine their respective services in poor communities by taking on the prioritized list of projects and programs and incorporating these into their budget proposals for 2013, Secretary Abad added.
"This new process may likewise require rural development and economic agencies to be responsible for achieving meso-economic indicators of inclusive growth –indicated, for instance, by a five percent reduction of average underemployment or hunger for the regions with the largest number of focus municipalities from 2013 to 2016," he added.
Abad said the earlier initiation of the bottom-up planning process will ensure that the needs of the poor municipalities will be adequately funded in the 2013 budget.
In the past, municipalities were required to submit public investment programs (PIPs) for the consideration of the regional development councils (RDCs) and for inclusion in line-agency budgets.
"The problem with the previous system was that proposals for PIPs were often conveyed to the agencies in July, during which the President's Budget is already being finalized for submission to Congress. Now that we've begun the bottom-up approach at a much earlier time, we can give the poorest communities sufficient leeway to communicate their needs and have their requirements effectively accounted for in the proposed budget," he said.
Secretary Abad added that the bottom-up approach will be complemented by the expanded engagement of civil society organizations (CSOs) and people's groups in the budget process.
At least 12 government departments and six agencies will initiate consultation sessions with CSOs to boost citizen participation in crafting the 2013 budget, the Budget Secretary said.
He also said that economic growth in the country must be more inclusive, especially in areas where growth is neither high enough nor sufficiently robust.
The Secretary underscored that the Aquino Administration is committed to fulfilling its Millennium Development Goals (MDGs), on top of which is the target to reduce extreme poverty by half, from 33.1 percent in 1991 to 16.6 percent by 2015.
The Aquino Administration intends to translate the gains of good governance into direct, immediate, and substantial benefits that will not only improve the lot of the poor and marginalized, but to empower them as well, he added.
The Budget Secretary said that the national government will be providing next year an additional budget of P8 million to P12 million to each identified poor area in the country under the new approach.
DENR promotes bamboos for natural disaster prevention
By Philippine Information Agency (PIA 8)
February 11, 2012
TACLOBAN CITY – In Eastern Visayas, the Department of Environment and Natural Resources is promoting bamboo cultivation by local government units in areas that have been tagged by the Mines and Geosciences Bureau as landslide-prone.
Planting bamboos in potentially loose soil can serve to hold the earth in place with its dense and wide-spreading system of roots. This can limit erosion, particularly the large-scale sheet erosion that can lead to fatalities and damage to properties.
This is the only tree variety that is best suited to plant along river banks in order to mitigate landslides, DENR regional technical director Manolito Ragub informed.
RTD Ragub encouraged the local government executives to initiate the planting of this specie in their respective areas of jurisdiction.
Disaster pose a threat to areas of virtually every province in the Eastern Visayas region, with more than 2,531 villages considered to be susceptible to landslides. With the high vulnerability of Eastern Visayas to natural disasters, bamboos can help stabilize critical areas against landslides, RTD Ragub said.
The bamboo tree has a wide-spreading root system capable of holding loose soil. In other words, the tree is deep-rooted and best suited against landslides. It was learned that the roots of a bamboo tree are capable of expanding by 25 percent to hold six cubic meters of soil.
Bamboo anchors the soil with its spreading root system thus preventing landslides. Aside from this, bamboo is used as barrier against soil erosion and other environmental services such as protection of water sources though reforestation of watersheds.
Bamboo has many uses. It is a source of livelihood as it is used for construction of inexpensive homes that are also capable of withstanding natural threats, assembling furniture, scaffolding as well as posts in agriculture and aquaculture, weaving mats, making plywood and panels, flooring, among others. Otherwise, its shoots can be harvested for food.
Because of its versatility, the planting of bamboo and other indigenous deep-rooted species in most of the targeted 12,365 hectares of land across the region, is now in integrated in this year's implementation of the National Greening Program of the government, RTD Ragub said.
Model Community eCenter brings digital literacy to women in barangays
By Philippine Information Agency (PIA 8)
January 28, 2012
TANAUAN, Leyte – The Community eCenter of Tanauan, Leyte which emerged as the grand winner for both the CeC and the Knowledge Worker categories of the 2nd Philippine CeC Excellence awards, has recently embarked on a new undertaking, that of bringing digital literacy to women right in their respective barangays.
Mr. Eugene Ramos, the CeC manager and this year's Knowledge Worker, informed that many women in the 54 barangays of Tanauan cannot afford to go to the center in the town proper in order to learn about digital information technology.
Thus, instead of the women coming to the CeC, the CeC staff brings the technology to the women right at their barangays, Mr. Ramos said.
So far, the CeC of Tanauan has conducted digital literacy training in three barangays, Canramos, San Roque and Bantagan, Mr. Ramos informed. He said he is happy that many women really show their interest to learn about the course.
Ramos disclosed that as far as he knows, the undertaking is the first of its kind among the country's CeCs.
The CeC manager disclosed that this undertaking is in support to the Philippine Digital Literacy for Women Campaign (PDLWC) which aims to empower 10,000 women from the poor and marginalized communities in the Philippines through digital literacy training.
The campaign is spearheaded by the Commission on ICT, together with the members of the PhilCeCNet and the telecentre.org Foundation.
CeC Tanauan has committed to train at least 800 underprivileged women out of the 10,000 target.
The series of digital literacy training in Tanauan uses the Intel Easy Step modules which the organizers found useful and comprehensive tools in the Basic ICT Training Course. The course covers five modules; self-practice activities were conducted after every module.
The CeC continues to provide ICT trainings at the Center for those who are interested to learn. At the same time, it also manages the eSkwela for the out of school youth and adults who wish to finish elementary and high school without going to the regular schools.
Ramos informed that several eSkwela graduates are now enrolled in college after passing the equivalency examinations of DepEd.
The Tanauan CeC continues to strive to become a competent provider of ICT services that will improve the quality of life of the people of Tanauan, Mr. Ramos said. It will also continue to empower women through technology, because empowered women make an empowered community.
838 East Visayas informal sector workers get P8.337-M aid from DOLE in 2011
By Philippine Information Agency (PIA 8)
January 19, 2012
TACLOBAN CITY – Some 838 informal sector workers in Eastern Visayas have availed of around P8.337 million worth of livelihood assistance under the DOLE Integrated Livelihood Program for Workers in the Informal Economy (DILP-WIE) in 2011.
The beneficiaries from the six provinces of Region 8 received the livelihood assistance in the form of tools and equipment, production and skills training as well as upgrading to capacitate them to pursue their income-generating activities, Mr. Virgilio Doroja, DOLE Information Officer said.
A total of 337 projects were implemented with the support of 22 accredited co-partners (ACPs), Mr. Doroja added.
For Northern Leyte, among the projects implemented were Integrated Aquaculture and Bangus Cage Project at Barangay 1 of Babatngon town to enhance the livelihood of some 31 fisherfolks.
Other projects include a massage therapy and sari-sari store, a formation project for one person with disability in Burauen, Leyte; school chair and other furniture production, an enhancement project for 28 persons with disabilities in Tacloban City; and starter kit projects, namely, native delicacies making, commercial cooking and fish processing for 20 parents of child laborers in Babatngon, Leyte.
In Western Leyte, 20 bee hive farmers from Barangay Lamak, in Hilongos town received financial assistance for the establishment of bee colonies to enhance their livelihood while 37 fisherfolks from Barangay Matapay, also in Hilongos, were granted financial assistance for the establishment of deep sea fish shelter.
Informal sector workers in Southern Leyte availed a total of P2.847 million to fund 200 projects such as the enhancement of 29 members of Bacolod Women's Health Organization root crops processing in Hinundayan town.
For displaced workers affected by typhoon in Saint Bernard town, funded were livelihood formation for displaced workers in Barangay Catmon; welding shop and allied services for 12 workers from Barangay Mahayahay; TUPARIN formation project for 43 displaced workers from Barangay Tambis; and livelihood formation for 13 displaced workers from Barangay Mahayahay.
Moreover, at Libagon town, 14 women vendors were provided 14 Nego Karts to enhance their livelihood; while at Silago town, 26 women were granted funding for the Puntana Vege-Garden Park.
In Maasin City, 48 fishermen were granted assistance for small scale project while 63 informal sector workers were provided starter kit for livelihood formation.
In Biliran province, 60 informal sector workers in Naval availed of the funding to enhance their suman production while 65 from Cabucgayan town were provided funding for enhancement of their coco-wine production.
Further, in the province of Samar, 85 informal sector workers were granted funding to enhance their individual projects while in Calbayog City 20 ambulant vendors were provided Nego Karts.
In the province of Eastern Samar, 23 members of the Busilak Women's Association were granted funding for their Busilak Canteen and Sari-Sari store; while 42 fisherfolks from Borongan City were granted financial assistance for the acquisition of 42 fishing paddle banca with gillnet.
In the province of Northern Samar, 100 fishermen from Allen town were granted funding for small scale fishing project; 17 women from Allen were given funding for their weaving handicraft project; 25 women from Bobon town received funding for their Pinangat and Pinato Making project.
The DILP-WIE provides productive, gainful and secure employment to marginalized and unprotected workers. It provides integrated livelihood interventions for livelihood enhancement, livelihood formation, and income augmenting livelihood.
Taking thyroid cancer seriously
Press Release
January 18, 2012
CEBU CITY – With the increasing incidence rate of thyroid cancer in Metro Cebu, the Eduardo J. Aboitiz Cancer Center (EJACC) of the Ramon Aboitiz Foundation Inc. (RAFI) urged the public to undergo early screening and prevention measures to fight the disease.
"Thyroid cancer is high on prognosis. It is preventable through various screening methods, such as physical examination and ultrasound of the neck, as well as some prevention measures, including regular exercise and maintenance of a well-balanced diet," Ronald delos Reyes, EJACC program coordinator, said.
Based on EJACC's Metro Cebu Population-based Cancer Registry, the incidence rate of thyroid cancer in 2003 to 2007 is high but the mortality rate is comparatively lower.
Within this period, about 573 cases of thyroid cancer were reported and 116 were recorded to have died of the disease. The figures also show that 97 cases have been attributed to persons in between the ages 15-30 while 350 cases are persons with ages 30-60. More women than men have been affected by this disease; in fact, 134 cases are male while 439 cases are female.
As a common type of cancer diagnosed in men and women, thyroid cancer ranked sixth in most common cancer cases in Metro Cebu.
According to the 2010 journal of the Philippine Cancer Facts and Estimates of the Philippine Cancer Society, the incidence rate had increased from 1980 to 2002, with an annual change of 0.4% in males and 1.6% among females.
Thyroid cancer is the most common cancer of women at ages 15-24 years. Among women, the incidence rate rises at age 30 and continues to rise with increasing age. Among men, the incidence rate begins to increase much later, starting at 60 years old.
The thyroid is a butterfly-shaped gland located in the front of the neck just below the Adam's apple. It works like a tiny factory that uses iodine, mostly from the diet in foods like seafood and salt, to produce thyroid hormones that, in turn, help regulate the body's growth and metabolism and other functions of the body.
The most common signs and symptoms of thyroid cancer include a lump or thyroid nodule, that can be felt in the neck; trouble in swallowing; throat or neck pain; swollen lymph nodes in the neck; cough; and vocal changes.
People exposed to high levels of radiation are much more likely than others to develop papillary or follicular thyroid cancer. Treatment with x-rays is one significant source of radiation exposure. Between the 1920s and the 1950s, doctors used high-dose x-rays to treat children who had enlarged tonsils, acne, and other problems affecting the head and neck. Later, scientists found that some people who had received this kind of treatment developed thyroid cancer.
People who are diagnosed with this kind of cancer may undergo surgery. Common surgeries include thyroidectory, lobectomy, and tracheostomy. Sometimes, even the removal of the thyroid itself is needed.
"Like many other cancers, thyroid cancer may be more easily cured with early detection. Earlier diagnosis removes thyroid cancer at a time when they are not likely to have spread beyond the thyroid gland," delos Reyes said.
For more information about thyroid cancer, please contact EJACC at 254-6351and look for Gina Mariquit.
'Ayaw kong magkawatak watak tayo'
By ALEX P. VIDAL / PNS
January 5, 2012
VANCOUVER, British Columbia – For Tomas "Tatay Tom" Avendano, president and CEO of the Multicultural Helping House Society (MHHS) here, designating specific places for ethnic groups in Canada "is tantamount to creating an atmosphere of division."
This was Avendano's reaction to proposal to create a "Pinoy Town" located on a stretch of Fraser Street between Kingsway and 33rd Avenue.
"Ayaw kong magka watak watak tayo (I don't want our group to scatter). As Filipino-Canadians, we have already assimilated with other ethnic communities and we are all Canadians," Avendano told this writer.
Avendano's stand was echoed by Nemecio "Mang Nemy" Cepeda, longest serving former president of the Filipino Zodiac Circle of British Columbia.
"We have already started so many projects and most of them have not been completed yet," Cepeda, 68, sobbed. "We should focus on one project first so that we can maximize our resources before undertaking another project."
Leaders
Cepeda lamented that past and present Fil-Can community leaders "have failed to erect the Filipino Community Center which should have been given priority to serve as the bastion of Filipino-Canadians' solidarity and identity."
"We always have the temerity to start something and not finishing them," bemoaned Cepeda. "It seems that some of our leaders have mental dishonesty and ulterior motives the reason why we can't complete one major project except the MHHS."
MMHS was built "to help newcomers succeed in Canada...moving Canada forward, one immigrant at a time."
Cepeda suggested that in order to finish one project, members of the Filipino-Canadian community "must do it ala Bayanihan style and set aside personal interests."
Attention
"Let's work together, focus our attention on one project so that our resources will not be divided and wasted," he suggested.
The proposed "Pinoy Town" rekindled the debate after 24 Hours, one of Canada's biggest daily tabloids with circulation in Toronto, Calgary, Edmonton, Ottawa, Montreal, and Vancouver, devoted a spreadsheet feature story about the project on January 4.
"Petitions for a city-designated Pinoy Town – located on a stretch of Fraser Street between Kingsway and 33rd Avenue – have been going out since October. The movement comes after city council passed a motion last fall designating Kingsway area between Fraser and Nanaimo Streets as 'Little Saigon' neighbourhood," 24 Hours reported.
"But Little Saigon supporters made the misstep of not consulting with the entire community before submitting a 3,000-signature petition to city council, said RJ Aquino, a COPE candidate in the last municipal elections who declared in favour of Pinoy Town. That omission angered many locals.
Consultation
"City-funded public consultation on the Vietnamese neighborhood is scheduled for the start of 2012.
Councilor Kerry Jang, who put forward the Little Saigon motion, said he supports efforts to celebrate Vancouver's diversity, but adds it's important for organizers to talk to both businesses and residents before approaching the city."
The report also quoted 83-year-old Avendano as saying, "I think while we are here, we shouldn't live as separate Filipino or Vietnamese (communities). This is Canada; therefore we should strive to be integrated and assimilate to Canadian culture."
Avendano said "giving neighbourhoods official ethnic designations could hamper integration of new immigrants and wouldn't necessarily boost cultural recognition or improve business."