Ban on black sand mining pressed in Region 8
By PAMALAKAYA
February 11, 2011
TACLOBAN CITY – The militant fisherfolk alliance Pambansang Lakas ng Kilusang Mamamalakaya ng Pilipinas (Pamalakaya) on Wednesday urged President Benigno Simeon Aquino III to ban magnetite mining in the coastal waters of Eastern Visayas region.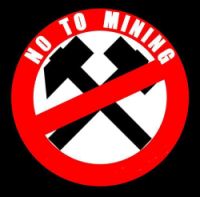 Citing the report of Pamalakaya-Eastern Visayas, the activist fishers group said of the 107 offshore mining applications in the regions, 17 are applied for magnetite mining which covers several municipalities of Samar, Leyte, Southern Leyte and Biliran.
Pamalakaya national chair Fernando Hicap identified the 17 magnetite offshore mining activities in the region which he said will usher an era of environmental destruction, perpetual disasters and gross denial of fisherfolk livelihood across the region.
The Pamalakaya leader said the Department of Environment of Natural Resources (DENR) is now processing the applications of magnetite giants like Nicua Corporation which will cover 5,390 hectares of coastal areas in the towns of Tanauan, Tolosa, Julita and Dulag in Leyte; Kando Mining Company 3,945 hectares (Dulag, Mayorga and Julita towns in Leyte); Rushfield Mining Company 5,309 hectares (Palo, Tanauan and Tacloban City, Leyte) and Minoro Mining and Exploration Corporation; 6,375 hectares (Alang-alang, Sta. Fe, Jaro, Pastran and Palo, Leyte).
The other exploration firms are Citygroup Philippines Corporation, 1,694 hectares (Caibiran, Biliran and Naval in Biliran); Asian Mines Incorporated, 769 hectares (Motiong, Samar); Bridestone Mining and Development Corporation 7,252 hectares (Hinunangan, Hinundayan and Silago, Southern Leyte); Lazarus Mining Corporation 6,205 hectares (Carigara and Capoocan, Leyte); Oregon Mining and Development Corporation 5,099 hectares (Babatngon and Barugo); Grand Total Exploration and Mining Corporation 11, 686 hectares (Babatngon, Barugo, Carigara and Capoocan, Leyte and another application covering 5,752 hectares in the municipalities of Biliran, Cabucgayan, Caibiran, Culaba and Leyte, all in Leyte); Mt. Mogan Resources and Development Corp 3,022 hectares (Dulag, Leyte), another 15,781 hectares in Tanauan, Tolosa, Dulag, Mayorga, MacArthur and Abuyog, and another Morgan exploration involving 25,312 hectares covering the coastal towns of Basey, Marabut and Tacloban City; and Hedlite Mining Corporation 3,945 hectares (Dulag, Julita and Mayorga in Leyte).
"We strongly urge President Aquino to scrap all the magnetite mining activities in Eastern Visayas. We ask Mr. Aquino to recall all these Public-Private Partnership led escapades in Region VIII and stop black sand giants from destroying the livelihood and the national patrimony of the people," said Hicap.
Pamalakaya-Eastern Visayas said if these magnetite mining applications are approved by the DENR and Malacanang, it will promote widespread community displacement, further diminish coastline, reduce fish catch to rock bottom levels, and decrease productivity since magnetite mining in coastal areas are inherently destructive and anti-environment.
Pamalakaya-Eastern Visayas further said many studies and documentations bared black sand mining in coastal areas have resulted to coastal erosion, inundation of communities, and degradation of marine ecosystem.
Another Pamalakaya affiliate -- the Lakas ng mga Maliliit na Mangingisda ng Bicol (Lambat-Bicol) also urged DENR Secretary Ramon Paje to disapprove the application of the US-Korean firm Bogo Mining Resources Corporation. The mining firm has a pending application for offshore mining for magnetite before the Mines and Geosciences Bureau (MGB) of DENR Region V dated November 20, 2009.
The exploration for magnetite will cover more than 17,000 hectares of municipal coastal waters in San Miguel Bay that would encompass five coastal municipalities in Camarines Sur – Sipocot, Cabusao, Calabanga, Tinambac and Siruma.
Pamalakaya vice chairperson and Lambat-Bicol regional chair Salvador France the exploration will conducted within the 15 kilometer municipal fishing waters, and the immediate impact of the magnetite exploration is the wholesale banning of municipal fishing activity and the destruction of fishing resources in San Miguel Bay once the offshore mining for magnetite is approved by the MGB and DENR regional office in Legazpi City, Albay.
"This grandmother of destruction must be stopped at all cost. We strongly urge the DENR chief in the national office to reject the application of Bogo Mining Resources and tell the capitalists of this mining firm to get out of San Miguel Bay," said France.
The Pamalakaya leader said while waiting for DENR permit for exploration, the technical personnel of Bogo Mining Resources Corporation had started drilling operations in the five coastal municipalities to determine potential of magnetite. France said about 30,000 holes were drilled by mining personnel of Bogo since it applied for permit on November last year.
Pamalakaya said in Cabusao, about 180 hectares of mangrove areas will be uprooted to pave way for offshore magnetite mining and about 3,000 families of small fishermen in the coastal municipality will be affected by the ambitious magnetite exploration.
The group said in Calabanga, about 1,500 families of small fisherfolk will be affected once the exploration started.
American arrested in Philippines set to face US Court for sex charges
By FLORENCE F. HIBIONADA, Senior Reporter, PNS
February 7, 2011
ILOILO CITY – Notice to all local victims, girlfriend and friends of David Wayne Altman Greth, the deported American wanted in United States (US) for felony charge and sex crimes.
After nearly two months since his arrest here in Iloilo City, Greth is finally set to face his captors and victims with a Court date this week in his hometown Porstmouth, Virginia.
In an update, PNS learned of a scheduled closed-door Court hearing following the closure of felony charge "unlawful flight to avoid prosecution." From then on, Greth will face up against US State prosecutors on11 sexual offenses including rape, two counts of child abuse, two counts of aggravated sexual battery and three counts of forcible sodomy.
This, as an online support group was set up by one of his American victims that has thus far reached out to young Ilonggas lured into sexual relations by Greth.
To recall, Greth spent a good part of his hiding years here in Iloilo City where he managed to generate at least 30 young women as "friends" in his 5 Facebook accounts. He also was the favorite non-paying customer of commercial sex workers in Molo District here and boyfriend to at least 5 young locals. He was mostly known as "Robert Kline" and "David Altman."
Upon his arrest in December, one of the girlfriends was already pregnant and now due to give birth middle of March. There was also another 19 year-old girlfriend feared to be the one in several of his sex videos recovered by agents of the National Bureau of Investigation (NBI) Regional Office 6. To both young women, he was "David Altman."
Yet another local woman apparently "introduced" and in contact with Greth's family was also a known girlfriend though this one is not believed to be in the "victim" category. Local authorities got the confirmation of continued contact of this woman described to be in her early 30s and thus far appeared to have known Greth in his real name and circumstance.
Meantime, continued call for support for Greth's victims is made via Facebook with posted comments here from both self-confessed victims and townmates. A warning was also put up to all "Robert Kline" friends with the information that such was used by the accused pedophile in his quest for victims and link to his family.
Greth's capture was done by the NBI Regional Office 6 led by Investigation Agent Arnold Diaz.
Some 16 Operatives were then led by Agent Diaz as Immigration Officer II Apolonio Calingasan approached him with the deportation order minutes after he got off work in Mabini Street, Iloilo City.
When processed at the NBI 6 headquarters, Greth feigned shock and surprise on the piled-up sexual charges. Yet he appeared hopeful at one point saying he would want to go back to the Philippines and retire here one day.
"I did not touch any kids here in the Philippines…of course I have girlfriends but I did not do anything wrong here to nobody…..you can ask anybody who knew me…..My stay here in the Philippines had nothing to do with kids….I don't know where the charges were coming from in my own country. There you are guilty until proven innocent," he said in disgust while adding "I may just end up as someone's boyfriend in jail…."
To note, Greth entered the Philippines in August 4, 2006 and was given until August 25, 2006 as legal stay. He said he had at least $20,000 with him upon arrival and lived for years like a rich man, "or at least it felt that way," he quipped.
As his resources dwindled, he went from one place to the other and while in Iloilo, he assumed several names to his online and offline friends. At work though as tutor for an English tutorial center for Koreans, he went by his legal name, David Greth.
At some point, Greth was known to have accepted any handy job that would get him cash daily. Sources recognized him as the guy who repacked charcoal and sold if for a few pesos.
Southern Leyte LGUs big winners in the Local Legislative Award of Eastern Visayas
By MYLES JOSEPH E. COLASITO
February 1, 2011
TACLOBAN CITY – Two local government units (LGUs) of Southern Leyte ruled their respective categories in the 2010 Local Legislative Awards of the Department of the Interior and Local Government and Philippine Councilor's League in Eastern Visayas.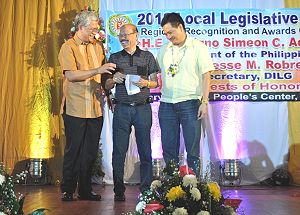 DILG USec Austere Panadero and Deputy House Speaker Lorenzo Tañada III present the 1-Million pesos Performance Challenge Fund (PCF) grant to Mayor Gerardo S. Espina Sr. of Kawayan, Biliran as an incentive for the LGU having passed the DILG's Seal of Good Housekeeping criteria. The PCF is given to LGUs which have notched high marks in the fundamentals of governance such as transparency, accountability, participation and performance.
Macrohon ascended to the regional champion level among 4th to 6th class towns, edging out the much-improved Babatngon, Leyte and defending titlist Cabucgayan, Biliran (2nd runner-up); and past champion Balangiga, Eastern Samar (3rd runner-up).
Maasin City's victory was no less sweet, for though it was the only component city to qualify under the search's strict criteria, it bagged the Hall of Fame award for copping the title for three straight years. The awards were handed out to Mayor Maloney Samaco, Vice-Mayor Effie Sabandal, sanggunian members and staff, by DILG Undersecretary Austere A. Panadero, subbing in for His Excellency President Benigno S. Aquino IIII and DILG Secretary Jesse M. Robredo who could not make the appointment due to pressing concerns in the Philippine capital.
In other categories Catarman, Northern Samar was declared winner over Hilongos, Leyte (1st runner-up) and Naval, Biliran (2nd runner-up) among 1st to 3rd class municipalities. Ormoc City won in the Highly Urbanized City / Independent Component City category.
In the President's speech read by Undersecretary Panadero, he gave credit to DILG and PCL for instituting the search to highlight best practices among sanggunians and other capacity building initiatives even as he challenged councilors to move their LGUs to comply with the intent and letter of the DILG Memorandum Circular on Full Disclosure of public finances, which has been adopted under the 2011 General Appropriations Act and is a component of the COA audit. The President called the full disclosure memorandum the most concrete anti corruption tool that will allow citizens to engage in governance and make their LGUs accountable.
The President also urged local governments to be more proactive in identifying relevant issues and instituting reforms. Particularly local governments must attune their goals to national thrusts. President Aquino also stressed on the importance of building the capacities of communities to be resilient in times of disasters and expects LGUs to adopt climate change management framework in development planning.
Aside from DILG Undersecretary Panadero, other officials present in the awards ceremony were Deputy House Speaker Lorenzo "Erin" Tañada III, PCL National President Ronald Carcellar, PCL National Chairman Allan Zulueta, Leyte LMP President Remedios "Matin" L. Petilla, DILG-8 Director Francisco C. Jose, and Mayor Gerardo Espina Sr. of Kawayan, Biliran who was presented a 1-Million pesos grant of the Performance Challenge Fund, as a reward from the DILG for passing its Seal of Good Housekeeping criteria. The fund would be used for projects that address MDG targets, or the country's commitments to the Millennium Development Goals.
The LLA was first launched in the year 2000 as the Most Outstanding Sangguniang Bayan awards by DILG and PCL. It was adopted into a nationwide search in 2006 called Local Legislative Awards to include cities.
The local sanggunians were evaluated from the period June 30, 2009 to June 30, 2010 and were judged based on five criteria: 1. Effectiveness of the Legislative Agenda (20 pts.); 2. Effectiveness of the Legislative Tracking System (25 pts.) 3. Availability of Legislative Documents (10 pts.); 4. Efficiency of Performance of the Sanggunian (25 pts.); and 5. Quality of Office set-up and staff complement (20 pts.)
Announcement of rankings and winners for the municipal categories were done during the awards ceremony itself. On the other hand, the cities of Ormoc and Maasin were the only ones that qualified in their categories for this year's search.
Plaques for the winners were produced by DILG while the 10,000 cash for awardees was shouldered by PCL. Other program partners are the Department of Budget and Management (DBM), Department of Agriculture (DA) and the Department of Social Welfare and Development (DSWD) which are also part of the regional evaluation team that validated the results at the provincial levels.
The objectives of the LLA recognizing excellence in local legislation dovetails with the slogan "Tapat na Palakad, Bayang Maunlad" of Biyaheng Pinoy, the DILG program to celebrate 20 years of local autonomy.
Engineered bamboo, a promising agri-based industry in Southern Leyte
By ES GORNE, PIA Maasin
January 29, 2011
MAASIN CITY, Southern Leyte – Should the total log ban be effected as it is being now considered among President Benigno S. Aquino III's long-term interventions to all the flooding that damaged lives, properties and vital infrastructures in the country, then engineered bamboo lumber could be one of the substitutes as hard wood.
DTI Southern Leyte Provincial Director Michael Nuñez revealed during the DySL Kapihan sa PIA last Thursday that thru engineering technology bamboo product lines are expanded from furniture industry to bamboo lumber which gathered a positive response from the construction sector.
Provincial Director Nuñez further said that other bamboo product lines which are newly introduced in the local market includes plyboo (comparable to plywood), bamboo lumber, bamboo chips, among others.
Consumers need not be wary of engineered bamboo finished products from infiltration of insects and eating up the insides of the indigenous material since these are being treated with medicines, Nuñez added.
The said government agency is eyeing the potentials of engineered bamboo industry since it is easily grown at the backyards even. It will take only three to five years that the plant could be harvested. That the bamboo plant could also help environmental issues as such it has 30% more absorption capacities than other plants, he added.
Presently, the national government agency has been assisting various groups who are engaged in the bamboo industry whether it be modern method or the traditional way. Recently, the Southern Leyte Multipurpose Cooperative (SLEM Coop) who is engaged in the bamboo industry is a recipient of a P300,000 financial assistance from the national government.
Meanwhile, the province of Southern Leyte is losing about P300 Million from the abaca industry every year since it stop production due the infestation of the virus bunchy top. Before the infestation, the abaca industry production was pegged at least 11,000 metric tons every year, Provincial Director Nuñez disclosed.
He was also apprehensive that the coconut industry in the province of Southern Leyte is also endangered with the invasion of bronstispa pests, who are indiscriminately sucking the young coconut leaves. That the agriculture-based industry, which is presently yielding some P1-2 billion production every year, should be given utmost attention if not, the coconut industry will face the same challenge as of the abaca industry, God forbid.
He also urged the stakeholders to keep abreast and to help monitor bronstispa attack in their own backyards.
Scorned Amazon, escapes her rapist comrade submits to authorities
By CMO Battalion, 8ID PA
January 21, 2011
CAMP LUKBAN, Catbalogan, Samar – After almost four (4) years of living miserably under the inhumanity and brutality of the terrorist New People's Army (NPA), a disgraced Amazon who was almost rape by her comrades eagerly decided to exile herself from the group that she sacrificed and toiled her life by voluntarily submitting herself to the Army's 34th Infantry Battalion in San Jose de Buan of Samar province, 3:00 p.m. of January 15, Saturday.
Reports reaching this headquarters from Lieutenant Colonel William Peňafiel, commanding officer of 34IB disclosed that a certain Jocelyn Gabin known as "Jane" in the underground for four (4) years, 20 years old, single and a local of Brgy. Cataydungan of same municipality is one among the numerous rebels who suffered in the hands of their own comrades.
Further, initial custodial debriefing revealed that Jane is a member of Medical team of YAMBI platoon, under Central Front Samar-1 (CFS-1), Samar Provincial Party Committee (SPPC) of Eastern Visayas Regional Party Committee (EVPC). According to her, hunger, sleepless nights, anxious minds and hardships she experienced from the hands of her comrades are just few among the factors that made her decide to covertly leave the underground. She said that she was not treated well as what was promised to her when she was recruited.
Jane also narrated how she suffered when she was hit by an ulcer and fever that no one paid concern on her condition. She was even forced to work and walk even she could no longer stand the pain and the sting of her body.
She even gnashed her teeth when she recounts the moment when she was attempted to be raped by her comrades. Accordingly, her life was already destroyed by the movement and she could not longer standstill if she will be totally destroyed by his comrades. These further forced her to flee and returned to the safer place away form the evil spell of the people she once trusted her life.
Jane was brought to the headquarters of 34IB complete custodial debriefing then was handed over to her mother Cecilia Gabin with the presence of Brgy. Chairman Edusma of Poblacion, Kagawad Ronn Dacles of Brgy Cataydungan and the local folks who served as witnesses.
Meanwhile, Major General Mario Chan, 8ID's commander expressed his admiration to the bravery of Jocelyn for facing the real terror of turning her back away from the underground movement despite her safety is at stake. Major General Chan also said that Jocelyn made a right decision to fully re-experience her freedom in the open without guilt and reservation to the people who really desire peace and prosperity.
Major General Chan once again reiterated his fervent call to the members of the underground movement to lay down their arms and feel the warm embrace of our government's arm whose concern for his people is genuine.
"As I have told in the past, I am happier to see these people peacefully reaching their arms to the government for the sake of freedom and democracy than through a bloody resort of struggles. After all, we are all Filipinos and our true enemy is the deprivation of our rights, freedom and democracy".
"While we are busy reaching out to our people who are oppressed by our natural calamities, we as you vanguard in the eastern part of our country assure our people to keep away from harm and danger, either be by the inevitable wrath of nature or the NPAs that sow terror in expense of power. We will continue to intensify our operations both in combat and disaster relief for you to celebrate each day as what is deemed to necessary", vows General Chan.