Month three in jail: artists, art events echo demand to end poet's detention
Press Release
May 13, 2011
MANILA – Renowned Filipino artists will figure in a series of events drumbeating the appeal for the immediate dropping of charges filed against poet and former UP activist Ericson Acosta who remains imprisoned at the Calbayog sub-provincial jail in Samar.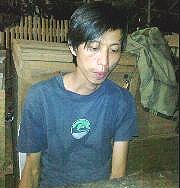 Exactly three months after his arrest, screenwriter Bonifacio Ilagan and National Artist Bienvenido Lumbera joined other artists, Acosta's family and former colleagues in the cultural event dubbed "Haranang Bayan: Panata sa Kalayaan ni Ericson Acosta," at the Ta(u)mbayan bar, Kamuning, Quezon City.
Acosta was illegally arrested in Barangay Bay-ang, San Jorge, Samar last February 13.
"Haranang Bayan" featured musical performances, prose and poetry reading, reiterating the demand for Acosta's release. The event was sponsored by the Kilometer 64 Poetry Collective, KARATULA, UP Alay Sining and the Free Ericson Acosta Campaign (FEAC).
Bonifacio Ilagan's "Bawat Araw," a poem assailing the injustice done to Acosta for each day he spends in prison, was read during the event. Ilagan himself is a former political detainee and member of the Samahan ng Ex-Detainees Laban sa Detensyon at Aresto (SELDA).
"Ericson deserves to be released for his continuing incarceration is a grievous loss to the growth of a truly democratic art and culture of the Filipino people," Lumbera, who also chairs the Concerned Artists of the Philippines (CAP), has earlier said.
According to the CAP, Acosta has interwoven his artistry into being a human rights activist who lives among and works closely with common folk.
"We demand the authorities to not prolong his illegal detention and to end this injustice now," the artists said.
Case still with the prosecutor
According to Acosta's legal counsel, Atty. Julian Oliva Jr. of the NUPL, the detained poet's case is still with Investigating Prosecutor Agustin M. Avalon, the assistant provincial prosecutor of Samar.
"The private complainant, upon urging from the military, directly filed with the RTC a Complaint against Acosta without Inquest or Preliminary Investigation. The presiding judge of RTC Gandara, Samar, Branch 41, then issued an Order referring the case back to the Office of the Provincial Prosecutor for Preliminary Investigation."
"Hence, except for the Court's logbook records on the filing of the Complaint and the Order referring the case back to the prosecutor, there are no other records whatsoever of the case filed with the Court."
"The outcome of Eric's case is in Avalon's hands," said Oliva.
"It has been three months since Eric has been arrested and detained, but no Resolution of the Preliminary Investigation has been issued and no information has been filed in court."
In his counter-affidavit, Acosta stated that he was held incommunicado, subjected to interrogation for 44 hours, physically and psychologically tortured, deprived of sleep, coerced and forced to admit membership in the NPA.
"The evidence against me was planted," Acosta wrote. "The complaint against me was filed in court only after 72 hours and 30 minutes after my arrest."
Poet's specific appeals
"And so it has happened that I was able to ultimately verify the truth of rampant incidence of human rights violations in the area by falling direct victim to it myself," narrates Acosta in a recent statement marking his third month in jail.
Acosta expressed gratitude to relatives, friends and colleagues not only in calling for his release but also for giving "due attention to the plight of other forgotten prisoners such as the 'Catbalogan 5'"referring to five ordinary farmers who were also illegally arrested and detained by the army's 8th ID.
Acosta then made several appeals. He called on Samar's 1st district representative Mel Sarmiento and current House Committee on Justice Chairman Rep. Niel Tupas to initiate a congressional investigation on his case. He also appealed to the local CHR-8, as well as to Catholic bishops led by Cebu Archbishop Jose Palma to look into and condemn the human rights violations in his and the Catbalogan 5's cases.
He also called on the people of Barangay Bay-ang, where he was arrested, "to hold on fast and to be determined to stand up for the truth… even with (military harassment)."
"It is clearly expected of us to carry on the fight," ended Acosta's statement.
Series of art events
Two more events will follow "Haranang Bayan" to raise funds for his legal defense and to drumbeat the call for the freedom of Acosta and other political prisoners.
In "Acosta Universe: Beatles Night for a Cause," rock band The Jerks and other artists will be performing at My Brother's Moustache, Sct. Madrinan in Quezon City, on May 26.
Another fundraising concert organized by Acosta's journalist father-in-law Pablo Tariman will be featuring classical chamber music performed by violinist Gina Medina and pianist Mary Anne Espina at the Balay Kalinaw in UP Diliman on May 28.
Remembering the terror of 9/11
Bin Laden dead: What's next for the world?
By FLORENCE F. HIBIONADA
Senior Reporter, Philippine News Service (PNS)
May 3, 2011
ILOILO CITY, Philippines – Exactly four months short of the 10th year when America and the world witnessed unimaginable terror, the "master" of said terror falls. Usama Bin Laden is dead. Americans rejoice and immediately took their cries of victory in the streets. Leaders from Allied nations follow suit with declaration of joint victory.
The Philippines is even on "alert" as per statement released by Malacañang amidst concern on the after effect of Bin Laden's killing.
With thousands of lives lost and thousands more changed because of the sheer magnitude of the tragedy perpetuated by Bin Laden and his loyalists, is America and the world ready for closure?
Here's a look into the terror of 9/11 and the man behind it.
The day was September 11, 2001 when the great superpower in America was forced to take a closer, deeper and really serious concerted look on the face of terrorism.
A new face of an old enemy that brought unimaginable devastation four hijacked planes later and within minutes thereafter. That day as seen today has changed the course of governance of the world particularly the nations whose governments rely and are dictated by American policies. Altogether, it forced upon all governments to have an inside look on homeland security.
For a country looked upon as a "Super Power" and its President dubbed as the "world's most powerful man," America symbolized the land of the free and home of the brave.
For millions of migrants, Filipinos particularly included, America is the land of milk and honey.
September 11, 2001 changed it all and set forth anew, a different understanding to the greatness of a now different America.
Americans and the world remember year after year said 'invasion'. Yet it was to be the release of "The 9/11 Commission Report" that gave a face to that terror. "The 9/11 Commission Report" was the final report made public by the National Commission on Terrorist Attacks upon the United States.
Philippine News Service (PNS) obtained then a copy of said report that came out in a form of a 567-paged book presented to the American public in particular and the world in general.
"This independent, bipartisan panel was directed to examine the facts and circumstances surrounding the September 11 attacks, identify lessons learned, and provide recommendations to safeguard against future acts of terrorism," excerpts of the authorized edition went.
Composed then of five Republicans and five Democrats chaired by Thomas Kean, the Commission was aided by 81 senior staff members composed of noted Washington lawyers and professionals.
Altogether, 2.5 million pages of documents were reviewed, more than 1,000 hours of audiotape listened to, over 1,200 persons interviewed, ten countries visited, 19 days of hearings conducted and 160 witnesses – top US officials including former President William "Bill" Clinton and the incumbent Commander in Chief, President George Bush were heard under oath.
The report begins with a clear statement – there is an enemy out there who is sophisticated, patient, disciplined and lethal. His name now made a byword worldwide – Usama Bin Ladin – the Commission wrote of how he rallied extensive support in the Arab and Muslim world in its intense hatred and hostility to America. And eventually, to America's allies whom Bin Ladin would term in his declarations as "American agents."
Bin Ladin's fight as he himself declared, makes no distinction between military and civilian targets. "Collateral damage is not in his lexicon," Commission Chair Kean and Vice Chairman Lee Hamilton wrote.
The Commission Report contained 13 chapters that dealt extensively on the attack itself, the foundation of Bin Laden's new terrorism, America's counterterrorism, responses to Bin Laden's Al Qaeda's initial assaults, heroism and horror of the attack, unheeded warnings and signs, foresight and hindsight on the incident and the corresponding recommendations for a global strategy and a 'new' US government.
The details of how the attack unfolded could not be any clearer and gruesome – heard were cries for help from crew and passengers of the hijacked planes of American Airlines Flight 11 (AA 11), United Airlines Flight 175 (UA 175), and American Airlines Flight 77 (AA 77) and United Airlines Flight 93 (UA 93).
From the initial take off of AA 11 at 7:59 am from Boston bound to Los Angeles and UA 93 at 8:42 am from Newark to San Francisco, lives of millions of Americans were to change in that 43-minute span and millions more worldwide in the next hours until the final official confirmation at 10:30 am that same morning – four planes down, chaos of unimaginable proportion up and all because of one man really.
Now the American public knows of how the suicide hijackers slashed the throats of a number of passengers and crew, learned of the heroic deeds of the passengers on board UA 93 and the seeming breakdown of its government's emergency response.
But then as the Commission noted, despite the multi-layered defenses in place and the protocols in place, "on the morning of 9/11, the existing protocol was unsuited in every respect for what was about to happen."
"I don't know where I'm scrambling these guys to. I need a direction, a destination," an officer of the Northeast Air Defense Sector (NEADS) called out after sending F-15 fighters on air at 8:46 am. That very second the North Tower of the World Trade Center was hit by the very same plane the fighter jets were trying to locate.
As records showed and verified, military notification of the first hijacking came 8:37:52 am or about nine minutes before it struck its first target.
There was to be extreme confusion in the next hour as coded messages were passed from one agency to the other and calls came in from distraught family members of calls received from passengers of the four hijacked planes.
About an hour into the four confirmed hijacking, the order was finally handed out on all other aircrafts to land at the nearest airport. Altogether, about 4,500 commercial and general aviation aircraft landed in various US airports in what remains as an unprecedented order carried out with no incident.
In clarifying the record, the Commission wrote: "The defense of U.S. airspace on 9/11 was not conducted in accord with pre-existing training and protocols. It was improvised by civilians who had never handled a hijacked aircraft that attempted to disappear and by a military unprepared for the transformation of commercial aircraft into weapons of mass destruction. As it turned out, the NEADS air defenders had nine minutes' notice on the first hijacked plane, no advance notice on the second, no advance notice on the third and no advance notice on the fourth."
This, as the panel maintained the scenario did not discredit the operational personnel at NEADS or any of the Federal Aviation Administration (FAA) facilities.
Media's role
The Commission in its report showed as well the important role of the media. For instance, most federal agencies learned about the crash in New York from CNN. At the White House, the world knows now how Vice President Dick Cheney was told by an assistant to turn on the television. This as Vice President Cheney remarked, "how the hell could a plane hit the World Trade Center?".
Meantime, President Bush was finally told by a top aide, "A second plane hit the second tower. America is under attack." Thereafter, the President was briefed and watched the television coverage until Air Force One was readied for his departure from Florida.
The media was to have played a bigger role as well to Bin Laden's campaign for support from his Muslim brothers and the ultimate creation of a Bin Laden unit by one CIA man named "Mike." It was his media declaration of war back in mid 90's till the series of pronouncements that would eventually get the White House and Congress to take notice of his potential as one very dangerous man to contend with.
Yet it worked against intense efforts of the American government as well when Al Qaeda senior leadership stopped using a particular communication channel after a leak to the Washington Times.
Caught flat-footed
"The September 11 attacks fell into the void between the foreign and domestic threats," the Commission would later say. "In sum, the domestic agencies never mobilized in response to the threat. They did not have direction and did not have a plan to institute. The borders were not hardened. Transportation systems were not fortified. Electronic surveillance was not targeted against a domestic threat. State and local law enforcement were not marshaled to augment the FBI's efforts. The public was not warned."
As such, even in the execution stage where the 'enemy' made mistakes, America failed to capitalize in those mistakes and under-estimated the terror and horror of Al Qaeda.
"Now threats can emerge quickly. An organization like Al Qaeda, headquartered in a country on the other side of the earth, in a region so poor that electricity or telephones were scarce, could nonetheless scheme to wield weapons of unprecedented destructive power in the largest cities of the United States," this much was recognized by the panel. "The present transnational danger is Islamist terrorism."
With the Commission's work way over, it can now be said, America and terror did change the world. This, as nations move to adopt global strategies to cope and avert similar tragedy.
The year now is 2011, on the 10th year beyond the terror. Will the battle really end with the death of Bin Laden?
8ID Command gets trust from Eastern Samar Guv, welcomes returnees
By EMY C. BONIFACIO, Samar News.com
April 21, 2011
CATBALOGAN CITY – A productive Monday morning marked the halls of the Office of Eastern Samar Governor Conrado Nicart when he welcomed the 8th ID leadership of the Armed forces of the Philippines headed by MGen Mario F. Chan in a pre-arranged meeting that somehow concretized the peace efforts in the locality.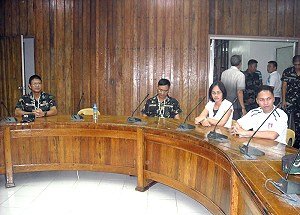 NPA surrenderee spouses Gelita and Marvin Capones (right) during the presscon at the Capitol's SP session hall. (PIA E Samar with 8th ID)
The meeting, facilitated only last Saturday, was a manifestation of Gov. Nicart's trust and confidence in the AFP leadership.
In the said occasion, Nicart presented to the group two ranking officials who have worked with the underground movement of the New People's Army since 2002.
The surrenderees were identified as Marvin Deo Capones alias Saga/Red, Vice Commander, Provincial Operational Command, Eastern Samar Provincial Party Committee (ESPPC) of the Eastern Visayas Regional Party Committee (EVRPC) and his wife, Jelita Capones alias Daisy/Onan, Medical Officer of the ESPPC, EVRPC.
Jelita took charge of the health needs of their members and the mass base in the area. On the other hand, Marvin was a political instructor/organizer deployed at the Northeastern portion of Samar particularly in Taft, Can-avid, Dolores, Oras, Jipapad, Arteche and Maslog. Both of them joined the group when they were yet students.
The governor was said to be aware of his niece's involvement in the NPA when he was yet a mayor at San Policarpo. According to him, surrender feelers were made through his relatives. Immediately, Nicart took time to locate the whereabouts of the couple and coordinated with the military for security concerns.
The couple appealed that their presence should not be required by the military in their massive information dissemination campaigns and as guide in military operations. In response, the commanding General encouraged the couples to share their experiences and assessments in the underground movement by giving feedbacks as to the real needs of the communities where they worked with so that the LGU can also respond to them.
"To live a normal life without any fear for our lives especially that we already have an eight-month old child whose future we cannot be assured if we continue serving the movement" was the primary reason of the Capones' couple for the peaceful surrender. It was learned that they have stopped in actively participating in the NPA activities for almost a year now but they're still worried regarding their security since their names are not yet cleared in the military's intelligence reports.
Marvin Capones said that their presence in the said meeting is a clear manifestation that they have already given up the ideologies that they have fought for in the past. He is convinced that if he continues serving the underground movement, he cannot give a brighter future for his family.
"Sobra ka idealistic an akon panhuna-huna ngan deri ko gin eexpect nga makuri an pagpamilya ha sakob para han kabubuwason. Bisan ano an amon yaknon yana, it amon aksiyon mas dako kontra hiton amon pulong yana pa la. Kun mapukaw na hira, magdecide hira, huna hunaon nira an future han ira pamilya" (I was so idealistic at that time and I didn't expect that it won't be easy to raise a family and plan a better future for them when you're with the movement. Whatever I say now, it's still our act of surrendering that has more weight than the things that I will be saying. If ever, you should first consider your family's future before deciding to join the group), were the exact words of Marvin when asked about the lessons that he has learned from the experience.
Gen. Chan welcomed this development as a new aspect of solving insurgency not through a combat score but more on a peaceful process by encouraging people who are in the armed struggle to peacefully surrender to the folds of the law. Chan informed that all local government units in the province have already incorporated in their programs the giving of livelihood packages to rebels who intend to go back to the mainstream.
He particularly stressed on the role of the Municipal Peace and Order Councils that provide livelihood assistance programs to rebel returnees.
Chan is also hopeful that a radial road that would interconnect the boundaries of the three provinces amounting to 4.2 Billion pesos will be prioritized. Likewise, the need for airports and seaports are essentials to economic development and growth. These are expected to provide jobs and livelihood opportunities to the constituents.
In accordance with the IPSP Bayanihan program of the AFP, a consultative process in pursuing peace efforts is currently being undertaken by the AFP. An assurance for a full support in the pursuit of local peace efforts is likewise extended to the LGUs. Accordingly, no combat efforts will be made without the approval of the chief executives.
"May this be the start of the continued inflow of those in the hills for a more productive Eastern Samar and with a concerted effort in improving the quality of life of our people, maybe we can put in a dream that someday in the future we will have busy streets, with airports busier than Cebu City and a seaport. Hopefully, not a single one in your place will be "tambay" (idle) in the street where we are not thinking of fighting each other but helping each other to generate more income for everyone for a convenient and comfortable life, but a way into going a global competitiveness in the many aspects of our lives and sana marating natin yun" was the inspiring final message of Gen Chan.
Meanwhile, Gov. Nicart thanked everyone for their presence and call on each and every public servant and government official to accord every Estehanon the respect. Their concerns should be attended promptly without partiality, he added. They should be given the due protection of the law and should be treated fairly and equally so we can encourage more of these people to go back to the folds of the law and have a peaceful community.
Pacquiao: Multi-millionaire boxer who wouldn't quit

By ALEX P. VIDAL / PNS
April 19, 2011
Amid call for his retirement, Manny Pacquiao (52-3-2, 38 KOs), at 32 and a multi-millionaire, continues to bedazzle the boxing world with his impressive winning streak and unrestrained collection of world crowns in different weight divisions.
With his vast wealth and reputation, Pacquiao, a father of three and a sports celebrity, could enjoy the so-called "fruits of his labor" by retiring comfortably and preserving his legacy as the greatest and most popular prizefighter in his generation.
But he wouldn't. He couldn't.
As long as Bob Arum wants him to fight, it doesn't matter whether he is 18 or 64 years old. It doesn't matter whether the opponent is Jack The Ripper or Hercules. Beholden to the Top Rank, Pacquiao is.
Their "marriage of convenience" is a source of envy and speculations in the world of sports and entertainment in glittering Las Vegas.
For Arum, dear is boxing but dearer is Manny Pacquiao whom he calls "the greatest fighter ever".
Tandem
Even his mother, Dionisia, a laundry woman-turn-actress, couldn't stop the son-promoter tandem from further engaging in brutal but sanctioned dogfights against multi-national foes Pacquiao met only for the first time in his life.
"Dili na ko! Dili na gyud ko! Tama na! (I can't bear it anymore! That's enough)," Dionisia, who once "fainted" at ringside while watching her son either pummeling an opponent or was the one being bamboozled from pillar to post, would always bewail.
Pacquiao's temerity to flirt with disaster and ignore a motherly concern is elaborate.
"My job is to train and fight whoever my promoter picks to fight against me," the five feet and six inches southpaw has repeatedly declared.
Seventy nine-year-old Arum is the top guy in the Las Vegas-based Top Rank, which charted the Filipino's fistic career into amazing heights ever since he left the Oriental Pacific region after losing his WBC 112-lb jewels on a shock 3rd round TKO loss to an unheralded Medgoen 3-K Battery in Pakpanag Metropolitan Stadium, Nakhon Si Thammarat, Thailand on Sept. 19, 1999, to invade the Land of Opportunity.
Market Value
After grabbing the fighter's management rights from the Golden Boy in a legal tug-of-war, Arum now holds the imprimatur for both of Pacquiao's title defenses and non-title engagements in the United States.
Because of his marketing value and confidence in Arum, the scuttlebutt is that Pacquiao is willing to face even a wrestler armed with a revolver in a no-holds barred rumble.
And when it rains, it pours.
After fighting the aging but still dangerous Sugar Shane Mosley (46-6-1, 39 KOs) on May 7 in Las Vegas, Arum, et al (the wily old man's associates that include TV behemoth HBO of the "pay-per-view" fame) will continue to negotiate and pit the battle-scarred Filipino congressman cum fighter against potentially destructive opponents that include Floyd Mayweather Jr. and possibly Juan Manuel Marquez and Andre Berto.
With his propensity to break records and establish mind-boggling precedents, Pacquiao could end up fighting a middleweight ribcracker and risk his life and limbs.
Barney Ross
Pacquiao's situation reminds us of Barney Ross, a former world lightweight champion who was known in the 1930's as "the fighter who wouldn't quit".
As a world champion in 1932, Ross (72-4-3, 22 KOs) won fight after fight. "The money rolled in and Ross spent it as fast it came," recalled historian Ken Lane in "Champions All".
Then in 1934, Ross decided to fight welterweight terror Jimmy McLarnin (Filipino flyweight champion Pancho Villa's conqueror).
McLarnin (54-11-3, 21 KOs) weighed 20 pounds more than Ross, but Ross beat him anyway. He became the first professional fighter to hold two championship titles at the same time.
Still unbeaten in 1938, Ross challenged the younger Henry Armstrong (149- 21-10, 101 KOs), who was faster and stronger. By the 10th round, Ross was losing. The referee and Ross' manager wanted to stop the fight. But Ross refused. He wanted to lose like a champion. It was the worst beating he had ever taken.
It was after his humiliation from Armstrong when he decided to quit as prizefighter and go into business.
Pacquiao could avert experiencing a worst beating in his life by hanging up his gloves – win or lose against Mosley – and focus on his job as lawmaker or engage into business like Ross.
Whether Bob Arum and the boxer's bloodthirsty fans like it or don't, preserving Pacquiao's main faculties and enjoying the millions of dollars he earned in the ring with his family is the call of Pacquiao alone.
After all, something brilliant could come out from his brains as lawmaker if they were not permanently damaged.