DA, EDC partnership allots initial P92-M to develop 'salad bowl' in Leyte
By Philippine Information Agency (PIA 8)
December 28, 2011
TACLOBAN CITY – A 20,000-hectare area at Tongonan mountain range, straddling Ormoc City and municipality of Kananga, in the province of Leyte, will soon become a 'salad bowl' that will produce high value semi-temperate vegetables.
This, as the Department of Agriculture, in partnership with the Energy Development Corporation (EDC), other institutions and farmers' groups, has set its eyes to make this development a reality.
Recently, Agriculture Secretary Proceso J. Alcala led the signing of a memorandum of agreement at Tacloban City to implement a five-year initiative, called Agri-Pinoy integrated and diversified program for the development of the 'OK' upland range. OK refers collectively to Ormoc City and Kananga. The Tongonan mountain range is 500 to 800 meters above sea level.
The DA and EDC will jointly invest P92 million in the next five years to develop suitable areas surrounding the Leyte Geothermal Production Field (LGPF) to benefit 5,600 farmers, who are members of 23 farmers' associations in Ormoc City and municipality of Kananga.
Secretary Alcala said the DA through the DA Region 8 office and National Agribusiness Corporation (NABCOR) will assist farmers in the land preparation, cultivation, harvesting, processing, and marketing of vegetables and other high value commercial crops.
Currently, subsistence farmers at LGPF produce assorted vegetables and fruits like cabbage, green onion, tomato, eggplant, radish, chayote, cucumber (pipino), and pineapple. About five tons are harvested weekly and sold at public markets in Ormoc City and Kananga.
Under the five-year project, farmers will be encouraged to plant other fruit crops like durian, rambutan and Jackfruit, including coffee and abaca.
Aside from the DA and EDC, the other project partners are the Visayas Sate University (VSU) and the Partners Multi-Purpose Cooperative (PMPC), representing the 23 farmers' associations, located in 16 villages or barangays surrounding the LGPF at the OK upland range.
The joint project will not only uplift farmers from poverty but more importantly transform them into entrepreneurs. It will benefit about 3,000 subsistence farm-families in seven villages in Kananga namely, Rizal, Hiluctogan, Montebello, Aguiting, Lim-ao, San Ignacio, and Tongonan; and nine villages in Ormoc City namely Milagro, Nueva Vista, Cabaon-an, Danao, Gaas, Liberty, Tongonan, Mahayahay, and Dolores.
During the MOA signing, Secretary Alcala underscored that the partnership will not only help in the production but also in the processing and marketing aspect of the project. He stressed the importance of economies of scale saying that the farmers can demand better prices if they have the volume of production.
Of the P92-M initial funding, the DA-NABCOR will share P29 million to establish a consolidation center and pilot packinghouse, and provide marketing support, said NABCOR president and CEO Honesto Baniqued, Jr. Another P13 million is earmarked for research and development.
Baniqued said the project has five interlinked components that include a vegetable consolidation center and postharvest management assurance system, livestock with feedlot operation, marketing, environmental management, and manpower development as a sustainability mechanism.
"We at the DA-NABCOR aim to help transform the Ormoc-Kananga range into a major vegetable growing area in Eastern Visayas, which can later diversify into producing other high value horticultural crops such as cutflowers and fruits.
Similar initiatives are undertaken by the DA under the leadership of Secretary Alcala to develop a modern wholesale marketing and processing center in La Trinidad, Benguet, and a major vegetable production and processing cluster at Dupax del Sur in Nueva Vizcaya, Baniqued said.
For its part, PNOC-EDC will provide a total of P50M top finance farming activities, at P10 million each year from 2012 to 2016.
"We are committed to sustain this corporate social responsibility initiative. Many people in the upland range are still poor. Our main concern is help the farmers on the marketing aspect," said Emiliano Argoncillo, head of the EDC community partnership department.
The Leyte Geothermal Power Fields is the country's largest producer of geothermal energy, with a capacity at more than 700 megawatts (MW). The area covers a total of 107,625 hectares along the Tongonan mountain range.
For its part, the VSU, based in Baybay City, will provide farmers technical assistance, and supervise crop production, postharvest handling, processing and marketing, said VSU President Jose Bacusmo.
ICRC responds to urgent needs in aftermath of Sendong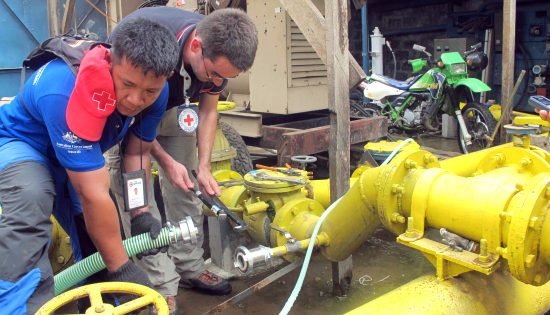 Water and habitat specialists from the ICRC and Philippine Red Cross connect pipelines to the main source of the Cagayan de Oro Water District. (ICRC / Olav Sinsuat)
By ICRC
December 22, 2011
In the aftermath of tropical storm Sendong (Washi), one of the most pressing problems is a lack of access to drinking water. Andres Casal, the ICRC's water and habitat coordinator in the Philippines, gives us an update on the current situation and the humanitarian response.
How did the ICRC react when the storm hit?
As Sendong left destruction behind on its path across the southern Philippines, the ICRC immediately mobilized emergency support for the relief operations led by its local partner, the Philippine Red Cross. The aftermath was particularly devastating because the storm hit parts of the country that do not usually experience typhoons. Food packs, essential household items and hygiene kits for 18,000 people were distributed in Cagayan de Oro, Illigan and Bukidnon (three of the areas hardest hit) within the first 48 hours – a crucial period for life-saving action in such an emergency.
The ICRC adapted its activities to meet a range of humanitarian needs arising in the days that followed. Together with partners in the International Red Cross and Red Crescent Movement, the ICRC stepped up its response.
What's the situation like on the ground?
I'm currently working in Cagayan de Oro, one of the places that was the worst hit by the storm. Along the Cagayan River, which overflowed and caused the flooding, there is mud and debris everywhere. Both sides of the river have been ravaged. Some people are starting to leave evacuation centres to rebuild their homes or to stay with relatives or host families. But many centres are still filled with families who lost everything in the disaster. The main concern now is that more than 270,000 people – some housed in evacuation centres, some living in nearby communities – lack access to drinking water.
Cagayan de Oro is a big city and not all areas were affected. However, even in some of the areas that are relatively unscathed, we can sense that there is a problem because we see a lot of people standing along the road with jerrycans and waiting for water trucks to come.
What caused the lack of access to water?
All along the river, the flooding damaged not only the water pipelines and network but also many of the wells that were the source of the water supply. While communities can still rely on the wells that survived the storm, the damaged infrastructure limits the ability of the local water company to deliver or store water.
What is the ICRC doing to meet the need for clean water?
Earlier this week, to support the Philippine Red Cross disaster management team, we immediately sent specialized water and habitat engineers to this area. We are devising ways of bringing water from the undamaged water sources and of storing it for use by the flood survivors and neighbouring communities.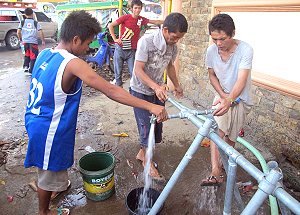 The affected population near Macasandig evacuation center can now more easily access clean drinking water through tap stands set up by the ICRC and Philippine Red Cross. These water points have been connected to pipelines installed by the teams. This emergency response assisted about 3,000 families taking shelter in this particular evacuation center, and other affected residents in the barangay. (ICRC / Olav Sinsuat)
The ICRC is increasing storage capacity by setting up water bladders and tap stands designed for these kinds of emergencies. We set up the equipment in strategic places in districts where there is no access to water, such as near barangay (community) halls. We are also connecting tap stands directly to water pumping stations that still function so that the water can reach even more people.
The ICRC is working closely with the Philippine Red Cross and local water district to ensure that water tanks and bladders are continually refilled. In a short time, we have already been able to make water available to 13,000 people, and this work continues.
In the coming weeks, it will be the job of the local water district to restore as quickly as possible their capacity to deliver water to the flood-stricken areas. The ICRC will support these efforts. Our staff remain very motivated and we will continue to deal with needs as they arise.
Almeria cooperative produces charcoal briquette air fresheners
By Philippine Information Agency (PIA 8)
December 15, 2011
TACLOBAN CITY – The members of the Almeria Seafarers Cooperative of Almeria, Biliran, is now producing charcoal briquette air fresheners, thanks to the SET UP program of the Department of Science and Technology.
DOST-Region 8 Director Edgardo Esperancilla approved late last year, the establishment of charcoal briquetting facility using abandoned biomass as raw materials. The project involved the acquisition of charcoal briquetting facility that utilizes bio-mass waste in charcoal production. The project utilizes a combination of DENR-ERB and DOST-FPRDI briquetting technology.
Charcoal is a good air and water filter in addition to its common use as alternative fuel for domestic use, and its many industrial uses.
The Almeria Seafarers Multi-purpose Cooperative led by its manager Anita Corto, thought of developing this small air-cleaning product made of charcoal briquette.
While common air fresheners emits some harmful compounds into the air, this small "thing" absorbs harmful and odor causing compounds from air making them fresh again. This is therefore the true air-freshener in a sense.
The product's environment friendly character is also reinforced by the fact that it utilizes biomass wastes that are charred and powdered then compacted using briquetting machine.
This year, the ASEMCO started producing the charcoal briquette and the air-freshener when commercial operation of the charcoal briquetting facility supported by Department of Science and Technology through Small Enterprise Technology Upgrading Program (SETUP) started.
The air-freshener is a small item that can be placed on top of tables or cabinets in rooms where air need to be cleaned. This is useful in newly painted rooms or in rooms sprayed by insect repellant. It could even be placed inside the refrigerator to remove undesirable odors.
Charcoal briquettes are compacted charcoal powder mixed with starch and molded under pressure. Charcoal briquettes can be used in homes, restaurants, and other industries and is an effective substitute to the ordinary wood charcoal.
Use of charcoal briquettes is cheaper than LPG (Liquefied Petroleum Gas) and it is also environment friendly since it emits lesser smoke compared to the ordinary charcoal.
'Tis the season
Catbalogan City gleams with Joy and Hope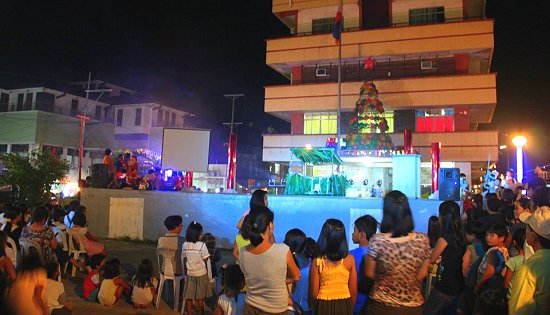 By ADOR LEANDA HURTADO
December 7, 2011
CATBALOGAN CITY – Young People, City and School Officials along with other Catbaloganons from different walks of life got educated, enlightened and empowered during the 2011 World AIDS Day Commemoration and the Launching of the 2011 Christmas Festival through the Ceremonial Lighting of the City Christmas Tree at the City Plaza last December 01, 2011.
Dubbed as the "RED NIGHT", the event started with a Foot Parade from the plaza and around major city streets that gathered participation from members of Junior Chamber International, Inc (JCI) Catbalogan Balud Chapter; students from different Elementary, Secondary and College Schools; various Youth Organization, Fraternities and Sororities; and the Stellar Society of Samar that came in colorful Mardi Gras costumes.
As the official World AIDS Day (WAD) Program commenced, a game show titled as the "1st HIV and AIDS Mass Quiz" organized by WARAYA, got the students excited over answering seven (7) questions related to the commemoration of 2011 World AIDS Day. The WAD Program ended with the Ceremonial Send-Off of Seven (7) Red Lanterns that were hoisted by groups of stakeholders and partners. The red lanterns carried seven (7) Key Messages in support of HIV and AIDS Awareness and these were: (1) Take A Stand… Demand! (2) Break Free (3) End Stigma! (4) Reach Out; (5) Speak Up! Speak Loud! (6) Stay Positive! and (7) Our Choice! Our Right!
These same key messages were worn by the organizers during the event, firmly promoting HIV and AIDS Awareness. Waray-Waray Youth Advocates (WARAYA), being the lead organizer of the 2011 WAD is the pioneer youth organization advocating for Adolescent Sexual and Reproductive Health and Rights (ASRHR) in Samar and has been educating and empowering young people since 2004.
Seven (7) questions during the quiz show, seven (7) red lanterns bearing seven (7) key messages, these sevens were part of WARAYA's "Seven Eleven" Program in celebration of its 7th Founding Anniversary.
Following right after the WAD Program was the 2011 Christmas Festival Launching, which started with some Christmas song numbers followed by the Christmas Tableau of cute preschoolers from Fun N' Learn Preschool. In behalf of the City Government of Catbalogan, City Vice-Mayor Art Sherwin L. Gabon gave a moving message of gratefulness, hope and the importance of family as the main reasons of celebrating Christmas. The highlight of the night was the actual lighting of the approximated 20-Feet Christmas Tree, followed right after by the 8th Infantry Division, Philippine Army Stormtroopers Band that gave the accompaniment of Christmas songs, filling the night with joy and warmth.
The Christmas Tree is situated on top of the canopy at the side of the plaza colorfully adorned with Parols commissioned from enterprising inmates from the Samar Provincial Jail and with nearly 500 colorful bulbs and several dangling lights brightening the City Hall façade.
Signaling the start of the 2011 Christmas Festival, several activities were launched on that eve and are being coorganized by different partners and stakeholders of the LGU. Starting with the "Wish Ko Lang"-inspired activity of the Sangguniang Kabataan (SK) City Federation through Federation President Hon. Dexter M. Uy with their activity "Hingyap Mo, Tatalinguhaun Ko!" which runs from December 01-11 catering to fellow young people aimed to share the Christmas spirit.
Making most of her passion for fashion, First Councilor Stephany Uy-Tan co-organizes with WARAYA, Samar Chamber of Commerce and Industry, Inc. (SCCI) and the Department of Trade and Industry – Samar (DTI) for a unique fashion trade for a cause. On December 12 at New Maqueda Bay Hotel, the Fashion Show and Auction Event will highlight pre-loved and unique collection of various fashion apparel and accessories.
From December 13-16 at the City Plaza, a Nightly Trade Bazaar will gather exhibitors of various used items on sale and all for a good cause. The organizers of the event has decided to donate a hefty percentage of the proceeds to several indigent families in Catbalogan as assisted by the City Social Welfare and Development Office through a combination of Noche Buena packages and some clothing items in time for Christmas.
Capping the festival is the "Panarit Pamasko: Christmas Carol Singing Contest" slated on December 14, 2011 at the City Plaza, expected to gather groups of singers and carolers sharing their melodic renditions of Christmas songs.
Anchored on the theme "Ha Pasko may Pagkaurusa, Paglipay ngan Pagpapasalamat!", City Mayor Coefredo "Tekwa" Uy and the City Officials in coordination with different partners and stakeholders aim to ensure a festive and hopeful celebration of Christmas despite challenges and changes being faced. After all, this is indeed the season to be jolly!
Country's most child-safe TV programs, "Makabata Stars" to be honored on December 6
By Philippine Information Agency (PIA 8)
November 25, 2011
TACLOBAN CITY – The winners of the year long assessment of the nation's most child sensitive television programs were released recently by Anak TV.
Anak TV's official spokesperson Ms. Mikee Cojuangco Jaworski informed that the association of TV networks will also honor television personalities selected by thousands of jurors as worthy of emulation by children and will induct these TV talents into the Roster of Makabata Stars.
Anak TV is run by officers led by Ed Roces, Chairman, Bob del Rosario, President and Mag Cruz Hatol, Secretary General. The foundation is at the forefront of a media literacy campaign that goes to the grassroots of the country.
The now iconic seal on Philippine television, Anak TV, is bestowed by parents, teachers, NGOs and other sectors of society on television programs they evaluated as being wholesome and child-safe. It is a seal not found anywhere else in the world, Anak TV being a movement that flourishes only in the Philippines.
A total of 110 programs were declared family friendly after nine months of tedious and thorough evaluation by thousands of jurors in 46 screening sessions nationwide. ABS-CBN national and regional stations will take home 24 seals; GMA News TV and GMA Network will bring home 23 seals while Net 25 earns 21. UNTV gets 20 while TV 5 gets 9. The rest of the remaining seals are shared by Zoe, Studio 23, PTV, and IBC.
The awarding ceremonies will be held at the Soka Gakkai Auditorium in Quezon City on December 6, with Vice President Jejomar Binay, former Presidents Fidel Ramos and Joseph Estrada and Ms. Susan Roces as invited key guests along with Rep. Manny Pacquiao, Gov. Vilma Santos, and Superstar Nora Aunor.
Mikee Cojuangco Jaworski, official spokesperson of Anak TV and will again host the awards rites that will also see the elevation into the Makabata Hall of Fame five personalities who have consistently been topping the annual surveys for the past seven straight years. They are GMA Network's Mike Enriquez and Mel Tiangco, ABS-CBN's Julius Babao, Korina Sanchez and Gary Valenciano.
The annual Boto Ko 'To survey winners will also be feted in the affair. Selected by the national jury as the most "credible, wholesome and worth emulating by the youth" are eleven male and female TV personalities led by top winners news and public affairs anchors Ted Failon and Jessica Soho.
The other honorees are Ryan Agoncillo, Gerald Anderson, Kim Atienza, Arnold Clavio, John Lloyd Cruz, Noli de Castro, Luis Manzano, Coco Martin, Piolo Pascual and Vic Sotto among the males with Kim Chiu, Anne Curtis, Karen Davila, Sarah Geronimo, Toni Gonzaga, Angel Locsin, Vicky Morales, Charo Santos, Judy Ann Santos and Bernadette Sembrano among the females.
Anak TV will also bestow on noted film and stage director and TV critic Nestor U. Torre of the Philippine Daily Inquirer the special Anak TV Broadcasters' Award for his significant contribution in espousing the agenda of child sensitive, quality television programming. Torre follows Gina Lopez, Feny delos Angeles Bautista and Daisaku Ikeda who all previously received the same honor.
The Anak TV Seal winning programs for 2011 are: Dora, the Explorer, Failon Ngayon, I Got It, Jimmy Neutron, Jr. Masterchef, Kabuhayang Swak na swak, Matanglawin, Rated K, Salamat Dok, Spongebob Squarepants, Wansapanataym and Why Not? of ABS-CBN.
For ABS-CBN (Regional), the winning programs are Arangkada, Derecho (Iloilo), Halad sa Kapamilya, Kapamilya Winner Ka! Davao, Maayong Buntag Kapamilya - Cebu, Maayong Buntag Mindanao, Magandang Umaga S.C. Mindanao, MagTV Na! Amiga, MagTV Na! Atin 'To! (Baguio), MagTV Na! Ato Ni! (CDO), MagTV Na! Cebu and MagTV Na! Sadya Ta!
PTV's winning programs are Ang Tao't Kalikasan, Beautiful Batangas, Biz News, Oras ng Himala, Power to Unite, Signs and Wonders, Teledyaryo Sports and Yan Ang Marino.
For TV 5, the winning programs are Alagang Kapatid, Batibot, Chuggington, Handy Manny, Pidol's Wonderland, Special Agent Oso, Vita Minix, Who Wants To Be A Millionaire and Yo Gabba Gabba.
GMA Network's winners are Aha!, Art Angel, Hanepbuhay, Kap's Amazing Stories, Kapuso Mo, Jessica Soho, Pepito Manaloto, Pinoy MD, Sabadabadog, Tropang Potchi and Wish Ko Lang.
Meanwhile, GMA News TV's Anak TV programs are Ang Pinaka, Bawal ang Pasaway kay Mareng Winnie, Brigada, Day Off, Front Row, Full Time Moms, Good News, I-Juander, Kuwento ni Rizal - Special, On Call, Pluma - Special, Pop Talk and Reel Time.
IBC's Asin at Ilaw, Biyaheng Langit and FilChi are winners of Anak TV seal together with Studio 23's Biyaheng Bulilit and Zoe TV's Gabay at Aksyon.
NET 25's winning programs are Ang Iglesia ni Cristo, Ang Pagbubunyag, Ang Tamang Daan, Discover Germany, Footprints, Global 3000, Homepage, Iglesia ni Cristo & the Bible, In Focus, In Good Shape, Landmarks, Light of Salvation, Moments, Onset, Pananampalataya, Pag-asa at Pag-ibig, Pasugo: Ang Tinig ng INC, Red Carpet, Spoon, The Message, Tomorrow Today and Tribe.
Finallly, UNTV's winning programs are Ating Alamin, Bread n' Butter, Candidly Speaking with Willy, Climate Change, D 'Xman, Doc on TV, Easy Lang Yan, Estranghero, Istorya, Kaagapay, Kilalanin Natin, KNC Show, Law Profile, Make My Day, Manibela, Mapalad ang Bumabasa, Munting Pangarap, Pol Watch, Rotary in Action and Sports 37.
The top ten favorite programs of Filipino households as polled by Anak TV are TV Patrol World, 100 Days to Heaven, Eat Bulaga, Showtime, 24 Oras, Amaya, Budoy, Maalaala Mo Kaya, Matanglawin and Kapuso Mo, Jessica Soho.
Anak TV is run by officers led by Ed Roces, Chairman, Bob del Rosario, President and Mag Cruz Hatol, Secretary General. The foundation is at the forefront of a media literacy campaign that goes to the grassroots of the country.