The Honors Project (THP) awards Villahanons with exemplary performances
By EMY C. BONIFACIO, Samar News.com
December 15, 2010
CATBALOGAN, Samar – The organizers of "The Honors Project" chaired by Ms. Elizabeth Gelera, announced proposals to award Villahanons with outstanding or exemplary performances in their chosen fields. At least, 14 categories are being considered in the proposed awards. The information was contained in Mr. Cesar Torres' letter, dated November 20, 2010, addressed to Villareal Mayor, Renato Latorre.
The 14 categories include a recipient for an Outstanding Fisherman's Award, Outstanding Civic Leader Award, an Outstanding Priest Award, Outstanding Young Villahanon Award, Outstanding Barangay Award, three (3) Outstanding Elementary School Teachers Awards, Outstanding Police Officer's Award, two (2) Outstanding Young Artist Awards, Outstanding Musician's Award, Outstanding Farmer Award and Outstanding High School Mentor Awards.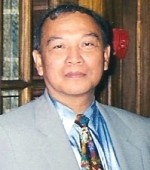 Cesar Torres
Cash and in-kind prizes are at stake for winners who will be adjudged by a selection board, to be composed of Villahanons. The cash incentives will mostly come from friends and relatives of distinguished and respected personalities whose memories are being honored for having excelled in their own craft and whose lives made a difference to most people of Villareal.
Mr. Torres mentioned the names of Edele Dalwatan Vegamora, Esdras Romano Villanueva, Boots Fua, Ms. Gilbuela Mendoza, Atty. Ranulfo Mendoza, Ms. Aster Tandinco Hilvano, Mr. Ramon Hilvano, Ms. Felisa Gelera Rafin, Mr. Virgilio Latorre, Mr. Carlos Valera Jr., Ms. Socorro and Ms.Ygat Segado as providers of the cash awards.
Since its conceptualization, the (THP) coordinated with the Office of the Mayor and the Parish Priest, Rev. Fr. Reynato Piczon for its formal implementation. In fact, Mr. Torres recalled having visited the legislative council in one of its scheduled sessions to explain the details of the project. Unfortunately, there was no quorum. Likewise, Torres was not able to discuss the possibility of the inclusion of the awarding activity with the Fiesta Executive Committee since Mayor Latorre was then preoccupied with his new appointment as President of the League of Mayors in the Philippines (LMP), Samar Chapter.
In the same letter, Mr. Torres, appealed for the rescheduling of the THP awarding ceremony from December 2010 to March 11, next year to enable him to attend a back-to-back national conference with the Philippine Political Science Association (PPSA) and the Department of Political Science gathering at the same time, here in the Philippines.
As of press time, THP organizers successfully awarded the lone Outstanding Spear Fisherman from Brgy. Pangpang held during the eve of their town fiesta celebration. Cash amounts were awarded to fishermen who use the traditional methods of fishing and do not engage in dynamite fishing. Moreover, an incentive for the barangay folks to engage in sustainable environmental activities like general clean-up drive in their community was also provided.
In a related story, two (2) minor collateral projects were also considered by the group. One of which is the grant of a financial assistance to two children in Brgy. Pangpang, who were assessed to be of dire need. The assistance was coursed through the DSWD who will plan for sustainable livelihood projects for the families of both kids. Another project is the dispersal of piglets to selected beneficiaries province-wide.
For all these projects, THP had requested for Mr. Miguel Presnilla to be the point person or official LGU representative to the said organization. They further request that they be allowed access to the town's facilities like the Municipal Plaza and during town parades, if necessary. Furthermore, support from other agencies like the DEPeD, the CSOs and private organizations and individuals like Ms.charo N. Cabardo, Ms. Araceli Abainza-Fabilane and Ms. Victoria Gabral were solicited for its implementation.
At conclusion of two-year project
Samar stands ready to combat human trafficking
Press Release
By IJM
December 2, 2010
International Justice Mission-led project markedly increases local capacity to address trafficking in province
MANILA – International Justice Mission (IJM) concluded a successful two-year anti-trafficking project on Samar Island. Using a community-based approach for this U.S. government-funded project, IJM trained more than a thousand local government officials and equipped local citizens to continue an effective fight against human trafficking on the island. The project focused on six local government units (LGUs) in the province of Samar (also known as Western Samar) – Calbayog City, the Provincial capital of Catbalogan, and the towns of Daram, Gandara, San Jorge, and Santa Margarita.
"With thousands of individuals – from government officials to citizens – trained in effective responses to human trafficking cases, and 70 barangays mobilized to take key roles at the grassroots level, we believe the legacy of this project will literally be lives saved as communities protect vulnerable girls and women from the horrors of human trafficking," said IJM Philippines National Director Andrey Sawchenko.
Over the past two years, IJM has trained more than 1200 government employees responsible for addressing human trafficking in the six LGUs, including 1150 barangay officials, judges, court personnel, police officers, and social workers. The training focused specifically on the Philippine anti-trafficking law, R.A. 9208, and on trainees' roles for preventing trafficking and protecting the rights of its victims effectively.
To raise public awareness of trafficking and the law, IJM provided additional training and information to another 3500 citizens, including members of women's groups and churches. IJM also launched a massive information campaign through media interviews, flyers, and advertisements on local transportation. With support from IJM, 70 of the LGUs' barangays have organized and adopted action plans for the Barangay Councils for the Protection of Children (BCPCs), local councils tasked by law with ensuring the protection of their children.
U.S. Ambassador Harry Thomas praised the project's efforts, noting that "The U.S. State Department, through the Office to Monitor and Combat Trafficking in Persons, has been proud to support the fight against human trafficking in Samar through our funding for the Anti-Human Trafficking Project of the International Justice Mission's Samar Satellite Office, and we know that LGUs' dedication to this cause will ensure the project's legacy."
IJM also assisted Calbayog City Council in drafting an ordinance, passed on November 22, 2010, that directs city resources to monitor the transportation of minors in and out of the city and to develop better techniques for investigating and interdicting trafficking. IJM joined forces with the Local Government Unit of Calbayog in renovating its Crisis Response Center for Women and Children (CRESCENT), a safe shelter where trafficking victims may receive counseling and support criminal cases against traffickers. IJM funded materials and supervised the center's renovation; the city showed very significant support through the provision of manpower.
Calbayog City district public attorney Jennylyn D. Sumagang-Durmiendo praised the Samar project: "Through the project, IJM and its partners – the LGUs of the five municipalities and one city, other non-government organizations, civic groups, private institutions and academic institutions – have greatly strengthened the local ability to fight trafficking in persons in the province of Samar," she said. IJM carried out most of the work from a two year satellite office in Calbayog City established for the project. IJM's Samar Satellite Office will conduct its closing ceremonies on December 2. The event will include a turn-over of the CRESCENT to Calbayog City.
"As this project in Samar comes to a close, International Justice Mission thanks its many dedicated partners who will continue to defend Samar's most vulnerable against exploitation," said IJM Philippines National Director Andrey Sawchenko. "We are grateful for the partnership of the Honorable Mayor Reynaldo S. Uy, M.D. of Calbayog City who, among other achievements, encouraged the recent passage of an ordinance and assisted with the CRESCENT renovation. We believe that Samar now stands ready to defend its most vulnerable citizens against human trafficking."
1,501 OFWs have HIV
Press Release
November 29, 2010
MANILA – A total of 1,501 overseas Filipino workers (OFWs) have tested HIV positive, and they now comprise 26 percent of the 5,729 reported cases in the National AIDS Registry as of end October, the Trade Union Congress of the Philippines (TUCP) said Monday.
"One out of every four Filipinos diagnosed HIV positive is an OFW," said TUCP secretary-general and former Senator Ernesto Herrera.
"This is very unfortunate, because if we look closely at the median age of HIV positive OFWs, at 36 years old, they are the prime of their lives and productivity," said Herrera, former chairman of the Senate committee on labor, employment and human resources development.
He said 96 percent of the HIV positive OFWs were infected through sexual contact.
"This underscores the need for government to aggressively encourage safe sex through the use of male and female condoms," the former senator said.
"OFWs are particularly vulnerable to HIV and other sexually transmitted diseases because they are exposed to foreign cultures that tend to abet high-risk behavior, including casual sex," he said.
Herrera said Filipino sailors are exceptionally susceptible, after spending lengthy periods at sea. "Sailors are often deluged by commercial sex workers at their foreign ports of call, and they have the money to pay for the services," he pointed out. TUCP's member federations include the Philippine Seafarers' Union.
Of the HIV positive OFWs, Herrera said 75 percent or 1,127 are male.
Herrera urged the Philippine Overseas Employment Administration (POEA) to include AIDS preventive education in the free seminars for departing workers.
He likewise prodded the Overseas Workers Welfare Administration (OWWA) to invest in activities that raise AIDS awareness among OFWs and their families here.
In the local labor front, Herrera said Congress should mandate the inclusion of AIDS preventive education in all bargaining contracts between management and union.
TUCP earlier backed President Benigno Aquino III's pro-choice family planning policy, calling it "a courageous demonstration of political leadership," amid strong resistance from Catholic Church officials.
"We are absolutely behind the President's decision (for government) to provide condoms and other modern contraceptives to couples who would prefer to limit their number of children and avoid unplanned pregnancies," Herrera said.
He described the President's policy as "a fair and sensible approach" to human development and population management.
TUCP is also pushing for the inclusion of family planning and reproductive health clinics and services at the workplace in every bargaining contract between union and management.
As PH hosts Asian RH gab
MDG Countdown: Maternal, reproductive health remain serious concern
By FLORENCE F. HIBIONADA, Philippine News Service (PNS)
November 22, 2010
[ Note: In 2000, the Philippines (Ph) joined 188 countries in a global battle to combat extreme poverty. With targets set to be met by 2015, eight Millennium Development Goals (MDGs) were then identified. Today with 5 years to meet the deadline, concern is highest in the Philippines with MDG 4 and MDG 5 - Maternal Health and universal access to Reproductive Health. No less than the United Nations (UN) and the European Union (EU) have taken the cudgels for the world. Last September 15 to 17, Philippine lawmakers converged in Manila for the "WOMEN DELIVER PHILIPPINES" conference along with youth delegates from all over the country, international representatives, health policy experts and the media.
This week, the country hosts a 5-day exchange visit among parliamentarians, member associations of the International Planned Parenthood Federation (IPPF) and media practitioners. With target countries Cambodia, Fiji, Indonesia, Lao PDR, Mongolia and the Philippines, the visit is aimed at increasing resources for sexual and reproductive health (SRH) programs here. ]
MANILA – Ph and the MDGs. USA and the MDGs. The UN. The EU. Beyond these alphabet of nations and alphabet of targets as set forth in the global battle against poverty are grim realities and grimmer statistics in the Philippines.
The International Planned Parenthood Federation (IPPF). The Asian Forum of Parliamentarians on Population and Development (AFPPD). The Family Planning Organization of the Philippines (FPOP). The Philippine Legislators Committee on Population and Development Foundation (PLCPD). More 'alphabet advocates' with one message – the time is now to invest, understand and embrace the urgent need for Reproductive Health (RH) Bill and for every Filipino and the Philippines to uphold sexual and reproductive health and rights.
Why? Primarily because 11 Filipino women should not die everyday from a treatable complication of pregnancy. 4,950 Filipino babies should not be born everyday to 5,205 Filipino women who get pregnant everyday without intending to. And everyday too, 1,530 Filipino women should not go into induced abortion.
In the everyday of statistics as sourced from the 2005 UN World Estimate and the country's 2007 National Statistics Office (NSO) Census on Population, the Philippines have these to contribute to the world – 5.2 million Filipino children are not in school as 30 million Filipinos struggle to survive on a dollar a day or less.
While at it, the "countdown" begins to meeting the targets in 2015.
Is there a reason to take action? Is it time to make serious actions?
In the words of US Secretary of State, Hillary Clinton in a previous Women Deliver conference, "The women delivered…it is time the world delivers."
In the words of Iloilo First District Representative Janette Loreto Garin, "We need to act as a nation. We need to heed other nations for indeed, women's rights and children's rights are the most basic in human rights."
And there are more "words" to hear.
European Union (EU) Ambassador Alistair MacDonald in an interview expressed grave concern as "there is very very little progress in terms of maternal health." The EU Ambassador took special note on how Filipino women are dying as a result of inability to access proper maternal care.
"It is anti-development..having more kids is not helping the Philippines," Ambassador MacDonald added as he sounded off similar concern for the Filipino fathers. "What does the father feel when there is not enough money to feed his children?....The European Union's help..it is not and never about funding…it is about our concern on children dying..mothers needing help…..and it is up for the Philippine Congress to decide..we respect that….This is a question of national policy and not a doctrine."
Asked on the Philippines' failure to pass a comprehensive Reproductive Health policy, Ambassador MacDonald chose to be optimistic though.
"It means18 years of building consensus," he said with a smile. "It is not up to me…I don't have a vote but I hope the legislature can have an outcome this time…this is so important for the future of the Philippines."
Similar sentiments echoed by Health Secretary Enrique T. Ona who has since expressed the department's agreement that "every pregnancy is at risk and that no woman should die giving life."
The administration and government of President Benigno Aquino, Secretary Ona stated, is out to save women's and children's lives. As such, he ensured that "universal access to reproductive health is a pillar of the Universal Health Care Agenda of the Aquino Government."
Further still, the Department of Health (DoH), Secretary Ona said, remains committed to the achievement of MDG 4 and 5 which are to reduce child deaths and maternal mortality in the Philippines.
In fact, he said, critical reforms in the country's health policies have been effected saying safe motherhood and a healthy childhood "have been the centerpiece of actions and reforms of the DOH in the last three years."
And there are "bold and explicit" policy in place too, Secretary Ona added, that "mainstreamed the rights of women and children to access critical health services particularly during childbirth."
To note, the efforts towards MDG realization has since banded governments and advocates with the media playing a cohesive role.
Benjamin De Leon, President of The Forum for Family Planning and Development, Inc. is in the forefront of the media initiative.
In the "Women Deliver Philippines" September conference, The Forum organized a media congress highlighted by De Leon as "an opportunity to talk about the real situation and what we can do about it."
"We hope to send an even louder message to government that they can no longer ignore our maternal and infant health situation. For every Congress that ends and for every new administration that gets elected without policies and financial investments for women's health, thousands of lives have been lost," De Leon said.
Meantime, the countdown continues and the country hosts the exchange visit of key stakeholders in East and South East Asia and Oceania Region.
Once again series of presentations and discussions will be made on the challenges and impact of SRH advocacy here. Such as Filipino lawmakers and media representatives meet with foreign counterparts geared towards strengthening SRH programs.
Also set in this week's visit is a look into the efforts of the Quezon City Government in pushing for Family Planning and Reproductive Health Programs here.
The exchange visit will be marked by a "Commitment Setting" at the end of the week.
Class members, original plaintiffs in case vs. Marcos to counsel Swift: consult us on the settlement agreement
Press Release
By SELDA
November 7, 2010
The daughter of one of the original named plaintiffs in the historic class suit versus former President Ferdinand Marcos and class members among the 9,539 plaintiffs in the said class suit today raised questions on the proposed settlement agreement negotiated by counsel Robert Swift on the Marcos ill-gotten wealth which are in the name of Jose Y. Campos or the corporations owned or controlled by Campos.
Marie Hilao-Enriquez, whose parents are lead plaintiffs in the class suit and is the current chairperson of the Samahan ng mga Ex-detainees Laban sa Detensyon at Aresto (SELDA) as well as the human rights alliance KARAPATAN, said class members were able to know of the said settlement agreement only during the last week of September this year upon receiving the class notices.
SELDA, an organization of former political prisoners since Martial Law and established in 1984, led the Marcos victims in filing the class action suit against former Pres. Marcos for crimes against humanity in April 1986, two months after the EDSA People Power I. In September 1992, the US Federal District Court of Hawaii decided in favor of the 9,539 Filipino victims and ordered the Marcoses to pay the victims almost $2B for damages. In 1997, the Swiss Supreme Court ordered the transfer of the then US$540 million Marcos ill-gotten Swiss deposits to an escrow account of the Philippine National Bank, in favor of the Philippine Government.
"As in the previous agreements which our class counsel tried to enter into, we have requested for Atty. Swift to consult the named plaintiffs and class members on this recent settlement agreement, yet he refuses to do so. In the interest of transparency and in accordance with his duty, he should duly consult the class members on the contents and issues of the settlement," Hilao-Enriquez said. She is among the four Hilao siblings who were arrested, tortured and detained during Martial Law, while one of them, Liliosa, was raped and murdered.
"While we welcome his efforts to supposedly collect money for the compensation of Marcos' victims during martial law, we would like to remind Atty. Swift to always consult the victims every step of the way of such agreements," Hilao-Enriquez said. "In order for class members to make informed and intelligent decisions, they must not be kept in the dark about the details of such negotiations so that it is not only left to the counsel to make unilateral decisions as such would have ramifications to a large number of class members," Hilao-Enriquez added.
In the class notice sent to and received by some class members, it was stated that "Not all Class Members are eligible to receive payment. The Hawaii Federal Court required Class Members in both 1993 and 1999 to submit Claim Forms. Only those Class Members who submitted complete Claim Forms in each of those years will be eligible to receive payment. It is too late to submit or supplement a Claim Form." Such decisions must be explained to the class members especially on the question of who were delisted and the reasons for such."
"We would also like to know how the alleged true value of the real estate properties of the Camposes was determined in this new agreement and was valued at US$78 million. With this, is it not in the interest of the class members to proceed with the litigation instead of the $10 million settlement? It is important to know if class members have thoroughly studied the agreement, with all our questions answered and if we are amenable to the said settlement. This is not just about money, it is one of the ways of realizing justice as victims of human rights violations under the Marcos dictatorship," Hilao-Enriquez pursued.
SELDA reiterated its call for Atty. Swift to conduct a consultation with the plaintiffs and class members and answer the questions posed before him.