Myrna Lardizabal de Vera: There's a new mayor in Hercules, California
By LORNA L. DIETZ
July 5, 2011
HERCULES, CA – Myrna Lardizabal de Vera was appointed as the new mayor of Hercules, California at 7:17pm on June 21, 2011 during a special Council meeting at the City of Hercules's Council Chambers. The 20-year resident of Hercules, California, according to a political observer, was accelerated into office as a result of many factors that stimulated a "fast track" within the city government. After serving in the Planning Commission for five years, De Vera had run for a seat in the city council during the November 2, 2010 elections, pledging "The Right Change, based on Competence, Commitment, and Character."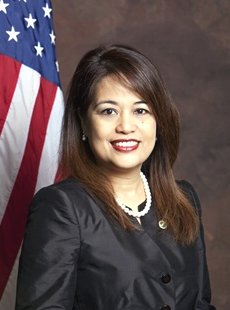 Mayor Myrna Lardizabal de Vera
Myrna de Vera and John Delgado were elected as Council members and assumed office in December 2010. After Mayor Ed Balico resigned in January 2011 and Vice-Mayor Joanne Ward took over the vacant position, de Vera was appointed as the city's new vice-mayor. The June 7, 2011 Special Elections resulted in a successful recall of Mayor Ward and Council member Donald Kuehne. Three members of the grassroots recall movement were sworn into office as the newest council members on June 21: Dan Romero, William Wilkins, and Gerard Boulanger. After the ceremony, Myrna de Vera was appointed as Mayor and John Delgado as Vice-Mayor.
It has been less than a month since a new council has been in place, all freshmen council members, with Mayor Myrna de Vera as the oldest "rookie." De Vera seems to take everything in stride. According to Mayor Myrna, good governance practices are critical to the city's success in its financial recovery.
Tom Lochner of Contra Costa Times best explained in his article, "Hercules Councilman-Elect, despite resume padding, plans to accept seat," dated June 11, 2011, how the recall drive started.
"The recall occurred at a time of public anger over the city's financial crisis and over its business relationship with a company that Nelson Oliva founded and that he said he transferred to two daughters shortly before he became city manager in April 2007; that company, NEO Consulting Inc./Affordable Housing Solutions Group, had $3 million in city contracts over a three-year period, approved by the City Council. But the pivotal event that triggered the recall drive was the council's firing in December of interim City Manager Charlie Long, who had publicly disclosed the gravity of the financial crisis, and its reinstatement of Oliva from medical leave, if only temporarily. Oliva resigned in January under an agreement that gave him a year's salary and benefits."
Mayor Myrna de Vera, during her first address at the City Council meeting, immediately assessed the developments of the first half of 2011 and articulated the direction of her administration for the remainder of the calendar year.
"The past six months have been filled with tough decisions and painful cuts. Projects shelved, contracts cancelled, and the most sobering of all, the laying off of 40 percent of our city staff. City morale is at its all time low.
But many recent changes have been positive. We started engaging the community through citizen ad hoc committees, achieved transparency through a more open city hall culture. We also laid the groundwork for the next stages of change.
We have a long way to go. The council's priorities are to restore the people's trust in our city government, build strong city leadership, put our finances in order, and develop new sources of revenue."
After de Vera stated the kind of workload that was expected of the city council and staff, she added:
"During my oath-taking speech last December, I talked about the journey we are embarking along a steep and rough terrain. Today, we are continuing on this road to recovery, driving our car balanced with the four wheels of community, family, finances, and faith.
What is our destination? We are driving toward achieving our vision of the City of Hercules, free of corruption and fiscally-sound, a city with a transparent council, responsive to the will of the people. Together, we are heading to our vision of a Hercules that – once again – shines, a city we can be once again proud of."
Myrna de Vera is originally from Cebu City, Philippines. She was selected as "Woman of the Year" by the Hercules City Council, and given a Special Recognition Award by the Hercules Chamber of Commerce in 2010. Myrna de Vera was awarded as one of 2009's 100 Most Influential Filipina Women in the U.S. under the "Policymakers and Visionaries" category by the Filipina Women's Network.
De Vera owns and manages an insurance agency in San Francisco. Her husband, Manuel, and she have been residing in Hercules with their three sons, Mark, Christian, and Emmanuel since 1991.
For the Asian American community in Hercules, Mayor Myrna de Vera symbolizes the relevance of diversity, reflecting the city's population, in political empowerment. She is the sixth American of Filipino ancestry to sit in office. Vice-Mayor John Delgado is also one-quarter Filipino. The former Filipino American mayors were Goni Solidum, Andy Paras, Ed Manuel, Frank Batara, and Ed Balico. Myrna de Vera is also the first Filipina woman mayor of Hercules, California. For more information about the City of Hercules, go to http://www.ci.hercules.ca.us/. You can reach Mayor de Vera by email at citizensformyrnadevera@gmail.com.
Samar climbers help set new world record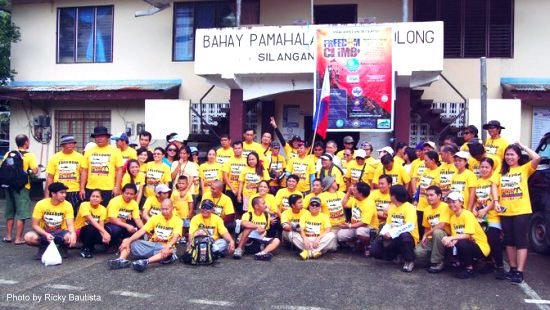 By RICKY J. BAUTISTA
June 19, 2011
BORONGAN CITY – Out of 8,000 climbers in the country who signed up for the trek, around 6,700 of them have successfully scaled 70 mountains marking the country's 113th Independence Day celebration on June 12, 2011, records of the organizers revealed.
And among the 6,700 mountaineers, around 99 of them came from the three provinces of Samar Island who likewise conquered the highness (with 470 meters above sea level) of Mount Kapudlusan in Brgy. Del Pilar, Maydolong, Eastern Samar.
Mountaineer Jade Acidre, president of the organizing Alliance of Filipino Mountaineers Incorporated (FIMOInc.), said though they are still waiting for the official pronouncement coming from the Guinness World Record (GWR) Adjudicators in the Philippines, "we believe the record of 600 climbers set by UK and Ireland has been replaced by our new records."
Dubbed as the "Freedom Climb 2011", the third of its kind in the Philippines is an attempt to break a Guinness World Record (Most people in an Ascent on Multiple Mountains) and to set a new Guinness World Record Criterion on Most people to Summit Multiple Mountains nationwide.
According to Benjie Panaguiton, Area Coordinator for Samar Island said the 99 people who scaled Mt. Kapudlusan traversed the mountain and river trails for at least 4-8 long hours of trekking from the jump-off point to the base camp and to the summit peak.
The 23-man team of the Samar Island Natural Park (SINP) led by Project Manager Manolito Ragub, who also joined the record attempt, reported sightings of the rare Philippine Eagle during their 3-day camping in the Borongan-Llorente Closed Canopy Forest – the official "trek route" of the event.
The SINP along with the Maydolong LGU and other officials of the province partly shared resources to make the event successful.
Meanwhile, Rommel L. Rutor of Centro Outdoors based in Catbalogan City who earlier endorsed Mt. Huraw in San Jose de Buan as one of the venue facilitated the gathering of other climbers from Catbalogan, Calbayog in Samar and Catarman and Laoang in Northern Samar including the Tribu Hibatang, Baktasi, Laoang Spelunkers, SFC in Catbalogan and other walk-in participants.
Centro Outdoors is noted in organizing similar events such as cave congresses, tour packages and tourism promotions of Samar Island. "What we actually want in joining the event is to help unite mountaineers in the island and place Samar in the global maps, enjoying the scenery is just a bonus, Rutor said.
Preparations
Prior to the June 12 assault, the Centro Outdoors has been helping the BANOG in Eastern Samar gather a wide numbers of participants for the Mt. Kapudlusan climb. They set up a group page wherein tips for the beginners, trash management during climbs, "what-to-do" and the "what-to-bring" tips can be accessed.
Upon arrival of participants at the Eastern Samar Development Foundation (ESADEF) office in Borongan, Panaguiton gave lectures on the Basic Mountaineering Course (BMC) which reminds each participant their duties and responsibilities during the trek.
"First time climbers will have to make sure their bodies are conditioned for this kind of activity," Panaguiton said. Aside from physical preparations, the mountaineers also had to have the right tools – backpacks, tents, outdoor gear.
Important rules in mountaineering are: "Take nothing but pictures, leave nothing but footprints and kill nothing but time"; no wearing of any kinds of military gears and clothes, and observe trail and camping ethics.
According to Panaguiton, mountaineers are not allowed to use soap when mountain climbing because soap has chemicals that may pollute the water sources in the areas they visit. "Definitely, this is a soap-less climb," he said.
When camping, mountaineers should also bring their own camping stoves with extra butane or gas, cook set and eating utensils to make sure of their comfortability.
Every climber should also be physically fit and ensure good stamina and must prepare first-aid kit medicines.
The climb
At exactly 8 o'clock in the morning of June 11, participants with big backpacks, on board private and public vehicles slowly appearing in front of the town's municipal building. They were given freebies such as their yellow commemorative t-shirts, PVC and event ID's, and final briefing.
After a short inspirational message by the Maydolong mayor, the climbers on-board two 6x6 trucks were transported to Brgy Del Pilar, Maydolong, the jump off site, via snake bumpy roads crossing a river with a land travel time of almost one and a half hour.
"Events like this generate employment among locals. This also draws them nearer to the environment and makes them understand the reason why we have to protect it," Floyd Ramos, president of BANOG said.
"In fact, we have hired several guides and porters and paid them huge amount for 4 days. The SINP also plans to organize them into a People's Organization and will train them in the coming weeks", Ramos added.
On Independence Day, June 12, 2011, the climbers hoisted the Philippine Flag, and at 9:00 AM sang the Philippine National Anthem simultaneous to other mountains in the country sides.
After few briefing and photo documentation, one by one, the climbers reached the summit of Mt. Kapudlusan, measured to 470 meters above sea level.
Each climber who reached the summit signed in the official master lists, submitted their issued PVC ID for verification and was awarded a baller whose print read, "Freedom Climber 2011 – GWR ID No. 339189 FIMOinc."
Youngest record breaker
From among the 99 climbers who trek long hours of hard and muddy terrain, a young boy climber aged 3 or 4 also joined his father in scaling the summit. The boy was considered a "guest" climber since organizers does not encourage participant at his age to join the hike.
The boy was only known as certain "Yama" whose father, a government employee and a mountaineer, also one of the registered participants.
Everybody who sees the boy "amazed, surprised and impressed with the boy's stamina," says Roxy Joy Azura, the Tourism officer of Maydolong.
He even overtakes other climbers during the hard and exhausting ascent to the summit. The boy and his father, after descending from the summit did not took even a short rest in the base camp as his father will report to office the next morning, says Ms. Azura.
The summit
Mt. Kapudlusan's peak offers everyone a virgin canopy rain forest. It has also two designated camping sites in between trails. Huge Lawaan and Balete trees were also present in the area which is often covered in fog.
At the base camp, one may take a side trip to the Nagkakalatun Natural Bridge or Canal, Gold Panning Area (main livelihood of the farmers living in the area), Waterfalls, Rapids, Old Growth Forests, all inside the SINP Core Zone.
Mayor Uy's death continues to unite Samar for reforms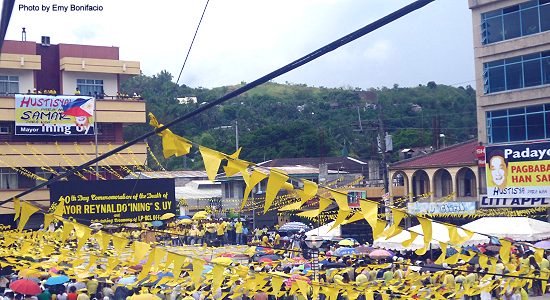 By EMY C. BONIFACIO, Samar News.com
June 11, 2011
CATBALOGAN CITY – A show of force of not less than 15 thousand supporters of the late Calbayog City Mayor, Dr Reynaldo S. Uy paraded on the city streets of Catbalogan on June 9, 2011. This day marks the 40th day since the treacherous killing of Mayor Uy last April 30 while he was attending the vesper night activities of the Hinabangan town fiesta.
In an earlier invitation, anybody who would be joining the commemoration was required to wear yellow t-shirts and bring anything that must be yellow, representing the party color of the Liberals.
In effect, the yellow color dominated the festive mood of the city streets as yellow ribbons were hang on every corner. Moreover, wrist bands, fans, arm bands, posters, stickers and banners with yellow backgrounds and designs were seen to have signified an all-out support to the public calls for change and reforms in the governance of Samar.
"Pagbabag-o han Samar" (Reforms in Samar) was the theme of the day's activity.
The peaceful gathering started with a community prayer led by Fr. Joe Calderon. The host Mayor, Hon. Coefredo "Tekwa" Uy, welcomed the crowd. He calls on every Samarnon to hold on. "Walang bibitiw para sa pagbabago ng Samar", he adds.
The delegations from the twenty four (24) municipalities and two (2) cities represented by its mayors and Sangguniang Bayan representatives were duly recognized by Board Member Charlito Coñejos who emceed the entire proceedings. Only six (6) Municipal Mayors out of the 26 were not around.
Coñejos informed that they have to limit the participants to just ten (10) from each barangay because of the transportation limitations. Thus, he expressed his apologies to those who were not able to make it to Catbalogan. However, he informed that the activity would be widely covered by local radio and television stations.
The messages were delivered by Hon. Janssen Abaratigue, SK Provincial Chairman; Hon. Rogelio Casurao, PCL President; Hon. Renato "Boy" Latorre, LMP Samar Chapter President; Congressman Mel Senen Sarmiento, 1st District of Samar Representative; Atty Wilfredo "Didi" Estorninos, LP Chairman, 2nd District of Samar and Board Members Prudencio Dy, Noel Sermense , Jasper Sumagang and Renato Uy.
As responses to the earlier speeches, Board Member Eunice Babalcon reminded the group regarding Mayor Ining Uy's noble vision of uniting Samar through a better leadership that would free the Samarnons from the bondage of poverty and deprivation from its basic social services.
On the other hand, Ms. Jessica Rosa "Aika" Uy-Delgado, Uy's eldest daughter delivered a fiery message lambasting the people behind the treacherous assassination of his father. Jessica challenged the crowd to decide for the future of Samar by considering better alternatives in the coming recall elections.
"An amon kasubo nabalyuan san kalipay san pagkita namon sine nga grupo nga nasuporta san akon daddy. Usa siya nga maupay nga amay san iya mga anak ngan amay san Samar. Kasering nira nga mapupuypoy na nira an hingyap san akon amay para matalwas an kakurian san mga Samareno? Dida sira nagsasala, kay an iya kinabuhi, ginhalad niya para san mga tawo ngan an iya gintikangan, aton igpapadayon," (Our grief for his loss was overturned by joy by simply seeing the numerous supporters gathered today. He was a good father to us and your presence means that he was a good father and leader to all of you. They must have thought that his death would stop us from dreaming for a better Samar, from delivering the Samarnons out from a lingering corrupt administration and massive poverty. They are wrong, because my father offered his life for us and we will not be stopped from pursuing what he had started) was the younger Uy's emotional pronouncements as she proudly informed on the increasing percentage of Samarnons who have already accepted their challenge and decided to take a stand against the Tan's administration.
"Are you ready for a change in Samar? Now is the time to get united!" was Aika's final challenge.
Aika was persuaded by the public not to stop from completely delivering her message despite the rains that started and ended pouring in the entire duration of her speech. She was quoted as saying, "Pati an langit nakikiduyog san aton katitirok kay deri liwat Siya naruruyag san ira ginbuhat kan daddy" (Even the weather sympathized with us in our grief because He has not approved of what they have done to my father). In the same manner, the people remained undisturbed by the rains as they listened to the most awaited speech on the occasion.
Both Delgado and Babalcon were unofficially introduced as the next governor and vice governor of the province of Samar which received an uproar of approval from the audience.
On the other hand, Congressman Mel Senen Sarmineto, the Acting LP Chairman, administered the mass oath taking of the Barangay Council of Leaders for the Liberal Party in Samar on the same occasion.
The activity culminated with the launch of the Piso-piso Para Han Pagbabag-o Han Samar. This was initiated by Aika Uy-Delgado who is the Chairperson of the Dr. Ining Uy Foundation. The foundation aims to continue the medical missions, scholarships and other related programs that would somehow contribute in bringing a change to Samar.
In a related story, the National Chairperson of the Liberal Party, Deputy Speaker Lorenzo "Erin" Tañada presided an organizational meeting for the Liberal Party (provincial) at the Flaming Hat Restaurant. It resulted to the election and the oath-taking of Congressman Mel Senen Sarmiento as the Party Chair; Ms. Jessica Rosa Uy-Delgado - Vice chairman; Atty. Eunice Babalcon - Secretary; Mayor Coefredo T. Uy - Treasurer; Mayor Reynato Latorre - District Chair and Atty Wilfredo Estorninos as the official spokesperson.
Tañada assured the Uy's camp for an all-out support from the Liberal Party. When asked about the Tans affiliation to the Liberty Party, Tañada replied that the Tans are with the Atienza wing and that the Uy's group is the duly recognized by the Roxas's group.
A barangay folk observed the commemoration to be similar to that of Ninoy Aquino where people were gathered on a unified vision. Just like Ninoy, Ining's death have ignited the passion of every Samarnon to bring back its dignity as a people.
"Baga gud man an kamatayon ni Ining an kan Ninoy nga asya an nagduso han mga tawo para magkaurusa. Deri na kami naghuhuna-huna han pagal. An amon na la tuyo an makapagpakita han amon puwersa ngada han ngatanan nga sobra na an gin bubuhat han mga Tan nga pagtamay han mga Samarnon. Dapat gud bag-uhon na an pamunuan han Samar", (Ining's death is comparable to that of Ninoy's. It drove us to get united. We don't care about being physically exhausted. Our main purpose is to show them our united stand in expressing our disappointments over the Tan's administration. We really need a change of leaders in Samar), a Jiabongnon commented.
COA probe drags House Justice Committee chair over 'missing' seedlings, farm inputs
By FLORENCE F. HIBIONADA
Senior Reporter, Philippine News Service (PNS)
June 9, 2011
ILOILO CITY, Philippines – Representative Niel Tupas Jr. (Fifth District, Iloilo) is among the numerous high-ranking government officials now subject of ongoing "government-wide special audit" by the country's Senior State Auditors.
Conducted by a team from the Special Audits Office of the Commission on Audit (COA), focus is on the involvement of Tupas Jr. with a Government Owned and Controlled Corporation (GOCC) as conduit of his pork barrel.
Main evidence in COA's hands are submitted "List of Beneficiaries" duly signed by the Ilonggo solon and stamped "Certified True Copy" from his office.
He is incidentally the current chair of the powerful House Committee on Justice.
Marked "Project of Cong. Niel "Junjun" C. Tupas Jr. for the 5th District of Iloilo under NABCOR," stated were the supposed recipient-Local Government Units (LGUs).
NABCOR is the National Agribusiness Corporation, corporate arm of the DA and conduit of pork barrel funds to NGOs and POs.
Philippine News Service (PNS) obtained copies of two lists with specifics on farm inputs and grafted seedlings reported to have been delivered.
In the main column of "Barangays," the list had a breakdown not of the barangay-beneficiary but of all 11 northern Iloilo towns in Tupas Jr.'s district.
Total figure on the two list alone reported of 3 water pumps for Ajuy and 2 hand tractors along with 296 pieces of grafted mango seedlings, 291 pieces of grafted calamansi seedlings, 242 pieces of grafted rambutan seedlings and 241 pieces of grafted jackfruit seedlings.
Balasan for its part have 3 water pumps, 2 hand tractors and the same number of grafted seedlings.
Barotac Viejo, the solon's hometown, has 4 water pumps, 2 hand tractors and just about the same number of grafted seedlings. Similar report for other Fifth District towns of Batad, Carles, Concepcion, Estancia, Lemery, San Dionisio, San Rafael and Sara, Iloilo.
COA's Susan Garcia, Director IV sent an official query to all mayors concerned, a copy of the letter sent to Ajuy was secured by PNS. The letter was dated May 18, 2011 with an enclosed self-stamped envelope for convenient reply of the LGUs reached.
"A team from the Special Audits Office, this Commission…..is presently conducting a government-wide special performance audit on priority development programs and projects of the government implemented during Calendar Years 2007-2008. These programs were, in most cases, implemented by non-government organizations (NGOs) / people's organizations (POs)," the letter began. "Records showed that the Municipality is one of the recipients of the water pumps, hand tractors and planting materials distributed between the period of July to August 2008 by Kabuhayan at Kalusugang Alay ng Masa Foundation Inc. one of the NGOs implementing priority programs of Cong. Niel Tupas Jr. The team however, noted that the submitted list did not indicate the persons who received the items."
COA then went ahead with its checklist of the recorded "NABCOR goods" supposedly awarded to Ajuy.
Independent check made by PNS with two of the mayors concerned said no such deliveries were made. Same scenario, the two shared, when verified with other mayors in the district though PNS has yet to officially confirm the information.
With the special audit, NABCOR is once again back in the limelight as questions hang on the over P1.6 billion in unliquidated NABCOR funds uncovered by COA back in 2007.
In fact, Senator Loren Legarda then led the move for a Senate investigation in aid of legislation to uncover the surrounding circumstances regarding the DA and NABCOR as per COA's adverse findings.
As in the case of Tupas Jr., common denominator of the NABCOR releases was the lack of master list of fund recipients. It was also decried how post-audit showed lack of audit trail including scant information on the backgrounds of conduit NGOs.
Forests: Nature at Your Service
By PURIFICACION S. DALOOS
May 31, 2011
TACLOBAN CITY – "Life without forests is simply unimaginable," declares Regional Executive Director Primitivo C. Galinato, Jr. of the Department of Environment and Natural Resources in Region 8.
His statement comes in the heels of this year's global celebration of World Environment Day on June 5 and the Philippine Environment Month in June. The twin celebration focuses on forests and is anchored on the theme, "Forests: Nature at Your Service". This reinforces the declaration of 2011 as the International Year of Forests by the United Nations.
Forests are an issue with essential links to livelihoods, addressing climate change and other present environmental challenges. "In fact, the present National Greening Program (NGP) being implemented by the DENR is a government priority program to reduce poverty, promote food security, environmental stability and biodiversity conservation, and enhance climate change mitigation and adaptation," RED Galinato says. The NGP specifically seeks to plant 1.5 billion seedlings in 1.5 million hectares of public lands nationwide in six years, from 2011 to 2016.
To create public awareness on the significance of celebrating World Environment Day and Philippine Environment Month, the DENR has lined up several activities which involves the participation of a cross sector of society. Together with representatives of other national government agencies and some industries, DENR employees shall have a parade around the major thoroughfares of Tacloban City on June 6, capped with an environmental program and opening of exhibits at the DENR grounds. The exhibits shall feature sale and display of products of some DENR partners to include an LGU, some industries and a people's organization.
"We would like to invite the public to visit the DENR regional office, to view the exhibits and product displays which shall run from June 6 to 10," says RED Galinato. "Video presentations on environmental concerns shall likewise be featured on that day," he adds.
In celebration of its anniversary, the DENR shall have a Health and Wellness Day on June 10 which shall feature lectures on Health Care and other wellness concerns, and free medical examinations for its employees.
On Arbor Day which is celebrated on June 24 every year, DENR employees shall plant trees together with some members of the community in Babatngon, Leyte.
"As we focus our celebration of World Environment Day and Philippine Environment Month on the forests, we enjoin public support and participation especially in planting trees on Arbor Day," RED Galinato appeals to the public. "We may be indirect participants in the deforestation and degradation of our forests, but certainly, we all can do our share in bringing back our forests to life," he says.