How could the 'Maguindanao massacre' been allowed to happen?
A Statement by the Asian Human Rights Commission
November 27, 2009
("We don't care about it, we don't know about it" – the Acting Head of the Provincial Police)
As it has been widely reported, 57 people-including two human rights lawyers and 30 journalists - were slaughtered on November 23 in Maguindanao, a province in central Mindanao. While much of the stories and worldwide condemnation focused on the number of, and manner of the deaths - describing them as gruesome, barbaric and animalistic amongst others things, the Filipino people, even in this country's war-torn southern part, still grapple in disbelief as to how it could have happened.
It is incomprehensible, not only to the Filipino people, but the international community as to how, in an area with a modicum of governance and law enforcement and the right to the protection of life could have been so easily dismissed in a democratic state. How is it possible that a group of over 100 armed men, reportedly led by a scion of a powerful political clan, the Ampatuans, blocked a convoy of vehicles of over 50 people in broad daylight, took them to a remote hilly area, executed them and then buried them in shallow graves?
There were indications that the massacre was premeditated and thoroughly planned; for example, the graves where the 57 dead bodies had been buried had already been excavated using a government-owned backhoe. Its engine was still running when the soldiers arrived at the scene of the massacre after they had received reports of the incident. When the soldiers arrived, dead bodies littered the scene, vehicles used in the convoy were riddled with bullets and three of the vehicles had been flattened and buried together with the dead bodies.
Before the massacre happened, some journalists had already received information that should they persist in covering the filing of Certificates of Candidacy (CoC) of Esmael Mangudadatu, they would be killed and buried. However, because they were given assurance by Alfredo Cayton, commanding general of the Army's 6th Infantry Division, that they could push through telling them that area is safe, the group decided to proceed. The group also had seriously discussed matters on security arrangements for two hours before leaving. It was unfortunate though that organisers and the group of journalists may have underestimated the situation. Threats of this nature are common in this part of the country.
Mangudadatu is a bitter political rival of one of Ampatuan's scions, Andal Ampatuan Jr, incumbent town mayor of Datu Unsay, a town named after him by his father, Andal Ampatuan Sr., who is also the incumbent provincial governor of Maguindanao. The younger Ampatuan is now considered the prime suspect in the slaughter, according to witnesses. After his arrest on Thursday, November 26, he is being held in detention at the National Bureau of Investigation (NBI) in Manila.
The carnage left Esmael's wife, Genalyn; his two sisters, Eden and Farida Sabdula; several of his political supporters; two human rights lawyers, Concepcion Brizuela and Cynthia Oquendo; and 30 journalists dead. Brizuela and Oquendo were assisting Mangudadatus' wife, Genalyn, to file the CoC on behalf of her husband at the provincial election office in Maguindanao while the journalists were covering the would-be filing. The event, in the local context, would have been a big story for local journalists as the filing was an act upon which the Mangudadatus, also a powerful political clan in the adjacent province, Sultan Kudarat, would be challenging the Ampatuans for a gubernatorial post.
The younger Ampatuan is reported to have been groomed by his father to run as governor for the May 2010 general elections. The elder Ampatuan is the close ally of the Philippine President, Gloria Macapagal-Arroyo and her party; and had served as the governor of Maguindanao, a province under the Autonomous Region of Muslim Mindanao (ARMM), for three consecutive terms as governor. Three of Ampatuans' political leaders were expelled from the President's political party because of the massacre.
The Ampatuans and the Mangudadatus are bitter rivals and powerful political clans in the local politics. In this southern part of the country, the notion of governing for the 'common good of constituents, good governance, rule of law and human rights and democracy' has hardly ever existed. The politicians' motivation in running for public office is for protecting their territory, expanding their influence and cementing their de facto absolute control into the affairs of the local government – from the civilian administration, to the security forces. The security forces were there to serve the local political elite, rather than enforcing law and order.
In Shariff Aguak, the capital of Maguindanao, the display of wealth and power can be illustrated by the huge palaces that these political leaders of the province have built, dwarfing the town and shanties of their constituents. The province is one of the poorest in Mindanao, and is a long term recipient of foreign development aid. The constituents in remote municipalities have been for decades victims of massive protracted displacements, killings and abductions and summary executions either by the government or military forces in the decades-old conflict in Mindanao. Thus, the people's threshold to violence is higher than other place, but the extent of this massacre is, even for them difficult to comprehend.
That the alleged mastermind, the younger Ampatuan, was reported to have been able to command and have given the order to kill the victims is well established and illustrates the local government's policy in funding, training and recruiting militia forces. The Civilian Volunteer Organisation (CVO) is one of the government's militia forces and is also accused of having been involved in the Maguindanao massacre. The functioning of the CVO should have been under the control and oversight of the Philippine National Police (PNP); however, the existing system is so heavily politicized, effectively making the police authorities underdogs of the politicians.
The top local executive has the authority to expel, appoint and recommend, for example, who should be the head of the provincial police and the head of the town police. The local executives also decide whether or not the local police and its security unit should be given budget allocations from the local government's coffer for their operation. This deliberately brings the policemen and security units under the politician's control and influence. The extent of the policemen's control by the politicians has been affirmed and shown when Esmael, upon learning of the massacre, was told by the acting head of the Maguindanao provincial police when he sought his assistance that: "Wala kaming paki-alam d'yan, hindi namin alam 'yan ("We don't care about it, we don't know it").
After the massacre, the PNP had to relieve six of its top officials in Maguindanao for their alleged complicity – the chief of police of Shariff Aguak and Ampatuan towns and three other police inspectors from their position. According to the PNP though, they are not yet considered as suspects, but reports indicate that one of them, was seen by the witnesses to be present at the scene when the victims were executed. Also, it would be difficult to accept that these top policemen would not know of the presence of heavily armed men in their area of jurisdiction. The national highways of these towns where the convoy passed also had check points of only few hundred meter distance from one place to the other - either set up by soldiers, policemen or militia forces - thus, it is hard to believe that they would not know of the movement of armed men, unless they were complicit or had been co-opted.
When the convoy was blocked and the victims subsequently executed, reason dictates that the victims may have thought the perpetrators would not do such horrendous acts. They unfortunately walked to the grave virtually blindfolded for reasons that their numbers and composition – there were over 50 of them mostly women – that the town mayor who was the prime suspect, the government's militia forces and armed civilians; and the policemen, who were seen by witnesses at the crime scene were all present.
The killing of 30 journalists, mostly local journalists, is the largest number of deaths in a single incident in the Philippines' recent history. It has virtually crippled the press freedom in this part of the country. The fight for press freedom and right to information itself is a notion that local journalists had struggled to fight for. Before the massacre, some of the journalists who were reporting on the corrupt practices of the government officials in these provinces were themselves subjected to threats. At least two journalists had already been killed in the past, one of whom was Marlene Esperat in October 2006 in Tacurong, Sultan Kudarat.
As one of the eyewitnesses to the massacre said, they were just following orders when the alleged mastermind ordered them to shoot and kill not only the relatives of the Mangudadatus but also the human rights lawyers, the journalist; and all of those who had joined the convoy. This eyewitness had come out in an exclusive television interview but is said to have gone into hiding. There are also several other persons who had witnessed and survived the massacre but are too frightened to come forward.
The plight of the witnesses and the survivors also exposed the realities of the absence of any protection mechanism within the country. At least three of the journalists who survived the massacre sent feelers out to the Department of Justice (DoJ) informing them of what information they had to help the investigation and prosecution of the case, but they (the DoJ) paid no attention, according to the survivor's family. Like the eyewitness, these survivors too had to take their own security measures to protect themselves. It is also not practical to seek for a police escort since one of the policemen relieved from his post was once assigned in the survivors' hometown; and given the small community of journalists there – who often covers the police and military beats – even without exposing their names, those who want them dead know where they can be located.
Also, how could the survivors consider asking for police protection when, in fact, prior to covering the filing of CoCs the Mangudadatus, had already sought police and military protection. Such request was rejected. The military had to excuse themselves saying they were unable to provide escorts because their troops were deployed somewhere and that providing escorts is primarily a police duty; while the policemen to whom the group had sought security escort for the convoy turned out to have reportedly were complicit or had taken part to the massacre.
Human rights groups denounce massacre of lawyers Concepcion Brizuela and Cynthia Oquendo and 55 others on November 23, 2009 in Maguindanao Province
A Joint Statement by the Asian Legal Resource Centre and Lawyers Rights Watch Canada
Wednesday, November 25, 2009
Lawyers Rights Watch Canada (LRWC) and the Asian Legal Resource Centre (ALRC) condemn the execution of two human rights lawyers, Concepcion Brizuela and Cynthia Oquendo, along with 55 others in the November 23, 2009 massacre in Maguindanao province of the Philippines, condemn government failure to investigate the murders of more that 37 jurists and over 800 other members of Philippine society since 2001, calls for the creation of an international body equipped and mandated to conduct a thorough and timely investigation of the November 23, 2009 massacre and to recommend prosecutions and such further actions required by law.
On November 23, 2009, 57 people were abducted and executed by approximately 100 gunmen while en route to file election papers for Ismael Mangudadatu as a candidate for governor of Maguindanao in the May 2010 election. The candidate was not with the entourage as he has received deaths threats. Reports indicate that many of the 57 people murdered were subjected to terrible acts prior to their deaths. Twenty-four of the victims were women including the candidate's wife and sisters and two lawyers Concepcion Brizuela and Cynthia Oquendo. According to Reporters without Borders, at least 22 journalists were killed in the attack, the largest killing of journalists in a single day.
Police have named as the chief suspect, Andal Ampatuan, son of the three-term governor of Maguindanao province and a powerful supporter of the Lakas Kampi colation led by Philippine President Gloria Arroyo. This raises the sceptre of possible complicity by government agents. The past reveals a record of failing to take effective measure to prevent such atrocities.
Since 2001 over 800 have been killed in the Philippines, all of them in some way seen as opponents or critics of the regime led by President Gloria Arroyo. The dead include peasants, lawyers (22), judges (15), opposition politicians, journalists and other members of civil society. These extra-judicial killings were thought to be a result of the U.S. initiated counter-insurgency plan to eliminate the New People's Army – Operation Plan Freedom Watch (Oplan Bantay Laya - OBL). The OBL was first ceated by the Arroyo regime in 2002 as a 5-year plan and extended in 2007. There have been no proper investigations of these extrajudicial killings and only one prossecution and conviction.
In 2007, Philip Alston, United Nations Special Rapporteur for extra-judicial, summary or arbitrary executions, made a number of recommendations to prevent further and punish past extrajudicial killings. His recommendation that, "Convictions in a significant number of extrajudicial execution must be achieved" has not been implemented. His recommendation that, "IALAG [Inter-active Legal Agency Group] should be abolished, and the criminal justice system should refocus on investigating and prosecuting those committing extrajudicial executions and other serious crimes" has not been implemented. His recommendation that, "Human rights should be safeguarded within the peace movement has not been implemented."1 has not been implemented.
The Philippine government failed to take effective steps to prevent or punish those extrajudicial killings, in spite of the careful recommendations of Professor Alston. That failure violated the Philippine government's primary legal duty to protect the right to life and to ensure adequate criminal and civil remedies when that right is violated. It also created the climate of impunity that encouraged and allowed the November 23, 2009 massacre.
For a period of over 8 years, the Philippine government has on the one hand refused, and on the other, demonstrated a lack of capacity, to carry out the investigations required by both international law (binding on the Philippines) and domestic law.
A state's duty to protect the right to life, in part by punishing violations has been articulated by the European Court of Human Rights, "The obligation to protect the right to life... requires by implication that there should be some form of effective official investigation when individuals have been killed as a result of the use of force. …The essential purpose of such investigation is to secure the effective implementation of the domestic laws which protect the right to life and, in those cases involving State agents or bodies, to ensure their accountability for deaths occurring under their responsibility..."2
The articles of the European Convention on Human Rights considered above are the same as Articles 2 and 6 of the International Covenant on Civil and Political Rights (ICCPR), to which the Philippines became a party on 23 January 1987.
The UN Human Rights Committee has also determined that the failure to properly protect the right to life by punishing those who violate that right is itself a violation of the right to life.
"...the positive obligations on States Parties to ensure Covenant rights will only be fully discharged if individuals are protected by the State...There may be circumstances in which a failure to ensure Covenant rights as required by Article 2 [rights to a remedy] would give rise to violations by States Parties of those rights, as a result of States Parties' permitting or failing to take appropriate measures or to exercise due diligence to prevent, punish, investigate or redress the harm caused by such acts by private persons or entities.3
The UN General Assembly has likewise affirmed the duty of states to provide victims of extrajudicial killings and other gross human rights violations with 'full and effective reparation ...which includes...erification of the facts and full and public disclosure of the truth' 4
The UN Principles on the Effective Prevention and Investigation of Extra-legal, Arbitrary and Summary Executions (UN Investigation Principles)5 and the Model Protocol for a Legal Investigation of Extra-Legal, Arbitrary and Summary Executions (Minnesota Protocol)6 reflect a global consensus on the appropriate standards for such investigations. The initial remedy for the loss of life by violence is an investigation, which is capable of effectively determining if the death occurred by an illegal use of force. If the loss of life was the result of illegal violence, the state has a duty to prosecute and try the perpetrator(s), to punish those convicted and to afford access to civil remedies.
LRWC and ALRC call upon the international community to condemn the massacre of 57 people that has left members the human rights community around the world in shock. LRWC and ALRC also call upon the international community to insist on and to take all measure to ensure:
1. The appointment of a team of professional investigators from outside the Philippines;
a) qualified in the various necessary aspects of criminal investigations,
b) absolutely independent of the Arroyo regime; and
c) authorized to compel production of evidence and examine witnesses; and,
d) mandated to conduct a thorough, transparent and accountable inquiry into the 57 murders that occurred on November 23, 2009; and
e) mandated to make recommendations for the prosecution of the suspected perpetrators identified by the inquiry and to make recommendations of alternatives in the event that the Philippine courts are unable or unwilling to proceed with the prosecutions recommended.
2. Monitor the safety of others likely to be under attack.
Endnotes:
1. Report of the Special Rapporteur on extrajudicial, summary or arbitrary executions, Philip Alston, Addendum, Follow-up to country recommendations – Philippines, A/HRC/11/2/Add.8, 29 April 2009, Appendix, analyzing compliance with the recommendations made in his 2007 report, A/HRC/8/3/Add.2.
2. Finucane v. The United Kingdom (Application no. 29178/95) Judgment, Strasbourg, 1 July 2003, at para. 67.
3. Human Rights Committee, General Comment No. 31 on Article 2 of the Covenant: The Nature of the General Legal Obligation Imposed on States Parties to the Covenant, UN Doc. CCPR/C/74/CRP.4/Rev.6, 21 April 2004, para. 8.
4. GA Res. 60/147, Basic Principles and Guidelines on the Right to a Remedy and Reparation for Victims of Gross Violations of International Human Rights Law and Serious Violations of International Humanitarian Law, 16 December 2005, Articles 18 and 22. See Duty of States to Investigate Extra-Judicial Killings, Lawyers Rights Watch Canada, November 2009.
Sen. Chiz Escudero's speech
November 24, 2009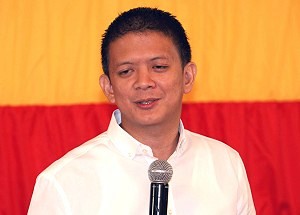 Magandang umaga sa inyong lahat, magsi-upo po tayo. Maikli lamang ito.
Simula noong umalis ako sa NPC noong ika-28 ng Oktubre, ginawa ko yun upang Malaya akong Makita at matanaw ang dapat kong gawin kaugnay ng 2010 elections. Ginawa ko 'yun upang hindi nakapiring at hindi nakatali ang aking mga mata't mga kamay para malaman kung ano ang dapat kong magawa sa ating sambayanan sa darating na panahon. Mula sa aking Malaya na pagkakatayo, tunay namang mas nakita ko ang dapat nating gawin bilang isang bansa at bilang isang lahi. Kabilang na ang pag-amin at pag-ako ng aniuman kakayanan o kawalan nito kaugnay sa mga mithiin, pangarap at layunin natin para sa ating bansa.
Nitong mga nagdaang araw, nagnilay-nilay ako, kumausap sa maraming malalapit na kaibigan at gayundin pamilya, kinausap ang ilan sa ating mga kababayan at pinagpasyahan ang aking papel na gagampanan sa darating na halalan. Akala ko magiging madaling desisyon pero hindi pala. Akala ko napakadali ang magiging pasya pero hindi pala. I've always said that for me, it's the presidency but not at all cost. Not at the cost of losing my soul, not at the cost of losing myself, not at the cost by being eaten up by the system and the process and certainly not at the cost of not being able to do the things that I was and set out to do. Para sa akin panguluhan lamang ang aking nasa isip subalit hindi ko ito hahanapin at kukunin kung sa proseso ng pagkuha nito mawawala po ang aking sarili't kaluluwa. Hindi ko rin kayang gawin ang dapat at gusto kong gawin at kung makakain lamang ako ng sistema. Para sa akin, hamon itong dapat tingnan ng lahat na ng unang nagdeklara, sila ba'y nakain na ng sistema o hindi pa, sa daan tungo sa panguluhan. Sila ba ay kaya pa ring gawin ang lahat ng pinangako sa atin na magaganda at matatamis habang nangangampanya. Hindi ko makokonsensyang sabihin 'yan kung hindi ko rin lang kayang gawin kung ako ay pagtitiwalaan niyo. Dahil po sa lahat ng nabanggit ko, akala ko'y madali pero hindi. Napagpasyahan ko, na hindi tumakbo bilang pangulo sa darating na halalan. Napagpasyahan ko na hindi man bilang kandidato, ako'y may papel na pwedeng gampanan bilang Pilipino at ordinaryong botante sa panahong ito. Napagpasyahan ko na hindi lang ngayon ang panahon para matupad ang pinanghahawakan kong pangarap at layunin kong panguluhan nang hindi nakatali. Patuloy kang panghahawakan ang pangarap at pangakong iyan. Hindi man ngayon kundi sa darating na panahon.
Nais kong gamitin ang pagkakataong ito para magpasalamat sa lahat nang mga naniwala at nagtiwala; sa lahat ng gumalaw at kumilos maski na walang salapi o pera; sa lahat ng nagsalita at naniwala, sumigaw at nakiisa sa aking pangarap ng walang katumbas at kapalit. Kaninang umaga, bago ako umalis binisita ko yung dalawang anak ko na kambal at yun lang ang nagbigay sa akin ng lakas humarap sa inyo ngayon dahil maraming nagsasabing kung hindi ka rin lang naman tatakbo Chiz bakit kapa magpepress-con? Mag press release ka na lamang. Buong tapang at buo ang loob kong nais sabihin ito sa harap ninyo. Dahil hindi ko kinakahiya anumang salitang binigkas ko ngayon.
Kasabay ng inyong kalungkutan, marahil ganun din ang aking kalungkutan. Pero kasabay ng kalungkutang yan, ang pagnanais at pangarap at pangakong nais kong hawakan pa rin natin matapos nating lumisan ng silid na ito. Ang pangako ng isang bagong Pilipinas; ang pangako ng isang bagong pagbabago; ang pangako ng isang Pilipinas na hindi tulad ngayon, na kung hindi man natin makakamtan ngayon at sa pamamagitan ko san a magampanan ito nang mga nagpapakilala sa ating reresolba sa lahat ng ating problema. Kaisa ninyo ako at kaisa ako nang sinumang pagtitiwalaan ng sambayanan sa mga darating na araw. At bilang botante, bilang Pilipino, bilang senador patuloy akong mananalig sa kakayanan ng Pilipino at ng ating bansa na malampasan ang mga hamon at pagsubok na ito. Salamat po sa inyong pagtitiwala nitong mga nagdaang araw. At salamat din po sa inyong pagtitiwala sa akin sa aming grupo at sa aming lahat, sa adhikaing aming pinanghawakan. Makakaasa kayo na patuloy namin itong gagawin at gagampanan sa mga susunod pong araw. Sa muli po, taos pusong pagbati, salamat sa pagbisita at isa pong maganda at pinagpalang umaga.
Pacquiao can still win 8th World Title if he fights in 147-lb division

By ALEX P. VIDAL / PNS
November 20, 2009
If any other world boxing body will offer Manny Pacquiao a title shot at the 147-lb division and he will win, he can become the first human being to pocket eight world titles in eight different divisions, technically speaking.
This hypothesis is supported by the fact that when he recently battled Miguel Angel Cotto and knocked him out in the 12th stanza, they disputed the 145 lbs "catch weight."
Even if the World Boxing Organization (WBO) recognized the win as a "welterweight" championship, Pacquiao can still pocket the legitimate "welterweight" crown in the World Boxing Foundation (WBF), International Boxing Association (IBA), World Boxing Union (WBU), or World Boxing Association (WBA), the only remaining world boxing bodies that have not sanctioned a world title fight involving the 30-year-old prizefighter.
A promoter cannot add any weight category in boxing.
In professional boxing, there are only 17 weight categories – from mini flyweight or straw weight to heavyweight – and each weight has its numerical emphasis. A 140-lb or 63.5 kg is super lightweight, junior welterweight or light welterweight.
Next is 147 lbs or 66.7 kg and is called welterweight.
Pacquiao has won world championship belts in the following divisions: flyweight (WBC against Chatchai Sasakul), super bantamweight (IBF against Lehlohono Ledwaba), featherweight (WBC against Erik Morales), super featherweight (WBC against Juan Manuel Marquez), lightweight (WBC against David Diaz), light welterweight (IBO against Ricky Hatton), and recently welterweight (WBO against Cotto).
The WBF welterweight division is now vacant and the number one contender is Floyd Mayweather Jr. while the number two contender is Shane Mosley.
If Pacquiao will fight for WBF title either against Mayweather or Mosely and win, he will become unreachable in as far as record in the number of world titles won is concerned.
Billionaire Manny Pacquiao
By ART JIMENEZ / PNS
November 16, 2009
Manny "The Pacman" Pacquiao used his much vaunted lightning speed and jackhammer power to confuse, demoralize and reduce Miguel Angel Cotto to a pulp in what could rightly considered as the match-of-the-year held at MGM Grand Hotel in Las Vegas yesterday (Manila time). Only the intervention of referee Kenny Bayless 55 seconds away from the 12-round fight's end spared the back-pedaling defending welterweight Puerto Rican champion from further corporal punishment and a most likely knockout.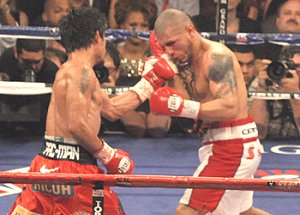 Photo by CHRIS FERNANDEZ / PNS
With the referee-stopped-contest TKO, Pacquiao collected his seventh boxing crown in seven weight divisions, a world record. And there's absolutely no possibility for that record to be broken. Firstly, Pacman's peers in the six-titles, six-divisions column are either retired or near retirement. They are Oscar de la Hoya, Tommy Hearns, Hector Calma, and James Toney. And secondly, the present crop of champions could snatch no more than three additional championships. Ask Alex Vidal.
I leave the details of the annihilation to the sports writers. However, I would just like to share some thoughts on the fight, which should not detract from the impressive win of The Pacman.
As with his recent opponents in the square ring, Manny Pacquiao's had an anesthetic effect on Cotto. They all climbed the ring deathly serious, wide-eyed, and dry lipped. This nervousness, nay, fear, slowed their blood flow and numbed their arms and legs. Thus, they became easy targets what with the speed and power of The Pacman.
Manny, of course, was their exact opposite. He was totally at ease and even acknowledged those he recognized seconds before introducer Michael Buffer boomed his famous "Let's get ready to rumble" line.
And second, we must remember that Cotto is a natural 147-pounder, the maximum weight limit in the welterweight division as defined by the four major sanctioning boxing bodies, namely the World Boxing Association (WBA) a 1962 spin-off of the National Boxing Association formed in 1921, World Boxing Council (WBC) established in 1963, International Boxing Federation (IBF) established in 1983, and World Boxing Organization (WBO) established in 1988.
It seems that Bob Arum fits the role of Shylock in the Merchant of Venice. Note that the promoter Arum wagged the color of money to Cotto on the condition that he agrees to slug it out with Pacquiao at the catch (agreed maximum) weight of 145 pounds. The former hesitantly consented to shed two pounds of pure muscle. Just imagine how much strength and punching power Cotto lost with that lost poundage.
On the other hand, Pacquiao had the golden opportunity to gain weight, and therefore, more power provided the added poundage is pure muscle. Hence, the necessity of a thoroughly serious physical training and proper nutrition, which Manny is incapable of unless given the reality therapy by his coach, now "Master," Freddie Roach.
The same is true for Pacman's victim Ricky "The Hitman" Hatton. The latter had to give up some muscle pounds to meet their fight catch weight of 140 pounds while Pacman did not have any problem at all. In fact, he was only all of 138 pounds during the weigh-in. And the result? The dehydrated Hatton fell asleep even before hitting the canvass when Pacman uncorked a brutal left hook to his jaw.
So on both instances, Bob Arum got his "pound of flesh."
By the way, Hatton is no pizza. In 2005, the Britisher was named the Ring Magazine Fighter of the Year. Two years later, Hatton was knighted by Queen Elizabeth II as she named the boxer a Member of the Order of the British Empire (MBE).
For fighting Cotto, Pacquiao was assured $13 million, which translates to P 611 million at the exchange rate of 47 pesos to one American dollar. From this amount, you add his share of the Pay Per View revenue which should total at least $100 million. And that's the PPV gross income from the United States alone. Pacman's share of this large pie is a minimum of 30 percent or $30 million. In Philippine pesos, that will be P1,410,000,000.00 (or in short, P1.410 billion)!
In sum, Manny is entitled to a MINIMUM P2.21 billion for one day in the office.
If you want to belabor the issue, Manny's pay per round is equivalent to P184.2 million or P61.4 million per minute!
In his last two matches (against Oscar de la Hoya and Hatton), The Pacman pocketed at least $30 million.
Manny the billionaire, indeed, has got the money.
Self-pity

By Fr. ROY CIMAGALA
November 12, 2009
WE have been warned amply in the Gospel about this anomaly. The story of the master who came home and expected his servant to serve him even if the servant was working the whole day, had the following conclusion that drives home the point –
"When you have done all you have been commanded to do, say, 'We are unprofitable servants. We have done no more than what we ought to do.'" (Lk 17,10)
We should be repeating these lines often to keep us from playing into the hands of self-pity!
Truth is our tendency to fall into self-pity because of reasons like tiredness, big and heavy load of work, persistent problems and miseries personal and otherwise, etc., is quite deep and pronounced. We need to be very aware of this weakness and do all to avoid succumbing into it.
Self-pity comes about when we make ourselves, not God and the others in God, as the ultimate arbiter of what we are supposed to do. It's this basic mistake that curtails and truncates our sense of duty.
With it, our knowledge of our duties can easily be held hostage by our personal weaknesses, without mentioning the other consequences of our sins that can greatly impair it. It becomes shallow, narrow-minded and Pavlovian in its behavior.
We would not know the real reasons for our actions and obligations. We become prone to improper motives that ultimately zero in on ourselves – our advantage, comfort, pride and vanity, etc.
Of course, we can also go to the other extreme, as in exaggerating our capabilities to the point that we can think we have no limits in our powers. Many politicians have this kind of sickness. They can be so soaked with ambition that they can fail to acknowledge their limitations. But this is another story.
Self-pity is a more common disease, especially when in a poor society beset with all sorts of problems, like ours and many others, there is also inadequate and improper human and Christian formation.
Situations like this can make people's attitude towards their problems and difficulties to become very negative, steeped in easy discouragement, despair, sadness and depression, finding no value in them.
Self-pity can also be a cover for laziness, complacency, envy, greed, self-centeredness, and a number of psychological aberrations like low self-esteem, etc. It can also trigger a slippery slope toward graver disorders like insanity.
As Shakespeare would say, "Misery acquaints a man with strange bedfellows." St. Josemaria Escriva used to call sadness the ally of the enemy, the devil.
Self-pity isolates people from others, leading them to build their own worlds and hampering their capacity to work with others in solidarity. It shrinks their sense of the common good. It detaches them from reality. One can be in a crowd, yet he would still feel lonely.
It simply lends credence to the poetic insight, "Laugh, and the world laughs with you. Weep, and you weep alone."
We should develop the knack to detect the beginnings of self-pity in ourselves and in others. Better still, we should do all to protect ourselves from it, by developing the proper attitudes and virtues.
First, we should always trust in God and enliven our relation with him. This can always be done, and in fact should be done, since this is fundamental. Without this, other human resources and measures, no matter how brilliant and impressive, will just come to grief.
We need to refer everything we do to God, offering it to him and trying to figure out how it fits in God's plan, a difficult but not impossible task. Let's remember that Christ gives meaning to everything in our life, including our pains, sufferings, problems, difficulties, failures and tragedies, and even death itself.
We have to develop the relevant virtues: patience, fortitude, joy, prudence, optimism, openness to anything, since in life, anything can happen to us, but God would still be in control.
For this, we have to be familiar with his doctrine and start to assimilate them into our life. Our life, let's remember, is always a life with him. It's not simply one by ourselves completely. It's a participation in his, but we need to do our part to cooperate with him.
Let's not forget what he said: "Come to me, all you that labor and are burdened, and I will give you rest. Take up my yoke upon you and learn of me, because I am meek and humble of heart, and you shall find rest to your souls." (Mt 11,28-29)
Person over ideas

By Fr. ROY CIMAGALA
November 4, 2009
IN our dealings with others, a daily, constant affair, we should pay a lot of attention to the concrete circumstances and conditions of the persons rather than just pursuing the abstract merits and demerits of our ideas, views and opinions.
We need to be personal rather than just go ideological, simply because in the end it's not ideas we are actually interested in but rather the persons themselves. The ideas are hollow without the persons who are their subjects or targets, their sources and goals, their beginning and end.
Not that the ideas are unimportant. They are indispensable. But we need to hew them according to our actual grip of the who and how the persons we are dealing with are.
We should not allow our ideas to have a life by themselves. They have to be made fit to all the persons involved – us, others and ultimately and constantly God. This is not just a theory. This is simply how things ought to be!
Without this conscious effort to adapt ideas to the circumstances of persons, they can go wild and extreme, absolutizing what is relative and vice-versa, and easily deteriorating into biases, rash judgments, and other forms of lack of charity.
That's why our Christian faith always admonishes us to put charity and truth together, as well as mercy and justice. Truth and justice get spoiled once they get detached from charity and mercy. These latter virtues precisely lead us to treat others the way they should be treated – as persons and ultimately as children of God.
In Pope Benedicts's third encyclical, Caritas in veritate (Charity in the truth), the same point is reiterated when he said: "To defend the truth, to articulate it with humility and conviction, and to bear witness to it in life are therefore exacting and indispensable forms of charity." (1)
He also said that it's when charity and truth are put together when meaningful and substantial dialogue among different and even conflicting parties as well as genuine integral human development can take place.
This, of course, will be a very dynamic affair, for which a lot of patience is needed, a lot of adjustments and adaptations made, an abiding monitoring of personal and other circumstances done.
Of course, this presumes the fundamental virtue of humility, since it's only when one humbles himself – that self-denial that Christ told us – can we be patient and progress in our task of blending charity and truth together.
We need to develop the necessary attitudes and the appropriate skills to comply with this human requirement, because our tendency to go impersonal and to be led simply by ideas is strong and sadly quite inherent in us.
We need to go through a perpetual cycle of mutually relating theory and practice, doctrine and experience, ideas and persons, study and work, isolation for purposes of recollection and immersion through actual contact with people.
In our dealings with others, we have to know when to move fast and when to go slow, when to be demanding and when to be tolerant, when to be driven and when to waste time with them.
We have to wary to with our inclination to be indifferent to others, to consider only our own preferences and views, to control or herd others according to our schemes and plans.
We should find time to really get to know others thoroughly. Thus, we have to invest time and effort to improve our relationship with them, enhancing our friendship and fraternity with them.
And in this, we have to go all the way, down to the personal and even the intimate spiritual and moral levels. We have to learn how to listen, and simply to journey with them, but always trying to be a good friend, a help, a light.
We also have to be wary of the alienating elements that are sprouting thick and fast in our environment nowadays. These are the gadgets and other facilities that worsen our self-absorption by putting up invisible walls that separate us from others.
We need to continually examine ourselves just to be more discerning, since we are now living in a world where the line between good and evil is often blurred and where the new things can trigger dormant weaknesses that can lead us into a spiral of unhealthy obsessions.
Indeed, we need to constantly focus our mind and heart first of all on God, then on others before we think of ourselves and of our brilliant ideas.