The internet reaction on the wrath of Santo Niño

By CHITO DELA TORRE
June 27, 2008
Antonio Morales of Catbalogan City, Samar, wrote well for the internet audience his piece "The Wrath of Sto. Niño and the Clogged Sewers of Tacloban" in very serious objecting reaction to the opinion of a "few Taclobanons (that) surmised that Señor Santo Niño, the Patron Saint of Tacloban City, got angry for the change of the date of the Balyuan rites from June 29 to June 20" which appeared in the Leyte Samar Daily Express' issue of June 20, 2008 and in the Insights section of www.samarnews.com on the same day.
He admonished: "Don't blame these icons of peace and faith for catastrophes made tragic by human neglect and omission. When you don't clear the "imburnals" during summer time in preparation for the rainy days, what you get is flooding even with an inch of rain. When you allow illegal constructions on waterways that would impede its free flow, what you get is flooding. When you throw garbage to rivers and canals that would clog its normal course, what you create is a perfect recipe for inundation. When you don't prepare for the rainy days because you've been lazily basking in the sun during summer time, then you deserved to be watered down when the rain comes. Even the lowly ants mastered how to build their homes above flooding zone and gather food well in advance during the sunny days so when the rainy days come, all they need to do is adjust a little bit and sing "I'm singing in the rain... or pumapatak na naman ang ulan sa bubong ng bahay..." Have we deteriorated our level in the Kingdom Animalia that ants are now brighter than human beings?"
His critique is not entirely correct. The past mayors and the incumbent mayor of Tacloban City would not take hook line and sinker his incorrect observations which are unfair and harsh to the efforts of the city government of Tacloban and to the patience and acquiescence of Taclobanons. Antonio was missing some few points of fact: Tradition honed and fortified by a repetitive recourse to others (both entities and non-entities) when a status quo authority does not and cannot respond accordingly. The flooding problem in Tacloban has been there since time immemorial, recurring at some unexpected moments, despite efforts of policy makers and physical development planners. No single engineer ever came up with a brighter solution. Practically all barangays have been doing their best to clear up and clean up their surroundings to at least alleviate the effects of flooding if that natural calamity could not be controlled. Even the regional development council and the National Economic and Development Authority - where sit, haggle and huddle great think-tanks from almost all sectors of society - have not been able to address the critical problem, which could be much worse one day. But the religious in Tacloban who have a dying faith in Santo Niño - not the image of the Holy Child - have always the final say. Religious tradition embedded in their memory such final recourse. That is why history has not changed a claimed miracle that the pestilence that gripped many Taclobanons vanished upon the triumphal return of the image of the Holy Child from being recovered in the sea of Semirara more than a century ago.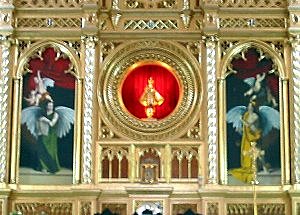 The venerated image of the child Jesus at the altar of Sto. Niño Church in Tacloban City.
It was not a case of blaming Santo Niño or any demigod, as Antonio mistakenly put it. Those who surmised about His wrath simply wanted to remind us all that the practice of faith on something universally held as holy must never be altered for any other reason. It is unlike believing in a form of government that its fundamental law must be scrutinized and edified time and time again, depending on the direction taken by the thoughts of the powers-that-be. Antonio must have misread his own inner thoughts. He perfunctorily said: "To blame everything on God and His heavenly saints is rather irreverent and illogical. If Manny Pacquaio loses his bout with Diaz this coming Saturday, God forbid, please spare the Sto. Niño of the blame. Don't blame him if David Diaz is a better boxer than Manny." Nobody was blaming the Holy Child. Nobody was blaming God. On the contrary, there was a warning from the Santo Niño faithful.
Antonio has instead introduced a misdirection which is unfair and unjust to the Taclobanons and their elected leaders even as he was trying to pontificate. Said he: "God is good. It is the evil portion in the human heart that is not good. That evil that doesn't care for the environment, that evil that doesn't honor honest-to-goodness governance in the local government units responsible for clearing the waterways, that evil that professes faith in the goodness of God but blames Him for their sufferings, and worse that evil that doesn't recognize with humility his/her own guilt. So, please stop blaming God on things He is not responsible and instead face the mirror to see who's the culprit. If you want to blame Him all the time, it is better for you to be an animist (one that believes in the divinity of animals and things) because you can easily make your God your scapegoat.."
Antonio missed the point. Precisely there are festival activities and Tacloban must be transformed into a festive mood, albeit for days, because the city is thanking and must forever be thankful, and grateful, to Santo Niño - again, not his icon! but the Holy Child Himself, God who appeared to the Taclobanons as though He were a small child. Precisely the festivities are dedicated to Him. If you have an unquestionable and unwavering faith in Him, you do not put things and persons before Him. Manny Pacquiao drastically takes away human attention, but isn't it that God Himself is a "jealous God", as the Church repeatedly reminds us? And so, according to the few Taclobanons, the June 20 typhoon served to remind Taclobanons that He was to have His day as it was. The Holy Scriptures reveals many instances where God punishes mankind. Taclobanons who believe in the Bible believe that certain other forms of calamities and things that occur on mankind or on anyone are manifestations of God's wrath.
Antonio wanted to posit a different view of things for his thesis on "blaming": "How about those who perished in the sea off Romblon while aboard a Sulpicio vessel? Was it because they've offended some middle-earth gods or that the white lady Carolina from Biringan City fetch some new workers for her Bermuda Triangle-like paradise? Truth to tell, the current global warming side effects are being felt all over the world with stronger typhoons in the Pacific Rim, stronger cyclones in the Indian Ocean, stronger hurricanes in the Atlantic, stronger tornados in Midwestern USA, torrential rains and tectonic earthquakes that caused flooding in China, and other catastrophes all over the world. Sto. Niño, the child image of Jesus, must not have caused all these maladies the same thing that the Lady of Penafrancia did not cause the tragedy during her feast some years back."
And finally, Antonio served a grain of salt to the typhoon-stricken Taclobanons - whether or not they suffered from typhoon Frank's wrath (not Santo Niño's wrath): "For Taclobanons and those under water, keep afloat!!!" Yes, no choice. "Keep afloat", even if there is no rescue coming (some barangay officials got sour after their lists of victims were ignored vis-a-vis a previously announced relief service coming in for actual victims of Frank). "Keep afloat" - just that, and don't think of God, don't pray to the Santo Niño, don't ask for God's mercy. But I and those who strongly believe in the Holy Child and in how much the early Taclobanons and Basaynons regarded the "Balyuan" on its own day, June 29, were left for hours during the typhoon and the flood praying hard and harder for a rescue from Santo Niño. The prayers worked. Santo Niño listened. No, no human being was able to drive away Frank. Santo Niño did. All that was faith. Where science, technology and human wisdom fail, have faith, and keep fighting for your faith.
From the Author: Happy Santo Niño fiesta to all on June 29-30! Antonio is cordially invited to join the Taclobanons in this joyous veneration of the Miraculous Holy Child Jesus.
Judicial remedy for victims of torture must be adopted too
A Statement by the Asian Human Rights Commission on the Occasion of the International Day against Torture
June 25, 2008
(June 26 is observed every year as the United Nations International Day in Support of Victims of Torture.)
Article III, Section 12 (2) of the 1987 Philippine Constitution clearly prohibits the use of torture. Although the country's Constitution has long protected its citizens against torture, any person claiming a violation of this constitutional right has not found a legal means to seek remedies when this right is violated. Thus, this constitutional prohibition against torture has been a right without any legal remedy, a state of affairs that severely dilutes this constitutional right.
While there have been judicial remedies and relief adopted ensuring the protection of constitutional rights – for instance, the writ of amparo on the right to life and the writ of habeas data on privacy and information – any sort of remedy or relief for victims alleging or claiming that their right against torture has been violated has remained non-existent. Not only is there no judicial remedy for a violation of this right, torture has also not been declared a crime in the Philippines.
Recognising a right is obviously meaningless if people who claim that their rights have been violated cannot obtain any legal remedy or relief. In the Philippines, a person who claims that their rights have been violated can seek remedies from laws, policies or judicial remedies that are adopted by the Supreme Court. Regarding torture, however, there are no remedies for a person alleging that their rights have been violated or their grievances heard.
It explains why torture victims have long been deprived of any remedy or why torture cases cannot be prosecuted in court because there has not been any law outlawing torture. Moreover, the Supreme Court has not yet acted to adopt rules on judicial remedies for victims of torture, and it has yet to acknowledge that correcting this deficiency is long overdue.
When the Supreme Court adopted the writ of amparo and writ of habeas data in 2007 following unabated killings of social activists and challenged the security force's practice of wrongful labelling of individuals respectively, the constitutional rights of Filipinos to life, privacy and information had been reaffirmed and given more meaning since they could now petition the court to seek judicial remedies once there are threats or a violation to their constitutional rights – remedies that should be made available to victims of torture as quickly as possible.
In other Asian countries, for instance, Sri Lanka, Article 126 of their 1978 Constitution gives their Supreme Court authority to have "the sole and exclusive jurisdiction to hear and determine any question relating to the infringement or imminent infringement by executive or administrative action of any fundamental right." Their Supreme Court accepts and hears petitions on individual applications through the filing of a fundamental rights application by people claiming that their constitutional rights have been violated. The Supreme Court then determines whether or not a person's constitutional rights have been violated and affords victims compensation if it is established that they have been abused.
In every case of torture when the petition of a victim alleging torture is affirmed, particularly by the Supreme Court, legal relief is thus provided for torture victims from being wrongly accused and inhumanely treated by state agents. In Sri Lanka, though the perpetrators are not criminally held liable in a fundamental rights case, once the Supreme Court finds that the perpetrators have tortured a victim, the victims would then be able to receive compensation for their suffering.
To obtain compensation and have their allegations of torture affirmed is itself a strong condemnation of the security forces, which proves that those responsible for protecting people's rights, i.e., the police and military, were responsible for violating them. These are judicial remedies that have already become possible for victims of torture in Sri Lanka, which is yet to take place in the Philippines. In the latter country, torture victims have been deprived, not only of remedies, but are forced to suffer the tremendous consequences, such as physical injuries and psychological trauma, without any remedy.
As well as constitutional remedies or relief from the Supreme Court in Sri Lanka, torture in this country is also a criminal offence. Thus, victims can pursue the prosecution of perpetrators under the law, the Convention against Torture Act of 1994, for, as a state party to the U.N. Convention against Torture and Other Cruel, Inhuman or Degrading Treatment or Punishment (CAT), Sri Lanka has enacted this domestic law on torture, making it a crime in compliance with its obligation to do so upon signing and ratifying the convention. Whether or not this law is effectively implemented are issues that Sri Lankans need to address.
While Sri Lanka has already complied with its obligation under the convention, the Philippines, which has signed and ratified the same U.N. convention against torture, has not done so despite being a party to the convention since June 1987. The proposed domestic law on torture, which is long overdue, remains pending before the two houses of the Philippine Congress, the Senate and House of Representatives, and there is no indication that this proposed law will be enacted soon.
The Asian Human Rights Commission (AHRC) therefore urges the Supreme Court of the Philippines to urgently develop and adopt a rule which would provide remedies for victims of torture. It likewise renews its calls upon the Philippine Congress to enact a domestic law on torture without further delay.
The wrath of Santo Niño on June 20, 2008

By CHITO DELA TORRE
June 23, 2008
For the first time in 100 years, flood in Tacloban City was at its highest level. This was recorded by many between four and five o'clock last Friday afternoon. A few religious Taclobanons had surmised that Señor Santo Niño, the Patron Saint of Tacloban City, got angry for the change of the date of the Balyuan rites from June 29 to June 20.
The Balyuan is a yearly commemorative re-enactment, done every 29th of June since it was reintroduced and revived by then First Lady Imelda Romualdez-Marcos in 1975. It serves to remind the people of Tacloban that their city was once only a sitio of barrio Buscada of Basey, Samar, and that the sitio, then known as Kankabatok, (not "Tandaya" as a non-Waray government information executive wrongly stated before a local television camera a few months ago), borrowed the image of the Santo Niño which was in the possession of its owner, a businessman from Luzon who became progressive for working closely with the people of Buscada and for revering the Santo Niño which is the patron saint of Buscada during the barrio fiesta every January. The original icon of Buscada's Holy Child Jesus Christ was small, and so, to show his gratitude to the Buscadan-ons and his imbibed and adopted faith in their patron saint, he caused the carving of a much bigger icon. Tacloban being a sitio of Buscada, most of whose original natives came from Basey, its inhabitants also adopted their own Santo Niño icon as they assigned Santo Niño as also their patron saint. Because Tacloban became bigger and more progressive than Buscada, and Basey in a sense, the Roman catholic brotherhood of Tacloban decided to borrow the bigger icon in Buscada for their celebration of their fiesta. The "borrowing" gesture was entered into the records and in the books as mere exchange (balyuan = bal-yu-an) in 1975 and every year thereafter.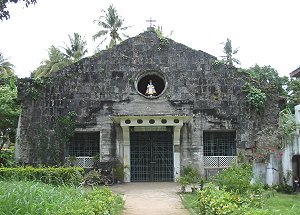 The century-old Buscada church in Basey, Samar
The new version of the borrowing, the "exchange", made everything festive – from the change of nice clothing of the images to the participation of local government executives, up to the fluvial procession and installation of the images at their respective home church altar.
The newest version, circa 2008, had been to hold the "exchange" on June 20, instead of June 29, the traditional date, because people in Tacloban who thought they were nicer than the traditionalists believe a part of faith could be moved earlier just to give way to one that is even not part of a local tradition – a glorification of sort of Manny Pacquiao. On June 20, the typhoon was not even expected to hit Tacloban. In fact, a weatherman speaking on a radio broadcast shortly before 12 noon last Friday, was emphatic that while the typhoon was to land fall at late afternoon of that day but not in Tacloban. Every ear glued to the radio set thus believed the typhoon would spare Tacloban. The 6 a.m. radio guide had said Friday that typhoon signal was raised to number 3 already in the city. Just right. Even at the wharf front of Basey, wind and rain would occasionally become strong and then be gone for long minutes but be back again with a similar strength. The inclemency of the weather prompted the organizers of this year's "balyuan" to put off the fluvial procession but opted for a land procession instead. And that was how the "balyuan" partly took place for this year's June 30 annual fiesta of the Taclobanons.
Señor Santo Niño didn't like it. He wanted His own festive day, June 29, and on the sea. He got angry with the changes made. The organizers did not ask for any sign from Him if He liked the changes. But obviously, Señor Santo Niño also didn't like Manny Pacquiao. And so He showed His wrath. He changed the course of Frank, and put Tacloban directly on its path, then let the typhoon hover and strike the homes of the Taclobanons by 2:45 p.m. (3 p.m., according to others), fanning Tacloban furiously with strongest winds (150 kilometers per hour "only", according to weather reports) and intermittent strong rains. Some passenger motor cabs found it hard to go straight in their chosen directions as the winds got harder by 3 p.m. and for the first time, some coconut trees in the city swayed like the pliant bamboo tree – all also for the first time.
Then the flood rose so fast, getting higher and deeper every second. A portion of barangays 2, 5, 5-A and 8 in the city saw the floodwaters rising almost 3 feet from the concrete roads. Even those that looked like houses on stilts had their elevated floors sunken in the black color water. The flood stayed for long hours, starting to subside only by 7 p.m., rather at slow rate.
By 12 midnight, these flooded areas noticed the flood to have receded to road surface level. By 2 a.m.., the flood was gone, but many homes had flood waters remaining in some parts of their houses.
A year ago, the highest flood level recorded in these areas was only about 2.6 feet high from the road surface.
The traditionalists among the believers in the Holy Child Jesus Christ remarked: The balyuan date should not be changed anymore. That's the only way to please Señor Santo Niño.
Perhaps they are right.
Maybe, too, the borrowed image should be returned. Jun Distrajo and others in Buscada are strongly hoping so. To them, there never was an exchange.
Restlessness Response

Rev. EUTIQUIO 'Euly' B. BELIZAR, Jr., SThD
June 18, 2008
The skyrocketing fuel and food prices in the Philippines (but especially) and throughout the world are nothing short of alarming. I see not much disagreement on this. It's a given and governments (which include ours) should, at least, be credited for not sleeping on the job. But the response from the RP government and from ordinary Pinoys has been remarkably a seesaw between creative and cosmetic, between promising and unfulfilled, between original and merely tired, official line of ideas. And may I also add that such response has also been varied but, so far, nothing is yet universally effective or enough. One fruit of the present tree of uncertainty is 'restlessness' that most governments wouldn't want to erupt into chaos or actual wars for food, fuel, safe drinking water and other basic necessities. (Surprise, even we the people wouldn't want that, too.)
I live and minister in rural Philippines, in a town that kind of pretends to be a city (it already is, officially) but we residents know better. For one, we know better than our local government officials are prepared to admit that our 'city' woefully lacks basic services other cities simply take for granted (I have no intention to badmouth my hometown but, rather, to tell the truth). My point is that rural and urban Pinoys often have different, at times contrasting, circumstances that could help or impede our common response to this national and global crisis.
And yet I see common challenges from this shared human crisis.
First off, the challenge to simplicity. For instance, the rising fuel prices urge us to cut down on unnecessary or extra trips or to go back to healthier alternatives, such as biking or walking as means of transportation (more ideal in rural than in urban Philippines, I admit). The rice scarcity and price crisis also impel us to educate our children more and more on the virtues of abstaining altogether from junk food and soft drinks to save money for rice and/or more nutritious food, with more emphasis on vegetables and fruits (I pray this succeeds as more and more Pinoy kids especially in the rural areas suffer from junk-food-related diseases, such as U.T.I., obesity etc.). Alternatives to rice diet, such as the diverse kinds of Pinoy root crops, may not be as popular but should be encouraged for their fiber and other nutrients. Simplicity is beauty; it can also be healthy (to body and spirit).
Second, the challenge to explore solutions using local resources. I subscribe to the ancient Chinese description of 'crisis' as encompassing both danger and opportunity. It's obvious how through the media we have been barraged with all sorts of information on the dangers facing us from the fuel and food crisis. But are we just as sharp on our perception of the opportunities it brings? Some Pinoys seem to be, and thankfully so. I'm speaking of a number of our scientists and plain citizens using common sense who till now experiment tirelessly on the infinite possibilities from ecologically clean and renewable sources of energy – the sun, the wind, water, air, the sea, plants, organisms etc.
Third, the challenge to a greater sense of community. Every crisis heightens everybody's survival instincts but not necessarily our humanity. Hoarding food and fuel is quite natural as a recourse when these goods are scarce, as they are now, but also shows how our natural instinct for survival could make us turn inward and forget that our neighbors also have the same needs or could help us respond to ours. Nations who help one another out of compassion as well as individuals who discuss and respond to their crises together have a greater chance not only to survive but also to become more human and build a better world. In this sense loving our neighbors as ourselves is both a definition of community and a necessity for the survival of human civilization.
Fourth, the challenge to spirituality. The current crisis involving food and fuel should make us humans more acutely aware than we are now of how food and fuel as well as everything else in this life are gifts. Gifts come from givers, from donors. Food and fuel, even if they pass through human hands, ultimately come from the ultimate Source whom we call God. To miss God in whatever crisis we face is to miss the point not only in how best to meet the crisis but also to miss the point in how best to understand life and living. If everything is a gift, then we need to recognize the Giver in whom "we live and move and have our being" (Acts 17:24-25, 28). The materialism that often characterizes our approach to life should come to see that the truth of the human and earthly condition includes the dimension of God and that matter is also suffused with the reality of his Spirit. Do not our scarcities in material things tell us of how much we need to depend on their Giver? Is not our crisis an invitation to faith? I found it intriguing how a rural parishioner explained to me why there were more people inside the church last Holy Week. "The crisis," he paused, "has started to wake us up."
No wonder St. Augustine prayed "Lord, our hearts are restless until they rest in you."
Agrarian survey to begin now in Manlilinab
By CHITO DELA TORRE
June 8, 2008
Today, a group of personnel from the Department of Agrarian Reform offices in Catbalogan City and Basey, accompanied by work-oriented-and-fieldwork-conversant administrative aide Alfredo B. Ocop of the local government unit of Basey, will be on their first day of a long period of perimeter and segregation surveys in Manlilinab, Basey's farthest interior barrio in the north whose borders meet those of the towns of Sta. Rita and Pinabacdao in Samar province.
By tomorrow, about half of the personnel will be helping farmers from Bagte of barrio Mabini, right in Manlilinab, apply for lot allocation of up to 3 hectares each inside the 1,235 hectares that will be surveyed.
In a week's time, the group is expected to interview 411 land applicants.
As of Thursday, 46 farmers in Viga, Mabini had applied to DAR land tenure improvement (LTI) specialists Regino "Rene" Marzol and Marco "Intoy" Matias. With this number, already 232 farmers had been accommodated, leaving only 179 more lots open for application.
The survey crew is expected to determine the exact area, location and boundaries of the barrio site or the place where the people of Manlilinab have put up their houses, pathways and other structures and where they still have plans for expansion and development as a community belt. To be included in the determination are the school site, the chapel, the barangay hall, and the barrio plaza and planned road construction projects, according to punong barangay Gonzalo S. Ragobrio.
That will be beneficial to the whole barrio. They will soon know exactly the borders of their barrio site. From the survey, they will then be able to draw up their barrio map, with better accuracy, and update their barrio profile, a document which can be consulted from time to time by anyone wishing to help introduce improvements to Manlilinab.
The survey is also expected to delineate and measure the perimeter distances of such tourist spots in Manlilinab as its three waterfalls, including the surrounding four creeks and rivers. (Part of the Salug ha Salug river is believed by some townsfolk to teem with gold as big as the head of a matchstick about 10 years ago but which may have grown in size as years went by.) When work will have been through, those who applied for lot allocation will be recommended for issuance of a common title, known to the Republic of the Philippines as certificate of land ownership award (CLOA), the designation for the land title that will be registered with the Register of Deeds.
Common ownership of the 1,237 hectares will prevail for sometime until these lands will have been subdivided. During the period of common ownership, no one among the 411 can claim which part of the land held in common is his or hers. Thus it will be necessary to guide them how they should go about with the farming of the whole land. Given the right amount of time, the DAR personnel will be able to help the 411 prospective CLOA holders or co-owners get through with this concern. One approach would be to first determine the exact present cultivations which should be delineated immediately as the area actually tilled by the prospective co-owner, provided it does not exceed 3 hectares per prospective co-owner. The other approach, which could also be applied next, will be to raffle off the farmlands at 3 hectares each per prospective co-owner. From there, the co-owners can proceed farming on their delineated farm areas.
KATUNGOD-SB-KARAPATAN welcomes the investigations of the House Committee on Human Rights
A Press Statement by KATUNGOD-SB-KARAPATAN
May 28, 2008
On May 29, 2008 the House of Representatives Committee on Human Rights will be conducting an on-site hearing here in Tacloban City. This hearing aims to investigate cases of human rights violation in the region particularly cases of extra-judicial killings, arrests and detentions, and other cases of human rights violations.
This only shows that Eastern Visayas indeed stands as among the regions that have the worse record in terms of human rights. The Region now has 1,475 cases of human rights violations with 108 cases of extrajudicial killings under the presidency of Mrs. Gloria Macapagal-Arroyo.
KATUNGOD-SB-KARAPATAN, the regional Alliance for the Advancement of People's Rights, welcomes this investigation. This will provide us an opportunity to prove that the spate of human rights violations is a product of a nation-wide and systematic campaign against the legal and democratic organizations dubbed as Oplan Bantay Laya I and II.
As part of welcoming this investigation, we will actively participate in the conduct of this hearing. We are facilitating the attendance of the victims and the witnesses, including the victims' families.
We, however, appeal to the Committee on Human Rights of the House of Representatives to delve on the roots in the continued persistence of the Arroyo Regime of its counter-insurgency program Oplan Bantay Laya I and II: which aims directly at attacking the legal and progressive organizations, leaders, and members – the civil society.
We challenge the Committee to take the stand of the victims and prosecute the perpetrators of human rights violations – the military; give the families of the victims due indemnification for their loss, and to give the victims and the witnesses' genuine protection from further harassment from the military.
We call on all civil libertarians and advocates of human rights to attend and to participate in this hearing and to register our voices in unison in condemning the continued violations of state agents on our human rights. Let us stand and speak as one in our continued commitment in defending the victims of human rights violations, defending our human rights and defending the broad number of masses.
Villa Aurora looking for 300 has. for Jatropha

By CHITO DELA TORRE
May 5, 2008
Villa Aurora, the mother barrio of Ugbok where some 15 armed New People's Army members were confronted last week by a mobile Army unit under the command of Lt. Col. Jonathan G. Ponce of the 62nd Infantry Battalion, is now in identifying up to at least 300 hectares of land that it could use for its community Jatropha production project. The search for a suitable space, preferably abandoned or idle, or otherwise not cultivated for a long time now, actually began immediately after more than 20 Jatropha planters from the barrio, together with their energetic punong barangay, Marito Lancanan, and some kagawad, concluded their community assembly on Jatropha and agrarian farmer-beneficiaries re-identification in the afternoon of April 17 at the elementary school in the locality.
Marito is hopeful that until last Sunday, the barangay would be able to identify 300 has., with some lands probably contiguous or close to each other. Once the total is met, the barrio council will pass a resolution that it will send to Chairman Renato S. Velasco of Philippine National Oil Company-Alternative Fuels Corporation (PNOC-AFC) through president Teodorico D. Porbus of the Baktas Kabub'wason Rural Workers Association (Baktas).
Marito is informed that the resolution would serve as one of the strongest basis that could facilitate the forging of a contract between Baktas and PNOC-AFC pertaining to the massive planting of Jatropha or Tuba-Tuba in Basey. He noted that some private agricultural lands had not been cultivated or looked after at least by their landowners for more than a decade now. These will be included in their project site identification, he said, adding that he will attach a sketch to the resolution, to indicate where in the whole map of Villa Aurora the Jatropha production project of the barrio will be located. Through the resolution that the barrio council will sit on, the barrio will be asking also for financial, technical and technological assistance from Chairman Velasco, particularly along the strategies that the Chairman and PNOC-AFC consultant Dr. Visco discussed when they talked to the Jatropha planters and enthusiasts of Basey during their first visit to Basey on the occasion of the Jatropha production seminar and general assembly of Baktas last March 8 at the Basey National High School.
The punong barangay, who is also an active second top official of the CASA (Council of [Agrarian] Volunteers for the Accelerated Development of Samar Settlement Project-Basey), is happy to note that Villa Aurora tops all 50 other Basey barrios in terms of actual number of Jatropha planters, total number of Jatropha shrubs planted, and widest area already planted to Jatropha. Some of Villa Aurora's planters received a certificate of appreciation during the March 8 assembly, for having been recognized as top planters and producers of Tuba-Tuba planting materials that had been distributed to other barrios of Basey. Among them is Carlito D. Porbus, younger brother of Baktas president Dioring. Carling is elected chairman of the local management committee (LMC) of Baktas in Villa Aurora. He holds the title of having the most number of Jatropha planted in Basey.
At the April 17 consultative meeting in Villa Aurora, presided by Dioring and this writer as the municipal agrarian reform officer assigned to the SSP-Basey (particularly barrios Baloog, Cancaiyas, Manlilinab and Villa Aurora), some of the male and female farmer-landowners expressed their intention to also send their commitment to have their lands, that are not planted or devoted to the production of staple food crops, planted to Jatropha.
Clearly, the Tuba-Tuba wave in Basey is on.
Dr. Wilmo C. Orejola – A great Basaynon in the U.S.A.

By CHITO D. DELA TORRE
April 28, 2008
The oftentimes uncaring attitude of Basaynons who should have been very much aware about their own brothers and sisters who are making good names for the Philippines and the Filipinos other than themselves could be a cultural oversight and faux pas. A great Basaynon could have gained recognition about six years ago if not today. But perhaps even those who are close to this great Samarnon prefer to be humble as not to brag about their kin's greatness. That may explain for the similar failure of the other great Basaynons who are making a good fortune and name in Tacloban City and contributing enormously to the socio-economic growth and progress of the city that once was a mere settlement site ("sitio", in the old Spanish times) of Basey, their hometown and birthplace, and yet prefer to remain behind the scene.
In the realm of this oversight, this great Samarnon does not want to speak about himself and his works, and what he is doing for the whole world. For many Basaynons are just like him. They don't brag, yet they perform even if performing will make others deserving and noticed.
Never mind if he is a distant relative of mine (according to the living revelations of my departed parents) as anyway being a relative of this subject here has nothing to do with this intrusive essay. I am referring to Wilmo C. Orejola, a doctor, poet, book writer, and inventor.
Wilmo C. Orejola is himself, a brilliant student since his childhood, who in his college days, graduating as magna cum laude at the Divine Word University in Tacloban, was already a writer interested in the realms of science and poetry, and, further, even in the weird that science wants demystified. In his younger days, he formed the Basey Juvenile Community (BAJUCOM), the very first youth organization that tapped the potentials of the youth in cultural research and advancement for Basey. His early scholarly and professional influence muscled the young male and female professionals, mostly unmarried then, into activities and norms that far exceeded those previously set by the Sorority or the Cofradia, the Adorers, and other civic organizations then active in Basey. His PRIMERS Club, an indubitable group of professionals, mostly public elementary school teachers who often set the dancing norms during each benefit dance at the then circular municipal auditorium – the biggest in all of Leyte and Samar, roofed and walled many years later to become the municipal gym, had blazed many trails along community and civic endeavours. Today, the Club is an object to miss in the hearts of those who had loved to work with it. All these occurred before Philippine President Ferdinand Edralin Marcos declared Martial Law on September 21, 1972.
Dr. Wilmo C. Orejola is a licensed physician, inventor and poet based in Pompton Plains, New Jersey. Says the amazon.com: "... he completed Doctor of Medicine and residency in Cardiac Surgery in the Philippines. In 1982, he migrated to the United States. He is a license(d) physician and has been awarded US patents for medical and non-medical inventions. A distinguished member of the International Society of Poets, he publishes poems with the National Library of Poetry. He believes that poetry may not only be a play of quotable phrases or verses but also a source of information."
Dr. Orejola published, through the Watermark Press in May 2001, a book entitled "A Mat Weaver's Story: the Legend of Bungansakit". Its 65-page paperback edition costs $14.00 in the United States of America. According to the amazon.com: "The book is a 600-verse epic poem that tells of a unique Filipino folklore from the author's birthplace Basey, Samar in the Philippines during the Spanish colonization of the Philippine Islands. It is a compelling drama of human frailties, ambivalence in beliefs and earnest search for redemption."
"A Mat Weaver's Story: the Legend of Bungansakit" (docketed as ISBN-10: 0795100612 and ISBN-13: 978-0795100611) is #3,559,670 in the sales rank of Amazon.com among the bestsellers in books.
Dr. Orejola also published "Ghosts of the Insurrection" (ISBN: 1412079004) through the Trafford Publishing. The paperback book was released on July 6, 2006, priced at 18.99 US dollars. It is a "remarkable novel about a little-known chapter of our history – the Philippines-American War, that lasted from 1898 to 1906. Ghosts of the Insurrection deals with the cycle of violence in Samar in 1902, involving Filipino townspeople and American soldiers. Orejola has sampled the collective memory of a population that witnessed abuses committed by both sides – resulting in a series of the earliest and most significant war crimes trials in US history. Orejola's account, steeped in folklore and evocative poetry, reveals the thinking of the occupied people, and their own struggles with the moral implications of guerrilla warfare. As someone with a long-standing interest in the Philippines, I found that this book earned a place on my shelf next to Rosca and Rizal" says a printed "Reader Reviews" which extracts this other one book review: "a personal narrative of Philippine history, captures the human experience of it: (A) historical event can be just told and written thru a timeframe. (B)ut, this novel highlights a historical event thru a narrative. It is well written and you journey thru history together with the author. (B)y the time you come to the end of the book, you experience the passion and imagination of the author. (T)he author leaves a lasting impression of the event and its significance and the historical importance of it to (the) (P)hilippines. (I)t is a literal time travel thru history."
The Filipino Science Trivia wrote: "Wilmo Orejola, a Filipino surgeon, created the harmonic scalpel, anultrasonic surgical knife that doesn't burn flesh. He has more than a dozen medical and toy patents in the US and in the Philippines."
I only wished Wilmo's name would have been thought of at least. I couldn't change history afterwards. I sat with the conclusion that probably, Wilmo's recognition would be at another place in another time, as his contributions did not mean anything at all to the Philippines.