Where will a Tacloban HUC get its water supply?

By CHITO DELA TORRE
November 15, 2008
My congratulations again to Governor Jesus B. Redaja, yes, as governor. Indeed he is now governor of Samar. It was late Friday afternoon this past week when I learned from www.samarnews.com that the elected vice-governor of Samar took his oath of office as governor last Tuesday (November 11). According to the portal's banner story under the headline "Samar governor Mila Tan suspended, Redaja assumed into office" penned by Myra Tambor of DyMS radio in Catbalogan City, administering his oath of office was regional director William Paler of the Department of Interior and Local Government who himself served the Sandiganbayan order suspending Tan for 90 days.
As now acting governor, the workaholic elected vice-governor Jess Redaja may not anymore find a need to look into the alleged causes of Tan's suspension because the suspended lady governor is anyway already facing criminal charges. The Sandiganbayan is surely taking care of those accusations which caused her suspension from office. Gov. Redaja has perhaps already begun institutionalizing certain reforms that he had in mind as early as when he ran for his first term as the second most powerful official in the province of Samar. Perhaps, too, he will manage to put to operational terms his vision for TAGASAPA, particularly the alleviation of the flooding problem in the farming areas of Tarangnan, Gandara, San Jorge and Pagsanghan which he had been looking into very seriously beginning October, 2004. I am sure those who had helped him and his Provincial Technical Working Group (which his sangguniang panlalawigan created in May, 2005) are glad to hear the news that he is now governor. When the flooding problem was presented in various ways to Tan, the lady governor had not responded accordingly. Now that Gov. Redaja is on top of the whole administrative machinery of the province, it is most likely that the TAGASAPA flooding problem can be re-examined and eventually accorded with a blueprint of a plan that will restore the faith of the farmers in those towns in their risky rice farming and other food production activities.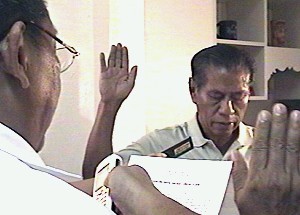 Truly, I'm aching to see Gov. Redaja personally to shake his hands in congratulations.
Other leaders in Basey, Samar also wish to pay their courtesy call on him, particularly those whom he has been helping since the second semester of year 2006, like those from Basey National High School and barrio Old San Agustin (a recipient of a concrete school building for the high school in the barrio and a farm equipment, donated by Redaja).
+ + + + + + + + + +
It's comforting to know that the two sides of the issue on whether or not Taclobanons should vote in a plebiscite for the conversion of Tacloban into a highly urbanized city. This enables Taclobanons to perpend the advantages over the disadvantages of a Tacloban HUC. It was good mayor Alfred Romualdez had encouraged an information campaign at which the pros and cons are presented.
By how the campaign is going, it looks like there is a need for the pro-HUC groups to intensify their information drive and keep it more stronger. Those against the HUC-inization raised valid arguments which should be addressed with a much better and very convincing presentation and the presentation should be done professionally, sans swearwords, devoid of ad hominems.
According to city sangguniang member Rindo Lagonoy, when Tacloban shall have become a HUC because Tacloban shall have voted "yes" to it in a forthcoming balloting, the major issues that will immediately confront Taclobanons and their pioneering HUC leaders will include where Tacloban HUC will get its water needs.
At this point in time, it is Leyte Metropolitan Water District (LMWD) that supplies water to Taclobanons. Suppose on Day 1 immediately following the proclamation by the Commission on Elections that the "yes" votes had it and therefore Tacloban were now a highly urbanized city, and LMWD stops supplying water to Tacloban, let's say, because of an order from the provincial government of Leyte, who in the HUC will provide the answer? This grey area should be clarified as early as today that the information campaign is on, and not when that big problem takes shape and form on Day 1 of a Tacloban HUC. The clarification should be supported by a blueprint of a HUC plan for that eventuality. That plan should be implementable on the first second after the Comelec's proclamation of the "yes" stamp in the plebiscite. It should be a plan that must be laid open to everyone in the city, to be scrutinized carefully and meticulously, to ensure that it really will be there when the need for it comes.
Of course, it is unlikely that LMWD will stop its water service. It is in Tacloban where it has the most number of water concessionaires. It is Tacloban City that is the backbone of its very existence. Removing Tacloban will be chopping off the limbs and body of the water provider. It will result in very huge losses, right on Day 1.
Of course, a legal transition may probably be invoked to forestall that eventuality. Or, coordination at this early stage may already be worked out with the provincial government and the LMWD manager and board directors.
But all that must be in black and white, complete with every detail that would be needed just in case the most intelligent among the Taclobanons will come out to examine the blueprint. Right now, no barangay has seen that, but some neutrals believe that the HUC proponents actually have one already, except that they now need to reproduce so many copies of that document so that all voting Taclobanons could study the alternative plan.
A promising shrub

By CHITO DELA TORRE
November 9, 2008
Can Jatropha Curcas or tuba-tuba make a millionaire among the Waray-Waray?
If a farmer becomes a millionaire one day by diversifying or concentrating on Jatropha Curcas would that decrease his food production capability?
These are only among the many questions that still hover on those who have not gone into the planting of tuba-tuba on a commercial scale. These persist despite efforts of the Administration of President Gloria Macapagal-Arroyo to encourage Jatropha Production on a big scale particularly in light of the Biofuels Act which she approved. Yes, there are hesitations among non-starters, even if the government is spending so much money, not to stop and neither to discourage, but to get that law fully implemented.
Implementation, in layman's terms, simply means that the Philippines will already be extracting oil from tuba-tuba and mixing it with some fuels so that soon fuels costs can be reduced. Yes, that can be done with tuba-tuba, because this shrub produces biodiesel.
Various countries around the world are already using tuba-tuba biodiesel to run the engines of their vehicles. The demand for biodiesel from tuba-tuba has given rise to a new industry, apart from providing an agri-business option: various designs of machineries that could process the shrub's oil and refine it for various uses. In fact, in the Philippines, long before then representative Juan Miguel Zubiri crafted the Bio-Fuels Bill, some Filipinos have even been producing portable tuba-tuba oil lamps. Yes, portable ones, because you can bring them anywhere and cook with it without bothering environmentalists who hate smoke from firewood. The Biofuels law intends to reduce its oil importation by about one-tenth, and since this effort begins in year 2009, massive tuba-tuba planting has been continually encouraged by the government. It has been claimed in India that three kilos of tuba-tuba seeds could produce one liter of crude oil. On that basis, try imagining how many liters of Jatropha oil will the Philippines be producing to be able to save one-tenth from the crude oil that it buys from other countries
Only a few are detractors. They don't want tuba-tuba.
Farmers who have begun planting (between 100, for a start, and by the thousands) have not abandoned their agricultural crops. In fact, they have not sacrificed their own lands that are devoted to the production of principal food crops, like rice and corn. They have not also sacrificed their coconut lands.
The early starters among farmers – particularly in Basey, Samar – have started selling tuba-tuba planting materials: seeds, seedlings, and branches. The buyers include those who want now to increase their income even if they will only be using vacant or idle portions of their lands. In Basey, an order for 20,000 kilos (20 tons) of Jatropha seeds reached the Baktas Kabub'wason Rural Workers Association (a people's organization that is into massive planting of tuba-tuba) about two weeks ago. Baktas begged off as no seeds could get out of the barrio that plants Jatropha. Planting materials produced in the barrio have already found ready buyers from among the people in that barrio. Villa Aurora, an interior barrio, is one among the villages that has that experience. To those who are already engaged in selling the planting materials, Jatropha has become an economic boost. Today, what used to be cogonal, or barren, or uncultivated lands are now starting to flash green with tuba-tuba leaves. The planting drive is moving into the vast nearly 20,000-hectare Samar settlement area of which more than 10,000 hectares of the area said to be found in Basey.
That is why mayor Wilfredo O. Estorninos came up with a convergence program idea. He has created a technical working group that will facilitate the development of at least 2,000 hectares of the settlement lands for Jatropha and coconut production. The members of the TWG began last Wednesday (November 5) its barangay consultations which included an item on Jatropha production. The group is composed of representatives from the Basey local government unit, and the departments of agriculture, environment and natural resources, and agrarian reform.
Back to the first question above: Can Jatropha Curcas or tuba-tuba make a millionaire among the Waray-Waray? There is a possibility. It is also possible that not only one but more could make a million peso earning. But that can't come about unless massive tuba-tuba planting takes off.
Ramon Tan, president of the Carica Livelihood and Entrepreneur Assistance Program, has opened about 300 outlets around the Philippines for his tuba-tuba oil based products, like the Jet, a Jatropha oil methyl ester. A cover article, 'The "Tuba-Tuba" Wave: How Long Will It Last?', carried by the AGRIBUSINESS DIGEST in its November, 2006 issue and written by Ronald G. Mangubat, quoted the Carica boss as saying: "On its fourth year, you can get around one to two kilos of seeds per plant" and "One hectare of Jatropha plantation can produce one to one and one and a half tons of oil. That's our calculation." The government has estimated that one hectare could accommodate up to 2,500 shrubs planted. That will mean 2,500 tuba-tuba plants producing 1 to 1.5 tons Jatropha oil.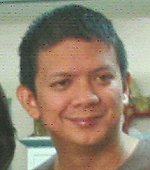 On the bishop's call for a radical change in the Arroyo government
A Press Statement by Senator Chiz Escudero
October 30, 2008
The bishops just exercised their rights to freely express their opinion. Thus threatening them with charges of sedition and challenging them to run in the election from no less than the justice secretary is yet again a show of arrogance from this administration.
I return the challenge to Secretary Gonzales to automatically file proper charges against these bishops if he finds their act illegal. Verbal threats are no act of a self-respecting and thinking individual or agency.
This government has time and again stuck to its true color of wantonly chasing individuals it deems critical to them. Threats of charges and charges per se are immediately filed left and right against their critics.
While this administration is easy to go after its perceived enemies, it takes its sweet time to even lift its fingers against those people allied to them, never mind if these people have brazenly committed malfeasance and misfeasance to the country and the people.
Former President Estrada, who is an Arroyo critic, had already been tried, convicted and pardoned but we have yet to see them touch the cases of former Justice Secretary Nani Perez and now the infamous Jocjoc Bolante.
This is a challenge that Raul Gonzales and Ombudsman Merceditas Guitterez should take up because they owe it to the Filipino people.
Kung nakakalimutan nilang dalawa, ipapaalala ko uli na ang simbolo ng hustisya ay babaeng nakapiring, walang dapat kinikilalang sinuman.
Reference: Judee Aguilar, 5526601 loc. 6540/09178294010
A muslim rebel's contradiction

By CHITO DELA TORRE
October 26, 2008
It's too bad the country was made to hear the "ubusan ng lahi" remarks made by a rebel muslim leader to an interviewing television reporter, as shown on TV screen October 21 evening. The national TV branded the remarks as a challenge. It was actually addressed to the government soldiers in particular, and not to the whole Christendom, although that muslim leader was claiming that Mindanao is entirely for the muslims, which, in turn, meant, that second biggest island of the Philippine State should exclude non-muslims.
If taken seriously by the Philippine nation, those remarks could end up in a jihad, a religious war, a war between non-muslims and muslims. Here the government will do all things to prevent that.
But if that TV report were true, then the follow-up broadcast that the government soldiers did take the challenge seriously was also true. The news account somewhat made it appear that the military only belittled that muslim challenge but did bite the bullet when it swooped down on the rebels' range in one faraway barrio, although with the usual unpleasant outcome of innocent civilians being placed in a peril.
That muslim rebel's remark must be considered as much irrational and irresponsible as the one who said that. The whole muslim community in the Philippines must correct that. That imperils the whole muslim sector, and the whole country – not only the muslims in the muslim war range and those whom they consider as enemy targets. Muslim leaders should come out with one unified stand and stop the all the nonsense that characterizes that war.
In another sense, time has come for the entire Philippine government to disarm all private citizens who are not authorized to keep or carry firearms and to stop all possible avenues through which illegal firearms pass. All these years, the Philippine nation has been an unwilling witness to the weakness of a government that cannot enforce the laws on firearms and on firepower. Congress must re-examine the laws applicable to the situation and do what it can do beyond that situation to prevent it from worsening in the future.
The worsening development in the muslim region south of the country has sparked the unwholesome speculation that unless curbed effectively within this month, that might be harnessed to justify the unavoidable declaration of a third martial law (the first was in President Elpidio Quirino's time and the second, by Pres. Ferdinand Marcos). The accompanying speculation is that the next martial law will be a tool to clip the constitutional mandate of holding the Presidential, senatorial, congressional, and local elections in 2010.
On a positive note, the Mindanao situation may hasten the adoption of a federal form of government.
And, talking of federalism, some intellectuals in the Eastern Visayas (Samar-Leyte-Biliran area, the area that suffered most during the long period of moro piracy in Philippine history) may have already banked on the idea of a totally Waray-Waray federal state, one that will not exclude non-Waray-Waray but will instead welcome their induction as "citizens of the Waray-Waray State". That may be a serious joke but Cebuano-speaking denizens of the region, and all the rest who do not speak Waray-Waray but are now residing in the Eastern Visayas may have to start considering their position. Once they become part of the Waray-Waray State, there will be State laws applicable only to those born in Eastern Visayas, but there may be State laws that may give special attention to non-Waray-Waray constituents. Such laws may be initiated by those who will be directly affected by them.
This last scenario is likely amidst earlier arguments versus federalism. Its possibility is as real as what Taclobanons may now be perceiving, or speculating, about their city becoming a highly urbanized one. For many years, people in Tacloban did not even think that they will be disenfranchising them of their right to participate in the election of provincial elections. Certainly, a law may be forthcoming to that effect, or if the applicable provisions of the Local Government Code are in fact already operative, then they can only be seeing actual implementation today in Tacloban and Leyte.
+ + + + + + + + + +
Birthday greetings to Gladys, the cute and charming, intelligent elder daughter of Gay and granddaughter of Bernard and Cosette Oliva. Gladys turned four years old last October 23, with a birthday party at MacDo's that was enjoyed fully by all the children, and babies!, in attendance. Her grandma Cosette celebrated her birthday on Oct. 24. More than two months ago, on August 5, her grandpa Bernardo had his birthday party at their residential home.
Road of Contention

By ELBERT B. CAINDAY
elbertbanc@yahoo.com
October 17, 2008
Eastern Samar's national road is ridden with controversy. In its holes lurk deceitful political propagandas. Politicians' careers, bumped, fell and were buried inside its dark cavities.
Famous of its casualties were Vicente Valley, Jose Tan Ramirez and the recently bruised former congressman, Commissioner Marcelino "Nonoy" Libanan. From its political graveyard rose new leaders promising reforms and program of actions to make the national road a path to economic development. However, the antediluvian ghost haunts the reformer, afraid that their failures in their lifetime and governance be unearthed and exposed to the public.
This is an issue that catapulted Congressman Teodulo "Doloy" Coquilla to power, this is his dilemma. Aware that he won the mandate of the people because of negligence on the part of his political opponents to keep our national roads abreast with our national economic agenda, he fought hard in the congress for the allocation of budget to fast track our road networks. Less than a year in office, budgets were appropriated, contracts were awarded and heavy equipments came rolling in to start work.
People cheered and expressed sigh of relief. But their silent approval was met by jealousy expressed in loud protest by the provincial government. Their argument: road rehabilitation has been long past due, the people can no longer wait. Their conclusion: It is high time for the provincial government to take over the works of the Department of National Highways in providing better roads. They call it initiative. We call it brazen deceitfulness. They say: it is necessity. We say: it is bad publicity.
Why the sudden rush? Why and what's the buzz? A simple arithmetic will do: We had 108 months in office of former Congressman Libanan, 50 months in office of Governor Ben Evardone and decades from their predecessors. Now, compare this to more than a year in office of Cong. Coquilla, a period which he fully dedicated to road projects and other basic infrastructures like school buildings, irrigations, farm-to-market roads; and yes, airports which was obscured by attention-grabbing tarpaulins of our publicity-hungry Governor to deceive the people of its real proponent. Clearly, the problem of our national roads did not sprout and cannot be solve overnight. There's the gap. There's the rub.
Plainly this is a problem of identity, a case of insecurity – or it could be a prospect of financial security. Like a wolf that can sniff its prey at great distance, so a corrupt politician will act like a caged animal once it sensed a financial opportunity. Everybody knows that there is money in construction business, that DPWH is the richest and branded as the most corrupt national agency. Could this explain the recent brouhaha from the provincial government of Eastern Samar? There is only one logical explanation: if they could not touch the money, the second option is to have the glory. And it is worst than the former. For glory, put in the wrong hands would bring nothing but lasting agony to its subject.
Whatever delay, malfeasance, misfeasance and violation of contract cannot and should not be blame on Congressman Coquilla. He has done his job, and done it well, in appropriating funds thereof for our national road and other projects. Bidding and awarding of contracts, if it involves amount more than 20 million pesos which are the case of our national road projects, is purely DPWH Regional or National offices' concerns. Let the DPWH and all stakeholders monitor these projects, it is our collective responsibility. If our provincial government is truly sincere, if it has its eyes set alert on these projects from the very beginning, how is it that at the onset they did not discover that a breach of project's specification is being committed and sound the alarm? Why wait for its completion? Evidently, it serves their political agenda. Again, it is another politically-induced impasse to test the patience of our people.
And patience is wearing thin. It is this growing intolerance that pushes Cong. Doloy to sail head on against the current of antagonism. And let his silence not be taken as a sign of weakness or indecision – it is the stillness of determination or calm before the storm.
Buy Pinoy! Buy Local!
By Philippine Information Agency (PIA 8)
October 15, 2008
There is a renewed sense of urgency for the Buy Pinoy, Buy Local campaign, a crusade to fight smuggling of cheap but substandard products, amid the scare caused by the China milk products scandal and the global financial crunch.
The Buy Pinoy, Buy Local is a relaunch of two campaigns that have been merged, the Federation of Philippine Industries' "Pinoy Identity, Buy Local" campaign and the Federation of Filipino-Chinese Chamber of Commerce and Industry's "Buy Pinoy."
During the launching in May of 2008, Mr. Jesus Arranza, the president of FPI said that the main aim of the advocacy is to discourage the use of cheap, substandard and smuggled supplies, many of which come from China. The two federations said their combined campaign against smuggling would "strike at the very heart of the motive force that abets smuggling and causes it to endure and flourish despite relentless action by anti-smuggling advocates and government agencies." The campaign was also aimed at protecting consumers from fake or imitation products, which smuggled goods generally are, and to protect the economy against the ill effects of smuggling.
Smuggling is generally equated not only with loss of customs revenues, but it should realized that the more serious damage it inflicts means loss of jobs, less food on the table and empty pockets for the poor.
In support of the campaign, President Gloria Macapagal-Arroyo reissued Administrative Order 227 directing all heads of departments, bureaus, offices and agencies of the national government, including local government units, government owned and controlled corporations, government financial institutions, state colleges and universities, military and police units to give preference in the procurement of materials and supplies produced, made and manufactured in the Philippines.
The AO which compels the government offices and encourages the private sector to follow it, is a big boost to the local industry, preserve and increase local employment and conserve the country's dollar reserves.
With a spending budget of over P1 trillion, the government is the biggest consumer around and it can do wonders for certain faltering industries in the country. What more if every Filipino takes up from the government's lead? What if private offices also buy Pinoy and buy local, from their office uniforms, to their shoes, to furniture, to their basic products and commodities?
When one buys local, he or she does not just meet a personal or professional need. She meets the country's need as well because she makes an investment in the Philippines or in the Pinoy who produces the product. Her purchases provide the Pinoy seller or producer with the livelihood and income to meet his own need. The Pinoy seller does the same, buying stuff and using the money to fund the livelihood of other Pinoys. Think of the multiplier effect one simple purchase of a Filipino product has.
One could say that imports, both legal and smuggled, have killed some of the country's industries, the shoe industry for one. The cheap ones from China, Taiwan and Korea have sounded the death knell for the local shoe industry. Shoe imports and the millions more of smuggled pairs have led to hundreds of thousands of lost jobs for local shoemakers. Even the big department stores and the known local brands in the country would rather sell Chinese imports than buy from local shoemakers. In fact, 80 percent of the market is dominated by the cheap shoes made in China, while local shoemakers have to compete for the remaining 20 percent with the other imported brands. No wonder so many shoe factories in Marikina, once the country's shoe capital, have closed shop and so many local shoemakers are jobless.
What about the cheap imported milk products which many Filipinos prefer to buy over the local milk products, until the China milk products scandal?
As the 'Buy Pinoy, Buy Local' slogan says, "when the buying stops, the smuggling stops." One could say conversely, that once Filipinos start buying local shoes, and other local products again, the resurgence begins. It's a small sacrifice to buy something more expensive but with higher quality than the Chinese imports that you could buy at knockoff prices in any tiangge – a small sacrifice that could help save the local industry from extinction, and the country's economy from suffering the effects of the world financial crunch.
'Sirena, Sireno - siring nira ungod'

By CHITO DELA TORRE
October 8, 2008
You have taken pictures in Guinbaloogan, an undeveloped, unknown-to-many three-layer waterfalls in Baloog, an interior barrio in the old town of Basey in Samar, Philippines, whose population is thinning except on election time.
In one picture, your subject favorite friends and kin were all missing. In another, somewhere in the back of your subject humans is a sirena, or, sireno, a mermaid or merwoman, or, a merman. Another camera was used, but it didn't function at the waterfalls.
Few villagers dare go to this site which they have concluded is enchanted. Village chief Absalon A. Lirios has a plan to put up a reservoir there, to make the place a source of drinking water in order to attract the people of Baloog to return to their village from Magsaysay, a highway village of Sta. Rita which very few conscientious people of Basey, because of absence of a road from their own town, go and tread to reach Baloog. Once, a road was proposed to be built to Baloog, from Basey, but as if the legendary, mythical or fairytale creatures blocked that proposal. The road that was begun had long vanished in grasses taller than the tallest man in Basey.
Guinbaloogan has a continuously flowing water that descends to two more lower grounds before becoming a riverine water that is believed to form part of Basey's giant watershed area – said to be the second biggest in all of the island of Samar. Very seldom do local picnickers take their best time out in the waterfalls. Fear of something occurring on them envelops daring hearts. It is not known, though, if local government developers buy the enchanting idea, but some believe the reason why the government does not look into the needs of Baloog and the waterfalls could only be attributed to the freshwater-living-people.
Skeptics among locals – who haven't even been to Guinbaloogan – dismiss all of the enchantment. They could be right: mermaid, mermen and merwomen (the mature mermaids) – legendary or mythical creatures, whose head and upper body are that of a human being but the lower part being that of a fish, exist only in marine waters, the seas, and not in freshwaters. But those who have seen the creatures describe what they saw as, in the case of a mermaid, one very much like the "Dyesebel" in the nightly (Monday thru Friday, between 8:45 and 9:30 p.m.) serial movie whose title is of that name of the mermaid, on Philippine television Channel 7 (GMA 7), which many Basaynon (people of Basey) and Taclobanon (people of Tacloban City in the sister island of Leyte) watch even before they could eat their supper. Their mermaid, or sirena, could not be a nymph (a goddess in the woods and rivers in old myths). At the time when this writer requested for a copy of any of the pictures taken, none was readily available last August, 2008 and last month.
In the long and winding shallow river in Basey called Salug ha Salug, a sireno was said to have been seen between the late 1950s and before the People's EDSA Revolt in 1986. The waterway starts from north of Baloog further ahead of Calsaguing river (which lies south of Madao mountain and Madao river and southeast of Katagboan river near barrio Union of Sta. Rita), skirts north of the next village of Manlilinab, and meets other waterways east of Manlilinab before it joins the Bugasan river (source of irrigation tapped by the Basey Irrigation Project whose dam is now reportedly finished and for which funds are awaited to enable the National Irrigation Administration to construct the canals to the rice fields). The sireno, or freshwater merman would just appear in sight on the river side and suddenly disappear. We took pictures of part of Salug ha Salug last June 9. The water depths varied between one and 3 feet. The river bed was dominantly sandy and stony. Its bordering walls were muddy to rocky earth rising to as high as 10 feet, mostly inhabited by vines and soft-branched trees. There were very few cavities on the river banks. We didn't see any sireno.
Further ahead of Bagte, a sitio of barrio Mabini, is a "danaw", a lake sometimes called "ipisan" because when rain water reaches its brim, the water flows down to rivulets and rivers. Here, according to those who claimed to have been to the place, several sirena and sireno appeared in and disappeared from sight. Beneath the lake, as could be seen through the crystal clear water, is a big living tree with green leaves. In the water are salt and fresh water fishes like "damag, balanak, kikiro", and "haruan". The whole place is also known as "Mino-an" or "pakitaan" – a place where just anything appears in sight, and then disappears. One was said to have not complied with an old advice concerning obtaining a permit from the kingdom of "Mino-an". He fished, brought his catch to his barkada in a nearby village, and got ill for days. No medicine or doctor could heal him. He got well only when he was brought back to the "ipisan" and there asked for forgiveness. When I asked foot soldiers and roving CAFGU men between May and September this year, they said they had not seen that place.
The Sohoton caves (not the more beautiful Panhulogan Caves) had much more tales to narrate. In fact, only Sohoton comes to one's mind when visiting non-Basaynon students and tourists press for talks about spirits in the woods and rivers.
Some say those creatures are real. "Siring nira ungod".
No official document in Basey and in the provincial library of Basey makes mention of them, but stories about them continue to live with our march to progress. No official document also exists to establish the existence of gold in Basey. To some in the barrios, gold or "bulawan" is something that spirits guard because it belongs to them.
Sept. 27 – a memorable tuba-tuba planting day in Basey

By CHITO DELA TORRE
September 29, 2008
Pastor Zenaida E. Camiller, head of Christ is King Church, wore a face of enjoyment as she finished planting her eighth seedling in the first tuba-tuba shrub planting that her religious group engaged in mid-morning last Saturday (September 27) on a pre-cleared hill that overlooks a large pool of water and part of the national highway at Tingib, a barrio some 5 kilometers west of the poblacion of Basey, Samar.
Her last seedling went down a hole made by Lt. Blas Alsiyao, head of a 62nd Infantry Battalion unit based in sitio Rawis, Guirang of Basey. The young military officer also enjoyed planting, also his first try at tuba-tuba production. They were the last to leave the planting site – owned by the Labitigan-Gandia family – and rejoin their companions – mostly punong barangay and other barangay officials from 21 other barrios of the town that participated in the activity.
The "tree planting" was co-sponsored by Metro Manila Basaynon Katig-uban and Kapit Bisig ng mga Maralita of Metro Manila, in coordination with Baktas Kabub'wason Rural Workers Association, the 801st Infantry Brigade thru brigade commander Colonel Francis B. Lanuza, 34th Infantry Battalion under Lt. Col. Larry B. Mojica and 62IB under Lt. Col. Alberto C. Desoyo. It first hit barrio Can-abay where a nursery for tuba-tuba intercropped with vegetables was lying in wait for planting with 250 seedlings by the barangay officials. Can-abay agriculture committee chair Lea C. Dela Cruz, a kagawad, said the barangay's prepared clearing, which is concealed on the west by a high hill behind the barangay hall, could accommodate 700 seedlings even if spaced at 2 meters.
After Can-abay, the tuba-tuba planters drove to the neighboring coastal barrio of San Antonio, on board two big trucks – one from 801st IBde and one from 34IB – plodded through a muddy and watery rice field and climbed a hill that rose to an altitude of half the height of Mount Danglay which was visible from the second tuba-tuba planting site. Villager Marlon Culibar – a professional marine engineer who has 1,000 shrubs grown on the adjacent lower hill – guided through the vast slope that, according to the first kagawad, a lady, the barangay officials and constituents cleared and plowed with the aid of draft carabao, so that the soil was still soft and made it easy for one's hand to scoop out earth for a hole for a seedling. This land belongs to punong barangay Rowena Dacer who has earlier planted up to 300 shrubs near the seashore.
In San Antonio and Tingib, M. H. Del Pilar punong barangay Teofilo Yangao Cabonce stood out to have planted the most number of shrubs – 12 in all. He worked fast. His fellow barangay officials also did theirs excitedly.
By 10:45 a.m., when planting was over, the planters were conveyed back to Basey National High School for the First Annual General Assembly of Baktas Kabub'wason Rural Workers Association. School principal Rodolfo G. Gad did the honor of welcoming the guests and participants in behalf of the local government unit of Basey and of BNHS. By 1:30 p.m., he was moderating the open forum which saw lengthy explanations to serious questions raised from the floor. Erstwhile banker Wilbur Orejola was a big help to the ironing out of wrinkles in the issues even as he encouraged his fellow Basaynon to be more serious in planting tuba-tuba so that they could meet the "quota" for their bid to be a site of a refinery or processing plant, or to corner a big buyer for their seeds production. He also explained at length the directions of Kapit Bisig ng mga Maralita, of which he is its founder and chairman.
Lunch break saw the shrub planters and assembly participants eating with gusto a sumptuous meal prepared for all well-wishers by the family of Lito Bajas, vice-president of Basaynon Katig-uban who turned out to be celebrating his birthday that sunny day in Basey – the ante vespera to the September 29 town fiesta in honor of Saint Michael the Archangel, patron saint of the Basaynon.
2Lt Jelyn Unabia, a graduate of the Philippine Military Academy, who headed the 34IB personnel sent in by LtCol. Mojica, assured them that the 34IB would continue helping and closely working with the people of Basey, in ways apart from confrontational or operational anti-insurgency efforts. The smiling, pretty officer (still single) had also planted tuba-tuba seedlings in San Antonio and Tingib. In the post-lunch friendly chat at the 3-storey Bajas building in Palaypay, she agreed to a medical mission proposed by the birthday celebrant, one that may even be actively participated in by the latter's medical doctor daughter.
Ah, yes, the planters sang "Happy Birthday" as Lito welcomed them at his home.
The thankful birthday celebrant, an intelligence chief in the Bureau of Customs, convivially invited them in turn to return the following day for the vespera and then on fiesta day.
After the "happy birthday" wishes came the happy fiesta greetings, echoed even after the annual general assembly adjourned at 4:20 p.m. at the BNHS.