Message of MGen. Arthur I. Tabaquero during the signing of Manifesto Against Violence
September 10, 2009
I have a motive for being here with you this afternoon. I am here to ask you to awaken a sense of urgency against the escalating level of violence in this region. If we want to push our region forward, we have no time to waste. There are things we need to do and we must do them now. This sense of urgency is not fueled by fear or panic. Instead it means being vigilant and prepared for anything that might happen, not only for us but also for our family members and fellow Samarnons. It pushes us to reject those who hinder us from moving forward.
It is a matter of utmost urgency that we end the prevalence and abuses being committed by the CPP/NPA, private armed groups, organized crime groups, drug syndicates and other criminal elements not tomorrow, not next month nor not next year but NOW! Are we willing to see another mass grave like the one in Inopacan, Leyte where 67 victims were buried alive while most were mutilated in pieces? Should we wait for another Mayor Carlos dela Cruz, the municipal Mayor of Matuguinao that was shot by unidentified gunmen and the recent ambush of Fr. Cecilio Lucero, the Parish Priest of Catubig, Northern Samar who is known to be an advocate of peace and order, be killed before we act? Are we going to let them put up bomb-making facilities and plant landmines that will indiscriminately kill or maim whoever happens to pass by? With the forthcoming national elections, more violent incidents might happen because of these lawless elements, are we prepared for this? We do not want these groups/elements to inflict further injuries to our people and communities. Let us free the people from the trauma of violence and state of fear.
The sense of urgency motivates us to step up our efforts. That is why, I, together with the members of the 8th Infantry (Stormtroopers) Division initiated this Manifesto against violence so that everyone of us here would join our hands together in denouncing all forms of violence and violation of human rights which we all know adversely affects the region's economics development.
Allowing there groups/elements to persist means we are directly allowing them to win. This generation of Filipinos must not abdicate its responsibility to end violence once and for all. We cannot allow the generation of our children be the one to fight the same serious problem of violence that their fathers and grandfathers fought before them. In the same vein, do not let cynicism cloud our judgment regarding violence. Let us see it as what really is – a parasite that slowly feeds on our people and our democratic institutions. I know that each one of you is with the Armed Forces of the Philippines in this battle; for we are waging this for them.
To end this message, let me again remind everyone that no nation has ever solved the unrelenting problem on violence without a national passion to solve this social malady. Let us remember that our enemies' greatest weapon is time. Let us give them one. Let us reject them and quickly bring them to their inevitable end. For us in the 8th Infantry (Stormtroopers) Division, we remain committed… just like you. Let me thank all of you, peace-loving Samarnons for coming today. Maupay nga kulop ha aton nga tanan!
Related News: Samar PPOC members, mayors sign "No to Violence" manifesto
Unsolved killings in Northern Samar

A Privilege Speech delivered before the House of Representatives by Congressman EMIL L. ONG
9 September 2009
Mr. Speaker, distinguished colleagues, I rise on a matter of personal privilege in denouncing the unsolved killings in Northern Samar.
I join Bishop Emmanuel Trance in condemning the brutal killing of Fr. Lucero. Last September 6, 2009 around 8:30 in the morning Rev. Fr. Cecilio P. Lucero was ambushed by unidentified gunmen armed with high powered firearms. Fr. Lucero suffered several gunshots on his head and different parts of his body and died on the spot and 2 of his companions were seriously wounded. Fr. Lucero was known to be a human rights activist, and the brother of our incumbent Vice Governor Boy Lucero and former Congressman Wilmar Lucero.
Case Status: still conducting an investigation, PNP formed a Task Force Lucero, tasked to investigate the shooting incident.
On July 27, 2009, Lanny Caparal, a resident of Brgy. Napo, Palapag, Northern Samar was shot to death. Witnesses said that the victim was seen at the waiting shed near the Mondragon Central Elementary School waiting for a passenger jeepney to pass by going to Rawis. Around 10:30 evening more or less a certain Police Officer Christopher Gimena picked up and dragged the said victim to his house located at the back of the Mondragon Elementary School. The following day, the victim was seen lying in bloodbath at the Flagpole of the said school dead. The victim suffered gunshot wound on her head. The public believes that the suspect of the said killing was the same police officer that dragged the victim towards her house.
Case Status: Unsolved.
Dr. Bartolome Resuello was shot to death last May 2009 at Sition Naparasan, Poblacion, Pambujan town around 6:00 pm. Dr. Resuello, a known human rights activist and a consultant of PESANTI, a local farmers organization based in Catarman, Northern Samar, was on his way to Pambujan when still unidentified assailants armed with long firearm shot the victim in close range. The victim suffered several gunshot wounds on his head and body. He is the brother of the late Provincial Fiscal Romy Resuello.
Case Status: Unsolved.
Leo Luna Mila, Radyo Natin FM San Roque, Radio Broadcaster was shot to death last December 2, 2008 around 6 pm by still unidentified assailants. The victim suffered several gunshot wounds on his body and head. He was shot in just 2 blocks away from his house inside the poblacion of San Roque.
Case Status: Unsolved.
Former Mayor Caesar "Sasi" Vicencio was shot to death last February 2, 2009 around 12:00 pm, at Poblacion Catubig town after attending the ABC meeting held at the ABC hall in Catubig. The victim suffered several gunshot wounds on his body. He was shot also 2 blocks away from his residence near the Municipal Hall.
Case Status: Unsolved.
Prof. Jose Maria Cui, a university professor from the University of Eastern Philippines was shot to death inside his classroom by still unidentified assailants. Prof. Cui suffered gunshot wounds on his head and other parts of his body. The victim was conducting examination when armed men stormed his classroom and shot him several times. Cui was a human rights activist. He is the brother of Rev. Father Nunilon Cui.
Case Status: Unsolved.
Brgy. Captain Marcos "Makoy" Anquilo, of Brgy. 3 Hillside, UEP Catarman, Northern Samar and brother-in-law of UEP President Atty. Mar De Asis was shot to death by still unidentified assassins.
Case Status: Unsolved.
A certain "Jesse", an employee of UEP and husband of a UEP professor was shot to death last year at UEP Scout City.
Case Status: Unsolved.
Killings inside the PNP provincial command, Camp Delgado, Catarman, Northern Samar where three children were killed after a grenade launcher exploded.
Case Status: Unsolved.
Engr. and Mrs. Lim, A resident in Bobon N. Samar which is just 10 km. from Catarman, N. Samar where also shot inside their residence.
Case Status: Unsolved
Another DPWH Engineer Galvez was also shot in cold blood in the barangay in Catarman, N. Samar.
Case Status: Unsolved
Aside from those mentioned above, there are a lot of undocumented killings not included in this list.
Our province is reported by NEDA as the poorest province in Region 8 and Top 10 poorest in the country. How can investors gamble to invest in our province with the kind of peace and order situation, these killings will not stop if those criminals will not be caught and they are becoming emboldened if they roam freely.
Mr. Speaker, dear colleagues, the unsolved killings in Northern Samar is growing in number but the same has left unresolved and continued to be unsolved by our Police Authorities.
My dear colleagues, these massive unsolved killings in the province of Northern Samar create chaos and disarray not only in our community but also to the whole nation at large.
Mr. Speaker, my dear colleagues, let us give justice to the victims of these massive unsolved killings in the Island of Samar who were innocents. Let us help one another in finding the truth and prosecute the criminals. Because what they have done would mean, a crime against the whole nation and against Human Rights.
With all these, my dear colleagues, I strongly urged the Committee on Human Rights, the Commission on Human Rights, the National Bureau of Investigation, and the Philippine National Police to conduct investigation and to submit to congress in aid of legislation to solve these unsolved killings in Northern Samar.
Thank you, Mr. Speaker and my dear colleagues.
Covenant and commitment

By Fr. ROY CIMAGALA
September 9, 2009
IT'S good that we revisit, as often as necessary, some basic realities about our lives, so we would know how to live and behave with a sense of purpose and direction.
We just can't drift aimlessly in life. Or worse, get entangled with very absorbing earthly affairs without touching base with our life's fundamentals that specify its real and ultimate objective.
Among these realities are those of the covenant God, our creator and father, has with us, and the commitment we are supposed to make as a response to that covenant.
At the moment, these basic truths and their corresponding duties appear slipping from our hands, much like a loose ball in a basketball game that we need to recover as quickly as we can.
More, we need to have a good, deep and thorough understanding of these truths so we can have, in a manner of speaking, a firm grip of them, with the view of fully living out their consequences and implications.
As much as possible, we should avoid having a shallow idea of what our life is all about or what it is for. Sad to say, there are several factors that lead us and keep us in that predicament.
There's, of course, our human weaknesses. They often hold us hostage in the state of mediocrity and complacency. Though we are meant and equipped to go deeper, we many times get contented with the externals, the appearances, the shallow, lazy and easy things in life.
Then there are the workings and effects of sin that can result in sophisticated ideologies, philosophies, and worse, cultures and lifestyles that can keep us away from going to the ultimate dimensions or frontiers of our earthly life.
We always have to keep an eye in this area of concern. Life is, of course, a work in progress. It's a warfare with changing frontlines, with its wins and losses. It's at least a very malleable dynamic affair whose shape and direction depends on how we as protagonists play it.
We just have to be clear about when things are getting serious or are heading toward a fatal compromise. We have to avoid these to happen.
We have to understand that there is a divine covenant with us. God wants to share nothing less than his life with us. Such is his original and strong will that despite our lack of correspondence, or even rebellion, he does everything, including sending his Son to us and the Son dying for us, to fulfill that will.
The history of this divine covenant has been long and tortuous, with endless rich lessons for us to learn. Its present mode, the New Covenant with Christ himself actually acting on us through the Church, the sacraments, his Word and workings of the Holy Spirit, is very much in operation in our midst.
But are we aware of this? Are we properly reacting and cooperating with it as we should?
The answer is both 'Yes' and 'No.' The 'No' is obvious. But the 'Yes' is actually also there, perhaps hidden, since the Church, in spite of her human shortcomings, cannot remain indifferent to this divine will for us. God himself will not allow the Church to fail in its divine mission, no matter what.
Still, we need to learn how to correspond properly to this divine covenant. And that's why we have to sharpen our understanding and appreciation of the idea of commitment.
A commitment is the flowering of all our human powers that should be made to play in our relationship with God. It's based and engined by the theological and supernatural virtues of faith, hope and charity. It, of course, requires all human virtues.
It is the full and maximum play of all our powers and faculties, as they get engaged with our ultimate end and not just any human goals. It's what gives direction and consistency to the many parts of our earthly life, and brings us beyond it.
We are equipped for it but we need divine grace for it to take effect. Otherwise, we will just be in the state of potency, and not in act, with respect to our final goal.
We need to make this truth more known to all, its skills and other requirements taught and spread. We can take advantage of the many occasions aspects of this commitment are lived by us as we enter into contracts, into marriage and family, professional dealings, religious vows and promises, etc.
Fr. ROY CIMAGALA
Chaplain, Center for Industrial Technology and Enterprise (CITE)
Talamban, Cebu City
Email: roycimagala@gmail.com
Press Statement of Samahan Ng Mga Biktima Ng Komunista (SABIK), Samar Chapter
June 17, 2009
In his press release on June 10, 2009 [read press release], Mr. Salas "slammed the AFP for old gimmick," base on his one-sided judgment, and "calls for immediate release of child soldier."
It seemed that the NDF-EV, through its famous prevaricator, Mr. Salas is at first evading the real issue. Instead of answering the issue why the NPA has in its rank a child soldier, Mr. Salas immediately assailed the AFP as having "abducted the child for psywar purposes." Is it really possible for the AFP to abduct a child and teach him how to (confidently) assemble and disassemble a rifle within a very short period of time?
Apparently, Mr. Salas' press statement was meant to ACCUSE in order to avoid being ACCUSED of an obvious violation. For a seasoned liar and protector of the terrorist NPA like Mr. Salas, it would be easy for him to accuse the AFP than to answer questions surrounding the continuous recruitment by the NPA of children for their terrorist movement.
While the AFP may also have shortcomings, it appeared that this time it is more believable and credible than Mr. Salas. Someone who had the opportunity to talk and deal with the former "NPA Child Soldier" had observed the spontaneity of the child's responses to various questions regarding his stay with the NPA. The child, accordingly, gave vivid details of his experiences and ordeal with the NPA that it is impossible for someone to believe that he was coached to reveal those details. It's a pity that a child like him has been taught by the NPAs to carry and fire guns when he is supposed to be school learning how to read and write with other children of his age. Obviously, as the child has confided, there are many children now being lured and recruited by the NPA, so it is timely to ask Mr. Salas and the NPA to please have the conscience to spare the children from your nasty aim of amassing wealth and power.
Characteristically, Mr. Salas called on advocates of human rights and children's right to investigate about the child in his press release. If there is any which would heed that call, it would be the Karapatan, which has a record of making investigation to malign the AFP when the NPA is already feeling the heat of AFP operations. Mr. Salas' call for investigation is to prevent the obvious from looking more obvious. It is suspected that Mr. Salas did it so that when Karapatan conducts the investigation, it would not appear that such investigation is already premeditated and design by Mr. Salas and Karapatan to destroy the AFP and the soldiers- as they have done it many times before.
For Mr. Salas, this is a curious question. Can you invoke other things, aside from Oplan Bantay Laya, Con-Ass, etc, as reasons that you can use to fool the people into believing your purported "selfish" cause?
Thank you Mr. Salas, and again it is hoped that you prosper in telling your own twisted version of the truth!
Reference:
Ann Ocenar, Spokesperson, SABIK-Samar Chapter
e-mail add: ocenar_anacleto@yahoo.com
Biliran Councilor filed Complaint-Affidavit before the Ombudsman against Con-Ass proponents
Below is the full text of the Complaint-Affidavit filed before the Ombudsman by Naval, Biliran town councilor Victor A. del Rosario.
Republic of the Philippines)
Province of Biliran ) SS
Municipality of Naval )
COMPLAINT-AFFIDAVIT
I, Victor A. del Rosario, of legal age, Filipino, resident of Riverside, Naval, Biliran, having been sworn into in accordance with law, do hereby depose and say:
That on the faithful night of June 2, 2009, the majority members of the House of Representatives passed House Resolution Number 1109 (HR 1109), which seeks the convening of a Constituent Assembly (Con-Ass) with the Upper and Lower Houses of Congress voting jointly on amendments to the 1987 Constitution;
That the House of Representative's act of bypassing the Senate is a blatant disrespect of the political institutions that this country is founded on, particularly of the Upper House of Congress which was built to serve as the partner of the Lower House in crafting laws and resolutions;
That even though there are conflicts in the interpretation of Article XVII of the Constitution which states that "any amendment to or revision of the Constitution may be proposed by the Congress upon a vote of three-fourths of all its members," allowing Congress to vote jointly would effectively render the Senate insignificant as three-fourths of the House of Representatives alone is already enough to fulfill the number of votes required to pass the resolution, even if all members of the Senate vote against it;
That the collective act of the majority members of the House of Representatives is a glaring display of abuse of power, political arrogance, and most of all a shameless disregard of the Philippine Constitution which clearly provides for a bicameral form of legislature composed of the House of Representatives and of the Senate of the Philippines thereby grossly violating the essentials of Republic Act No. 6713 or otherwise known as the "Code of Conduct and Ethical Standards for Public Officials and Employees" especially on Section 3 (a) (b) (c) (e) (g) of the said law;
That is it a must for the OMBUDSMAN being the Protector of the People to conduct and investigation on the cited unbecoming and unethical conduct of the majority members of the House of Representatives under the leadership of Speaker Prospero C. Nograles;
That this complaint is not a political prosecution intended to harass the members of the House of Representatives who are signatories to House Resolution 1109;
That as an elected member of the Sangguniang Bayan of the Municipality of Naval, it is my duty to uphold the policy of our government embodied in our Constitution to repress unbecoming and unethical conduct of my fellow public servants and to advocate that public office is a public thrust.
IN WITNESS WHEREOF, I have hereunto set my hand this 11th of June 2009, in the Municipality of Naval, Biliran, Philippines.
(Sgd.) VICTOR A. DEL ROSARIO
(Affiant)
SUBSCRIBED and sworn before me, in the Municipality of Naval, this 11th day of June 2009, by Victor A. del Rosario with residence Certificate No. 24379525 issued at Naval, Biliran on January 15, 2009.
HR1109 should be viewed in a wider context and not only on PGMA's term extension, says Rep. Alcover
A Press Statement of ANAD Partylist
June 10, 2009
The Alliance for Nationalism and Democracy (ANAD) calls on all Filipinos to take a serious look on the need to amend some provisions of our Constitution and not harp solely on the issue on the extension of the term of office of President Gloria Macapagal-Arroyo. The main issue here is not President Arroyo but on what is best for our people and country. I voted in the affirmative for House Resolution 1109 to make our constitution more attuned and responsive to the call of the times.
ANAD believes that putting in place a Unicameral System or a Federal form of government could be the best move to make as these would save more than enough funds that the government could use to strengthen our democratic institutions and people's well being. In the present bicameral system, the upper house or the Senate, aside from practically unnecessary duplicating the legislative functions with the House of Representatives, could be a good avenue for corruption especially during elections where each candidate conducts a nationwide campaign for a seat in the Senate. This entails a lot of money to spend. The next question then would be – How would these candidate recover the money they used during the campaign? The present presidential-bi-cameral form of government is definitely weak. Obviously, this breeds corruption from the top to the lowest rung of governance.
A federal form of government is also a wise and good move considering the devolution and decentralization of power and authority from the seat of national governance to the different regions of the country.
The issue of PGMA's possible extension of office is an issue raised and twisted to high heavens by the Maoist communist agitators and pseudo partylist groups because:
1. They abhor and disliked a change in our constitution, either in form or substance. Any change of system would negate all of their intentions and motives in conducting street protests and other anti-government actions;
2. The demented minds of Maoist communist agitator-propagandists' choice is to constantly target PGMA because they prefer the present set-up of government in support to their political aspiration of putting 3 of their cohorts in the Senate, through their communist front political party MAKABAYAN. If this happens, it is just a few steps away from the penultimate position of power in government; and
3. They wanted this condition because it feeds on their appetite to sow discontent, disinformation, and public disorder among Filipinos and even the international community of nations.
Why are those against HR 1109 harping on this concern if they believe that the President does not have the support of the majority of the Filipinos? Why were the Maoist communist agitators, especially those in the pseudo Partylist groups, silent and never protested nor questioned then President Corazon Aquino's appointing members of the Constitutional Commission in l986 and not truly reflective of the people's mandate? The truth of the matter is that they are afraid of their own shadow. This is the very same shadow that they themselves created! They are now totally out of touch with reality. Their only motivation is putting in place a situation in furtherance of their own revolutionary agenda.
Let us admit the fact that there are flaws in the l987 Constitution. These flaws need our immediate attention and action to be able to respond to the demand of our people and the call of the time. We should rise up forthwith not because of our emotions but for a more noble purpose of not allowing the Maoist communist CPP-NPA-NDF to exploit the issue.
The current situation is very serious and critical. Indeed, our country needs people who can readily stand up and ably respond to the demagoguery wrought by the Maoist agitators who have successfully influenced different sectors of the Filipino community, to include the religious.
Truly enough, ANAD will not be surprised to see these personalities on the streets during the mass actions during President Gloria Macapagal-Arroyo's State of the Nation Address on July 27 and chanting anti-Charter change and other anti-government slogans.
It is high time that I call on the members of the House of Representatives who voted affirmative to HR 1109 to come out into the open and explain their respective position. We have our sworn duty and obligation to explain this to our people. A united front on pro-charter change must be established and mobilized to explain to the people the whys, wherefores, and other imperatives appurtenant to HR 1109 and not to leave it up to any one man alone.
The same call holds true for government and all freedom loving Filipinos. There is only way to enlighten our people. This will only happen if we "come out of our own cowardly shells." Our continued silence is only what the enemies of freedom and democracy wanted.
We must always be reminded of British statesman Edmund Burke who said - - - ALL THAT IS NECESSARY FOR EVIL TO TRIUMPH IS WHEN GOOD MEN DO NOTHING.
NPA offensives slap Oplan Bantay Laya; AFP is responsible for civilian casualties
Press Statement of National Democratic Front of the Philippines-Eastern Visayas
June 1, 2009
The National Democratic Front-Eastern Visayas today congratulated the New People's Army for carrying out offensives in Samar that expose the failure of the government's Oplan Bantay Laya. The NDF-EV also chided the Armed Forces of the Philippines for blaming civilian casualties on the NPA even though government troops deliberately encamp in civilian areas and facilities. "The people salute the NPA for punishing the fascist troops who are bolstering the corrupt Arroyo regime," said NDF-EV spokesperson Fr. Santiago Salas. "The NPA successfully carried out offensives in San Jorge, Western Samar last May 23, and again in Catarman, Northern Samar last May 30. At least three soldiers were killed in action and an Army officer, Lt. Philip Muyco, was also seriously wounded in the offensives.
"The NDF-EV is saddened by the civilian casualties in Catarman especially because the NPA takes pains to avoid such an eventuality. The NPA units are taught to control their fire and fire only at legitimate targets. But the same is not true of AFP troops, whom the NPA know from experience fire indiscriminately and resort as well to turning civilians into human shields. In the Catarman offensive, 8th ID chief Gen. Arthur Tabaquero in fact admitted in a media report that his troops were encamped right inside Brgy. Polangi amidst the civilians. It is most likely that the civilian casualties were caused by the soldiers, who should not have been there in the first place."
Fr. Salas also called on the media to investigate the locations of military camps to see if these really put civilians at risk. "International humanitarian law prohibits combatants from camping near civilians or occupying civilian facilities such as schools and churches. The incident at Brgy. Polangi, Catarman is already a clear violation by the AFP. The 8th ID should be held accountable if its military camps put civilians at risk. The people have long complained to the NPA, 'If these soldiers aren't cowards, they should go up the mountains and fight the NPA rather than hide in the villages among the civilians.' The people are justified to demand their removal."
The NDF-EV spokesperson said that the continuing NPA offensives in Eastern Visayas are slaps on the claims of new AFP chief of staff Gen. Victor Ibrado, who boasts that Oplan Bantay Laya is gaining ground and the NPA will be defeated by 2010. "The Arroyo regime and its military are making up stories to justify even more human rights violations under Oplan Bantay Laya in Eastern Visayas. There will be more offensives to come in Eastern Visayas. The NPA is getting stronger with each offensive, the people are getting angrier at the Arroyo regime which plans to stay on in power, Oplan Bantay Laya will surely end up in ignominy like the Arroyo regime."
Fr. Santiago Salas
Spokesperson
National Democratic Front of the Philippines
Eastern Visayas
A sort of homecoming this summer

By RICKY J. BAUTISTA
March 25, 2009
Once a year, club members of the Philippine Speleological Society convene. Every year, other non-member caving clubs in the countryside adds up and joined them. All of us – the cavers, an underground faction of the outdoor community, so to speak, are a relative minority, but given the general conditions of caving, this may be good for the environment.
The last year's cave congress was held in Cagayan de Oro City and in Sumilao and Manolo Fortich in the province of Bukidnon last March 31 to April 6, 2008. The Speleo Mindanao and the Conservation and Restoration Exercise (Core), both are member-clubs of the PSS, hosted it. It was indeed another successful event of the PSS.
Many of the member-clubs including those fundamentals in the formation of the PSS and the Philippine Cave Guides Association (PCGA) tagged along by their leaders regularly met each other to refresh themselves and impart their advance skills to the newest members and nature-loving individuals. Raising the quality of caving in the Philippines to international levels was always their primary aims. Every event is gatherings of cave enthusiasts, it seems like a homecoming, a sort of "reunion."
For every men in the outdoors, each congress is not a time to play or to rest, instead, it's a time for us to standardize our level through workshops that cover Cave Survey and Mapping and technical rope skills such as SRT (Single Rope Technique), the primary method used by cavers to descend and ascend vertical pitches.
And today, while summer is beginning to heat up, it is once again a time to head out, travel to one unique place where other comrades from different regions would meet up.
The venue and side trips
This year's venue of Cave Congress is the Balantak waterfalls, Sohoton, Rawis, and other caves, all in Basey, Samar, Philippines. The once sleeping town of Basey is a home of the World's longest mat-weaved banig as recorded in the Book of Guinness and a home for the mystical caves, golden rivers, panoramic rock formations and the world-famous Sohoton Natural Bridge National Park. In going there, one may pass and see the country's longest "love" bridge – the San Juanico Bridge, which connected the twin islands of Leyte and Samar.
A side trip to the town of Calbiga town, a home of the East Asia's largest karsts cave network is now being planned out by the organizers to be included in the itinerary. The cave, which has a total land area of 2,968 hectares featured huge stalagmites & stalactites, giant columns, underground watercourses, rapids, blindfish, snakes and dancing bats are also present in the area.
Like in the previous years, it's a day we always knew would come, and the thought it would nag at the back of our minds riding at the back of a dump truck to the trailhead, sometime speeding around the tip of road cliff, cruising an inflatable motorboat, chasing the fastest trekker ahead of you that seems you're into an adventure race huffing and puffing on a long and slippery limestone, trying to be dropped or slide from the muddy terrains.
International cavers to do the talks
"Caves are among the most beautiful places on earth. It has considerable value not only in terms of its beauty but also in its historical, economic, social, scientific and environmental importance. Yet caves are amongst the least explored and understood places. Their ecosystems are among the most vulnerable and easily destroyed."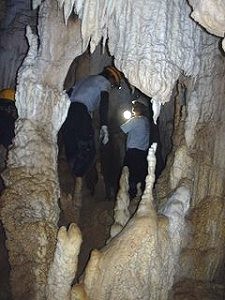 It's summer again. Cave enthusiasts will again meet up in Basey, Samar as the 9th PSS Cave Congress becoming nearer. Photo shows local caver exploring the Rawis Caves in Basey during a local cave congress. (RJB)
These were the event's guiding tone set up in which three (3) international cave experts and local top executives are expected to impart their expertise on the "don't and do's" and the "how's" of mixing up the process of environment conservation and promotion of tourism during this year's hosting of PSS Cave Congress in this locality.
Event director Jason Garrido, of the Philippine Cave Guide Association, Inc. (PCGA), informed that at least three international cavers and conservationists had just confirmed readiness to visit Philippines for this caving event, which will last for five days.
They were Elery Hamilton Smith, a task force chairman of the International Union for the Conservation of Nature (IUCN) in Australia; Dave Smith, a Biodiversity Programme Manager, Department of Conservation in New Zealand; another expert from the Spellbound Tours in New Zealand.
Other local experts expected to welcome and deliver messages of supports were the regional directors of DOT, DENR, Province of Leyte, and the host town Basey Mayor Didi Estorninos.
Conservation and tourism
Meanwhile, with the theme, "Finding the balance between conservation and tourism," the Philippine Speleological Society Cave Congress on May 11-15, 2009 will be hosted by the PCGA, together with the Nature Unlimited Leyte Outdoor Club Inc., a local outdoor club based in Leyte, and in cooperation with the Eastern Visayas Department of Tourism and the Municipality of Basey, the host-venue of the event.
DOT regional director Karina Tiopes who helped facilitates the sending out of invitations said "caves are a viable attraction for tourism and the economic benefits it brings effects the whole value chain. But without a solid cave management plan that takes into account the relationship between conservation and tourism, there is always the possibility that we end up destroying the every thing we are promoting in the first place."
"The establishing of protected areas and cave management programs, by themselves, are not enough to ensure our caves protection and conservation. Proper management of caves demands specific expertise. Education of personnel and communities as well as inter-agency cooperation and streamlining of existing policies are essential for a successful cave management program," she added.
The "reunions" of local cavers
As of today, the event secretariat said that the expected numbers of participants, both foreign and domestic, is around 300. They also said each participant has to pay P600 as their registration fee and has to bring their own provision of food and camping gear.
As to the local cavers, the Centro Outdoors Sports Unlimited based in Catbalogan Samar who previously hosted a series of local version (focus only in the Visayas caves) of the caving congress, signified support to the PSS event. They will be heading their affiliate caving clubs from UEP, Catarman, Laoang, Catbalogan, Borongan and in Palo, Leyte, to join the event.
Activities during the event were divided into four (4) categories namely Basic Caving Skills for the beginners; Cave Guiding, Cave Surveying, and Single Rope Techniques for the experienced and expert participants. "Each participant has to choose only one category to attend," Garrido said in his invitation posted in their website designed exclusively for this event.
After the event, the participants would be able to learn about cave ecosystem, navigation and principles of cave surveying; camping equipment familiarization, national laws such the NIPAS and Cave Act, and would be able to learn self-rescue and emergency procedures.