Loving the cross is genuine sign of hope

By Fr. ROY CIMAGALA, roycimagala@gmail.com
March 4, 2016
WE need to learn to regard the cross as good news, not bad news. It should evoke joy, not sadness and fear. That's because the cross, when it comes to us and if embraced with faith and love for God, becomes a genuine sign that we have a living hope in our salvation and in our future eternal glory.
The cross is the wood that turns the tree of death in Paradise into a tree of life in Calvary. It's where Christ, our savior, assumes all the sins of man, from those of Adam and Eve to those of the last man who is not yet born, and dies to them only to rise and conquer them completely, leaving us a way to return to where we came from – God, our Father and Creator.
We have to see the whole picture about the cross to know how good and indispensable it is in our life. But given our wounded human condition that can only consider a part of the whole truth, we need to have some assurance that indeed the cross is our way to redemption.
For this, we can turn to that episode in the gospel where Christ was transfigured together with Moses and Elijah in the presence of Peter, James and John. Christ's transfiguration should be inseparable from any consideration we make of the cross, since the cross without the transfiguration, and later the resurrection, can only mean total failure and pure and meaningless suffering.
St. Leo the Great gives us the basis for considering Christ's transfiguration. "The great reason for this transfiguration," he said, "was to remove the scandal of the cross from the hearts of his disciples, and to prevent the humiliation of his voluntary suffering from disturbing the faith of those who had witnessed the surpassing glory that lay concealed."
Yes, we have to embrace and love the cross in whatever form it comes to us, but let's also link it always with Christ's transfiguration and resurrection. In that way, we can manage to have hope in whatever suffering we may encounter in life. In fact, loving the cross can and should only mean we have hope based on our faith in Christ who does not deceive us nor can he be deceived.
We would be convinced that all the pain and suffering and everything else that goes into the making of a cross already have acquired a positive value. They purify us, they strengthen and mature us. The cross then becomes attractive to us and, given our wounded nature here on earth, an essential ingredient in our life. It is our way of making up for our mistakes, of atoning and repairing for our sins and those of others.
The cross heals what is sick and wounded, resurrects what is dead, forgives what is sinful. There is no evil in man and in the world that cannot be handled properly by the cross. Yes, that's how the cross is powerful if Christ is on it, and we with him.
That's why we should not feel at all hopeless when we find ourselves in a deep mess, often created by our own selves, our own foolishness. On the contrary, we should invigorate our hope when some mess that leads to unavoidable suffering comes. There's always hope, and embracing the cross is a genuine sign of that hope.
We therefore need to do some major adjusting in the way we regard pain and suffering in our life. We have to lose the fear of the cross. Rather we should be welcoming to it, cultivating a pro-active attitude to it rather than mere passive and reactive one.
In today's youth lingo, let's tell God, "Lord, give me suffering 'pa more.'" Only when we lose that fear of the cross can we already begin to have that heavenly joy and peace while here on earth, our vale of tears. We would already have a taste of the divine while still wrapped by our wounded humanity.
We should therefore see the bigger picture with regard to the cross. We should quickly attribute to the cross the meaning that our Christian faith gives. We have to go beyond considering the cross strictly in our own human estimations, our own ideologies, where cross can only mean punishment. These cannot fathom the full reality of the cross.
We should more actively and more widely proclaim the whole truth about the cross, and liberate ourselves from a very constricted understanding and distorted appreciation of it. The cross actually leads us to our true and ultimate freedom!
Atheism sits on hot air, nothing else
By ABRAHAM V. LLERA
February 29, 2016
God is something man cannot see, touch, hear, feel, nor taste, yet isn't it simply amazing that not a single nation on earth is without religion? Isn't it simply amazing that every nation on earth has people believing in some sort of divinity, someone superior to themselves, someone who one day would call us to account for things we have done on earth?
The Church teaches that God, our Creator and Lord, can be known with certainty, by the natural light of reason, from created things.
We can know the one true God through our natural reason, and we are able to do this even in our fallen nature. We can know God through his works, though created nature, and we can know him with certainty.
We can also know God from Scripture, from history, from Sacred Tradition, but even someone who has not been in contact with the world such that he has never heard of Scripture, nor of history, nor even of Sacred Tradition can still know God through knowledge of God, a knowledge that is innate in us. Note, however, that what is innate in us is not the idea of God as such, but the ability to know his existence easily and with certainty from his works.
There are actually two sides to this: we can know God by the spontaneous use of reason and by the scientific use of reason. An example of how we can know God by the spontaneous use of reason is, for instance, that observation about how not a single nation on earth is without religion.
An example of how we can know God through the scientific use of reason is by showing how everything in the universe is an "effect" of a "cause," a "cause" whom we call God. In other words, the spontaneous use of reason allows us to know; the scientific use of reason allows us to know why.
The Church affirms that reason – alone, meaning by itself – can prove that God exists by showing that a "cause" is necessary for the universe of beings. This type of proof we call "a posteriori" because we go from effect to cause.
But some may already be asking: were it so evident, why do a lot of people reject the existence of God?
Well, because in the first place, God's existence is not evident. We do not see God, he is something who is NOT evident, in other words, something who is not perceptible through our senses. While his existence is true and certain, his existence is not evident, his existence has to be demonstrated, and this can be done through reason.
In other words, our knowledge of God is not direct, but indirect, through a reasoning process.
It does not help that a number of factors intervene. One person, for instance, might have a father who, when the person was young, would beat him black and blue everyday. At least one study has shown that children having this horrendous childhood experience often grow up rejecting God, a strong father figure. Another may have absentee parents, and he grew up without a mom and dad, without the very persons God designed to give instruction to the child by word and by example. Still another may be the victim of sexual abuse from one parent while still a child.
Last part of a series

Jubilee of Mercy Mass - Facade of St. Peter's with the Logo of the Year of Mercy.
Pinoy in Rome: At the Door of the Jubilee Year of Mercy (VI)
By ROBERT Z. CORTES
February 8, 2016
Day 9: Mother of the Church in St. Peter's Square at the Opening Mass of the Extraordinary Jubilee Year of Mercy
To be in St. Peter's Square, attending Pope's Mass, not only for the Solemnity of the Immaculate Conception, but also for the Opening of the Extraordinary Jubilee Year of Mercy, is indeed a great grace. If I add to that the fact that my being in Italy for a year more happened only through some honest mistake, and the ticket I had for this Mass was volunteered to me when I had despaired of it, then I can do nothing, but bow my head in awe at the Mercy of a Providence who knows what I need even if don't.
That Providence included skipping an incredibly long line going into the square through a coincidental meeting with a friend bishop. He offered me a lift, and so I entered the square from the Vatican Gardens, feeling like some important V.I.P. without having to elbow my way through my fellow hoi polloi. The feeling didn't last long since I was only too aware that V.I.P's don't stay in the Square. Besides, a guard stopped me: he seemed bewildered that a short, non-bow-tied Asian was walking in that area. The easiest way out was to squash all my remaining internal pretensions to VIP-hood and claim I was the driver of the bishop (in fact that was his advice). I know that struggling through the monstrous line would have been Providence, too, but skipping it probably averted my fainting in the line since, wanting to make it early, I hadn't had a decent breakfast.
Providence it was, too, that the forecast said it was nearly 50% going to rain, but it only drizzled a bit – as if to test our faith and give us an opportunity for greater merit – but in the end, I didn't have to open my umbrella. By the time of the Gospel, the skies began to clear. By the time the Pope was opening the Holy Door, the sun was blazing in the cool air. It's not my intention to end this article this soon by talking about the end of the ceremony this early; rather I wanted to point out that many times, we receive from God what is contrary to what men say we would (especially weather forecasters). And the fact is, what we receive is always better – this is how Providence is.
We know this is true from personal experience. On the contrary, the choices of human beings, at times, are not even good or just. That idea struck me with some special force during the prayer of the faithful at Mass. We prayed for lawmakers and governments – that they may serve all men and be passionate for justice and peace. We prayed for sinners and the violent – that they may know the gravity of evil and their hearts may receive healing. The face that the former was said in Arabic, and the latter in French spoke to me. Did the appropriate Vatican office choose those languages on purpose for whatever reason, or was that providential as well? Maybe both?
But conspiracy theories aside, there were other truly striking moments as well: striking and moving. There was the instance when I spotted an empty seat in the fast-filling square and asked the Italian lady sitting beside it if I could take it. She told me with a concerned look, "Yes, but it's wet." Since I was wearing thick jeans anyway, I smiled and said, "It doesn't matter." But before I could sit, she had already taken out a piece of tissue paper and wiped the seat dry for me. Wow – mercy from a woman from Sicily I had met only 5 seconds ago. She now reminded me of my mother.
There was the instance when, after praying the rosary to prepare for Mass, we sang the Salve. No one said anything, and certainly nothing was shown on screen to indicate it, but spontaneously everyone stood and the whole square resounded in singing the Salve Regina (Hail Holy Queen). And because the hymn was part of the celebration at the end of the Mass, Our Lady got a double salvo of Salve's on her big day. It's just as well, since we know that if we want God to have mercy on us, the best way is to pray through the Mother of Mercy who is his mother.
Then there were the instances when Pope Francis manifested his connection to his predecessors. First, he referred once more to his predecessor, Blessed Paul VI, in the context of another Holy Door that opened the Church 50 years ago "to the men and women of our time": Vatican II. Later he greeted Benedict XVI, whose humble and meek presence there moved many people to tears – at least I was. At the Angelus the Pope asked the people to shout out a greeting of affection to "Papa Benedetto." I don't know if Pope Francis meant all these gestures to mean what I understood them to be, but it is this: that Providence is taking care of the Church in the continuity of its holy pastors.
Lastly, there were the testimonies of people I randomly interviewed for this article at the end of the ceremony. I asked the Sicilian beside me if she came just for this and she roundly said, "Si!" It turns out she had an entire barrio with her, and when asked why they came for the Jubilee despite the distance, they responded simultaneously. The response was cheerfully chaotic and can be summarized as: "We are faithful, we believe in Jesus!" This same idea was echoed by two young ladies in front of me, one of whom I noticed knelt on the uncomfortable sanpietrini during the consecration. That was Laura, a Mexican, and she was with Courtney from New York.
The most moving testimony, of course, came from our kababayans three of whom I spotted as I was leaving the square. As it turned out, they were sisters all working in Rome. It was Rosie who spoke for the group. "Matagalnapo naming hinihintay itong Jubilee naito. Kahit ano pa ang sinasabi nila na nakakatakot dahil dun sa nangyari sa Paris, walapo kaming pakialam. Ang alam namin, ang Panginoon ang kasama namin at walang mas malakas, kundi Siya ho." She explained this in the context of their children's and relatives' fears for their safety back home. Amidst Gina's and Monet's (her sisters) comments of "Faith, po!" "Mga anak namin, takot!" I saw tears form in Rosie's eyes, and I had to exert effort to suppress mine, for I remembered my sister telling me as well, "Take care." Ah, the faith of the Filipino and the love among the Filipino's family.
Such experience of the universality of the Church and the strength of faithful's faith, could only make me see how appropriate it was to be in St. Peter's Square celebrating Mary's big solemnity and asking for God's Mercy with the Pope, under the gaze of Our Lady, Mother of the Church. It's that mosaic image that meets your eyes as you look up to the right when you're facing the Basilica. This was indeed a great grace. But it is also a reminder that the Providence, who knows what I need even if don't and from whom I receive all grace and mercy, is sending me – and you – as His instruments of grace and mercy to everyone we meet.
[Robert Z. Cortes is a Ph.D. student in Social Institutional Communication at the Pontifical University of Santa Croce, Rome. He has an M.A. in Education Leadership from Columbia University, N.Y.]
The ideal teacher

By Fr. ROY CIMAGALA, roycimagala@gmail.com
February 5, 2016
I SUPPOSE among the first things that come to mind when we think of how a good and ideal teacher should be are that he is competent, does continuing study and research on his subject, prepares his classes well, delivers them fluently, keeps good relation with his students and colleagues, submits grades punctually, etc.
Those are indeed excellent qualities but they are not enough. In fact, they simply are peripherals and can be dangerous and counterproductive if they are not inspired by the proper spirit of love. Without the latter, the other qualities would be at the mercy of other spirits not proper to us.
These otherwise good qualities would simply be conditioned and dependent on purely human desires and intentions that, no matter how well-founded, will always bear the marks of human frailties and vulnerabilities, and later of self-interest if not sheer malice.
Having the proper spirit is fundamental and indispensable for a teacher to be a good one. He should not only be a master of the subject he teaches, but he also should manage to inspire love for God and for others.
That is the proper spirit to have. A good teacher manages to relate the things he teaches, no matter how technical and mundane, to God and to others. He should inspire the students to love God and others more through the things he teaches.
Failure in this crucial point would expose the things taught and learned to the dynamics of merely worldly values that are very vulnerable to being used and exploited by evil spirits.
This is actually what is taking place these days. We have quite progressed in terms of knowledge. Our sciences and technologies are practically bursting with new developments and possibilities. We are having an overload. But without charity inspiring them, they can easily be misused and abused. Let's remember what St. Paul said once: "Knowledge puffs up, but love builds up." (1 Cor 8,1)
A good and ideal teacher, let's reiterate it, always manages to relate the things taught to God and to inspire his students to love God and others through these things. The lessons he teaches are not merely technical things, or intellectual or theoretical affairs. He manages to link them to the abiding providential action of God.
In other words, while he is most rigorous in the technical and intellectual aspects of the lessons taught, his teaching is such that piety is not impaired or forgotten, but in fact, is fostered. He does not leave piety behind in his teaching. He does not think that the inputs of faith, hope and charity would be a hindrance in his teaching.
This is also another point to be overcome. Many people think that things of faith, hope and charity, the requirements of piety and all the other virtues are a drag to teaching. Well, not at all! On the contrary, they enrich their teaching, grounding and orienting them properly, and infusing them with prudence and other virtues.
The worldly lessons they transmit can acquire an eternal value. They cease to be simply practical and beneficial in a purely worldly way. They become vehicles for one's sanctification which, in the end, is the only thing necessary in this life. "What does it profit a man," Christ says, "if he gains the whole world but loses his soul?" (Mt 16,26)
If we realize this point on what really would make for an ideal teacher, then we can discover what the real problem is, what the real handicap is in the area of education all over the world today.
It's the secularization of education, an education with hardly any relation to God. And if there is, that relation is mostly formalistic and ornamental. Even so-called Catholic schools can be accused of this. Cases in this area have sprouted all over the place, provoking the Vatican to act.
We need to see to it that the teachers in schools are not only technically competent, but also, and more importantly, spiritually healthy. We need to see to it that they know how to relate things to God and how to teach things in such a way that the love for God and for others increases. There has to be a way of measuring this, no matter how imperfect.
Obviously, there is need to train teachers in this most crucial point. This has to start somewhere, which can be no other than the higher authorities. With respect to the Church, it's the Holy Father, the Vatican, the bishops and priests. In the secular world, it should be the government and the different leaders in civil society.
Pinoy in Rome: At the Door of the Jubilee Year of Mercy (V)
By ROBERT Z. CORTES
January 27, 2016
Day 7: Holy Mary, Help of the Poor in SantissimaTrinitàdeiPelligrini
The seventh day of my novena to the Immaculate Conception in preparation for the Jubilee Year of Mercy happened to fall on a Sunday. Providentially, there's a church dedicated to the Blessed Trinity just two minutes away walking from my house. The day being a Sunday and with me having very little time for the visit, this church was perfect.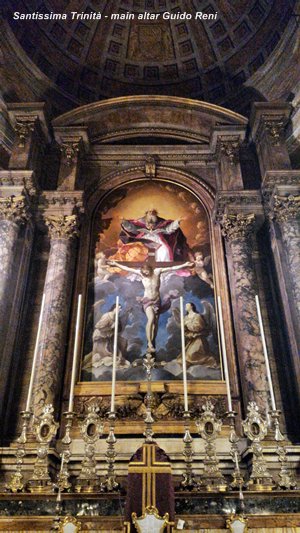 Unlike yesterday, today was rather cloudy, even gloomy. This atmosphere seemed to be in perfect harmony with this church, both outside and in.
It's called SantissimaTrinitàdeiPelligrini (Most Holy Trinity of the Pilgrims) and is called such because back in the 1500s, it had a hospice for poor pilgrims right beside it. The hospice is already closed as a victim of politics from the 19th to the 20th century, a sad reminder of an only too-common phenomenon that in political rancor, the victims are often the poor. The church itself used to be glorious, especially right after it housed 140,000 pilgrims in the Jubilee Year of 1575, and got a real boosting from Roman officials impressed by that feat. Now, the facade is probably one of the shabbiest in Rome. And if Benedict XVI had not made it the base of the Personal Parish of the Extraordinary for of the Roman Rite, perhaps the church would have been more rundown still.
When I went in, I saw that the church was dark – even darker than the Gesù on a normal day – and cold, even with my thick black coat on. I noticed that most tourists who came in never went past the first chapel. They'd give the whole church a quick survey and leave, pretty much like some people (including me, sadly) who many times give a street bum a quick glance from head to foot and then move on.
They were not impressed even by the remarkable painting of the Blessed Trinity by Guido Reni in the main altar. Naturally, as a result, they also missed the venerated and miraculous picture of Our Lady, Help of the Poor (Succurremiseris, in Latin) which has both a chapel and a small altar in its honor. I prayed before the one on the altar because it had more illumination and was more beautifully crowned. It also had that Latin title of Our Lady written in clear and bold letters, as if to tell me, "Go to her, oh you who are so poor and miserable."
Got it – loud and clear! I couldn't fight that, naturally, and the message really did get me to pray more fervently for myself and "everyone I know - even those I've forgotten." I learned that style of praying from St. Josemaria who used to add the phrase "etiamignotis" (even those I don't know) to his prayer of thanks for graces received. Then, unconsciously, I clutched my thick black coat closer because it was getting really cold – a fact, as it were, that reminded me further of the misery in the world.
And then, when I looked down from the image to the left, I saw a small sheet of paper that further acknowledged that reminder. It bore the pathetic plea of someone who has felt (and perhaps is still feeling) keenly the suffering and misery of humanity. "Mother Mary," it said, "pray for the victims in Paris, Mumbay, Tunis, etc." Europe to Asia to Africa. He or she forgot America and Australia, so I had to add them as ellipses – but I'm sure they were in her mind too. Like that title of Our Lady reminding me of my misery, that prayer struck me, as well, for just a couple of weeks ago, Piazza Farnese, where the embassy of France in Rome is, just right down the corner, was strewn with flowers, lit with vigil lamps, buzzing with media, and filled with a sympathetic crowd for the victims of the recent terrorist attack in Paris. How odd, I thought, all these things coming together in this single moment of my life.
I left that church more pensive and sober than when I entered. How much, indeed, we need God's mercy and the intercession of Mary. Maybe not a very inappropriate thought as I approach the doorstep of the Jubilee Year of Mercy.
Day 8: Our Lady of Montserrat in Santa Maria in MonserratodegliSpagnoli
For the eve of the Solemnity of the Immaculate Conception, and the beginning of the Year of Mercy, I was directed to go to Santa Maria in MonserratodegliSpagnoli. The name suggests that this 16th and 17th church is dedicated to Mary under the title of Our Lady of Montserrat (also known as the Dark-skinned Virgin), patroness of the proud Spanish region of Cataluña, and is the national church of the Spaniards in Rome.
I won't go into details what I really mean by "I was directed to go." The most I'll mention is that I was vacillating between this church (just a three-minute walk from my house) and a very strong alternative (farther than the first one, however) as of yesterday morning - and then I received a totally random Facebook message from a friend in the Philippines. She was asking about an image of Our Lady of Pilar. Being a Spanish icon, it's rare in Italy, and most probably found only in this church. In a flash, all my doubts were settled.
I also won't go into details about the political implications of this Catalonian image being the representative of all Spain: too incendiary. In fact, even the name Montserrat may spark (opposing) emotions from both Catalans and non-Catalans, for the word is not Spanish but Catalán meaning "saw mountain" (the sculpture of Our Lord sawing a mountain on the facade is an allusion to this).
Lastly, I won't go into details about the meaning of "national church" since I've explained that already in some other post. Only perhaps that being a national church of what used to be the most powerful nation in the world (and now perhaps still has remnants of that), this is one of those that has retained its renaissance and baroque elegance.
I will just say that now that I think of it, I found it quite providential and thus, appropriate, that I should be there on the eve of the feast of the Immaculate Conception, the Patroness of the Philippines. It's an appropriate way to thank Spain which brought Christianity to my country only three years after (1521) this church was founded (1518) and for which I am now here. That detail was quite clear to me as I knelt before the Dark Madonna to say the Rosary with baroque music playing in the background. Thus aside from praying for my myriad personal intentions, I thought about the people who live with me now, who are all Spanish speaking, except one. That thought led me to remember and pray as well for all the Spanish-speaking peoples of the world – that they may be faithful to the Faith that has built their nations.
And that thought in turn led me to remember that the Pope himself is Spanish speaking. I will be with him tomorrow as he opens the Jubilee Door - so there was probably no better shrine to go to today, to pray for him and prepare for that historic moment.
It's amazing what a random Facebook message can do.
[Robert Z. Cortes is a Ph.D. student in Social Institutional Communication at the Pontifical University of Santa Croce, Rome. He has an M.A. in Education Leadership from Columbia University, N.Y.]