Outgoing regime, unaddressed violations
A Statement by the Asian Human Rights Commission on the occasion of Human Rights Day
December 10, 2015
The Philippines sees routine investigations on targeted killings, torture, arbitrary arrests and detention, all of which end up without enough evidence to prosecute the perpetrators. When prosecutions are initiated, those with the most guilt and evidence for prosecution are routinely excluded from criminal complaint. Court trials, time consuming and costly for victims, largely end with key perpetrators acquitted for their crimes. These are the Asian Human Rights Commission's (AHRC) observations on the pattern of human rights violations, not only in 2015, but over the past ten years of documenting abuses, particularly those linked to the security forces.
To term these violations as 'continuing', would be superficial however, if not simplistic. It distracts from the fundamental question: why are these violations occurring in the first place? These violations, mostly targeted at the poor, vulnerable and marginalized sections of society, are routinely and widely reported in the country's newspapers, radio and TV. So, why is it that those needing protection the most have no protection? In most cases, those who should be investigated, prosecuted and convicted, simply get away with their crimes and continue with their lives.
In the past, targeted attacks on human rights and political activists were orchestrated and equated as counter-insurgency measures. Strong condemnation, local and international, resulted in a drop in the number of killings in 2007. At present, there are similar attacks on indigenous people, with the same justification used by the same military establishment, under a different regime. Under the Aquino administration, the killings, torture and abduction of victims are 'economic oriented'.
The state's economic policy – exploration of mineral resources, opening plantations to export crops, etc. in countryside – have led to massive displacement of indigenous people. In Mindanao, a combination of aerial attacks and foot soldiers, on the pretext of pursuing rebels, has displaced villagers in upland communities. Those who oppose these incursions – community leaders, NGOs assisting tribal groups, villagers officials – are executed on the pretext of being rebels. In other words, the military is equating a person legitimately demanding the protection of his and others' rights as being an armed rebel.
These violations are often a byproduct of the state's security and economic policies. While the military has been in a state of protracted war against rebels and militants for some time, military officers have now also become 'private security forces' for big corporations. By law, the state is obligated to protect the investments of corporations. This makes the deployment of military forces in upland communities justifiable, transforming the behaviour of the security forces to protect corporations, not villagers. Moreover, there are no repercussions for the violations committed by the soldiers. Those who oppose them are routinely arrested, detained, tortured and killed, and all this is justified by saying the opponents were rebels.
When the state is complicit in human rights abuse, where do prevention, redress and remedy fit in? This can be understood by examining how investigations and prosecutions are conducted.
The police, whose chief is appointed by the President, investigates cases of violations by default. In most cases that are political in nature, like the killing of indigenous people, the ordinary investigation process does not seem to operate. It is the prosecutors and their superior – the secretary of justice – who selectively prosecutes cases, routinely excluding those who are guilty. The AHRC has documented numerous cases of such actions taken by the police and prosecutors.
The solution to the protracted, ongoing, and becoming routine human rights violations by security forces requires both political and institutional measures. When Aquino assumed power in 2010, his agenda was to reaffirm the protection of rights. To this end, he promised justice to the families of the Maguindanao massacre. He will step down from office a few months from now, in June 2016, and his promise is yet to be fulfilled.
Aquino assumed office from the widely unpopular President Arroyo, whose regime was either equal to or worse than that of Marcos when it came to human rights violations. As in the case of the late Cory Aquino's regime, Aquino has failed to alter pervasive political and institutional violations. Human rights laws are not enforced effectively, and never result in punishment. The Anti-Torture Act of 2009 has not convicted a single perpetrator. Soldiers and policemen involved in gross violations of rights, like retired general Jovito Palparan, continue to roam free.
To date, both political change – from Arroyo to Aquino – and institutional change – from laws lacking protection of rights to more laws – have failed to alter the pervasive violation of rights existing in the Philippines. Not only are those in need of protection left alone, but the state is now committing violations as a result of its security and economic policies, which will go unpunished. It is time for the Philippines to examine how it can implement the laws protecting human rights and punish the perpetrators.
First part of a series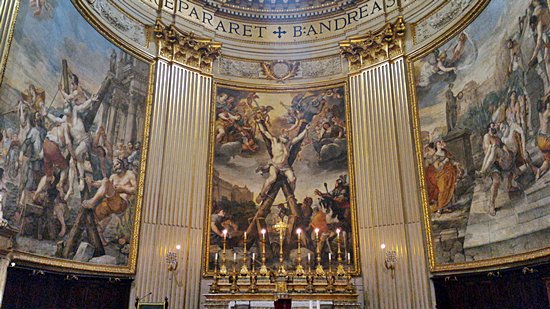 Sant' Andrea main altar - Saint Andrew's Passion
Pinoy in Rome: Countdown to the Jubilee Year of Mercy
By ROBERT Z. CORTES
December 5, 2015
The Extraordinary Jubilee of Mercy announced by Pope Francis around Holy Week this year is finally starting on December 8, the Solemnity of the Immaculate Conception, just a couple of days from now. That this special event in the Church's history begins on that date is, of course, no accident. This Pope's devotion to Mary, shown publicly every time he passes by St. Mary Major before any major trip abroad, should have made that choice almost predictable. However, aside from human choices, one ought to consider above all the guidance of Providence, whose will it is that the most important events in the Church happen under the mantle of Mary, Mother of the Church and Mother of Mercy.
So the idea to prepare proximately for the Jubilee Year of Mercy by making a novena to the Immaculate Conception made a lot of sense to me. And being in Rome, the city that arguably no place in the world can match in terms of the quality and quantity of sacred art present, I took advantage to do the following. For nine days – including the Solemnity, hence the term "novena" – I was going to visit an image of Our Lady venerated in various churches around the city. But which churches, though?
Given the multitude of beautiful and historic churches in Rome, it seemed the best way to approach this project was simply to be led by Providence. This approach is not "to be too mystical about it," as I learned quite recently from, of all people, a non-Catholic ethics professor in a very secular American university whom I interviewed a couple of months ago. His defense is that "there still is another dimension in terms of a holistic being in which our reason and our spirit and our emotions are an integrated whole… So, you listen to the voice of the spirit." This was actually good ecumenical advice to which my experience in the following days would attest.
These experiences, culled from my journal of these novena days, are actually Church history lessons devotional, tour-guiding tips, and philosophizing all rolled into one. I share them seeing that they can serve some purpose, however one may be preparing for the Extraordinary Jubilee Year of Mercy.
Day 1: Our Lady of the Sacred Hear in Sant' Andrea della Valle
Yesterday, November 30, was the beginning of the novena to the Immaculate Conception. It also happened to be the feast of St. Andrew. Now at the other end of the street where my university is happens to be a huge, looming basilica dedicated to Saint Andrew with the name "Sant 'Andrea della Valle." People with very limited time in Rome usually don't have time to visit this magnificent church, but really next time you come, you should. This church was actually built by the very same people involved in the building of St. Peter's and used this as their "practice" church; people like Giacomo della Porta and Carlo Maderno. The fountain in the square fronting the church is Maderno's.
The paintings and the frescoes inside are even more breathtaking. The dome and the ceiling are one of the best there is in Rome – and perhaps in Christendom. Since it was the feast of St. Andrew, precisely, I decided to do my prayer right there, before the huge fresco of the crucifixion of St. Andrew. I did my rosary in one of the side chapels dedicated to Our Lady of the Sacred Heart. And by the time I left the church, which is just a five-minute walk from my house, what else could I say, but thank You. Really there is nothing much else one can say.
Day 2: Our Lady and Child in San Salvatore in Onda
Funny what one sees when one changes perspectives. Going home from jogging one day, I decided to pass by the right (instead of the left) side of Via dei Pettinari (Combmakers' Street). I happened to look up by chance and I saw this charming image of Our Lady I had never seen before, even if I'd already passed by here more than ten times. Then, when I looked down, I likewise noticed what should have been an inconspicuous door. Now I saw there was a paper posted on it hinting that inside was actually a church called San Salvatore in Onda and the place where Saint Vincent Pallotti's remains are venerated. I took mental note of the opening schedule and resolved I would do the second day of my novena there.
What was behind that inconspicuous door? Actually a small but amazingly beautiful jewel of a church. First, behind the green door commonly seen along the street, was another set of wider doors made of beautiful, strong, old wood. It had a huge tarp proudly claiming that St. John Paul II had visited this church. For such a small church, I thought, it would be surprising any pope would do that.
But of course, if one knew JP II and St. Vincent Pallotti and what they each stood for, one would understand. For JP II loved to promote the apostolate among lay people, and St. Vincent, in his own 19th century, religious way was one of the promoters of the lay apostolate at the time when it was so much lacking. He founded the "Pious Union of Catholic Apostolate." That's a union of priests, religious and laity – but the "Pallotines" as they are called, really just consists of the religious brothers and priests, and the laity are, well... they're there. But that was certainly a huge start.
The church is now their home base, but it wasn't so at first. Built near the end of the 11th and beginning of the 12th century, it was given to the Franciscans from which two popes came from. Knowing this historicity of the church and that St. Vincent's body is now under the altar, one then understands this church deserved the Pope's visit. But to add to these, there's also the sheer beauty of medieval and renaissance art that one sees on the ceiling and the simple baldachin under which Mass was held, when I was there. The image of Our Lady and Child by Cesare Mariani in the main altar is also arresting.
The church has the appellation "in Onda" which means "in the wave" most probably because of the frequent flooding of the Tiber. I've seen some of these signs on marble stone around several parts in Rome, indicating where the river was at this or that point, and there's only one thing I can say. The worst Manila floods are as if only two inches, compared to Rome flooding in those days! I'm not sure if this has any connection to one image of Our Lady venerated there on a huge side altar, "Virgin most Powerful" – because one certainly needed a huge power to survive such inundations!
But last night, I know I was inundated by only one thing – thanksgiving for being surrounded by such beauty and holiness.
[Robert Z. Cortes is a PhD student in Social Institutional Communication at the Pontifical University of Santa Croce, Rome. He has an M.A. in Ed. Leadership from Columbia University, N.Y.]
Partisanship, openness, charity

By Fr. Roy Cimagala, roycimagala@gmail.com
November 30, 2015
IN our political discussions and exchanges, it's just fine to be partisan as long as we are open and respectful of all other views, including those that are different and opposed to ours. We should avoid any form of extremism by demonizing others who do not agree with us.
Partisanship is inevitable in our politics. And that's simply because we have different backgrounds and orientations, different preferences and priorities. Given our human condition, let alone, our weakness, mistakes and failures, we will always have differences among ourselves.
We should not be surprised by these, but rather learn to live with them as befits our human dignity. We should not allow that we be dragged by the dynamics of anger, animosity and hatred. Charity should always rule, even in our political choices as it should in all other aspects of our life.
Yes, we can be quite strong and fixed in our views, but this does not give us an excuse to let go of charity. In fact, these differences should be a good ground for charity to grow. Thus, the sharper the differences, the more intense should be our charity.
We have to avoid painting those who disagree with us as if they are the very personification of evil, completely incapable of doing anything good or saying anything true and worthwhile. This would be a simplistic and naïve way of looking at things, and as such, is fraught with potential dangers.
If we have to disagree, then let's disagree amicably, respecting each other and each other's position. No need for harsh words to be thrown, much less, uncharitable thoughts and bad intentions. Charity knows how to unite us even in our most hopeless and irreparable differences.
Sad to say, many of us today are behaving the opposite of what is proper to us. It starts with our political leaders and candidates down to the electorate and even to the general population, including children. We have to stop this.
We cannot paint a favorite candidate to be so perfect and saintly that we can observe no defect, mistake or fault in him. Neither should we picture a disliked candidate to be so bad that we can find no saving grace in him.
Let's always remember that all the saints and the appointed patriarchs and prophets of old have their defects and mistakes too, even after their conversion. They were always struggling, because they know that their sanctity is always a work in progress. It is never completed in this life.
Also, even those who are generally considered as bad people are still capable of doing something good. I remember one gospel episode where this possibility is illustrated. It's in the gospel of St. John:
"But one of them, Caiaphas, who was high priest that year, said to them, 'You know nothing at all; you do not understand that it expedient for you that one man should die for the people, and that the whole nation should not perish.'
"He did not say this of his own accord, but being high priest that year he prophesied that Jesus should die for the nation, and not for the nation only, but to gather into one the children of God who are scattered abroad." (11,49-52)
It is quite clear that even if by living charity, we may appear to be suffering a defeat according to human standards, God in his providence would know how to derive good from it.
We should not be afraid to suffer the consequences of human pride and worldly arrogance just because we try to be consistent with the requirements of charity. For those who love God and others, as St. Paul in his letter to the Romans would say, everything will always work out for the good.
Now that we are going through this delicate political process of electing our next leaders, we should try our best to avoid the pitfalls of emotional, knee-jerk reactions to the issues at hand.
Let us learn to be level-headed and to have a good grip of our emotions and passions. More than that, let us see to it that we follow the requirements of charity as strictly as possible. It is precisely in moments like this when charity is most needed.
Let's be careful with our words, and especially so with our thoughts and intentions. May they always be infused with charity, which is always the way to find the truth, to achieve justice and fairness proper to us. Charity is never a drag in our politics. It is what politics needs most of all! Charity is what leads us to the common good.
Integrity and competence

By Fr. ROY CIMAGALA, roycimagala@gmail.com
November 17, 2015
THESE are what we have to look for in choosing our public officials. Of course, to be realistic, we have to put these qualities in the context of the candidates' popularity and electability. But for Pete's sake, let's not make mere popularity the main guide in electing our officials.
We have to go beyond looks, pr gimmicks, smart sound bites, spins and vote-getting machineries. Sad to say, we cannot help but observe how local candidates tend to congregate around national candidates and political parties with vast and deep war chest. They are there more for the "fund" of it.
Neither should we go by mere genealogy and pedigree – that one is the son or daughter of so-and-so, or that his father or mother died in some dramatic circumstances. This is a dangerous way to elect officials. It's like impulse buying that leaves many of us with the buyer's remorse.
Neither still should we be guided by some forms of kinship – blood, political, cultural, social, geographical. While these factors and conditions have their valid values, they can only play a secondary role. They should never be the primary criteria. Of course, a big no-no is choosing candidates on the basis of who give us more money, dole-outs and other forms of perks. This way can only spell disaster.
We should not even be guided solely by the candidates' fame or their mass appeal, though that would already be a big help. We have to be wary of image-building tactics that do not necessarily show the true character of the candidates.
We should not be naïve as not to consider the many subtle forms of propaganda that sway people's favor unfairly. We have to discern whether that mass appeal that candidates may have, spring truly from some divine or humanly legitimate charisma, or it is simply a product of some witchery.
What we should look into in vetting the candidates is their track record, their performance in public service, their achievements and their mistakes and how they handled those.
Integrity and competence should always go together. Integrity without competence would not give us good governance. Neither competence without integrity. They are supposed to have a mutual relationship.
Integrity evokes a sense of completeness and wholeness as well as order, harmony, consistency, honesty. For us, it is crucial because it is something to work and live out, protect, defend and even fight for. It does not come automatically with our DNA.
We have to know its real essence, its firm basis and real source. We have to know the different elements involved in achieving it, as well as the techniques and skills to get the act together. Hopefully we can develop a clear and correct science about it, both in its theoretical and practical aspects.
Offhand, we have to be clear that the ultimate foundation, source and goal of our integrity is God, our Creator and Father. Hence, we have to understand that the pursuit of integrity cannot be done outside of this original religious context. Any understanding of integrity outside of this would be compromised right from the start.
Even if our concept of God and of how to relate to him is not yet clear, we have to hold it as a necessary prerequisite, at least theoretically, because it would be funny to look for the origin, meaning and purpose of integrity simply in ourselves or in the world.
That way of pursuing integrity would make it a mere human invention, and given the way we are, we could not help but be subjective and therefore prone to have different versions of integrity.
Competence requires a working knowledge of the common good and of what it requires. It involves a good understanding and practical skills to live the social principles of solidarity and subsidiarity. It demands one to have a clear vision of the goals to achieve. Otherwise, there would be disorder and chaos.
It requires continuing formation, continuing effort to know the concrete conditions and circumstances of the relevant issues and situations of one's work. Thus constant updating of relevant knowledge and skills is needed.
It urges the officials to always polish their virtue of prudence, making due study, consultations as well as timely decisions and action. It requires the officials to know how to coordinate the different elements of his office. It also involves a certain sensitivity to changes taking place and the ability to correspond to them without getting lost in the essentials.
With what we are seeing in this funny but painful episode of the "tanim-bala" in NAIA, let's hope that we can learn the lesson of how to choose our leaders and public officials.
Media today

By Fr. Roy Cimagala, roycimagala@gmail.com
November 9, 2015
THANKS to the wonders of the Internet, we now have easy access to many things, among them, newspapers and magazines. We don't have to subscribe to local and foreign papers to be able to read them.
With this exposure, I'm certain we are also forming many views and opinions, and we slowly discern the various underpinnings, political, ideological, religious, and otherwise, that the media outfits have.
I personally find it very interesting to compare opinions, styles, approaches, and see how they play out. There's thrill always in observing the flashes of genius as different writers argue and often clash.
Also I want to fish, even if only tentatively, the different trends and biases the different papers can have. These considerations always shed some light that makes things more understandable.
Almost automatically, several categories emerge in the mind as I instinctively try to sort out, classify, brand and label the different positions. Among these categories are the conservative/liberal, right/left, open-minded/close-minded, serious/commercialized.
With all these developments, we need to pay more attention to what is fundamentally important to those involved in the media. What is clear is that everyone in the media, just like everybody else, should realize very sharply our need for continuing formation.
This need cannot be set aside, much less, alienated. This is the lifeblood of our profession, as it is in any other profession. Anyone who marginalizes the need for formation in his work is doomed to stagnate, if not fail miserably.
And formation should not just be some vague and generic term. It should strike us as something urgent, and with many concrete elements that need to be attended to.
For example, people in media should know how to attain greater independence and gain better objectivity, how to adapt to a fast-changing world driven by technologies that develop quite speedily these days, etc.
These are some concerns that need to be looked into if we in the media wish to really serve the people and contribute to the common good.
We have to be sensitive to subtle tricks, personal, social and cultural, that can warp the integrity of our profession. These tricks are a constant threat. We cannot be naïve.
It would be good if we could have an inventory of biases and other conditionings that can affect our work. Some of them are unavoidable, but at least if we are aware of them, we can do something about them.
We have to be wary that unless we simply content ourselves to cater only to the ignorant and the impressionable, we need to improve our competence to satisfy the legitimate expectations of a more demanding and discerning audience.
But before we start thinking of what new style and techniques to learn to attain this goal, we have to remember one basic, indispensable requirement, one that needs continuing renewal and purification, given the condition of our life and work.
This requirement hopefully will give us a firm grounding, a sound sense of perspective, a clear focus and sense of purpose. It's the understanding that our media work is not just our work but rather is part of the divine redemptive plan for all mankind. We have to attune our work to that context.
This is our usual problem. Many of us still have the primitive pagan notion that the business of communication is purely a human affair, so completely personal, private or autonomous that God has nothing to do with it.
Or at best, that it is just a social phenomenon, ruled purely by some social consensus, with God and his commandments playing no more than a cameo role.
Of course, with this attitude we become most vulnerable to all sorts of pressures and temptations that certainly distort the standard of justice and fair play, of freedom and truth, etc.
Unaware of the divine character and redemptive mission of our work, we can tend to go in circles, stuck in the mud of wranglings, self-righteousness and useless speculations or worse, prone to the tailspin of frivolity, greed and inanities.
This does not mean that media work should be some kind of sacred, rigid and monolithic business. It can go mundane. It can and should respect the legitimate plurality of opinions proper of our autonomous earthly affairs.
But when there is this awareness of the divine character of our work, then the search for justice, freedom and truth can be pursued hindered less by our tendencies to be shallow in thinking, rash in judgment, rough in manners.
Even when there are conflicting views, there will always be charity in the discussions. Even when we are having fun, we don't forget God. This is our media challenge.