Rosary most relevant today

By Fr. ROY CIMAGALA, roycimagala@gmail.com
October 7, 2014
WE have just celebrated the liturgical memorial of Our Lady of the Rosary (October 7). It's this celebration that has made the whole month of October the month of the rosary. Let's hope that we appreciate the true value of this prayer.
I still remember my childhood days in the province when we were "forced" or at least "pressured" to say the rosary with Lola and Mama and other siblings who were "caught" at the time of this prayer. We did it kneeling down. Of course, I didn't quite like it, but neither did I feel mistreated. Filial obedience played a big role in this.
Since I could not escape, I just played along, but wondered why this prayer was so important it had to be that way. In a sense, I was both there and not there, my mind alternating between praying and getting distracted. Pretension reigned often.
It was only late in my youth, while I was already separated from the family to study in Manila, and therefore quite independent but aware I had to fend for myself, that I realized how important this prayer was. For a start, it gave me a tremendous calming effect.
To a person who was extremely excitable and sensitive as I was – though I would also know how to cover these traits – the rosary was most welcome. It gave me time and space to breathe and consider things more calmly.
But I soon discovered other more important aspects of this Marian prayer. I realized the value of vocal prayers. What I tended to take for granted actually contained precious ideas. I somehow discerned a certain beauty in them, far removed from merely physical beauty and transitory worldly pleasures.
And so to prevent me from falling into mere mechanical praying, I would focus on some phrases of the prayers, one at a time, and try to understand and fathom their meaning and figure out how they can affect my life.
That's when I relished the reality of God being a father to me, of what my attitude should be toward him, what I can expect from him, what I ought to ask from him, etc. Also, that Mary is such a wonderful mother who is a most worthy model to follow, the most competent teacher with respect to the virtues I ought to develop, etc.
More importantly, the rosary would start to give me a global picture of the redemptive life of Christ which I used to take for granted. Even a cursory meditation of the mysteries of the rosary would elicit all kinds of insights and considerations that I felt were very useful to me. I could use the youth-speak of 'cool' to describe them.
With the rosary, I get the sensation that I am seeing the different parts of the life Christ through the eyes of Mary, the one who understood perfectly the life of Christ and conformed herself to it is the most intimate way.
In other words, the rosary helped me to be a practical contemplative right in the middle of the world, teaching me how to see things through the eyes of faith and devotion. It inculcated in me a living piety that knows how to be lived right in the midst of the secular world.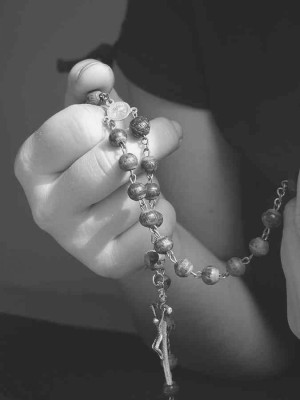 This, to me, is the greatest effect of the rosary. It is indeed an effective means to instill a supernatural outlook in us, a handy tool to ask for special favors through our Mother's intercession, a good way to spend time and know more about Christ and about her.
If there are pressures to bear, problems to solve, challenges to face, and even special intentions to pray for, the rosary is a good companion. Even when we get visited by insomnia, the rosary helps us go to sleep.
Especially these days when we are buffeted with all kinds of tension-causing predicaments, the rosary is a good antidote. It puts our mind and heart in their proper place, firmly rooted on Christ and oriented toward him. It makes us conscious of our human and Christian duties.
The rosary can be done anytime, anywhere. It need not be finished in one seating. And with the new technologies which enable us to follow it while listening to its recording, it can be done quite easily, even while we are driving.
It's good to spread this devotion as widely as possible, first in the family, then in the neighborhood, in schools, parishes, offices, etc. We can also organize pilgrimages to shrines of our Lady. All these can only have good effects on us all.
Watching helplessly as death slowly over takes a 4 year old girl

By BRUCE WHEATLEY
October 6, 2014
October 5th, 2014. This is an update of the Stunted Girl previously written about and posted here on this site, www.philippinebasicneeds.com. Six months ago, I 'purchased / leased / rented' this girl from her parents for a pick axe. Took her in, properly fed her and clothed her.
I had known her since birth and in fact if you look at the original video on this site, you will see her family living in a shack and the mother breast feeding this girl as a baby. She was offered to me to be adopted and I did look into it via a US and Manila based attorney who said the Philippine government would not allow a foreign adoption in this type of case.
Since then I have fed her and clothed her every trip back to Catbalogan. But after I leave the mother sells off the clothes and dresses the girl in rags again. Same as for her older brothers, also mentioned on the www.philippinebasicneeds.com site, and you can read about it in the New Pants for Street Kid post.
By the time I arrived in February of 2014, it was obvious the girl was not only stunted in growth, but also struggling simply to survive. No longer happy and laughing, she was about 42 months old and weighed 20 pounds. This is why I took temporary possession of her. When I am there, the parents are respectful and do what they are told to do. Of course it helps that I feed the girl's older brothers too. But then as soon as I go, the past way of life is resumed and it is business as usual.
Currently, the girl weighs about 15 pounds. FIFTEEN POUNDS / 6.8 kilos and she is now 4 as of August 10th. Even considering a possible scale error, she has not grown in the past 6 months and she has lost weight as she was weighed on the same scale. She has a chronic lung infection as does her mother. I have tried to get TB testing done but all I hear are excuses.
She was hospitalized 2 weeks ago for a week or so for IV medications and at that time the doctor said she had pneumonia. She is covered under the national health plan called PHILHEALTH, but…… if the hospital pharmacy has no medications, as they often claim, then the fact she has any 'insurance' coverage at all is moot as there are no medications in the hospital pharmacy. Therefore, patients and their families must buy, daily, any prescribed medications at local pharmacies and they are not reimbursed by PhilHealth. So the father comes to the charity people that run the charity for me asking for money.
Money cannot be given directly to him or his wife and it will be divided into food and alcohol and then medications. So the family that I have running the charity has to go and buy the medications and then deliver to the nursing staff. And you can buy only 1 day worth of medicine, as if you give more than one days medicine to the parents, they will sell the medicine to other families in the hospital who may have a script for the same medications. Then tomorrow they say the medicine was stolen and they need more.
As of now, the girl is sick and eats little even though the charity has proper food. The mother has no faith in the hospital doctors so she is taking the girl to a local witch doctor who is claiming the girl has been poisoned. While I doubt the poison theory, I can say that in the past 2 years several under 5 yrs old kids have 'died at night', suddenly all living in 100 meters of this girls shack, and the kids are simply buried by local custom with no formal authority looking into the death.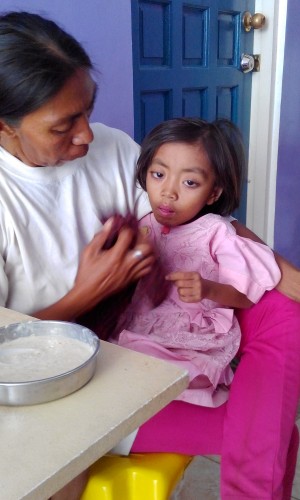 During my February 2014 trip when I took the girl, I treated her for active pneumonia and intestinal parasites and worms. But when I left the parents again took her. Why? Well even though anyone can see she is better off with me or the family that runs the charity, where she eats well and sleeps clean and dry and will one day go to school, she represents MONEY to the parents.
The family is professional beggars who have used their children as street beggars for years. Again, in looking on the www.philippinebasicneeds.com site you see One Eyed Victor and the story on how I paid to have his eye removed. He is one of this girl's older brothers. While yes it is good to have his eye fixed (see the pictures on the site), by fixing his eye, it lowered his earning potential as a street kid begging for money. I do have questions and never got any answer as to just 'how' One Eyed Vic got his eye damaged. Was it intentional to increase his begging earnings? What about this girl? Why failure to thrive? Why stunted when her brothers are not stunted? We may never know why or how the girl not only became as she is today, but more so, why is it allowed to continue?
Interestingly, this same mother has two older daughters who she took to Manila as young teens to find employment as house maids. She of course was supposed to get their money and of course that never happened and the Manila social workers eventually took possession of the two sisters, now, 16 and 19 and warehoused them until the older girl turned 18 and then shipped both back to… you guessed it, this same mother as the older one did not qualify for assistance anymore and as now an adult, she was told to accept responsibility for the younger sister.
I have again renewed my efforts to get this girl proper medical evaluation and treatment. However I do not see long term success as long as the parents are still the primary care givers. The local DSWD (welfare people) office staff are aware of the situation, but to them, this is but 1 of many such cases. Limited budget and limited resources, they do not seem to be much actual help in rescuing this child, named Jessa Mae, which I seriously doubt, will see her 5th birthday.
Any ideas? Let me know.
Bruce
pbncharitykids@gmail.com
philippinebasicneeds.com
Angels and men

By Fr. ROY CIMAGALA, roycimagala@gmail.com
September 29, 2014
WE have just celebrated the feast of the archangels Michael, Gabriel and Raphael (September 29). That of the Holy Guardian Angels is on October 2. It's good that we pause and focus our attention to a very important part of our spiritual reality that we often take granted.
Angels exist. They are real. We need to say this now since angels, if they are ever referred to nowadays, are often considered as mere figments of our imagination that at best can be used as literary and sentimental devices.
Obviously, faith is needed to believe in angels. They are creatures whose presence goes beyond what our senses can perceive.
They can however assume sensible forms as mentioned several times in the Bible. But essentially, they are pure spirits.
In this regard, it might be good to cite that episode when Christ met Nathanael for the first time. (Jn 1,47-51) It's a concrete example of Christ mentioning angels, thereby confirming the existence of angels not only by the highest authority we can have, but the very source of authority himself.
When the faith of Nathanael was stirred when Christ told him something mysterious, Christ told him: "Do you believe because I told you that I saw you under the fig tree? Amen, I say to you, you will see heaven opened and the angels of God ascending and descending on the Son of Man."
Besides, testimonies of saints and many other men and women through the ages are abundant regarding their encounters with angels, as well as demons. Angels exist. They are real. It's good to be aware of this reality and conform ourselves to it accordingly.
As spirit, angels are pure intelligence and will. That's what we have in common in them. That's why we are also spiritual in nature, except that ours is fused together with our materiality.
As pure spirits, angels are not subject to space and time as we are. Their knowing, willing and loving, which are the spiritual operations, are done in an instantaneous and intuitive way. And the God that they know, will and love is held in a definitive way.
In our case, our knowing, willing and loving go through stages. There is some kind of processing, of sensing and apprehending, then judging, then reasoning and concluding.
Though angels are angels and men are men, two different creatures that should not be compared unfairly, there is also good reason that we should try to be angelic, in the sense that, like angels, what we know, will and love should be done and held in an intuitive, definitive and conclusive way as much as possible.
Thus, some saints are described as angelic because their thinking and loving approximate the way angels know and love. They only had God in their mind, heart and intentions, and in their senses, words and deeds. Everything else was always referred to God.
Obviously, the difference we have with the angels has to be maintained, in the sense that our knowing and loving which have God as the primary object, the beginning and end, should be incarnated, materialized and translated into deeds, and not just kept in the spiritual level, in the world of ideas and intentions.
In other words, we have to strengthen what we have in common with the angels, but doing them in accordance to our nature which is a blend between the spiritual and the material.
In this regard, we have to sharpen our intellectual, willing and loving powers, seeing to it that they are firmly grounded on God and clearly oriented toward him. We have to be wary of our tendency to be entangled with the material dimension of our life to the point of making the material, temporal and worldly as the leading principle of our life.
But we also have to make sure that just as we have to strengthen what we have in common with the angels, we also have to strengthen what makes us different from them. We have to consider our materiality and temporality as important as our spirituality.
We as man are a union of body and soul, constituted both materially and spiritually. While we make a distinction between the two, in our life they are meant to be together. While there is a temporary separation of the two at our death, there will be a reunification at the end of time with the resurrection of the body.
We have to foster a great devotion to the holy angels, making that devotion a source of many practical resolutions, freed from sheer sentimentalism.
TUCP-Nagkaisa challenges DOE and ERC to disclose true reserve power
A Press Statement by the Trade Union Congress of the Philippines-Nagkaisa (TUCP-Nagkaisa)
September 24, 2014
The Trade Union Congress of the Philippines-Nagkaisa (TUCP-Nagkaisa) challenged both the Energy Regulatory Commission (ERC) and Department of Energy (DOE) to disclose their power supply data.
If the ERC which is supposed to be the independent power regulator has not spoken about an impending power shortage in 2015, even as the DOE is all over the place announcing a 300 megawatt deficit that can climb to 800 megawatt. Perhaps the ERC is aware of the existence of other sources of power.
We stressed the importance of correct data in undertaking power policy. If DOE has incorrect data, then the wrong arguments are being advanced and that's is why false solutions which are very expensive such as gas turbines, power barges, and generator sets are now being prioritized.
TUCP-Nagkaisa pointed out that the DOE proposal of contracting P12 billion of capacity – 300 megawatt genset or power barge with another 300 megawatt as reserve – will translate into easily a 50-centavo per kilowatt hour increase to be borne by all power consumers nationwide for two years. This will be an additional burden that workers and consumers can ill afford.
On the other hand, the TUCP-Nagkaia said that here are perhaps other more cost-effective solutions such as the Interruptible Load Program.
We are not comfortable with the ILP because it smacks of Meralco consumers subsidizing business and malls running their own generators to power up their airconditioning and electricity powered operations. However, it might, in the short run, be the least cost solution and power barges which are so expensive. It's just like buying 15 reserve tires when all you need is 1 for your car.
There is 1,300 mw of ILP out there. The question is who is campaigning for ILP participants to come on board to address the power crisis. Or is the DOE leaving the negotiating to Meralco? We can safely assume that it is being left entirely up to Meralco and that the DOE is again abdicating on its responsibilities. What has the DOE has done? Have they requested the President and the economic cluster of the cabinet to campaign with the potential ILP participants to open themselves to the ILP?
TUCP-Nagkaisa projections factor in ILP using diesel at P45 per liter as costing the consumers only an additional 10 centavos per kilowatt hour. You will have the added advantage that the 10 centavo increase will only be for the months you actually use ILP which can be as little as 3 months. Also, only customers in Luzon will be burdened, sparing Visayas and Mindanao.
TUCP-Nagkaisa has also advanced the adoption of corporate-wid – and not just voluntary – demand-side management (DSM). Raising airconditioning by 1 degree will result in less demand for power and free up capacity.
We are looking at DSM where industrial operations will be compensated for running at off-peak hours. Why doesn't ERC and DOE look to a solution that will not bring up power rates and that will lower carbon emission.
"But the first thing is to get the data right. Even now TUCP suspects that a lot of available power is being concealed. Take the retail suppliers who are providing the power needs of big industrial and commercial power users. Only 60% of the total capacity they have is under take-or-pay contracts with these large users. Where is the rest of the 40%? Are they just waiting for ERC to lift its current cap on prices in the WESM? And there is no more cap they will bid in?"
TUCP has conditionally supported the grant of emergency powers as long as it does not increase power rates. We warned that an increase in the price of power is sure to create an inflationary domino effect. Power is not a "stand alone" issue.
Take the matter of workers disposable incomes which are constantly being erode by high price of power. A 24-month period where power rates are jacked up by 50 centavos per kilowatt hour which does not yet factor in additional generation, transmission and distribution charges is sure to wreak havoc on the already meager salaries of workers. It will surely trigger an increase in the prices of basic goods and services, we will be left with no other response except to seek an increase in wages.
Emerging national green party supports protest against mining in the Philippines!
A Press statement by the Partido Luntian
September 17, 2014
Partido Luntian, an emerging national green political party operating in 9 regions, 27 provinces and 52 major cities nationwide, expresses its solidarity and support for the Alyansa Tigil Mina (ATM) and other anti mining advocates in their weeklong campaign to protest continued mining operations in the Philippines within the context of the Mining Act of 2005.
The emerging green party stands firm on its position of "minimizing mining" in the Philippines. We are pushing that "...mining be accorded least priority among the options for land use and revenue generations; with a minerals management regime that prioritize local community development and appropriate income for the government, equitable distribution of benefits and shared responsibility among all stakeholders"
Current mining in the Philippine is not contributing to sustainable development. According to Kalikasan Muna Zambales Movement Convenor and Party Central Luzon Chapter Chairperson Hilary "Padz" Pangan, "Zambales is now one of the poorest province in the country, yet with the most number of mines!"
"What we have in the Philippines is unsustainable extraction of our finite natural resources. We oppose this especially so that it has not brought better economic development", adds Pacencia Milan, Ph.D., Eastern Visayas Regional Chapter Party Chair. Dr. Pacing is part of VEAM (VISCA Environmental Movement) in Baybay City, Leyte and together with other academic institutions successfully opposed mining by pushing their city council to passed a local ordinance for a moratorium of mining in Baybay City. "While in other areas where mining has happen; like in MacArthur, Leyte and in many other communities nationwide, citizens are opposing mining such as the black sand mining in MacArthur as it destroys their rivers and rice fields", she adds.
"Our current mining system threatens our food security and promotes further conflicts within communities. It threatens the tri-people of Mindanao" declares Abdullah "Aby" Pato, Party Central Mindanao Chapter Chairperson who is also Lead Convenor of Task Force Food Sovereignty from Kidapawan City. He explains further that the mining operations in Columbio, Sultan Kudarat is causing massive erosion impacting on critical catch basins such as the Liguasan Marsh, a biodiversity-rich ecosystem and home to many species endemic to the marsh.
As members of the ATM protest the International Conference hosted by the COMP (Chamber of Mines of the Philippines) and march in the historic Mendiola to bring the opposition of a growing number of local communities against mining to the doorsteps of Malacanang Palace, we voice our solidarity with them for this struggle.
We continue to commit support for the passage of the Alternative Minerals Management Bill (AMMB) that will rationalize, nationalize and fundamentally reform mining focusing it and minimizing it to a point that it serves directly our national green development goals and acting only as last resort after optimizing on mineral recycling and only in areas where a complete natural resource valuation and proper land use assessment will show that it does not compete with the use of land for food security and forest and marine conservation.
Birthdays

By Fr. ROY CIMAGALA, roycimagala@gmail.com
September 8, 2014
WE have just celebrated on September 8 the birthday of the Blessed Virgin Mary. She is the mother of Christ, who is both God and man. Therefore she rightfully could be called also as the Mother of God.
She is also our mother, because Christ, before his death, gave her to us through St. John to be our mother. "Behold your Mother," he said. It would be good if we get more aware of this truth and act accordingly, developing a deep Marian devotion that would always of full of practical effects.
That is why I like that Latin Marian aspiration: "Beata Maria Virgine, mater Dei et mater nostra." (O Blessed Virgin Mary, mother of God and our mother). It's an exquisite, heartwarming reminder of the truth of our faith that we all belong to the family of God, despite our huge and multiplying differences.
Her birthday, of course, is a great occasion for joy. It's a big family celebration where all the children from all corners of the world gather together, spiritually and morally more than physically, to be with their mother, greeting her and showing her our filial affection.
We may not get along well among ourselves, divided as we are in our cultural and social conditions, not to mention our political and economic views. But on this anniversary of the nativity of our common heavenly mother, we rise above these differences and unite ourselves with the sole purpose of making our mother happy.
Obviously what would make her most happy and what would comprise as the best gift we can give her on her birthday is when we make another renewal of our promise to love God above all things and to love others for love of God. This would make her most happy, since this will be the fulfillment of her fondest desire for us.
Her birthday, of course, is a good occasion to pause and reflect again more deeply on the importance and relevance of our Mother Mary in our lives. She is the most privileged person, all full of grace from her conception to her death, assumed to heaven body and soul and crowned as queen of the universe!
She is truly a mother who never stops in taking care of us, of interceding for us before our Father God, especially when we have something serious to settle with him.
She is our unconditional advocate and defender, ever willing to put a good word on our behalf before the divine seat of justice. She will always try to soften God's justice and to gain for us his mercy. She is the very channel of grace from God to us.
We can also take the occasion of her birthday to reflect on the significance of birthdays in general. A birthday is always a happy event, since it is a celebration of life, a great gift from God, completely gratuitous. It is the vehicle that bears and carries all the graces and blessings from God.
With one's birth, it's like God is all willing to go through an adventure with us that would be an exciting, suspenseful interplay of God's love and our freedom to love him return or not. He is giving us everything, even raising us to be children of his, made into his image and likeness.
We are all free to uphold that dignity or mess it up beyond recognition. Still God, with is ever powerful, wise and merciful providence, would do everything, including the very mysterious ones, unknown to us, to draw us to him even while respecting our freedom. Evil would not have the last word. It's God's love and mercy.
These truths of our faith should be in our mind whenever we celebrate the birthday of someone. That spontaneous joy we experience when someone is born is due more to these truths than the mere physical appearance of the baby.
These truths may not be explicitly articulated, but they are there deeply embedded in our consciences. That's why it's good that from time to time we sit back and reflect on the significance of birthdays, and update our consciousness to these fundamental truths.
Better still, we can make use of the initial human reasons for joy to arrive at the more fundamental theological reasons behind one's birthday. God never suppresses our humanity. He is always respectful of it and continues to enrich it with his graces.
It is more for us to discern the abiding workings of divine providence in our life and cooperate with it as best as we can. Mother Mary can help us greatly in this.