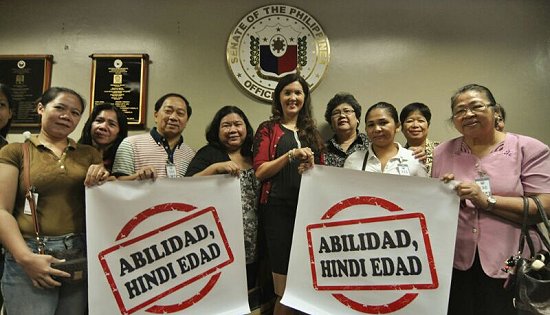 Sen. Pia Cayetano meets with members of the 'Abilidad, Hindi Edad Coalition' after delivering her co-sponsorship speech on the Anti-Age Discrimination Bill at the Senate on Tuesday, June 10.
Stop Age Discrimination!
A co-sponsorship speech by Senator Pia S. Cayetano, 10 June 2014
SB No. 29 under Committee Report No. 38 entitled, Anti-age Discrimination in Employment Act of 2013
Abilidad, hindi edad.
Mr. President, this is the battle cry of Filipino workers in the country and beyond our shores, who have made a strong stand against age discrimination in the workplace.
Our Constitution mandates that the State shall promote equality of employment opportunities for all. Yet, whenever I go around the country, people would walk up to me and share stories about how they couldn't land jobs despite their ability and willingness to work. As it turns out, age discrimination was the culprit.
And true enough, if any senator here would open the classified ads to check what jobs are available, he or she would see age requirements specified for jobs that can be performed by both the young and old.
Age discrimination is one of the biggest barriers to employment in this country, and yet there is no law to prohibit it. There is none in our Labor Code; and until recently, it was not even on the policy radar screen of the Department of Labor and Employment.
Mr. President, Senate Bill No. 29 under Committee Report No. 38 entitled, An Act Prohibiting the Discrimination on the Employment of Any Individual on the Basis Merely of Age, seeks to precisely do that. Its provisions apply to all employers including national and local governments, labor contractors and even the trade unions themselves.
The Blas F. Ople Policy Center, a non-government organization and other major labor groups such as the Trade Union Congress of the Philippines, Federation of Free Workers, Alliance of Progressive Labor, Partidong Manggagawa, and PSLINK, a federation of government unions – have expressed full support for the passage of a law to prohibit age discrimination in the workplace. They have even formed a coalition – the "Abilidad, Hindi Edad" movement. In Mandaluyong City, a member of that coalition, Councilor Jesse Cruz, filed a resolution against age discrimination that was unanimously approved by the city council.
Ladies and Gentlemen, while we respect the prerogative of an employer to choose the best fit for his or her company, their discretion is not absolute. It must be tempered with the principle of fairness and equal opportunity for all. Ability, rather than age, should be the test.
Unless the State intervenes through legislation, the exclusion of capable workers will continue. How can we obtain an inclusive growth when millions of Filipinos cannot even get past the security guard in order to submit their resumes?
Moreover, Mr. President, the passage of Senate Bill No. 29 as recommended in the report of the Senate labor committee will ease the way for our overseas Filipino workers, mga bagong bayani, to get jobs in our country, instead of constantly leaving because they are too old to gain a foothold in our own workforce.
Kasama po natin ngayon sa gallery si Sheron Lumage, isang dating OFW na mula sa Saudi Arabia. Isa siya sa hirap na hirap makahanap ng trabaho sa kabila ng masigasig na pag-aaplay sa iba't ibang kompanya. Ang dahilan kung bakit di siya matanggap? Edad, hindi dahil sa kulang sa abilidad.
Sheron, Mr. President, is only 38 years old.
The approval of Senate bill No. 29 will enable the Philippines to join more than thirty other nations recognized around the world for upholding the ILO's convention on equal employment opportunities for all workers.
The enactment of Senate bill No. 29 will signify to our workers that their skills are needed, and their productivity as gainfully assured individuals is valued, by the State, and our society as a whole, regardless of age. The sad truth, ladies and gentlemen, is that age discrimination also affects younger workers – who are sometimes discriminated against because of youth and appearance.
None of us are getting younger, Mr. President, although with today's technological advances, we can look much younger than our actual years. However, the legal remedies for those seeking to work because they have so much to offer in terms of skills and experience cannot be cosmetic in nature – given the far-reaching implications that age discrimination has on our economy and the financial capacities of every Filipino household.
To be discriminated against due to a natural and unstoppable process of ageing is to impose another glass ceiling that is even just as, or even more difficult to break, than that of gender.
And if you are a woman who offered the prime years of her life looking after the family, the burden of finding work after the age of forty gets even heavier, thus forcing many of our female kababayans to risk their lives and honor as domestic workers in the Middle East.
Age discrimination is also one of the factors why so many of our OFWs choose to remain in war-torn Syria or are hesitant to leave Libya despite the DFA's Alert Level 3, despite serious threats to their lives.
We need to pass this law, Mr. President, to level the playing field and bring hope to those who have, due to age and nothing else, been unfairly excluded from the job hiring process.
Let this be the Senate that will finally put an end to age discrimination in the workplace.
Maraming salamat po!
There's more fun with God

By Fr. ROY CIMAGALA, roycimagala@gmail.com
June 3, 2014
I COULD not help but laugh out loud while listening to a venerable 79-year-old Monsignor tell the story of how he discovered his vocation. I had great fun, and it made me more convinced that fun is actually part of God's plan for us.
He said that ever since he was a kid, he was already exposed to parish life, since his parents were very active in the church activities. He became an acolyte which was no mean feat at that time since it required great discipline. One had to memorize Latin prayers and do complicated moves.
That early, he already toyed with the idea of becoming a priest himself. But there was a big but. He found the priest of the parish, an old Spanish priest, too serious, too ascetic for comfort. He thought he could not measure up.
"He was always in cassock," he said of the priest. "He wore it even in his bedroom such that I never had a chance even to see his feet. I only saw his head and hands."
So the young boy thought priests must be a different kind of people. "The priest was not like my father," he said of his impressions at that time. His desire to become a priest waned a bit.
Then a Filipino priest replaced the Spanish one. Still the Filipino priest was always wearing the cassock the whole time. The boy found the new priest to be too serious and too rigid also.
He was about to give up with his priestly desire when one day he went with the priest and others to a certain place. It was very hot that day, according to him, so hot that the priest took off his cassock. That was the first time he saw how a priest looked like without a cassock.
Not only that, he saw the priest go to a bush to take a leak, and that was when he finally realized that priests are also like everybody else. That erased whatever doubts he had that he too could become a priest.
Looking at the Monsignor, I was convinced that he had gone light years away from those childhood ideas of priesthood and yet remaining childlike in his simplicity and outlook in life. I was convinced God sometimes plays games and tricks with us to convey his most sublime will for us.
The whole story reminded me of what the Book of Proverbs once said: "Playing in the world and my delights were to be with the children of men." (8,31)
There definitely is fun to be with God. In fact, there's more fun with him than with anybody or anything else in the world. Living with God, fully dedicating ourselves to him never lacks moments of exquisite joy, fun and pleasure. Life with God is never dull or boring. It is full of adventure and excitement and fun.
Yes, living with God also has its big share of suffering due to our sin. But if we consider the whole message of the Christian gospel, we know that everything will always turn out for the good. So there's really no serious and permanent reason to be sad or troubled or disturbed.
We have to learn how to be game and sport in the drama of our life here on earth. Problems, difficulties and contradictions just offer us occasions to have excitement and suspense, knowing that no matter how things end humanly speaking, we would always win if we strive to be with God.
St. Paul said it. "For those who love God, all things work together unto good." (Rom 8,28) As a consequence, we have reason to be hopeful and optimistic. We can even afford to face the drama of life with humor and elegance without neglecting the requirements of continuous self-giving and sacrifice. It's a matter of choice.
St. Josemaria Escriva also narrated the funny story of a juggler who wanted to become a cleric. Since he was poor both money-wise and intellectually, he felt inferior to the other aspirants who were endowed with great talents.
Not knowing what to give our Lady on one of her feasts, he thought that at the middle of the night he would get to the chapel in secret and do his juggling before her image.
He did it, but his superior caught him in the act. But before calling his attention, the superior saw that the image of our Lady was smiling and even moved to wipe the sweat from the juggler. He let the juggler finish his act.
Filipinos do have a role in fight for democracy in Hong Kong
By DANILO REYES, AHRC
May 15, 2014
(Note: this article was first published in the May 4, 2014 issue of the Sunday Examiner)
I am a Filipino but I see myself a Hong Konger.
If we are to take the guidelines of Hong Kong Unison, a non-profit organisation advocating for the protection of the rights of ethnic minorities, a Hong Konger is any person who sees Hong Kong as their home. One is a Hong Konger "because we are part of it, we care and we have to make ourselves heard."
This sense of identity of our self – not only of our ethnic, nationality and country of origin – but of how we see ourselves as we live, work and stay in Hong Kong is important. The people in Hong Kong are in an ongoing struggle for the democratisation of its electoral system. The universal right to elect the leader of one's choice and to stand for election is a dream here.
So, what can ethnic minorities, notably the Filipinos, contribute to the realisation of this dream in support of the Hong Kong people?
Firstly, it is important that we have to first understand our 'self' as a Filipino and our relation to this territory and its people. This sense of identity of our self as a Hong Konger is very profound. It gives one a sense of an inclusive social and political environment not only of us into Hong Kong, but into the hearts and mind of its people. They must be informed somehow that we do care for this place.
Hong Kong is our home. We are not transients in this territory. In fact, many of the domestic workers have lived, worked and studied longer than some Filipino residents. This is certainly true in the case of myself and my family. Regardless of one's condition of stay, one can play a role to compliment both Filipinos and the people of Hong Kong.
As of February this year, the total number of Filipinos in Hong Kong is 178, 716 of this number 14,088 are Residents.
Secondly, why we must care about the Hong Kong people's aspiration for democratisation? We may be a minority and small in numbers; however, we have invaluable insights and ideas to offer: the Filipino people's collective experiences in the democratic struggle; the lessons we have learned from this that only our 'self' can articulate. We have lived through it.
Hong Kong is not a democratic territory; rather it is part of China. But I never experienced and understood, in a profound way, what a democratic institution means until I started living here nine years ago. I had to leave the Philippines at the height of targeted attacks against Filipino activists to continue my advocacy here.
In fact, historically, the link of the Filipino democrats and the revolutionaries in this place could be traced back to the Spanish colonial period in the Philippines; to its contemporary period from Marcos rule to present day. Many Filipinos have used this territory as a base to advocate democracy and the protection of rights back home.
Here, in a territory where the leaders are selected by a few members of the few Hong Kong elite, through an election system known as a functional constituency, we can express ourselves freely and associate with whomever we chose without repercussion. Here we have a sense of protection. In the Philippines, on the other hand, our elected leaders are unable to protect the citizens who put them in office and worse still, even engage in and justify the harassment and killing of democrats.
Thirdly, here the Hong Kong people have what the Filipinos do not: democracy in its substance. In the Philippines, while we do have universal suffrage and our electoral processes are democratic our public institutions remain undemocratic 28 years after the People's Power Revolution. Our dreams and aspirations continue. Living in this place we have concrete experience of democratic ideals.
While we have learned much from Hong Kong and its people, in the Philippines we have what the Hong Kong people do not: universal suffrage. Our contribution then to the people of Hong Kong is to offer our insights. We have lived and experienced how democratic institutions functions in this territory; and how societies like ours can deteriorate if institutions are not democratic.
So we do understand and share the concerns of the Hong Kong people that unless democracy is realised here, a threat to the core value of the rule of law is imminent. The dreams and democratic aspirations of the people of Hong Kong are also our dreams. Their loss is our loss. This is our home.
I urged Filipinos to join the ongoing debate on the democratisation in Hong Kong. Joining this discussion, like the forum, titled: "Democracy and Minority Rights," hosted by the Hong Kong Unison at the City University in April might be the first step.
Let's all be Marian

By Fr. ROY CIMAGALA, roycimagala@gmail.com
May 8, 2014
WE have to count our blessings! In spite of how the world today is plunging headlong toward secularism and worldliness where God has hardly any place or is treated more as an ornament than for what he truly is, we still have certain practices that lend themselves easily to deep popular piety.
One of them is the "Flores de Mayo." In practically all the parishes of the country in the month of May, little girls, with a generous sprinkling of little boys too, usually donning white dresses with angel wings and halos as props, go to their respective chapels and parish churches to offer flowers to our Lady, Mother of God and our Mother as well.
It's a very beautiful and moving sight to see these children making their baby steps in developing a Marian devotion, and on the side learning how to pray and continuing their study of the catechism of the doctrine of our faith.
I have often wondered why this practice has survived up to now, considering that the world, if not occupied with very absorbing worldly affairs, is beset with all sorts of problems, some of them crying to heaven for immediate relief, and theoretically should weaken people's devotion and piety.
I have no other explanation than that it's a working of the Holy Spirit who makes use of a local custom already deeply rooted in our culture. There's also what I call a certain Filipino temperament that seems to be quite receptive to truths of faith and practices of piety.
I know that there are people who consider these traits of ours more of a weakness than a strength. Still the fact is hardly anyone is complaining, at least loudly. How can the little children, with their parents and elders, be faulted if they want to have such devotion to our Mother Mary?
This heart-warming custom should remind us that we too, all of us, in fact, should try our best to develop a deep Marian devotion, making use of this Marian month of May to make a few more steps in that direction.
Mary is indispensable in our life. She is not just a kind of decoration in our life of faith and piety. She is no mere incidental or optional character in our spiritual life. She is integral to our faith, and therefore, somehow essential.
And this is mainly because Christ himself, on the cross just moments before his death, gave his mother to the disciple John – "Woman, behold your son...Behold your mother" – a gesture that the Church interprets as Christ giving his mother actually to all of us also.
We can somehow understand why Christ did so. Being the epitome and the very pattern of our humanity, his mother must also be our mother. That's because what is his is also ours, even as what is ours, including our sinfulness, he made also as his own, a divinely-initiated exchange generated by pure love. And this principle applies well to our relation with Mary.
Besides, Mary has all the qualities of a mother to the max. She was and is always caring, understanding, ever willing to defend the children before the justice of the father. As a woman and a human person, she embodies all the virtues proper to us.
All of this wrapped up in a motherly fashion that is alien to showiness and self-seeking. She knows how to pass unnoticed even if she also knows how close she is to God, how effective and powerful her appeals are before God. When Mary speaks, God listens. When Mary asks, God grants.
This was how the saints have looked at Mary. Thus, in their most intense trials, they managed to remain calm, because they knew Our Lady was with them, reassuring them that everything, including their sufferings, was worthwhile.
In this age of rapid developments, we should make an effort also to deepen our devotion to our Lady, our Mother. She will do nothing to hinder us in our legitimate pursuit for progress.
But she will make sure that we remain childlike before God and before her, full of faith and trust, able to keep our spiritual and supernatural outlook in spite of the worldly things we are immersed in.
This is important if we do not want to get astray in our worldly affairs. And since we are not little kids anymore, somehow disqualified to do "Flores de Mayo," we can always do many other things to mature in our Marian devotion.
We can pray the rosary, the Angelus or Regina Coeli, do a pilgrimage, etc.
Lord and master of the Internet

By Fr. ROY CIMAGALA, roycimagala@gmail.com
May 6, 2014
THIS is what we ought to be. As much as possible we should avoid becoming slaves of the Internet, helplessly dependent on it, totally at its mercy, already losing effective dominion over our instincts, passions and our other weaknesses that this new technology can mindlessly if sweetly stimulate all the way to our destruction.
This is now a major concern, since even a cursory look around can yield abundant pieces of evidence of men and women, boys and girls, young and old, healthy and sick, completely blown away by the dizzying freefall of its deceptive beauty and usefulness.
One can see a sharp rise of couch potatoes, tied to laziness, idleness and complacency, swallowed up in a sinkhole of inanities and trivialities, willing victims of the urges of pride and vanity, self-seeking and self-assertion, lust and greed.
There is some kind of addiction afflicting many of the people. Many are practically defenceless and clueless to the tricks and traps of the Internet. In its wake are left the debris of disorder, anguish, frustrations, conflicts, etc.
To be sure, this new technology gives us a lot of advantages. For these, we have to be very thankful. But we should not forget that these good things always come with a price, and in fact, a high price, because if misused and abused, they can spoil us into a rotten pulp much more than what illicit drugs can cause. It can be a Trojan horse.
The harm inflicted by its misuse is of the spiritual type, not just of the body. And if we believe that the spirit is the one that in the end gives life to the body, so once it is impaired if not rendered practically dead, then the body actually suffers tremendously, irrespective of how good and healthy it may look based on the appearance alone.
We have to ring the alarm and warn everyone of this present and clear danger. More than this, we have to set about teaching and helping everyone on how to use the Internet properly.
I believe this is an issue that cannot be handled by giving out platitudes alone or occasional reminders, etc. It has to be taken like the bull by the horns. We should not take it for granted, or lightly. This is a very serious issue that affects all of us irrespective of our political colors or socio-cultural conditions.
The aim is to equip everyone adequately by clarifying the true nature of freedom and how it can be lived properly with respect to the use of the Internet. "All things are lawful for me, but not all things are helpful," St. Paul warns. (1 Cor 6,12) "All things are lawful for me, but I will not be enslaved by anything."
Alas, not many realize the wisdom of this truth of faith. For many, freedom is, as they say, what comes naturally, that is, what their passions, feelings, curiosities, etc., urge them.
We need to disabuse ourselves of this false and dangerous understanding of freedom. More than that, we need to acquire the appropriate attitude and skills to live the true nature of freedom and its consequences.
A basic requirement for this is faith in God that is nourished through prayer, sacrifice or self-discipline, study of the doctrine of our faith, especially with respect to morality, recourse to the sacraments which are the ordinary channels of God's grace, lifelong development of virtues, and the art of spiritual or interior struggle and warfare.
There's always a great and indispensable need for us to grow and mature spiritually. Now is the time to realize more deeply that this particular need has to be attended to first of all and always, and never to be sacrificed in exchange of some immediate, practical but very perishable benefits that the Internet and other worldly things can give us.
We need to develop our spiritual or interior life, nourishing it always with the truths of our faith and the many and endless acts of hope and charity. Only in this way can we have dominion and mastery over our earthly affairs.
For some practical guidelines, it might be helpful to determine and limit our time of going to the Internet. Let's avoid going to it at the instance of our whims. Definitely, it should be made to compete with our time for meals, family gatherings, work, and especially our prayers and other spiritual activities.
We need to practice temperance, restraint and moderation always. We have to keep close guarding of our senses, both the external and internal.
Touched by John Paul the Great

By Fr. ROY CIMAGALA, roycimagala@gmail.com
April 21, 2014
YEAR 2014 is fast becoming a very special year for me. There actually are many reasons for this, and all of them leave me profoundly thankful and nervous. But among the reasons is the most gratifying fact that two men, very close to my heart, will be raised to the altars in this Year of the Laity.
One is Bishop Alvaro del Portillo, successor of Opus Dei founder, St. Josemaria Escriva, who will be beatified in Madrid on September 27. He ordained me to the diaconate in Rome on January 28, 1991. It was his first time to ordain candidates to the priesthood, since he was just consecrated bishop a few weeks earlier that year.
The other is Blessed Pope John Paul II who will be canonized saint on April 27. By an extreme stroke of luck and, I believe, a pure bolt of grace, I was chosen as one of those to be ordained priest by him in Rome that year on May 26, Trinity Sunday.
The moment I was told I would be ordained by Pope John Paul II, I literally froze in disbelief. Spontaneous and strong flow of prayers came a little later. I stammered in thanking God for the great gift, then I started to trace what brought me to that life-changing event.
I don't think I was a particularly religious person when I was a kid. All I had in mind was to play and be naughty, just like anybody else among my friends. But my mother saw to it that I prayed the Rosary with her and some of my siblings who happened to be caught by her at the moment.
She it was who instilled in me, among many other things, love and veneration for the Pope. My lola and the teachers in grade school, mostly nuns, did the same. And I just developed that love to the point that whenever I saw a picture of Pope John XXIII, the Pope at that time, I felt good and holy and somehow urged to behave.
The nuns in school encouraged me to enter the seminary, but when I brought the idea to my father, he said, no way. And so I forgot about priesthood and pursued what everybody else among my friends was pursuing. At that time, all I wanted was to become rich and all that thingamajig.
But I met Opus Dei while studying in college in Manila. And my life changed, made a sharp turn. Well, that's now history.
My love and fascination for the Pope grew even more. When Pope Paul VI visited Manila, I happened to stay just a few houses from where the Nunciature, where he stayed, was.
I remember standing the whole day right in front of the Nunciature together with the crowd just to have a glimpse of him. And when I had those glimpses, it was as if I was floating on air with joy. Prayer when infused with joy became effortless.
Then entered Pope John Paul II in 1978. At that time, I was already a professional man, working in some office, but also into deep philosophical and theological studies. It was he who sort of challenged me to take more seriously my Christian formation.
I found him irresistibly stimulating and engaging. I was sure his presence, his words, even his mannerisms were all so soaked with a certain charism that I just found myself insatiably devouring his writings and any piece of news about him. I knew I was learning a lot and growing interiorly.
When he visited Manila in 1981, I volunteered to be part of a press team. That enabled me to see him at close range. It was in Baclaran church, his first stop after arriving at the Manila airport, when I had the first chance almost to touch him if not for the security who stopped me at the last split second.
Then I was asked to go to Rome for ecclesiastical studies. I actually did not seek the priesthood. I simply was called to it, and I just said, yes, after a little reflection.
I still vividly remember every moment of that day of my ordination. What struck me most was that he started it very tired. He just came in from a trip and he already had serious health conditions. But as the event went on, I noticed he became very alive. At the end, he talked to me as if he knew me all along.
I have no doubt he is truly a saint!