Pinoy in Rome: At the Door of the Jubilee Year of Mercy (IV)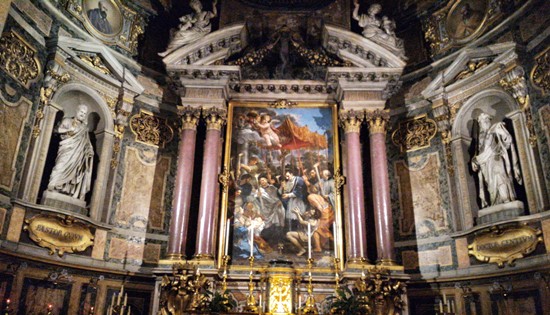 By ROBERT Z. CORTES
January 20, 2016
Day 5: Mother of Sorrows in San Carlo aiCatinari
At around this time of year, there is one scene in the Roman sky that never fails to impress tourists. It is those huge swarms of black starlings that move around the city and form very graceful formations in the sky. If one didn't know what else these huge, graceful clouds of birds were capable of, he or she would then immediately take out his or her camera and then, perhaps with mouth agape, would video the magnificent flight exhibition in the sky.
Of course, the experienced Roman would know how dangerous that position is. In fact, not only would they not keep their mouths closed, they would even take an umbrella when walking under these swarms - and especially when these birds land on the plane trees which can be found all over the city. For it is then when one realizes the stinking truth: these graceful birds actually unload so much excrement on the unsuspecting passerby.
I tell this detail not only because this is an important warning for future tourists here in Rome. This detail is actually significant to my story on the fifth day of my novena to the Immaculate Conception. For as I approached the not-so--but-should-be-famous church of San Carlo aiCatinari, and heard from a distance the cacophony of starling sounds and began smelling the stench, both of which became unbearable as I got nearer the plane trees that fronted the church, I knew better than to stand there for a second more. I positively felt the need to enter the church as fast as I could.
The moment I closed the door behind me, I immediately felt the relief both of body and soul. I could still hear the unrelenting noise from outside, but it was greatly reduced and I felt quite safe inside the church. It may sound funny, but really, at the time, it came to my mind that the church was my salvation. It literally saved me from birdshit by providing a roof over my head and walls to protect my nose and ears. And what roof and walls: a richly gilded ceiling that only the baroque can offer and walls holding such beautifully adorned chapels.
The main altar holds a painting by Borromini's and Bernini's contemporary and peer in talent, Pietro da Cortona. It shows St. Charles Borromeo carrying one of the nails that bore our Lord on the Cross. Both the painting and the altar that holds it are breathtaking. But what was more breathtaking for me was the image of Our Lady to the right of the main chapel, the image of Our Lady, Mother of Divine Providence.
The entrance to the chapel shows the baroque in its magnificence - angels and drapes and all. Charming as well were the little pillows that bore the names of children born through the intercession of Our Lady: pink for girls, blue for boys. It was uplifting to see that Italy, which has the lowest birthrate in Europe, is still producing babies as late as 2015. Our Lady's image, of course, is the most charming of all. It is said that St. John Paul II was so fascinated by the beauty of the image that after praying, he exclaimed, "I would like to entrust Rome and myself to this Madonna so beautiful and remarkable..."
I couldn't agree less with that. But in this visit, what impressed me the most was not, in fact, this image, which I could only see from a bit of distance. I was struck more by the Madonna Addolorata (Our Lady of Sorrows) that greeted me right at the entrance. There were no railings to separate me from the image and so I could come very close – even touch the feet through a hole in the glass. I stared at the face filled with so much anguish and sorrow – and I couldn't help but kneel. Then I realized it was a Friday, the day for the sorrowful mysteries. Talk about the guidance of Providence.
So before that inspiring image I prayed for everyone I could remember in that Rosary – even the Pinoy OFW sitting on the bench some meters behind me. He had given me a startled and anguished look as I entered the church. I think I understood his feeling of solitariness and was sorry I couldn't be of any greater help, except to pray. But I was praying to Our Lady who knew what it was to suffer – so I'm sure he would be better somehow.
I knew I was. When I went out of the church, the starlings were still as cacophonous as ever and the stench of their dung so foul. But I took time to look back at the magnificent facade to appreciate the work done by Giovanni Battista Soria (who of course reminded me of Fr. Gary Edgar Fajardo Soria). What happened to my disgust of starling? Well, it was still there, But having been reminded about how much Our Lady had suffered, what's a little birdshit in this life to stop me from admiring the beauty of God's wonders?
Day 6: The Presentation of Mary in Santa Maria in Monticelli
Seeing that my schedule was going to be full in the afternoon, I decided to do my church visit for the sixth day of the novena to the Immaculate Conception in the morning. As well, aware that it was Saturday, I wanted to visit a church dedicated to Our Lady. There are several of these around where I live and I chose one which I just serendipitously discovered some days back, when I decided to make a random turn on my way home.
The relatively small church is called Santa Maria in Monticelli. It's a very old church, having been consecrated in the early 1100's, such that no one even knows where the name comes from. It has since then undergone a lot of restoration and the only thing left of the 12th century construction is the bell-tower. Nevertheless, most of the church that one presently sees is still quite old, having been done in the 1700s and so follows the baroque style.
I walked peacefully for some 5-7 minutes from my house to the church. The sky was blue and the morning was peaceful. There was nothing like the noise I referred to in my Friday visit. When I entered the church it was even more impressively quiet. I thought I was alone until I realized there was a man sitting in the very dark side altar where the tabernacle was. But he pretty soon left and so then, in fact, I had the whole church to myself.
The image of Our Lady on the main altar is the Presentation of the Virgin. This painting is pretty modern, having been painted only in the 1900s, but it blends pretty well with the baroque pillars and older frescoes flanking it, including the 12th century mosaic of Christ's face above it. It showed Our Lady so innocent and pure. It was a perfect time and place to be saying the Rosary on that Saturday morning. In between Hail Mary's, I would look up and see frescoed on the ceiling the famous women of the Old Testament. I'd look to my right and left and see the Flagellation here and the image of Mary, Help of Christians there.
Was that contemplation or distraction? Probably doesn't matter. For then, I was reminded that amidst all the things we call trials in this life, there are many things both in this life and in the next that we can thank God for. As well, the quiet and peace in that church that morning helped me to pray for those who don't have it in these moments - both physically and spiritually. If these were, in fact, distractions I entertained in prayer inside this randomly found church, I hope nevertheless they can still help me prepare for the Jubilee Year of Mercy.
I guess Mary, who "keeps these things in her heart," and so not that easily distracted, will make sure of that.
[Robert Z. Cortes is a Ph.D. student in Social Institutional Communication at the Pontifical University of Santa Croce, Rome. He has an M.A. in Education Leadership from Columbia University, N.Y.]
Choosing the right leaders

By Fr. ROY CIMAGALA, roycimagala@gmail.com
January 5, 2016
NOW that we will be going through another political exercise of choosing our political leaders, we first of all have to go to God, praying and begging that we be enlightened and that the whole process be peaceful, beneficial and fruitful to all of us. This national event is no joke. We have to try to be dead serious about it.
Of course, we have to reassure ourselves that since there are no perfect candidates, no perfect electorate, and the whole exercise, in spite of being designed to be effective, honest and fair, will always have some loopholes when put into practice, God can always make do with anything, even the worst scenario, and can derive some good from evil. There's always a fallback somewhere somehow.
That's why we are still afloat in spite of all kinds of crises through the years. We should never forget that God is in the middle of this very contentious national exercise, and in his own ways is intervening in it actively. Let's hope that we can have the faith to see God's hand in our political life. We need to remind ourselves that there's nothing in our life where God is not concerned and involved somehow.
Just the same, that sobering fact does not exempt us from choosing the right leaders as best as we can. That's why we, at least, have to know what would make a good leader. We have to know what criteria to use and how these criteria should be ranked according to importance and indispensability.
Of course, we can have many ideas about this, but I would say that the most important quality of a leader is that he should be a man of God, a man after the heart of God. After all, everything good here on earth, including leadership, has God as its source, pattern and power.
When a leader is truly a man of God and not just faking it, he will also have the political welfare of the people in his heart. He will be concerned of both the temporal common good of the people as well as the more important eternal common good. We should try to avoid making these two levels of common good conflict with each other.
A true leader will strive to be honest and competent in his job, always dialoguing with the people to monitor their needs and lead them according to his vision of good governance.
He understands perfectly well that his work is an organic extension of God's providence insofar as the political needs of the people are concerned. And so he does not depend only on what is practical and convenient for the people. He will try his best that God's laws for us be given priority and be made to inspire all the policies he will pursue.
Christian believers should be actively involved in the political life of the country. Of course, the laity are the ones directly involved in politics, since politics will always be partisan in character. The clergy can only play the inspiring role and should be above partisan lines.
Thus, Christian believers who also are citizens and therefore part of the electorate should know how to choose their leaders well. They have to learn how to discern the true and the false leaders, how to weigh the platforms, views and words of the candidates.
Let's remember what Christ said of false prophets. "Beware of false prophets," he said, "who come to you in sheep's clothing, but inwardly are ravening wolves." (Mt 7,15) They can show great signs and wonders, and as St. Paul said, "they deceive the hearts of the simple by their good words and fair speeches." (Rom 16,18)
Nowadays, many politicians have mastered the art of rhetoric and of persuasive speech, and they can avail of tremendous political and publicity machineries to make them attractive to the electorate.
It would be good that each one considers his political choices in his prayer, in front of God, and closely listening to his conscience. Of course, he has to listen to all parties involved, but he has to learn how to discern the spirit of each candidate, the signs of the times, etc.
Since there will always some risks to be taken in these exercises, one should try his best to choose candidates that he thinks would serve best for the common good. He should try to rein in his emotions and passions, and try his best to be as objective as possible. For this, he may have to consult others.
Pinoy in Rome: At the Door of the Jubilee Year of Mercy (III)
By ROBERT Z. CORTES
December 24, 2015
Day 4: Santa Maria della Strada in the Church of Il Gesù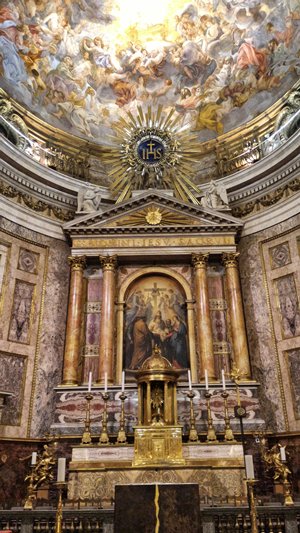 As one might already have suspected, considering that the 4th day of the novena to the Immaculate Conception falls on the feast of St. Francis Xavier (one of my favorite saints for reasons you will probably discern soon) and the patron saint of a bishop very close to me, I made it a point to go to the Church of Il Gesù to say the Rosary and do my prayer before his relic.
I knew from experience that the Gesù is often dark. I had always thought it a pity to be in such a magnificent church, yet unable to appreciate such beauty. I was hoping against hope that there might be a bit more light when I went, but it was even darker than I remembered. And to my shock, there was actually a Mass in the side chapel of St. Francis, and I could hardly hear the priest talking. "What? Is this how they value this saint, second in only to their Founder in importance?" I must confess I had those scandalized thoughts as I next-to-groped my way through the dimly lit nave, looking for the chapel of the Madonna.
I was pleasantly surprised to see that the side chapel to the right of the sanctuary had more light than the rest of the Church – it was the Chapel of Our Lady. But I was even more pleased to see that the image venerated there was the "Santa Maria dellaStrada" - a very familiar appellation to me, even if I'm not from The Ateneo, because my friends from that area had introduced me to the image. There were also very nice paintings (new, I think) around the small chapel depicting scenes of Our Lady's life. There was two seminarians(an African and a South American) trying to translate the Latin verses written under each painting. From the agonized looks on their faces and the desperate hand gestures of the African, I could see they didn't have much luck. I was tempted to help them out but I had to focus on the Rosary.
Now as I was about to finish my Rosary, something remarkable happened. The entire Church was suddenly lit up. It was fully lit up and there, for the first time I saw the full glory of Il Gesù. O-M-G - for it would be taking the Lord's name in vain if I spelled that out in full; yet really, that was all I could say. I had hoped Il Gesùnow would be somehow brighter than my previous times there - but not this bright. Really, as many persons can attest, God doesn't do things by halves.
So for the first time, I saw how richly decorated was the statue of St. Ignatius. He is brocaded in jewels and venerated in an altar of rich lapiz lazuli and green marble. And while Pope Francis might be living very poorly, as did St. Ignatius, I don't think he'd object to this depiction of heavenly glory of his spiritual father and one of the Church's greatest saints.
Then there was the dome and the ceiling. When I spoke previously about Sant'Agnese's dome as the most magnificent yet I had seen, that was because I had not seen Il Gesù lit this way. And while I'm not about to take my wordsback, I must confess that Sant'Agnese's cupola now has a real contender. I also loved the main altar which showed the Holy Family.
But I now turn to the real object of my small pilgrimage, who is St. Francis Xavier. Il Gesù is not as fortunate as India which has the saint's incorrupt body.But it does have his arm, and I couldn't believe my fortune for having gone that close to see the "incorruption" for myself. But to explain that fortune I must go back to that Mass at the side chapel. That was actually a Spanish mass and was attended by some Basques, the people of St. Francis's region in Spain. Afterwards, they had their picture taken and seeing that one priest couldn't be in the picture since he had to take the picture, I told him in Spanish that I was willing to do it. My four semesters of Spanish in college is still quite useful.
So as a "prize" for my voluntary camera work, I was allowed to step right upto the relic. I was peacefully gazing at the arm when I heard some sort of sighing beside me: "Oh, the arm that blessed my people!" He was an Indian priest and was referring to the fact that this arm had baptized 300,000 Indians. I was friendly, of course, and asked if he was from Goa, where the saint's body now is, but no, he was from Kerala or some other place with a K. Anyway, I asked him to take this picture of me gazing at the relic, and he said, "K!" I wondered if had been texting with Filipinos, but I wasn't flippant enough to ask.
I spent the rest of the time praying before the relic and thinking about the saint's zeal for souls. I read that he had died when only 46 from exhaustion of all the apostolate he was happily doing. When I was done, I walked the vast expanse of the brightly lit Church still thinking and praying to get even a small part of this saint's zeal. As I reached the door, it opened and in came the reason for all the light: two cardinals - an Asian and an African - were about to celebrate a high mass on the great saint's feast day. On seeing that, I was secretly relieved that people here valued St. Francis after all – though I say that now in jest. The African cardinal looked at me and being no expert, I wasn't sure what to do. I simply nodded and smiled and he made a sign of blessing.
I was definitely pleased the cardinal did that, but now that I think of it I realize that his gesture was just a sign. It was a gesture that ought to remind me of all the wonderful things I had just experienced in that church. It was also a reminder of the gesture that had made St. Francis Xavier great - a reminder that I (and you) need to pass on all the blessings we receive to everyone we know if we want to be anywhere the glory of St. Francis Xavier and Our Lady, Santa Maria dellaStrada! Here's praying that they intercede for us to at least make the first step.
[Robert Z. Cortes is a Ph.D. student in Social Institutional Communication at the Pontifical University of Santa Croce, Rome. He has an M.A. in Education Leadership from Columbia University, N.Y.]
The "no-perfect" excuse

By Fr. ROY CIMAGALA, roycimagala@gmail.com
December 22, 2015
ALL of a sudden, we are nowadays hearing a lot of people invoking the "no-perfect" alibi to rationalize their views. There's no perfect father, no perfect mother, no perfect child, no perfect family, no perfect etcetera.
And now that we are getting into the usually hot political season, we are also hearing such excuses as no perfect politician, no perfect candidate. And from there, people pontificate or dogmatize their political preferences and opinions.
While that excuse has a certain validity, we have to remember that it comes with a lot of other things that need also to be considered seriously, like instructions, contraindications, alternative options, and many other opinions.
While it's true that we have to make do with whatever we have or whatever is available, that is, a wonderful call for patience and understanding, it does not mean that we won't make the effort to look for better options or some improvement of the situation.
In other words, that excuse should not be made to stop in itself, making one fully contented with a certain status quo. It has to contend with what are the views of others, let alone, the standard and criteria of what is considered as the ideal. We need to keep on trying to polish our understanding of things and improve on our performance.
What can worsen this "no-perfect" excuse is when people use it to dogmatize their positions and demonize those of the others who disagree with them. Sad to say, this is what is happening these days in the political scene.
We hear reasonings like "better a killer than a criminal," "better a curser than a robber," etc. At the very least, these reasonings make the gravity of the different evils subject only to the opinions and consensus of people, a product of the I'm-ok-you're-ok mentality. There's no more objective basis.
Murder can have equal weight as stealing, or can even be considered as the lesser evil, when in fact the former does not admit of parvity of matter, (meaning it is always grave), while the latter does, (meaning it may or may not be grave).
I know that in heated political discussions where passions run high and a lot of bashings and mudslingings are done, considerations like this get lost. But it's important that we give due attention to these important points, otherwise we will be setting ourselves for a graver problem and crisis later on.
Knowing how political systems work, what is usually done at the top, whether right or wrong, moral or immoral, somehow filters down to the lower rungs until it becomes part of the system. If the leader is honest, most likely, the followers will also be honest. If the leader is a murderer and flaunts it, most likely the followers will also be the same.
Thus, we have to consider whether murders and illegal executions of perceived wrongdoers that become part of our system are a lesser evil compared to some systematized corruption. Of course, we have bad options to choose from, but just the same we have to be careful that we don't jump from the frying pan into the fire.
This is where we have to use the "no-perfect" excuse prudently. We cannot help but to make do with some forms of evil. But we have to make sure which evil is lesser and more tolerable. And in an unavoidable evil, we also have to make sure that our cooperation in it would at least be passive, not active, and with firm intention to correct it.
We have to distinguish between what is already a formal and active cooperation of an evil, which means that one knowingly and freely participates in the evil, and what is mere material and passive toleration of evil, since he cannot avoid it, at least, for the moment.
Formal cooperation is always sinful and should be avoided. Material cooperation may be tolerated, but under certain conditions and precautions. Among these conditions are:
(1) The cooperating act must be, in itself, good or at least indifferent morally. (2) The intention of the one cooperating should be good. (3) There must be a just cause. (4) And the good effect desired in that cooperation should not be the consequence of the bad effect.
To be realistic with the way our political life is, we need to be clear and firm with these moral principles. For this, we need to intensify our prayers, have recourse to the sacraments, deepen our doctrinal formation and develop virtues.
We should always try, in whatever way we can, to transform evil into good.
Second part of a series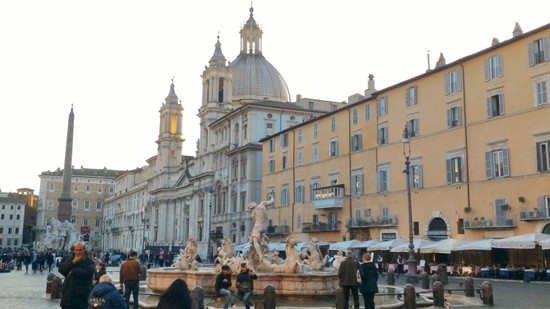 Sant'Agnese - view from South piazza Navona
Pinoy in Rome: Countdown to the Jubilee Year of Mercy (II)
By ROBERT Z. CORTES
December 12, 2015
Day 3: Sant'Agnese in Agone
One knows he's getting "spoiled" by Rome's beauty when he avoids Piazza Navona at all costs when he makes the seven-minute walk from Piazza Farnese (the area where I live) to Piazza Sant'Apollinare (where my university is). One would understand the logic of that, of course, especially in this season when this place is just so full of people at around lunch time.
But there is a beautiful church there, alas, too often missed out by the usual tourist, who is naturally fascinated by the Bernini fountain of the Quattro Fiumi (though less so by the ones of Giacomo della Porta on both ends of the piazza) and awed by the sheer activity in the piazza (live music, painters, living statues, pigeons, etc.). Once one's attention are caught by these distractions, one loses track of time in the piazza and realizes only too late that there's no more time to enter the church. It doesn't help that unlike the bigger churches in Rome, the people manning this church demand their siesta time.
By some act of providence – most probably acting through human error – my choir's practice ended so late yesterday. By the time I had finished eating lunch, I looked at my watch and realized it was one of those "oh-happy-fault" moments: it was opening time for Sant'Agnese in Agone. It was then settled that I was going to do the third day of my novena to the Immaculate Conception there.
This Baroque church is as baroque as baroque can get, just judging from the facade made by Francesco Borromini. As one approaches the church from the southern end, however, one should turn his back a bit, so one sees an image of Our Lady known (one of those altar-like structures called Madonella in Italy). Now this is one would be one of the most charming Rome can offer. For it has a beautiful cornice over the image with the inscription "Advocata Nostra" and "ora pro nobis." The image is large as well, and was obviously placed there to "Christianize" the whole formerly pagan stadium, saying "Our advocate, pray for us!"
As one enters the Church, if one still had any doubts that this is the height of baroque, one look at the arresting ceiling and dome will settle that. I would have to say that of the many domes I have seen in Rome, this would be the most impressive. But all the pictures I've don't justice to it. For that I had to turn to Aaron Articulo, one of the Philippines' most promising young photographers, who has graciously lent me this picture to share with you. (You can get in touch with him in Facebook and introduce yourself as a reader of this column; he just may pass on to you a copy of his masterful photo.)
In any case, all the sculptures and reliefs in this church all shout "baroque!" You can see that fact on the relief of the main altar, before which I did my rosary. It's a relief of the "double Holy Family" (of Jesus and St. John the Baptist). To add to the baroque-ness, baroque music was playing. It's not very easy to pray with that, however – at least for me. So when it was about time to do mental prayer, I decided to enter a small chapel where I knew a treasure is kept.
That treasure is the skull of St. Agnes, which one sees enshrined in a beautiful metal sculpture ordered made by St. Pius X. I was very lucky, because for a long time I was alone with the holy relic. In between short bits when some old people were coming in and out, I got to focus more on the physical and spiritual reality of the relic before me. The last time I was here, I was fascinated by how the skull was so small. Now, I realized it was only the upper part, that is, from the upper jaw to the top of the cranium. But aside from that, she was also just twelve years old. Some paintings show her already as a robust woman whose neck could give even the sharpest metal a hard time. That gross oversight is not only unhistorical, but also takes away from the impressiveness of her martyrdom. I was mulling on these ideas as I ended my prayer, totally awed by this privileged moment.
Before I end this article, however, maybe just a word about the phrase, "in agone" that forms part of the church's name. Many people think it's from the word "agony" which would then refer to St. Agnes's martyrdom. Tempting as that may be, however, it's not the case. In fact the word "agone" is a Latin word derived from the Greek which means "competition" - because Piazza Navona before was the area of the Stadium of Diocletian where there used to be a lot of... well, you guessed it.
But, then, of course, it so happens that the English word "agony" does come from agone for all the anguish and suffering that happens in the stadium. And Saint Agnes suffered the agony of her martyrdom in the "circus agonalis" of this emperor during what is considered the cruelest persecution of Christians in the Roman Empire. So there is a cosmic coincidence in the name of the church: the place of competition and of anguish. For Saint Agnes, there was not only competition and anguish; more importantly, there was victory.
This final perseverance in grace, despite all our difficulties, is the one thing we need to pray for ourselves, and the one thing we pray St. Agnes and Our Lady will obtain for us.
[Robert Z. Cortes is a Ph.D. student in Social Institutional Communication at the Pontifical University of Santa Croce, Rome. He has an M.A. in Education Leadership from Columbia University, N.Y.]