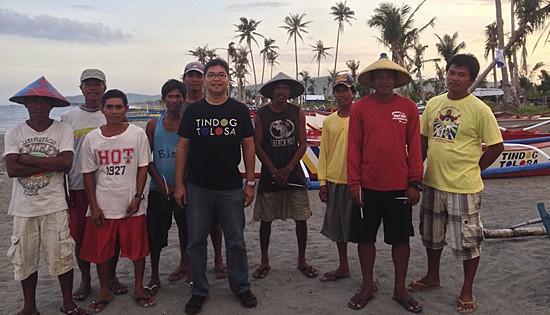 The author with fishermen beneficiaries. Blessing and turn over of boats. (Photo by Tindog Tolosa)
Two years Leyte
By NOE PALAÑA
November 6, 2015
'It was just like yesterday. When I close my eyes, I can see it all still.' Jerome Ibañez, one of the Yolanda survivors vividly recalls.
Nearly two years after the wrath of one of the strongest storms in history, not all of Visayas has moved on. Survivors are still struggling, as the help they receive remains insufficient.
Tolosa, Jerome's town was one of the severely hit places in Leyte. But unlike the hundreds of survivors still living in tents in over-crowded evacuation areas, Jerome and his family take shelter in their new home donated by Tindog Tolosa.
Tindog Tolosa
Tindog Tolosa (TITO) is a civil society group that continually helps Yolanda survivors of Tolosa, Leyte. It is run by Makati-based professionals inspired by Pope Francis' call to help the poor, and the teachings of St. Josemaría Escrivá, founder of Opus Dei. TITO aims to rebuild the coastal town of Tolosa and alleviate the lives of the Yolanda-stricken people.
TITO has three main projects: Construct One house, One Boat Afloat and Consumer Cooperative.
Construct One House
A number of storm-proof, earthquake-proof, and termite-free houses were already turned over by TITO to eight (8) beneficiary families whose houses were completely destroyed by Yolanda.
The Bayanihan spirit is evident during the construction of the houses as volunteers from all over the world helped skilled workers and the beneficiary family in building their new home. Promoting not only collaboration, but also cost-efficient construction.
One Boat Afloat
Like other livelihood in Leyte, Yolanda massively affected the fisheries. This left most of the town's fishing equipment misplaced or destroyed. That is why One Boat Afloat intends to equip fishermen with new fishing boats. So far, eleven (11) 24-feet boats powered by 16 horsepower brand new engines were already entrusted to recipients.
In order to give the beneficiaries the feeling of ownership of their houses and boats, they are asked to pay half of its total cost. Their monthly amortization then goes to the educational assistance fund of their child who is a grantee of Iskolar ng Tolosa, another TITO project. Jerome, an Education sophomore at Visayas State University, is one of the TITO scholars.
"An important factor for selecting a beneficiary is that one of the children should attend and finish college or any TechVoc course, so they may later provide assistance to their own family," Tindog Tolosa founder, Noe Palaña said.
He also emphasized that their system of helping was designed to create a more sustainable and later self-sufficient solution to aid the people.
Consumers Cooperative
Tindog Tolosa Consumers Cooperative (TTCC) brings the people of Tolosa together to help improve their lives. It does this in two ways: a savings association and a community store.
Joma Palaña, Noe's brother and point person for TTCC, explained that "the savings association encourages people to save by providing a savings facility in an area where there are no banks. It is also a means for mutual help, letting people automatically pool contributions to aid families in case of deaths and emergencies."
"On the other hand, the community store provides wholesale buying so that members can get basic goods at cheaper prices. The tax-exempt privilege of the cooperative further brings the price down," he added.
TTCC assists in providing training and access to capital, so that members can have their own livelihood projects. It also facilitates the market demand for the goods produced.
Aside from lowering the members' expenses and increasing their income, TTCC aims to stimulate economic activity in Tolosa, fostering a cycle of economic progress. In the end, "TTCC hopes to give the people a sense of optimism and solidarity, to encourage them in their struggle of lifting themselves out of poverty," according to Joma.
Be a "voluntourist"
Aside from monetary and in-kind donations, donors may also help by doing voluntourism.
You volunteer to construct the houses or repair classrooms and you get to tour some of Leyte's most beautiful places like the San Juanico Bridge, the longest bridge in the Philippines, and Kalanggaman Island, known for its crystal blue water, white powdery sand and magnificent sandbars.
It's a tour like no other. Because instead of just taking pictures and seeing places, you are able to take memories of genuine smiles and thanks from people you help. Giving you a unique and priceless kind of fulfillment.
Life-Opening Experience
Even as the volountourists enjoyed their stay in Tolosa, the overall experience left a great impact on them as what happened to William Xie, a Civil Engineering student from Sydney, Australia. He said, "it was one of the most influential and life-opening experiences I have had…and we could not believe how much these people trusted us in such a short period of time just from hearing that we were there to help them."
"This work camp allowed me much time to reflect on the way of life. Here in Singapore and Malaysia, we are really fortunate to have no earthquakes and typhoons. And yet, we grumble for not having air-con, not having the latest accessories, fashion and gadgets. In rural places in the Philippines, however, although there is lack of the basic necessities such as electricity and easy access to clean water, the people are really optimistic in life, and put their trust in God entirely. We certainly have a lot to learn from them," a Singaporean volunteer remarked.
An Actuarial Studies/Economics student from the University of New South Wales had a similar sentiment: "I was really impressed to witness what the people in a developing country have to do to get by. Seeing their struggle taught me not to take the things we have in my country for granted."
Voluntourists from the Makati Central Business District realized the value of human relationship when Florencia, Jerome's mother, tearfully thanked them not only for painting their permanent shelter, but more importantly, "for treating us as persons with dignity, not simply as typhoon victims."
Help Tolosa
"We have been helping people and we want to continually help further. So we encourage more volunteers and more donations for Tolosa. We are committed to meet our target of giving 30 boats, and 20 houses to some of the most Yolanda affected families," Noe added.
Noe Palaña can be reached for inquiries and donations via mobile at (+63) 999 883 48 46 or by visiting Tindog Tolosa's Facebook account www.facebook.com/tindog.tolosa.community.
"When we help a family in Tolosa, we actually help the whole community. Because these people also help other people. And rebuilding their houses is rebuilding the community. But most importantly, rebuilding Tolosa is rebuilding their lives, giving back their dignity," he concluded.
A yes nod to the synod
By ROBERT Z. CORTES
October 28, 2015
The Synod of Bishops on the Family had hardly concluded last Sunday, and both "conservative" and "liberal" camps raced to express their dissatisfaction over its balanced outcome. But this rejection from both camps is probably a good sign. It literally captures the Church being a "sign of contradiction" – that is a good thing.
Vatican II was also rejected by liberals and conservatives. Conservatives rejected it outright. The liberals' rejection of Vatican II came in the form of abusing and perverting it.
But that Vatican II was a gift to the Church and came at just the moment it was needed in history is a no-brainer. It has been affirmed as such by popes who are saints or saintly, beginning with Saint John XXIII all the way to Pope Francis himself. We lay people only need to remember that it was through Vatican II that the universal call to holiness took real traction. If not for Vatican II, we would still be languishing in our status as second class citizens for sainthood.
So the controversy surrounding the results of the Synod on the Family is not new, not surprising, and should not be cause for concern. The important thing is that the Synod, as Vatican II, has confirmed the perennial teachings of the Church, this time on marriage and family. Moreover, through this Synod, the Church has shown to the world, yet more deeply, a truth she has always taught and practiced from the beginning: the primacy of mercy.
Mercy, as Pope Francis suggests in the document that established the Year of Mercy, begins with the "opening of our heart." And indeed, this Synod has fearlessly manifested this openness of the Church's heart that began with Vatican II. In the words of Vatican Radio, more than breaking new theological grounds, the Synod showcased the Church's "new, more inclusive way of working, which began with the questionnaires sent out to families around the world and concluded with the intense small group discussions inside the Synod Hall."
Lest that last sentence give the jitters to some faithful, here's the antidote: the word "inclusive" there was understood in a very Catholic way by the Synod Fathers. The upshot is that the phrases with the most unanimity in the final document on the Synod focused on the Synod Father's union with the Pope, on reaffirming the family as "school of humanity" and "foundation of society," the importance of grandparents in the family, and the necessity of sacraments in marriage. In others words, "inclusivity" begins with being "rooted within" the very Church Magisterium articulated by Pope Francis in the months leading up to the Synod.
Yet even the most contested phrases (84-86), which centers on the divorced and the remarried are hardly a source of concern. Indeed, they only highlight even further that the Church really is a Mother of Mercy; and this, despite and perhaps, precisely by, being faithful to her own teachings.
These paragraphs emphasize that the divorced and the remarried "are baptized, they are brothers and sisters…" and thus, "must be more integrated into the Christian communities in the diverse ways possible, avoiding every occasion of scandal." As well, "it's therefore the responsibility of pastors to accompany the persons concerned on a path of discernment according to the teaching of the Church and the guidelines of the bishop."
But it's not as if the paragraphs are just handing out Kleenex for drying tears. Instead, they hold up the divorced and the remarried to a serious degree of responsibility by asking them to make an examination of conscience on "how they behaved toward their children when the marriage entered into crisis; … what the situation is for the abandoned partner; … what example this offers to the youth who must prepare for marriage." This is tough love, a characteristic of all good parents.
One sentence, in my opinion, shone above all: "For the Christian community, taking care of these people is not a weakness in its own faith and its witness as to the indissolubility of marriage; indeed, the Church expresses its own charity through this care." This is "caritas in veritate" (charity in truth) in all its splendor.
If one asked how the final document achieved this level of charity, the answer would be within the Synod itself. A venerable professor of my university, who was present in the Synod proceedings as a consultor, told me that he was particularly impressed at the charity that he saw among the bishops. One anecdote he narrated illustrates this. "A Brazilian bishop made a proposal that did not get sufficient votes. When an Argentinian bishop's better proposal was then accepted, he said to the former, 'If you want I can integrate your idea with mine."
Equally moving, as well, he said, was the reminder (later incorporated) from bishops who had suffered much under communist rule "to speak of the mystery of the Cross as the basis and source of all Christian life in families" for through it "difficulties and sufferings in family life are transformed into acts of love." He even added that a Jesuit provost who was in the Philippines for some years spoke to him of the joy we have in our country, a joy rooted in the family.
So for all the reported "inside stories" of machinations and strife, we now know there are also untold stories of joy and hope. Perhaps, then, amidst the suggestions that the Synod of Bishops only left the Church in confusion, there is reason to believe, instead, that it happened was quite a good thing.
[Robert Z. Cortes is a PhD student in Social Institutional Communication at the Pontifical University of Santa Croce, Rome. He has an M.A. in Ed. Leadership from Columbia University, N.Y.]
God and our "sexual rights"

By Fr. ROY CIMAGALA, roycimagala@gmail.com
October 25, 2015
THE recent proliferation of non-governmental organizations (NGOs) is a most welcome development since they facilitate our life in society. With them, the requirements of the principles of subsidiarity and solidarity, so essential in society, are more finely met.
Subsidiarity is when a bigger entity can delegate some of its powers to a lower entity. It's also when the smaller needs of men in society are met due to the presence of more intermediaries between the individual citizens and the over-all state authorities.
Solidarity is when society becomes more organized and moves more or less in the same direction without annulling legitimate differences and variety of sectors comprising it. It means having better working unity in society.
The NGOs are these agents and intermediaries that foster the need for subsidiarity and solidarity in a given society. We just have to make sure that a third social principle, that of the common good, is also met, so that the play of the principles of subsidiarity and solidarity gets into the right groove.
This is the problem we often encounter these days with respect to the NGOs. Many of them, I'm afraid, are a cover to advance an agenda whose idea of common good is at best inadequate, often dangerous, if not utterly wrong.
The other day, someone told me that in a Congress hearing, a representative of an NGO was batting for sexual rights, saying that everyone has a "right to a satisfying and safe sex."
While it's true that we are a sexual being, and therefore sex has a legitimate part in our life, we just can't be naïve when ideas like what was presented in that Congress hearing is proposed to us.
We need to see if indeed this "right to a satisfying and safe sex" truly corresponds to an objective common good meant for us. We have to know what that right involves, what its inspiration and true purpose are, etc.
We just cannot say anything is a human right based on an opinion or even on a consensus of some people. We cannot even consider a culture and civilization as the ultimate source of what is the authentic common good for us and what is not. They are not the ultimate terra firma. They shift too like sand, and can contain impurities.
The crux of our problem is that in determining our common good, any mention to God is immediately or, worse, automatically rejected. It's as if God has no place in this discussion. It's as if God is the very antithesis of democracy and its ways and processes.
At best, any reference to God has to be veiled, since making it explicit is considered a fallacy of begging the question. It is feared it would illegitimately stop further discussion or reasoning, which is not true, since such reference would in fact throw the doors open for further scrutiny. It fosters more discussion.
We need to make a drastic change in our attitude and ways of determining if a claimed human right is indeed part of our common good. We have to defer to what the Compendium of Social Doctrine says about the source of human rights.
In point 153, it says, "The ultimate source of human rights is not found in the mere will of human beings, in the reality of the State, in public powers, but in man himself and in God his Creator."
So, it's clear that no matter how hard it is to determine what is God's will and design for us, we just have to make an effort to know God's will, since ignoring it would just put us in the dark, and lead us to unjust ways of determining what is right and wrong, what is good and evil, true and false.
In short, it would not be democratic, in fact, if our political ways would systematically shun the contribution of religion, or that our discussion of issues that affect our common good would exclude faith and religion, and everything involved there, like listening to the teachings of the Church, etc.
In that set-up, democracy would be understood as just a purely human affair, as if everything begins and ends with us. Of course, we are the primary actors in democracy, but we are nothing without God who is our source, our Creator, and in fact, also our end.
Democracy, without God, would lose its foundations and sense of purpose, and would just be driven not by truth nor by love, but by sheer and brazen human power. That's when human rights enter the crisis zone.
Never ignore Christ

By Fr. ROY CIMAGALA, roycimagala@gmail.com
October 14, 2015
I JUST learned about the Tambuli Awards, organized by the University of Asia and Pacific (UA&P), that seeks to promote both business and societal values of marketing communications campaigns.
That's actually another way of saying that advertisements and commercials can work not only for reasons of profit but also for strengthening human and Christian values in society.
I have seen the winning entries of the past years, and indeed, I can say that if only we put our mind and heart into it, we actually can be very creative and entertaining in the right way, avoiding gimmicks and smart moves that only foster erotic and frivolous features.
Bluntly speaking, I must say that given the prevailing business culture we have nowadays, the awards are a bold initiative to consciously put Christ in the middle of the unavoidable business of product publicity and promotion.
It's acknowledging Christ in the market without need for apologies, since Christ – to make an understatement – has a rightful place in this particular business of ours.
Otherwise, we would just be left with our own devices, and no matter how brilliant they are, they will never fully satisfy the demands of our dignity. We would just be playing games, perhaps generating a lot of excitement but with hardly any lasting effect on who we really are.
I feel that we need to do this kind of thing, since at the moment the business world seems to be held captive almost exclusively by purely market principles and economic laws, like those of supply and demand, ratings, etc.
That kind of environment steadily leads us to our own dehumanization, since with it we end up simply ruled, titillated would be the better term, by worldly values that hardly touch the core of our being persons.
Yes, we have been made in the image and likeness of God, raised to the dignity of children of God and supposed to be governed always in truth and love as shown by Christ himself.
As persons, we are a relational being, meant for having constant dialogue with our Creator and among ourselves, and for the task of building ourselves up both individually and collectively, but always in the context of God who reveals himself in Christ made present in us now through the Holy Spirit.
As persons, we cannot help but be a religious being, that is, one with a relation with God, his Creator. As persons, we cannot help but treat others in truth and love, in charity, and not just as objects and motives for making money. We go beyond what numbers simply recommend.
These are truths that we need to release to the public arena, not confined in some specialized centers of learning, since they are meant for all and not just for some. They may not be immediately understood, appreciated and accepted, but they at least have to be known.
We need to break the secularist or pagan mold that has been gripping us for centuries as a result of the French Revolution of Enlightenment that put reason as the main if not the sole guide in our life, discarding faith, religion, God.
We have to make that mentality history, a thing of the past, a source of precious lessons about what to avoid in our pursuit for personal maturity and social and economic development.
For this, we need to put religion vitally and organically connected to our earthly affairs, since that would better reflect the kind of reality that we live in. It's not a matter of establishing a theocracy, or of confusing Church functions with state affairs.
We have to respect the distinction between the material and spiritual, the mundane and the sacred, the temporal and the eternal, but we need to learn to see the relation between them also, since they are not separate aspects in our life. In short, religion has to permeate all areas of our life here.
Much of the problem we have at the moment is that we degenerate the distinction of these unavoidable aspects of our life into division and conflict among them. When we do business or politics, the usual mindset is that we have to leave Christ behind.
Acknowledging Christ in our human affairs would in fact enhance the evolution of these affairs of ours. Christ would encourage us to go for the truth, for justice, for understanding and broadmindedness, etc.
The do's and don't's that Christ would bring in our daily affairs are not an infringement on our freedom but its enhancement.
Internet addiction

By Fr. ROY CIMAGALA, roycimagala@gmail.com
October 10, 2015
THERE'S a new addiction in the block. It's called internet addiction. And it's on the rise, with frightening speed, especially affecting young people, like kids, students and young professionals.
They are not of the type prone to drugs or drinks. Rather their addiction is like that of gambling. A certain compulsion dominates them and interferes in their daily duties, wasting a lot of time and energy, and sometimes money in the process.
They can look very decent and normal, at least in appearance. But we know we all have feet of clay. It would be good if we are aware of this clear and present danger and prepare ourselves accordingly.
Early warning signs may be deterioration of grades for students, and negligence of some basic duties for the young professionals. Students who have been good in class suddenly turn south in class performance. That's because they now find it hard to concentrate on their studies.
They often interrupt their studies to answer the messages in their cellphones, and often check if there are new messages. They upload photos, usually inane selfies, on social media everyday, and comment on almost all of what their friends post in the internet. The kids are practically taken away by the many games the internet offers.
From there, things can worsen as users end up visiting porn websites, and by surfing aimlessly often end up induced to do bad things. Latent weaknesses that the users are not aware of, suddenly get activated, and if they do not have the proper defenses, then they get swallowed up.
In other words, they are caught in some web of distractions quite hard to extricate from, since many sweet and irresistible rationalizations come to their mind to justify their actuations.
The Internet offers its users a certain sense of immediate gratification in terms of accessibility, affordability and anonymity. When not properly motivated, these users fall for the ease and the false sense of dominion the Internet offers.
We have to acknowledge this social problem and do something about it. This disturbing development should not suck us into fear and cowardice. Bad things can and should give rise to occasions for us to grow more as a person, as a family, as a community and society. They can enrich our humanity.
We can resort to some immediate and stop-gap measures, like regulating the use of the Internet, using filters, monitoring and supervising the Internet use especially for the children.
It is said, for example, that if you do not see your children in your own house, what you only have to do is to turn off the Internet, and they will come out. Of course, this and the other measures can only do so much, since the kids now are smart and can easily get around these measures.
We should not stop simply in the level of regulating, stopping, discouraging and other negative-leaning measures, even if they are also indispensable. They are not meant to be effective for long. We should face the challenge of tackling this issue in a more positive and long-term way.
And that means that especially for the children we have to learn how to motivate them properly, giving them by word and example precious lessons about order, prudence, temperance, sense of purpose.
It's important that despite the usual tension and conflicts, a cordial, friendly and intimate relationship exists between them and the parents, the teachers and others with certain authority. There should be an atmosphere of openness, trust and confidence in this relationship. When this is absent, we have a big problem to solve.
For the older children, young professionals and even adults, the challenge to face is how to resolve the existential emptiness that is at the bottom of this Internet addiction and other forms of bondage.
It is this existential emptiness that makes people vulnerable to be swallowed up by their passions and other weaknesses that often are hidden and sometimes masked by a façade of some virtue.
Even those who are generally regarded as "good and holy people" are not exempted from this predicament. In fact, their case can be trickier and harder to handle, since they can easily hide this problem due to the many good and impressive things they do and accomplish.
This existential emptiness is resolved when one is genuinely connected with God who is everything to us, our life, our wisdom, our truth, our freedom, our love, etc. This happens when one truly prays, and becomes, in St. Paul's words, a spiritual man, going beyond sentimentalism, psychology, intellectualism, professionalism, activism, etc.
There's no other way to tackle this issue.
Politics a monster to be tamed

By Fr. ROY CIMAGALA, roycimagala@gmail.com
October 4, 2015
IN fact, more than to be tamed, politics needs to be humanized and Christianized. It has to have a soul, proper to our human dignity as persons who by nature also belong to a society, and more, who are the image and likeness of God, children of his.
Yes, politics touches the spiritual and supernatural dimensions of our life. It just cannot be left to the forces of purely worldly conditions – economic, social, legal, cultural, historical, etc. It has to be referred to God, our Creator who continues to govern us through his providence, with which we try our best to get it in synch.
It just cannot be left alone, to be at the mercy of our instincts and passions alone. These always need purification and proper grounding and orientation that in the end could only be done if things are referred to God, and not just to some smart ideology.
If our understanding of politics falls short of this fundamental and indispensable consideration, we certainly would be in trouble. There's no other way but for it to be like a no-man's land, wild and chaotic in spite of appearances of law and order, and behaving like a juggernaut that inflicts more harm than good to everyone.
Giving politics its proper soul is not going to be easy, nor will it be finished definitively in our time. It flows with life itself, our collective life, in fact, and with all the complexities that such condition entails. But that's the thrill and adventure of politics.
We have to be wary of Godless ideologies and vague principles that seem to stimulate our political activities. Among them is that Bismarckian principle that politics is the art of the possible, the attainable or the art of the next best, without clarifying what criteria and standards are to used to follow it.
If God and his laws are not given primary consideration in this regard, that political principle would certainly produce all kinds of scenarios, not all of them moral and fitting to our human and Christian dignity.
It can easily unleash Machiavellian game plans that can set aside even basic human ethics. That's why we have been having killings, cheating, recourse to, treachery, ridiculous gimmicks, dirty tricks and other brazen political maneuverings.
It should be made clear that strictly putting God at the forefront of our political exercises does not hinder our politics. On the contrary, he will enhance it, since with him, we can always ventilate our opinions, views and positions as freely and as openly as possible, but all within the context of charity, justice and mercy.
Things simply depend on us, on how we play politics, because insofar as God in concerned, he already has given us everything for us to do politics properly. We need to realize first of all that everyone needs to pray first, and offer a lot of sacrifices for our politics, which as we are seeing these days, is getting more and more complicated due to the many issues that have to be addressed.
Politics should be an object of intense prayers and sacrifice, not to mention, an ongoing formation on our political life, since politics requires as much as possible the active participation of everyone in whatever capacity and possibility one has. The very nature of politics is participative. Everyone has a role to play there, at least, to pray and offer sacrifices.
Political leaders and those actively or directly involved in this field should strive to be first and last men and women of God, persons of integrity and appropriate political skills and competence. They should not be politicians just because of pedigree, or money, or fame.
They should know what common good is, both temporal and eternal, because everyone functions in these dimensions of time and eternity, matter and spirit. Though politicians focus more on the temporal common good, they should also know the basics of the eternal common good, so that their work in the former would not undermine their due concern for the latter.
They should be persons of deep prudence, skillful in the art of teamwork, knowing how to relate political realities to God's plans.
Political parties should have their own respective ways of policing their ranks, seeing to it that their members are truly dedicated to their work, are persons of conviction, fidelity and purity of intention, and not just users, seekers and exploiters of opportunities.
Let's remember that politics is a noble profession, a basic human necessity given our social nature.