Tanauan High School, LNU top DILG poster tilt on World Water Day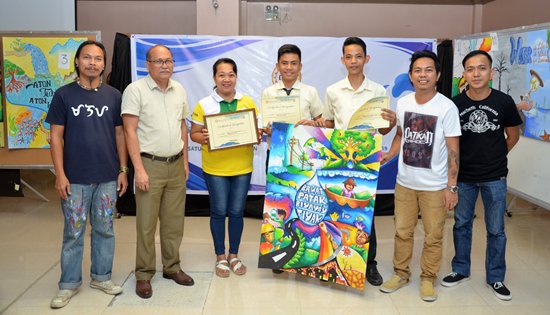 By MYLES JOSEPH E. COLASITO
March 22, 2019
TACLOBAN CITY – Tanauan National High School in Tanauan, Leyte bested 13 other schools in the Secondary level category, while Leyte Normal University bested three other teams in the College Level category of the Slogan and Poster-Making contest on the World Water Day on March 22, 2019 held at the DILG Leyte Conference Room in Tacloban City.
The contest sponsored by the Department of the Interior and Local Government (DILG) aimed to bring to the fore the issues of conservation of the bodies of water and other water sources, as part of the 6th Sustainable Development Goal of Clean Water and Sanitation.
DILG-8 Regional Director Artemio B. Caneja who presented the prizes and welcomed the participants, urged them to share with those in their sphere of influence about how each could help conserve oceans, rivers, lakes and other sources of water.
Meanwhile separate teams from Eastern Visayas State University (EVSU) gained 2nd Prize honors at Secondary and College levels. A team from St. Therese Educational Foundation of Tacloban Incorporated (STEFTI) garnered Third Prize for Secondary level, while for the College Level, St. Paul School of Professional Studies (SPSPS) in Palo, Leyte took third Prize.
The top three winners in each category received P7,000 as 1st Prize, 5,000 as 2nd Prize, and P3,000 as 3rd Prize aside from Certificates of Recognition. All other competing teams received P1,000 as Consolation Prize as well as Certificates of Participation. Serving as members of the board of Judges were Messrs Dante Enage, Clint Gonzales and Glenn Albert Aseo.
Other teams which joined the 2019 World Water Day contest included (for the Secondary Category) Dulag National High School, Leyte Colleges, Leyte National High School, SPSPS, Tolosa National High School, LNU Integrated Laboratory School, Philippine Science High School, Alang-alang National High School, Sta. Fe National High School, Palo National High School, and AMA Computer College of Tacloban City. The College Level contest was joined by LNU, SPSPS and two teams from EVSU.
This year's World Water Day in our country had the theme, "Hawak-Kamay, Tubig-Kaagapay" with the hashtag, #SaTubigWalangIwanan. The contest was organized by the DILG-8 Project Development Management Unit headed by Engr. Ofelia Pido and its Communication Officer Arvia Denalo.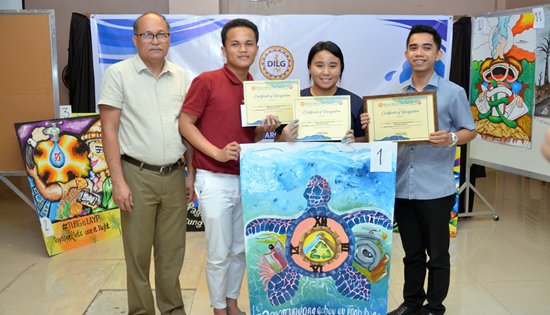 CNTs force residents in San Jose de Buan, Samar to flee from their homes
By DPAO, 8ID PA
March 22, 2019
CAMP LUKBAN, Catbalogan City – The CPP-NPA Terrorists (CNTs) should be blamed for orchestrating the mass evacuation of more or less 164 households from Brgys. Hagbay and San Nicolas both of San Jose de Buan Samar.
The mass evacuation transpired after the CPP-NPA Terrorists harassed the Community Support Program (CSP) Team of 87th Infantry Battalion at Brgy. Can-aponte, San Jose de Buan, Samar last March 17, 2019. The CSP Team was at said barangay to facilitate the delivery of basic services of the government in remote areas to address the need of the community, and help improve the living condition of the residents.
It is the same strategy being employed by the CNTs at Brgy. Bay-ang, San Jorge, Samar, which is to create a chaotic situation within the community and blame the AFP for the mess. Afterwards, these terrorists will demand that the AFP troops should pull out from the said community.
In his statement, Maj. Gen. Raul M. Farnacio, Commander, Joint Task Force "STORM" said that "the main reason behind this dirty tactics being used by the terrorists is to discredit the peace and development efforts of the CSP Team in helping conflict affected communities to progress and develop."
Maj. Gen. Farnacio is asking the CNTs not to resort to violence but instead lay down their arms, avail of the Enhanced Comprehensive Local Integration Program (E-CLIP) being offered by the government, go back to the mainstream of our society, and live a normal and progressive lives.
DPWH upgrades survey equipment system
By DPWH 2nd LED
March 22, 2019
CARIGARA, Leyte – Meant to provide more accurate and reliable data, the Department of Public Works and Highways (DPWH) Leyte Second District Engineering Office upgraded its Real Time Kinematic (RTK) equipment, from 3-kilometer straight-line radius coverage to 70 kilometers.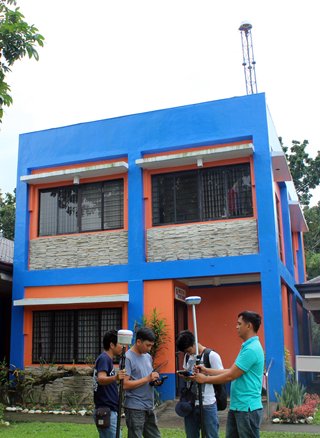 RTK is a satellite navigation system that is used for measurement and survey of land areas. It enhances the accuracy of position data derived from satellite-based positioning technologies and uses measurements of the phase of the signal's carrier wave.
The new survey system will now reach the 14 municipalities of the second district of Leyte, namely, Barugo, Burauen, Capoocan, Carigara, Dagami, Dulag, Jaro, Julita, La Paz, Mac Arthur, Mayorga, Pastrana, Tabontabon and Tunga.
The device relies on a single reference station or interpolated virtual station to provide real-time corrections, providing up to centimeter-level accuracy.
According to Joshua Navarro, the Technical Support of the Georight Matics Incorporated (GMI), this tool is linked with National Mapping and Resource Information Authority (NAMRIA), the central mapping agency of the Philippines, to ensure precision of the data.
He added that instead of radio device, the system could now easily be accessed 24/7 through internet or mobile data.
"The use of this device is just timely since the district office aims to fast-track numerous infrastructure projects under the "Build, Build, Build" program of the government," District Engineer Gerald Pacanan said.
The upgraded system will help the Planning and Design Section to speed up the production of program or works and plans for the projects of the district engineering office.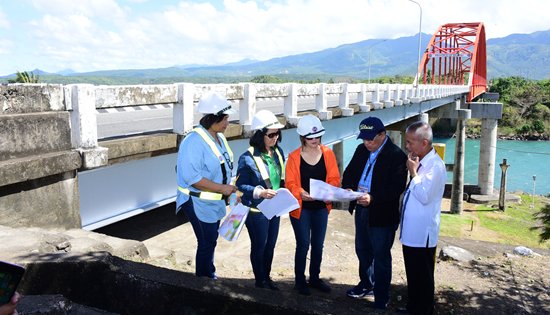 David P. Adongay Jr. (in black jacket) District Engineer and Alfredo L. Bollido, Assistant District Engineer show the location map of various infrastructure projects to Regional Director Nerie D. Bueno (in orange coat) and company during project inspection.
RD Bueno inspects various infrastructure projects in Biliran province
By DPWH Biliran DEO
March 21, 2019
NAVAL, Biliran – Regional Director Nerie D. Bueno of the Department of Public Works and Highways (DPWH) Region VIII conducts inspection on various infrastructure projects in Biliran Province on March 20, 2019.
Bueno's first visit to the province aims to familiarize the road sections and to know the status of projects implemented by DPWH Biliran District Engineering Office (DEO).
"I come here to inspect the projects pero I always go around every road sections para makita ko kung ano ba talaga ang status (ng project)," said Bueno.
"Because I'm not from Region VIII, maganda rin yung may nakaka-interact ako because I know the place. I may not be master of this place but at least may idea ako dito sa utak ko," said Bueno.
Bueno's inspection was accompanied by District Engineer David P. Adongay Jr. and Assistant District Engineer Alfredo L. Bollido with section chiefs and Project Engineers (PEs) of the DEO together with Engr. Adelina P. Gomez, Engr. Angelita Obediencia, Ms. Annalyn Mabolo and Ms. Veticia A. Tabafunda, all from DPWH Regional Office VIII.
Among the projects inspected are the on-going road widening at Biliran to Naval section and on-going construction of slope protection structure along Naval-Caibiran Cross Country Road (NCCR) and projects along Biliran Circumferential Road (BCR).
Adongay commits to Bueno to finish these on-going 2018 projects on June, 2019.
Aside from the district implemented projects, Bueno also inspects projects implemented by the Regional Office within the Province.
The Regional Office projects inspected are the completed rehabilitation of Biliran Bridge in coordination with the Japan International Cooperating Agency (JICA), the on-going construction of Mother Mary Bridge at Brgy. Larrazabal, Naval, Biliran, on-going bridge widening of Anas Bridge at Naval, Biliran and on-going road widening at Brgy. Lucsoon to Brgy. Gueron section, Naval, Biliran.
During the inspection, Bueno meets with the PEs of the regional office's projects to discuss on the problems they encountered during the implementation. The Regional Director expects PEs to take actions on the problems closely and to fast-track the implementation.
Meanwhile, the Regional Director also takes time to visit the office of DPWH-Biliran DEO. According to her, the visit to Biliran is not just to know the culture of the province, but also to know the people and the culture within the office. This includes the managerial styles of the heads of offices with regards to district's ranking and performance.
DPWH 8 director checks roads, infra projects in Leyte II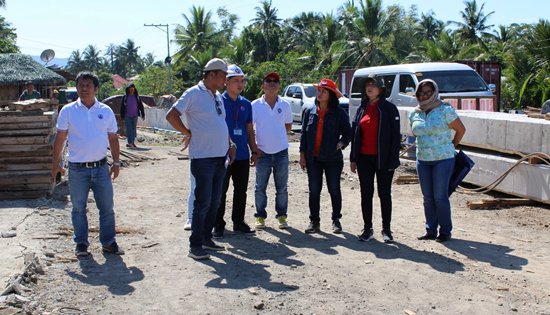 By DPWH 2nd LED
March 20, 2019
CARIGARA, Leyte – Department of Public Works and Highways (DPWH) Eastern Visayas regional director Nerie Bueno conducted a road check and project inspection in areas at Leyte second district engineering office.
Key officials of the district led by district engineer Gerald Pacanan accompanied Bueno and provided her the necessary inputs and information regarding roads and projects under the district's jurisdiction.
Bueno commended the district for the clean road sides and carriageways along national highway. However, she observed that some road sections have either low or high shoulder, and pointed out a specific newly-paved road with scaling.
Maintenance chief Francisco Robin Jr. noted all the remarks of Bueno and promised to take appropriate actions immediately. He also reminded the engineers to closely monitor infrastructure projects and to make sure that the contractors strictly follow program of works, plans and specifications of each project.
Aside from the road check, Bueno also inspected projects implemented by the regional office in Leyte 2. These are the Tingib bridge in Pastrana town, road concreting in Rubas, Jaro, Naugisan bridge in Carigara, and Naliwatan bridge in Tunga.
According to Pacanan, the inputs and comments of the regional director were all noted for proper actions in order to improve delivery of service to the public.
This is the second time Bueno visited the district, and the first time during the leadership of Pacanan as the new district engineer.
Overall, Bueno has seen major improvements compared to her previous visit. Now, she challenges Leyte II to work harder to maintain its good standing and improve in all areas.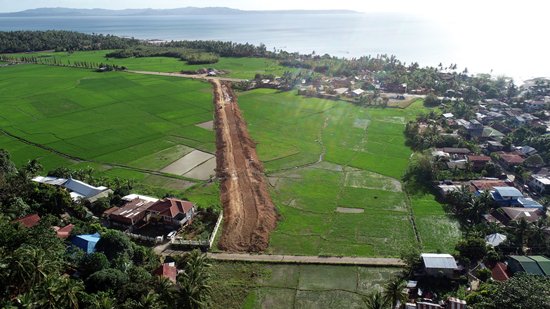 On-going construction of Almeria Bypass Road. The network development project is designed to provide a wider and safer roads for the increasing vehicular users along Biliran Circumferential Road.
DPWH-Biliran DEO accomplished 88.38% of its 2018 project implementation
By DPWH Biliran
March 19, 2019
NAVAL, Biliran – The Department of Public Works and Highways (DPWH) Biliran District Engineering Office posts 88.33% accomplishment of its 2018 infrastructure projects as of February 28, 2019.
Out of the district's 60 projects, 46 were already completed while 14 are on-going.
The district office is presently implementing 12 projects under the regular infrastructure program including four projects under the convergence program of the Department of Tourism (DOT).
David P. Adongay Jr., District Engineer said that Biliran DEO is fast-tracking the completion of the on-going projects until June, 2019.
Projects to be completed are the P139.566M road widening at Biliran - Naval road section along Biliran Circumferential Road (BCR), P83.142M construction of bypass road at Poblacion Almeria, Biliran and P74.581M construction of drainage canal at Brgy. Talahid to Brgy. Matanggo section in Almeria, Biliran and at Brgy. Atipolo section in Naval, Bilran.
One reconstruction of damaged paved national road at Maripipi, Biliran along Maripipi Circumferential Road is also up for completion amounting to P13M.
The construction of slope protection structures along BCR are also being rushed for completion. These are located at Brgy. Bulalacao section, Kawayan, Biliran worth P45.845M, Brgy. Bato section, Biliran, Biliran worth P45.595 and at Brgy. Pinamihagan and Brgy. Looc section at Culaba, Bilran worth P46.264M.
Moreover, the only one bridge widening project implemented by the district office at Looc Bridge amounting to P21.898M is also being fast-tracked for completion to serve the increasing vehicular users along BCR.
Under the DOT convergence program, the on-going projects are the construction of P44M access road leading to Bagongbong falls at Brgy Caucab and P43M access road leading to Ulan-ulan falls in Brgy. Sampao both in Almeria town and P13M access road leading to Mainit Hot Spring at Brgy. Villa Vicenta in Caibiran town and P92.9M road opening and concreting of access road leading to Germohenes waterfalls in Biliran town.
Meanwhile, two projects under the local infrastructure program are also on-going. These are the P24M construction of multi-purpose building (2-storey, Wet and Dry Market Building) at Smo. Rosario, Naval, Biliran and P19M renovation of the Municipal Building at P.I. Garcia, Naval, Biliran.
Hands off human rights defenders!
ICHRP-US expresses solidarity with Karapatan, Ibon and Rural Missionaries of the Philippines, amidst attacks
Press Release
March 19, 2019
QUEZON CITY – The United States Chapter of the International Coalition for Human Rights in the Philippines (ICHRP-US) denounces the vilification of human rights organizations and human rights defenders in the Philippines.
In the last week alone, in addition to the constant vitriol against progressive groups and partylists in public spaces, there was a press conference by the Philippine Government, as well as statement being circulated amongst media groups by a US-trained General, Antonio Parlade, naming organizations and specific people in their tirades against the mass movement in the Philippines.
The red-tagging of human rights organization, Karapatan; research institution, the Ibon Foundation; and church organization, Rural Missionaries of the Philippines (RMP) is further proof of the desperation of a fascist regime. Organizations and advocates who fight on the behalf of the oppressed masses should not be subjected to red-tagging simply for doing what the government fails to do.
The Duterte administration is afraid of the power and legitimacy of these organizations which garner world-wide support for their work to expose and address state-sponsored human rights violations. This comes at the same time as the Philippines officially withdrew from the International Criminal Court - the world's only permanent war crimes tribunal.
On the heels of the arrest of Time's Person of the Year, Rappler CEO and journalist, Maria Ressa, it is becoming increasingly clear that unarmed dissent, a constitutionally afforded right, is being silenced. After more than 29,000 poor people have been killed in Duterte's Drug War and hundreds of activists have been extra-judicially killed since the beginning of Duterte's regime, we cannot take lightly when the Philippine government attempts to discredit organizations like Ibon and Karapatan.
KARAPATAN Alliance for the Advancement of People's Rights, is a progressive alliance of individuals and organizations fighting for civil and political, economic, social and cultural rights of the Filipino people. Karapatan is no stranger to attacks. Since Duterte's inauguration in 2016, Karapatan staff across the country, have been harassed, intimidated, and 5 have already been killed. As Cristina Palabay, the Secretary-General of Karapatan, continues her speaking tour in the United States, sponsored by Amnesty International and ICHR-US, she responded to the attacks:
"We would even have chuckled at [these] antics if not for [their] not-so-veiled threat on either having me killed or arrested on made-up charges, which familiarly resonates like all the threats that our human rights workers have received before they were killed, disappeared or arrested. This issue isn't even about Karapatan; it is about the fundamental right of peoples to defend their rights in the context of a tyrannical government that disregards these rights. We exist, because people like Mr. Parlade and the systems [he] preserves exist. And we will continue to do what we do, despite and inspite of [these people], because we know that we are on side of truth and justice."
The Ibon Foundation conducts research on the most urgent social, economic and political issues confronting the Filipino people as well as the conditions, globally. While the state is busy on a campaign to malign pro-people organizations, Ibon continues to raise awareness on the rice crisis, the manufactured water crisis, and other societal ills that have been brought on by the government's ineptitude and anti-people policies.
Rural Missionaries of the Philippines - RMP is a national organization of women and men religious, priests and lay who dedicate their lives to educating and working with the rural poor farmers and agricultural workers for genuine agrarian reform, the fisherfolk for genuine aquatic reform, and the indigenous peoples for land and self-determination, towards attainment of the fullness of life, justice, freedom and integrity of creation. In the midst of Martial Law and militarization of Lumad communities in Mindanao, RMP teachers and volunteers continue to provide education to Lumad students in far flung communities where the government fails to provide education and basic social services or access to healthcare.
Following the killings of three Catholic Priests in the past two years, attempted killings of church leaders and pastors who are serving poor and rural communities, rising attacks on church leaders including red-tagging of UCCP and IFI Bishops and ongoing surveillance of church leaders, we cannot be quiet. The attempts to discredit the church leaders and organizations providing the social services and other needs that the government continues to fail to provide.
It is the duty of ICHRP-US and the people of the United States to oppose the continued slaughter of the Filipino people by its government, funded by our tax dollars. Pam Tau-Lee, the Chairperson of ICHRP-US, says, "It is unconscionable that, while people in the U.S. are hungry, homeless, lack adequate healthcare and access to education, we are funding bloodthirsty regimes that attack the poor, the indigenous, women and children, and their advocates. It is absolutely urgent that we denounce this vilification campaign, and defend those who defend human rights!"
NMP delivers paper during the 2019 MET Conference hosted by MARINA
By National Maritime Polytechnic
March 18, 2019
TACLOBAN CITY – The National Maritime Polytechnic (NMP) attends the 2019 Maritime Education and Training (MET) Conference conducted in Manila last February 21-22, 2019 with the theme "Seafarers of the Future: Trends in Maritime Education and Training".
The activity was hosted by the Maritime Industry Authority (MARINA) in partnership with the International Association of Maritime Universities (IAMU), aimed to encourage an interactive discussion among stakeholders that will result to conclusions and preferable actions gearing towards further improvement of the Philippine MET System.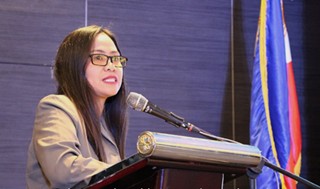 During the conference, NMP Deputy Executive Director, Ms. Mayla N. Macadawan presented and discussed the topic "Innovating MET: Responding to Societal Change".
The NMP paper highlighted the current and emerging trends in shipping involving global connectivity, rapid technological advancements, autonomous shipping and digitalization. These advancements will eventually result to: (a) Need for seafarers who are capable to effectively perform present and future roles, with new sets of skills for hybrid, upskilled responsibilities; (b) Decision-making in some elements of the voyage to shift from on board to onshore with the advent of autonomous shipping; and (c) Dramatic change in the roles and functions of the seafarers in the future, may require a new training regime.
Moreover, aforementioned developments will correspondingly require new skills requirements for seafarers and will also demand innovating MET, which may include:
• Use of simulators in high intensity training and assessment, with a syllabus that builds situational awareness by exposing students and trainees to repeated critical situations onboard (e.g. crisis-response scenarios) of progressively increasing levels of risk and complexity. Within a period of time individuals will attain satisfactory level of competence thru this high intensity training and assessment. The use of simulators, which are designed to replicate actual equipment onboard, thru the high intensity training concept may even be considered as effective replacement to reduce sea service.
• Integration of knowledge, skills and understanding (KSU) of automation in basic maritime education and development of short training course for existing seafarers.
• Significant training in information technology (IT), with emphasis on cyber technology.
• Use of e-learning and e-assessment platforms
• Development, production and dissemination of Open Educational Resources (OER) for maritime instructors and assessors
• Synergy among local and international stakeholders
• Research-based development of MET programs
• Evaluation and verification of MET programs by stakeholders and certifying bodies; and
• Harmonization & standardization of MET programs
Further, MARINA STCWO DED Atty. Joy Vera Ban-eg presented the developments since the last MET Conference held in 2018 that included NMP's role as Center for Faculty Development as reflected in the Manifesto of Commitment signed by the stakeholder participants.
These circumstances signal employment opportunities to Filipino seafarers and at the same time pose challenge in sustaining the development of globally competitive seafarers. This brings the attention of all maritime institutions, such as NMP, on their readiness of addressing the significant new training requirements of the STCW 2010 Manila Amendments and the development of value-added programs to respond to the demand trends.
NMP, as a maritime training and research agency, remains on guard for new developments in MET as these are crucial considerations in the accreditation, validation and improvement processes of its training programs. It continuously endeavors to precipitate and capitalize in program offerings and ensures that measures are undertaken to keep abreast with evolving standards and other industry requirements.
On the pipeline and in line with the NMP's vision of being the Philippines' leader in maritime training, including e-learning and research, NMP is embarking on the conversion of its Gender Sensitivity Training for Seafarers (GSTS) to an e-Learning Platform/Format and is scheduled to be completed in the first semester of CY 2019.
The conference was attended by more than 200 representatives from IAMU member institutions in the Asia Pacific Region, Commission on Higher Education (CHED), maritime higher education institutions (MHEIs), maritime training centers (MTCs), seafarer associations, research groups and course developers, maritime instructors, as well as manning agencies.
Meanwhile, NMP continues to upgrade its facilities and provide maritime trainings required pursuant to the STCW Convention as amended in 2010 including value-adding courses towards improving the qualifications of Filipino seafarers for their employment acceptability and enhanced competitiveness. It also regularly conducts maritime studies to come up with policies for the improvement of the manpower sector of the industry.
Those interested in NMP research undertakings may visit the NMP website (www.nm.gov.ph) and access the e-Research Information System Portal which is designed to gather inputs for NMP's research, dissemination of NMP completed researches and other articles pertaining to maritime research.
For more information about NMP trainings viewers may visit the agency's facebook page (www.facebook.com/nmptrainingcenter) where all related information on NMP trainings are available.
Further, NMP encourages seafarers to avail of the NMP-OWWA (Overseas Workers Welfare Administration) Seafarers' Upgrading Program (SUP) which entitles the beneficiary to receive financial assistance for training costs from the OWWA.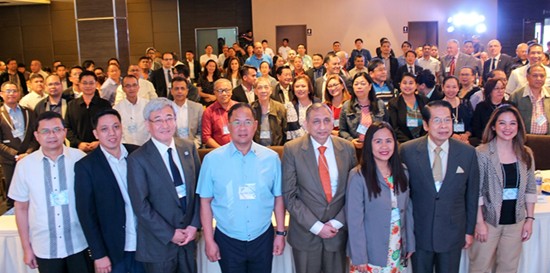 NMP Deputy Executive Director, Ms. Mayla N. Macadawan (1st row - 3rd from the right) during the 2019 MET Con on 21-22 February 2019.
Pacific Partnership Mission 2019 caters to northern barangays of Tacloban City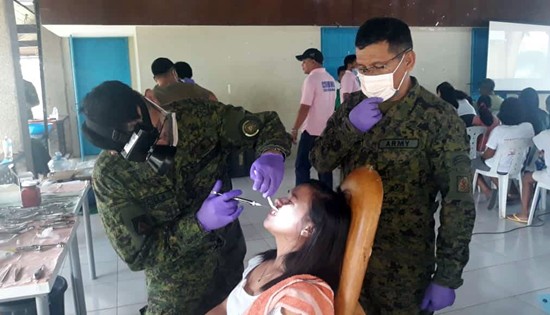 By DPAO, 8ID PA
March 15, 2019
CAMP LUKBAN, Catbalogan City – The 8th Infantry (Stormtroopers) Division, Philippine Army in collaboration with the Pacific Partnership contingents, Local Government Units (LGUs) and Non-Governmental Organizations (NGOs) provided medical, dental, pedia, veterinary services to the people of the barangays of Palanog, Bagacay, Tigbao-Diit all of Tacloban City at Tigbao-Diit Elementary School on March 15, 2019.
Residents of the said barangays were thankful to the free services provided to them by this Pacific Partnership 2019 (PP19). Likewise, the US Navy's stage band performed much to the delight of the beneficiaries from the three barangays of Tacloban City.
Capt. Randy Van Rossum, Mission Commander, Pacific Partnership 2019 mentioned that, "this collaborative commitment in working together gives reason to value teamwork which provides equal opportunities to contribute or share and communicate their ideas to everyone involved in these activities."
Maj. Gen. Raul M. Farnacio, Commander, Joint Task Force "STORM" said that "this year's mission will surely strengthen the partnership of allied countries, LGUs, NGOs and different volunteer organizations in their various capacities to serve the Filipinos."
"As the Philippines is one of the host nations for PP19, I am glad that these civic-action activities will send a rippling message to the communities that helping one another is the key to a greater humanity," Farnacio added.