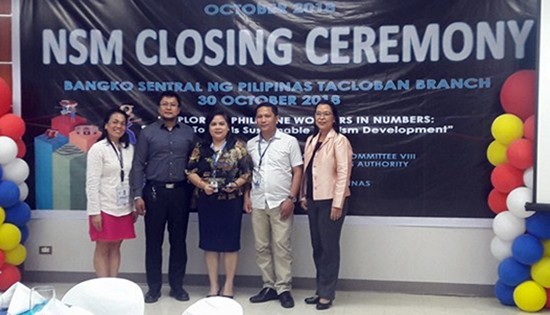 PIA Regional Office 8 OIC Venus H. Sarmiento receives the plaque for Best NSM Agency in Eastern Visayas. (L-R) PSA-RSSO 8 Regional Director Wilma A. Perante, BSP Tacloban Branch Acting Deputy Director Ronaldo O. Bermudez, PIA-8 Information Officer II Leonilo D. Lopido, and NEDA-8 ARD Meylene C. Rosales.
PIA bags first ever best NSM agency in EV
By PSA-8
November 12, 2018
TACLOBAN CITY – The Philippine Information Agency (PIA) Regional Office VIII was awarded the first ever Best National Statistics Month (NSM) Agency in Eastern Visayas during the NSM Closing Ceremony on 30 October 2018 at Bangko Sentral ng Pilipinas Tacloban Branch.
Among the three (3) agencies who have submitted their bid for the Best NSM Agency, PIA emerged as the winner for its significant contribution through various information dissemination activities during the month-long celebration of the 29th National Statistics Month in the region with the theme, "Exploring Philippine Wonders in Numbers: Statistics Towards Sustainable Tourism Development".
The Best NSM Agency, the first in the region, was conducted by Philippine Statistics Authority - Regional Statistical Service Office VIII (PSA-RSSO VIII) in coordination with the Regional Statistics Committee VIII (RSC VIII), to recognize the agency which hosted relevant activities and with outstanding participation in various activities during the 2018 NSM Celebration. It aims to encourage wider participation to the NSM celebration and to promote the conduct of activities that will further bring off the objectives and spirit of the month-long observance of the NSM. The search was open to all Regional Line Agencies, Local Government Units (Province, City, and Municipality Levels), Academe, Non-Government Organizations, and the Private Sector in the region.
The NSM Awards Committee was composed of the Regional Director of PSA-RSSO VIII and the Chief Statistical Specialists of PSA Provincial Statistical Offices in the region. Criteria of the competition included, a) Diversity and number of statistical activities (25%); b) Clarity of objectives/message and promotion of statistical awareness/literacy in relation to the theme (25%); c) Outputs, outcomes and impacts of Statistical activities (25%); d) Extent of participation/coverage (10%); e) Promotion of a favorable image of the region/province (10%); f) Economy in the use of resources (5%).
The NSM is an annual celebration conducted every October pursuant to Presidential Proclamation No. 647 "Declaring the Month of October of Every Year as the National Statistics Month", in order to promote, enhance and instill nationwide awareness and appreciation of the importance and value of statistics to the different sectors of society; and to elicit the cooperation and support of the general public in upgrading the quality and standards of statistics in the country.
The RSC VIII, through the PSA-RSSO VIII as its technical secretariat, spearheaded the NSM celebration in the region.
Presidential clemency for Imelda Marcos likely, labor alleges
By Bukluran ng Manggagawang Pilipino
November 9, 2018
QUEZON CITY – Militant labor Bukluran ng Manggagawang Pilipino (BMP) today welcomed the decision of the Sandiganbayan who has found incumbent Ilocos Norte representative Imelda Marcos guilty beyond reasonable doubt of seven counts of graft and corrupt practices, but the group also advised the people "to enjoy it while it lasts" as they allege that she will be pardoned by Malacanang.
The group says that the Sandiganbayan decision is "an early Christmas gift" as a bleak yuletide season is foreseen as the cost of living surges due to runaway inflation.
"The verdict elicits jubilation, a long standing prayer of the people has been answered but then again it would be safe to say that with the Duterte's administration's close affinity with the Marcoses, Imelda will be pardoned unconditionally," predicted Ka Leody de Guzman, chairperson of BMP.
He adds that given the many presidential pronouncements and decisions that have favored the Marcos family, "the propensity of this administration is to pardon her at the soonest possible time and will cite old age as a reason for the clemency".
The labor leader says it well may be regarded as certain that the president will waste no time to free the wife of the former dictator whom he considers his idol and the mother of his "preferred successor", Bongbong Marcos.
"It is also most certain that Imelda will not be slapped," De Guzman said in reference to the President's recent statement that local and foreign businessmen will be given the opportunity to slap corrupt officials a dozen times in front of him.
Duterte is the only president that allowed Marcos to be buried in the Libingan ng mga Bayani in 2016, reaping a whirlwind of protests, mostly from millennials.
De Guzman warned that any maneuver from Malacanang to liberate the controversial and ostentatious former First Lady from serving time will be met with indignant action in the streets as well as a deafening protest vote for candidates the President will endorse in next year's mid-term elections.
"Sasalubungin ng protesta't welga ang hakbang ng Palasyo para palayain ang nagpahirap at nagpakasasa sa yaman ng bansa," declared De Guzman, a veteran of the anti-dictatorship struggle after the assassination of Ninoy Aquino in 1983.
He adds that the labor movement has its own share of martyrs who suffered heavily under the Marcos regime. "Hindi namin papayagan na yurakan ang ala-ala ng aming mga martir na nag-alay ng buhay para panagutin ang mag-asawang Marcos".
Past leader of BMP Ka Romy Castillo was incarcerated and brutally tortured during the later years of the dictatorship. Another towering figure of the labor movement, Ka Popoy Lagman lost his first wife and elder brother to Marcos' state agents.
Five years after Yolanda, climate activists decry 'inconsistent' climate and energy policies
PH must lead renewable energy shift to combat climate change, groups say
By Center for Energy, Ecology and Development
November 8, 2018
QUEZON CITY – Five years after the destruction of Typhoon Yolanda (internationally known as Haiyan), Filipino civil society organizations, specifically advocates for climate justice and energy transformation, are alarmed over the Philippine government's policies on climate and energy.
"Our inconsistent climate and energy policy is costing us not only the lives of our people, but our hope for a more accessible, sustainable energy system which can alleviate poverty and respond to the needs of vulnerable Filipinos," says Gerry Arances, Executive Director of Center for Energy, Ecology, and Development.
Arances cites that even with the Clean Energy Scenario, the Philippine Energy Plan still projects fossil fuels to still be the primary energy source by 2040 at 78.81% and renewable energy at 21.19%, despite the country's nationally-determined contribution to the Paris Agreement pledging a 70% reduction in GHG emissions below BAU projections by 2030.
"As we are among the most vulnerable countries to climate change, the wake-up call that was Yolanda should have been cause for us to lead not just in the discussion of disaster resilience, but also in shifting away from dirty, costly energy from fossil fuel like coal," added Arances.
Arances cited the DOE's coal-dependent policy as a "symbol that the Philippines has learned nothing from Yolanda." "As another Typhoon Haiyan lurks around the corner, here we are increasing the vulnerabilities of Filipinos by greenlighting more coal projects in vulnerable coastal areas, and cursing poor, vulnerable communities to decades more of energy poverty," said Arances.
Arances said that the experience of previously unelectrified communities with renewable energy, as well as its use for response during disasters like Typhoon Yolanda and Ompong "have proven that renewable energy is more compatible with our climate needs and in tune with our environment as a country."
In its preliminary studies on Philippine coasts and the climate, CEED found that coastal communities are among the most vulnerable when it comes to climate change, and yet their vulnerabilities are increased by environmental degradation, health costs, and destruction of livelihood posed by energy and extractive projects.
"Coastal communities which are already exposed to climate-related disasters and sensitive to the slow-onset impacts of climate change are threatened by such projects," said Atty. Aaron Pedrosa, Executive Director of Bulig Pilipinas, National Relief, Rehabilitation, and Adaptation Solidarity Network. "This is because their adaptive capacity is being lessened through the loss of income, displacement from their sources of livelihood, and health hazards," he added.
Pedrosa urged the national government to consider the area's vulnerability to climate-related disasters in green-lighting energy and climate projects in granting certificates of environmental compliance (ECCs) to companies. "Unfortunately, the bare minimum compliance is already in danger of not being met, with 189 coal extraction and energy projects applying for the Energy Project of National Significance (EPNS) certificate under President Duterte's Executive Order 30," he warned.
Executive Order 30 enables the DOE-led Energy Investment Coordinating Council (EICC) to drastically hasten the approval process for particular big energy projects. Among the projects granted EPNS status is the heavily contested Atimonan One Energy (A1E) 1,200 MW power plant in the coastal area of Atimonan, Quezon, near the protected area of Lamon Bay. "Biodiversity, human lives, and livelihood near Lamon Bay are already jeopardized by climate change, but now the people of Atimonan have the power station threatening these as well," Pedrosa elaborated.
"Nakalulungkot na binasbasan ng Pangulo ang planta sa kabila ng pagpapalayas, panlilinlang, at kawalan ng kabuhayan na dinanas naming mga taga-Atimonan dahil sa proyektong ito," said Reynaldo Opalda of Atimonan, Quezon. ("It is saddening that the plant now has the President's blessing even with the displacement, deception, and destruction of livelihood the people of Atimonan has suffered because of the project.")
"Kung ngayon pa lang ganito na magnegosyo ang A1E sa aming lugar, paano pa kaya kapag umaandar na ang planta?" Opalda asked. ("If this is how A1E conducts business now, what can we expect when the plant starts operation?")
Boracay opening fair nets P400k
By DTI-ROG
November 7, 2018
MAKATI CITY – The DTI Aklan Provincial Office launched the "Bagong Buhay Boracay Product Showcase" at the City Mall Boracay in time for the soft opening of Boracay Island, Malay, Aklan on October 26, 2018.
A total of 49 exhibitors participated in the product showcase.
The exhibit featured the products made by micro, small and medium enterprises (MSMEs) and workers affected by the Boracay Island rehabilitation. Alongside, local artisans had the chance to showcase their artistic skills during the event.
The three-day product showcase, which opened on October 26 until 28, generated a total sales amounting to P411,956.00, of which P111,956 was in cash sales and P300,000 was in booked orders.
Moreover, DTI Aklan likewise distributed starter kits for displaced workers of Boracay Island under its Livelihood Seeding Program. And, a mini exhibit featuring Boracay Island and Aklan products was held at Cagban Port.
DTI Undersecretary for Regional Operations Group Zenaida Cuison-Maglaya and DTI VI Regional Director Rebecca M. Rascon graced the activity together with the MSMEs, DTI staff, and guests.
A ceremonial distribution of starter kits to an initial of 41 beneficiaries was conducted after the opening program of product showcase. A total of 225 beneficiaries will be given starter kits for siomai making, puto pao making, screen printing, sewing, paper beads making, soap making, candle making, handmade paper making, and for crochet and hand embroidery.
This activity is under the DTI's Livelihood Seeding Program for Displayed Workers in Boracay as the agency's support to the government's rehabilitation efforts in bringing back to normal the business activities in the island.
Undersecretary Maglaya and Director Rascon were hopeful that the starter kits extended to the beneficiaries will serve as a catalyst in bringing more opportunities and vibrant economic activities in the island.
"When one door closes, a window opens", said Usec. Maglaya as she encourages the recipients to remain steadfast in all adversities and to make use of this opportunity to grow.
The top officials both expressed their appreciation for the efforts of the DTI-Aklan team headed by OIC Provincial Director Ma. Carmen I. Iturralde, together with the cooperation of the stakeholders and partners.
Teachers slam PNP-CHEd move to bring anti-drug war to universities
By Alliance of Concerned Teachers
November 7, 2018
QUEZON CITY – The Alliance of Concerned Teachers (ACT) lambasted the recent moves of the Philippine National Police and the Commission on Higher Education to launch anti-illegal drug operations in Higher Education Institutions (HEIs).
"After terrorizing communities and killing thousands in the guise of the Duterte administration's war on drugs, PNP now plans to take its bloody and evidently failing 'Oplan Tokhang' into colleges and universities, with no less than CHEd holding the doors open for them," decried Raymond Basilio, ACT Philippines' Secretary General.
Basilio signaled alarm over the scenario of police forces entering university premises to conduct operations against teachers and students which, he said, will lay the academe vulnerable to abuses and rights violations. He cited the numerous controversial cases of abuse allegedly committed by the implementors of 'Oplan Tokhang', which he tagged as "abhorrent" and "anti-poor"; most recent of which is the widely protested case of a Manila cop raping a drug suspect's teenage daughter, which the accused claimed as 'common practice in drug bust operations'.
"We cannot allow the PNP, who are notorious human rights violators, to come into our schools. We cannot accept the government's treatment of schools as a breeding ground for criminals. Schools are safe havens for learning!" Basilio added.
Basilio expressed "serious concern" that this may be another attempt at "terrorizing students" as demonstrated in last month's 'terrorist-tagging' of 18 metro manila universities and colleges alleged to be part of the 'Red October Plot'.
'Why does it seem like state forces are so eager on meddling with school affairs? When their trite effort to connect universities to the so-called Red October did not sell, they came up again with this equally devious ploy. Students and teachers are not criminals! If anything, the fight we are waging is against ignorance with only our pens and papers as weapons. Doesn't the PNP agree with our mission to mould an educated and socially-aware citizenry?" asked Basilio.
He further observed that the Duterte administration's anti-drug war seems to be 'wrongly directed against civilian spaces of peace and security such as schools and poor communities'.
"While state forces are hell-bent on disturbing our peace, they are remarkably silent when Malacañang said that electoral candidates cannot be subjected to drug testing," lamented Basilio.
He noted that while Pres. Duterte was repeatedly quoted saying that the objective of his anti-illegal drug campaign is to save the youth who are the future our nation, "it is ironic that the very same policy cut short the lives of our students, such as in the case of Kian de los Santos."
"The Duterte administration must stop with this foolishness. If it is truly serious in its commitment to the youth, we dare the President to stop the impending cuts in the 2019 budget of State Universities and Colleges (SUCs) and instead provide higher allocations to address the real needs of the students in SUCs," Basilio concluded.
Political dynasties, rich and powerful continue to dominate party-list race
By KONTRA DAYA
November 5, 2018
MANILA – Five years after the Supreme Court opened the party-list system to nominees who need not belong to the marginalized and underrepresented sectors they claim to represent, more and more political dynasties and vested interests have joined the party-list race. Their inclusion has made it harder for party-list groups genuinely representing marginalized sectors to gain seats in Congress. The party-list system has been bastardized and corrupted, becoming an extension of the political dynasties in many provinces and undermining its original goal of providing representation to marginalized sectors such as workers, farmers, women, youth and indigenous people's among others.
Initial research conducted by Kontra Daya shows that many of the 182 party-list groups in the 2019 elections may be classified as (1) those with links to political dynasties or officials already elected in other positions; (2) those representing special business interests; and (3) those with questionable advocacy and nominees.
Among the party-list groups that have links to political dynasties is Probinsyano Ako whose first two nominees are related to Ilocos congressman and former Majority Leader Rodolfo Farinas. First nominee Rudy Ceasar is Farinas son. Second nominee Lira Farinas is also related to the congressman through Laoag City administrator Jami Farinas.
Tingog Sirangan has as its first nominee Yedda Romualdez who is an incumbent Leyte first district representative and part of the Romualdez dynasty in Tacloban. The Abono party-list remains as the vehicle of the Estrellas and Ortegas of Pangasinan and La Union. Its first nominee is Conrado Estrella III and its second nominee is Vini Nola A. Ortega who is also the wife of La Union governor Pacoy Ortega.
Ang Mata'y Alagaan's first nominee, Tricia Nicole Velasco, is the daughter of former SC Justice Presbiterio Velasco and is part of the Velasco political clan in Marinduque. Her brother is Lord Allan Jay Velasco is a Marinduque congressman. Her mother Lorna Velasco was also a past nominee and representative of the same party-list.
Ako An Bisaya is linked to the Uy and Tuazon political clans of Samar and the Velosos of Leyte. Its first nominee is Ramp Nielsen S. Uy, a former vice-governor of Northern Samar. He ran and lost a congressional seat in 2013. Its second nominee is Rodolfo T. Tuazon, Jr. Its third nominee is former Leyte Congressman Eduardo Veloso, who was indicted by the Ombudsman for graft in relation to the PDAF scam.
AAMBIS-OWA is linked to the Garin and Biron political dynasties of Iloilo. Its first nominee is Sharon Garin while its second nominee is former Iloilo congressman Hernan Biron, Jr. Aangat Tayo's nominee is Harlin Neil J. Abayon III, related to the Abayon political clan of Northern Samar.
The 1 Alliance Advocating Autonomy Party has the daughter of former speaker Bebot Alvarez, Ana Emelita, as its first nominee. Adhikain Tinaguyod ng Kooperatiba has Marjorie Ann Teodoro, wife of Marikina Mayor Marcy Teodoro as its first nominee. Serbisyo sa Bayan party-list, linked to QC congressman Sonny Belmonte, has end-termer Quezon City councilors Ranulfo Zabala Ludovica and Vicente Eric De Guzman Belmonte Jr. as their nominees. PBA Partylist is represented by Jericho Nograles of the Nograles dynasty in Davao. Abe Kapampangan's first nominee meanwhile is Angeles Mayor Ed Pamintuan.
All in the family
Some current nominees are the spouse or children who seek to replace the current nominees. These group's nominations have become a family affair. Agbiag Partylist's nominee Michaelina Antonio is the wife of former Agbiag representative Patricio Antonio. Abante Mindanao's nominee, Mary Grace Rodriguez, is the wife of its former representative Maximo Rodriguez. Ako Bicol's second nominee is Justin Caesar Anthony D. Batocabe, son of incumbent Ako Bicol representative Rodel Batocabe.
Some nominees already had their stint as district representatives. Tingog Sirangan's Yedda Romualdez of Leyte, there is Inang Mahal's first nominee, former congresswoman Gina de Venecia, wife of former Speaker Jose de Venecia of Pangasinan. LPGMA's first nominee is former representative Rodolfo B. Albano of Cagayan.
Special interests
Some party-list seem to represent big business interests. One curious group, the Construction Worker's Solidarity is represented by former DPWH Undersecretary Romeo S. Momo, Sr. who is facing an investigation for alleged anomalous road projects. Other nominees of his group belong to the Gardiola family that owns several construction firms that have been previously been implicated in questionable projects according to reports by PCIJ. The party list that claims to represent construction workers is actually a group representing construction firms.
Another similar group, Sandigan ng mga Manggagawa sa Konstruksyon has real estate developer and contractor Enrique Olonan as its first nominee.
ACTS-OFW has two set of nominees, with one set led by controversial congressman John Bertiz who heads a manpower recruitment agency. Its third nominee, Francisco Aguilar, is the president of another recruitment agency.
Anakalusugan has for its second nominee former congressman and DENR secretary Mike Defensor. Another example would be Ako Padayon Filipino whose nominees Adriano Ebcas, Reynaldo Sindo, and Juancho Chong are high-ranking officials of electric cooperatives in Camiguin, Surigao del Sur and Bukidnon.
A glaring example of how the party-list system has been used by the rich and powerful is the One Patriotic Coalition of Marginalized Nationals, Inc. 1 PACMAN's first nominee Michael Romero, happens to be the richest member of the House of Representatives with a reported net worth of P7 billion. His wealth does not come as a surprise since he is said to be the chief executive officer (CEO) or chair of, among others, the Harbor Centre Port Terminal, Mikro-tech Capital, Manila North Harbor Port, Pacific Inc. and 168 Ferrum Mining. We believe that having multi-billionaires as party-list representatives were not the original intent of the party-list law as these billionaires can easily seek congressional seats through the regular district representation.
In the coming days, Kontra Daya plans to release its initial comments on advocacies and nominees of at least 182 party-list groups. We call on the Comelec to do all it can to ensure whatever integrity is left in the party-list system will not be further eroded by the entry of more party-list groups and nominees that do not belong to nor truly represent the interests of the marginalized and underrepresented. We call on the people to be extra-vigilant with groups claiming to represent the voiceless but in fact, are representing dynastic interests. The SC ruling in Paglaum vs Comelec, which paved the way for the bastardization and corruption of the party-list system, will have to be reversed.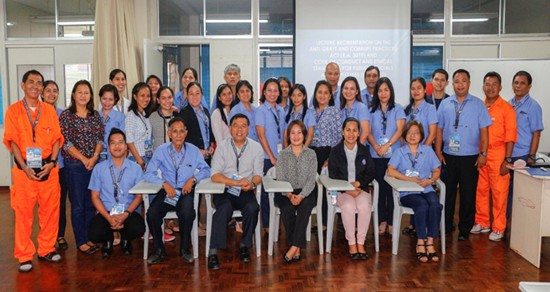 NMP Officials and employees during the Lecture-Reorientation on R.A. No. 3019 and R.A. No. 6713 on 02 October 2018 at Room 109, NMP Training Building, Cabalawan, Tacloban City.
NMP reorients employees on R.A. 3019 and R.A. 6713
By National Maritime Polytechnic
October 31, 2018
TACLOBAN CITY – The National Maritime Polytechnic (NMP) through its Administrative, Financial and Management Division (AFMD) conducted a Lecture-Reorientation on Republic Act No. 3019, known as Anti-Graft and Corrupt Practices Act and Republic Act No. 6713, known as "Code of Conduct and Ethical Standards for Public Officials and Employees" on 02 October 2018 at Room 109, NMP Training Building, Cabalawan, Tacloban City.
The activity was undertaken as part of the Agency's anti-corruption initiatives with the aim of providing an avenue for NMP employees to internalize and enhance their understanding of their respective roles as civil servants and their accountabilities to the public.
Thirty-nine (39) NMP employees participated the lecture conducted by Atty. Janice G. Gabrito-Agullo, Graft Investigation and Prosecution Officer II of the Office of Ombudsman for Visayas Regional Office No. VIII.
In his welcome message, NMP Executive Director Romulo V. Bernardes emphasized that the lecture will provide the NMP personnel with the opportunity to revisit the concepts and principles of integrity, transparency and accountability as public servants and promote practices towards living a modest life.
Discussions focused on salient points of R.A 3019 and R.A. 6713. Public officers and employees must at all times be: (1) A-ccountable to the people, (2) S-erve them with utmost responsibility, integrity, loyalty and efficiency, (3) A-ct with patriotism and justice; and (4) L-ead modest lives, said Atty. Agullo.
She further explained that every public official and employee shall observe the standards of personal conduct in the discharge and execution of official duties as provided under Section 4, RA 6713 such as Commitment to Public Interest, Professionalism, Justness and Sincerity, Political Neutrality, Responsiveness to the Public, Nationalism and Patriotism, Commitment to Democracy, Simple Living.
Guidelines in the proper filling out of the Statement of Assets, Liabilities and Net Worth (SALN) Form was also tackled. The filing period could either be within (a) 30 days after assumption of office, (b) on or before April 30 of every year or (c) within 30 days after separation from the service. As a tool for learning, case digests of various situational cases were presented for discussion and provision of possible solutions and recommendations.
Laws regulating the act or practice of soliciting or receiving, directly or indirectly any gifts were also highlighted during the lecture, making it punishable for public officials and employees to receive or solicit, and for private persons to give gifts on any occasion, including Christmas.
ED Bernardes expressed confidence that through there orientation, NMP employees will be more cognizant of their duties and responsibilities as public servants, to build public integrity and give public service excellent governance.
Meanwhile, NMP continues to upgrade its facilities and provide maritime trainings required pursuant to the STCW Convention as amended in 2010 including value-adding courses towards improving the qualifications of Filipino seafarers for their employment acceptability and enhanced competitiveness. It also regularly conducts maritime studies to come up with policies for the improvement of the manpower sector of the industry.
Those interested in NMP research undertakings may visit the NMP website (www.nmp.gov.ph) and access the e-Research Information System Portal which is designed to gather inputs for NMP's research, dissemination of NMP completed researches and other articles pertaining to maritime research.
For more information about NMP trainings viewers may visit the agency's facebook page (www.facebook.com/nmptrainingcenter) where all related information on NMP trainings are available.
Further, NMP encourages seafarers to avail of the NMP-OWWA (Overseas Workers Welfare Administration) Seafarers' Upgrading Program (SUP) which entitles the beneficiary to receive financial assistance for training costs from the OWWA.
CSOs, clean energy advocates alarmed over coal projects tagged as 'projects of national significance'
Duterte's EO30 questioned as anomalous coal projects given priority status
By Center for Energy, Ecology and Development
October 31, 2018
QUEZON CITY – Civil society organizations once again raised concerns over the priority status given to numerous coal projects through the executive order issued by President Rodrigo Duterte, enabling the DOE-led Energy Investment Coordinating Council (EICC) to drastically hasten the approval process for particular big energy projects.
Most recently, the EICC has granted certificates of energy projects of national significance (CEPNS) to two coal operating contracts (COCs) of the Philippine National Oil Company-Exploration Corporation (PNOC-EC), to the dismay of anti-coal advocates and consumer groups nationwide.
"The successive declarations granting EPNS status to various coal projects in the country confirms our suspicion that the Executive Order 30 issued by the President is a mere ploy to railroad heavily-contested dirty energy projects despite scrutiny and opposition from consumers and host communities," said Gerry Arances, convenor of the Power for People (P4P) Coalition, and Executive Director of the Center for Energy, Ecology, and Development.
"Since the issuance of EO30, we have warned against the possibility of the CEPNS to sweep various issues surrounding energy projects under the rug," Arances stated. "The two COCs recently granted EPNS status will contribute to Mindanao's worsening coal problem, as stranding is already taking place in its regions due to an oversupply of approximately 700 MW of coal and hydro," added Arances, citing the recent IEEFA report on stranded coal assets in the Philippines.
"The entrance of more coal is ridiculously dangerous since power producers, but more importantly power consumers have been paying almost P3 Billion from 2014 to 2016 alone because of underutilization," he continued. "This will push electricity rates further up, to the detriment of power consumers in Mindanao," Arances warned.
In their policy brief regarding the President's Executive Order 30, CEED pointed out that the order appears to be "unconstitutional," "grants unbridled discretion and abuse of discretion," and in effect, "expedites coal expansion."
"The definition of EPNS is too broad and vague granting the EICC an unbridled discretion on what is "significant" to be considered as an EPNS," said Atty. Avril De Torres, CEED Head of Research, Law, and Policy Program.
"The three coal projects certified as EPNS sets a bad precedent. Now, carbon-intensive coal projects which are also heavily contested and opposed and gets us farther from our NDC can be declared as nationally significant and be fast-tracked," Atty. De Torres added.
Among the coal projects given priority status was the US$3.0-billion 1,200 MW coal-fired power project in Atimonan, Quezon, which was the subject of "anomalous" dealings with Meralco, who owns majority shares in Atimonan One Energy (A1E), the project's proponent.
"It was just last year when Commissioners of the Energy Regulatory Commission (ERC) were suspended after giving undue advantage to Meralco and A1E by allowing them to skip the Competitive Selection Process (CSP) mandated by law to ensure the least cost option for consumers," says Atty. Aaron Pedrosa of the Sanlakas multisectoral coalition. "It is revolting that DOE through Sec. Alfonso Cusi would then certify the project as EPNS despite the corruption surrounding it," said Atty. Pedrosa.
"EO30 gravely puts the interest of power producers and distribution utilities like Meralco above the interests of consumers who pay their monthly dues and communities who are set to host these dirty energy projects," he continued. "Not only is coal drastically becoming more and more commercially unviable, it has historically led to the destruction of the climate, and the deterioration of communities' health, livelihood, and environment," Pedrosa added.
"Nakalulungkot na binasbasan ng Pangulo ang planta sa kabila ng pagpapalayas, panlilinlang, at kawalan ng kabuhayan na dinanas naming mga taga-Atimonan dahil sa proyektong ito," said Reynaldo Opalda of Atimonan, Quezon. ("It is saddening that the plant now has the President's blessing even with the displacement, deception, and destruction of livelihood the people of Atimonan has suffered because of the project.")
"Kung ngayon pa lang ganito na magnegosyo ang A1E sa aming lugar, paano pa kaya kapag umaandar na ang planta?" Opalda asked. ("If this is how A1E conducts business now, what can we expect when the plant starts operation?")