NMP women employees learn self-defense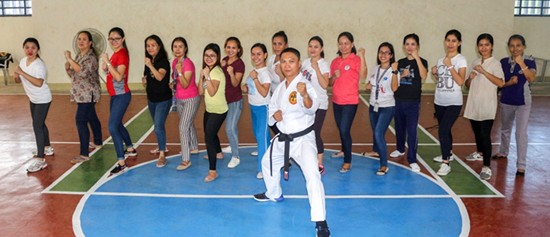 By National Maritime Polytechnic
October 31, 2018
TACLOBAN CITY – Taking into account the vulnerability of women to be exposed to dangerous situations such as sexual abuses, stalking, and harassment, among others, has made self-defense an essential priority for women today in order to protect themselves against these threatening situations.
As part of the capacity-building activities on Gender and Development (GAD) advocacy and empowerment, the National Maritime Polytechnic (NMP) conducted Basic Self-Defense to its women personnel to equip them with strategies to adopt under different adverse circumstances.
The activity aimed to increase the knowledge of the participants on understanding and adopting personal safety habits and learn to develop some basic self-defense techniques and tactics that may help them be more aware, prepared, and ready for any situation that may occur in everyday life on a given day.
Twenty-two (22) women personnel initially participated in the said training program held every Friday afternoon, which commenced on 12 October 2018 at the NMP Gymnasium. The last session is scheduled on 09 November 2018.
NMP tapped the expertise of FO3 Anthony Alvin S. Duran, Fire and Arson Investigator of the Bureau of Fire Protection (BFP) RO 8. FO3 Duran is a 2nd Dan Black Belt of the Philippine Black Cat Karate-do Inc. (Okinawan ShorinRyu). He is affiliated with the Philippine Karate-do League (PKL).
The main goal of the said undertaking was to strengthen women's capacity to defend themselves against potential attacks, creating a strong mindset that could allow them to react sensibly in every situation, and help them feel safer and more confident.
Further, the conduct of the activity was also in line with Republic Act 9710 or Magna Carta of Women, a comprehensive women's human rights law that seeks to eliminate discrimination against women by recognizing, protecting, fulfilling and promoting the rights of Filipino women, especially those in marginalized sector.
Meanwhile, NMP continues to upgrade its facilities and provide maritime trainings required pursuant to the STCW Convention as amended in 2010 including value-adding courses towards improving the qualifications of Filipino seafarers for their employment acceptability and enhanced competitiveness. It also regularly conducts maritime studies to come up with policies for the improvement of the manpower sector of the industry.
Those interested in NMP research undertakings may visit the NMP website (www.nmp.gov.ph) and access the e-Research Information System Portal which is designed to gather inputs for NMP's research, dissemination of NMP completed researches and other articles pertaining to maritime research.
For more information about NMP trainings viewers may visit the agency's facebook page (www.facebook.com/nmptrainingcenter) where all related information on NMP trainings are available.
NMP also encourages seafarers to avail of the NMP-OWWA (Overseas Workers Welfare Administration) Seafarers' Upgrading Program (SUP) which entitles the beneficiary to receive financial assistance for training costs from the OWWA.
DTI, DA, NFA launch prescribed labeling, SRP for rice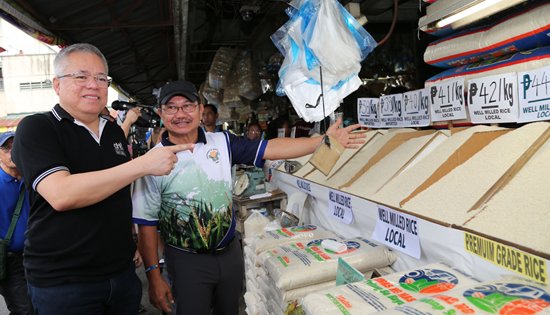 By DTI-OSEC-PRU
October 30, 2018
MAKATI CITY – Department of Trade and Industry (DTI) Secretary Ramon Lopez, Department of Agriculture (DA) Secretary Emmanuel Piñol, and the National Food Authority (NFA) Deputy Administrator Tomas Escarez joined forces in launching the prescribed labeling and suggested retail price (SRP) for milled rice on 27 October 2018 at Commonwealth Market in Quezon City.
There are four classification of milled rice – regular milled, well milled, premium grade, and special rice – which will be sold following the mandated SRPs except for special rice that covers organic, Cordillera heirloom, and other indigenous varieties.
The SRPs for imported rice are: P39 per kilo for well-milled, P40 per kilo for imported premium grade two, and P43 per kilo for premium grade one.
Meanwhile for local rice, the SRPs are: P39 per kilo for regular-milled, P44 per kilo for well-milled, and P47 per kilo for premium grade rice.
The government also banned the use of brand names like Sinandomeng, Dinorado, and Angelica to avoid deceptive labeling. These brands will be placed under premium grade rice classification.
The prescribed labeling as well as the SRPs is now being implemented in the entire Metro Manila and cities within the Greater Manila Area. Other regions will follow this scheme after All Souls' Day. The SRPs on rice will be reviewed and updated regularly.
Sec. Piñol said that penalties and sanctions will be imposed to retailers who will not comply with the SRPs. These include possible revocation of licenses, corresponding fines, as well as criminal charges from four months to four years.
Following the Joint Memorandum Circular signed by DTI and DA on 18 October, Sec. Lopez said that DTI now has the authority to monitor prices of rice and penalize violators. He explained that DTI will follow the same procedure done in monitoring SRPs of manufactured basic necessities and prime commodities. The agency will initially issue Letters of Inquiry to those who will not comply with the SRP of rice. Notice of Violation will then follow when they don't correct it as prescribed, and depending on the gravity of the offence as well as size of the business, penalties will be imposed ranging from P2,000 to maximum of P1 million.
The trade chief also announced the implementation of Presyong Risonable Dapat (PRD) program of DTI, which will allow retailers to directly import rice and sell it to the public at P38 per kilo. This will eliminate the layers of traders and ensure immediate availability of affordable rice in the market. The program started with four retailers applying to import 20,000 MT of rice each.
Two members of paramilitary group charged with murder of Lumad student
By KARAPATAN
October 29, 2018
QUEZON CITY – In a resolution, the Department of Justice found probable cause to charge Ben Salangani and Joven Salangani, members of paramilitary group Alamara, for the murder of 19-year old Lumad Obello Bay-ao, a student of the alternative school Salugpongan Ta'Tanu Igkanogon Community Learning Center (STTICLC).
Bay-ao's parents through their legals counsels from the National Union of Peoples Lawyers received a copy of the resolution dated May 21, 2018 only yesterday.
Bay-ao was killed on September 5, 2017 in Talaingod, Davao del Norte. He and his family were among the more than 200 Lumad residents in the community who fleed in July 2017 due to threats of the Alamara members and military operations of the Armed Forces of the Philippines. The evacuees returned to their community in August 2017.
The Alamara is among the paramilitaries or force multipliers accredited by the Citizens Armed Forces Geographical Unit (CAFGU) under the command of the 60th Infantry Battalion- Philippine Army.
"The arrest of Ben and Joven Salangani is long overdue. Their coddlers in the 60th IBPA and the Eastern Mindanao Command should not only surrender them. They should also be charged for their complicity in the killing of Bay-ao and their military operations in Talaingod which led to this dastardly crime," said Karapatan Secretary General Cristina Palabay.
"Obello Bay-ao is among the many victims of extrajudicial killings in the Philippines that happened while martial law is imposed in Mindanao by President Rodrigo Duterte. Many military and paramilitary men are still on loose sowing terror in peasant and Lumad communities. Many are yet to be prosecuted due to the climate of impunity that exists," Palabay added.
Before he was killed, Bay-ao joined the protest caravan called Lakbayan ng mga Pambansang Minorya in Manila on August 2017. Through his dying declaration to one of the witnesses, Bay-ao was able to identify Ben and Joven Salangani as those who shot him. Witnesses also identified the two as among those who shot Bay-ao.
"The culpability of paramilitaries such as the Alamara in the killing of Bay-ao affirms that the AFP and its adjuncts are into the business of murdering civilians. This has been the case in the massacre in Lianga, Surigao del Sur in September 2015. This is once again apparent in the massacre of the nine peasants in Sagay, Negros Occidental by the Special Civilian Auxiliary Army of the Armed Forces of the Philippines and mercenary private armies of landlords," she said.
"We stand with the family, friends, fellow students and community of Obello Bay-ao and of all those killed by State forces under the Duterte regime in their continuing quest for justice. We reiterate our call for the disbandment of paramilitary groups and for the Duterte regime to end its attacks against the Filipino people," ended Palabay.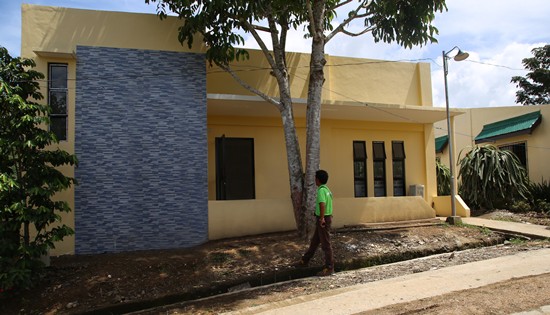 The completed Climate Change and DRRM Office of the Department of Agriculture in Brgy. San Agustin, Gandara, Samar.
DPWH delivers P9-M projects to the Department of Agriculture
By MAE ANGELICA R. COMOTA
October 25, 2018
CALBAYOG CITY – The Department of Public Works and Highways Samar First District Engineering Office (SFDEO) completes the construction of various projects under its convergence program with the Department of Agriculture (DA).
These four projects have a combined allocation of P9.27 million sourced from the Yolanda Recovery and Rehabilitation Program (YRRP) Fund of 2017, broken down as follows: 1) Establishment of Climate Change and Disaster Risk Reduction Management (DRRM) Office, Gandara costing P2.5 million; 2) Rehabilitation of Staff House, San Jorge costing P2.58 million; 3) Rehabilitation of Guest House, San Jorge costing P2.5 million; and 4) Rehabilitation/ Re-establishment of Plant Nursery Shed Storage, San Jorge costing P1.18 million.
The flagship project among the four is the establishment of the climate change and DRRM office in Gandara.
As a country that is always hampered by typhoons, every station under the Department of Agriculture has a climate change and DRRM office. Its purpose is to monitor data relevant to the DA's disaster preparedness activities.
"Here in Samar, we have identified Gandara as a disaster-vulnerable area. The office will help us determine the volume of buffer seeds and livestock needed by the farmers of the affected community to avoid food shortages during calamities." said Mr. Rolando Hepe, an officer of the DA and focal person of the Yolanda Recovery and Rehabilitation Program.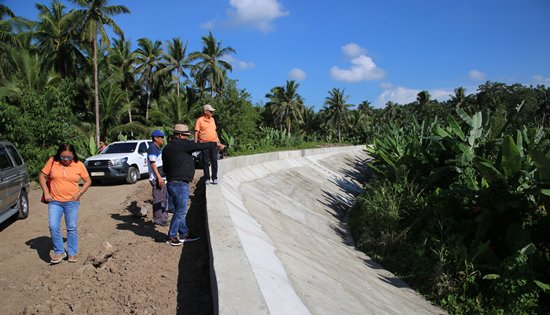 SFDEO's Inspectorate Team during their inspection of the recently completed flood control structures along Jibatang River (upstream), Brgy. Mag-Ubay, Calbayog City.
DPWH completes P150-M flood control structures in Calbayog
By MAE ANGELICA R. COMOTA
October 25, 2018
CALBAYOG CITY – The Department of Public Works and Highways Samar First District Engineering Office (SFDEO) completes the construction of flood control structures along Jibatang River in Calbayog City, Samar.
SFDEO implements five flood control projects along Jibatang River benefiting barangays Jose Roño, Mag-Ubay, and Capacuhan which are all situated along the river's primary stream network.
These projects cover the construction of 1.197 kilometers of flood mitigation structures and have a combined allocation of P153 million sourced from the 2018 General Appropriations Fund.
According to the flood mapping conducted by UP Diliman and Visayas State University in 2017, recent typhoons have brought continuous torrential rains that caused flood waters to rise up to two meters and above – directly affecting the residents living within the river's vicinity.
With the completion of these projects, there will be better prevention of the occurrence of catastrophic flood and a higher assurance of safety for the residents and their properties.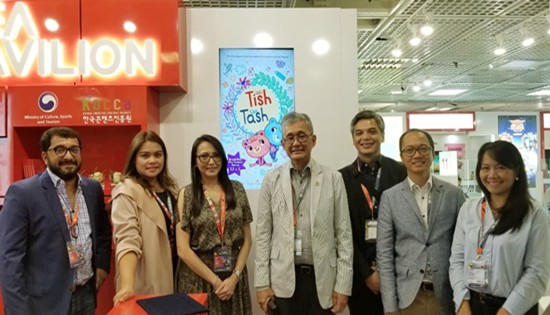 During the signing of contract with Studio Gale (South Korea), August Media (Singapore), Synergy 88 (Philippines) and Karrot Entertainment (London) for the production of 2D entertainment and educational television series called "Tish Tash." From left: Jyotirmoy Saha, CEO at August Media Singapore; Elize Estrada of Synergy88; Jackeline Chua, Managing Partner at Synergy88 Philippines; Undersecretary Mon Ibrahim of the Department of Information and Communications Technology (DICT); Assistant Director Anthony Rivera of Department of Trade and Industry-Export Marketing Bureau; Froilan Pamintuan of Philippine Trade and Investment Center France; and Emmylou Delfin of DICT.
PH animation shines at MIPCOM 2018
By DTI-TIPG
October 24, 2018
MAKATI CITY – THE Philippine animation industry has been featured as a major international content player at the annual Marche' International des Programmes de Communications (MIPCOM), the convergence of the world's most influential industry players in global television and entertainment, which include major acquisition executives, production studios, and producers who seek the right partners in television, film, web-based over the top (OTT) services or subscription video on demand (SVOD), live-action, and animation.
The Philippine delegation to this year's MIPCOM, which opened its doors to 3,800 delegates and 4,800 buyers from 110 countries, offered the world-renowned animation capabilities of Filipinos and the country's own creative intellectual Property (IP) assets.
Philippine companies also actively engaged in business meetings and networking activities held on the sidelines of MIPCOM 2018. They benefited from the sharing of information on industry trends with other companies through a series of talks conducted at the Palais des Festival in Cannes from October 15 to 18, 2018.
Through the MIPCOM, they were able to re-connect with their previous business leads and existing clients and forge partnerships with global studios for animation services, co-production, and content distribution.
The delegation also included animation companies like the Manila-based Toon City, which ranked 22nd of the 50 best animation studios in the world, and Synergy 88, which featured the Filipino Anime series "Barangay 143" currently airing on GMA Network.
Among other animation companies that participated in MIPCOM 2018 were ASI Animation Studios Inc., Toast & Brew Animation and Game Design Studios, IdeaQuest Studios, and Xentix Toon.
The Philippines' presence in the event also secured its reputation as a competent source of game development and animations services. Through MIPCOM, the country also urged IP asset owners to take advantage of the growing Philippine content market.
"We are here to support the Animation Council of the Philippines Inc. (ACPI)," said Undersecretary Monchito Ibrahim of the Department of Communications and Information Technology (DICT).
"As a first timer to MIPCOM, I have come to realize that this is not just any event, but the global marketplace for content, where deals are done instantly, and where entertainment companies are now more than ever in need of more content such as animation, film, and drama, among others" he added.
This year, the delegation also focused on promoting the Philippine services for global animation and on upholding the IP assets or the content developed by Filipinos.
The business matching component of the country's participation in MIPCOM was led by the Department of Trade and Industry-Export Marketing Bureau (DTI-EMB) while the exhibition component was managed by the DICT.
Meanwhile, Undersecretary Nora Terrado of the DTI-Trade and Investments Promotion Group, which administers the EMB, said that the delegation's participation in the MIPCOM reflected the strong capabilities of Philippine creative industries.
"We are glad that Filipino animators are now taking advantage of the opportunities in the global content market," she said.
"We at the DTI are working hand in hand to give our local creative industries sufficient support and fitting avenues that can help them grow and flourish," she added.
As it gathered global acquisition executives, production studios and producers, distributors, and content creators to discuss trends, MIPCOM has also seen a strong collaboration among the DTI, DICT, and the Film Development Council of the Philippines (FDCP).
"Animation is one of our strengths and one of the shows we are promoting here is 'Barangay 143,' the Philippines' first-ever anime" said FDCP Executive Director Wilfredo C. Manalang.
The delegation also received support from the country's two major media networks GMA 7 and ABS-CBN, as well as from ACPI members Toon City, ASI Studio, Synergy88 Digital Inc., Toast and Brew Studios, and Idea Quest.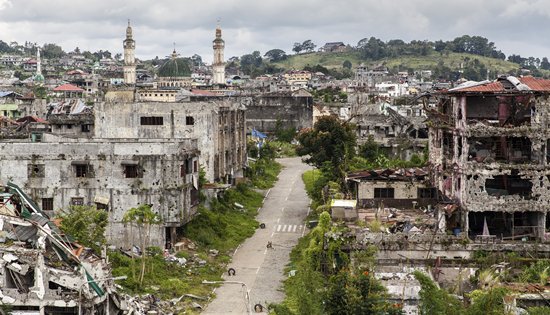 The devastated area of Marawi City, Lanao del Sur, also known as the "most affected area". Reconstruction has not started and thousands of residents remain displaced, a year since the conflict ended. (Photo by ICRC/Jerome Guillaumot)
Uncertainty looms large over thousands still displaced in Marawi
By ICRC
October 23, 2018
MANILA – One year since fighting officially ended in Marawi City, Lanao del Sur, the return home and certainty about the future continue to elude over 65,000 displaced people. They demand urgent action and support to overcome the burden left in the wake of the conflict.
"They struggle every day to make ends meet with whatever help they can get, as uncertainty about their homecoming adds to their worries," said Meher Khatcherian, head of the International Committee of the Red Cross (ICRC) office in Iligan City. "They deserve support and clarity about the future. Though there have been some positive developments, the people of Marawi had hoped for more to be done by now."
Whether they are living with relatives, in evacuation centers or in transitional sites, the families that have been displaced do not have regular access to potable water and proper sanitation facilities. Adults lack adequate livelihood opportunities, while their children's education remains disrupted. Families of people who went missing in Marawi need to be accompanied during the process of clarifying the fate of their missing loved ones.
Having witnessed the plight of the people firsthand since clashes broke out in May 2017, Khatcherian and his team have worked to help the affected people from Marawi, bringing in whatever respite possible. Together with the Philippine Red Cross (PRC), the ICRC continues to focus on the evolving needs of the people.
Addressing gaps while awaiting the start of the rehabilitation phase, in coordination with other aid organizations and the authorities, the ICRC and the PRC have distributed cash grants to thousands of returnee families, helping them restore their livelihoods.
Besides this, tools to repair their shelters have been given to residents through the PRC. The authorities have been provided with technical support to ensure smooth functioning and potential expansion of the city's water network. Assisting the health-care facilities, essential medicines and supplies have been distributed to them in Lanao del Sur.
"But there is one thing that remains a top priority for the displaced families and it's the need to get clarity about their future so that they can move ahead. After having their lives completely disrupted by the five-month conflict, and their properties destroyed, they need to regain a sense of ownership about their future. Their voices need to be heard," Khatcherian concluded.
The ICRC is a neutral, impartial and independent humanitarian organization working to prevent and alleviate suffering during armed conflict and other situations of violence. It also visits people detained in relation to the conflict to monitor their treatment and living conditions, and facilitates visits from their families.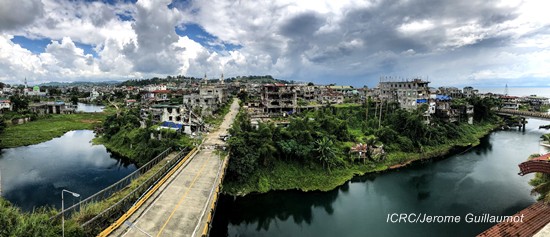 1 in every 7 teachers face GSIS loan woes
By Alliance of Concerned Teachers
October 23, 2018
QUEZON CITY – More than 122,000, or 1 in every 7 public school teachers, are confronted with due and demandable loan arrears which need to be settled until October 31 as per the records of the Government Service Insurance System (GSIS). Teachers protested over the ballooning of arrears which are mainly caused by the failure of GSIS and the Department of Education (DepEd) to make the agency-to-agency loan payment work through the automatic salary deduction system.
In a tripartite dialogue with GSIS and DepEd arranged by ACT Teachers Party-list last week, both agencies refused to take responsibility for the debacle. GSIS denied teachers' demand to condone the compounded interests and penalties and warned instead of an additional 12% interest imposition if arrears are not settled on the set deadline. DepEd, on the other hand, offered no reprieve and even called on teachers to 'cooperate and move forward,' saying that the problem was the doing of past administrations.
"The two agencies have created a colossal problem but refuse to take any responsibility. It is highly unfair that they want to penalize teachers for the failure of their rotten systems," said Joselyn Martinez, chairperson of the Alliance of Concerned Teachers (ACT) Philippines.
Martinez hold the DepEd accountable for many years that it has "illegally prioritized the deduction of loan payments for private lending institutions instead of the GSIS." She added that this is a classic example of how teachers are made to suffer due to corruption within the agency.
"GSIS cannot evade accountability as well. What did the agency do during those years when DepEd was not remitting loan payments? Apparently, GSIS likes it better for loans to compound as it spells bigger profits for them," Martinez stated.
Martinez denounced GSIS' unbending stand to make teachers shoulder the full cost of the arrears when "the problem of incompatible and unreliable computer systems of both agencies remain unresolved."
"Even if teachers settle their arrears now through restructuring, the problem will only repeat as the roots of the problem are not addressed," she lamented.
Martinez said that the stance of both agencies show their "insensitivity and complete disregard of teachers' welfare in the midst of soaring inflation and erosion of the purchasing power of teachers' salaries."
"Teachers apply for loans mainly due to scant salaries and not because of whims or caprices. The inadequacy of pay remains the reason for our inability to pay the arrears, which in the first place are unjustly computed. This is not acceptable to teachers," said Martinez.
ACT reiterated their demand to the Duterte administration for substantial salary increase of P30,000 for Teacher 1. They also push for an immediate increase of the Personnel Economic Relief Allowance (PERA) from P2,000 to P5,000 to cope with the soaring inflation.