8ID Assistant Division Commander BGen. Cesar M. Idio AFP, 801st Brigade commander Col. Perfecto M. Rimando, Samar Governor Sharee Ann Tan and PNP participants during the launching of the "Mamamayang Ayaw Sa Anomalya, Mamamayang Ayaw Sa Illigal na Droga" (MASA MASID) at Lucas Wharf, Catbalogan City on October 13, 2016.
8ID joins the launching of anti-illegal drugs in Samar
By DPAO, 8ID PA
October 15, 216
CAMP LUKBAN, Catbalogan, Samar – The 8th Infantry "Stormtroopers" Division joined in the launching of Antil-Illegal Drugs Campaign for a Drug-Free Samar Province in connection with the nationwide campaign entitled "Mamamayang Ayaw Sa Anomalya, Mamamayang Ayaw sa Iligal na Droga" (MASA MASID) on October 13, 2016 held at Catbalogan City together with the Samar Provincial Government, Samar-PNP and non-government organizations which aims to encourage communities to take a proactive stance in the government's fight against corruption, illegal drugs, and criminality.
The whole day activity was highlighted by a kick-off parade, thanksgiving mass, and a short program initiated by the PNP-Samar Province at Samar Provincial Covered Court followed by the formal launching of the "MASA MASID". The said launch emphasizes the spirit of volunteerism and teamwork of different multi-sectoral organizations to be primary watchers of any lawless activities in their barangays and help create safer and drug-free communities in the country.
Present during the activity were: Brigadier General Cesar M Idio AFP, Assistant Division Commander, 8ID; Hon. Sharee Ann Tan-Delos Santos, Governor, Samar; PCSupt Elmer Cruz Beltejar, PRO8; SSupt Elmer Pelobello, Provincial Director, SPPO and Mr. Judy L Batulan, Provincial Director, DILG-Samar.
"With the assumption of President Rodrigo R. Duterte, it has been in our mandate to support law enforcement agencies in the fight against illegal drugs and anti-terrorism. In view of this mandate, the Division has revised and updated its campaign plan. Our key task in the anti-drug campaign of the national government has been incorporated in this new plan, "Brig Gen Idio emphasized.
"The DILG, PNP, PDEA, and LGUs, particularly the Provincial Government of Samar, can expect our full support to this noble endeavor. Within the desired time frame, we aim to significantly contribute to this campaign in the fields of intelligence gathering, illegal drug interdiction and arrest/neutralization of drug personalities along with our counterparts, so as to help create an environment conducive for sustainable development and a just and lasting peace," Idio added.
Philippine Airlines signs letter of intent to acquire up to 12 Bombardier Q400 aircraft
- Airline becomes launch customer of extra-capacity, two-class Q400 aircraft
- The 86-seat aircraft will feature 10 premium service seats
Via MARKETWIRE
October 14, 2016
TORONTO, Ontario – Bombardier Commercial Aircraft announced today that Philippine Airlines, Inc., flag carrier of the Philippines, has signed a Letter of Intent (LOI) to acquire up to 12 Q400 aircraft.
"For close to a decade, the Bombardier Q Series family of aircraft has been instrumental in evolving our domestic network operations," said Jaime J Bautista, President and Chief Operating Officer, Philippine Airlines. "We are proud that our continued fleet growth now makes us the first airline to launch service with the two-class, 86-seat Q400 aircraft. As we strive to become a 5-star-rated airline, the Q400 aircraft, featuring a modern and innovative configuration, will be instrumental in providing our travellers with a world-class, in-flight passenger experience."
"Integrating the extra-capacity, two-class Q400 aircraft into its operations is the ideal solution for Philippine Airlines as it reshapes its domestic air travel strategy," said Fred Cromer, President, Bombardier Commercial Aircraft. "With its perfect balance of passenger amenities and operational flexibility, the 86-seat Q400 aircraft will offer Philippine Airlines significant opportunities to differentiate itself in the region's fiercely competitive environment.
"We look forward to working with Philippine Airlines to reach a firm purchase agreement for Q400 aircraft," added Mr. Cromer.
"As Philippine Airlines looks to develop its domestic operations from secondary hubs and increase intra-island connectivity, the 86-seat Q400 aircraft – the largest two-class turboprop aircraft available on the market -- will increase the carrier's competitiveness by offering the lowest seat-mile and operating costs in the regional aircraft market," said François Cognard, Vice President, Sales, South-East Asia and Australasia. "Our continued collaboration will undoubtedly set the stage for another decade of profitable and efficient operations for Philippine Airlines."
Bombardier's Dash 8/Q Series turboprops and CRJ Series regional jets have made significant advances in the Asia-Pacific region where approximately 190 aircraft - including more than 165 Dash8/Q Series turboprops -- are in service with, or ordered by, over 25 customers and operators.
Bombardier's customer support network for commercial aircraft in the Asia-Pacific region includes Regional Support Offices in Narita (Tokyo), Sydney, Beijing, Shanghai and Mumbai, as well as Parts Depots in Sydney, Beijing and Singapore. Operating from the company's regional office located in Singapore, Bombardier Commercial Aircraft's sales and marketing team is well positioned to provide industry-leading solutions to its current and prospective customers.
SFDEO supports National Blood Donors Month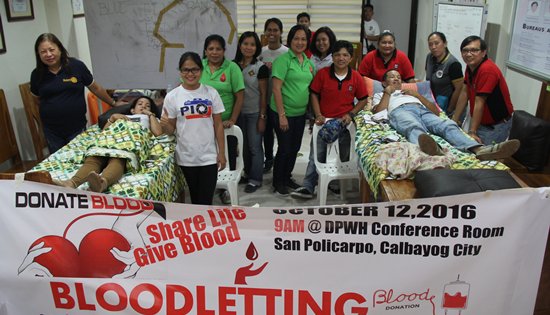 By LEVIRESA GETIGAN-BARNIZO
October 13, 2016
BRGY. SAN POLICARPO, Calbayog City – In celebration of the National Blood Donors Month bannered "Blood connects us all. Share LIFE give BLOOD", the Department of Public Works and Highways - Samar First District Engineering Office (SFDEO) jointly facilitated a Grand Bloodletting activity at SFDEO Conference Room, October 12, 2016.
Out of 46 SFDEO employees who are enlisted for blood donation, only 12 employees passed the initial screening. 36 employees failed from the series of tests due to high/low blood pressure, low hemoglobin and "not prominent". Tests are conducted to ensure that donors are safe to donate their bloods.
The activity is a joint effort of the Rotary Club of Calbayog, LGU Calbayog represented by its medical team from the City Health Office, Philippine Institute of Civil Engineers (PICE) Calbayog Chapter, and DPWH-SFDEO.
Engr. Raquel Y. Sumayo, Chief, Quality Assurance Section, SFDEO, and President of Rotary Calbayog, agreed to the proposal that this activity be conducted annually.
BGen. Farnacio assumes as new 8ID Commander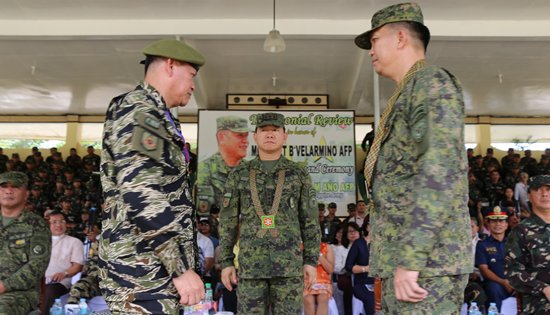 By DPAO, 8ID PA
October 13, 2016
CAMP LUKBAN, Catbalogan City – Brig Gen Raul M Farnacio AFP has formally assumed his post as Commander of the 8th Infantry (Stormtroopers) Division, Philippine Army in a simple Change of Command Ceremony held at its Headquarters in Brgy Maulong, Catbalogan City last Thursday, October 6, 2016 at 10 o'clock in the morning.
Brig. Gen. Farnacio replaced Maj. Gen. Jet B Velarmino who officially retired from the military service after serving in the AFP for more than 38 years.
The Change of Command Ceremony was presided by Lt Gen Eduardo M Año, the Commanding General of the Philippine Army and was witnessed by Gen Ricardo R Visaya AFP, Chief of Staff, Armed Forces of The Philippines; Maj Gen Raul L Del Rosario AFP, Commander, Central Command; PCSupt. Elmer Cruz Beltejar, RD, PRO8; Bishop Isabelo C Abarquez, Diocese of Calbayog; members of 8ID Multi Sectoral Advisory Board; 8ID Press Corps; Local Chief Executives; Stakeholders and other guests from the private and public sectors.
"We must see our vision for lasting peace and progress in the region as a response, as well as our vision to the call for change by our administration. We need to align our objectives with the higher headquarters, we need to align our effort to Army Transformation Roadmap which we expect to succeed our mission for peace and progress and we should fit ourselves as worthy implementers of these goals," Brig Gen Farnacio emphasized.
"We must also align our efforts in support to the ongoing peace talks with the CPP/NPA/NDF, as well as the government's drive against criminality and illegal drugs," Farnacio added.
Lt Gen Eduardo M Año AFP, Commanding General of the Philippine Army commended and congratulated MajGen. Velarmino for the successful accomplishments of this Command. Likewise, he challenged BrigGen. Farnacio to equal if not surpass, the commendable accomplishments of his predecessor in winning the peace in Eastern Visayas.
Brig Gen Raul M Farnacio AFP previously served as the Battalion Commander of the 20th Infantry (We Lead) Battalion in 2005 and 43rd (We Search) Battalion in 2006. At present, Brig Gen Farnacio is the 20th Commander of 8th Infantry (Stormtroopers) Division.
Electronics top PH exports; East Asia market expands
Press Release
October 13, 2016
MAKATI CITY – Electronic products remained to be the country's top exports as the sector grew by 11.6% from US$2.359 billion in 2015 to US$ 2.633 billion this year accounting for 53.7% of the total export revenues in August 2016, according to the recent report issued by the Philippine Statistics Authority (PSA).
Among the electronic products, semiconductors continued to have the biggest share with total of 39% that posted an increase of 11.2% from US$1.719 billion in August 2015 to US$1.912 billion in August 2016.
Department of Trade and Industry (DTI) noted that electronic products are one of the identified key exports of the Philippines under the Philippine Export Development Plan (PEDP) 2015-2017 along with processed food and beverage, coconut oil, motor vehicle parts and computer and information services such as the information technology and business process management (IT-BPM).
"As part of our strategy in the PEDP, we will continue to provide comprehensive support services to our key and emerging exports sectors while we continue to strengthen our market presence and seek new trading partners," said DTI Export Marketing Bureau Director Senen M. Perlada.
Exports of other mineral products also grew with total sales of US$120.16 million.
Meanwhile, exports to East Asia such as Hong Kong, China and Taiwan grew by 22.4%, 2.2%, and 19.72%, respectively. According to PSA, a large portion of the country's merchandise went to countries in East Asia, accounting for 52.2% share of the total exports valued at US$2.560 billion which reflected a 2.5% increase from US$2.497 billion of August 2015.
Exports to some parts of Europe also grew such as France and Switzerland which reflected double-digit growth rates, 78.08% and 68.55%, respectively.
"Our traditional markets are there such as Japan and USA as our top export destination. But we are urging and encouraging exporters to maximize our FTAs (free trade agreements) with other countries," added Perlada.
DTI noted that at present, Philippines, as part of the Association of South East Asian Nation (ASEAN) has existing FTAs with other Asian countries such as Japan, China, Korea, Australia and New Zealand, and India, that entrepreneurs, especially exporters, can maximize. Support services and assistance are all available with the Department's Export Marketing Bureau office (DTI-EMB).
DTI also plans to increase its presence abroad by opening up new trade posts in strategic cities. Recently, it opened its first Philippine Trade and Investment Center in South America, in the city of Mexico and expecting to open another center in Toronto, Canada before the end of 2016. Plans of expanding and hiring of more trade representatives abroad are also at hand in order to seek new markets, strengthen the country's economic presence abroad, and further assist Philippine micro, small, and medium enterprises (MSMEs).
PSA reported that for August 2016, total Philippine exports sales amounted to US$4.904 billion from US$ 5.128 billion in the same period last year. The overall decline was brought by seven major commodities out of the top ten export commodities for the month which include machinery and transport equipment (-52.5%); metal components (-25.9%); chemicals (-16.2%); articles of apparel and clothing accessories (-11.3%); other manufactures (-9.3%); woodcrafts and furniture (-8.8%); and coconut oil (-6.9%).
Second round ends with some progress but uncertainties remain
By NDFP Media Office
October 12, 2016
MANILA – The second round of the GRP-NDFP peace negotiations ended with some progress but uncertainties remain that serve to dampen the initial optimism on the part of the NDFP negotiators and consultants. There is now growing uneasiness and impatience among the NDFP delegation over the snail's pace in the steps being taken to effect the release of the remaining political prisoners despite repeated promises and assurances coming from the GRP panel.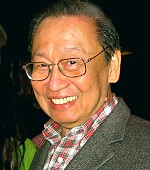 NDFP Chief Political Consultant Jose Maria Sison
There are more than 400 political prisoners still languishing in various jails nationwide. The issue of their continued detention came up early in the talks as the new NDFP Panel Chairperson Fidel Agcaoili cited the pledge made by President Rodrigo Duterte himself last May to issue an amnesty proclamation to speed up their release. So far, the GRP has released only 22 political prisoners, most of them NDFP consultants. There have been no other releases since August.
In response to the appeal from GRP Panel Chairperson Silvestre Bello for patience, Agcaoili said that if the GRP could effect the speedy release of the 22 JASIG-protected NDFP consultants why the seemingly excruciating difficulty in releasing the rest of the political prisoners?
Under pressure from the consistent pressing of the NDFP on this issue, the GRP Panel once again promised "to do their best". But cynicism is now growing among some of the NDFP negotiators and consultants as well as among the remaining political prisoners on account of so many unfulfilled promises.
Aside from the issue of political prisoners, reports have been coming in from the field about continuous military operations by AFP forces in NPA territory. According to NPA commands from various regions, the reason why there has been no firefights so far is mainly because NPA forces have been maneuvering to avoid armed encounters. But tensions are rising because the AFP military operations appear more and more to be taking the form of base-denial operations targeting the mass base of the NPA.
According to NPA national spokesperson Jorge Madlos, "All NPA units have strictly abided by its own unilateral ceasefire declaration. Aside from maintaining defensive posture, NPA units are conducting counter-maneuvers to avoid armed skirmishes with the AFP." But not a few NPA units are having difficulty holding back amid threats from the AFP in its counter-insurgency intelligence operations, Madlos said.
From Northern Luzon to Southern Mindanao, Madlos claimed, there were reports of AFP units telling civilians that the ceasefire is no longer in effect to justify their operations and presence in their communities. The NPA's Agustin Begnalen Command based in Abra said the Army's 24th Infantry Battalion have been telling civilians in Sallapadan town that the ceasefire has ended.
Madlos said the AFP has yet to observe the advice of President Duterte to be friendly to the NPA adding that the AFP continues to conduct hostile operations against the NPA, "even using the drug campaign as pretext to conduct anti-NPA operations."
In one instance, when confronted by peasants on why the soldiers were continuing with military operations despite the GRP ceasefire, the AFP officer leading the operation reportedly answered that they would then have nothing else to do adding that the NPA would not attack them anyway because the NPA has declared its own ceasefire. To have a stable ceasefire AFP forces must "return to barracks" at the level of the battalion headquarters.
In addition, reports have come in regarding political assassinations and attempted assassinations of leaders of people's organizations such as the case of the secretary general of the Compostela Valley Farmers Association (CFA), Jimmy Saipan, who was killed in cold blood by two motorcycle riding gunmen yesterday, October 10. Saipan was a Lumad anti-mining activist opposing the exploration by the Agusan Petroleum Mineral Corp. in 12,000 hectares of Lumad lands. The CFA has also been conducting dialogue with the 66th IB for the latter to stop occupying their community. The AFP has falsely accused the CFA as a communist front organization.
Showing some impatience, the NDFP Chief Political Consultant Jose Maria Sison and the NDFP Panel Chair Fidel Agcaoili have served notice to the other side that continued non-compliance on the issue of the remaining political prisoners can have serious consequences in the continuation of the current ceasefire and forward movement in the peace negotiations as a whole. On the other hand, compliance will boost the prospects for forging a bilateral ceasefire agreement and acceleration of the peace process.
There has been some progress in the work of the RWCs-SER, RWGs-PCR and RWGs-EHDF with agreements reached on their respective common framework and outline for the tentative draft agreements that are to be fleshed out in later rounds.
The Reciprocal Working Committee on Social and Economic Reforms RWC-SER took the longest to come up with a common framework and outline. NDFP negotiators sensed an apparent attempt on the side of the GRP to confine the discussion to existing programs of government agencies as the "solutions" without first arriving at a well thought-out understanding of the problems. This prompted NDFP RWC-SER head Juliet de Lima to remark that this was "putting the cart before the horse."
A great chasm between the two sides exists in the appreciation of what the NDFP considers the age-old problems of rural landlessness and poverty due to the persistence of feudalism, and the absence of real industrialization that has failed to create jobs resulting in massive unemployment which forces 2,000 Filipino workers to go abroad every day to seek for work. Previous government programs have consistently failed to address the problems of rural poverty and urban mass unemployment precisely because these have been based on a superficial and faulty analysis of the deeply-seated problems.
The panels agreed to meet again in the third week of January 2017 in a foreign neutral venue with many uncertainties remaining to haunt the peace process.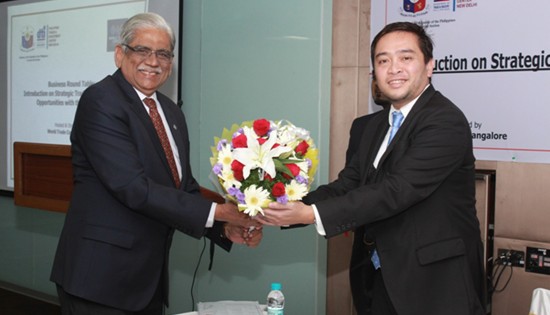 Mr. Balaram Menon, President & Managing Director of the World Trade Centre (Left), welcomes Mr. Michael Alfred V. Ignacio (right) before the start of the Business Round Table: Introduction on Strategic Trade and Investment Opportunities with the Philippines.
PH holds trade and investment roadshow in India
Press Release
October 12, 2016
MAKATI CITY – The Philippines, through the Department of Trade and Industry's Trade and Investment Center New Delhi (PTIC - New Delhi) recently held trade and investment roadshows dubbed as "Business Round Table: Strategic Trade and Investment Opportunities with the Philippines" in two of India's top business cities, Mumbai and Bangalore.
"India can look to the Philippines as a secondary location to access the ASEAN Economic Community, and other important regional markets. In addition, the Philippines is the only ASEAN country with EU GSP+ privileges and GSP privileges in the USA," emphasized Philippine Commercial Counsellor Michael Alfred V. Ignacio in New Delhi.
The events, hosted by the World Trade Centers located in the said cities, are primarily aimed to establish stronger business ties with India. At present, India is considered as one of the world's fastest growing major economies.
PTIC - New Delhi noted that the event provided a platform for the Philippines to position itself as an attractive investment hub and as a strategic gateway to the six hundred twenty-two (622) million market of the ASEAN Economic Community, one of the fastest growing regions in the world.
"Besides English as the main language of business of both countries, India and the Philippines are also among the world's fastest growing economies and are major players in the global IT-BPM Value Chain. Tier II IT and BPM companies from India can follow the example of 14 of India's top companies who are already located in the Philippines to strengthen their foothold in the global services markets," added Ignacio.
The Philippine economy grew by 7% in the 2nd quarter of 2016, while India with a population of 1.2 billion, is expected to post above 7% GDP growth for the same period.
According to DTI PTIC - New Delhi, Philippines looks forward to tap the unexplored high potential for trade and investment partnership with India. With 345 economic zones, the Philippines is seen as an ideal hub in establishing India's commercial presence and reach out to high potential markets in the Asia Pacific rim.
DTI PTIC - New Delhi presented excellent opportunities in priority sectors such as IT Enabled Services (ITES), automotive components, public-private partnerships (PPP) and infrastructure development. It also identified potentials of Philippine products such as high innovation and design-driven products for niche markets, electronics and semi-conductors. Philippines also positions itself as an alternative education destination for Indian students.
Noting the substantial contributions of the Philippine electronics and semiconductors industry in the Philippine economy, M N Vidyashankar, President of the India Electronics and Semiconductors Association and former Principal Secretary in the State of Karnataka mentioned, "We can definitely work together to help the two countries enhance business relationships in the electronics system design and manufacturing space. As the Philippines is a very strong player in this regard and we would like to take advantage in terms of joint-ventures, collaborations and partnerships for companies from the two countries."
The Indian electronics and hardware industry is expected to perform well above 10% growth levels and reach $112-130 billion by 2018, according to an ASSOCHAM- Ernst and Young study released in April 2016.
At present, India's electronics and seminconductors current size is at $75 billion which makes it an attractive market for the said industry. Some of the said drivers of growth for the said industry include increasing consumer demand and disposable incomes, and the declining prices of electronics.
India is currently the 20th trading partner of the Philippines.