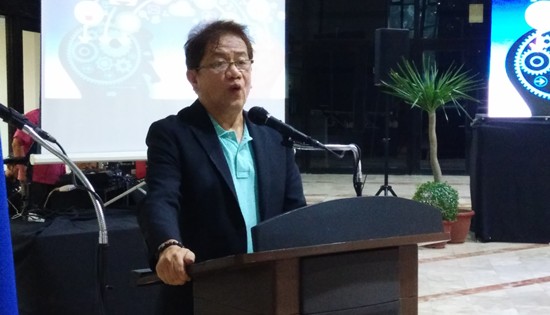 Department of Trade and Industry's Philippine Trade Training Center Executive Director Nestor Palabyab during the soft launching of the Food Connection Innovation Hub at the PTTC Building, Pasay City last August 10, 2016.
DTI unveils food innovation hub
Press Release
August 22, 2016
MAKATI CITY – In its effort to catapult local micro, small and medium enterprises (MSMEs) into the global market, the Department of Trade and Industry (DTI) through its Philippine Trade Training Center (PTTC), launched an innovation hub specifically catering to the processed food sector on August 10, 2016.
The Food Connection Innovation hub is in collaboration with the Department of Science and Technology, Food Innovation Center (DOST-FIC).
"With the growing opportunities in the food sector and the anticipation of the huge market demand for innovative food products in the ASEAN Economic Community (AEC) integration, we would like to provide areas of assistance for our entrepreneurs specifically those processed food MSMEs," said PTTC Executive Director Nestor Palabyab during the soft launch of the Food Connection innovation hub.
The hub will specifically house facilities that will equip food entrepreneurs in meeting technical requirements of the export market such as the Hazard Analysis and Critical Control Points (HACCP) and other safety and quality certifications. Food laboratory testing equipment such as metal detector, water activity meter and pH meter, are all aimed to be available during the hub's full operation. Consultancy services on safe quality management, production, marketing and management will also be offered to enterprises that will be assisted by the hub. Other existing facilities at the PTTC such as seminar rooms, exhibit halls and meeting rooms will also be accessible.
Included in the latest Philippine Export Development Plan (PEDP), processed food sector is positioned to create demand in the growing market abroad especially with the rise of healthy food products, and Halal-certified products in non-Muslim regions. The Food Connection Innovation Hub will be housed with ASEAN trade experts, export marketing trainers and experts, and other trade experts that will cater to the needs of the hub's clients.
Through the food connection innovation hub, DTI-PTTC also expects to promote networking among key players and venture capitalists in the sector to establish collaboration and develop viable business strategies.
According to Philippine Exports Confederation Inc (PHILEXPORT), there are about 500 processed food MSMEs that are currently registered as their members. These enterprises are expected to benefit in different trade assistance that the hub will provide to further their export products in penetrating the global market.
In 2014, Philippine Statistics Agency (PSA) reported that there are a total of 127,518 established MSMEs in the food and accommodation sector. These numbers are expected to grow as the Philippines prepares for the full integration of the ASEAN Economic Community.
Philippine Trade Training Center is the DTI's training arm which promotes capacity building and mentoring among entrepreneurs especially those in the exporting industry.
Top Govs pick based on good governance, transparency, business competitive, and disaster preparedness says Sueno
Press Release
August 22, 2016
QUEZON CITY – Interior and Local Government Secretary Ismael Sueno today clarified that the national government will not give additional incentives to top governors who were recently identified in terms of good governance, transparency, business competitive and disaster preparedness.
"We are not giving them extra bonuses by being announced as the good guys in the government," Secretary Sueno said in a Press Conference earlier this afternoon in Malacañang.
The secretary said the governors that were listed as 'good performing local executives' are selected based on their achievements in their respective provinces.
Among these top governors recently dubbed as "honor lists" include Governors Imee Marcos of Ilocos Norte; Faustino Dy III, Isabela; Junie Cua, Quirino; Eduardo Firmalo, Palawan; Alfredo Marañon Jr, Negros Occidental; Eduardo Chatto, Bohol; Hilario Davide III, Cebu; Daisy Avance-Fuentes, South Cotabato; Ma. Angelica Rosedell Amante-Matba, Agusan Del Norte.
He added: "Containing the illegal drugs problem is only one thing. These governors are also model governors. They are governors in governance and transparency. They are awardees. They are good in disaster preparedness, and they have made their provinces competitive when it comes to business. They are model leaders, model local executives."
Secretary Sueno likewise explained the recognition of top governors was only initial as the national government through the DILG will also recognize outstanding city and municipal mayors in the coming weeks.
He also clarified that the idea of coming up with a list of top governors is intended to challenge and inspire the local chief executives to continue to improve leadership in the local government units (LGUs) despite the ongoing campaign against illegal drugs that are affecting some local leaders.
He said some of the governors that are in the good governors' list were also among those that were labeled as members of the political dynasties because they have outweighed the issue of 'political dynasty" and proved that they are 'very good administrators.'
"Maybe they are. Maybe they are members of the dynasties but they have proven to be very good administrators and very good governors. So, maybe na-outweigh iyong pagka members nila ng dynasties and by their performance as governors," Sueno said.
Cayetano: Postpone Barangay & SK elections, focus on anti-crime & drug war, strengthen the Barangay system & save money
Press Release
August 17, 2016
PASAY CITY – Senator Alan Peter Cayetano is pushing for the postponement of the Barangay and Sangguniang Kabataan (SK) polls originally scheduled in October 2016, saying that resetting the elections would be more prudent in sustaining government efforts to create real change and restore order in the country.
Cayetano on Wednesday (August 17) filed Senate Bill No. 1037, which seeks to reset the upcoming synchronized Barangay and SK polls from October 31, 2016 to the last Monday of October 2018. It also seeks to extend the term of barangay and SK officials from three years to five years.
The senator cited five key reasons for the need to reset the elections: 1) to sustain the momentum of their programs aligned with the administration's anti-drug campaign; 2) to enable barangay officials to fully support the war vs. crime and drugs; 3) to give the legislature ample time to improve the Local Government Code's provisions on effective barangay governance; 4) to save government money, especially if a plebiscite for Federalism will also be held soon; and 5) to give the Comelec sufficient time to prepare.
Sustain the momentum of the war on drugs
Stressing the importance of grassroots support in the government's fight for real change, Cayetano said moving the elections to a later date would allow barangay officials to focus on their role in helping sustain the momentum of the war against crime and illegal drugs that started during President Rodrigo Duterte's term.
He cautioned that rushing through the polls could undermine the government's crackdown on illegal drugs, especially if barangay officials will claim political motivations whenever accused of illicit drug-related activities. He added that standard prohibited activities during elections and election bans could hamper reforms being undertaken by the new administration.
Cayetano said Duterte's strong policy against illegal drugs has done so much to pull down the country's crime rate that it is more prudent to allow incumbent barangay officials to continue implementing projects or re-align them in accordance to the thrust of the new government.
President Duterte himself repeatedly stressed the need to start the anti-drug campaign in the barangays, the smallest unit in government. Recent news reports also cited observations that the President's aggressive fight against illegal drugs resulted to a positive impact among local officials, with more officials now taking the initiative to inform law enforcers about drug activities in their barangays.
On the other hand, Cayetano clarified that barangay officials who are protectors of drug lords will continue to be purged. "If these officials will not cooperate in the campaign for real change, or if they are proven to give protection to drug suspects, they will have to face consequences under the law," he declared.
Strengthen our barangays, save gov't money
Cayetano further explained that the postponement of the elections will give Congress sufficient time to study reforms that will strengthen governance in the 42,036 barangays around the country.
"Postponing elections to take a closer look at how the Local Government Code can be amended in order to strengthen provisions concerning barangays with regard to term limits, benefits, training and funding, among others, would certainly be a wise move," he stressed, citing the similar case of the SK elections' postponement, which paved a way for the passage of an important legislation on SK reform.
"Barangays are given so much responsibility, yet they perennially suffer from lack of funds, authority and personnel training, among others. The need to strengthen the Barangay as an instrument of genuine and meaningful reform is therefore glaring," his bill read.
Additionally, resetting the date of the elections would save the country billions of pesos that can instead be used for social services, Cayetano stressed. To save both time and resources, the senator proposed that the Barangay and SK polls could be held simultaneously with a possible plebiscite in preparation for the government's shift to Federalism in 2018 or 2019.
Lastly, Cayetano said it is too soon to conduct another elections this year, as it had barely been three months since the country concluded a national election. "The conduct of the elections is too soon for the Commission on Elections (COMELEC) and the Filipino electorate to prepare for," he said.
Martial Law victims to seek Supreme Court intervention to stop Marcos hero's burial at LNMB
By SELDA
August 13, 2016
QUEZON CITY – Martial Law victims led by the Samahan ng Mga Ex-Detainees Laban sa Detensyon at Aresto (SELDA) announced plans to file legal remedies at the Supreme Court next week to stop the planned hero's burial of former dictator Ferdinand Marcos at the Libingan ng mga Bayani.
The victims, through their lawyers from National Union of Peoples' Lawyers (NUPL), will file a petition for certiorari which aims to secure the issuance of a temporary restraining order and/or writ of preliminary injunction from the High Court to implement the plans of the Department of National Defense and the Armed Forces of the Philippines to confer national honors to Marcos through the burial at LNMB.
"If such misdeed happens, it will be a grave injustice to the thousands of victims of extrajudicial killings, enforced disappearances, illegal arrests and detention, torture and harassment perpetrated by the Marcos fascist regime," said Trinidad Herrera, SELDA Spokesperson and one of the 9,539 members of the class suit against Marcos that was filed and won in Hawaii.
"Marcos is no hero. He was a mass murderer, torturer and a plunderer. To confer national honors to Marcos is a defilement of the people's historic struggle against the tyranny of martial law," Herrera emphasized.
SELDA is also set to join the activities of Campaign Against the Return of the Marcoses to Malacañang (CARMMA), including the protest motorcade to the LNMB next week.
"We reiterate our call to Pres. Duterte to reconsider his decision to give such honors to a dictator, and instead hasten the process of indemnification of the victims and relatives. Even in the sunset years of our lives, we will continue to fight for justice for all victims of Martial Law and state fascism," said Herrera.
PH Auto Industry Vehicle sales exceed expectations
Press Release
August 12, 2016
PASIG CITY – Carmudi Philippines, the local arm for the leading vehicle platform around the world, expressed confidence that online vehicle sales in the country will follow suit over the stellar sales performance achieved by the local automotive industry in closing the second quarter of 2016.
Carmudi Philippines Managing Director Abhi Mohan said that following the high vehicle sales numbers, they are expecting constant growth on all sectors concerning vehicle sales.
"We believe that the online sales atmosphere would follow suit in providing a strong commercial environment for the local automotive industry. For example, since more and more people are buying brand-new units, more pre-owned vehicles will be up for sale," he explained.
He was referring to the 167,481 sales record posted by the Chamber of Automotive Manufacturers of the Philippines, Inc. (CAMPI) and Truck Manufacturers Association (TMA) for the first six months of 2016, posting a 27.4 percent surge against the 131,465 sales tallied in the same period last year. The said figures also surpassed highest monthly record.
Citing his previous claim that vehicle sales for the second and third quarter of 2016 would pose a challenge in the annual sales target for the year, Mohan now expresses confidence that those numbers will be met, and eventually exceeded.
"I could never be happier that I was wrong regarding the turnout of sales. This proves that the Philippine automotive industry would enjoy a remarkable sales performance all throughout the year," Mohan said.
According to Mohan, he was surprised to learn about the figures, saying that despite the challenges for June, automotive sales remain stellar.
"The figures posted by the Philippines auto industry remained robust, despite the usual financial happenstances that June usually brings. As one of those who constantly monitor the market, we are happy that they have continuously show exemplary performance in terms of sales," Mohan said.
Earlier, Mohan expected the local automotive industry to experience a slowdown in the two consecutive quarters but would not be "too substantial" and is still poised to regain the eyed figures for 2016 as the year progress. According to him, the country's sales trend on vehicles is expected drop in June due to school expenses in other necessities and in August which is 'ghost month' – wherein sales are usually lean.
For June 2016 alone, the CAMPI-TMA reflected a 36.4 percent increase in terms of sales, selling 32,993 units as against the 30,317 units sold in the same month in 2015.
"The 350,000-370,000 annual sales target can easily be met now that June sales reflected a high turnout. The industry now needs to secure sustained growth and with the trend that they are enjoying, they will most likely exceed the target anew," Mohan explained.
The latest CAMPI-TMA report also revealed that both passenger car (PC) and commercial vehicle (CV) segment enjoyed robust year on year sales.
PC segment rolled out 11,951 units last month – a 21.5 percent gain over 9,840 units delivered June 2015. On a year-to-date basis, the same section grew by 18.5 percent, after selling 62,560 units for the first six months of the year compared to 52,778 units sold for the same period the previous year.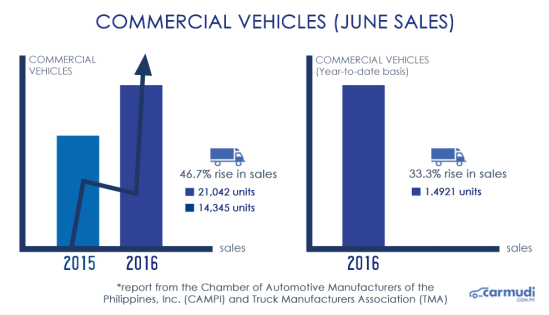 Meanwhile, commercial vehicle sales skyrocketed after reflecting a 46.7 percent growth with 21,042 units sold last month as opposed to the 14,345 units sold the same month in 2015. The very same category also experienced a 33.3 percent climb on a year-to-date basis following its 104,921-vehicle sales.
Mohan – while expressing firm belief that the trend will continue towards the end of the year – attributed the outstanding performance due to the attractive promos, affordable financing schemes, and continuous new vehicle offerings, among others.
Labor group lauds DENR Sec. Lopez for aiding 9,000 displaced mine workers
By Associated Labor Unions
August 11, 2016
QUEZON CITY – The country's biggest labor organization, the Associated Labor Unions (ALU) commended Environment Secretary Gina Lopez yesterday for providing alternative livelihood for thousands of mine workers displaced by the closure of non-compliant mining companies.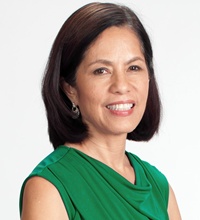 In a press statement issued August 2, Lopez said the Department of Environment and Natural Resources (DENR) will provide alternative livelihood for an estimated 9,300 mine workers displaced by the suspension of mining companies since July last month in the light of the department's on-going review of mining companies' compliance to the country's environmental and safety industry standards.
"We commend Secretary Lopez for providing the means of livelihood for thousands of mine workers displaced by Duterte administration's campaign to make mining companies compliant with Philippine government's environmental and safety standards in mining. We hope that these livelihoods could help mine workers and their families transition themselves toward regular and gainful employment," said Gerard Seno, ALU national executive vice president.
Lopez said the dislodged workers will be employed in the DENR's on-going reforestation program the National Greening Program under the cash-for-work arrangement. Aside from the reforestation program, Lopez said the DENR is looking at developing and promoting more eco-tourism sites to temporarily employ displaced workers.
ALU spokesperson Alan Tanjusay, meanwhile, said the labor group is going to monitor the implementation of the alternative livelihood for the displaced workers.
Tanjusay said the DENR should also address the plight of 950 dependents of the displace mine workers who are about to lose their scholarship as a result of the closure.
DENR's Mines and Geosciences Bureau (MGB) said among the mining companies shutdown since last month were the Citinickel Mines and Development Corporation, Berong Nickel Corporation, Benguet Corp. Nickel Mines Inc., Eramen Minerals, Zambales Diversified Metals Corp., and LNL Archipelago Minerals Inc.
New York skyline as backdrop for iconic sky-high ocean catwalk
Jessica Minh Anh to complete her "catwalk on water" series with a bang
Press Release
August 11, 2016
PARIS – Queen of the catwalk, Jessica Minh Anh, will transform the sky-high sundeck of the luxurious German cruise ship, AIDAluna, into the world's newest runway on 23 October 2016. Overlooking New York's famous skyline, the highly anticipated J Autumn Fashion Show 2016 will strengthen Jessica's position as the most innovative catwalk producer of her generation.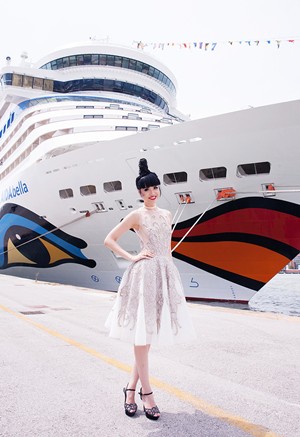 Following the phenomenal success of Sydney Ocean Catwalk and Seine River Floating Runway earlier this year, J Autumn Fashion Show 2016 will premier unique haute couture, pret-a-couture, pret-a-porte, and diamond collection from 5 continents. A master at "combining art, architecture, culture, and fashion" (ABC New York), Jessica Minh Anh is ready to introduce the beauty of modern fashion and New York in a new light. The supermodel and entrepreneur has worked with major brands including Montblanc, Citroën, Lancôme, Marriot, Graff Diamonds, Paul Costelloe, and Addy van den Krommenacker, while promoting young talents including Tony Ward, Paolo Sebastian, and Tex Saverio.
"AIDA operates the world's most state-of-the-art fleet and represents premium quality, creativity, and the future, just as Jessica does in fashion. We are very honoured to host Jessica Minh Anh's Autumn Fashion Show on board of AIDAluna against the Big Apple's iconic skyline." said Felix Eichhorn, President AIDA Cruises.
Last Sunday, Jessica Minh Anh visited the AIDA ship in Venice, Italy to identify the exact catwalk, backstage, and VIP area of J Autumn Fashion Show 2016. Accompanied by the captain and general manager, Jessica learnt about AIDA's technical, operational, and PR activities, while exploring exclusive areas such as the bridge.
The official pre-show photo and video shoot will take place on the sundeck of AIDAluna in New York on 10 September 2016. Having previously produced some of the world's most impressive fashion shots, the promotional photos by Jessica Minh Anh's creative team are expected to be extraordinary. For more information, visit www.jmodelmanagement.co.uk and follow Jessica Minh Anh on Tumblr, Instagram, and Facebook.
Greenpeace supports DENR's call for a review of coal plant permits in the country
Press Release
August 10, 2016
MANILA – On the Department of Environment and Natural Resources' intent to review all permits and operations of the country's coal-fired power plants, Greenpeace Philippines' Climate and Energy Campaigner Reuben Muni said:
"Greenpeace welcomes the announcement by the Department of Environment and Natural Resources Secretary, Ms. Gina Lopez, to review all permits and operations of coal-fired power plants in the country. We also wish to challenge the DENR to take this initiative further by putting on hold all other pending coal-fired power applications until said review is concluded and a more rigorous permitting system is in place.
"Coal is the single greatest threat to the global our climate. Given the economic, social and environmental havoc that climate change has wrought in the Philippines, continuing to power our development with embracing coal is a dangerous policy. Short term benefits of coal to some elite players in the Philippine economy pale in comparison to the billions that coal is costing the Philippines as a nation with respect to public health, not to mention climate change impacts.
"Our current national policies on coal and climate change just aren't cutting it. The DENR's announcement to review permits on coal-fired power plant operations is in line with the Climate Change Commission's move for an energy and climate policy and permit review. We hope this becomes the first step to reduce the country's dependence on dirty coal and chart a decisive path towards a in favor of a future powered by clean renewable energy.
"The Philippines needs to address climate change by taking away road-blocks to renewable energy as a matter of urgency. Our government agencies need to ensure greater coordination and policy coherence in a concerted effort to quit coal, embrace renewables, promote energy efficiency and increase resilience to climate change impacts."