Stormtroopers ignites media-military partnership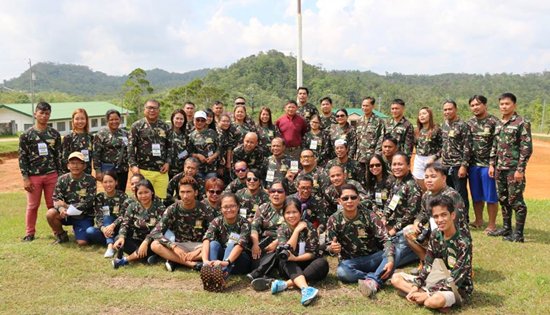 By DPAO, 8ID PA
June 9, 2016
CAMP LUKBAN, Catbalogan,Samar – Recognizing the role of media in the society as one of the pillars of democracy, the 8th Infantry (Stormtroopers) Division, Philippine Army ignited its partnership with the media practitioners all over the Region through fellowship and Boot Camp at 801st Brigade Headquarters, Camp Eugenio, Brgy. Fatima, Hinabangan, Samar from June 04 to 05.
The two-day activity was graced by Maj. Gen. Jet B. Velarmino, AFP, Commander 8ID as guest of honor and speaker together with his wife, Mrs. Imelda D. Velarmino, Col. Cesar M. Idio, Assistant Division Commander and other officers and men of the Stormtroopers family who intermingled with more than forty media practitioners.
Aside from the usual social gathering, 8ID facilitated the boot camp that allowed the media participants to experience a short, intensive, rigorous but fun-filled and exciting course of training. It includes basic marksmanship, obstacle and rope course challenge, unit run and other team-building activities which gave the participants a taste of military life.
According to Maj. Gen. Velarmino, the activity was an opportunity for the media and the military to strengthen their camaraderie. He emphasized that media should not be treated as an enemy but an ally in resolving conflict and a partner in accomplishing the Army's mandated mission and pursuit for genuine reform and transformation.
The 8th Infantry Stormtroopers Division, highly acknowledge the importance of their professionalism and their ability to show impartiality, fairness, and responsibility as media practitioners.
"Without the media, our earnest commitment and sincere efforts as protectors of the region to attain a just and lasting peace will never be realized and recognized and most of all winning the hearts and minds of the people will never be possible," he added.
DPWH-Biliran DEO employees develop skills on Windows 8 and MS Office 2013 through training
By CHELSEA C. QUIJANO
June 8, 2016
BILIRAN – Twenty-four selected employees and personnel of the Department of Public Works and Highways (DPWH) Biliran District Engineering Office (DEO) who have basic knowledge on computers and skills in computer operation attended a 3-days training on Windows 8 and Microsoft (MS) Office 2013: Overview and Updates on May 25-27, 2016 held at Biliran DEO conference hall.
The training was conducted in relation to the distribution of workstations and the connection of the office to the DPWH communications network under the Japan International Cooperation Agency- Assisted Road Upgrading and Preservation Project (JRUPP). The resource speakers were from DPWH-Central Office, Information Management System (IMS); Ms. Anabelle De los Reyes, Chief of the User Support Division and Ms. Qurrata Ayn K. Karim, IT Trainor.
District Engineer, David P. Adongay Jr. in his opening remarks emphasizes the use of Information Communication Technology (ICT) as crucially important for sustainable development.
"In this contemporary world of governance, fundamental source of wealth is no longer natural resources and human capital but information, knowledge and technology," said Adongay.
On the first and second day of training, a lecture and hands-on activities were conducted by Ms. Karim on the Overview of the Windows 8 operating system and the updates and new features of MS Office 2013 applications specifically on MS Word, MS Excel, and MS Outlook.
One of the participants of the training, Ms. Olivia S. Tolentino, Administrative Officer III said that the activity enables her to use and manage the essential features of Windows 8 and MS Office.
"I thought I don't need to attend this seminar because I already know the basic operation of computer but I'm glad that I did because I have learned some cool features of Windows 8 and some of the techniques in Microsoft Office to make work easier," she said.
Engr. Diolito S. Aberion, Engineer II who is also one of the participants said that he has gained new knowledge on using Windows 8 and tells how excited he is to apply this in his work.
The participants were also lectured on the Introduction of DPWH Institutional Capacity Development (ICD): Overview and Advocacy campaign on their third day of training. This time, IT users in the office who are not participants of the said training were encouraged to attend the lecture.
Resource speaker, Ms. De los Reyes said that this is to increase awareness of the DPWH personnel of the Department's IT initiatives and its Policies.
Overall, the training enables the participants to have a smooth transition from previous versions of Windows and MS Office without compromising their efficiency and productivity as they shift to these new versions.
New online tool quantifies ocean benefits at global scale
Via MARKETWIRE
June 8, 2016
ARLINGTON, VA – In advance of World Ocean's Day tomorrow, The Nature Conservancy and partners launch Atlas of Ocean Wealth, a first of its kind collection of maps and analysis of the ocean's benefit to people, the environment and the economy. From fish sold in a market or served in a family home, to the invisible influence of a seagrass meadow absorbing some of the world's excess carbon dioxide, the Atlas shows how our oceans protect us, feed us, and provide us with jobs.
Oceans cover 70% of our planet and support 100% of life on Earth. "Documenting the ocean ecosystem's influence on our lives, our communities and our economy benefits has never been more important, because we are losing them at an unprecedented rate. The Atlas shows not just that we need nature, but how much we need it," said Mark Spalding, Senior Marine Scientist, Global Ocean Team with The Nature Conservancy. "Quantifying where ocean benefits are produced will help decision makers and the public better understand the important role our natural resources play in our everyday lives."
Approximately 17% of the global population relies on the ocean for their source of protein, supporting a $190 billion global seafood industry. Yet research shows fish catches are declining, ocean temperatures are warming, and habitats are disappearing at an alarming rate. Our seas are rising in response to a changing climate, encroaching onto land, threatening some of our great cities and placing hundreds of millions of people at risk from storms.
The Atlas provides government and business leaders, planners and other decision makers access to the largest dataset of information about the benefits of our ocean resources to target and prioritize effort while providing solutions. For example, coral reefs provide habitat and recreational value to our global economies while protecting communities from storms. The Atlas maps their locations, benefits, and offers solutions to protect the ones most at risk.
"The world's ocean economy is growing at twice the rate compared to the economy on land and we are continually looking at the ocean for growth and prosperity. It's important to protect the places most important for fish, carbon capture and breaking waves. We need to understand the ocean to protect it, and we've produced a fundamentally new kind of ocean knowledge to help us shape decisions today that will shape the ocean of tomorrow," said Mark Brumbaugh, lead scientist with The Nature Conservancy's global marine team.
The power is not just in the data but how the information will transform our coasts and fisheries. The World Bank, Carnival Corporation & PLC, and the U.S. National Oceanic and Atmospheric Administration (NOAA) are early adopters, providing pathways to integrate this dataset into economic development funding, private-sector investment, and informed management to protect oceans globally.
The Atlas is supported in part by Microsoft, through their Upgrade Your World Campaign.
Greenpeace calls on Duterte to champion RE for jobs, sustainable national development
By Greenpeace Southeast Asia
June 7, 2016
MANDALUYONG CITY – Responding to REN21's "Renewables 2016 Global Status Report", which showed a record-breaking past year for the renewable energy sector in terms of new installations, policy targets, investments and jobs, Greenpeace urged the incoming administration of President-elect Rodrigo Duterte to fast-track the shift from fossil fuels in order to ensure sustainable national development for the Philippines.
"The Philippines should take advantage of renewable energy (RE), which is outpacing dirty oil, coal, and gas in terms of growth worldwide. President-elect Duterte should champion the country's shift from fossil fuels to renewables, which would give his administration the higher moral ground when it negotiates lower carbon emissions from developed countries. Doing so would not only lower the main source of climate change, but also take advantage of the growing opportunities for jobs and investments, as shown in the REN21 report," said Reuben Muni, Philippine Climate and Energy Campaigner of Greenpeace Southeast Asia.
"The report comes at an opportune time for the Philippines, just over a week after the Climate Change Commission issued Resolution 2016-001, calling for a comprehensive review of the country's energy policy in order to reduce our dependence on coal and urging relevant government agencies such as the Department of Energy, the Department of Environment and Natural Resources, and the National Economic Development Authority, to come up with a national framework for a just transition to renewable energy. This will open the country to a low-carbon economic pathway. Any national development would not be sustainable if our power sector is still hinged on fossil fuels," Muni added.
The report showed that developing countries put in USD 156 billion in investments globally in renewable energy in 2015. This is a reported 19% increase compared to 2014 and higher than all the investments for 2015 of developed countries combined. Greenpeace is optimistic that the results of the proposed policy review will open more doors for investments in the Philippines and provide more green jobs in the renewables sector in the country.
Greenpeace says that the renewable energy sector showed very clear growth despite the hold of fossil fuel companies on the energy industry.
"Although the deck remains stacked against renewables – with fossil fuel subsidies, low fuel prices, problems accessing the grid, vested interests and government inertia - they are still breaking through. If renewables can add 147 GW of power in 2015 with this economic picture, imagine what they could achieve if the cards were even, said Emily Rochon, Global Energy Strategist of Greenpeace International.
"Governments must accelerate this change by stopping investment in fossil fuels and diverting that money to renewable energy because it is the only chance we have to deliver the Paris Agreement's objective of limiting global temperature rise to 1.5C. The G7 says it will end 'inefficient' fossil fuel subsidies by 2025. G7 countries, and all others, need to end fossil fuel use, not just subsidies, and by 2050 at the latest. Accelerating the take-up of renewables is the best way to achieve this," Rochon added.
8ID gears up for Brigada Eskwela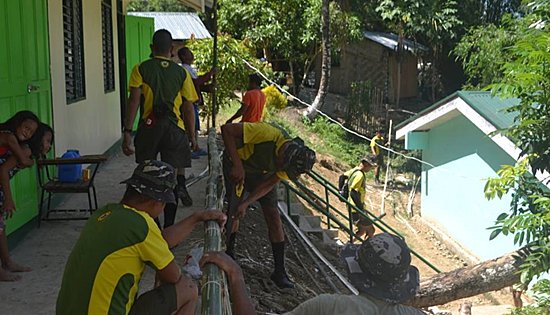 By DPAO, 8ID PA
June 7, 2016
CAMP LUKBAN, Catbalogan, Samar – In the spirit of bayanihan and voluntarism, the 8th Infantry Stormtroopers Division once again geared up to support the DepEd's annual Adopt-A-School program dubbed as Brigada Eskwela that unites teachers, parents and community members to work together in repairing and preparing select public schools in Catbalogan City for the school opening.
With this year's theme "Tayo Para sa Paaralang Ligtas, Maayos at Handa Mula Kindergarten Hanggang Senior High School", Stormtroopers were deployed in various public schools and provided manpower assistance in doing minor repairs, painting and cleaning of schools from May 30 to June 04 2016.
Among the beneficiaries were the public schools located in the hinterland barangays of Catbalogan City namely: Palanyogon Elementary School, Bangon Elementary School, Albalate Elementary School, Cagutian Elementary School, Cag-udalo Elementary School, Ibol Elementary School, Lagundi Elementary School, Soccoro Elementary School, San Andres Elementary School and Payao Elementary School.
Brigada Eskwela was also participated and conducted simultaneously by the different line units within Eastern Visayas.
Maj. Gen. Jet B. Velarmino, Commander, 8ID said that Brigada Eskwela demonstrates 8ID's commitment to community concerns.
"Further, joining the community in preparing the schools for the new school year is also a way to demonstrate to the people that the Stormtroopers are warrior-diplomats who can build positive and sustainable relationship with the people," Velarmino added.
Edukasyon, CHED, Universities to facilitate Online Applications for Scholarships
By Edukasyon.ph
June 6, 2016
MAKATI CITY – Education technology social enterprise Edukasyon.ph called on higher education institutions to give more online information and advice on scholarships for students.
"Students need better access to information on educational opportunities and the requirements to avail of these chances to pursue their undergraduate and graduate studies. Schools can provide this information online through their websites where they can post scholarship information and application procedures," said Lites M. Viloria, CEO of Edukasyon.ph.
The Commission on Higher Education (CHED) and Edukasyon.ph have partnered for an online application platform for scholarships for faculty and staff of higher education institutions under the CHED K to 12 Transition Program for school year 2016-2017. Edukasyon founder Henry Motte-Muñoz and CHED Chairperson Patricia Licuanan signed the Memorandum of Agreement today at the Commission of Higher Education building in Diliman, Quezon City.
"We want to help our faculty and staff apply and qualify for these scholarships with just a few clicks. We are excited about this partnership with CHED that can expand the reach of their scholarship program and fulfill their dream of completing their Master's or Doctoral studies," added Viloria.
With the partnership, over 140 delivering higher educational institutions (DHEIs) under the K to 12 program will be able to accept online applications from faculty and staff scholars through the Edukasyon-CHED scholarship portal. This will ease the applications for the K to 12 scholarship and will enable DHEIs to feature innovative graduate programs so that more faculty and staff scholars can enroll.

"We want to help our nominees apply and qualify to their dream university and college in time for school opening this June and August. Through our online service, CHED's faculty and staff can now send applications to their preferred HEIs. The faster they can apply and qualify, the faster they can pursue their graduate studies," said Henry Motte-Muñoz, Founder of Edukasyon.ph.
More than 4,000 nominees from different sending HEIs all over the country were selected by the CHED for their Graduate Education Scholarships for Faculty and Staff.
"We want to provide choices and convenience for college faculty and staff. Through this system, the selection and application system becomes easier and faster" added Motte-Muñoz.
Edukasyon.ph is a social enterprise that has a comprehensive database of senior high schools, colleges, tech-voc schools, scholarships and career pathways. At the site students can search and apply to schools all over the Philippines.
"We are pleased to announce this online partnership, to ensure access to information of prospective faculty and staff scholars and to allow for online application to schools. We recognize the power of technology to open access to these scholarships and we want to harness these online capabilities to make it easy for our faculty and staff to apply and submit their requirements," said CHED Chairperson Patricia Licuanan.
Need for more graduate degrees
According to CHED, only 50 percent of all HEI faculty in the country currently hold graduate degrees, while the faculty in Vietnam and Malaysia hold 60 and 69 percent, respectively.
The CHED K to 12 Transition Program effectively utilizes the period of low enrollment anticipated in the higher education sector due to the full implementation of K to 12 in order to provide opportunities for HEIs and their personnel to earn higher qualifications through scholarships and other grants. A total of 15,000 scholarship slots will be awarded, thus helping increase the number of graduate degree holders among HEI faculty to 70 percent by 2021.
"The main constraints that prevent faculty from completing further studies include heavy teaching loads, being recalled by their home institutions, and low stipend rates. But now, with the transition to K to 12, they are virtually free of these constraints. The government is meeting that opportunity with an increased investment in scholarships and other grants," said Licuanan.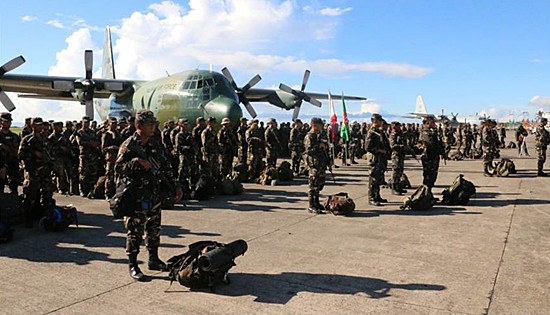 Troops of 19th Infantry (Commando) Battalion ready for boarding the C-130 of Philippine Air Force during the Send-Off at DZR Airport, Tacloban City on May 29, 2016.
19th IB Commando troopers deploy in Mindanao
By DPAO, 8ID PA
June 3, 2016
CAMP VICENTE LUKBAN, Catbalogan City – A send-off ceremony was rendered to the members of 19th Infantry (Commando) Battalion at Tacloban airport on May 29, 2016.
The ceremony is a military tradition honoring its men on its deployment of forces in support to win the peace in North Cotabato under the operational control of 6th Infantry Division. Colonel Cesar M Idio, Assistant Division Commander, hand-over a Plaque of Appreciation to Lt. Col. Roberto Sarmiento, Commanding Officer of 19th IB, recognizing their valuable services in sustaining the peace in Eastern Visayas.
Col Francisco F Mendoza Jr. 802nd Brigade Commander historically mentioned that this is the second deployment of 19th IB in Mindanao area, since they participated in the AFPs campaign against rogue elements of MILF and other secessionists threat groups in Patikul, Sulu in November 2001.
Col. Idio reminded the soldiers to respect the human rights, maintain highest standard of discipline, give courtesy to the customs and traditions of the community and people as embedded in the Philippine Constitution.
Maj. Gen. Jet B Velarmino, Commander 8ID, said that the unit deployment in Mindanao is anchored on the AFPs quest for peace and development as embodied in "IPSP Bayanihan".
SELDA says no to Marcos burial at "Libingan ng mga Bayani"
By SELDA
June 3, 2016
QUEZON CITY – Marie Hilao-Enriquez, Chairperson of Karapatan and SELDA (an organization of former political detainees, mostly detained during the martial law era) today called on President-elect Rodrigo Duterte to "be more circumspect" on the issue of the burial of the former dictator Ferdinand Marcos, Sr.
"The Marcos family has not even apologized to the Filipino people for the plunder of the nation's coffers during in the more than 20 years that they were in power. There is no remorse," Hilao-Enriquez added.
"Burying Marcos, Sr. at the Libingan ng mga Bayani is what the Marcos family wants the most for it will pave the way to clear Marcos' name from the numerous human rights violations he committed during Martical Law," she said.
SELDA instead urged the President-elect to order the GPH Claims Board to hasten the process of recognition and indemnification of the martial law victims, which has taken a longer time than what is stated by law. SELDA members spearheaded the class suit filed against Ferdinand Sr. in Hawaii. The plaintiffs succeeded in the court case as the Hawaii Federal Court, and later the US Supreme Court found Marcos guilty of human rights violations.
"We, families of victims refuse to bow down to one family's desire to do what they like to do just because they belong to a powerful few. Let it be remembered that the Marcos family was kicked out by the Filipino people in 1986. That they were able to come back to the country is more than enough. It's time to stop the haughtiness the Marcoses are displaying. They must return all the money they stole from the national coffers and render justice to the people they victimized." Hilao-Enriquez concluded.
Hilao-Enriquez is among the initiators of the Campaign Against the Return of the Marcoses to Malacañang, which campaigned against the vice-presidential bid of Bongbong Marcos.