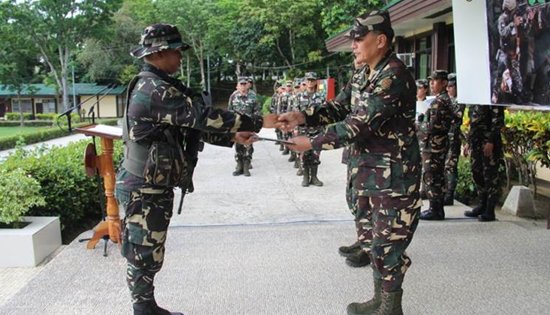 Col. Cesar Idio, assistant division commander, 8ID assisted by Col Jose Narciso, chief, GSMO pinned medals and award certificate to the winners of the Squad Challenge 2016 at Headquarters 8ID, Camp Lukban, Catbalogan City on July 15, 2016.
63rd IB tops 8ID squad challenge 2016
By DPAO, 8ID PA
July 18, 2016
CAMP LUKBAN, Catbalogan, Samar – The 8th Infantry (Stormtroopers) Division, Philippine Army culminated its five-day Squad Challenge 2016 during the Flag Retreat ceremony here, July 18.
This event is a prelude to the 28th Founding Anniversary of the Command and was participated by rifle squads from 14th Infantry (Avenger) Battalion; 20th Infantry (We Lead) Battalion; 43rd Infantry (We Search) Battalion; 63rd Infantry (Innovator) Battalion; 78th (Warrior) Battalion; 87th Infantry (Hinirang) Battalion; and the three Division Reconnaissance Companies.
Major General Jet B Velarmino AFP, Commander, 8ID was represented by Col. Cesar M Idio, Assistant Division Commander, 8ID as keynote speaker and further administered the awarding of prices to the winners assisted by Col. Jose H Narciso, Chief, Governance and Strategy Management Office and Lt. Col Peter Burgonio, Acting Assistant Chief of Staff for Operations.
The competition was divided into five phases: Individual Readiness; Battle Drills; Formation and Movement Techniques; Disaster and Rescue Operation; and Bayanihan Team Activities.
For the infantry battalion contingents, the champion is awarded to 63rd IB for being the best rifle squad and the Second placer is awarded to Alpha Company, 43rd IB, while the Third placer is awarded to Alpha Company 78th IB.
Special awards were also given by the Command for the following: Best Squad in Individual Readiness is awarded to Charlie Company, 63rd IB; Best Squad in Formation and Movement Techniques is awarded to Charlie Company, 87th IB; Best Squad in Battle Drills is awarded to Charlie Company 63rd IB; Best Squad in BTA and DRO is awarded to Alpha Company, 43rd IB.
Moreover, for the winners of Division Reconnaissance Companies category: the Champion is awarded to 81st DRC as the Best DRC and the Second placer, 82nd DRC; while the Third placer is awarded to 83rd DRC.
All participants who have strived for excellence, along with all the winners were able to received trophies, medals and cash rewards during the awarding ceremony in the Division.
In a message of Major General Jet B Velarmino, AFP that was delivered by Col Cesar M Idio, said, "This Squad Challenge is a test of our skills and collective effort to adopt in real combat situations." Subsequently, this is in adherence to the Commanding General, Philippine Army's guidance to maintain our squad's permanency being the cutting edge of the Army.
Edukasyon.ph, Philippine Business for Education launch industry-based career site
Press Release
July 18, 2016
MAKATI CITY – Education technology startup Edukasyon.ph and the Philippine Business for Education has signed a Memorandum of Agreement to seal its joint commitment to provide industry-based information on careers for high school students through the "Career Conversations" section of the website www.edukasyon.ph.
"We are excited with this partnership with the Philippine Business for Education that will help in delivering job market and education information needed to make informed career and education decisions. Through these joint efforts with industry associations, we believe that we are able to guide students in what industries expect from them as jobseekers and what they need to know to prepare for these jobs," said Linartes M. Viloria, CEO, Edukasyon.ph.
Edukasyon.ph is a website (www.edukasyon.ph) that empowers students by giving them choice, advice and convenience in discovering, selecting and applying to the school that will best equip them for their dream career. The Philippine Business for Education maintains FutureYou, a free online career exploration tool that provides you information needed to be able to get the right opportunity where a student's passions, skills, and interests can be turned into a great job and a great future. The two sites have agreed to combine its online efforts through Edukasyon.ph's Career Conversations.
"Deciding on what you want to be when you grow up is a difficult decision a high school student has to make. Without the right industry information on careers and the world of work, students will find themselves confused on the education they need to have to prepare for their dream careers. Through these collaborative efforts with the Philippine Business for Education we can deliver to students job information that they can understand and appreciate for better career decision making," said Henry Motte-Muñoz, Founder, Edukasyon.ph.
Under the partnership students can check out Edukasyon's Career Conversations portal (http://edukasyon.ph/en/career_conversations) where they can find a variety of careers they can choose and read about. This section includes hard-to-fill and most popular jobs, job descriptions, entry-level salaries for these jobs and the requisite education for these jobs.
"It is our dream that every Filipino student gets a quality and relevant education that leads to a career. This partnership brings us closer to realizing that dream and ensuring that young people get better chances to employment," said Henry Motte-Muñoz, Founder, Edukasyon.ph.
At the joint site, students can discover the recommended senior high tracks, college courses, and technical vocational education for these selected careers. To give them first hand information on preparations for their career journey in these jobs, students can watch Career Conversation videos of professionals in different industries.
Duterte told to end 'coal addiction' in the Philippines
Press Release
July 15, 2016
MANILA – Climate advocates today asked the Duterte administration to ban new coal projects and prioritize the national energy policy review that was launched by the Climate Change Commission last month.
Representatives of local church groups and national climate networks renewed their calls to stop the proposed 600-megawatt coal plant of JG Summit in the city and to review the existing Renewable Energy (RE) Law, more than a month after the 10,000-strong Piglas Batangas, Piglas Pilipinas anti-coal march last May 4 in Batangas City.
In the forum "Prospects for the Fight Against Dirty Energy Under the Duterte Administration," representatives of Piglas Pilipinas, a nationwide campaign for the Philippines to break free from fossil fuels, shared insights on the current anti-coal struggle in the Philippines.
Former Batangas City Councilor Kristine Balmes, who is also a member of the Lipa Archdiocesan Ministry for the Environment (AMEn), underlined the efforts of different sectors, including the Roman Catholic Church, in the ongoing struggles against coal projects.
"In Batangas City, a recent decision by the City Council has allowed the construction of a 600-megawatt coal plant near the Verde Island Passage, a center of marine biodiversity in the country and the world," Balmes said. "Despite this, the community as well as people from civil society and the Church, continue to be vigilant in its opposition against the project and has recently found an ally with the provincial governor who has vowed to oppose the project."
Meanwhile, Ian Rivera of Philippine Movement for Climate Justice' (PMCJ) noted that while there are 29 proposed power plants adding to the 15 already existing in the country, a number of significant developments have been achieved by the anti-coal resistance in the country.
"With the Climate Change Commission subjecting proposed coal projects to reviews within the coming 6 months, as well as the pro-renewable energy pronouncements expressed by the newly-elected President and his Environment Secretary Gina Lopez, we can say that the movement for a more sustainable, people-centered energy system is only getting stronger," said Rivera.
According to Rivera, in order for the Philippines – one of the most vulnerable countries to the impacts of climate change – to keep its intended nationally-determined contribution (INDC) to reduce emissions and combat climate change, it must begin the transition away from the largest contributor of global warming-inducing greenhouse gas: carbon dioxide, which comes mainly from coal.
The Philippine government has pledged to reduce its emissions by 70% by 2030 in its INDC, but this pledge is dependent on international climate financing and other support mechanisms. According to the civil society network Aksyon Klima Pilipinas, the Philippine government should not only offer conditional pledges, but should also offer unconditional targets based on its fair share of the global efforts.
"We support the Philippine INDC, however we call on the government to show seriousness on the targets by defining the extent of what the country can do on its own and what more it can do when enabled. Marching orders should be issued to all agencies to adjust plans, projects, programs and activities, with meaningful consultations with, and participation of, all stakeholders to make sure that we are on target by 2030," said Ruel Cabile, Aksyon Klima Pilipinas national coordinator.
Another highlight of the forum tackled the global shift from fossil-fuels to renewable energy that is currently gaining momentum as the largest financial institutions are starting to dump coal from their investment portfolios and moving their investments to renewable energy, causing the bankruptcy of the world's largest coal companies, such as Peabody Energy, the world's largest private-sector coal producer, which filed for bankruptcy in April 2016, as well as Arch Coal, which owns the second-largest U.S. coal reserves behind Peabody, and which filed for bankruptcy in January 2016.
The Norges Bank Investment Management has also denied Aboitiz Power and other coal companies access to its Government Pension Fund Global, the world's largest sovereign fund worth US$ 850 billion, as a result of coordinated campaigning between local and international movements that are calling on institutions to Immediately freeze any new investments in fossil fuels.
According to Gerry Arances of Center for Energy, Ecology and Development (CEED), the international movement is increasingly shifting public opinion against the proliferation of coal projects across the globe, "In the past few years, many countries, like Norway, Denmark and even the United States, have stopped funding coal projects as a response to the growing pressure from grassroots movements."
"A recent study from Oxford University has found that coal power plants are more and more becoming 'stranded assets,' meaning they are likely to be kept running in spite of the technology being obsolete and unprofitable economically," Arances stated. "This means that while renewable energy sources are increasingly becoming affordable, countries like the Philippines will end up being bound to an outdated, costly and destructive energy source," he continued.
"We should not subject Filipino consumers to this costly and dirty energy," Arances asserted.
The Philippines is at a crossroads as to whether it will pursue the previous government's high-carbon path, or change course to tap the large potential of renewable energy in the country and align itself in accordance with its commitment to the Paris Climate Agreement to limit global warming to below 1.5 degrees. The challenge lies in engaging all levels of government and business, to be able to push for the common goal of shifting power away from coal, and moving it towards renewable energy that benefits both people and the planet.
The forum was held at the monthly Kamayan Forum organized by Green Convergence for Safe Food, Healthy Environment and Sustainable Economy together with Sanib Lakas para sa Inang Kalikasan.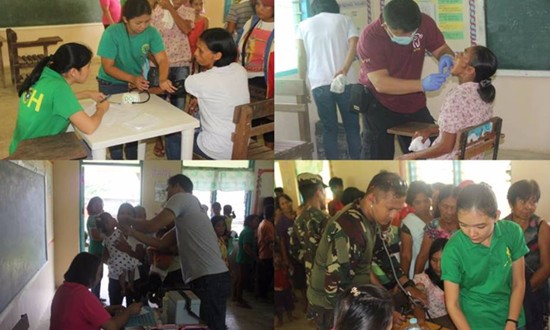 Medical and dental consultation during the Peace Caravan at Brgy. Buglosan, Las Navas, Northern Samar on July 6, 2016.
433 populace in Las Navas help out by 20IB through peace caravan
By 20th Infantry Battalion, 8ID PA
July 14, 2016
CATUBIG, Northern Samar – The 20th Infantry "We Lead" Battalion in collaboration with the Provincial Health Office (PHO) and Department of Health (DOH) of Northern Samar, LGU-Las Navas and other government agencies has spearheaded the conduct of "Peace Caravan" held in Barangay Bugtosan, Las Navas, Northern Samar on July 6, 2016.
The objective of this activity is to deliver the basic services to the geographically isolated barangays of Bugtosan, Bugay and Lourdes, all of Las Navas. Numerous recipients benefited in the services such as 208 on medical consultation, 37 on tooth extraction, 38 babies on immunization and 150 children on feeding program.
Correspondingly, they also conducted film showing and consultative dialogues on land titling and environmental protection while the "Payapa at Masaganang Pamayanan" (PAMANA) gave updates on the progress on infrastructure projects, skills developmental training, and delivery of social welfare and services.
Also included in the caravan are Lt. Col. Hilarion G. Palma, Battalion Commander of 20IB together with the Bayanihan Teams; Dr. Rommel Francisco MD; Dr. Alexander Lucban MD; Dr. Ricardo B. Bocar; Dr. Ma. Teresita Fe Saises of Provincial Health Office of Northern Samar; Elmer Siervo of 803rd Press Corps; SPO4 Romeo Acedera of PNP- Las Navas; Ecel Bantilo of OPAPP; Melba Arino of DENR; Engr. Gil D. Herrera Jr of DPWH; Yolly Pajenado of TESDA-LNHS, and Mercy A. Castillo of Provincial Social Welfare and Development.
Dr. Francisco of DOH has expressed his deep gratitude to the 8th Infantry (Stormtroopers) Division, Philippine Army especially to 20th Infantry (We Lead) Battalion for bringing the services to the people. While Hon. Brgy Capt. Roliza Ambon remarked "I can't find the right words to express our appreciation to the Philippine Army who have helped us a lot in a convergence through the Peace Caravan."
Lt. Col. Palma said "Your soldiers had transformed as peace builders and made a difference in the lives of those vulnerable including those in dire need of government basic services".
"The Philippine Army is an institution that promotes good governance and excellence in public service. We are composed of servant soldiers and effective partners of local government units and civil society organizations with coequal obligation to serve the people and secure the land," Palma added.
8ID mountain bike trail challenge ride for a cause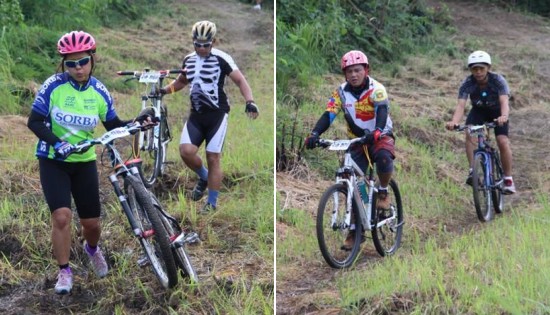 By DPAO, 8ID PA
July 13, 2016
CAMP LUKBAN, Catbalogan, Samar – A trail bike challenge of the 8th Infantry (Stormtroopers) Division, Philippine Army draws support from the local populace of Eastern Visayas held at Buri Air-Strip, CAAP, Brgy Cabugawan, Catbalogan City, Samar on July 10 2016.
It was participated by the contingents from 801st Infantry (Bantay at Gabay) Brigade headed by Col Perfecto M Rimando, Brigade Commander; 802nd Infantry (Peerless) Brigade represented by Lt. Col. Allan Jose L Taguba and 803rd (Peacemaker) Brigade headed by Col. Mario S Lacurom, Brigade Commander; Samar Off-Road Bikers Association (SORBA) from Calbayog City; Samar Mountain Bikers Association (SAMBA) from Catbalogan City; Philippine Coast Guard; Philippine National Police; and other stakeholders.
The event is divided into two categories. For the female category, the winners are: 2nd Lieutenant Angelyn Samaniego - 1st Place; 1st Lieutenant Hiesa Obispo - 2nd Place; Angela Kyla Saranillo - 3rdPlace; 2nd Lieutenant Jane Buenaventura - 4th Place; and Liezel Gonzaga - 5th Place.
For the male category, the winners are: Mark Abay - 1st Place; Reynold Bestiola - 2nd Place; Corporal Marlon Raquel - 3rd Place; Private First Class VirgilioTamayo - 4th Place; and Private First Class Ritchie Calamba - 5thPlace.
A special award is also given to the number 28 finisher in the person of Staff Sergeant Cristobal Movella significantly because it represents the 28th founding anniversary of 8ID. Moreover, the number 8 finisher, 2nd Lieutenant Julius Sabas received a medal because it represents the 8ID.
The MTB Riders joined the ride to support the cause of the "8ID Kawal Foundation" in extending financial assistance to our noble soldiers who enormously sacrificed their lives to preserve the peace in our community and protect the people. The participants rode for fun and experienced the challenges brought by the muddy, stony and single-track trails composed of uphill and downhill, with stunning landscapes and scenery of the Island of Buri. The activity was an opportunity to develop camaraderie between civilians and military as well as to bring people together to create a powerful, united voice for biking and its benefits.
"When you sign up for the Stormtroopers Trail Bike Challenge, you become a hero for helping our soldiers in the frontlines," Maj. Gen. Velarmino said.
DAR: Keep gate open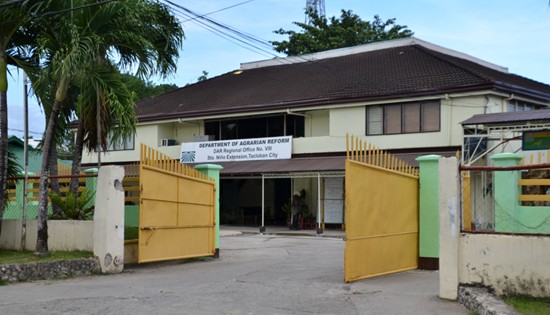 By JOSE ALSMITH L. SORIA
July 13, 2016
TACLOBAN CITY – As the newly-installed Secretary of the Department of Agrarian Reform (DAR) broke the padlock and opened the gate at the central office that had been closed for 14 years, Regional Director Sheila Enciso ordered also on Monday to keep the gate at the regional office open.
During the flag raising ceremony Enciso ordered to keep the gate open during office hours to make stakeholders of the Comprehensive Agrarian Reform Program (CARP) feel welcome.
According to her, Secretary Rafael Mariano instructed DAR officials and employees to welcome clients, especially farmers coming to our office and see to it that their queries are properly attended.
The opening of gate is more than a symbolic act to the Secretary's open door policy, Enciso said.
"He wants us to break the barriers between DAR and its stakeholders and have a productive dialogue with protesting farmers instead," Enciso added.