DILG to public: Start disaster preparedness in your own homes
Press Release
July 12, 2016
TACLOBAN CITY – This National Disaster Consciousness Month, Interior and Local Government Secretary Ismael D. Sueno urges the public to start disaster preparedness in their own families and homes.
"Ang tamang paghahanda ay nagsisimula sa lebel ng mga kabahayan. Huwag tayong maging kampante at huwag ipagpabukas ang paghahanda. Ramdam na natin ang malalakas na pag-ulan at hangin," said Sueno.
"More than anybody else, families should know their roles and understand practical tips in disaster preparedness, that is why we have the Gabay at Mapa para sa Listong Pamilyang Pilipino," he added.
The Gabay at Mapa is a family guide to action before, during and after a disaster. It requires families to make a household plan determining their evacuation routes, family meeting points, and safe places in their home.
"To learn more about Gabay at Mapa and other Disaster Risk Reduction (DRR) programs of the DILG, an exhibit is open for public viewing in the DILG-NAPOLCOM Center lobby in Quezon City this July, the National Disaster Consciousness Month. It showcases a variety of informative reference materials and illustrations on DRR," said Sueno.
On the other hand, DILG Undersecretary for Local Government Austere A. Panadero said, "Ang DRR exhibit tulad nito ay kailangan upang magsilbing paalala kung anu-ano ang dapat gampanan ng bawat isa; at pakiusap ay ikuwento niyo rin sa inyong mga kapitbahay kung paano maghanda sa lindol, baha, bagyo at iba pang sakuna."
Local Government Academy (LGA) Executive Director Marivel C. Sacendoncillo pointed out that disaster preparedness is everyone's business and a shared responsibility. "Ang sakuna ay walang pinipiling kasarian, edad, at katayuan sa buhay. Lahat ay dapat maging maalam at handa. Subalit mahalagang unahin natin ang kaligtasan ng mga may kapansanan, senior citizens at mga bata."
The NDRRMC through the Office of Civil Defense (OCD) launches this year's observance of the National Disaster Consciousness Month with the theme "Kahandaan at Pagtugon sa Sakuna, Tungkulin ng Bawat Isa".
DILG in Eastern Visayas likewise joined in the launching and exhibit last July 4, 2016. The program started with a mass at the Leyte provincial capitol, followed by a motorcade around downtown Tacloban City and nearby areas. DILG Tacloban City Director Atty. Darwin Bibar in his welcome speech in behalf of Regional Director Pedro A. Noval Jr., mentioned the efforts of the agency to promote disaster preparedness among LGUs, communities and households themselves.
DILG highlighted in its exhibit the features and procedures in Operation Listo, projects completed under DILG- Recovery Assistance on Yolanda (RAY), Build Back Better Operations Manual produced with the Australian Volunteers for International Development (AVID), the coffee table book on After Yolanda, and various technical assistance by the department on DRRM and Climate Change Adaptation.
OCD announced that this year's theme highlights the core intention of this annual observance to make people own DRR a personal responsibility and that surviving, outlasting the ravages of any hazard and making communities resilient is a duty of every Filipino.
Executive Order 137 s. 1999 declares the month of July of every year as the National Disaster Consciousness Month which aims to increase the awareness of every Filipino on natural and man-made disasters for a better appreciation of the government's disaster preparedness programs.
Medical Marijuana, Inc. receives new permit to export into Paraguay, plans New Latin America expansion
Global Cannabis Industry continues gaining ground in Central and South America
Via MARKETWIRE
July 5, 2016
SAN DIEGO, CA – Medical Marijuana, Inc. announced today that the Paraguay government has issued a new import permit for the Company's flagship product Real Scientific Hemp Oil (RSHO) for a new patient in the country. The Company also announced its plans to further expand into Latin America as the cannabis industry continues gaining ground in the region and as demand for its products increase.
The Paraguay government granted the country's first-ever import permit for RSHO in May 2016, which marked the third country in Latin America, after Brazil and Mexico to approve Medical Marijuana, Inc.'s cannabidiol (CBD) hemp oil for indications including epilepsy, Parkinson's disease and chronic pain. RSHO also has 12 medical product registrations in Puerto Rico.
"We are thrilled to hear the news that the Paraguay government has issued another import permit for a suffering child, so soon after its government granted the first-ever import just a month ago," states Dr. Stuart Titus, Chief Executive Officer of Medical Marijuana, Inc. "As evident with other countries we ship our products to, demand increases once the word spreads. We expect demand to continue to increase in Paraguay, and in the other countries that are receiving shipments of RSHO."
Medical Marijuana, Inc. also announced its plans to further expand into the Latin America marketplace, and that the Company is working on opening a fourth new Latin American market. Currently, Medical Marijuana, Inc.'s RSHO products are shipping to more than 40 countries.
"We're excited about the opportunity to get our products to more patients in Latin America and throughout the world," added Dr. Titus. "The medical marijuana industry is experiencing significant growth in South and Central American countries as a shift in public attitudes, legislative development, and a greater awareness of cannabis' medicinal properties continues. As more and more countries come on board, our Company is ready to provide them with the products they need to help patients who have been suffering too long."


On-going Construction of Slope Protection along Biliran Circumferential Road, K1029+800-K1029+900, K1030+050-K1030+100, K1030+150-K1030+300, K1036+100-K1036+390 under contract with MAC Builders with a contract cost of P41,782,330.92. As of June 30, 2016, it has an accomplishment of 40% with -20% slippage. Other than the slope protection structure, concrete paving of widened shoulders and construction of concrete canal are included in the project. This section of the road is prone to landslide, hence prioritized for slope protection.
Biliran DEO posts 77.06% of the 2016 infrastructure projects
By ROSARIO B. ROSETE
July 5, 2016
BILIRAN – DPWH-Biliran District Engineering Office (BDEO), is still in full swing in the implementation of its FY 2016 Infrastructure Projects. As of June 30, 2016, out of 66 lined-up projects of BDEO, 53 projects were already completed while 9 projects are on-going which includes road widening, flood control, multi-purpose building, water supply projects, multi-purpose pavement, concrete pathway and many others.
District Engineer, David P. Adongay Jr. revealed that there are still 4 projects which are not yet started under the 2016 Regular Infrastructure Projects. These are the repair of Biliran Bridge (B00057BR) along Leyte-Biiliran Road, Repair of Bilwang Bridge (B00058BR) along Biliran Circumferential Road, Repair of Looc Bridge (B00035BR) along Biliran Circumferential Road and Repair of Cabibihan Bridge (B00027BR) along Biliran Circumferential Road. Engr. Adongay said that the remaining projects were already Bid Out and with Notice to Proceed.
To date, the district has an overall actual accomplishment of 77.06% with a negative slippage of 4.91%. The negative slippage came about because of the slight delay in the project implementation of Construction of Slope protection along Biliran Circumferential Road. Nevertheless, the overall accomplishment is still high considering the onset of rainy days.
This is in consensus with the policy of the Department to implement the right project with the right cost determined through competitive and transparent public bidding with the right quality in accordance with international standards delivered at the right time through close monitoring of project implementation carried out by the right people who are competent and uphold the values of professionalism, integrity, excellence, public service and teamwork.
With all these projects, indeed Biliran DEO is lucky enough to be able to uphold the goals and policies of the Department under the leadership of District Engineer David P. Adongay, Jr, DPA on its commitment to selfless public service through proper implementation of the district's projects.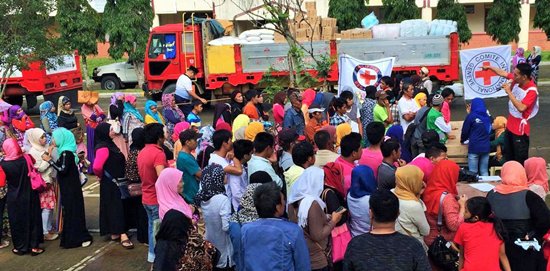 The combined efforts of the ICRC, the PRC Marawi Chapter, the local government unit, and other nongovernment organizations made possible the distribution of emergency food rations, essential household items, and hygiene kits to more than 2,300 conflict-affected families, most of them displaced since February from six barangays in Lanao del Sur. (BY-NC-ND / ICRC / A.G. Marohom)
Aid for 12,500 displaced people in Lanao del Sur
By ICRC
July 4, 2016
MANILA – The International Committee of the Red Cross (ICRC) expresses its concern for thousands of people from Butig, Lanao del Sur, who remain displaced following clashes between government forces and an armed group in late May to early June.
"Thousands of civilians in Butig were forced to flee their homes in February, when the first clashes began. Some were able to return in April, and just when they started planting a new crop, they were forced to flee their homes again in May, when hostilities resumed," said Dominic Earnshaw, head of the ICRC office in Cotabato.
"Now many of the displaced are living with relatives and depend heavily on their kin and the authorities, as they are still too afraid to go back home. Civilian houses were also destroyed in the fighting. We ask all sides in the conflict to exercise utmost precaution to protect civilians and their property," he added.
Between June 8 and July 2, the ICRC, together with the Philippine Red Cross (PRC), provided food and household items to around 12,500 people displaced from Butig. The distributions took place in Butig and neighboring Lumbayanague municipalities as well as in Marawi City. The ICRC-PRC assistance augmented the aid provided by the government and helped families meet their basic needs.
Each displaced family received 25 kilograms of rice, 12 tins of sardines, 2 liters of cooking oil, 2 liters of soy sauce, 2 kilograms of sugar, 500 grams of salt, and essential household items including two blankets, two mosquito nets, one sleeping mat, and one hygiene kit.
Prior to its relief operation in Butig, the ICRC conducted its own assessments and coordinated closely with community leaders, the Department of Social Welfare and Development, and nongovernment organizations.
The ICRC is a neutral, impartial, and independent humanitarian organization whose mandate is to protect and assist people affected by armed conflict and other situations of violence. It has had an established presence in the Philippines for more than 70 years and a permanent presence in Mindanao since 1982.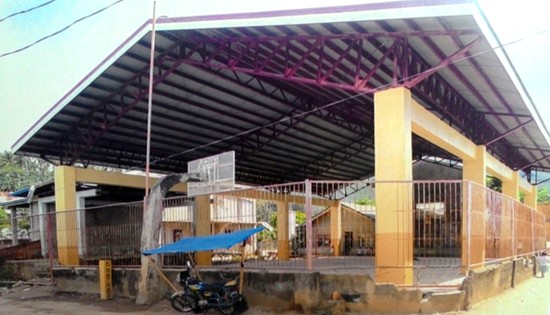 Completed construction of gym at Barangay Julita, Biliran. The project was completed on April 16, 2016 under Infraserve Builders and Supplies with a contract cost of P2,874,984.00. This was prioritized by the Representative of the Lone District of Biliran as per request of the Barangay Captain of the place. The completion of project will give the people of the Barangay a place to hold different activities and programs without being exposed to harsh weather conditions.
DPWH-Biliran DEO completes the various phases for construction of gymnasiums
Press Release
July 4, 2016
BILIRAN – The Department of Public Works and Highways (DPWH), Biliran District Engineering Office (DEO) is fortunate to have implemented and completed (9) nine various barangay and municipal Gymnasiums (Phase I) under the 2016 Local Infrastructure Program just in time before the onset of rainy season. Now, municipalities and even barangays can now enjoy their sports activities and festivities inside the covered court without being exposed to harsh weather conditions.
The completed projects are the Construction of Gym Phase 1 at Brgy. Palanay, Caibiran, Biliran worth P2M, Construction of Gym at Brgy. Balaquid, Cabucgayan, Biliran (P3.5M), Construction of Gym Phase 1 at Brgy. Palanay, Caibiran, Biliran (P2M), Construction of Gym at Brgy. Poblacion Kawayan, Biliran (P4M) and Construction of Gym at Brgy. Julita, Biliran worth P3M.
Another three recipients for the completed gymnasiums can now also be enjoyed by the residents in three Barangays of the Municipality of Naval. One in Brgy. Atipolo Gym Phase II worth P2M, Gym Phase III at Brgy. Sto. Niño (P2M) and Gym Phase IV at Brgy. Agpangi worth P2M.
Moreover, the P1M Construction of Covered Plaza at Brgy. San Roque, Culaba, Biliran, Phase I is now also ready for use which will benefit more or less 600 of populations.
The final phases of the projects are prioritized under the FY 2017 National Expenditure Program (NEP). DPWH-Biliran DEO will continue to uphold its mission and vision, to uplift the people's standard of living and empower them through infrastructures and public service.
PIO photography workshop sheds light to areas for improvement, lauds top 3 stills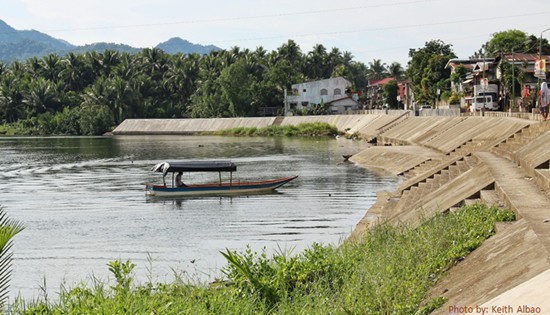 By ARDEL S. MALANOG
June 28, 2016
CALBAYGOG CITY – With the aim of improving the quality of works produced by the Public Information Office of each district, delegates from different District Engineering Offices (DEO) in Region 8 assembled at Marju Krisel Hotel and Restaurant, Calbayog City, Samar last June 9-10, 2016, for the first PIO Conference cum Workshop of Fiscal Year 2016.
Mr. Nheru Veraflor, former editor at Sun Star Cebu, discussed Beyond Basic Photography and Newsletter Production. Focusing on photograph compositions, a topic which the resource speaker considers to be a basic requisite in photography, Mr. Veraflor discussed how to catch the audience attention by photographing subjects at view points distinctive to what is commonly seen in the morning of June 9.
In the afternoon, the delegates were sent out to the field to cover four of Samar First DEO's Infrastructure Projects. Among the projects covered are the ongoing Replacement of Sta. Margarita Bridge along Brgy. Monbon, Sta. Margarita, completed portion of Calbayog Diversion Road leading to Rawis Fair Market, Calbayog City, completed Flood Control Project at Brgy. Oquendo, Calbayog City and ongoing Construction of a Two Storey School Building at Trinidad National High School, Brgy. Trinidad, Calbayog City.
Morning of June 10, 2016, the delegates reconvened for the critiquing of their photos. Each photographer was asked to present his best photo among the pictures he took during the photography workshop. While critiquing, various concerns about the use of photos crop out. Most prominent of which is the concern about using project documentation pictures in press releases. It was agreed that pictures used in PRs must first and foremost be able to catch the readers' interest. Mr. Veraflor also cited tips on how to improve the photos which were presented.
At the end of the critiquing, photos of the ongoing Bridge Replacement at Brgy. Monbon, Sta. Margarita presented by Michael Guatlo of Leyte 4th DEO and Analiza Pabia of Northern Samar 1st DEO and the completed Flood Control Structure at Brgy. Oquendo, Calbayog City photo of Keith Albao of Southern Leyte DEO were lauded by Mr. Veraflor as the top three stills of the workshop.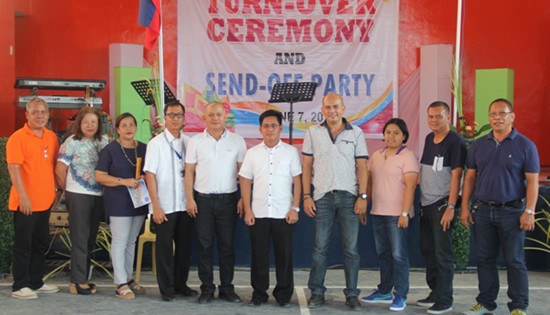 Key Officials of Samar First DEO takes a picture with the newly designated OIC Assistant Regional Director Virgilio Eduarte.
DPWH Samar 1st key officials turn-over positions to new leaders
By ARDEL S. MALANOG
June 27, 2016
CALBAYOG CITY – In line with the Special Orders signed by the Honorable Secretary Rogelio L. Singson dated May 18, 2016 directing Samar 1st District Engineer Virgilio C. Eduarte and Assistant District Engineer Alvin A. Ignacio to new offices, an official turn-over of positions was held recently at Department of Public Works and Highways – Samar First District Engineering Office (DPWH-SFDEO).
With the reassignment of DE Eduarte as Officer-in-charge for the Office of Assistant Regional Director (OIC-ARD), he turned-over his position to ADE Ignacio, designated Officer-In-Charge for the Office of the District Engineer of SFDEO by virtue of Special Order No. 62, series of 2016.
Correspondingly, ADE Ignacio turned-over his position to Engr. Loreto M. Cedro who now assumes as SFDEO OIC-ADE by virtue of Special Order No. 63, Series of 2016. The occasion was attended by all SFDEO Section Chiefs and other guests.
SFDEO personnel gathered at the Samar 1st Multi-Purpose Hall for the Turn-over Ceremony and Send-Off Party. Ms. Ma. Nenita Y. Gomez, Chief of the Administrative Section, officially opened the program.
During his turn-over speech, OIC-ARD Eduarte challenged the new key officials of SFDEO to continue what he had started and to take the District into greater heights. He also reminded them to continue learning as it is a powerful tool that could aide them to become better leaders. OIC-DE Ignacio humbly accepted both the position and the challenge.
OIC-DE Ignacio in his turn-over speech promised to provide OIC-ADE Cedro all the opportunities which the former was provided when he was still the ADE of OIC-ARD Eduarte. In turn, OIC-ADE Cedro promised to lend his full support to OIC-DE Ignacio in his acceptance speech.
Another highlight of the program was the giving of testimonials about the former DE. Selected SFDEO personnel who worked closely with OIC-ARD Eduarte delivered messages of gratitude and felicitations. Most emotional of all was Mr. Policarpio Delgado Jr. who is one of the closest friends of OIC-ARD Eduarte in his ten years stay at SFDEO.
Production numbers to honor OIC-ARD Eduarte were rendered by different sections all throughout the program. Likewise, permanent SFDEO personnel headed by the Section Chiefs delivered a chorale production of a Florante hit, Handog.
Engr. Joanna C. Calagos, Assistant Chief of the Construction Section, officially closed the program at 7:25 pm.