NMP reports to board of trustees
Press Release
May 26, 2016
TACLOBAN CITY – The National Maritime Polytechnic (NMP), an attached office of the Department of Labor and Employment (DOLE) and the only government maritime training and research institution which office is located at Brgy. 97, Cabalawan conducted its 2nd Regular Board of Trustees (BOT) Meeting at the NMP conference Room, Administration building.
The meeting was presided by its chairperson Hon. Rosalinda Dimapilis-Baldoz, Secretary of the Department of Labor and Employment (DOLE) together with Usec. Nicon F. Fameronag, Undersecretary for Employability of Workers and Competitiveness of Enterprise Enhanced cluster.
Joining them are the following members of the Board; from the Commission on Higher Education (CHED) Miss Eleanor B.A. Fernandez - OPS OIC Director III, from the Maritime Industry Authority (MARINA) Capt. Herminio P. Estaniel – STCWO Executive Director, From the Philippine Coast Guard (PCG), Captain Robert Patrimonio - Deputy Chief of Coast Guard Staff for Comptrollership, PCG (CG-6), From the Philippine Overseas Employment Administration (POEA) Admin. Hans Leo J. Cacdac, From the Filipino Ship owners Association (FSA) Atty. Augusto Jose Y. Arreza, From the Associated Marine Officers and Seaman's Union of the Philippines (AMOSUP) Dr. Conrado F. Oca and with him was Atty. Jesus P. Sale Jr., From the Philippine Association of Maritime Institution (PAMI) Dr. Elizabeth O. Salabas and from the National Maritime Polytechnic (NMP) Labatt Manuel C. Roldan, CESO III, OIC-Executive Director. With him are the NMP Officials; Chief Administrative Officer - Atty. Ruben Y. Maceda, Head Administrative and Financial Management Division (AFMD), Captain Emmanuel Jesus M. Laguitan, Head, Maritime Training and Assessment Division (MTAD) and Chief Science Research Specialist – Miss Grace Marie T. Ayaso, Head, Maritime Research and Development Division (MRDD).
First part of report was the proposed Fencing works that will be undertaken by NMP in its lot in Tanza, Cavite in collaborative efforts with the Department of Public Works and Highways (DPWH) Regional Office IV. According to the OIC- Executive Director, Manuel C. Roldan, the acquired lot in Tanza is slowly being utilized by some informal settlers. To address the issue, NMP management in coordination with the Brgy. Officials thru its Brgy. Captain placed signage and even convince the people there to move out.
The barangay already identified the place for their transfer and then the Department of Labor thru Region IV-A did a profiling of these informal settlers for possible livelihood assistance. NMP also requested the DPWH for funding of fencing in order to protect the property from further encroachment.
Updates on the NMP rehabilitation efforts after typhoon Yolanda were also made which is composed of repair and restoration of various infrastructure projects including: The Multipurpose Building (Gymnasium), Officers Dorm Wing B and C, Training Building, Covered path walk, a new two story Building which serves as the Computer Based Assessment Building, Assessment Building, Cargo Winch, Diving platform, Fire Fighting Practical Area, Slipway, the ongoing repair of the ratings dormitory, auxiliary building, 225 KVA Generator, Fire Fighting Mock-up Building and the front main gate of the NMP complex.
This efforts was done during the leadership of the BOT chairman Rosalinda Dimapilis-Baldoz. "NMP has done much with very limited resources and with all the constraints and in behalf of the board we could say that once this is one hundred percent (100%) completed this is a very complete example of what we keep on saying Building Back Better", the BOT chairman stated. "NMP is now back to normal even from within, I am very proud to leave this institution and pass this on to my next successor," she added.
Likewise mentioned was the donation from the Japanese Government thru Japan International Cooperation Agency (JICA) of training equipment which includes the totally enclosed lifeboat and its davit, GMDSS Simulator, Fast Rescue Boat and its Davit, Engine Room Simulator and various Safety and personal protective equipment. The Board was also informed that the fast Rescue Boat arrived already in Cebu and for dispatch to Tacloban.
TUCP slams SSS boss' excessive P500,000 monthly wage hike, urges Duterte to stop Aquino's lavish 'midnight perks' to SSS top execs
By TUCP
May 26, 2016
QUEZON CITY – Workers lobby group the Trade Union Congress of the Philippines-Nagkaisa (TUCP-Nagkaisa) denounced as immoral, unjust and indecent the impending P500,000 per month salary increase which would amount to P800,000 monthly wage of Social Security System (SSS) President and Chief Executive Officer Emilio De Quiros in the light of the Compensation and Position Classification System (CPCS) in all government-owned and controlled corporations and government financial institutions.
Once the SSS-proposed CPCS is effective, around 1,000 SSS rank-and-file workers will not receive any salary increase.
The labor group is urging presumptive President Rodrigo Duterte to order a halt in the implementation, a review and amendment of the provision on Compensation System which includes the provisions on basic, salaries, standard allowances and benefits, specific-purposes allowances and benefits and variable pay of Executive Order 203 issued by President Benigno Simeon Aquino III on March 22, 2016 giving unconscionable ''midnight perks and benefits" to top executives of Social Security System (SSS).
Drafted by the Good Governance Commission for Government-Owned or Controlled Corporations (GCG), the EO 203 was signed by Aquino and Executive Secretary Paquito Ochoa on March 22, 2016 "adopting a compensation and position classification system (CPCS) and a general index of occupational services (IOS) and for the GOCC sector covered by Republic Act No. 10149, and for other purposes."
TUCP-Nagkaisa questioned the move amidst the Aquino veto on the proposed P2,000 pension increase for 2.4 million SSS pensioners on January 14, 2016, the silence even on the counter-proposed P1,000 or P500 pension increases, and in the SSS management rejection of the proposed Expanded Maternity Leave Bill for reason both proposals would affect the actuarial fund life of SSS.
This also came after workers are still reeling from the measly P10 wage increase granted last week by the National Capital Region-Regional Wages and Productivity Board (NCR-RWPB) despite of the P154 the TUCP-Nagkaisa petition last month.
Citing adverse effect on SSS funds, President Aquino vetoed the proposed bill allowing for a P2,000 monthly pension increase while SSS top management turned down Expanded Maternity Leave measure that extends maternity leave for private sector women employees from 60 to 78 days to 100 days.
"We are urging President Duterte to issue a cease and desist order to Executive Order 203 that allows excessive increases in salaries and benefits of top SSS executives on top of what they are currently receiving now. This is obviously a 'pabaon' or 'midnight perks' for Aquino wards and loyalists at the expense of workers' and employers' blood money. We strongly oppose this because this is immoral, unjust and indecent," said Alan Tanjusay, spokesperson of TUCP.
Tanjusay said the TUCP received an information that SSS President and Chief Executive Officer Emilio De Quiros and Chairman Juan Santos are allegedly pushing for the immediate approval of the SSS proposed CPCS salary increases before the new Duterte administration assumes office in June.
He said if this is approved and retroactively put into effect, De Quiros and the next holder of PCEO title stands to get an additional almost P500,000 pesos in monthly salary ending up with almost P800,000 monthly salary. This does not include all the monetary and non-monetary benefits provided for by EO 203, current SSS benefits, and what he gets from the SS Commission sitting as Vice Chair and what he gets from corporations where he represents SSS shares.
"In behalf of millions of SSS paying members and pensioners, the Associated Labor Unions (ALU) denounces and does not condone these highly questionable acts by top government officials," said Gerard Seno, National Executive Vice President of ALU, an affiliate of TUCP-Nagkaisa.
NMP conducted stakeholders' forum on completed researches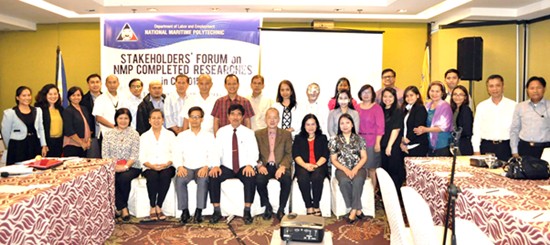 Press Release
May 24, 2016
MANILA – The National Maritime Polytechnic (NMP) as the only government owned maritime training assessment and research institution located at Brgy. Cabalawan, Tacloban City conducted stakeholders' forum on completed researches for the calendar year (CY) 2015 last 27th of April 2016 with twenty seven (27) participants/representatives coming from various government agencies, maritime associations, manning/shipping, shipbuilding and ship repair companies nationwide and a guest speaker from the office of the Secretary- Department of Labor and Employment (DOLE) represented by Director Henry John Jalbuena.
Director Jalbuena, in his opening message encouraged everyone to take part in instituting reforms in the policies and programs of the maritime industry using evidence from researches towards a more fact-based decisions in policy and program reforms and development that will lend to high quality services reflecting the interests, needs and choices of the individuals we serve.
Two (2) completed researches were presented that aimed to disseminate the study findings which results would be valuable, to validate and solicit research topics for the NMP research agenda 2017-2019 and to sustain linkages between and among different stakeholders of the maritime industry.
The 1st completed research entitled "The Potential Impact of the ASEAN Integration on Philippine maritime manpower" presented by the head of the Maritime Research Section (MRS), Ma. Nissa C. Espiritu which was conducted and completed last year focused on the possible impact of the ASEAN integration to the employment of the Filipino seafarers. The aforesaid study provides guidance to different stakeholders on employment policies and programs for seafarers' preparation and protection in an integrated region.
The 2nd research which entitled "Maritime-Related Skills Assessment and Training Needs of Workers in Shipbuilding and Ship Repair Sector" presented by Miss Zenaida Eugenia D. Palita, SRS II was in collaboration with the Maritime Industry Authority (MARINA) which generated information on skills available vis-à-vis skills required in the shipbuilding and ship repair sector to be able to identify skill gaps and thereafter proposed strategies and approaches to address the identified gaps in line with the country's efforts in promoting and developing the shipbuilding and ship repair sector.
Subsequently after the research presentations, an open forum was organized that prompted suggestions, comments and recommendations from the participants from various maritime sector. Moreover, a presentation of the NMP Research Agenda for 2017-2019 and the submitted researchable topics was also tackled that gained valuable suggestions from the different participants.
NMP OIC Executive Director Manuel C. Roldan, CESO III closed the forum with a message, thanking the participants for sharing their valued time, interest and contributions towards better research outcome.
U.S. group charges Philippine government with abusing anti-human trafficking laws
Press Release
May 24, 2016
In a letter to Secretary of State John Kerry on May 18 2016, The U.S. Ecumenical Advocacy Network on the Philippines (EANP) condemned the Philippine government for its systematic abuse of anti-human trafficking laws to harass indigenous Lumad leaders in conflict zones in Mindanao and urged the Philippine Government to seek peace with the NPA-CPP as a way to solve the problem of armed violence in the Lumad homelands.
"The Philippine Government and its armed forces are pressing baseless, unwarranted criminal human trafficking charges against dozens of leaders from indigenous peoples 'communities, church workers and others working for civil society organizations in the conflict zones of Mindanao." said Brian Campbell, legal advisor to the group.
EANP was organized in 2007 to advocate for human rights restrictions on U.S. military aid to the Philippines, and continues to monitor the human rights abuses of the Philippine Army and the paramilitary groups under their command.
Their latest letter to the U.S. State Department focuses on the case of those Lumad in Eastern Mindanao charged under the anti-human trafficking laws. The government charges the act of finding refuge from armed violence perpetrated by the Philippine Army and their paramilitary groups, amounts to trafficking.
One of the victims of those baseless charges, Josephine Pagalan, along with two other leaders of Lumad communities, recently visited Washington and met with officials at the State Department and in Congress where they shared their own experiences living in communities that have been torn apart by armed violence.
Their stories have been validated by the report of the UN Special Rapporteur Chaloka Beyani on his visit to the Philippines, July 21-31, 2015. He described his alarm noting that tribal leaders decried the fact that "their communities were consistently being manipulated and divided and that they had been harassed and received threats when they expressed their opposition. Indeed some leaders and members of the indigenous communities have been killed over the past years reportedly due to their anti-mining activities."
"We believe that the only way for the human rights of the Lumad people to be protected is for the Philippine government to commit itself to a genuine and successful peace process that truly addresses the roots of the armed conflict. We are hopeful that the newly elected President will pursue that path to peace" noted Katrina Abarcar, a member of EANP and Global Council Representative for US, International Coalition for Human Rights in the Philippines.
The EANP letter calls on Secretary Kerry and the US Government to raise concerns with the Philippine Government about the misuse of laws to combat trafficking-in-persons against Josephine Pagalan and others attempting to provide vital services in Lumad communities, and to down-grade the rating of the Philippines to a Tier 2 Watch List in their annual Trafficking in Persons Report until it no longer misuses trafficking-in-persons laws. It also asks the U.S. Government to demonstrate unequivocal support for peace initiatives by pressing the Philippine Government to renew peace negotiations with the NPA-CPP.
Ilocos Sur student receives scholarship grant from Carmudi PH
Press release
May 31, 2015
PASIG CITY – British Novelist and well-known author C.S. Lewis once said, "You are never too old to set another goal or to dream a new dream." This is what Kristine Ian De Guzman, a single mother and graduating student at Ilocos Sur Polytechnic State College, believes in life as she pursues her dreams despite of financial difficulties.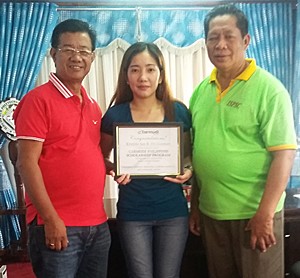 Dr. Francisco Lopez (ISPSC President), Ms. Kristine Ian De Guzman, and Dr. Tomas Dagdagan (Scholarship Coordinator).
De Guzman, a senior student taking up a degree in Information System Major in Interactive Technology, shares her encouraging story on how she is currently fulfilling her dreams. "We lost our father 25 years ago. From that moment, we already knew that we can't finish our studies anymore. Money at home was very tight and we don't have an option but to embrace the reality."
"After taking BS Nursing in 2005, I stopped my studies abruptly and focused instead on getting a job. When I gave birth to my son, I knew there will be no chance for me to finish my studies," explained De Guzman.
But her son who serves as her biggest inspiration gave her hope to fulfill her dreams. Despite her personal and financial struggles, De Guzman took and applied for Career Service Examination Professional Level, which is prerequisite qualification for anyone who wants to get a job in the government.
"When I passed the CSE, I realized there's still hope for me," adds De Guzman, as she continued to narrate how she slowly strove to hunt for her elusive dream.
Without any money in hand, De Guzman mustered the courage to enroll, even as an irregular student. "After one semester, I decided to apply for a scholarship program granted by CHED. For two and a half years, I was able to work hard to get high grades and maintain my scholarship. I thank God for getting consistent grades and being a replacement scholar for 5 semesters," shares De Guzman.
"I am so blessed this year. After finishing my scholarship with CHED, Carmudi Philippines granted me a new scholarship program that will enable me to fulfil my dreams," said De Guzman.
The 27-year-old De Guzman was chosen by online car platform Carmudi as its recipient scholar for her outstanding grades and attitude towards her circumstances. The scholarship program aims to help senior students who are academically excellent but financially challenged.
"In line with our commitment towards being a responsible corporate citizen, it is our honor to support excellence in academe and provide the economic means for gifted students to move ahead on their educational path. We wish our scholars all the best in their future endeavors," said Abhi Mohan, Managing Director of Carmudi Philippines.
Carmudi Philippines – through its website www.carmudi.com.ph – has been generating positive leads for potential car buyers and sellers in the country since it started January 2014. The website currently has close to 32,000 vehicles in its inventory spanning cars, motorcycles and commercial vehicles; brand new or used. The online car platform was originally founded in Berlin, Germany in 2013 under the Rocket Internet Group.
8ID conducts "Joint Operation Baklas" in Catbalogan City
By DPAO, 8ID PA
May 23, 2016
CAMP VICENTE LUKBAN, Catbalogan City – The 8th Infantry (Stormtroopers) Division launches its "Operation Baklas", a campaign to remove election paraphernalia on trees, major thoroughfares, road nets, facade of business establishments, street lights, parks and plaza last 2016 automated National and Local Election, here on May 19 2016, Thursday.
This activity is part of the whole of nation approach wherein contingents of cleaners composed of soldiers from the Command, led by Maj. Gen. Jet B Velarmino, AFP, Commander 8ID; Col. Perfecto M Rimando, 801st Brigade Commander; and Lt. Col. George M Domingo, 87th IB, Commanding Officer with the participation of the LGUs, DENR, PNP, BFP, PCG, Guardians Brotherhood, Kabalikat Civicom, Samar Bikers Association and Catbalogan City Rescue.
The event was requested by the COMELEC to ensure the removal of all campaign materials and political ads and, to raise the consciousness of the general public that cleanliness is everybody's concern. The bulk of recyclable materials will be donated to the community-based organization which makes coin purses, pouch bags and laundry baskets for their livelihood.
Maj. Gen. Velarmino AFP, Commander 8ID, said that the Command will continue to support the programs to assist the Local Government Unit and other agencies and will always convey support from all stakeholders for a cleaner and greener environment in Eastern Visayas.
"Our unique contribution today, indicates the Army's full commitment on our social responsibility; together we can make this City more secured, clean and conducive for development", Maj. Gen. Velarmino added.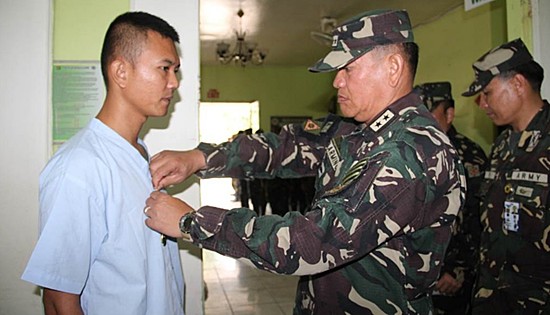 8ID commander MGen. Jet Velarmino AFP during the pinning of Wounded Personnel Medal (WPM) to the personnel of 20th Infantry Battalion at Camp Lukban Station Hospital on May 16, 2016.
8ID Commander gives honor to a wounded soldier
By DPAO, 8ID PA
May 17, 2016
CAMP LUKBAN, Catbalogan, Samar – Maj Gen Jet B Velarmino AFP, Commander, 8th Infantry Division, awarded the Wounded Personnel Medal (WPM) to a brave soldier of 20th Infantry Battalion at Camp Lukban Station Hospital on May 16, 2016.
The awardee, Private First Class Michael P Cagata (Inf) PA, was wounded in action during an ambush staged by more or less 30 New People's Army (NPA) along Cory Aquino Highway road at vicinity Brgy Anito, Gamay, Northern Samar while conducting election duty.
The Philippine Army was deputized by the COMELEC, together with the Philippine National Police during the elections. The 8ID's actions aimed to ensure a Peaceful, Credible, Orderly and Safe (PCOS) 2016 Automated National and Local Elections in Eastern Visayas.
Maj. Gen. Velarmino in his message said that, "It is very unfortunate that our soldiers were ambushed while serving the people to attain a credible election, while protecting the Board of Election Inspectors (BEIs) and the Vote Counting Machines (VCMs)".
Generally, the election related violence has been reduced because of the immediate response of the Philippine Army. Furthermore, this Command is very thankful for the overwhelming support from the populace who desired the peaceful and credible elections, Velarmino added.