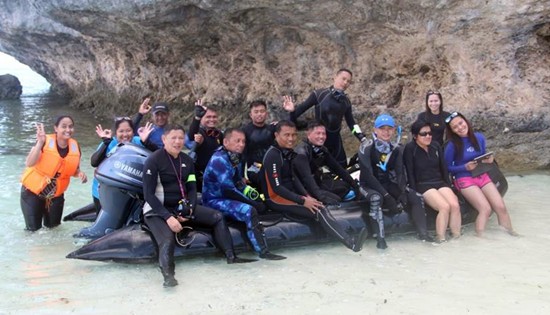 The 8ID commander with MSAB members in diving suit during the meeting and team building at Cuatro Islas, Inopacan, Leyte from April 15-16, 2016.
8ID MSAB holds meeting for peace and development in Eastern Visayas
By DPAO, 8ID PA
April 16, 2016
CAMP LUKBAN, Catbalogan City – The 8th Infantry (Stormtroopers) Division successfully conducted a board meeting and team building activity with Multi-Sector Advisory Board to strengthen the fulfillment of the Army Transformation Roadmap by 2028 at Cuatro Islas, Inopacan, Leyte on 15 to 16 April 2016.
The 8ID MSAB aims to promote good governance, organizational and operational excellence, resource generation, public relation and to develop policies and procedure, for the successful implementation of the ATR on its objective to become a world class Army that is a source of national Pride by 2028.
Col. Jose H Narciso GSC (INF) PA, Chief, Governance Strategy Management Office together with Ms. Caidic presented to the board the Plans and Programs of the Command on peace and development efforts in order to be more capable, responsive, reliable and professional to its mandate of serving the people of Eastern Visayas.
Pastor Victor M. De Paz, said that the MSAB and the Army must impart ideology during the series of lecture to the youth sector that includes character reformation, to become a better citizen of our country.
On the other hand, Vivian Poblete urged the support of MSAB through linkages and partnership with key sectors in providing them Subject-Matter-Expert (SMEs) in the on-going community based skills and development training for out of school youth and local populace in Las Navas and other Municipalities in Northern Samar.
However, Miss Caidic persuaded the member to documents all best practices of the soldiers in "Oplan Bayanihan" in order to generate more support, linkages and partnership both from external and internal audiences to sustain the ATR vision.
The ATR is a shared responsibility and achievable through MSAB collaboration so we can generate more inputs for us to be more effective servant soldier in Eastern Visayas, Major General Velarmino said.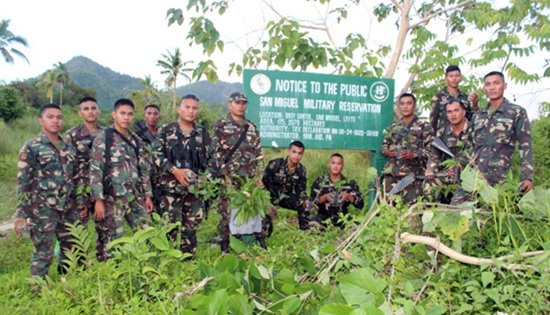 Soldiers of the 19th Infantry Battalion during the tree planting activity at the military reservation in Brgy. Santol, San Miguel, Leyte on April 12, 2016.
19IB: At war against global warming
By JEROME CATORCE
April 16, 2016
SAN MIGUEL, Leyte – The military reservation in Brgy. Santol here will soon be filled with trees as soldiers of the 19th Infantry Battalion frequent the area for its tree planting activities.
On Tuesday, April 12, a team of soldiers led by Staff Sergeant Christopher Cabadsan planted around 200 acacia seedlings in a vacant section of the 175 hectare-reservation.
This venture by the 19th Infantry Battalion is a call for everyone to do their share in environmental protection.
"Planting more trees so far is the best practice in mitigating the impact of global warming", Lt. Col. Roberto Sarmiento, the Commanding Officer said.
Accordingly, each soldier is required to plant at least 10 trees every year in compliance with Philippine Army's commitment to the National Greening Program (NGP).
19th Infantry Battalion records show that around 10,000 seedlings were planted in collaboration with the Department of Environment and Natural Resources (DENR), in the coastal and timberland areas of Ormoc City, Carigara, Babatngon, Palo, and Kananga all in the province of Leyte last year.
For this year, the 19th Infantry Battalion aims to launch a total of 22 tree planting events in its area of responsibility which covers the entire province of Biliran and the northern part of Leyte province, including the cities of Ormoc and Tacloban.
DPWH strengthens partnership with DILG and LGU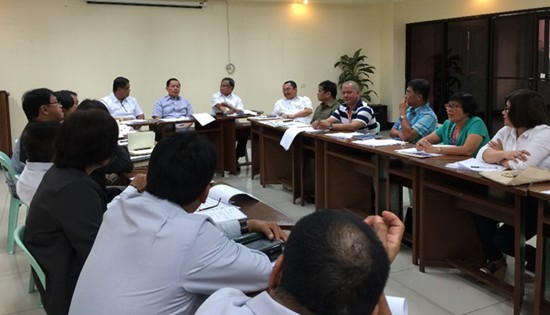 By DONNA C. DEBUTON
April 14, 2016
CALBAYOG CITY – The Department of Public Works and Highways (DPWH) amplifies its partnership with the Department of Interior and Local Government (DILG) and Local Government Unit (LGU) through a meeting in strengthening its capacity in Project Preparation and Implementation of Devolved Infrastructure Projects held at the DPWH-Head Office, Manila, on March 31, 2016.
DPWH-Undersecretary for Regional Operations Romeo S. Momo presided the said meeting with the presence of Assistant Secretary for Luzon Operations Eugenio R. Pipo, Jr. and Assistant Secretary for Visayas-Mindanao Operations Dimas S. Soguilon, together with the Directors of Planning Service (PS), Bureau of Design (BOD), Bureau of Construction (BOC), Bureau of Maintenance (BOM) and Bureau of Research and Standards (BRS), and selected District Engineers (DEs) from different District Engineering Offices (DEOs) nationwide, including District Engineer Virgilio C. Eduarteof Samar First DEO. Agenda of the said meeting focused on the Memorandum of Agreement (MOA) entered into by the DILG and DPWH, represented by Honorable Secretary Mel Senen Sarmiento and Honorable Secretary Rogelio Singson, respectively.
Highlighted in the MOA are the roles and responsibilities of DPWH to provide technical support to the DILG in the formulation of a capacity development program towards its city and municipal engineers in project preparation and implementation. Designate DEs and other qualified personnel of DPWH will act as resource persons, mentors and coaches to local government engineers during the course of the capacity development program. The DILG, on the other hand, will take the lead in the formulation of the said program, provide support to DPWH in the development of an Accreditation System for city/municipal engineers and shall ensure the cooperation and participation of the LGUs in the capacity development activities and compliance in the Accreditation System. Both agency is mutually responsible to communicate and coordinate with each other for the conclusion of the objectives of the agreement.
Tackled also is the subject's suggested framework having goal to improve the quality of life of LGU constituents through efficient service delivery. One of the main objectives of the framework is to accredit City/Municipal Engineers as technically capable to prepare required documents and implement infrastructure projects.
The partnership serves as an avenue and motivation for the concerned departments to strongly tie-up their duties and responsibilities in order to deliver quality infrastructure, facilities and services to the general public.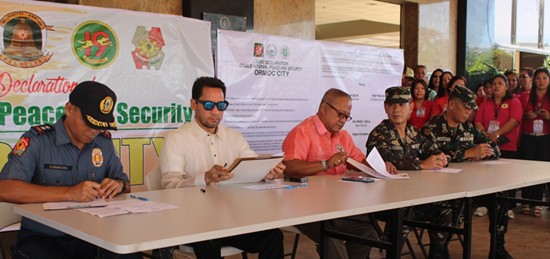 (L-R) PSupt. Joel Camacho, Vice Mayor Leo Carmelo Locsin, Mayor Edward Codilla, Col. Francisco Mendoza and Lt. Col. Roberto Sarmiento during the ceremonial signing of the Joint Declaration of Stable Internal Peace and Security Ormoc City on April 11, 2016.
Ormoc City now Stable Internal Peace and Security
By JEROME CATORCE, 19IB PA
April 13, 2016
ORMOC CITY – The City of Ormoc is now the 20th Stable Internal Peace and Security area declared under 19th Infantry Battalion's jurisdiction in the province of Leyte. This when authorities signed on Monday, April 11, 2016 the joint declaration of Stable Internal Peace and Security.
Signatories of the joint declaration were City Mayor Edward Codilla, Vice Mayor Leo Carmelo Locsin, Col. Francisco Mendoza Jr. of the 802nd Infantry Brigade, Lt. Col. Roberto Sarmiento of the 19th Infantry Battalion and Superintendent Joel Camacho of Ormoc City Police Office.
The event was held amidst officials and employees of the city government, military, police and line government agencies.
Ormoc City's chief executive signed the joint declaration per authority granted under the 13th Sangguniang Panlungsod Resolution No. 2016-12.
In his message during the event, Col. Francisco Mendoza said that an area can be declared Stable Internal Peace and Security when insurgency is reduced to a very insignificant level and when insurgents are no longer capable of threatening the communities.
Two weeks ago, the town of San Isidro also under the 19th Infantry Battalion's area of responsibility was declared Stable Internal Peace and Security municipality.
The 19th Infantry Battalion under the leadership of Lt. Col. Roberto Sarmiento is currently working on the declaration of the towns of Isabel, Villaba, Capoocan, Jaro, Tanauan and Tacloban City.
DPWH-Samar I culminates National Women's Month Celebration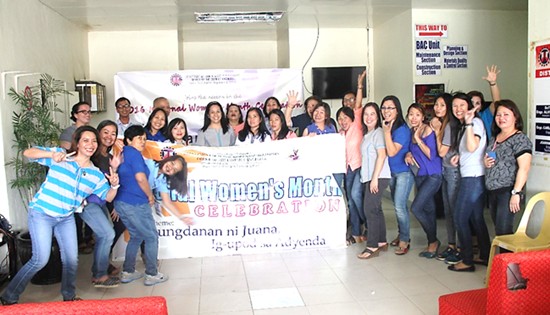 By DONNA C. DEBUTON
April 12, 2016
CALBAYOG CITY – This year's National Women's Month Celebration dubbed "Kapakananni Juana, Isamasa Agenda" unites the female employees of the Department of Public Works and Highways (DPWH)- Samar First District Engineering Office (SFDEO) as they actively join the culminating activities facilitated by the management at the SFDEO premises on March 31, 2016.
In a message delivered by District Engineer Virgilio Eduarte, he conveyed that during the administration of former President Gloria Macapagal-Arroyo, the department is being dominated by men. But nowadays, some of the DPWH Officials – Undersecretaries and Assistant Secretary, are composed of women, promoting women empowerment and recognizing feminine skills and expertise.
Assistant District Engineer Alvin Ignacio, in his speech, cited the biblical emergence of a woman who was taken from the rib of a man. "A man and a woman is equal. Behind the success of a man is a woman. Equal treatment between men and women is more evident these days thereby releasing women from cultural bondage." ADE Ignacio added.
Ms. Ma. Nenita Gomez, Chief Administrative Officer, DPWH-SFDEO, explained that the observance of International Women's Day was attributed to the tragic March 25 Triangle Shirtwaist Factory fire incident in New York City in the early 20th century that took the lives of 140 working women due to inhumane working conditions and other unfair labor practices leading to concerted protests, rally and demonstrations of women organizations. In the Philippines, this celebration is being observed in cognizance with Republic Act 6949, series of 1990, An Act to Declare March 8 of every year as a Working Special Holiday to be known as National Women's Day.
The culmination program gave chance to the District's Gender and Development (GAD) Focal Person Engr. Roster Andaya and Assistant Focal Person Architect Melissa Ignacio to express their stand on the equal rights and privileges of men and women today.
Right after the short program, free medical services, with the participation and assistance of the medical team of the Local Government of Calbayog, like assessment of blood pressure and glucose and anti-pneumonia vaccines, and free beauty wellness services that include facial threading, haircut, foot spa, manicure & pedicure and body massage are made available to the men and women employees of the District Office duly sponsored by the Philippine Institute of Civil Engineers (PICE) Calbayog Chapter headed by DE Eduarte.
The whole celebration is a tribute to women employees as the main celebrators of the event who give their unmeasurable extent of service to the office.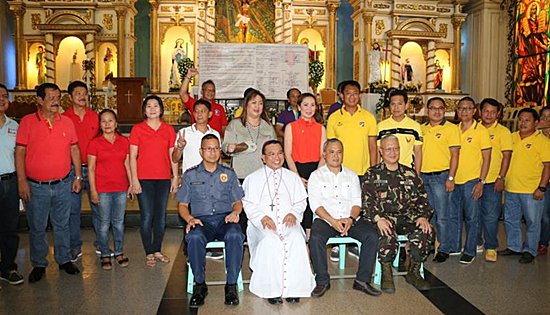 (Front row, R-L) Col. Perfecto Rimando, 801st Brigade Commander; Atty. Juan Bautista Beato Jr., COMELEC; Most Rev. Isabelo Abarquez, Bishop of Calbayog; and PSSupt. Rommel Cabagnot, Samar PNP Director with local candidates during the Peace Covenant Signing for the May 9, 2016 Presidential Election at St. Bartholomew Church, Catbalogan City on April 10, 2016.
8ID witnessed Samar candidates sign peace covenant
By DPAO, 8ID PA
April 11, 2016
CAMP VICENTE LUKBAN, Catbalogan City – The 8th Infantry (Stormtroopers) Division Philippine Army through the Provincial Joint Security Control Center (PJSCC) hosted a Peace Covenant Signing to all local candidates running for May 2016 election in Samar province dubbed as "Secured and Fair Elections: Tamang Pagboto,Tamang Pagbilang" held at St. Bartholomew Church on Sunday, April 10.
The peace initiative was attended by Major General Jet B Velarmino, Commander, 8ID; Col Perfecto M Rimando, 801st Brigade Commander; PSSupt Rommel Cabagnot, Samar PNP Provincial Director; Most Rev. Isabelo Abarquez, Bishop of Calbayog; Atty Juan Bautista Beato Jr., COMELEC-Samar; Judy Batulan of DILG-Samar, Parish Pastoral Council for Responsible Voting (PPCRV), Media practitioners, Civil Society Organizations (CSOs) and all of the local candidates in Samar province to foster commitment to have a SAFE 2016.
Col Perfecto M Rimando said, "Being your Army in Samar province, we will do our mandated task for this political exercise to ensure an orderly and peaceful election and we will abide all the regulations set forth by COMELEC as deputized law enforcement agency".
Meanwhile, Bishop Isabelo Abarquez, categorically urge the military and police to be the guardian of peace, adheres allegiance to flag and people and defend the life of citizenry, quote in his liturgy that "credible election will create a credible government".
Major General Jet B Velarmino, in his remarks, said that 8ID remains apolitical and committed to ensure the safety of political candidate, to freely exercise their political rights and protection of the civilian to cast their vote without intimidation for a Secured and Fair Elections (SAFE) 2016.
Leyte mobile teachers get learning modules from UNICEF-INTERSOS
By JEROME CATORCE, 19IB PA
April 11, 2016
PALO, Leyte – Around 1,604 sets of learning modules were donated by UNICEF-INTERSOS to the Department of Education here Tuesday, April 5.
Marie Joy Arias, Division Coordinator for the Abot Alam Program said the learning modules will be used by mobile teachers during sessions with their learners in areas covered by the Department of Education-Leyte Division Office.
Through a transportation assistance provided by Philippine Army's 19th Infantry Battalion based in Kananga, Leyte, 208 sets of said learning modules were already delivered to nine (9) municipalities as of April 7. The said municipalities are: Isabel, Palompon, Matag-ob, Kananga, Calubian, San Isidro, Tabango, Villaba,and Leyte.
Arias furthered that the donated learning modules will surely enhance the knowledge of the ALS and Abot-Alam learners who will be taking the Accreditation and Equivalency (A&E) Test on April 24 at Kananga, Leyte.
8ID troopers seized NPA camp in Northern Samar
By DPAO, 8ID PA
April 9, 2016
CAMP LUKBAN, Catbalogan Samar – An NPA camp was seized by 81st Reconnaissance Company under the supervision of 20th Infantry (We Lead) Battalion at Brgy Catoto-ogan, Las Navas, Northern Samar on April 6, 2016.
According to Lt Col. Hilarion Palma, commanding officer of 20th Infantry Battalion, the security patrols conducted by the troops led by 2Lt Jojo C Consorte PA are based on the information from civilian populace regarding the presence of armed groups believed to be the members of Eastern Visayas Regional Party Committee of CPP-NPA.
Recovered from the enemy camp are: ten (10) bunkers, four (4) observation posts, one (1) IED made of PVC pipe with 10" diameter and height, five (5) blasting caps, one (1) nine (9) volts battery, one (1) battery case, twelve (12) empty shells of AK47 rifle, twenty (20) empty shells of M16 rifle, personal belongings and foodstuff.
Lt Col. Palma said that the CPP/NPA repeatedly violated the prohibition or restriction of using anti-personnel mine as stated in the Ottawa treaty and the Comprehensive Agreement on Respect for Human Rights and International Humanitarian Law (CARHRIHL) jeopardizing the safety of innocent and defenseless civilians specially the children.
20IB conducted dialogues (Pulong-pulong) to the populace of nearby barangays to ensure the safety and security of the populace and for the peaceful resolve of the conflict.
Major General Jet B Velarmino, Commander 8ID lauded the troops for their ultimate sacrifices and professionalism in protecting the community and its constituents in Eastern Visayas.