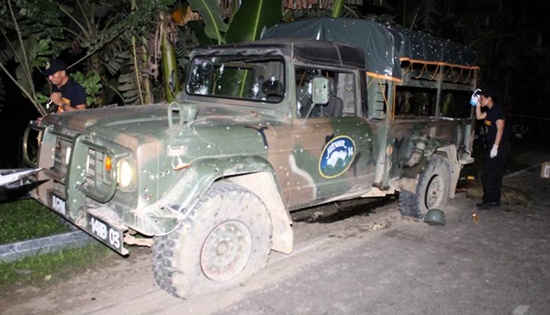 PIERCED WITH BULLETS. The KM450 vehicle of 14th Infantry Battalion during an ambush by the New People's Army (NPA) at vicinity Brgy Lagundi, Catbalogan City at around 7:40PM on November 27 2015.
NPA robbed soldiers' meal allowance during ambush: 2 troopers killed
By DPAO, 8ID PA
November 30, 2015
CAMP VICENTE LUKBAN, Catbalogan City – Meal allowance of 14th Infantry Battalion soldiers were taken by the New People's Army (NPA) while two soldiers were killed and three were wounded during an ambush at around 7:40 p.m., November 27, 2015 in Barangay Lagundi, Catbalogan City, Samar.
The soldiers led by 1Lt. Cherwin B. Lapura, aboard a KM450 vehicle, were traversing the Maharlika Highway in going back to their camp when they were hit by a landmine laid along the side of the road followed by a burst of gunfire. The NPA bandits then took the Subsistence Allowance of the personnel of 14IB amounting to P1.8 million that was just recently withdrawn from the bank. Acting like robbers and criminals, they also robbed the slain soldiers of their combat boots, cellphones, wallet and other personal belongings.
Joint AFP and PNP troops from the Division Headquarters composed of armored vehicles, one platoon of soldiers, Explosive Ordnance Disposal (EOD) team, together with the SOCO team from the Samar Police Provincial Office (SPPO) were immediately sent to the area to reinforce the beleaguered troops. They recovered assorted empty shells of different calibers, including that of an AK-47 rifle, and fragments of landmines made from PVC pipe and cuttings of steelbar.
The 8ID strongly condemns these treacherous acts of the NPAs which are gross violations of the Comprehensive Agreement on Respect for Human Rights and International Humanitarian Law (CARHRIHL) by the CPP-NPA to which the communist group is a signatory.
CARHRIHL states that parties involved in the agreement should affirm and apply the principles of international humanitarian law in order to protect the civilian population and individual civilians, as well as persons deprived of their liberty for reasons related to the armed conflict and also guarantees the right against economic and food blockades and indiscriminate bombings, shelling, strafing, gunfire and the use of landmines.
Maj. Gen. Jet B. Velarmino, Commander, 8ID said, "I would like to express my condolence to the families of the slain soldiers. They died a hero's death in pursuit of peace and development in the region. Their sacrifices and bravery will not be forgotten."
"Despite this setback, your Army in Eastern Visayas will remain focused in carrying out the mission to safeguard the people against the NPA rebels and in our quest for a lasting peace and progressive communities in this part of the country", he added.
Velarmino stressed, by calling out the peace loving people of Samar, to help in convincing those who were deceived by the CPP-NPA, to follow the path of peace and condemn those who advocate violence and use of arms against the government.
The wounded soldiers are now recuperating at Camp Lukban Station Hospital and are in stable condition. Pursuit operation is still ongoing as of press time. Names of the casualties are being withheld prior notification of their immediate families.
Army troops waylaid by NPA rebels in Northern Samar
By DPAO, 8ID PA
November 26, 2015
CAMP LUKBAN, Catbalogan City – One soldier is killed while three others were wounded when they where ambushed by undetermined number of New People's Army (NPA) rebels in Catarman, Northern Samar, on Tuesday afternoon.
The troops were on-board a military vehicle going back to their battalion headquarters when they were attacked by the NPA rebels at the vicinity of Barangay Washington, Catarman, Northern Samar at around 3:28 p.m. The beleaguered troops belonged to the 63rd Infantry Battalion.
A soldier was declared dead on arrival by the attending physician at Catarman, Doctor's Hospital while three (3) other soldiers, including an officer, were wounded. Names of the casualties are withheld pending notification of their respective families.
The soldiers are members of Charlie Company of the said battalion who took part in the efforts of pursuing peace and development in their area of operation that led to the Declaration of San Isidro, Northern Samar as Insurgency-Free Municipality, yesterday.
"It is unfortunate and sad that our soldiers were ambushed while serving the people. Our troops were there as part of the whole of nation initiative of ending insurgency in this part of the region," said Maj. Gen Jet B Velarmino AFP, Commander, 8ID, PA.
"We extend our deepest sympathies to the families and friends of our personnel, especially to the family of our fallen soldier. He died doing his duty in the pursuit of peace and development in the area," Velarmino added.
Lt. Col. Carmelito Pangatungan, Commander, 63IB said, "Despite the loss of lives of one of my men, we will not stop to pursue our mission to promote peace and development in our area of operations. The incident only challenges us to do more to achieve our goal for a just and lasting peace."
Romulo files bill proposing physical and sexual violence as a ground for annulment
By Office of Cong. Roman T. Romulo
November 25, 2015
QUEZON CITY – Pasig Rep. Roman Romulo said the times call for the revision of the Family Code to include physical and sexual violence as a ground for annulment of marriage.
"Despite legislation aimed at eliminating violence against women and children, incidents of battery and sexual abuse seem to be increasing, many of these reportedly found inside the family home," he explained in a note in House Bill 6297 which was filed yesterday.
"Going through the provisions of the Family Code, incidents of physical violence are grounds for legal separation that does not dissolve the marriage bonds. It involves nothing more than bed-and-board separation of the spouses entitling the spouses to live separately from one another," Romulo filed the bill in time to mark "National Consciousness Day for the Elimination of Violence Against Women and Children" as mandated by Republic Act No. 10398.
In proposing the amendment, he pointed out that the "State values the dignity of women and children and guarantees full respect for human rights," and "recognizes the need to protect the family and its members particularly women and children, from violence and threats to their personal safety and security."
Romulo also noted that Pope Francis himself said that it may be "morally necessary" for families to split up "when it's about shielding the weaker spouse or young children from the more serious wounds caused by intimidation and violence, humiliation and exploitation."
He said that victims of abusive marriages should be given another opportunity to remarry in order to recover and actually experience for themselves the sanctity and inviolability of marriage and family life as contemplated not only by the State, but also our faith.
The Pasig lawmaker expressed hope the bill will gain enough support from his colleagues in both Houses of Congress.
Going beyond corporate responsibility
Manila's top hotels and restaurants advocate for sustainable seafood
Press Release
November 24, 2015
MANILA – In a bid to help save overfished Philippine seas, Manila's top hotels and restaurants, came together with environmental groups and fisheries NGOs to declare their support for the promotion of sustainable seafood. The groups fully recognize that the marine environment has long been plagued by problems, including overfishing due to decades of unsustainable fishing practices.
"The urgent need and commitment towards fully traceable, legal, sustainable and socially responsible seafood cannot be overemphasized," stated Christian Schmidradner, General Manager of Meliomar Inc. and organizer of the event.
With more than 90% of fish stocks in the Philippines being overexploited or depleted, and destructive and illegal fishing wreaking havoc on the marine environment, returns per catch effort are at the lowest level ever recorded. Similarly, many aquaculture operations use unsustainable sources of feed and pollute aquatic ecosystems with chemicals and antibiotics.
Now more than ever, restaurants and hotel groups recognize their increasing responsibility to procure from sustainable sources and to educate their consumers about the need for sustainable seafood.
"Our commitment is part of a global effort to sustain fisheries resources and protect our oceans, with the recognition that our restaurants and hotels have the responsibility and the power to address this issue from a direct supply chain perspective," explained Meik Brammer, Executive Chef of Manila Marriott Hotel.
Environmental groups and civil society organizations lauded the historical decision of these major hotels and restaurants for taking the lead, and being part of the global effort to protect our oceans, one menu at a time.
"By taking on the responsibility of sourcing and serving traceable, sustainable, and equitable seafood, the hotel and restaurant industry is demonstrating the viability of sustainable seafood which not only benefits local communities, but also helps conserve and protect our fragile marine ecosystems," said Vince Cinches, Oceans Campaigner for Greenpeace Philippines. "We call on the rest of the industry to ease out overfishing, wasteful fishing, and destructive fishing practices that accidentally catch sharks and turtles by cleaning up their menu and serve only traceable and sustainable seafood."
Raising consumer awareness and moving the country's seafood industry towards greater sustainability are urgently required to help reverse fisheries decline.
The groups are organizing a Sustainable Seafood Week in February 2016, envisioned "to establish an open and dynamic platform for interested stakeholders to discuss the status, challenges and awareness for more sustainable seafood in the Philippines, focusing on local solutions for change and reform in the fisheries and aquaculture sector."
"Sustainable seafood requires a long-term, dedicated approach by all players along seafood supply chains. The Sustainable Seafood Week shall become our main tool for the facilitation of change, to learn from experiences from others and to monitor improvements over time," Mr. Schmidradner concludes.
Son of fisherman and vendor is Carmudi's first scholar
Press Release
November 23, 2015
PASIG CITY – Carmudi, the leading online vehicle platform in the Philippines, has selected the son of a fisherman and a vendor as the first sole recipient of its scholarship program. Aljohn Torreta, a senior student from the University of the Philippines Visayas taking up a BA in Communications and Media Studies, was chosen from a highly competitive batch of Cum Laude standing students from different universities who participated nationwide.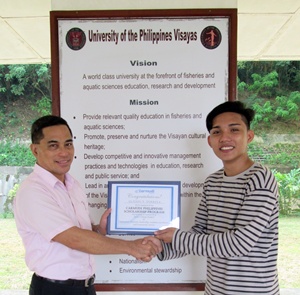 Prof. Ruben M. Gamala, Director of the Office of Student Affairs, University of the Philippines Visayas, hands over the certificate to Aljohn T. Torreta, the first recipient of the Carmudi Philippines Scholarship Program.
In his application letter Aljohn wrote, "I took the initiative to apply for this scholarship grant as a way of helping my parents through our financial crisis. We are six in the family and my parents do not have stable jobs to fulfil all of our financial needs. My father is a local fisherman while my mother is a low-scale fish vendor. I am the only one who is currently enrolled because my parents cannot afford to send all of us to school. I can really feel the pain in their struggle and that keeps my fire burning. I am inspired to at least perform well at university."
Aljohn was chosen as Carmudi Philippines' first ever scholar as his diligent and compassionate nature was evident from his good grades and attitude towards his circumstances.
Carmudi's Scholarship Program was open to senior students who are academically excellent but poor financially and cannot finish their studies without sufficient aid or support from an external donor.
Subir Lohani, Carmudi Philippines Managing Director said, "Building people is the heart of our culture as an organization. Giving financial support and career opportunities to these deserving students is one way for us to extend our helping hand outside our company."
The benefits of the scholarship program include P18,000 for a semester, an opportunity to be mentored by the Managing Director of Camudi Philippines for one week and a guaranteed job interview after graduation.
Carmudi, which was launched in October 2013, is a part of the Rocket Internet portfolio which is also behind other online sites such as Lazada and Zalora.
15-M high Magellan's Cross eyed constructed in Limasawa
By Philippine Information Agency (PIA-8)
November 18, 2015
TACLOBAN CITY, Leyte – In an apparent view to create a concrete historical mark where the first Christian Mass in the Philippines and Asia was celebrated, a 15-meter-high cross structure is expected constructed in Limasawa island, Southern Leyte.
This was discussed today, in the Regional Development Council Meeting, Infrastructure and Utilities Development Committee (RDC-IUDC) being chaired by DPWH Director Rolando Asis.
The discussion emanated from Sangguniang Panlalawigan Resolution No. 720, endorsing to RDC 08, request for funding assistance for the construction of the said National Shrine in barangay Magallanes, Limasawa town.
Records show that Limasawa island has been declared a tourism zone on November 18, 1994 by virtue of R.A.7822, declaring further that the island shall be "accorded priority development by the Department of Tourism (DOT)."
Upon evaluation, the RDC-8 Secretariat henceforth, said among others, that the proposed tourism infra project, with an estimate cost of P10M is consistent with the LGUs National Tourism Development Plan and, since "it will be constructed on a government property, it is eligible for funding assistance by the Tourism Infrastructure and Enterprise Zone Authority (TIEZA)."
The evaluation added, however, that the proponent LGU will have to submit DENR's Environmental Compliance Certificate (ECC) issued by the Environment Management Bureau as they shall likewise has to share a counterpart contribution of some 10% of the estimated project cost or in a form of labor or materials.
Once completed, the Historical Monument is expected to draw-in more tourists to the region, with a better Ro-Ro port and other facilities that are up for construction. To add more uniqueness to the monument, modern restrooms are expected built inside the big Cross Monument.
History tells that on March 16, 1521, Magellan discovered Philippines, by anchoring first in Homonhon island of Guiuan, Eastern Samar, but previous claims for the first mass to be celebrated in the same shores, remained unfounded to date.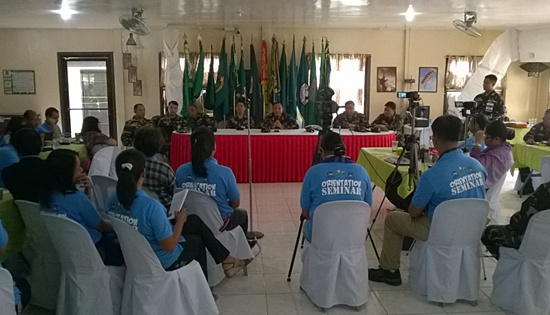 Subject matter experts headed by 8ID Asst. Division Commander BGen. Demy T Tejares AFP, proficiently answered all questions and concerns of all media participants during the open forum on ATR seminar conducted at Headquarters, 8ID, PA on November 13-14 2015.
8ID press corps gain grasp of Army Transformation Roadmap
By DPAO, 8ID PA
November 17, 2015
CAMP LUKBAN, Catbalogan City – Around 48 members of 8th Infantry Division's press corps now have a deeper understanding of the Army Transformation Roadmap (ATR) following a two-day seminar and fellowship event in Camp Lukban in Samar last November 13 to 14.
Members of the press representing the tri-media of Samar and Leyte gathered in the Multi-Purpose Hall of 8ID in Catbalogan City, Samar to participate in the activity which sought to further acquaint them with the objectives and steps being made towards realizing the goal of a "world-class Army that is a source of national pride" through the ATR.
The media practitioners, coming from as far as Tacloban City, Calbayog, Basey and Ormoc City, were given the opportunity to hear about the ATR and the Philippine Army's plans of further developing itself for the benefit of the Filipino from Brigadier General Demy T Tejares AFP, Assistant Division Commander of 8ID, Philippine Army.
"Together we can really transform the army into a more credible, dynamic, responsive, capable and professional force committed to its mandate of 'serving the people and securing the land'," BGen Tejares told the gathered media during the first day of the event.
Also discussed during the course of the activities were the internal security operations (ISO) in Samar, the partnership between the Army and the Philippine National Police (PNP) against insurgency, feedback mechanism between the Army and the public, the role of the Division Public Affairs Office to the media and vice versa and other concerns related to soldiers' performance.
During the second day, the Division Commander's Scorecard, ATR Updates and ATRSEP Survey Results were presented to the media to instill more understanding of the ATR and update them on where the Philippine Army is on the ATR today.
Current issues concerning 8ID, its programs for the communities under its area of responsibility and its relationship to media were also tackled during the open forum.
Team-building activities were also organized in order to further seal the camaraderie between the participants and the organizers of the activity.
At the Closing Ceremonies, BGen Demy T. Tejares AFP, Assistant Division Commander of 8ID, once again joined the participants. The event was concluded with a Cocktail Dinner.
"With your utmost support, our journey towards the implementation of Army Transformation Roadmap could soonest be attained. And that, we have an army that is truly loved by the people we serve" said Tejares to the media in his closing statement.
Alorica to add more than 10,000 jobs by end of year
Company also on track to surpass $1.22B in revenue by Q4, 2015
Via MARKETWIRE
November 17, 2015
IRVINE, CA – Alorica, a worldwide leading provider of customer management outsourcing solutions, today announced that it has reached key hiring and financial milestones in 2015 as a result of client growth in the US and globally. By the end of next month, Alorica will have increased its employee headcount in all 73 markets where the company operates.
Key regions experiencing massive growth for Alorica within the US include: Spokane, Washington; El Paso, Texas; Reno, Nevada; Topeka, Kansas; and Niles, Ohio. Outside of the US both Guadalajara and the Philippines are also expanding employee headcount. The breakdown of jobs being added by the end of the year in these regions include:
670 positions in Spokane, WA
500 positions in El Paso, TX
440 positions in Reno, NV
300 positions in Topeka, KS
270 positions in Niles, OH
1,500 positions in the Philippines
200 positions in Guadalajara
"Our mission to provide insanely great customer experiences has earned us a winning reputation, and we're thrilled about the momentum of our business and the new client relationships we're developing," said Art DiBari, COO, Alorica. "We're aligned with our clients' goals to improve the customer experience across every channel and the results show that Alorica is doing remarkably well both within the US and globally. It's exciting to see such job growth in the markets where we operate."
Adoption of Alorica's BPO services is driven by a strong demand for best-in-class solutions that are tailored to the unique customer service needs of the world's leading brands. Since Q1 2015, Alorica has added 26 new clients, created 1,850 domestic jobs and expanded in critical offshore markets, such as Latin America and the Philippines.
This year Alorica also completed the acquisition of West Corporation's agent services businesses for $275 million. The acquisition positioned Alorica among the largest BPO providers in the US, valued at $1.2 billion, and increased Alorica's workforce to 48,000 global employees.
For more information, visit Alorica at www.alorica.com
Budget for 15,000 more teachers for SUCs assured next year: Romulo
By Office of Cong. Roman T. Romulo
November 13, 2015
QUEZON CITY – Pasig Rep. Roman Romulo on Friday said funds for the creation or filling up of 15,000 teachers in State Colleges and Universities have been included in the proposed P3.002 trillion budget for 2016.
"I would like to thank Budget Secretary Butch Abad and CHED chairperson Patricia Licuanan for making good their commitment to create or fill up these positions," he said.
"This will take a heavy load off the backs of our current crop of teachers and allow them some time to smell the roses, so to speak," he added.
Romulo had filed a resolution last Jan. 29, 2015 directing the House committee on Higher and Technical Education to conduct an inquiry exported lack adequate plantilla positions for full-time faculty of state universities and colleges (SUCs).
He pointed out then that a survey done by the Philippine Association of State Universities and Colleges (PASUC) showed an estimated shortage of 17,057 faculty in SUCs.
The survey also showed that the DBM has not provided funds for additional plantilla positions in SUCs which has led the SUCs to adopt a "scrap and build" policy.
This policy involves the scrapping of high positions to enable SUCs to create lower positions as a way of addressing the teacher shortage.
"The shortage of plantilla positions have compelled the teachers to devote most of their time and attention to instruction, to the detriment of research and extension programs of the SUCs," Romulo pointed out.
"The lack of full-time plantilla positions have lured some SUCs faculty to switch to other careers or leave for work abroad, thereby finding it more difficult for the SUCs to meet the standard faculty-to-student ratio," he said.
Responding to Romulo's resolution, Abad and Licuanan jointly wrote him on May 19, 2015 affirming their commitment to consider the creation and/or filling up of 15,000 faculty plantilla positions (inclusive of existing unfolded items of SUCs) under the FY 2016 Budget."
"There is indeed to reduce the workload of SUCs faculty from 21 to 18 units or even lower not only to improve faculty performance in instruction, research and extension services, but also to ensure the delivery of higher quality education," Romulo said.