Tax exemptions for the working class, not for local capitalists and foreign monopolies
By Bukluran ng Manggagawang Pilipino
September 20, 2015
QUEZON CITY – A militant labor group is calling on organized labor to rally behind the proposed measures by Rep. Quimbo and Sen. Angara that would raise the ceiling of tax exemptions. Angara's bill, in particular, aims to exempt monthly incomes of below P88,000 from tax obligations.
The Bukluran ng Manggagawang Pilipino (BMP) argued that, "The proposed tax exemption would result into the much-needed increase in take-home pay for wage and salaried workers who earn more than the atrociously-low minimum wage and are not covered by the orders of the regional wage boards since their creation in 1989. But more importantly, it is the height of injustice that the Philippine government could afford billions in tax breaks and incentives to foreign multinational monopolies – as cited by Sen. Angara and Rep. Neri Colmenares".
They likewise complained that despite obvious bias of the Aquino administration, "it has the gall to complain of the P30 billion that would be reduced from the nation's coffers due to the Angara-Quimbo bill – as alleged by the finance department".
"The proposals would not cause a big loss in the tax base for the Bureau of Internal Revenue (BIR) since the increase in take-home pay will spur consumption and increase the collections for the value-added tax," Leody De Guzman, chairperson of BMP disputed.
He further explained that, "The proposal is a step towards the reform of the present regressive taxation system, which operates under the principle: "those should who have less in life should have more in taxes". At its present structure, the tax burden is borne more by workers whose wages have automatic deductions for withholding taxes than by corporations that have access to various legal means of tax avoidance both to their corporate incomes and properties – contrary to the Constitutional policy for a "progressive taxation system".
The militants believe that the workers deserve a reprieve from almost six years of hardship under the neoliberal and elitist regime of Noynoy Aquino.
De Guzman pointed out that, "Despite its anti-corruption rhetoric, which is but a pretense to attack its rivals in the political opposition, public funds are still use to enrich those who are in power. As long as billions of state funds are lost to corruption, taxpayers – especially the working class who are the most tax-compliant sector of Philippine society – have every right and reason to call for less taxes, or even for a tax revolt".
"From whence do all taxes come from? It is from the collective toil of millions of workers. Yes, all taxes, in general. Not just the deductions for withholding taxes to already starvation wages but also taxes to corporate income and property as well. In the production of goods and services being bought and sold at the market, workers create not just the commodity but also its value. They add to the existing value of materials and tools used. This "value-added" is the well-spring of wages, profit, rent, interest – all of which are subject to tax. Hence, wages should be tax-exempt not just because it is below the Constitutionally-mandated living wage. More so, since the taxes paid by employers, bankers, and landlords come from the surplus value that was created by labor but unpaid by capital," he continued.
"But lest we be charged of rescinding from our obligations to the national interest, labor must declare that it has no obligation to fund a capitalist state that is not only a coercive watchdog of the propertied elite but also as an absentee government that has abandoned the needs of its own citizenry to serve the local oligarchs and their foreign masters through its pursuit of the policies of liberalization, deregulation, privatization, and contractualization. Tax the rich, not the poor!" the veteran labor leader concluded.
NPA rebel in Eastern Samar surrenders, yields firearm
By DPAO, 8ID PA
September 17, 2015
CAMP LUKBAN, Catbalogan City – A member of the New People's Army (NPA) voluntarily surrendered to the joint elements of 14th Infantry (AVENGER) Battalion and Intelligence Unit at Barangay Vigan, General MacArthur, Eastern Samar on September 15, 2015.
In a report from Colonel Perfecto M. Rimando, 801st Brigade Commander, the NPA surrenderee was identified as Romeo Belarmente @ Ogaya/Vic/Romy member of Section Committee South East of Sub Regional Committee "SESAME", Eastern Visayas Regional Party Committee (EVRPC).
The rebel, who yielded one (1) Ingram (Shooter Brand) bearing serial number 167297 and one magazine loaded with 16 9mm ammunition surrendered around 8:05 P.M. Tuesday and is now undergoing custodial debriefing.
The surrenderee will avail the Comprehensive Local Social Integration Program (CLIP) wherein he will receive initial P15,000.00 immediate cash assistance and P50,000.00 livelihood assistance after the documentation and livelihood seminar program which will be facilitated by the Department of Social Welfare and Development (DSWD).
The rebel decided to surrender following realization that fighting the government and enduring hard life in the mountains are a lost cause.
Major General Jet B. Velarmino, Commander 8ID, lauded the effort of the troops in Eastern Samar for a job well done. Further, he reiterated that surrender is a clear victory for the people of Eastern Samar who yearn for peace and desire to live peacefully and lawfully.
8ID, Philippine Navy and DENR seize illegally cut lumber
By DPAO, 8ID PA
September 17, 2015
CAMP LUKBAN, Catbalogan City – Army troops under 78th Infantry Battalion, 53rd Engineering Brigade, Philippine Navy and personnel from Department of Environment and Natural Resources (DENR) Region 8 conducted a joint anti-illegal logging operation that confiscated 1,398 board feet of Lawaan Lumber at Barangay Villa Corazon, Burauen, Leyte on September 16, 2015.
In a report from Lt. Col. Allan Jose L. Taguba, Commanding Officer of the 78th Infantry Battalion, DENR Region 8 headed by Kenneth Yves Salon, Forester Management 1 made coordination with 78th IB to assist them in confiscating the illegally cut lumber. The forest products, upon confiscation, were transported at DENR Region 8 in Brgy Candahog, Palo, Leyte for custody and proper disposition.
It can be recalled that the government is pushing the intensive joint anti-illegal logging operation in a landslide prone province of Southern Leyte last month that netted 1,419 board feet of Lawaan lumber.
The accomplishments are results of the Command's convergence efforts with various stakeholders throughout Eastern Visayas where the Army has set focus more on non-traditional role of assisting other government agencies to enforce laws.
Maj. Gen. Jet B. Velarmino, 8ID Commander, lauded the joint anti-illegal logging operations of the Army, the Philippine Navy and DENR in enforcing environmental laws. Further, he reiterated that 8ID under his Command will continue to support the DENR in implementing its environmental protection programs.
801st Infantry Brigade in Samar has new commander
By DPAO, 8ID PA
September 15, 2015
CAMP VICENTE LUKBAN, Catbalogan City – The Philippine Army installed Col. Perfecto M. Rimando as the new Commander of 801st Infantry Brigade in a Change- of-Command Ceremony held at Camp Daza, Brgy Fatima, Hinabangan, Samar on September 14, 2015.
Col. Rimando succeeded BGen. Leoncio A. Cirunay Jr., who assumed the position as Commander of the Armed Forces of the Philippines Reserve Command. He took over the helm of an Army unit that covers the provinces of Samar and Eastern Samar.
Prior to taking the helm of 801st Infantry Brigade, Col. Rimando was the Chief of Philippine Army Human Rights Office (PAHRO) based in Ft Bonifacio, Metro Manila.
The installation of Rimando was presided by Maj. Gen. Jet B. Velarmino, Commander of the 8th Infantry Division, Philippine Army. It was also attended by Ms. Imelda Bonifacio, OPAPP Area Manager; Hon. Arman Sevillano, Brgy Chairman of Fatima; Mr. Jun Arcenio, Philippine Information Agency- Samar; and Rev. Fr. Jester Jake Yboa, Parish Priest St. Anthony De Padua.
Col. Rimando vowed to continue to support the initiatives of the local government units and closely collaborate with the stakeholders in line with the AFP Internal Peace and Security Plan "Bayanihan".
"I can still remember when I first set foot on the island of Samar 29 years ago as a platoon leader, and now I am here again as a brigade commander and have noticed many changes and improvements through the years. I am grateful to be here once again to do the task and mission that our people and our country expect from me," said Rimando.
MGen Velarmino in his message acknowledged the contribution of BGen Cirunay to the relative peace that Samar and Eastern Samar provinces are now experiencing, at the same time, he challenged Rimando to continue the plans and programs initiated by his predecessor that fit the current situation and work hard towards the realization of "Insurgency Free" Samar and Eastern Samar provinces.
"I commend BGen. Cirunay for his immeasurable contributions to the accomplishments of 8ID mission. With Col. Rimando as the new Commander of 801st Infantry Brigade, I know it is in good hands and with his past experiences in this area and support of the men and women of the 801st Brigade, I expect him to perform well. My guidance is stay healthy, take care of your men, know your job and do it well and lastly, never forget to pray before you sleep in service for our country and people," said Velarmino.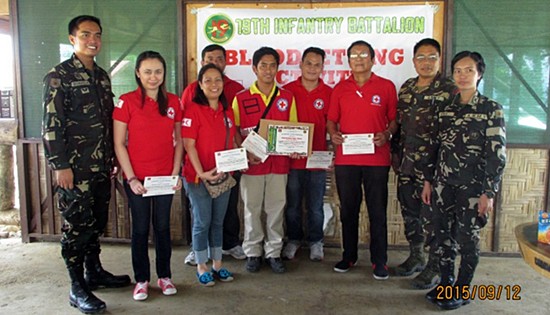 Lt. Col. Reymondo Delgado (2nd from right) with the staff of Philippine Red Cross-Ormoc City Chapter headed by Nepthel Remulta (5th from left) after the bloodletting activity at 19IB Camp in Kananga, Leyte.
19IB, Red Cross conducts bloodletting
By 19th Infantry Battalion, 8ID PA
September 13, 2015
KANANGA, Leyte – In celebration of the National Peace Consciousness Month this September, 19th Infantry Battalion conducted a bloodletting activity at its headquarters in partnership with the Philippine Red Cross - Ormoc City Chapter on Saturday, September 12, 2015.
The activity started with a short program around 9:00 o'clock in morning where Nepthel Remulta, PRC medical technologist briefed around 70 would-be donors on the importance of blood donation.
Almost fifty per cent of the would-be donors are soldiers of 19IB, while the rest comprised of personnel from Ormoc City Police Office (OCPO), Coast Guard District Eastern Visayas (CGDEV), Kananga Municipal Police Station, Finest Guardians International Contingent Incorporated, peoples organizations and even farmers from nearby barangays of Kananga and Ormoc City.
As the activity ends around 12:00 midday, 22,950 cc whole blood was collected. It turned out that 51 individuals were successfully extracted with blood at 450 cc each. Others failed in the pre-screening and interview due to illness such as cough, colds and menstruation to some female donors.
According to Remulta, Ormoc City has an average blood requirement of 450 bags monthly. This is because one patient, especially those undergoing surgical operations would usually need more than two bags at a time.
19IB had been conducting bloodletting activities with Philippine Red Cross - Ormoc City Chapter for over six years.
"In behalf of the Philippine Red Cross, we thanked the 19th Infantry Battalion for spearheading the bloodletting event and for spreading public awareness on its importance", Remulta said.
On his part, Lt. Col. Reymondo Delgado, Acting Commanding Officer of 19IB lauded the Philippine Red Cross for its incessant advocacy on saving lives through giving blood. He also thanked all individuals and organizations who supported the peace initiative of the battalion.
Chiz to NTC: Come up with new guidelines for acceptable internet speed, cost
By Office of Senator Chiz Escudero
September 13, 2015
PASAY CITY – Instead of merely testing Internet speeds, the National Telecommunications Commission (NTC) should conduct an audit to assess the coverage and quality of service of telecommunications companies (telcos) to pressure them into making Internet access faster and cheaper, Sen. Francis "Chiz" Escudero said.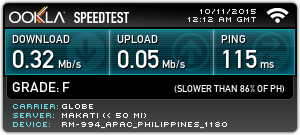 The usual mobile internet download speed reading of Globe Telecom in Catbalogan, Samar is way below 1Mbps.
Escudero made the call as the NTC prepares to carry out a speed test this month to determine if telcos are true to their advertised Internet speed.
"An audit is necessary to determine the gravity of the problem of slow Internet connection in the country. This will become the basis for NTC to come up with new guidelines on acceptable speed and cost that telcos are duty-bound to follow," Escudero said.
The new guidelines should effectively compel the telcos to invest in infrastructure and technologies development so they can deliver faster data connection to their subscribers.
Escudero said the problem of pathetic Internet speed and service in the Philippines could be easily addressed if telcos are forced by law to set aside a portion of their huge revenues for better network infrastructure.
Citing an NTC study, one of the biggest telcos in the Philippines said $16.6 billion, or around P750 billion, is needed to bring 2 megabits per second download speeds to 80 percent of Philippine households by 2016.
"The telcos have been reaping billions of pesos in profits at the expense of their subscribers, who continue to complain about the slow and expensive data services they provide," Escudero pointed out.
"I think it is more than fair and reasonable to compel telcos to spend on the necessary infrastructure expansions and upgrades that will allow them to provide some real service to individuals and industries that need reliable data connections," he said.
Escudero said the NTC, as the agency that regulates and supervises the telecommunications sector, should make sure that the data experience meets the requirements and expectations of the country's Internet users, who are now close to 40 million.
"If we want to sustain the growth momentum of the economy, particularly the BPO industry, we need to have the infrastructures to deliver reliable and high-quality Internet services," the senator said.
In a recent Senate hearing, NTC officials announced that the commission will begin monitoring this September the Internet speed being provided by telcos and compare these with their advertised speed.
According to NTC officials, the move was part of government efforts to address the problem of slow Internet in the country.
"Internet speed monitoring, at best, can only be a measure against deceptive or misleading advertising, but it would not result in faster and cheaper Internet," Escudero said.
"When the NTC confirms what millions of subscribers have been saying, what then? This is why they need to go further and find ways to force telcos to address the problem by building better network infrastructures," the senator said.
The latest household download index report by global Internet provider Ookla ranked the Philippines 21st out of 22 countries in Asia in terms of Internet speed, trailed only by Afghanistan. It has a household download speed of 3.64 Megabits per second (Mbps); top-ranked Singapore has a broadband speed of 122.43 Mbps and Hong Kong clocked in with 102.96 Mbps.
Even with such poor service, the Philippines is tagged as having one of the most expensive Internet services in the world.
8ID conducts pinning of ranks to the newly promoted personnel
By DPAO, 8ID PA
September 12, 2015
CAMP LUKBAN, Catbalogan City – The 8th Infantry (Stormtroopers) Division, Philippine Army conducted the pinning of ranks to the newly promoted personnel of the Command during the flag retreat ceremony held at Openiano field on September 11, 2015.
Major General Jet B. Velarmino, Commander of 8ID, Col. Divino Rey C. Pabayo Jr., Chief of Staff and Lt. Col. Noel A. Vestuir, Assistant Chief of Staff for Personnel together with the military dependents led the pinning of ranks to the men and women of this Command who have satisfactorily satisfied the requirements set by the Philippine Army's Promotion System.
It can be recalled that at least 1,233 personnel were promoted effective August this year wherein 433 of which are Corporals, 334 Sergeants, 358 Staff Sergeants, 71 Technical Sergeants and 27 Master Sergeants.
Candidates were selected after looking into their Individual Evaluation record which gauged a soldier's competency and reputation in the service. Other requirements which were satisfied include required minimum number of years in one's current rank, passing grade on a competitive promotional examination, completion of a career military occupational specialty course, physical and Neurological-Psychological examination and Physical Fitness Test (PFT).
Field units under this Command are also scheduled to conduct the same activity which symbolizes the rich military custom and tradition wherein the officers pin new collar chevrons on the Battle Dress Uniform (BDU) of the promoted soldiers as the promotion orders are being read while in military formation.
Major General Jet B. Velarmino, 8ID Commander, congratulated the newly promoted soldiers as well as their families as it is expected for them to perform their best in every endeavor as they gain more responsibilities, and be thankful for the Father Almighty for the blessing bestowed upon the personnel of this Command for the hard work and dedication they have exerted through the years of service in the country.
Cayetano: Develop rural areas, provinces to solve traffic woes in MM
By Office of the Senate Majority Leader
September 11, 2015
PASAY CITY – "The solution to Metro Manila traffic problem is not to build more infrastructure INSIDE NCR, but to build more OUTSIDE the city."
This is Senate Majority Leader Alan Peter Cayetano's proposition amid the looming congestion problem affecting millions of residents, motorists and commuters in the metropolis daily.
Cayetano contends that the best way to relieve traffic jams in Metro Manila is to start allocating more funds that will kick start the development of local economies in provinces outside the National Capital Region (NCR).
He says he is set to file a bill seeking to establish a Philippine Decentralization Committee (PDC), which will study and determine specific programs aimed at enhancing the delivery of goods and services in the countryside, including the relocation of several agencies to other regions.
For instance, Cayetano suggested that the Department of Labor and Employment be transferred to the Ilocos Region (Region I), which had the second highest unemployment rate in 2015, and the Tourism department to tourist haven Cebu in Central Visayas (Region VII). While the Department of Energy, he envisions, can be relocated to the CARAGA Region (Region XIII), known for its abundant renewable energy sources.
He is also advocating the establishment of a reliable and efficient Luzon-wide transportation system, which will pave the way for the construction of an integrated railway system, high-standard highways, and strategically-located airports, seaports, and land transport stations in provinces all over Luzon.
"I pushed for a long-term and a more feasible solution and that is to create alternative corridors of development outside NCR. This will not only resolve traffic jams in the already overcrowded capital, but will also extend growth throughout the rest of the country," the senator said.
In an effort to manage the heavy traffic situation in Manila, President Benigno Aquino III has recently designated the Philippine National Police-Highway Patrol Group (PNP-HPG) to lead the enforcement of traffic rules and ease the congestion in six "choke points" along the Epifanio Delos Santos Ave. (EDSA).
ES Ochoa presents OP budget for FY 2016 to Congress
Press Release
September 10, 2015
MALACANANG, Manila – Executive Secretary Paquito N. Ochoa Jr. told the House of Representatives on Thursday that the Office of the President (OP) was increasing its spending plan for Fiscal Year 2016 by 10 percent due to higher funding requirement for personnel services and capital outlays.
Appearing before the House Committee on Appropriations, Ochoa presented the proposed P2.825 billion budget plan of the OP, up P258.0 million from the 2015 allocation of P2.567 billion.
Specifically, the proposed funding for OP's Maintenance and Other Operating Expenses (MOOE) is higher by 2 percent, or P46.6 million, to P1.957 billion, from the current year's appropriation.
The provision for Capital Outlay (CO), meanwhile, has been raised to P96.9 million, by 76.9 million, for 2016 to fund continuing improvements being undertaken within the OP facilities.
The proposed budget for Personnel Services (PS) is higher by 21 percent, or P134.67 million, to P771.67 million, compared to the previous spending package, in order to meet the actual salaries and other compensation benefits of all OP personnel as of December 31, 2014, including retirement and life insurance premiums.
When broken down to reflect the output and activities of the office, 71 percent of the P2.825-billion budget would be earmarked for operations, while 29 percent for general administration and support services, according to Ochoa.
The OP provides executive, technical and management services, advisory services, legal services and Presidential Executive Staff services to the President of the country in the exercise of his functions as head of state, chief executive and commander-in-chief.
Under Executive Order No. 292, the OP consists of the OP-Proper and bodies under the chairmanship of the President, other executive offices, and government-owned and -controlled corporations under it.
The OP-Proper includes the Private Office, Executive Office, Common Staff Support System and the Presidential Assistant/Advisers System.