Silago barangay is 2014 Lupon national winner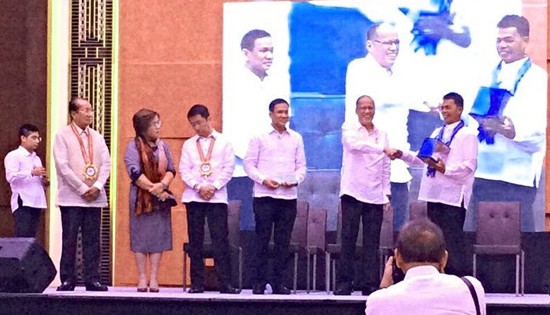 Press Release
September 30, 2015
MAASIN CITY – Brgy. Hingatungan, Silago, Southern Leyte is the National Champion for barangays in 4th-6th class municipalities in the 2014 Lupong Tagamapayapa Incentives Award (LTIA) held at Marriott Hotel, Pasay City on September 28, 2015.
On behalf of the Hingatungan Lupong Tagapamayapa (HILUTA), Punong Barangay Alberto M. Orias received the cash prize of P300,000 and a trophy. This is HILUTA's 4th grip at the national awards – having won in 2001, 2007, 2012, and 2014.
A National Awards Committee composed of officials from the DILG, Department of Justice (DOJ), Supreme Court (SC), National Police Commission (Napolcom) and Liga ng mga Barangay (LnB) chose the winners from lupons nationwide based on the following criteria: a) Efficiency in Operations; b) Effectiveness in Securing the Objectives of the KP Program; and c) Creativity and Resourcefulness of the Lupong Tagapamayapa.
"The Lupong Tagapamayapa is a big help not just in the speedy administration of justice in the barangays. It has also been a big aid to unclog our courts and allowed the government to save billions," DILG Secretary Mel Senen Sarmiento said.
The LTIA aims to provide recognition to performing Lupons, which are barangay conflict-resolution bodies under the Katarungang Pambarangay Law in 1978 and strengthened by the Local Government Code of 1991.

From R: Eastern Samar governor Conrado B. Nicart Jr., with Col. Perfecto M. Rimando Jr. during the awarding of cash and livelihood assistance to the former rebels at PGO Conference Hall, Borongan, Eastern Samar on September 23, 2015.
Former rebels in Eastern Samar receive cash and livelihood assistance
By DPAO, 8ID PA
September 24, 2015
CAMP LUKBAN, Catbalogan City – Eleven Former Rebels (FR) who surrendered to 14th Infantry Battalion received immediate cash and livelihood assistance thru Comprehensive Local Integration Program (CLIP) during the Provincial Peace and Order Meeting at PGO Conference Hall Provincial Capitol, Borongan City, Eastern Samar on September 23, 2015.
The former rebels availed the Comprehensive Local Integration Program (CLIP) of the government and received an initial P15,000 immediate cash assistance and P50,000 livelihood assistance after the documentation and livelihood seminar program which was facilitated by the Department of Social Welfare and Development (DSWD).
It can be recalled that an NPA rebel also surrendered in Eastern Samar last week. He will also avail the same CLIP program of the government to start a new life in our society.
The activity was attended by Governor Conrado B. Nicart Jr. of Eastern Samar; Col. Perfecto Rimando, 801st Brigade Commander; Lt. Col. Peter Burgonio, Commanding Officer of 14IB; Estla F. Afable, OIC, PSWDO; Emy Bonifacio from the Office of the Presidential Adviser on Peace Process (OPAPP); PSSupt. Romeo Campomanes, Provincial Director ESPPO and the media.
The awarding of cash assistance to the former rebels reflects Eastern Samar's commitment for a just and lasting peace in the province.
Governor Conrado B. Nicart Jr. of Eastern Samar led the awarding and distribution of checks to the former rebels and subsequently led the pledge of peace and peace board signing by the PPOC participants as a covenant for peace in the province.
Major General Jet B. Velarmino, Commander 8ID, lauded the efforts of the troops in Eastern Samar for a job well done. Further, he reiterated that this is a clear manifestation of a strong desire for a lasting peace by the people of Eastern Samar and the whole of Region 8.
Sarmiento: Mayors should become development, economic managers
Press Release
September 23, 2015
QUEZON CITY – Newly-confirmed Secretary Mel Senen S. Sarmiento of the Department of the Interior and Local Government (DILG) said city and municipal mayors should become development and economic managers who shall steer their respective localities towards inclusive growth and development.
"Dapat palitan na ang job description ng mayor na maging isang development and economic manager," said Sarmiento during an exclusive interview with ANC recently.
He said he will direct the Local Government Academy (LGA) to come up with a training course for new local officials focused on enhancing the skills of the mayor to become facilitators of economic growth and development. LGA, an attached agency of the DILG, is the Department's training arm for local government officials and functionaries.
He said invited resource persons should be those who can inspire. "The best teacher to a mayor is a fellow mayor, and the best teacher to a governor is a fellow governor," he stressed.
As a development-oriented manager, the mayor, he said, should be able to come up with a strategic plan with the involvement of all stakeholders which will be the blueprint for the development of the local government unit (LGU) for the succeeding years.
The strategic plan, he said, has to reflect the aspirations and needs of the people, and is not a mayor's plan, which might be discontinued after the expiration of the term of the mayor.
"Ang basic na tanong ng mayor: what do we want our city to become in x number of years? So it has to be a shared vision, a shared mission. Then work on that plan, come up with metrics para ma measure naman natin if we are meeting our development targets every three years or so," he stressed.
He recounted the time when he visited Paramatta City, a suburb and major business district in Australia, in 2003 where the planning council is already anticipating traffic problems and solutions after 50 years.
"Kaya din nating gawin yun. Yan ang challenge sa bawat local government. May strategic plan na tugma rin sa national thrust. Kasi hindi naman pupwede si presidente abante nga, si governor will turn left, the mayor will turn right and the baranggay captain says "Atras tayo". So, in nation building, dapat magkasama tayo, dapat magkasabay-sabay," he said.
Fossil fuel companies face national human rights complaint on climate change
Press Release
September 22, 2015
MANILA – Typhoon survivors and civil society groups in the Philippines today delivered a complaint to the Commission on Human Rights of the Philippines (CHR) calling for an investigation into the responsibility of big fossil fuel companies for fuelling catastrophic climate change that is resulting in human rights violations.
The complaint, which is the first of its kind in the world, is being brought forward by typhoon survivors, advocates and non-governmental organizations, including Greenpeace Southeast Asia. The group is demanding an investigation into the top 50 investor-owned fossil fuel companies and their responsibility for climate impacts that endanger people's lives and livelihoods, as well as that of future generations.
"We demand justice. Climate change has taken our homes and our loved ones. These powerful corporations must be called to account for the impact of their business activities," said Elma Reyes from Alabat Island in Quezon who survived Super Typhoon Rammasun, and is part of the group submitting the complaint to the CHR.
The 50 companies, including Chevron, ExxonMobil, BP, Royal Dutch Shell, ConocoPhillips, are a subset of the 90 legal entities that have contributed the lion's share of cumulative global CO2 and methane emissions in the earth's atmosphere, as identified by peer-reviewed research.
Organizations that have provided advice and support to the group submitting the complaint include Amnesty International, Avaaz, Business and Human Rights Resources Centre, Climate Justice Programme, the Center for International Environmental Law, EarthRights International, International Trade Union Confederation, and the Union of Concerned Scientists.
"We pray that the CHR heed the demand to recommend to policymakers and legislators to develop and adopt effective accountability mechanisms that victims of climate change can easily access," said Fr. Edwin Gariguez, Executive Secretary of Caritas Philippines and a recipient of the Goldman Environmental Prize. "Inspired by Pope Francis, the Church will support this Philippine climate change and human rights complaint and will continue to serve as a strong ally in the struggle for a socially just, environmentally sustainable, and spiritually rich world that the Pope and the broader climate movement are fighting for."
"From the Netherlands to the US, people are using legal systems to hold their governments to account and demand climate action. We hope that the Commission on Human Rights of the Philippines will take the bold step in being the first in the world to hold big corporate polluters accountable for their contribution to the climate crisis," said Attorney Zelda Soriano, legal and political advisor for Greenpeace Southeast Asia.
The groups submitting the complaint are calling for the investigation to be launched this year. This is an important building block in establishing the moral and legal 'precedent' that big polluters can be held responsible for current and threatened human rights infringements resulting from fossil fuel products. These companies have benefited financially with knowledge of the harms associated with their products. The groups submitting the complaint all agree that now is the time for the big polluters to bear responsibility for preventing climate harm.
"Though uncertain of the outcome, I know that adding my name as a petitioner is important and supports a much greater cause that will ensure environmental justice for all Filipinos and the rest of humanity," said Elma Reyes who started the online petition supporting the human rights and climate change complaint.
Sarmiento gets CA nod, vows to run after 'namedroppers'
Press Release
September 22, 2015
QUEZON CITY – Newly appointed Interior and Local Government Secretary Mel Senen Sarmiento today warned that he would not hesitate to use the full force of the law to go after people and groups who are using his name for extortion and jueteng protection rackets.
Sarmiento said he has received persistent reports that certain people and groups are using his name this early to extort and demand protection money from vice syndicates particularly those involved in illegal gambling like "jueteng" and warned that he will never allow anyone to tarnish his good name.
Sarmiento said that he has already instructed Philippine National Police chief Director General Ricardo Marquez to look into these reports and arrest anyone who is using his name for financial gains.
He said he has also asked Marquez to intensify anti-gambling operations amid reports of increased jueteng activities for fund raising because of the upcoming local and national elections.
"I will never allow anyone to represent me or my office to extort or demand protection money from jueteng and other vices. I intend to keep my good name now and for the rest of my life as a public servant," Sarmiento said.
Sarmiento made this statement shortly after his confirmation by the Commission on Appointments Tuesday where he promised to serve his office the "Department of the People."
In his speech before the CA, Sarmiento maintained that he was appointed by President Aquino not merely because he is a party mate but because of his experience and credentials as a public servant.
He said that although his appointment as Secretary of the DILG is a big gamble considering that he still has one term as Congressman, he decided to accept the responsibility "knowing that I can do more for our country given my experience."
"For the remaining eight months of this administration, I intend to strengthen DILG's existing programs by ensuring closer coordination with all local governments in all levels and the Department's attached agencies," said Sarmiento who used to head the House contingent to the CA.
"With your help, I will work to ensure that all DILG programs reach each LGU regardless of party lines of its local leaders. With your help, we shall make the DILG the Department of the People," Sarmiento added.
Sarmiento faced no opposition on his appointment and was confirmed in just a matter of 15 minutes by his former colleagues in the CA.
Chiz to BOC: File smuggling raps vs. Torres
By Office of Senator Chiz Escudero
September 22, 2015
PASAY CITY – Sen. Chiz Escudero said the Bureau of Customs (BOC) should file smuggling charges against former Land Transportation Office (LTO) chief Virginia Torres for trying to negotiate the release of P100 million worth of smuggled Thai sugar.
Escudero said the BOC should send a strong message that the administration is serious in its bid to curb smuggling that even perceived administration allies will not be spared.
"Cases must be filed against her if indeed there's evidence to prove that she intervened or is trying to intervene in an illegal shipment," Escudero said.
The veteran lawmaker said the BOC should take the cue from Malacañang's pronouncement that influence peddling will not tolerated by the administration.
Presidential Communications Operations Office (PCOO) Secretary Herminio Coloma Jr. on Sunday said that if there was proof that Torres committed such prohibited act, then it may be acted upon in accordance with the law.
"If the BOC is fascinated in looking into the measly 'padala' of our overseas Filipino workers (OFWs), then the more it should be interested in pursuing the people behind the importation of 64 shipping containers of smuggled sugar worth more than P100 million," said Escudero, who has been seeking a law against influence-peddling since 2007.
Senate Bill No. 118, which Escudero refiled in 2013, states that "it shall be unlawful for any person to engage in influence peddling or the act of representing oneself, either orally or in writing, as being able, whether real or imagined, to influence, facilitate or assist another person having some business, transaction, application, request or contract with the government in which a public official or employee has to intervene."
Torres reportedly last month tried to plead for the release of the illegally imported goods, which were also not covered by import permits by the Sugar Regulatory Administration (SRA).
The said shipping containers were the subject of 24 alert orders of the Intelligence Group of the BOC.
According to Escudero, the government should train its sights on sugar smuggling rather than targeting the "balikbayan" boxes being sent by OFWs.
"The BOC should run after big-time smugglers instead of molesting our OFWs. The agency is being hard on our OFWs who play a major part in building the economy, but is being easy on those who are ruining it," the senator said.
Chiz questions conditions of proposed P200-M bail bond fund to aid officials in law suits
By Office of Senator Chiz Escudero
September 21, 2015
PASAY CITY – Sen. Francis "Chiz" Escudero wants budget officials to explain the details of the proposed P200-million bail money neatly tucked in the 2016 national budget which can be tapped by people in government to help them deal with legal cases, including malversation of public funds.
Called the "Legal Defense Fund" or LDF, Escudero said this lump sum in the proposed spending package is buried in the fine print of the Miscellaneous Personnel Benefits Fund (MPBF).
Under the proposed provisions governing its utilization, the fund shall be used for "actual expenses, including the payment of premiums for the posting of bail bonds and cash advance for expenses by indicted public employees and officials."
The fund will be used for the "defense of administrative, civil or criminal cases filed against them in courts for acts committed in the performance of their actual functions," the provisions further stated.
Escudero, however, wants the provisions clarified because the proposal is vague and the scope too broad.
"Even the ambit of the cases covered is unclear. If you go by the language of the special provisions, even those charged with graft and corruption can apply for bail money and charge the lawyer's fees to the fund," he pointed out.
"If this fund will be used to help employees or officials who are sued in connection with the performance of their official functions, I'm all for it, but never for rape, never for graft and never for murder," the senator added.
According to Escudero, there is an existing legal fund available to government employees and officials who are hauled into courts for acts committed while performing their jobs.
"Kung ang pulis ay nakabaril habang tinutupad nya ang tungkulin nya, may pondo para dyan upang tulungan siya sa kaso. Pero kung ang isang opisyal ay nagnakaw ng pondo ng gobyerno – at hindi naman ito parte ng kanyang trabaho – bakit naman sya dedepensahan gamit ang pera ng taumbayan?" Escudero said.
He also asked if the proposed LDF would be accessible to public servants involved the 20,664 complaints and grievances which the Office of the Ombudsman is planning to resolve.
"If we are to invoke equality, lahat ba sila pwede tulungan ng LDF?" I hope the DBM (Department of Budget and Management) is not laying down the precept that abuses committed while in office are entitled to assistance from the state?" Escudero said.
Under the proposed P3 trillion national budget for 2016, the P200 million for the LDF is embedded in the MPBF.
With an allocation of P96.5 billion for next year, the MPBF serves as a "catch-all parking space" for salaries and other personnel benefits needed to fill in the vacancies in the government, Escudero said.
"How will the DBM explain this to more than 10 million overseas Filipino workers whose legal fund amounts only to P100 million as opposed to one million government employees who will be allocated P200 million in LDF?" said Escudero, who pushed for the inclusion of the legal fund for troubled OFWs in the national budget.
Catwalking on the Seine river
Jessica Minh Anh to produce a 100-metre floating catwalk in Paris
Press Release
September 21, 2015
PARIS – After the phenomenal success of the Eiffel Tower's first ever catwalk, Jessica Minh Anh is back in the fashion capital to produce yet another mind-blowing experience. The model and entrepreneur will transform the Seine's giant glass boat into a 100 meter floating catwalk on 29 October 2015.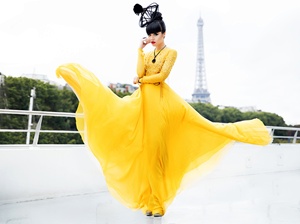 To create an illusion of models walking on water, Jessica will have guests seated facing the multi-faceted glass windows while the boat is cruising. As a result, Paris architectural wonders such as the Eiffel Tower, Notre Dame, the Louvre, and the 37 famous bridges will become the natural backdrop for the unique catwalk.
"We are extremely honored to work with Jessica Minh Anh on this special project" said Marco Goncalvez, Operation Manager of Compagnie des Bateaux Mouches. "We have been admiring her iconic productions at places such as the Grand Canyon Skywalk, Hudson River, London's Tower Bridge, and One World Trade Center for years. It is a privilege to have our venue added in Jessica's famous series of unconventional catwalks"
The highly anticipated J Autumn Fashion Show 2015, which combines of art, architecture, culture, and fashion, will premier 8 innovative collections from 4 continents. Exclusive VIPs, including international fashion designers, country ambassadors, ministers, influencers in various industries, and international press, will enjoy the beauty of fashion and Paris in a new light.
Besides the exquisite haute couture, high-end ready-to-wear, and jewellery collections, Jessica Minh Anh's spectacular hairstyles are part of the attraction. Her architectural hairpieces, which are created by some of the most talented international artists, have graced numerous beauty publications as they compliment her extraordinary visions.
Jessica Minh Anh, who marked her 10th history-making production in July with the world's first solar powered catwalk, has worked with top designers and luxury brands including Montblanc, Paul Costelloe, Addy van den Krommenacker, Shiatzy Chen, Yumi Katsura, Tony Ward, and Buccellati, while promoting exceptional talents from the new generation such as Rami Kadi, Serkan Cura, Shilpa Reddy, and Hoang Hai. Talking about her iconic locations, Jessica said "I believe the most outstanding designs should be showcased at the best of locations, using the most creative catwalk concepts. It's a challenging process, but very rewarding".
The full list of participating designers and partners at J Autumn Fashion Show 2015 will be revealed in the first week of October alongside official pre-show photos and videos. For more information, please visit www.jmodelmanagement.co.uk.
8ID hosts Samar peace and security dialogue
By DPAO, 8ID PA
September 20, 2015
CAMP LUKBAN, Catbalogan City – The 8th Infantry (Stormtroppers) Division, Philippine Army, the Police Regional Office 8, Philippine National Police (PNP) organized a peace and security dialogue with local officials of Samar and Calbayog City at 8ID Grandstand on September 19, 2015.
The dialogue was aimed at fostering harmony among the military, PNP, local officials in the area of Samar and Calbayog City in observance of the National Peace and Consciousness Month and in line also with the effort to establish Honest, Orderly and Peaceful National Election next year.
It can be recalled that a shooting incident happened last week at Barangay Victory, Calbayog City where five were reported dead and two were wounded, while based also on the report, 34 shooting incident happened this year in Samar and 22 of those were reported dead.
The dialogue was attended by Major General Jet B. Velarmino, Commander 8ID; PCSupt Asher A. Dolina, Regional Director PRO8, PNP; Governor Sharee Ann Tan Delos Santos of Samar along with the 150 members from her Party, Mayor Ronald Aquino of Calbayog City together with the 50 members of his party composed of barangay captains in the area, field commanders in region 8 and the media.
An open forum was conducted to iron out security measures, peace covenant and allegiance for peace and non-support to Private Armed Group (PAGs) and Goons wherein both party pledge their commitment against violence and promote peaceful means of campaigning this coming election.
Major General Velarmino, said the dialogue plays a significant event to stop this shooting incident and senselessness to paved the way for peace in Samar and Eastern Visayas as a whole. We need the support and cooperation from our Local Chief Executives and the people of Samar so that just and lasting peace will be realized.
8ID, OPAPP celebrate peace month thru fun run, walk and bike
By DPAO, 8ID PA
September 20, 2015
CAMP LUKBAN, Catbalogan City – The 8th Infantry (Stormtroppers) Division, Philippine Army, the 801st Infantry Brigade and the Office of the Presidential Adviser on the Peace Process (OPAPP) launched a Run, Walk and Bike to celebrate the 12th National Peace Consciousness Month at 8ID Grandstand on September 20, 2015.
The National Peace Consciousness Month is by virtue of Proclamation No. 675 series of 2004 to celebrate peace in the month of September wherein 8ID and OPAPP joins the whole nation in the observance of Peace Month 2015 with the theme "Pagkakaisa Tungo sa Patuloy na Kapayapaan at Kaunlaran."
Highlights of the event started with the Holy Mass officiated by Rev Fr CPT Rey David G. Loyola followed by the kick-off of Run, Walk and Bike from 8ID Grandstand to Catbalogan City Proper.
Mr. David Villegas Gange RN, Program Unit Manager Plan Philippines, led the pledge of peace followed by a Peace Board Signing by 417 participants from the different sectors of the society that served as a covenant for peace.
The activity was attended by Major General Jet B. Velarmino, Commander 8ID; Col. Perfecto M. Rimando, 801st Brigade Commander; Mrs. Imelda Velarmino; Rev Fr Ferdie C. Figueroa, Parish Priest, St. Bartholomew Parish Church, Samar Runners Club, bikers enthusiast and stakeholders in Samar.
Major General Velarmino, said that the theme is a hopeful reminder that lasting peace is possible, especially if we all contribute towards it, as it aims to provide an avenue for stakeholders to envision a peaceful society and assess what these stakeholders can contribute in ensuring that the realization of a just and lasting peace is indeed possible.