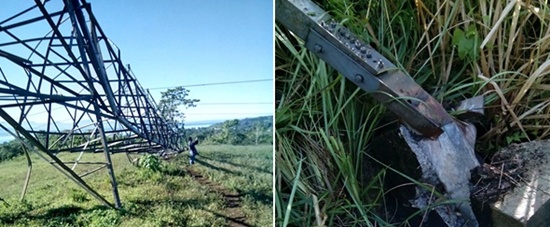 Tower # 20 of Agus 2. Kibawe line is one of the two towers bombed late night of 29 October 2015, causing the isolation of Agus 1 and 2 Hydro Power Plants from the Mindanao Grid. Initial inspection photos show one of the legs of Tower # 19 of the Agus 2 - Kibawe line blasted, which caused the toppling of the whole tower.
NGCP towers bombed in Marawi City
Press Release
November 3, 2015
QUEZON CITY – Two towers along NGCP's Agus 2 - Kibawe138-kilovolt (kV) line in Patani, Marawi City were bombed at 9:20 PM on October 29, 2015. Around 78 megawatts (MW) of power supplied by Agus 1 and 2 Hydro Power Plants were lost to the grid, aggravating the deficiency in the Mindanao. For 30 October 2015, projected system deficiency was 150 MW, lengthening the power interruptions endured by some areas. Additional load curtailment among grid customers was implemented for one to two hours during peak hours.
With the return of the generating facilities of STEAG and Mt. Apo, the deficiency for November 3, 2015 is pegged at 40MW, placing the Mindanao Grid on red alert. The duration of the power interruptions experienced by end-consumers will vary, depending on their respective distribution utilities.
"This is the 7th tower toppled by lawless elements in 2015 alone. The last 2 towers were bombed on October 9, 2015, only three weeks from this latest incident. We are very concerned that this situation seems to be escalating," the company stressed. "Another tower, Tower 21, was also bombed, but fortunately, the structure was not toppled. With the help of the local authorities, several other bombs were found on our facilities, but these did not detonate and were safely disposed of," said NGCP.
"NGCP is appealing to the public to help monitor the safety of the towers so that transmission services remain uninterrupted," NGCP said. "If anyone sees anything suspicious at or around our towers and facilities, please inform us immediately. You may text us your tips and other information at 09178791077."
NGCP is fully cooperating with law enforcement agencies as they investigate the incident. Restoration efforts began as soon as the area was declared safe.
To hasten the restoration of transmission services to affected areas, NGCP will attempt to energize its Baloi- Agus 2 line, which was earlier disabled because of uncooperative landowners who are preventing NGCP from conducting much needed vegetation clearing activities. Elements of the Philippine Armed Forces are currently assisting NGCP in entering the properties of the uncooperative landowners to expedite restoration.
NGCP has repeatedly appealed to the government and the Philippine Army for assistance in resolving escalating security and right-of-way issues in Mindanao.
Career advice for students goes virtual at Edukasyon.ph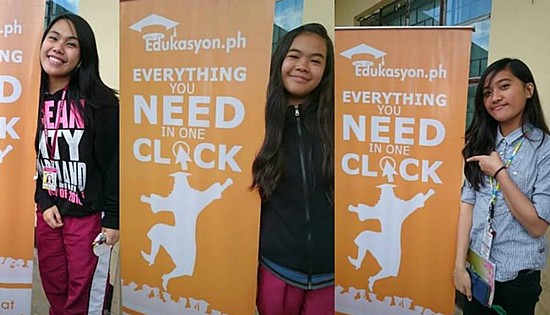 Press Release
November 3, 2015
MAKATI CITY – Social enterprise Edukasyon.ph has introduced an online career platform where high school students can get career advice for dream jobs and the education that they need to get there.
The site offers a diverse set of career options with FREE access to a database of 5,300 colleges and universities, 300 Senior High-ready schools, 50,000 courses, and 2,800 scholarships offered in the Philippines and abroad.
"We understand how frustrating it can be for our high school students to figure out what kind of jobs they want to be doing when they grow up. Edukasyon.ph can help young students map out the education they need depending on the careers they can imagine themselves to be doing," said Linartes Viloria, Chief Executive Officer, Edukasyon.ph.
Students can simply find schools and scholarships just by registering at www.edukasyon.ph. As soon as they register they can click on career options, get updates on higher academic opportunities that correspond to their interests, preferred locality, and tuition fee budget.
To bring the website closer to the students, Edukasyon.ph has been conducting career clinics at high schools all over the Philippines. It has visited 27 public high schools in the National Capital Region including the cities of Marikina, Manila, Pasig, San Juan, Taguig, and Valenzuela.
"Students all over the Philippines should have access to this information that can change the way they're planning their education and eventually their lives. We want them to know the opportunities out there, so they can make better choices," said Henry Motte-Muñoz, Founder, Edukasyon.ph.
On October 2015, Edukasyon.ph concluded its first wave of regional Career Clinic Caravan in Baguio City. This activity was organized through the assistance of volunteers from National Youth Commission Northern Luzon, UP Subol Society, and UP Baguio Rotaract Club.
In the next few months, Edukasyon.ph is scheduled to be visiting high schools in key areas in Cebu, Bacolod, Dumaguete, Davao, and in other key cities in Regions 3, 4, 6.
"We are happy to be working with government, the private sector and volunteer organizations in bringing education information closer to our students. The responsibility of educating students on careers do not lie solely on our schools. It is a responsibility that we all share and we should work together on," said Henry Motte-Muñoz, Founder, Edukasyon.ph.
Under its volunteer program, Edukasyon.ph accepts volunteers from organizations nationwide who are willing to help in its regional career clinics all over the Philippines.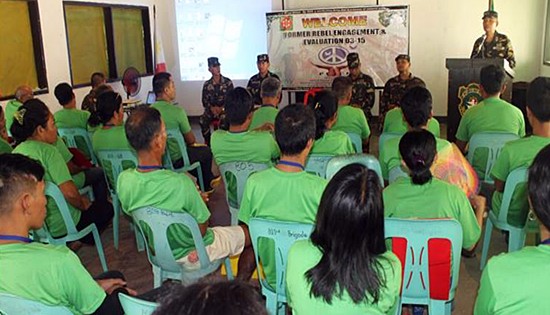 803rd Infantry Brigade commander Col. Mario G. Lacurom encourages the former rebels to continue to work with the government and the Army for a lasting peace in Northern Samar.
803rd Infantry Brigade supports former rebels engagement and evaluation
By 803rd Infantry Brigade, 8ID PA
October 30, 2015
CATARMAN, Northern Samar – Thirty nine former rebels from the province of Northern Samar attended the Former Rebel Engagement and Evaluation (FREE) conducted at the Headquarters of the 803rd Infantry (Peacemaker) Brigade on October 29, 2015.
The activity which was initiated by the Office of the Assistant Chief of Staff for Civil Military Operations, G7 of the Philippine Army in collaboration with the Department of the Interior and Local Government (DILG) and the Provincial Social Welfare and Development Office (PSWDO), Northern Samar, aimed to continue monitor on how the former rebels are living their lives after returning to the folds of the law.
During the one day activity, the participants were lectured on the proper way of vegetable gardening and were given assorted vegetable seeds from the representatives of the Provincial Agriculture Office of Northern Samar headed by Mr. Marlo Cabudsan, while the office of the PSWDO thru its representative, Ms. Mercy Castillo distributed food packs with five kilos of rice, assorted canned goods, coffee and Milo packs. The participants also received one thousand cash each from the Philippine Army for their travel allowance.
In his speech during the opening of the activity, Col. Mario G Lacurom, Commander of the 803rd Infantry (Peacemaker) Brigade, Philippine Army, encouraged the former rebels to continue to be one with the government and the Army in pursuing peace, progress and development in the province.
Facilitators of the activity were Ms. Agnes Lopez (Lola) Reaño and Maj. Alexander D. Banatao from the Office of the Assistant Chief of Staff for Civil Military Operations, G7 Philippine Army, Fort Bonifacio Metro Manila.
StarofService provides more job opportunities for the Philippines
Press Release
October 30, 2015
MANILA — Due to its successful startup in France, StarofService is now set to conquer the international market. Founded by Lucas Lambertini, Mael Leclair, and Toni Paignant, this French services marketplace is now in the Philippines to provide more job opportunities for service providers while aiming to help their clients save time on hiring professionals.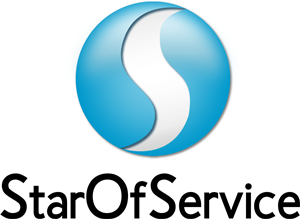 Serving as an intermediary between professionals and clients, StarofService was created on a simple observation that almost anything can be bought online. Toni Paignant, COO and cofounder of StarofService continues, "However, when it comes to services, everything becomes more complicated. Whether it's finding a handyman, a sports coach, or a photographer or a DJ, one generally loses a lot of time looking for someone who is competent, available and affordable. Our idea was to allow anyone to be able to request an online service."
With an algorithm that geotags and alerts professionals within the area, StarofService is a way for professionals to advertise their business and find potential customers within their reach. "With a free registration, these professionals will be able to respond to customer requests through offering a bid for their service. Upon receiving these bids, the client will then compare the quotes given and finally make an appointment with the professional of his or her choice," says Mary Therese Catantan, Country Manager for StarofService Philippines. "Hiring the right people for the job has mostly been a trial and error process for everyone, especially with Filipinos – which is exactly the reason why StarofService exists. We want you to receive the service that perfectly fits your needs."
As StarofService continues to expand all throughout the world, Lucas Lambertini, cofounder and CEO explains, "The market in which StarOfService positions itself is much bigger than most people think. No company has taken a dominant position yet nor conquered the international market. Our ambition is to take this position, and we were lucky enough to find the right investors who share our vision of becoming the leading one-stop shop for service providers globally."
Sarmiento to LGUs: Adopt the Performance Governance System
Press Release
October 27, 2015
QUEZON CITY – Interior and Local Government (DILG) Secretary Mel Senen Sarmiento has urged the local government units (LGUs) to adopt and use the Performance Governance System (PGS) in their programs and projects.
The PGS is the local adaptation of the Balanced Scorecard developed in the US, a performance management and measurement tool that translates organizational goals into breakthrough results using a set of performance indicators or metrices.
The balanced scorecard process translates organizational strategy into concrete and quantifiable outcomes by measuring whether the operational activities of an organization are aligned with its larger-scale and longer-term objectives and strategies.
"Kahit gaano kalaki ang pera ng barangay, munisipyo, city o probinsya, kung hindi naman gagamitin ito sa tama, wala rin," Sarmiento said during his first flag-raising ceremony at the DILG Central Office in Quezon City recently.
With the expected double increase in the Internal Revenue Allotment (IRA) in 2018, he has repeatedly encouraged local chief executives to come up with a strategic goal map that will advocate the prudent use of the PGS.
The DILG Secretary said he used the PGS method during his mayoral stint in Calbayog City which enabled his city to hit almost a billion plus revenues for his city.
He said the PGS will be more effective if the local governments have a strategic plan to follow. "Kahit na bilyon nga yan eh, kung wala talagang plano, sayang ang pera," he said.
The DILG Chief said he will steer the Local Government Academy (LGA), an attached agency of the DILG, to conduct appropriate training programs that will direct the LGUs to the right direction which would match the overall, long-term plan of the national government.
"Dapat kung ano ang gusto ng komunidad, yun ang masunod to ensure sustainability. Hindi ang kagustuhan ni Mayor o ni Kapitan," he added.
According to the DILG Secretary, capability, bankability, competitiveness and governance will be the four main facets by which LGUs will be measured through the PGS.
He also highlighted the importance of the said management tool in nation-building as it unifies and directs all government agencies to one direction using a standard criteria.
He is confident that by using PGS properly, everyone, even those in the lowest rank in the office, will understand what are the goals, the hits and the misses of a respective agency and they too can contribute on how to address the missed opportunities and improve for the better.
"It's a scorecard, a one pager thing na dapat pati utility sa opisina naiintindihan, rating the Department. May target ito. Pag red font, meaning failing grade; green font, we hit the target; blue font, we exceeded the target," Sarmiento explained.
He said he is looking forward to a productive eight months in the DILG: "In eight months, wag tayong magsayang. Marami tayong magagawa. Para sa pagpasok ng ating mga bagong halal na mga opisyal, hopefully ay makabigay tayo ng instrumentong magagamit nila na nasubukan na," he added.
Chiz wants policy reform to save dying coconut industry
By Office of Senator Chiz Escudero
October 27, 2015
PASAY CITY – Sen. Chiz Escudero is seeking policy reforms to help the Philippine coconut industry deal with the constant threat of climate change, infestation and ageing trees – challenges which are too big to be addressed under the 40-year-old law that created the Philippine Coconut Authority (PCA).
Escudero said the government must update its policies to be more attuned to the current condition of the country's coconut industry as well as the type of assistance and support for farmers in this sector.
In Eastern Visayas alone, the government has to replace 13 million coconut trees that were totally damaged when Super typhoon "Yolanda" devastated Central Philippines in November 2013.
Aside from the trees uprooted by Yolanda, the coconut industry also has to deal with ageing coconut trees and infestation, said Escudero, who last week visited Tacloban, Leyte, home to close to 350,000 coconut farmers as per data from the PCA.
"Most of our coconut trees in the country are about 30 to 40 years old. Matatanda na rin naman talaga sila. Panahon na para mag-replant tayo at magtanim ng panibago at siguro pagkakataon na rin ito para magawa natin yan dito sa Tacloban, dito sa Leyte at sa buong Region 8," he said.
The veteran lawmaker noted that the Presidential Decree 232, which created the Philippine Coconut Authority (PCA) is now over four decades old and has become "too deficient" to address the current conditions of the industry.
The last of subsequent legislations promoting the development of the coconut industry – Presidential Decree 1468 – was issued in 1978, according to Escudero.
He thus appealed for the immediate passage of Senate Bill No. 2116, which seeks the creation of the Philippine Coconut Industry Development Authority (PHILCIDA) that will be tasked to help coconut farmers through marketing assistance and other extension services to boost their yield and expand their income.
SBN 2116 was filed by Escudero in 2014 as a counterpart measure of House Bill No. 1998 filed by Rep. Sharon Garin, aimed crafting the Coconut Industry Development Act to provide an up-to-date overall strategic guidance to the industry.
The bill proposes that the PCA be transformed to PHILCIDA, whose task is to develop measures to increase farm productivity, through planting or replanting of suitable seedling varieties, rehabilitation and fertilization of coconut, integrated coconut-based farming systems and product processing, and whenever necessary, the construction of related support and infrastructure facilities.
The proposed measure or "An Act Revitalizing the Coconut Industry, Appropriating Funds Therefor and for other Purposes," also seeks to remove the corporate restriction of the PCA to make it a profitable, sustainable and development-oriented agency, according to Escudero, as he noted how agency has been receiving just less than two percent of the total allocation of the Department of Agriculture (DA) as annual subsidy.
Escudero said revitalizing coconut industry will benefit the government in the long run, citing the current high demand for coco oil and coco water in the international market.
"Hindi lang ang mga farmers at workers ang makikinabang kung hindi rin ang ekonomiya sa laki ng potensyal ng coconut industry sa bansa," said Escudero.
Coconut farming covers 3,563 hectares or 26 percent of the total agricultural land in the country, and is the primary agricultural source of income in the Eastern Visayas and Bicol regions.
The industry produces an annual average of 15.2 billion coconuts, with over 24 million direct and indirect stakeholders in over 69 provinces in the country.
DPWH Samar I coordinates with DepEd heads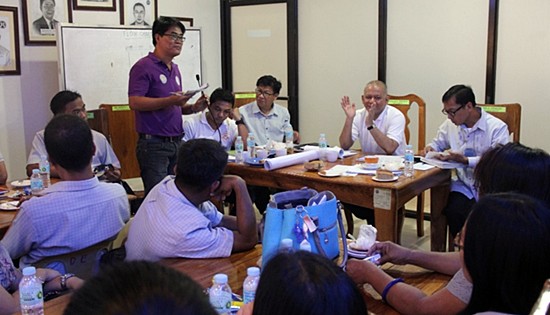 By DONNA C. DEBUTON
October 26, 2015
CALBAYOG CITY – The Department of Public Works and Highways for this year undertakes a coordination meeting with the Department of Education's principals/school heads from both Calbayog City Division and Samar Division, held at Samar First District Engineering Office's conference hall, San Policarpo, Calbayog City, on October 20, 2015.
District Engineer Virgilio C. Eduarte presides over the meeting. He welcomes the visitors from different schools of Calbayog City and Samar Division. The conference is attended by almost thirty (30) school heads and visitors. The said coordination meeting has the purpose of pursuing the smooth implementation of the School Building Projects for CY 2015.
In answer to the queries and clarifications raised by the DepEd representatives/school heads, DE Eduarte and the technical employees make a comprehensive explanation in accordance to their concerns. In the end part of the meeting, both parties agree to cooperate with each other and assure that responsibilities of each office be performed to ascertain SB Projects are constructed in accordance with the plans and specifications.
DPWH Samar I enhances information technology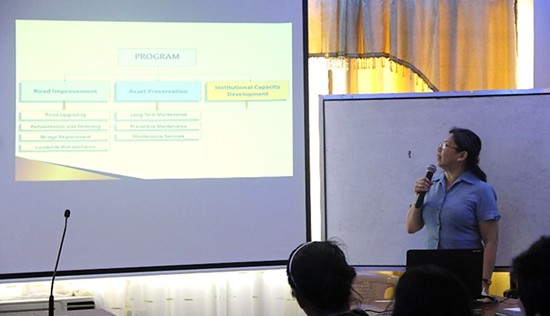 By DONNA C. DEBUTON
October 25, 2015
CALBAYOG CITY – Department of Public Works and Highways - Samar First District Engineering Office conducts training/seminar on Informational Technology specifically on Windows 8 and MS Office 2013: Overview and Updates, on October 7-9, 2015 at the Conference Hall, DPWH-San Policarpo Calbayog City.
Aiming to adapt the new trend of informational technology in the district, DPWH-SFDEO enhances their skills through a seminar/training by the resource speakers from DPWH-Central Office, Information Management System (IMS); Ms. Anabelle de los Reyes, Chief of the User Support Division, Ms. Zorahayda Paz D. Abreu, Chief of the IT Training Section and Mr. Ralph R. Caubalejo, Computer Management Technologist II. It is participated in by selected employees and personnel of the district, who desire to upgrade their knowledge and unlock more tricks in the use of technology.
District Engineer Virgilio C. Eduarte warmly welcomes the resource speakers from the Central Office as he gives his opening remarks in the first day of the training. "I know you can get a lot of ideas regarding informational technology from them… Enjoy your three days stay in our district, and welcome..."
"Ang dami naming natutunang bagong trick, na realize din naming may ginagawa kami sa MS Word at Excel na hindi naman pala tama at dapat na gawin…" statement coming from one of the participants who attended the training. This really is an evidence, that the said training is a great help to the district's personnel and employees.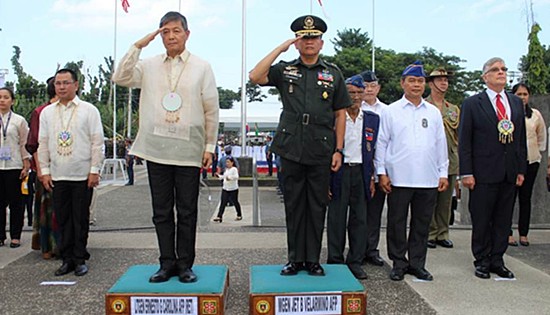 8ID commander MGen. Jet B. Velarmino welcomes LtGen. Ernesto G. Carolina AFP (Ret), administrator of Philippine Veterans Office, as Guest of Honor and Speaker with a traditional military arrival honors during the 71st Leyte Gulf Landing Anniversary at MacArthur Landing Memorial Park, Candahug, Palo, Leyte on October 20, 2015.
8ID troops join the 71st Anniversary of Leyte Gulf Landing
By DPAO, 8ID PA
October 22, 2015
CAMP LUKBAN, Catbalogan City – The 8th Infantry (Stormtroopers) Division, Philippine Army participated in the commemoration of the Leyte Gulf Landings 71st Anniversary at the MacArthur Landing Memorial National Park, Candahug, Palo, Leyte on October 20, 2015.
Lt. Gen. Ernesto G. Carolina, AFP (Ret), Administrator of Philippine Veterans Office, was the guest of honor and speaker of the simple and solemn commemorative ceremonies with the theme: "Liberation: A Paradigm for a Renewed Leyte", which reminisce the largest naval battle of World War II, that paved way to the liberation of the Philippines from Japanese occupation 71 years ago.
The event was graced by Minister Tetsuro Omano, Deputy Chief of Mission, Embassy of Japan; Mr. Lain Mansfield, Trade and Investment Director, Embassy of United Kingdom; Lt. Col Michael P. Wylie, Chief Joint Operations, US Marine Corp, Embassy of the United States of America; and Bill Tweddell, Ambassador, Embassy of Australia.
Also in attendance was Major General Jet B. Velarmino, Commander 8ID; Cmdr. Avelino L. Mosot, regional vice president Veterans Federation of the Philippines Leyte Chapter; Brig. Gen. Joel Joseph A. Cabides (Ret), Regional Vice President, Veterans Federation of the Philippines; BGen William B. Esplana (Ret), President of Operations Veterans Federation of the Philippines; and Hon. Dominico Petilla, Governor of Leyte.
Highlight during the commemorative program was the solidarity messages of the diplomatic representatives and the hoisting of their respective flags.
The 8ID troops spearheaded the Wreath Laying Ceremony in honor of our heroes who fought gallantly for the present generation to cherish the true essence of liberty.
Gov. Petilla in his message said, "On this 71st year of commemorating the Leyte Gulf Landing we honor our veterans as we banner this year's theme: "Liberation: A Paradigm for a Renewed Leyte." I want us not only to remember their gallantry in the battlefield, but we must also look at the lasting legacy of strength and service they brought with them; the commemoration of the Leyte Gulf Landings reminds us of the responsibility we have for our veterans who serve our nation."
Children affected by Typhoon Lando climbs to over 700,000, says Save the Children
Aid organization distributes life-saving relief supplies in worst-hit areas.
By Save the Children
October 22, 2015
MAKATI CITY – Save the Children estimates that over 700,000 children in the Philippines have been affected by typhoon Lando as recent government data show upsurge in the number of affected people since the first landfall on Sunday. Classes in various cities and towns are still suspended, disrupting education of thousands of school-aged children.
Save the Children's Country Director, Ned Olney, says, "We are extremely concerned with children and families who have lost everything, and without a roof over their heads. Although death toll stays low, let us not minimize the impact this storm has on people's livelihoods."
In Region 3, one of the worst-hit during typhoon Lando, many farmers were already struggling to grow their crops because of the drought months before the typhoon.
Olney added: "Our teams on the ground have seen nearly 100% damage to homes, schools and health centers in some of the worst hit areas. Access to roads is still difficult due to flooding and debris. Save the Children will continue our response and reach out to families who need our help the most."
Save the Children is one of the first organizations to respond immediately after typhoon Lando hit. Our staff on the ground are distributing first batch of 2000 kits containing lifesaving relief supplies for families in some of the worst-affected communities in Casiguran, Aurora Province, where the typhoon first made landfall. Relief supplies include water purification tablets so that people have safe drinking water; tarpaulins to serve as emergency shelter; basic household kits containing kitchen utensils, mosquito nets and sleeping mats; and household kits with soap, towels and toothbrush. Save the Children also sent a team to Nueva Ecija province, where severe damage was also reported, is also conducting assessment to determine the needs of the children.
Save the Children will mount three to six months response that will target around 8,000 households in the worst affected locations. The priority areas for the emergency response are distribution of lifesaving relief supplies, education, health and child protection.
Save the Children has been implementing disaster risk reduction programs in Aurora, Bulacan and Pampanga to better prepare children and their families in times of disasters.