Chiz seeks immediate release of P1-B People's Survival Fund
By Office of Senator Chiz Escudero
October 22, 2015
PASAY CITY – As local government units (LGUs) continued to grapple with the unmitigated impacts of extreme weather events, Sen. Francis "Chiz" Escudero asked the government to immediately release the P1-billion People's Survival Fund (PSF).
Escudero, who chairs the Senate Committee on Environment and Natural Resources, lamented that many LGUs remained unaware that they could have access to P1 billion in special fund to boost their long-term mitigation and adaptation programs on climate change.
"You cannot just go from storm to storm, flood to flood. Climate change is behind these frequent and extreme weather events; LGUs should be more proactive in addressing the problems at the root, instead of being merely reactionary," he said.
The PSF is a special fund created by virtue of Republic Act 10124 or An Act Establishing the People's Survival Fund to Provide Long-Term Finance Streams to Enable the Government to Effectively Address the Problem of Climate Change.
Escudero, former chair of the Senate finance committee, pointed out that the government is mandated to earmark at least P1 billion for the PSF annually; any portion of the fund that is unused will not revert to the national treasury.
As of June 30, there have been no releases from the P1-billion PSF for 2015.
"Why is that money still there? What is the point of having this special fund if nobody uses it? Meanwhile, our local governments contend with the impacts of climate change year-round – from prolonged droughts to heavy floods," Escudero said.
"It's been three years since we passed the law – has the PSF even been useful to anybody? What is stopping the government from releasing the money?" he asked.
Unlike in last year's National Expenditure Program (NEP) when there was no such stipulation, the 2016 NEP provides that the P1 billion allocated as PSF "may likewise be used to cover any deficiency in the implementation of the National Disaster Risk Reduction and Management Program, and Yolanda Rehabilitation and Reconstruction Program, subject to the approval of the President of the Philippines."
The PSF may finance local adaptation initiatives such as water resources and land management; risk insurance for farmers, agricultural workers and other stakeholders; infrastructure development and protection of natural ecosystems; monitoring of vector-borne diseases triggered by climate change; forecasting and early warning systems; contingency planning for droughts and floods; establishing and strengthening information networks to support adaptation initiatives; and other community support programs by organizations accredited by the Climate Change Commission.
Escudero, the leading vice presidential candidate, urged LGUs to submit climate mitigation and adaptation proposals to the Climate Change Commission, which serves as the secretariat of the PSF Board. The commission will then create a shortlist from which the PSF Board will choose the funding recipients.
The PSF board is composed of the Department of Finance, Climate Change Commission, National Economic Development Authority, the Philippine Commission on Women, Department of the Interior and Local Government, and representatives from non-government organizations, business, and the academic and scientific community.
National fisheries stakeholders summit held to combat illegal fishing
Press Release
October 20, 2015
The national summit seeks to discuss and discern the salient points in the implementing rules and regulations (IRR) of the recently amended Fisheries Code or Republic Act 10654, which sets stiffer penalties and tightens rules against illegal and unregulated fishing.
QUEZON CITY – The two-day Sustainable Fisheries Summit was attended by more than 100 participants from the academe, scientific community, local government units, fisherfolk, and non-government organizations from all over the Philippines. It is the first presentation of the approved IRR and amended Fisheries code to key fisherfolk and community stakeholders, held at the Institute of Social Order in the Ateneo de Manila University in Quezon City.
The summit sought to strengthen the fisheries network for sustainable fisheries management, and emphasized the need for key fisheries stakeholders to understand RA 10654 to effectively enforce the law and monitor its implementation.
It also underscored the need to allow the recovery of the Philippine seas from decades of degradation and overfishing – as the majority of Filipinos are dependent on the sea as a critical source of food and livelihood.
For the longest time, illegal, unreported and unregulated fishing (IUUF) wreaked havoc on the once-abundant fishing grounds of the Philippines. A report made by the National Stock Assessment Program of the Department of Agriculture-Bureau of Fisheries and Aquatic Resources (DA-BFAR) revealed that 10 out of 13 fishing grounds are already heavily exploited, leading to the phenomenal decline of fish catch. Simultaneously, the income of municipal fishers also declined, with the highest poverty incidence level among fisherfolk at 39.1 percent.
Municipal fishers have long clamored for the amendment of the Fisheries Code, in response to the prevailing illegal and unregulated fishing practices to the Philippine seas.
The passage of RA 10654 aims to address IUUF by increasing the penalties against illegal and unregulated fishing. It also strengthens the vessel monitoring mechanisms and calls for the creation of harvest control rules to determine sustainable fish catch levels.
RA 10654 revised significant provisions leading to institutionalization and further strengthening of the following: (1) traceability, which ensures that fishery products are sourced out from healthy fishing grounds and which used sustainable fishing practices, and handling of fish catch meet acceptable standards; (2) reference points, which determines the maximum sustainable yield for fishing; and (3) harvest control rules, which sets the regulations on the use of fishing gears, fish catch limitations, spatial and temporal restrictions, among others.
These provisions shall primarily lead to establishment of a sustainable fisheries regime beyond the 15-kilometer municipal waters, the exclusive economic zones and in high seas.
The summit also launched PaNaGaT (Pangisda Natin Gawing Tama), the largest Philippine network of conservationist and Community-Based Coastal Resources Management (CB-CRM) practitioners, to combat IUUF.
Progressives file candidacies as the "alternative" to traditional politicians of the elite

Press Release
October 16, 2015
QUEZON CITY – Not to be outdone by their elitist counterparts, platform-centered candidates filed Certificates of Candidacies before the Commission of Elections (COMELEC) early morning Friday together with thousands of their members and supporters.
Running on a platform of social progress with social justice, Sanlakas partylist fielded veteran labor leader and Bukluran ng Manggagawang Pilipino chairperson Leody de Guzman as its first nominee, Cebuano lawyer Aaron Pedrosa, the coalition's Secretary-General for its second nominee and longtime development worker Roldan Gonzales of Ozamis City as its third nominee.
Gender and climate justice advocate Flores "Oyie" Zacate a native of Sulat town in Eastern Samar and foreign policy expert Rasti Delizo were their fourth and fifth nominees respectively.
They claimed that their brand of politics defies the traditional mode that "binds the poor to further misery, exploitation and alienation from politics".
"Sanlakas has consistently fought for the underprivileged masses, never compromising its principles no matter the political odds. We pledge to be worth every hard-earned peso taxed from wage-earners and informal workers", said De Guzman.
"Rest assured, our nominees will fight for and remain genuine representatives of the masses", he added.
The partylist coalition defines their platform as the concretization of the peoples' aspirations, ranging from the broadening of their democratic rights, people-centered reform agenda and full reversal of the neo-liberal policies and programs which includes the privatization of social services, deregulation of strategic industries, trade liberalization and the contractualization of labor.
Sanlakas now combines its strength with other progressive stalwarts to form a national and nationwide force to challenge the elite's Trapos with their own slate, bound by a common platform for reforms and social change.
The partylist accompanied senatorial candidates, Young Officers Union founder Dado Valeroso and former Representative Walden Bello in a sunrise march from Luneta to the Comelec office. Joining them were bona fide public school teachers' partylist Ating Guro, Ang Nars and Partido Lakas ng Masa (PLM), their national political party.
"Despite victories for our public school teachers gained these past years, we all know that it is not enough, a seat in Congress will take us closer to reclaiming our dignity. The welfare and issues of teachers go beyond the four corners of our classrooms," Ating Guro first nominee Benjo Basas asserted.
For his part, PLM Chairperson Sonny Melencio, urged voters to once and for all denounce elitist politics and traditional political dynasties who forced the masses settle for dole-outs and piece-meal reforms.
"The time has come for us to end the rule of the elite and elect true representatives of the people," he said.

FRUITFUL PARTNERSHIP. Assumption Alumnae Association Inc. (AAA) through its Assumption Cares program, recently held a memorandum of agreement signing and check turnover with Philippine Business for Social Progress (PBSP) at the Assumption College in Makati City. The partnership is for a P1.3M project called 'Food for the Table' Bio-Intensive Gardening Project for Yolanda survivors in Mercedes, Eastern Samar.
Assumption alumnae help sustain communities in Eastern Samar
By PBSP
October 14, 2015
EASTERN SAMAR – In the aftermath of super typhoon Yolanda, the once thriving coastal town of Mercedes in Eastern Samar was reduced to rubble, leaving families homeless, without food and livelihood.
One of the organizations that heeded the call for help is the Assumption Alumnae Association (AAA) through the Assumption Cares program. They adopted six barangays in the municipality of Mercedes by rebuilding their houses, repairing their parish halls, and constructing disaster-resilient domes that will serve as community centers in Barangay Busay.
As the program is nearing its completion, AAA decided to continue their support leading to the sustainability of the residents who lost their livelihood. "We don't want to end the project with just homes, we want to give them something to sustain their lives," said Regina Hechanova, Assumption Cares Program Chairperson.
Hence, they partnered with Philippine Business for Social Progress (PBSP) for a short-term livelihood project called "Food on the Table" through Bio-Intensive Gardening (BIG). The project which is part of Assumption Cares' continuing program in Mercedes, aims to benefit at least 100 households in Brgy. Busay.
PBSP, in collaboration with the local government of Mercedes and the Municipal Agriculture Office, will conduct training sessions on BIG technology for the recipients and build 100 bio-intensive gardens in selected households. Implementation of the P1.3 million project began last month and is expected to be completed in February 2016.
AAA and PBSP recently signed a memorandum of agreement and check turnover for the project. Present during the event were Regina Gabaldon-Hechanova, Board Member and Chairperson, Assumption Cares Program; Ma. Luisa Ledesma, AAA President; Connie G. Valdes, AAA Administrative Officer; Dida Salita, AAA Trustee; Gina Africa-Aboitiz, AAA Member; former Ambassador Bienvenido Tan, AAA Adviser and Sponsor, concurrent PBSP Trustee, President and General Manager of The Bookmark, Inc.; Emma Tan, wife of Amb. Tan; Roberto A. Umali, PBSP Trustee and Chief Operating Officer of Magsaysay Transport and Logistics; Caroline Grace Pedragosa, Director, PBSP Project Management Office-Livelihood and Enterprise Development (LED); Mercedita Rosetes, Portfolio Manager of PBSP LED; and Amy Chua, Portfolio Manager for Backbone Support of PBSP LED.
Fil-Vets continue mission for Balangiga Bells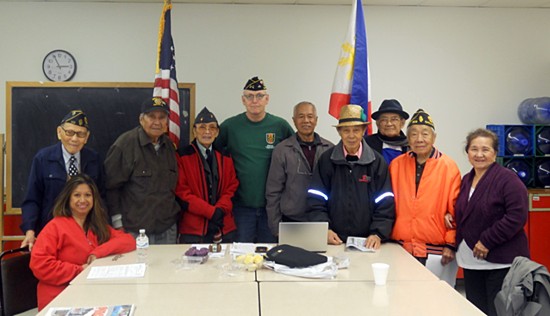 By ROSE SAN DIEGO
October 12, 2015
CHICAGO – WWII veterans gathered on a brisk afternoon around newly appointed Commander of their flagship Filipino-American Post 509 of the American Legion, with John Holmes, a former combat vet and member of US Army Special Forces. It has been over two decades that a non-Filipino has been elected to this top position.
During such a time the After-Action Summary on their recent Memorial program of the Balangiga Bells was presented and discussed. They had felt closeness to these bells in a similar way, because they too felt forgotten and neglected due to father time. They were all reminded that if they keep the story of the fallen during the battle of Balangiga and the bells alive we are hopeful that their stories of conflict will also be shared as part of global studies.
They have served in honor of their country the Philippines not once, but twice. They had volunteered for a selfless purpose greater than their own in 1942 and now once again for a century old cause hoping to negotiate the release of at least one of the three church bells and the historic old cannon removed from the town square of Balangiga in E. Samar.
Prior to adjournment Commander Holmes recommended the group returns next month for a day of silence and then to join the Veterans Day remembrance this November, with other area veteran organizations and memorials to reflect on the fallen from all eras, and all battles. We will continue our mission to partner with all VSO's and groups for a positive win-win solution for the church bells return.
Red Cross helping fire survivors in Leyte Regional Prison
By ICRC
October 12, 2015
MANILA – Following the fire that raged in Leyte Regional Prison for almost eight hours, the International Committee of the Red Cross (ICRC) and the Philippine Red Cross (PRC) delivered emergency items to support the authorities' efforts to attend to the needs of the affected inmates.
The fire that broke out on October 8 in this prison hosting more than 1,800 convicted detainees under the Bureau of Corrections (BuCor) killed 10 people, caused minor injuries to others, and completely destroyed the Maximum Security Compound of the detention facility.
This prison is one of the detention facilities the ICRC currently visits in the country to assess and improve general conditions of detention. Both the ICRC and the PRC, which are partner humanitarian organizations in the Philippines, send their sympathies to the families of those who perished in the fire.
"As reports of this dramatic incident reached us, we immediately dispatched a team from our Tacloban office to evaluate the damage and pressing needs, to be able to provide rapid assistance," said Sari Nissi, head of the ICRC delegation in the Philippines.
Thanks to readily available items in the PRC warehouse in Leyte, PRC and ICRC teams were able to distribute sleeping mats, blankets, mosquito nets, bath and laundry soaps, bottles of water and jerrycans; as well as medical items from the ICRC, over the weekend.
"These people who are serving their sentence in jail deserve the same humanitarian assistance that we give to victims of other disasters and emergencies, as the Red Cross provides assistance to anyone who needs it, especially the most vulnerable," stressed PRC Chairman Richard Gordon.
The ICRC had previously provided assistance when the prison was hit by a fire in 2013. As part of its continuing support to Leyte Regional Prison, the ICRC is building a new infirmary to enhance access to medical care for the detainees.
The ICRC will continue to assess the most pressing needs and is in dialogue with authorities to find a permanent solution for the living conditions of the inmates.
Recent TPPA deal: Another deathly prescription to Asia's people
By Health Alliance for Democracy
October 12, 2015
QUEZON CITY – Health groups today condemn the recent agreement reached on US-led Trans Pacific Partnership Agreement (TPPA) stating the free trade deal will cement US 'pivot to Asia'.
Health Alliance for Democracy or HEAD sees stronger US control over products, including medicines in TPPA member countries. The trade deal, tagged by US representative for trade Michael B. Froman as "an important first step" may very well be "a step that will crush all trade barriers of member states for US domination over 40% of the global market," said Dr. Joseph Carabeo, secretary general of HEAD.
According to reports, the US trade representative said the pact would eventually end more than 18,000 tariffs that the TPP countries have placed on American exports.
"The US is driven by its goal to defeat China in the global economy by aggressively making American products (and its trade terms) dominate the Asian market which comprises 40% of the global economy," Dr. Carabeo added.
Even if the Philippines is not party to the agreement yet, current deals to the economic pact signal further price monopoly on products such as medicines. In particular, the patent on "biologics," or advanced medicines derived from living organisms, was compromised to only a "mandatory minimum of five years." Meaning, drug makers will be able to withhold data, and consequently control prices, for 5 long years before other manufacturers can produce "biosimilars" at more affordable prices.
"When no cap is set on the maximum number of years a patent can be had, who would opt for the minimum 5 years?" pointed Dr. Carabeo. "At the end of the day," he said, "it's business as usual for these pharma giants."
The US-led economic pact capped its meeting with 11 heads of state in Atlanta, Georgia on October 5, 2015 after years of negotiation.
HEAD is an Alliance of individuals and organization in the health sector. HEAD has been an active education campaign-information center coordinating health and national campaigns towards the increase of social awareness and action.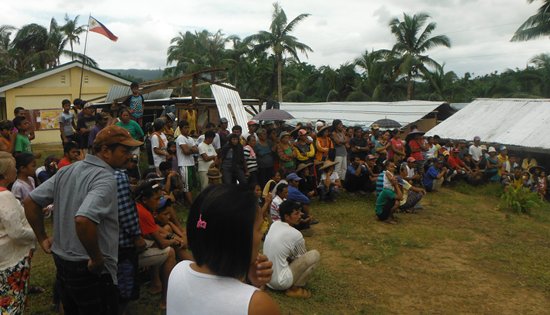 Basey Bakwits. In this photo taken February 2015 during a fact-finding mission, farmers who fled their upland sitios gather as they plan to evacuate to the town center to protest military presence, harassment. The military has returned and set up their camp in this school campus lately this September.
Military official 'threatens' farmers, HR workers during live radio interview on reported rights violations in Samar town
By KATUNGOD SB
October 11, 2015
TACLOBAN CITY – Farmers from an upstream barangay in Basey, Samar who went to Tacloban City on October 10 to report on radio the encampment of military men in their barrio center ended up being threatened themselves by the top commanding officer of the accused military battalion.
Leni Sabaniao, the Sitio Captain of Burabod, a sitio of Barangay Mabini, Basey decry what she called as 'threatening response' of 87th Infantry Battalion commanding officer Colonel George Domingo as if to warn her for reporting the occupation on media.
Colonel Domingo was quoted as telling the farmers over radio: "Huwag po kayong mag-alala… kayong nagsumbong diyan sa Bombo Radyo, hindi po ako magkakamali, mas mahal nyo po ang [New People's Army] NPA kaysa sa sundalo kaya magbabantay din po ako sa inyo… sila yung nagrereklamo, at sila 'yung nasasaktan dahil nung pumasok na ang sundalo nawawalan na ng clout ang NPA sa lugar…"
KARAPATAN human rights group was also red-tagged on air by Colonel Domingo saying "Alam naman po natin na ang National Democratic Front, katulad ng KARAPATAN ay miyembro ng National Democratic Front. Ito 'yung mga nagdedepensa at nagsusuporta sa armado [NPA] at sila rin ang nagrereklamo kapag pumapasok ang sundalo…"
Katungod Sinirangan Bisayas spokesperson Jun Berino assailed this red-tagging made by Colonel Domingo. "It is alarming that the military has publicly tagged the farmers as NPA supporters. It is even more alarming to note that they would not recognize their rights just for being labeled as [NPA] supporters," Berino said.
Berino, while explaining the civil rights of the civilians, was also commented on by Colonel Domingo: "Hindi niya karapatan ang kanyang ipinaglalaban kundi ang karapatan ng masa na nagsusuporta sa NPA, 'yan ang kanyang ipinaglalaban."
Berino expresses alarm over Colonel Domingo's statement and hopes this does not result to further rights violations upon recalling that during the reign of former Major General Jovito Palparan in Eastern Visayas in 2005, red-tagging consequently leads to harassment and a number of extrajudicial killings or arrests against individuals or organizations who are subjected to such by the military.
Early this year, the presence of military in the barrios of Basey prompted the farmers to evacuate from their communities to the municipal town center. Katungod-SB has documented various cases of rights violations in the said communities. Berino of Katungod-SB stressed that under Aquino's Oplan Bayanihan, the military launches operations in the name of 'peace and development'. However, Katungod-SB said that 'verified reports belie the military' pointing out to the incident of indiscriminate firing that involved elements of the 87th Infantry Battalion last February 16, this year, in Sitio Burabod, Barangay Mabini hitting 4 houses in the community and grazing a 14-year-old female high school in her head.
Colonel Domingo, however, denied the violations and suggested that Sabaniao and rights group Katungod must not be protected by law. Domingo insisted, referring to the farmers: "They are part of the problem, ngayon inirereklamo nila kami. Tandaan po natin mga taumbayan, silang mga lumalabag sa batas wala pong karapatan sa protection of the law…" and continued saying "ang mga taong hindi sumusunod sa batas ay walang karapatang magreklamo." He would repeat the same statement many times in the course of the interview.
At the end of the interview, Colonel Domingo added, "tatandaan niyo, dahil sa pagsasalita nyo d'yan sa Bombo Radyo, makikilala ko kayo, at makikilala niyo rin ako."
Domingo admitted they have occupied the high school building in Brgy. Mabini but with permission from the Municipal Mayor and barangay officials in Mabini. "Mayroong approval ang mga barangay officials na sila [the soldiers] ay pansamantalang makitira doon sa eskwelahan sapagkat ilalayo ko sila doon kapag naipasok ko doon ang mga tent namin… kinausap ko rin po ang Mayor, ipinaalam po natin dyan. Ngayon kung sila ay aatakehin ng NPA, na sila ay nasa eskwelahan, bakit nyo po sisisihin ang sundalo, at bakit hindi nyo sisihin ang NPA?" said Colonel Domingo.
The farmer-leader wants the armed so-called 'Peace and Development Teams' to pull out immediately from their community and school. Just last month, the military encamped in the barrio center had an encounter with reported members of the NPA. They have been staying for more than a month since September. Domingo said the encampment is temporary and insisted that reports of human rights violations are all but accusations of communists.
"Colonel Domingo's statements is in itself a clear testament to his fascist tendencies and practice of his men. If he can utter those words in public with impunity, what other things is he capable of doing with no media around? There must be accountability here. The military must cease all forms of intimidation and immediately pull out from civilian communities," ends Berino.