PNP reaction team nabs four armed men in Leyte on barangay election eve
By RPCRD, Police Regional Office 8
October 28, 2013
CAMP KANGLEON, Palo, Leyte – The police had foiled what could be a potential eruption of violence in the region's industrial capital with the arrest of four fully-armed men who are reportedly out to spoil the peaceful conduct of the barangay elections, the Police Regional Office 8 (PRO8) announced Monday.
Police Chief Supt. Elmer R. Soria, PRO8 director, identified the suspects as Larry Lladoc, 56; Ulysses Ilajas, 36; Edrigar Rojas, 39 and Elizalde Roña, 45, who were arrested by elements of Isabel police station led by PSInsp. Florando Relente and augmentation police personnel led by PSupt. Erwin Portillo in the evening of October 27 in Isabel town in Leyte.
"Timely information relayed by chairmen of two villages in Isabel led to the apprehension of the suspects and aborted possible untoward incidents in the area," Soria said.
The police official informed that at around 10:30 p.m. Sunday, a telephone call from Brgy. Chairman Gerby Frias of Brgy. Tolingon was received by Isabel police station about the sighting of armed men at the waiting shed of Sitio Bakong-bakong.
The station's Reactionary Stand-by Support Force (RSSF) was dispatched to the area, resulting to the arrest of Lladoc and Ilajas, both employees of Philippine Phosphate Fertilizer Corp. (PHILPHOS), also in Isabel town.
Confiscated from Lladoc was one .45 caliber Colt pistol bearing serial number 748631 loaded with six ammunitions and from Ilajas was one unit .45 caliber with serial number 1452324 loaded with 14 ammunitions and two magazine assembly for .45 caliber.
The RSSF scoured the area and also recovered from the grassy portion one homemade shotgun, locally known as "sumpak"; one shotgun cartridge and one .22 caliber Arms Aguila revolver with serial number 22743 with five ammunitions.
An hour later, same reaction team responded to an indiscriminate firing at the basketball court of Sitio Can-esko as reported by Brgy. Chairwoman Tabunok Lolita Mabino perpetrated by armed men on-board a KIA van with plate number TPO 911.
The lawmen arrested Rojas and Roña and confiscated several firearms that include two 5.56 caliber K2 rifle with serial numbers 097154 and 097182 with two magazine assemblies and 50 rounds of ammunitions; one 12-gauge shotgun Buddyguard model with three shotgun cartridges and one .40 caliber Taurus pistol with serial number SBW 84989 with two magazine assemblies and 23 rounds of ammunitions.
Isabel, a first class municipality in Leyte's fourth district, is composed of 24 barangays and home to the Leyte Industrial Development Estate (LIDE) where some big companies are located like PHILPHOS, Philippine Associated Smelting and Refining Corp. (PASAR), and Lepanto Mining Corp.
The arrest brought to 56 the number of gun ban violators in the region that so far had resulted in the confiscation of 31 firearms of assorted calibers and 33 bladed weapons.
Ex-detainees, relatives and supporters hold caravan to press for humanitarian release of political prisoners
By SELDA
October 25, 2013
QUEZON CITY – Rights group SELDA (Samahan ng Ex-Detainees Laban sa Detensyon at Aresto), with relatives and friends of political prisoners held a caravan today from the Quezon City Memorial Circle to Camp Bagong Diwa in Taguig City in an urgent call to free elderly and ailing political prisoners on humanitarian grounds.
"They shouldn't be in jail in the first place, but they are jailed on trumped up charges. They suffered from torture and other violations of their rights as prisoners. They are denied freedom, and some die of sickness in the long course of their detention. The ailing and the elderly should be released soon while they are still alive," said Jigs Clamor, SELDA national coordinator.
According to SELDA, political prisoners, like ordinary inmates, suffer from subhuman prison conditions. "They are cramped in congested cells. They receive poor and inadequate health services. Their prolonged detention makes them vulnerable to more serious health conditions," said Clamor.
Clamor cited the case of Alison Alcantara, who went into a coma on September 4 at the New Bilibid Prisons after suffering from complications to diabetes. "But he was transferred to the Philippine General Hospital only after three days," said Clamor, "his life could have been saved if there was sufficient medical care right from the beginning." Alcantara died on September 18.
As of August 2013, there are 449 political prisoners detained in various detention centers all over the country, 48 of them are ailing while 28 are elderly (60 years old and above).
"The low quality and insufficient medical care that the government provides endangers the lives of political prisoners. The P50 a day food budget is very little. Their condition is no different from the lives of people outside prison. Jails and detention centers are barely habitable, unsafe and hazardous to the health and general well-being of prisoners," Clamor explained.
From Quezon City Memorial Circle, the caravan stopped at the gates of Camp Crame, where four political prisoners, namely Renante Gamara, Eduardo Serrano, Eduardo Sarmiento and Ramon Argente are detained.
Gamara, Serrano, and Sarmiento are peace consultants of the National Democratic Front of the Philippines who are covered by the Joint Agreement on Safety and Immunity guarantees of the GPH and the NDFP. Meanwhile, Ramon Argente, a peasant organizer from Bicol, was recently transferred at the PNP Custodial Center in Camp Crame after undergoing triple by-pass surgery. He was previously detained at the Camarines Norte Provincial Jail.
"Even if his surgery is successful, he will recover better outside prison. Why endanger his life again after surviving this ordeal? The least the government can do with his condition is to free him," Clamor said.
Alongside the caravan, artists and church workers visited the four political prisoners at Camp Crame as part of the "KA-KAUSA" solidarity visits to political prisoners in the Philippines. The group is composed of writers and visual artists, including cultural worker and former political prisoner Ericson Acosta. Poetry and songs were shared in a brief cultural program. The visitors also brought donated art materials for the political prisoners.
The caravan proceeded to the Office of the Presidential Adviser on the Peace Process (OPAPP), to call for the resumption of the peace talks between the NDFP and the GPH. According to SELDA, the continued detention of NDF peace consultants and other political prisoners is a hindrance to the resumption to the talks.
The caravan's last stop was at Camp Bagong Diwa (CBD), where the majority of political prisoners are detained, both at the Metro Manila District Jail-Main, Special Intensive Care Area-Metro Manila District Jail (SICA-MMDJ) and the Taguig City Jail- Female Dorm. A brief program was held at the gates of the CBD where political prisoners released a statement of solidarity in the call to immediately release the eldery and those who are sick among them.
Troops tasked to secure barangay clash with NPAs in Eastern Samar
By DPAO, 8ID PA
October 25, 2013
CAMP LUKBAN, Catbalogan, Samar – Troops tasked to secure the conduct of upcoming barangay election clash with NPA rebels at around 4:25 pm on October 18, 2013 at Brgy Balagon, Can-avid, Eastern Samar.
In his report, LtColonel Manolito F Montiel, Commanding Officer of 14th Infantry (Avenger) Battalion, said that his troops chanced upon a group of NPA insurgents who were campaigning for a political candidate for the upcoming Barangay election.
After a brief firefight, the insurgents managed to escape. No casualty was reported on both sides.
Meanwhile, troops under 63rd Infantry Battalion while conducting clearing operation to ensure peaceful and orderly barangay election, discovered NPA camp at Brgy. Hibunawan, Silvino Lobos, Northern Samar at around 4:40 pm the same day.
The NPA camp is composed of fifteen (15) makeshift huts, one (1) makeshift hall and two (2) advanced guard posts which can accommodate 15 to 30 NPAs. Said camp is believed to have been abandoned for five days.
BGen Jet B. Velarmino AFP, Commander of 8th Infantry Division lauded his troops for their untiring efforts to insulate the communities of peace loving people from NPA threat and violence.
Addressing his troops, he said: "Your commitment and dedication to service to ensure that the people in Eastern Visayas are secured and protected from NPA threat and violence is very commendable. Let us continue safeguarding the people in this region, especially those living in countryside so that they can freely vote for the candidates of their choice and not out of fear, intimidation and pressure from the rebels."
Close to 4,000 cops to secure barangay elections in EV
By RPCRD, Police Regional Office 8
October 24, 2013
CAMP KANGLEON, Palo, Leyte – The Police Regional Office 8 (PRO8) has stepped-up its security preparations and operations for the October 28 barangay elections with the deployment of close to 4,000 policemen in the field to render election duties.
PRO8 director PCSupt. Elmer R. Soria said that his office is maximizing the effective strength of police personnel for elections duty in line with the intensified security coverage before, during, and after election day.
"We assure the electorate that we have enough troops to secure the electoral proceedings and ensure that the elections will not be hindered by any security concern," Soria said.
He added that 3,914 policemen will be deployed to man the Police Assistance Desks (PADs) in clustered voting centers (CVCs) to perform election duties on election day while the rest of the 6,150-strong PRO8 police force will be performing other election-related duties aside from their routine police functions.
On Thursday, 981 policemen were sent to different police provincial and city offices' to augment the number of police personnel in the field who will render election duties.
A total of 2,312 CVCs will be secured by the police while 990 CVCs will be secured by the military. The region has 3,780 voting centers and 4,390 villages.
The maximum deployment plan includes the activation Reactionary Standby Support Force (RSSF) at the regional, provincial and city police offices that can be deployed anytime if the need arises.
Regular coordination with the Commission on Elections (Comelec) and its counterparts in the Philippine Army are also being done through the Joint Security Control Center (JSCC) while the Election Monitoring and Action Centers (EMACS) closely supervise troop movements and all election-related concerns, the police official added.
A total of 2,664,952 registered voters will troop to 17,729 established precincts and 9,140 clustered/grouped precincts on Monday's barangay elections in the region.
Some 8,900 candidates are vying for punong barangay position while 63,749 are seeking for the barangay kagawad posts in the entire region.
1,654 candidates signed peace covenant in Calbayog City
By RPCRD, Police Regional Office 8
October 24, 2013
CAMP KANGLEON, Palo, Leyte – The significant number of candidates who signed the peace covenant in Calbayog City recently for the October 28 barangay elections is an indication that local leaders in the city, once considered as a political hotbed, have matured and opted to shy away from committing violence in advancing their political interests, said the region's top police official.
"The positive support we got from the candidates and their supporters only showed the political maturity of the people and is of great help in ensuring the peaceful conduct of the village polls," said PCSupt Elmer Ragadio Soria, PRO8 Regional Director.
The police-initiated covenant signing held Saturday morning at the Calbayog City Sports Center have gathered the signatures of some 245 candidates for punong barangay and 1,609 aspirants for barangay kagawad.
The activity also garnered support from the Diocese of Calbayog, Department of Interior and Local Government, Commission on Elections, Armed Forces of the Philippines, civil society groups and local media.
Rev. Msgr. Francisco Cinco III of Our Lady of Nativity Parish officiated the Holy Mass followed by the blessing of peace covenant, signing of the manifesto by candidates and witnesses and release of white balloons and doves.
The city, with 132 of its 157 barangays situated in the rural area, is considered as an election area of immediate concern in the previous barangay elections with its history of election-related incidents and monitored presence of private armed groups and New People's Army in the area.
Calbayog and the entire Samar province was placed in the "priority area" list in the recent midterm elections but focused-police operations initiated by the Special Operations Task Group-Samar have effectively minimized the occurrence of violent incidents during the May elections.
PRO8 earlier initiated a peace covenant signing in the city last January 12 in relation to May national and local polls.
But even with the covenant signing, the police official assured that the police will continue to implement sustained law enforcement, security and public safety operations to ensure the conduct of peaceful elections in the city and the entire region.
More benefits for solo parents – Chiz
By Office of Senator Chiz Escudero
October 22, 2013
PASAY CITY – Further benefits and support on top of what is already provided in Republic Act 8972 (Solo Parents Welfare Act of 2000) should be given to solo parents to lessen the burden of raising children alone and to ensure that their children are given the opportunity for a better future, Senator Chiz Escudero said.
Escudero, chairman of the senate committee on finance pushed, for the passage of this proposal through Senate Bill No. (SBN) 121 which seeks to provide additional support and benefits to solo parents such as discounts from purchases of baby's milk, food and food supplements, clothing and medical supplies.
"There are already benefits provided for by RA 8972 but we take into account the challenges of economic realities single parents face. But this proposal does not discount either the effects it may entail to businesses, employment and other economic activities."
Escudero said the proposal is worthy of evaluation and deliberation as all stakeholders "may be able to strike a balance between profitability and social responsibility."
Under the bill, the following proposals shall be granted to any solo parent employee who has rendered service of at least one year:
- parental leave of not more than seven working days WITH PAY (in addition to leave privileges under existing laws)
- ten percent discount from all purchase of clothing and clothing materials for the child from conception until 2 years old
- fifteen percent discount from all purchases of medicines and other medical supplements/supplies for the child from conception until 5 years old, and
- basic personal exemption from individual income tax in the amount of fifty thousand pesos (P50,000.00) in addition to the existing exemption a solo parent may claim.
The bill also proposes that any solo parent as defined by law shall be entitled to the issuance of a solo parent ID by the municipal or city social welfare officer.
Any employer who fails to provide the benefits mentioned in this amended act shall be penalized with a fine of P50,000.00 or a one year imprisonment or both.
Any subsequent violation carries a P200,000.00 fine or a two year imprisonment or both.
Any person who abuses the privileges of this proposed act, on the other hand, shall be punished with imprisonment or a fine of P50,000.00 or both.
Northern Samar guv declares 5 towns as manageable conflict-affected and development ready areas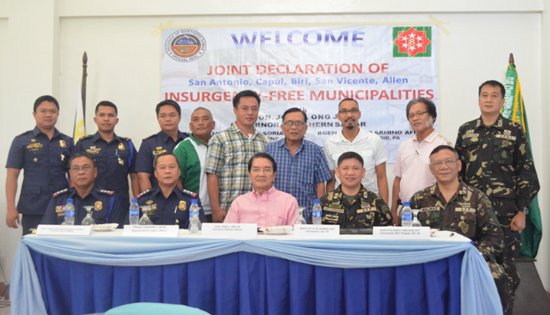 By DPAO, 8ID PA
October 19, 2013
CAMP LUKBAN, Catbalogan, Samar – Five towns of Northern Samar were declared Manageable Conflict-Affected and Development Ready Area (MCA-DRA) by the Northern Samar Governor in a ceremony held last October 17, 2013 at the Provincial Governor's official residence in Catarman, Northern Samar.
The towns of Allen, Biri, Capul, San Antonio and San Vicente were declared by the Governor Jose L. Ong Jr. as MCA-DRA. Present during the declaration were: Hon Gary M. Lavin, Vice Governor of Northern Samar; Hon. Rudy S Baguioso, Municipal Mayor of San Antonio; Hon. Isidro Badal, Municipal Mayor of Capul; Hon. Antonio Delos Reyes, Municipal Mayor of Biri; Hon. Tito M Luńeza, Municipal Mayor of San Vicente and Hon. Rod Lauren D. Suan, Municipal Mayor of Allen.
Also present were representatives from AFP and PNP led by BGen Jet B Velarmino AFP, Commander of 8th Infantry Division; BGen Rolando C Malinao AFP, Commander, 803rd Infantry Brigade; PSSupt Teodoro J Basa, Deputy Regional Director for Operations, PRO8 and PSSupt Abraham G. Lenaming, Director of Northern Samar Police Provincial Office.
These towns which recorded zero NPA activity for the past several years are located in the north western tip of Northern Samar. Except for the municipality of Allen, the four other towns are island municipalities of Northern Samar.
The declaration augurs well for the said municipalities and signals that they are ready for development. Governor Ong in his message said: "The significance of this occasion goes beyond the assurance that the constituents of these municipalities can live happier in these secured areas. The absence of insurgency is vitally more significant as it will pave the way for the launching of more development projects."
In his message to the people of Nothern Samar, BGen Jet B. Velarmino AFP said: "The people of San Antonio, Capul, Biri, San Vicente and Allen have now spoken and take their first positive step in moving forward towards sustainable development and progress. As we join them in their victory, I also encourage each and every Nortehanon to sustain what you have started. Let us nurture what we have just achieved and commit ourselves to winning the peace. I give my assurance that your Army in Eastern Visayas, the 8th Infantry Division, will carry out its mandate to serve and protect the people and secure the region against any threat."
Eleven Nobel Peace Prize winners write to Russian President Vladimir Putin over Greenpeace case
By GREENPEACE
October 17, 2013
AMSTERDAM – Eleven Nobel Peace Prize laureates including Archbishop Desmond Tutu have written a joint letter to Russian President Vladimir Putin offering their support to twenty eight Greenpeace International activists, a freelance photographer and a freelance filmmaker who are being detained in a Russian prison whilst they are investigated for allegations of piracy.
In their letter, the award winners urge President Putin "to do all you can to ensure that the excessive charges of piracy against the 28 Greenpeace activists, freelance photographer and freelance videographer are dropped, and that any charges brought are consistent with international and Russian law."
Describing the Arctic as a "precious treasure of humanity," the signatories are all supporting efforts to protect the High North from oil exploration and climate change.
They write, "Arctic oil drilling is a dangerous, high-risk enterprise. An oil spill under these icy waters would have a catastrophic impact on one of the most pristine, unique and beautiful landscapes on Earth. The impact of a spill on communities living in the Arctic, and on already vulnerable animal species, would be devastating and long lasting. The risks of such an accident are ever present, and the oil industry's response plans remain wholly inadequate. Equally important is the contribution of Arctic oil drilling to climate change. Climate change in the Arctic and elsewhere threatens all of us, but it is the world's most vulnerable who are paying the price for developed countries' failure to act."
The full list of peace laureates who signed the letter are:
- South African Bishop Desmond Tutu
- Northern Irish peace campaigner Betty Williams
- Former President of Costa Rica, Oscar Arias Sanchez
- US peace campaigner Jody Williams
- Liberian peace campaigner Leymah Gbowee
- Yemeni peace campaigner Tawakkol Karman
- Guatemalan social reformist Rigoberta Menchu Tum
- Northern Irish peace activist Mairead Maguire
- Iranian lawyer and former judge Shirin Ebadi
- Former President of East Timor Jose Ramos Horta
- Argentine community organiser Adolpho Perez Esquivel
The twenty eight Greenpeace International activists, a freelance photographer and a freelance videographer, were detained following a peaceful protest against the Gazprom Arctic drilling platform Prirazlomnaya on September 18th. They were charged with piracy on October 2nd, which carries a maximum sentence of 15 years in prison. The thirty are being detained in Murmansk, the largest city inside the Arctic circle.
President Putin himself has said of the thirty people in detention, "It is absolutely evident that they are, of course, not pirates."
The global campaign to free the Arctic 30 has seen 1.3 million people sign onto a petition, and a day of solidarity demonstrations in 250 locations in 49 countries around the world. Separately, the International Federation of Journalists and the European Federation of Journalists have demanded the release of the two journalists among those in prison.
Greenpeace wants Congress to investigate GMO regulation
By GREENPEACE
October 16, 2013
QUEZON CITY – Today on World Food Day, Greenpeace activists rallied at the House of Representatives, carrying banners reading "Investigate GMO Regulation" and "I want GMO-free foods". They urged Congress to investigate current government regulation concerning risk assessment, and to adopt biosafety procedures for genetically modified organisms (GMOs).
"The Philippines has now become the gateway for GMO contamination in Asia under our very noses: Congress should immediately investigate as this is crucial for the environment", explained Daniel Ocampo, Sustainable Agriculture and Genetic Engineering Campaigner for Greenpeace Southeast Asia. "The existing regulatory process does not require the mandatory risk assessments of GMOs apart from what has been submitted by companies who own and develop them. Filipinos are unknowingly becoming victims of the government's flawed regulatory system that has approved more than 80 varieties of GMOs imported for food, feed and processing. Not a single GMO application has been rejected by the Bureau of Plant Industry of the Department of Agriculture under the current regulatory process. These GMOs eventually end up on our table and consumed by us on a daily basis without our knowledge and consent," he added.
Greenpeace is questioning why the Department of Agriculture has never rejected a single GMO application despite strong opposition from farmers, environmentalists, consumers, organic producers and breastfeeding advocates; the increasing evidence of negative impacts on the environment; as well as studies showing adverse effects on laboratory animals.
"The public is obviously being misled by claims that the only way to achieve food security is through conventional chemical-based agriculture or through GMOs. This claim is a blatant lie, made by those who stand to gain from the use of these agricultural products owned and controlled by agrochemical companies," added Ocampo. "We need to investigate why the Philippines has become the gateway for GMO approvals in Asia. This regulation process would benefit from some public scrutiny," he stressed.
AKBAYAN Party List Representative Walden Bello supported the call for a legislative investigation into GMO regulation. Rep. Bello acknowledged the recent Court of Appeals decision on the Writ of Kalikasan against Bt Talong, which states that GMOs violate the rights of Filipinos to a healthy and balanced ecology. "This decision should be upheld by all branches of government," Rep. Bello said.
"Millions of Filipinos are being turned into guinea pigs as our country becomes a testing site for GMOs that have been banned by governments such as Japan, India, and the European Union members-state. It is high time for us in Congress to intervene. The health and safety of Filipinos should not be risked in the name of scientific progress or profit," Rep. Bello added.
Rep. Bello also pointed out that GMO cultivation runs counter to the Organic Agriculture Act of 2010 – enacted to direct the government's program towards the attainment of the country's food security through sustainable agriculture production.
"The risks that come with GMO cultivation – the destruction of ecological balance, the hazards it poses to the health of the people, and the threat to the economic viability of agricultural products from the Philippines – defeats the objectives of sustainable, organic agriculture. Unconstrained GMO cultivation will reverse all the progress we have made towards achieving our food security targets," Rep. Bello added.
On 20 September 2013, the Court of Appeals upheld its earlier decision that ordered GMO proponents to permanently cease and desist from conducting Bt Talong field trials and to protect, preserve, rehabilitate and restore the environment.
Instead of risky GMOs, Greenpeace has long called for the government to promote ecological farming, which is universally proven to be more profitable for farmers. It involves intercropping, use of organic pests control and natural fertilizers to ensure adequate, healthy and safe food that are grown in harmony with the environment.
Government troops neutralize 2 NPAs, recover 2 firearms
By DPAO, 8ID PA
October 15, 2013
CAMP LUKBAN, Catbalogan City, Samar – The relentless and focused combat operations against NPAs operating in Samar Island resulted to two (2) separate encounters at Brgy Rizal, Matuguinao, Samar on October 15, 2013.
The government troops neutralized two (2) NPAs and recovered one (1) M16 Armalite rifle with one loaded magazine and one (1) 12-gauge homemade shotgun in said armed encounters.
Lt Col Glen Jun C. Calambuhay, Commanding Officer of 43rd Infantry Battalion based in Sto. Niño, Gandara, Samar said he received a text message from an informant in Brgy Rizal that armed NPAs were staying in their barangay. The informant also said that the NPAs were urging the people to vote for a certain candidate the rebels are supporting and were extorting food and money from barangay folks.
Lt Col Calambuhay immediately dispatched his troops who later engaged between ten to fifteen NPA insurgents in two (2) separate firefights.
Brigadier General Jet B. Velarmino AFP, Commander of 8th Infantry Division in his message said, "It is unfortunate and tragic that the NPAs have taken up arms against the Filipino nation who believes that lasting peace, sustainable development and social justice can be attained through peaceful consultations and not through the use of force or violence. It is rather alarming that as early as now the NPAs are already campaigning for their candidates in Brgy Rizal, Matuguinao, Samar for the upcoming Barangay Election. Nonetheless, I commend the troops of 43rd Infantry Battalion under the leadership of Lt Col Calambuhay for their commitment to service and dedication to duty that sustain the peace and development in this part of Samar Island."