PRO8 arrests 8 more drug suspects in Eastern Visayas
By RPCRD, Police Regional Office 8
September 23, 2013
CAMP SEC. KANGLEON, Palo, Leyte – The Police Regional Office 8 (PRO8) is preparing the criminal charges against eight suspects for the violation of the Comprehensive Dangerous Drugs Act of 2002 after a series of buy-bust and focused police operations over the weekend in Eastern Samar, Leyte and Southern Leyte provinces and Tacloban City.

Drug suspects Sandy Diolola and Jerry Godez and the illegal drugs seized from them in a buybust operation by RSOG in Dolores, Eastern Samar recently.
Eastern Visayas police director PCSupt. Elmer R. Soria said the sting operations forms part of the strengthened campaign to address the threat posed by drug abuse and trafficking in the region.
"While the illegal drug situation in Eastern Visayas is not alarming, we must continue the crackdown against illegal drug personalities as the success of our campaign would greatly reduce the crime volume in the region," he added.
Soria cited the findings at a forum sponsored by the Justice Sector Coordinating Council led by the Supreme Court in 2011 wherein it was revealed that 60% of criminal cases filed in court are drug-related.
"Our anti-illegal drugs drive aims at saving the youth from the evils of drug abuse and minimize its negative impact to society," the police official averred.
In Maasin City, a buybust at past 10:00 a.m. Saturday by RSOG led by PSInsp. Dinvir Revita led to the arrest of 37-year old Reynaldo Seiga at Brgy. Asuncion.
Police seized from the suspect one large heat-sealed transparent plastic sachet containing suspected "shabu", two pieces P500-bill buybust money and one unit .9mm caliber pistol marked PT 111 Pro with serial number TCS89630 and two magazines with 13 ammunitions.
Meantime, Jerry Godez, 51 and Sandy Diolola, 32 were nabbed in a buybust operation and implementation of search warrant by the Regional Special Operations Group (RSOG) led by PInsp. Constantino Jabonete, Jr. just infront of Dolores National High School and Dolores Elementary School in Brgy. 11, Dolores town in Eastern Samar.
Police recovered a total of 17 sachet of suspected "shabu" worth P12,000.00 and several drug paraphernalia including the P500-bill buy-bust money.
In St. Bernard, Southern Leyte, 48-year old beautician Gideon Baricuatro was nabbed by RSOG team under PSInsp. Dinvir Revita at Brgy. Himatagon after selling P500 worth of "shabu" to a poseur-buyer.
At Osmeña St. in Brgy. Sto. Niño, Isabel, Leyte, one Edsel Consing, 37 and his live-in partner Orbineda Ceno, 33 were arrested in a buybust operation by a police team led by PSInsp. Florando Relente that resulted in the confiscation of 11 sachet of suspected "shabu", the P500-bill buybust money, P8,900.00 in cash believed to be proceeds of their illegal activity, several US dollar bills and several drug paraphernalia.
Drug sting operations in Brgy. Matapay, Hilongos also in Leyte by a police team led by PSInsp. Reynaldo Rosarion also resulted in the arrest of Romeo Abapo, 49 and the seizure of nine sticks of dried marijuana leaves.
In Tacloban City, one Mark Morris, 19, was apprehended by SPO3 Raul Delima when he saw the suspect with a protruding handle of a bladed weapon tucked on his right waist than turned out to be a 7-inch bladed weapon locally known as "pisao".
Body search to the suspect resulted to the discovery of 7 stalks of suspected dried marijuana leaves wrapped in a newspaper and concealed in the suspect's armpit.
Confiscated drugs were brought to the Regional Crime Laboratory Office 8 for chemical analysis while suspects were detained at different police station lock-up cells while awaiting trial on the drug and other criminal charges that the police will file against them.
Soria added that his office will be relentless in the anti-illegal drug drive as more focused police operations will be conducted by his men.
Troops encounter NPA in Lapinig, Northern Samar; recover one firearm
By DPAO, 8ID PA
September 20, 2013
CAMP LUKBAN, Catbalogan City – A certain Salvador Capoquian, alias Jomong, a New People's Army (NPA) member operating in Northern Samar was killed in an encounter with the Scout Platoon of 34th Infantry Battalion (34IB) at Barangay Pio Del Pilar, Lapinig, Northern Samar on September 19, 2013.
Prior to the incident, 34IB received information from civilians about the NPA presence in their barangay extorting from the populace.
The Scout Platoon of 34IB was immediately dispatched to verify the report and as they were patrolling near Barangay Lapinig, they were fired upon by about five (5) NPAs which triggered a five (5) minute firefight. Government troops recovered one Caliber .45 Pistol with one empty magazine, one (1) mobile phone and pouch containing money amounting to P500.00.
Per police record in Lapinig, Northern Samar, the slain NPA member had a standing warrant of arrest issued on August 29, 2013 by Hon Mory A. Nueva, Presiding Judge of RTC Branch 28, Gamay, Northern Samar for the crime of illegal possession of firearms and for violation of RA 7166 or COMELEC Gun Ban.
Brigadier General Jet B. Velarmino AFP, Commander of 8th Infantry Division, in his message said, "I commend 34IB for their timely response on the information regarding the presence of NPAs in Barangay Pio Del Pilar, Lapinig, Northern Samar. I assure the people of Samar that the 8th Infantry Division will continue to do its mandate of securing the people of Eastern Visayas from any form of threat and terrorism by the NPA insurgents so that the people in this region can live peacefully and free from fear and intimidation."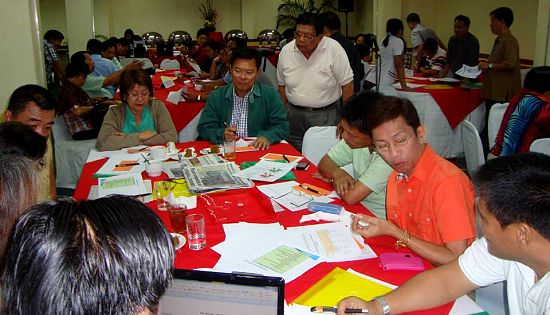 The economic sector led by Gov. Roger G. Mercado in one of the workshops while PD Johnny Badocdoc looks on.
Provincial officials formulate executive-legislative agenda
By LOREN ABRAU-ANICIETE
September 20, 2013
MAASIN CITY – A total of 46 elected provincial officials, department heads and members of the Provincial Development Council participated in the Seminar-Workshop on the Formulation of Executive-Legislative Agenda (ELA) and Capacity Development (CapDev) Agenda held at Cebu Grand Hotel, Cebu City on September 11-13, 2013.
The three-day activity was conducted by the Provincial Government of Southern Leyte in view of its mandated roles enshrined in the Local Government Code and in compliance with DILG Memo Circular No. 2013-64. Providing technical assistance were DILG officers composed of Provincial Director Juan M. Badocdoc, LGOO V Vicente Maraon, LGOO V Geraldine Maquelabit, and LGOO V Maria Cristina Tiu.
According to Provincial Director Johnny Badocdoc, the term-based ELA is the roadmap for the attainment of the province's development priorities within the next three years.
Under the leadership of the hands-on Governor, Roger G. Mercado, the participants were able to identify and prioritize complex issues confronting the province and managed to come up with development priorities to be budgeted and implemented. The ELA and CapDev Agenda documents will be submitted to the DILG.
The activity was likewise attended by LMP President Roberto A. Loquinte and representatives of civil society organizations (CSOs) who also are PDC Members.
Karapatan to Atty. Alex Padilla: Don't stand in the way of peace
By KARAPATAN
September 20, 2013
QUEZON CITY – "We all grew up with an old saying that goes: if there's a will, there's a way. The old and tested adage, in case Atty. Alex Padilla missed this, can very well aid him in his role as GPH peace panel head," said Marie Hilao-Enriquez, chairperson of Karapatan and an independent observer to the GPH-NDFP peace negotiation.
Hilao-Enriquez added, "there's no use in banging his head on the wall, doing what he called as 'internal review process to recommend for the possible release of alleged National Democratic Front (NDF) consultants according to Philippine laws.' He only had to fulfill his panel's commitment during the February 2011 round of talks to release all, if not most' NDFP peace consultants."
The GPH, Karapatan said, continues to ignore not only the commitment to release NDFP peace consultants but also disregards previously signed agreements such as the Hague Declaration, the Joint Agreement on Safety and Immunity Guarantees (JASIG). "It has gone as far as unilaterally declaring the termination of the peace talks with the NDFP."
"The GPH must show some goodwill in this journey to peace. The release of the JASIG-protected NDFP peace consultants has been a subject since the start of the negotiations under the Aquino government. Now, Atty. Padilla conspicuously added the word "alleged" to refer to the NDFP consultants as if there were no previous discussions and exchanges on this between the two panels," Hilao-Enriquez said.
There are now 13 NDFP consultants in various jails in the country. The longest-held detainee among the peace consultants is Eduardo Serrano who was abducted and illegally arrested in May 2004.
On July 28, 2013, Ma. Loida Magpatoc, consultant to the Social and Economic Reform agenda, was arrested by joint elements of the Davao del Sur Police Provincial Office and the 1002nd Infantry Brigade, Philippine Army.
"Instead of removing hindrances, the GPH never runs out of alibis that block all roads to peace," Hilao-Enriquez said.
RSOG nabs two women "swertres" collectors in Samar
By RPCRD, Police Regional Office 8
September 19, 2013
CAMP SEC. KANGLEON, Palo, Leyte – Two women allegedly engaged in the collection of "swertes" bet were nabbed by the Regional Special Operations Group (RSOG) of the Police Regional Office 8 (PRO8) in anti-illegal gambling operations in Catbalogan City on Tuesday.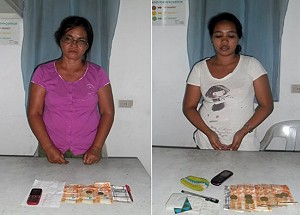 Suspected "swertres" collectors Nena Asano (left) and Mylene Ebias (right) who were arrested by RSOG8 on Tuesday in Catbalogan City.
Arrested were of Nena Asano, 51, married of Purok 2, Brgy. Guindapunan; and Mylene Ebias, 24, single, of Purok 6, Brgy. 3 Poblacion, both in Catbalogan City, Samar's capital.
PCSupt. Elmer R. Soria said the RSOG under PInsp. Constantino Jabonete, Jr., arrested Asano at past 5:00 p.m. Tuesday at the vicinity of Brgy. Guindapunan while collecting bet for "swertres", an illegal numbers game.
The lawmen confiscated from the suspect one tally sheet containing different number combinations for the 9:00 p.m. September 17, 2013 draw; cash bet amounting to P131.00; Nokia mobile phone and one black HBW ballpen.
At past 7:00 p.m., same police team proceeded to Brgy. 3 and conducted anti-gambling operations resulting in the arrest of Ebias while collecting "swetres' bet and the confiscation of three bundle of stubs containing different number combinations dated September 17, 2013, scheduled for 9:00 p.m. draw; cash bet amounting to P295.00; one Cherry Mobile phone and a black ballpen.
The police official further informed that arrested suspects were detained at the Catbalogan City Police Station while cases for violation Presidential Decree 1602 as amended by Republic Act 9287 (Illegal Numbers Game) were filed in court against them.
Soria believes that the possession of illegal gambling paraphernalia is enough prima facie evidence against the suspects.
"If the court finds them guilty, they may spend from 8 up to 10 years in prison," the police official informed.
A collector or agent is any person who collects, solicits or produces bets in behalf of his/her principal for any illegal numbers game who is usually in possession of gambling paraphernalia.
As this developed, Soria instructed police chiefs to intensify the conduct of anti-illegal gambling operations in their respective areas.
"All unit commanders were reminded that our one-strike policy is still in effect and they may be relieved and face administrative sanctions if they fail to perform," he added.
In August, police units in the region have conducted 21 anti-illegal gambling operations resulting in the arrest of 22 persons, confiscation of P10,184.50 cash bet and several gambling materials and the filing of 17 criminal cases in various courts.
2 drug suspects fall in Leyte, Samar
By RPCRD, Police Regional Office 8
September 19, 2013
CAMP SEC. KANGLEON, Palo, Leyte – Two drug suspects were arrested in separate drug sting operations by the Regional Special Operations Group (RSOG8) and Catbalogan City Police Station Tuesday afternoon and Wednesday morning, reports reaching the Police Regional Office 8 (PRO8) disclosed.
The suspects were identified by PCSupt. Elmer R. Soria, PRO8 director, as one Lorden Mangaron, 34, married, jobless and resident of Brgy. 3, Sta. Fe, Matalom town in Leyte; and one Randy Curiano, a former intelligence operative of the 34th Infantry Battalion, 8th Infantry Division, Philippine Army and a resident of Brgy. Canlapwas in Catbalogan City.
Mangaron was nabbed after handing P500 worth of suspected "shabu" to an undercover cop who acted as poseur-buyer at around 4:15 p.m. Tuesday just outside his house, Soria said.
"A small heat-sealed sachet containing around 0.3 grams of suspected shabu granules was recovered during the buybust," he added.
The RSOG, led by PSInsp, Dinvir Revita, immediately brought the suspect to Matalom police station as a case for violation of the Dangerous Drugs Act of 2002 was filed against Mangaron.
Recovered suspected illegal drugs were brought to the Southern Leyte Provincial Crime Laboratory Office in Maasin City for qualitative and quantitative examination and determination of the presence of methamphetamine contents.
Matalom is a coastal town some 150 kilometers, 2-hour ride from Tacloban City, Eastern Visayas regional capital. It popular among local and foreign tourists for the pristine white sand island of Canigao, also known for its scenic coral reefs ideal for diving.
Meanwhile, a police team led by PCInsp. Marben Ordonia conducted buybust operation at around 5:30 a.m. Wednesday in Brgy. Canlapwas leading to Curiano's arrest and the confiscation of one small heat-sealed sachet of suspected "shabu" and the P500 buy-bust money.
Subsequent implementation of search warrant in the suspects house led to the confiscation of 7 more sachet of suspected "shabu" worth P7,700.00 and several drug paraphernalia that include lighters, tooters, scissors, plastic sachets, digital weighing scale and mobile phones.
A hand grenade, one magazine of .45 caliber with 7 ammunitions and several ammunitions for calibers 7.62mm, .38, 45 and .22 were also recovered by the police.
Suspect is currently detained at Catbalogan police station lock-up cell while proper charges are being prepared for filing in court against him.
Confiscated illegal drugs were brought to the Regional Crime Laboratory Office 8 for chemical analysis, the police official added.
Soria further informed that for the month of August alone, anti-illegal drug operations in the region by the Regional Special Operations Group 8 (RSOG8) and different Anti-Illegal Drugs Special Operations Task Groups (AID-SOTG) resulted in the arrest of 46 drug personalities in 43 operations resulting in the seizure of P120,000.00 worth of illegal drugs and filing of 42 drug charges in different courts in Eastern Visayas.
P2.68 trillion General Appropriations Act
Labor group deplores measly budget allocation for programs for poor workers in Visayas and Mindanao
By TUCP
September 19, 2013
QUEZON CITY – The Trade Union Congress of the Philippines (TUCP) decried the paltry budget allocated to government's unemployment and anti-poverty programs for poor workers in the poorest regions in the Visayas and Mindanao.
In a side briefing conducted by former National Treasurer and convenor of Social Watch Philippines Leonor Magtolis-Briones of the 2014 P2.68 trillion General Appropriations Act for the Trade Union Congress Party party-list, the regional allocation of the proposed 2014 budget showed only 18% or P224.7 billion for the Visayas and 24% or P501.1 billion for Mindanao – areas where high poverty incidence and growing unemployment and underemployment thrives.
Luzon, meanwhile, has 58% or P726 billion share of the proposed budget.
"The current priority structure of the budget is not in sync with the needs of the poorest of the poor. It neither promotes employment nor minimizes poverty in regions where poverty and lack of employment opportunities are chronic. Stakeholders have already identified these in the past but how come it's not being addressed in the allocation of the national budget?," said Gerard Seno, executive vice president of Associated Labor unions-Trade Union Congress of the Philippines (ALU-TUCP).
Seno said bigger budget should be allocated to these poor provinces towards the improvement of workers' skills, greater diversification of production and processing of by-products in agriculture. He noted, as examples, the National High-Value Crops Program (NHVCP) of the Department of Agriculture (DA) and the training, livelihood and enterprise development of the Department of Labor and Employment (DOLE).
The NHVCP includes extension of support, education and training services to farmers, irrigation network services and provision of agricultural equipment and facilities support services. The NHVCP in Mindanao regions, he said, only have P337.1 million while NCR and other areas in Luzon have a total of P1.4 billion.
On one hand, the DOLE's budget for its employment facilitation and capacity building and support services for employment generation for the vulnerable sector to help workers graduate into more productive and secure a formal employment or livelihood has P491.1 million for Mindanao and P445.2 million for NCR and the rest of provinces in Luzon.
The 2012 Poverty Statistics of the National Statistical Coordination Board showed 11 of the 16 poorest areas are located in Mindanao. These are Cotabato City, North Cotabato, Maguindanao, Lanao del Sur, Lanao del Norte, Sultan Kudarat, Basilan, Zamboanga del Norte, Zamboanga Sibugay, Bukidnon and Davao Oriental. Majority of workers in these regions are agricultural laborers and unskilled workers – the lowest paying occupational group with a mandated wage of P232 to P252 a day.
Poor provinces in the Visayas region include Negros Oriental, Southern Leyte, Eastern, Northern and Western Samar. Agricultural workers in these regions are mandated to receive P245 to P362 per day compared to P419 in the National Capital Region.
The budget alloted for the Visayas regions for the same DA and DOLE programs are P748.8 million and P445.2 million, respectively.
Seno, however, stressed that TUCP supports the proposal of Social Watch Philippines for the DA to implement the NHVCP in targeting the revival of the banana industry which employs 240,000 workers in Mindanao and supplies 80% the country's export to Europe, U.S, Japan, China and Canada, Seno said.
Murder suspect, gun-carrying bizman nabbed by RSOG in Samar
By RPCRD, Police Regional Office 8
September 18, 2013
CAMP SEC. KANGLEON, Palo, Leyte – A farmer wanted for alleged killing of his neighbor two years ago and a gun-carrying man engaged in buy-and-sell business were nabbed by the Regional Special Operations Group (RSOG) of the Police Regional Office 8 (PRO8) in separate focused-police operations conducted on Monday morning and Sunday evening in Samar province.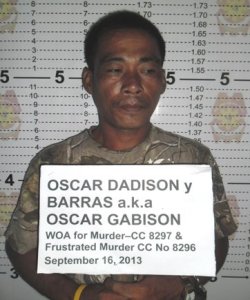 PRO8 director PCSupt. Elmer R. Soria identified the murder suspect as Oscar Gabison, 38 while Virgelio Beriño, 29 was nabbed for carrying a firearm without appropriate permit-to-carry issued by authorities.
Soria informed that the RSOG, led by PInsp. Constantino Jabonete, Jr., arrested Gabison at 12:00 noon Monday at the vicinity of Brgy. 7 in Catbalogan City.
Gabison is the primary suspect in the brutal killing of his neighbor Delia Caniedo and the serious wounding of one Myrna Tan in Brgy. Guindapunan, Daram town in the afternoon of October 17, 2011.
The incident esteemed from a case for qualified theft filed by the victims against the suspect before the Regional Trial Court branch 28 in Catbalogan City.
Judge Manuel Torrevillas, Jr. of RTC branch 27 in Catbalogan City issued arrest warrants for murder and frustrated murder against the suspect on September 3, 2012.
No bail was recommended for murder case number 8297 while P120,000 was the fixed bail for the frustrated murder charges under criminal case number 8296.
Gabison was brought to the court of origin and was later remanded to Samar Provincial Jail also in Catbalogan City.
The night before, the same police team nabbed Beriño at the village wharf in Brgy. Dumaluong, Gandara town some 40 kilometers north from Catbalogan City, Samar's capital.
The suspect, who is engaged in buying and selling piglets, was arrested for carrying an unlicensed .45 caliber Colt MK IV series 80 pistol with serial number 863251 loaded with a magazine with four ammunitions at 10:00 p.m. Sunday.
The native of Brgy. Jacopon, Daram, Samar failed to present any document proving his authority to possess the confiscated firearm.
A case for violation of Republic Act 8294 or the Illegal Possession of Firearms and Ammunition law was already filed in court against the suspect, Soria informed.
Soria further disclosed that as the barangay elections draws nearer, the police will intensify the conduct of manhunt operations against wanted criminals and the campaign against loose firearms as part of the effort to pre-empt any election-related violent incidents in the region.
No respite for civilians in Zamboanga
By ICRC
September 18, 2013
MANILA – Increasing numbers of people are fleeing their homes amid ongoing clashes in Zamboanga City, on Mindanao Island, generating more humanitarian needs. Together with the Philippine Red Cross, the International Committee of the Red Cross (ICRC) is stepping up its response.
"A significant number of civilians have been injured or killed, while an unknown but substantial number of houses have been burnt. This is of clear concern for us and will make it all the harder for normal life to resume," said Pascal Mauchle, the head of the ICRC's delegation in the Philippines. "We have reiterated, in our dialogue with both sides involved in the fighting, the obligation to take the necessary precautions to spare civilians and their property."
Clashes between the Armed Forces of the Philippines and the Moro National Liberation Front (MNLF) in Zamboanga have displaced at least 80,000 people according to government statistics, about half of whom have sought temporary shelter in the city's open-air sports stadium having left their belongings behind them when they fled. Of the 166 people wounded since the clashes began, 67 are civilians according to official figures.
ICRC and Philippine Red Cross personnel are working to ensure the people sheltering in the city stadium have access to drinking water, food, medical attention and other vital aid. Household essentials, such as tarpaulins for protection against the elements, kitchen utensils, jerrycans and personal hygiene products were distributed last night. Moreover, hot meals are being prepared every day for people in the stadium. "Throughout this emergency, Philippine Red Cross volunteers and staff have shown extraordinary levels of motivation and dedication to the people we are helping, even in the face of danger," added Mr Mauchle.
In addition, ICRC delegates have visited 49 people detained by the authorities in Zamboanga to monitor their treatment and conditions. "This is a very positive development, which reflects our longstanding role in the Philippines working with the detaining authorities to help ensure conditions are in keeping with international standards," said Mr Mauchle. Delegates also registered detainees in order to follow up on their situation during future visits.
"We hope a positive settlement will soon be found to the situation in Zamboanga, to enable civilians to safely return to their homes and start rebuilding their lives. We stand ready to act as a neutral intermediary to resolve matters of humanitarian concern, if requested to do so. In the meantime, the ICRC remains committed to providing essential aid to people in need," said Mr Mauchle.
Rights groups call on Aquino gov't to honor previously signed agreements & resume peace talks with the NDFP
By KARAPATAN
September 18, 2013
QUEZON CITY – Peace is dead.
In a picket at the Office of the Presidential Adviser on the Peace Process (OPAPP), rights groups and family members of the peace consultants of the National Democratic Front of the Philippines (NDFP) depicted the situation with a replica of white doves locked in 13 plastic jars. The 13 doves, the protesters said, also symbolize the jailed 13 NDFP peace consultants.
"Amid the military siege in Zamboanga City; the series of killings, bombings of communities, illegal arrest and detention of innocent civilians, the Aquino government is on a rampage. Whether the government is still interested in pursuing the road to peace remains to be seen. For our part, as human rights advocates, we will never tire in calling for the resumption of the peace negotiations between the GPH and the NDFP. This is one of the options we have to undertake to resolve the root causes of un-peace in the country," said Karapatan chairperson Marie Hilao-Enriquez.
In June of this year, the Aquino government, through its peace panel head Atty. Alex Padilla, unilaterally ended the peace talks with the NDFP.
"The insincerity of the Aquino government in the peace negotiations has long been bared when it continues to disregard previously signed agreements such as the Hague Declaration that serves as the framework of the peace negotiations between the two parties; and its non-compliance with the Joint Agreement on Safety and Immunity Guarantees (JASIG)," added Hilao-Enriquez.
"The GPH not only refused to release the 12 NDFP peace consultants but, instead arrested Ma. Loida Magpatoc, a JASIG-protected person, on July 28, 2013. The Aquino regime refused to acknowledge the documents and agreements signed by the previous representatives of the GPH in the peace talks," Hilao-Enriquez said.
With Magpatoc's arrest, there are now 13 NDFP peace consultants who are detained in various jails all over the country because of trumped up criminal charges. Common crime charges slapped against these NDFP consultants and personnel as well as other political prisoners effectively hide the political nature of the cases and the government continues to fool the public declaring no political prisoners are being kept by the present dispensation; hence it cannot be accused of political persecution against political dissent. There are also 10 NDFP consultants and staff who were victims of enforced disappearance and who remain missing to date.
Hilao-Enriquez said, "worse, instead of honoring the agreements the GPH signed with the NDFP, the government resorts to an order of battle (OB) list of so-called 'wanted communists' and a reward system for so-called informers who can lead to their capture amounting to P466 million of people's money. This is the latest 'one-time, big-time' organized racket of the DILG and the DND. As if the pork barrel scam is not enough scam," said Hilao-Enriquez.
The protesters ended their program with a call to release the 13 peace consultants, surface the 10 disappeared, and release all political prisoners.
Break free from pork
On September 19, political prisoners, including the 13 NDFP consultants, will add their voices to the call to abolish the pork barrel system, punish the guilty in the pork barrel scam, and rechannel the pork funds for the benefit of the people.
Dubbed, "Break free from pork", the political prisoners will hold various forms of protest actions inside their jails. Rights groups and peace advocates will hold a counterpart activity at Plaza Miranda in Quiapo starting at 10 a.m. Both activities also aim to underscore the plight of the 449 political detainees in the country, and to highlight the call for their release, especially the women, the sick and the elderly among them.