23 violators arrested in 10 days of gunban in EV
By RPCRD, Police Regional Office 8
October 9, 2013
CAMP SEC. KANGLEON, Palo, Leyte – At least 23 persons have been arrested in Eastern Visayas during the first ten days since the gun ban was implemented by the authorities for the upcoming barangay elections later this month, according to figures from the Police Regional Office 8 (PRO8).
"All the 23 violators are civilians and they are now facing charges for firearms ban violation apart from additional criminal charges if they committed other offenses," PCSupt. Elmer R. Soria, PRO8 director informed.
He added that police units in the region have confiscated a total 13 firearms, four of which are high-powered, three low-powered and six are homemade guns.
"Apart from firearms, 14 assorted bladed weapons and 65 assorted ammunitions were also seized," the police official further said.
The arrests were made through the implementation of checkpoints in strategic places, implementation of search warrants and confiscation during arrests of wanted persons, police response and intelligence-driven operations.
The latest to be arrested in the region were couple Eric Mendoza, 43 and Carmen Balotaolo, 42, in a manhunt operation early Wednesday morning at Brgy. Mantahan in Maasin City.
Balotalo was arrested based in an arrest warrant for violation of Republic Act 9165 or the Dangerous Drugs Act of 2002.
During the arrest, the duo was caught in the act of segregating and repacking suspected methamphetamine hydrochloride or "shabu".
Aside from three sachets of suspected "shabu" granules and several drug paraphernalia, one unit .38 caliber Smith and Wesson revolver loaded with five ammunitions and one unit .22 caliber magnum Black Widow revolver, both without serial numbers, and 11 ammunitions for .22 caliber were confiscated in plain view by the arresting policemen.
Since September 28, all police line units nationwide have aggressively implemented the 45-day firearms ban wherein until November 12, no person shall bear, carry or transport firearms or other deadly weapons in public places, even if licensed to possess or carry the same, unless authorized in writing by the Commission on Elections.
This is also the second time this year that government authorities are imposing a nationwide gun-ban which was first implemented by the authorities last January 13 up to June 12 for the mid-term local and national elections held last May 13.
During the 6-month gun ban in connection with the midterm elections, the PRO8 had arrested 186 violators and confiscated 155 firearms assorted firearms and filed 151 criminal charges in different courts throughout the region.
"The intensified implementation of the gun ban will curb the possible outbreak of violence for the upcoming village elections on October 28," Soria said.
8ID partners with Red Cross and Generika drugstore in bloodletting and medical mission activities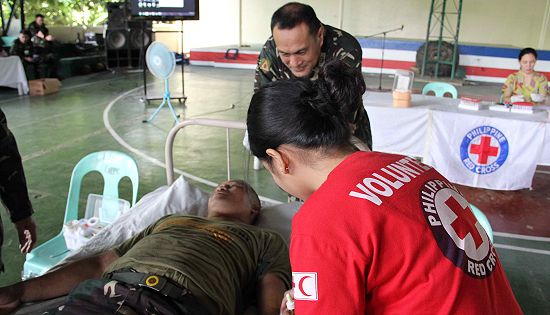 By DPAO, 8ID PA
October 9, 2013
CAMP LUKBAN, Catbalogan City, Samar – The 8th Infantry Division, Philippine Army simultaneously conducted Bloodletting and Medical Mission activities in partnership with health stakeholders on October 5, 2013 at Catbalogan City.
The 8ID partnered with Philippine National Red Cross (PNRC) Tacloban City for the bloodletting activity held at Headquarters, 8th Infantry Division in Brgy Maulong, Catbalogan City; and likewise partnered with Generika Drugstore for the medical mission conducted at Poblacion, Catbalogan City.
PNRC Tacloban City was the recipient of 21,500 cc of blood from the 47 soldier/donors; while Generika Drugstore, with 8ID medical doctors and nurses, serviced the medical needs of 296 patients, 55 of whom were senior citizens.
The Army division in Eastern Visayas will continue to nurture its partnership with PNRC and Generika Drugstore to help address the gaps on health-related concerns that cannot be attended to by the local government units due to limited resources.
BGen Jet B. Velarmino AFP, Commander of 8th Infantry Division said, "The 8ID also supports and will continue to assist the private sector, corporate entities and public organizations which are cognizant of their social responsibility and undertake programs and initiatives beneficial to our people. We share their desire and commitment to help our less fortunate countrymen improve their health well being."
PRO8 all set for barangay polls
By RPCRD, Police Regional Office 8
October 7, 2013
CAMP SEC. KANGLEON, Palo, Leyte – The Police Regional Office 8 (PRO8) assured that all security preparations and operations are now underway as some 2.6 million voters in Eastern Visayas troops to polling centers for the October 28 barangay elections.
PRO8 director PCSupt. Elmer R. Soria informed that weeks prior to the start of the election period, he already issued the PRO8 Command Memorandum Circular No. 23/2013 "SAFE 2013– Alpha–Waray" setting forth the security measures to be undertaken by police territorial units in relation to the October polls.
"The circular calls for intensified intelligence-driven law enforcement operations and strengthened police-community partnership to preclude violence and ensure order before, during and after the elections," Soria said.
He added that said directive also set the policy guidelines for the dynamic cooperation with the Commission on Elections (Comelec) and Armed Forces of the Philippines (AFP) through the Joint Security Control Center (JPSCC).
"Our partnership with our military counterparts aims to thwart attempts by the Eastern Visayas Regional Party Committee to take advantage of the situation to raise funds through extortion activities and expand their foothold into peaceful communities," the police official disclosed.
Among the proactive security measures is the strict implementation of a 45-day gun ban that so far resulted in the arrest of 13 violators, confiscation of eight firearms, eight bladed weapons and 41 assorted ammunitions; and filing of charges in court for violations of the Omnibus Election Code.
During Monday's staff conference, Soria reiterated his directive to unit commanders to make an honest-to-goodness assessment of the situation in the barangay level so that appropriate measures will be initiated attuned to the security needs on the ground.
The police regional chief further directed his men to sustain police presence through mobile patrolling and intensify checkpoint operations in strategic areas.
He likewise ordered the organization of trackers team to run after wanted criminals especially in areas having intense political rivalries between candidates and their supporters.
"We will strengthen the conduct of Focused Police Operations against all factors that may affect the success of the elections," he assured.
Shooting incidents in Catbalogan no impact on brgy polls - PRO8
By RPCRD, Police Regional Office 8
October 4, 2013
CAMP KANGLEON, Palo, Leyte – The two shooting incidents recorded in Catbalogan City the past days will not affect the conduct of a peaceful barangay elections in the city and the entire Samar province, said the region's top police official.
Police Regional Office 8 (PRO8) director PCSupt. Elmer R. Soria assured that the recent gun attacks victimizing a former and an incumbent village official are isolated incidents as he ordered a thorough investigation and manhunt operations against the suspects in the recent case that transpired Thursday evening resulting in the killing of a village councilor.
"Pending the result of the investigation, thorough assessment and the establishment of the motive, we cannot consider these yet as election-related incidents," Soria said.
At around 6:20 p.m. Thursday, Narciso Lagbo, 46, was gunned down by two unidentified assailants while waiting for his wife, Daisy, outside Charito's Delights Fastfood along San Roque street.
Victim sustained gunshot wounds at the back of his neck and lower back hip that went through his abdomen resulting in his direct death.
Suspects fled towards the Catbalogan public market while responding policemen recovered four fired cartridges, two .45 and two 9mm calibers, and two slugs at the crime scene.
Lagbo is a first termer councilor of Brgy. Tagbayaon in Jiabong, Samar, some 15 kilometers from the city.
Meanwhile, the police have filed Monday murder charges against Reymund Bañar at the Office of the City under NPS number VIII-08-INQ-131-00432.
Bañar was positively identified by witnesses as one of the two gunmen who shot ex-chairman Filomeno Cabarriban of Brgy. Lagundi in Catbalogan City at past 11:00 a.m. Sunday.
Bañar, 21, was arrested a few hours after the incident in a manhunt operation by a joint police team from the Regional Special Operations Group 8 (RSOG 8) and Catbalogan police station in his hide-out situated at the outskirts of Lagundi village, some two kilometers from the crime scene.
Notwithstanding the recent shootings, the police official assured that the incidents will not affect peace and order situation and peaceful conduct of the elections in the region.
Soldiers score anew in Northern Samar; NPAs surrender 2 firearms
By DPAO, 8ID PA
October 4, 2013
CAMP LUKBAN, Catbalogan City, Samar – On October 3, 2013 troops of 34th Infantry Battalion under Lt Col Rodrigo Ilustrisimo, encountered ten (10) NPA members at Sitio Canunghan, Brgy Osmeńa, Palapag, Northern Samar.
Before the encounter, concerned civilians reported the presence of around 10 armed NPAs that were planning to stage an ambush against the government forces conducting Bayanihan Team activities in Sitio Canunghan. The troops immediately acted on the report resulting to a firefight with the NPA insurgents with no casualty on the government side.
In a related incident, a certain Jayson Francisco Lucban (aka Bunso and Jay) and Rosemarie Moreno Cadajas (aka LJ, Aira and Ai-Ai), both NPA members, voluntarily surrendered to 20th Infantry Battalion under Lt Col Rey Anthony M Tumaliuan and brought with them two (2) Caliber 45 pistols with two (2) magazines on October 2, 2013.
Under the AFP Guns For Peace Program, each of them will receive P25,000.00 for each pistol surrendered and is entitled to receive P50,000.00 livelihood package and P15,000.00 immediate assistance from the Office of the Presidential Assistant for Peace Process (OPAPP) under its Comprehensive Local Integration program (CLIP).
BGen Jet B. Velarmino AFP, Commander of 8th Infantry Division, in his message said, "The proactive and prompt action of your soldiers in Sitio Canunghan, Brgy Osmeńa, Palapag, Northern Samar is the product of their commitment and resolve to protect peace-loving people and communities against the NPAs and other threat groups. Your Army in Eastern Visayas is relentless in the conduct of focused military operations against any armed and lawless group, we also welcome those who will opt to surrender and lay down their arms and rejoin the mainstream society and avail of the government programs intended for NPA members."
PRO8 chief orders intensified gun ban enforcement
By RPCRD, Police Regional Office 8
October 3, 2013
CAMP KANGLEON, Palo, Leyte – Police Regional Office 8 (PRO8) director PCSupt. Elmer R. Soria ordered an intensified enforcement of the firearms ban as authorities already arrested seven violators since the ban was implemented last September 28.
"We want the barangay polls to be more peaceful than the recent midterm elections. Strict enforcement of election laws will greatly reduce any election-related violence," Soria said.
Four violators, including two suspected drug pushers, were arrested for possessing firearms while three others for carrying bladed weapons which are also prohibited under the election law.
Few minutes since the ban started, the Regional Special Operations Group 8 (RSOG8) led by PSInsp. Dinvir Revita arrested couple Joel dela Vega and Hannie Grace Laynes in a buybust operation in Brgy. Batug, Javier town in Leyte.
Aside from two sachets of suspected "shabu" granules and the P1000 marked money, authorities also seized from the suspects' one homemade .38 caliber revolver loaded with five live ammunitions.
In Catarman, Northern Samar, fisherman Edgar Yruma, 40, was nabbed by the police after he allegedly hacked his neighbor Jayson Openiano.
A 12-gauge shotgun loaded with four bullets and a bolo was seized from Yruma.
Meanwhile, in Borongan City in Eastern Samar, 38-year laborer Gerardo Calzado was turned over to the police station by security guards Jose Allera and Carlos Becera of CNOC Mac Joint Vetures after a heated argument ensued between the suspect and the two guards and the former tried to draw a .38 caliber revolver from his waist.
However, he was unable to draw as the firearm was grabbed from Calzado by the two guards.
The three other persons were arrested while carrying bladed weapons in police responses in the cities of Tacloban and Ormoc.
"All arrested suspects are now facing charges for violation of the Omnibus Election Code aside from criminal cases in other offenses that they committed," Soria informed.
As all Permits to Carry Firearms Outside of Residence (PTCFOR) were suspended since Friday, Soria directed his men to intensify the gun ban through the conduct of checkpoint operations in strategic places, operation bakal/sita, implementation of search warrants, immediate police response and focused police operations.
"Those who will be found carrying firearms without Commission on Elections gun ban exemption will be arrested, detained and criminal charges will be immediately filed," the police official warned.
Soria informed that violation of the Omnibus Election Code carries an imprisonment of not less than one year but not more than six years and shall not be subject to probation.
He added that the guilty party shall be sentenced to suffer permanent disqualification to hold public office and deprivation of the right of suffrage.
If he is a foreigner, he shall be sentenced to deportation which shall be enforced after the prison term has been served, Soria disclosed.
This is without prejudice to the cancellation of the violator's firearms license and permit to carry firearm outside residence if any, and the perpetual revocation of the privilege to secure similar license or permit in the future.
For government employees, perpetual disqualification to possess government owned and issued firearms shall be imposed upon them without prejudice to the filing of the proper criminal and/or administrative charges.
The gun ban will end on November 12 or 15 days after the barangay elections.
PRO8 taps 189 PNP scouts for election duties
By RPCRD, Police Regional Office 8
October 2, 2013
CAMP KANGLEON, Palo, Leyte – Stepping up security preparations for the October 28 barangay elections, the top official of the Police Regional Office 8 (PRO8) has ordered new graduates of its specialized anti-insurgency course to render election duties and keep the polls as peaceful and fair as possible.
"With the coming elections, you will be enforcing election laws and render security duties. Expect to have a recollection of exercises you learned as the principles and techniques in responding to criminality, insurgency and other emergencies will be aptly applied in the performance of your job," said PCSupt. Elmer R. Soria during Monday's graduation of the Special Counter-Insurgency Operations Unit Training (SCOUT).
Exhorted the active role of the PNP in the anti-insurgency campaign, the PRO8 director also cautioned the new graduates to initiate personal security measures as they are also subjects of the enemy's aggression.
"We mourned for our fallen comrades who lost their lives while performing their duties, be ready then at all times to handle and counter whatever possible harm the enemy might inflict against you and your team," he added.
Last Saturday night, Insp. Alberto Ayad and POI July Pajanilla were ambushed by suspected New People's Army (NPA) terrorists while conducting patrol operations in Arteche town in Eastern Samar. Another policeman was wounded in the attack.
"Our enemies do not fear us but they fear what we can become. They fear what we take for granted, our potential," the police official also said.
With the training, Soria expects the new graduates to be ready, capable and competent in handling field works as frontliners in the PNP's internal peace and security operations.
The 189 police personnel that have graduated PNP Scout Class 21-2013 will be assigned to the Regional Public Safety Battalion (RPSB 8), the police maneuver unit primarily tasked to confront the insurgency problem in Eastern Visayas.
The 145 male and 44 female Scouts belong to police recruit "Matidlas" or "Matapat at Disiplinadong Tagapagpatupad ng Batas" class of 2012.
The PNP Scout is a rigid 45-day training designed to equip police officers with the requisite skills and confidence that will give them a distinct advantage and proper knowledge in counter-insurgency and anti-terrorism operation.
The course puts premium on combat skills development, jungle fighting and survival techniques and also teaches the participants the principles and techniques of urban crisis response operations primarily on search and rescue (SAR) and police interventions.
Under Commission on Election 9733, the PNP was deputized to perform specific duties relative to the conduct of the barangay elections.
Since Saturday, the PRO8 started enforcing the gun ban and established checkpoints as part of the PNP effort to make the village polls peaceful and violence-free.
Piracy charge against arctic activists 'an assault on peaceful protest' - Greenpeace
By GREENPEACE
October 2, 2013
AMSTERDAM – The Russian state prosecutor today laid charges of piracy against a Greenpeace activist who protested against oil drilling in the Arctic. A freelance videographer has also been charged with piracy, which carries a maximum 15 year jail sentence. It is an extreme and disproportionate charge. Charges are expected to be brought against other Greenpeace campaigners over the coming hours and days.
Responding to the news, Greenpeace International executive director KumiNaidoo said:
"A charge of piracy is being laid against men and women whose only crime is to be possessed of a conscience. This is an outrage and represents nothing less than an assault on the very principle of peaceful protest. Any claim that these activists are pirates is as absurd as it is abominable. It is utterly irrational, it is designed to intimidate and silence us, but we will not be cowed.
"This is now the most serious threat to Greenpeace's peaceful environmental activism since agents of the French secret service bombed the Rainbow Warrior and killed our colleague Fernando Pereira because we stood against French nuclear weapons testing in the Pacific. Three decades later the activists of the Arctic Sunrise also took a stand, this time against the powerful vested interests of the oil industry, and they could now face the prospect of long periods in a Russian jail. I call on people from across the world, anybody who ever raised their voice in support of something they believe in, and especially the good people of Russia, to come to their aid at this moment and join us in demanding the release of the Arctic 30.
"The courageous crew of the Greenpeace ship Arctic Sunrise protested at that Gazprom rig because they felt compelled to bear witness to the slow but unrelenting destruction of the Arctic. The ice is retreating, oil companies are moving north to drill for the fuels that are driving that melting, species are at risk, including our own. Thirty men and women, some young, others not-so-young, all with a moral compass, actually did something about it. Just as in years past, the resolve and courage required to win a better future for our children requires personal sacrifice, a sacrifice the Arctic 30 are now making. They made their stand in the interests of us all. Now we must come together and stand with them."
The charge has so far been laid against crew member Ana Paula Alminhana from Brazil, and freelance videographer Kieron Bryan from the UK.
The 28 activists, a freelance photographer and the freelance videographer, were involved in a protest against the Gazprom Arctic drilling platform Prirazlomnaya on September 18th. Two activists tried to climb the side of the platform and hang a banner. Today Greenpeace is releasing photographs of the moment Russian security services abseiled from a helicopter onto the deck of the Arctic Sunrise and seized the ship at gunpoint. The photographs clearly show peaceful activists posing no threat to the Russian authorities.
"I ask people to look at those photographs and decide if the peaceful campaigners with their arms raised, with guns pointed at their chests, could ever be described as pirates," said KumiNaidoo.
Last week President Putin himself scoffed at the notion that the Greenpeace protesters were pirates. He said that "It is absolutely evident that they are, of course, not pirates."
The number of people worldwide who have written to Russian embassies demanding the release of the activists and freelancers today passed one million. Others calling for the release of the Arctic 30 include Nobel peace prize winner Adolfo Pérez Esquivel, Amnesty International, Human Rights Watch and the actor Ewan McGregor.
The Captain of the Arctic Sunrise, Peter Willcox - now in a Russian jail - was the Captain of the Rainbow Warrior when it was bombed in 1985.