Father-and-son nabbed for "marijuana" cultivation in Leyte
By RPCRD, Police Regional Office 8
October 14, 2013
CAMP KANGLEON, Palo, Leyte – A farmer and his son were nabbed by authorities for cultivating marijuana plants in their farmland in an upland village in Burauen town in Leyte, some 43 kilometers southwest from Tacloban City, the regional capital.
Arrested were Alexander Redubla, 52, and his son Axel, 18, after policemen from Burauen police station led by PCInsp. Federico Sanchez swooped down their farmland in Brgy. Cali after receiving tips from an informant that the two are cultivating marijuana plants in the area, according to Eastern Visayas police director PCSupt. Elmer R. Soria.
Soria informed that the operation at past 2:00 p.m. Friday resulted in the confiscation and uprooting of 12 stalks of fully-grown marijuana plants weighing more or less three and half kilos.
The lawmen also seized one homemade shotgun, locally known as "bardog" from the suspects, he added.
Inventory of the seized marijuana plants were witnessed by Brgy. Chairman Lolita Ala, Kagawad Danilo Moralina and Erick Tupaz of DYVL radio station.
Arrested persons and confiscated items were brought to Burauen police station for proper disposition as criminal charges are being prepared against them.
Section 16 of Republic Act 9165 or Comprehensive Dangerous Drugs Act of 2002 states that the cultivation of cannabis, popularly known as "marijuana" or "Indian hemp", carries a penalty of life imprisonment to death and a fine ranging from P500,000 to P10 million pesos regardless of quantity.
Soria expressed gratitude to the information relayed by concerned civilians that led to the successful operation.
Arrest of most wanted persons in N. Samar will help ensure peaceful village polls - Soria
By RPCRD, Police Regional Office 8
October 14, 2013
CAMP KANGLEON, Palo, Leyte – The apprehension of three most wanted persons in Northern Samar over the weekend will help ensure the peaceful conduct of the barangay elections in the province, said the region's top police official.
PCSupt. Elmer R. Soria, director of Police Regional Office 8 (PRO8) said that the implementation of focused and sustained police operations against wanted persons and deployment of Regional Special Operations Task Group (RSOTG) are aimed at minimizing, if not eradicating, the occurrence of election-related incident in said province which was earlier tagged as priority area in the forthcoming polls.
"Persons with criminal records and wanted by law could be tapped by unscrupulous politicians to advance their political interest in the coming polls by using them to harass, intimidate or even neutralize their political opponents," Soria said.
With this, Soria directed an intensified manhunt operation against wanted persons in the province that resulted in the arrest of most wanted men of Catarman, Laoang and Rosario towns over the weekend.
He identified the arrested fugitives as Noel Cabales, 41; Atus Villocero, 40; and Ubaldo Frago, 22; all listed in the most wanted persons list in above towns.
Cabales was nabbed by operatives from Catarman Municipal Police Station led by PSupt. Jesus Miranda on Saturday afternoon in his hide-out at Brgy. Ipil-ipil.
The suspect had standing arrest warrant for murder under criminal case number 5260 at the sala of Judge Alma Esidera of Regional Trial Court branch 20 in Catarman, the provincial capital.
Cabales is listed as the number 10 in the most wanted person list of Catarman with no bail bond recommended for his temporary liberty.
Meanwhile, murder suspect Villocero who is ranked nine in the most wanted person list of Laoang town was arrested Saturday evening at his residence in Brgy. Agaudahan.
The arresting team led by PSInsp. Sam Andarino was armed with an arrest warrant issued by RTC branch 22 Judge Jose Falcotelo for criminal case number 4428.
Also, at around 11:30 a.m. Saturday, Frago was arrested in a Comelec checkpoint along the national highway in Brgy. 1 in Rosario town manned by a police team under PSInsp. Anthony Din.
Frago is facing robbery charges before the sala of Judge Armando L. Rosadiño of 6th San Jose-Biri-Rosario municipal circuit trial courts in criminal case number 5131 with P12,000 recommended bail.
Suspect is the number 5 most wanted person of Rosario town.
All arrested suspects were brought to the issuing courts for proper disposition, Soria added.
On October 8, the police regional office activated the RSOTG in Northern Samar to ensure peaceful and secured barangay elections in the province.
The history of election-related incidents in the 2007 and 2010 village polls, insurgency problem, estimated high number of loose firearms and the probability of intense political rivalries between the candidates and their supporters are among the factors that were considered by the authorities in increasing security focus and attention to the area.
Also, 125 villages in the province are listed in the Election Watchlist of Areas for the forthcoming polls.
The police official said he is confident that the recent arrests would help ensure the conduct of secure elections in Northern Samar.
He added that from July 1 to October 8, police units in the region have so far arrested 32 persons included in the most wanted list.
VP Binay - more than 250k families able to own homes through community mortgage program
By OVP Media
October 14, 2013
MANILA – Vice President and housing czar Jejomar C. Binay today revealed that from 2004 to September 2013, the housing sector has helped 255,271 families own homes through the Community Mortgage Program.
The Socialized Housing Finance Corporation has targeted financing the housing of 19,000 families for this year.
The Community Mortgage Program is a mortgage financing scheme that assists legally organized associations of residents in depressed areas to own the lots they occupy.
The housing czar also said during the celebration of the CMP's 25th anniversary that changes to the process of applying for CMPs have helped communities that were affected by calamities.
"Doon sa mga komunidad na naapektuhan ng mga kalamidad o kaya may eviction order na mula sa korte, isinagawa natin ang cmp expresslane, pinasimple at pinakaunti ang mga kailangang dokumento para maaprubahan ang proyekto."
"Ang mga unang komunidad na nakinabang dito ay ang mga taga-Cagayan de Oro na naapektuhan ng bagyong Sendong," said the Vice President.
He also said that the sector has encouraged local government units (LGUs) to be directly involved in the CMP, through both the Localized CMP (LCMP), and the city-wide approach. Binay said that they decided to involve LGUs so that community needs could be easily identified.
"Sa aming karanasan po kasi, kapag ang LGU ay hindi kasama sa proyekto, nahihirapan tayong kunin ang kanilang tulong katulad ng paglalagay ng maayos na kalye o mitigation projects sa mga lugar na malapit sa mga daanan ng tubig."
"Pero, kung sa simula pa lang ay involved na sila sa proyekto, alam na nila ang inyong mga pangangailangan at magagabayan na kayo kaagad kung paano mapapabuti ang proyekto," Binay said.
Binay added that under the new approach, the LGU and the SHFC, the agency tasked with implementing the CMP, have become proactive in identifying families that needed help in securing the land they were living on.
He also relayed the housing sector's other efforts to make the CMP more efficient and effective, such as partnering with other government agencies such as the Land Registration Authority in validating the land titles that community associations are planning to buy.
A partnership with engineers and architects is also being pushed, which Binay said would help communities in complying with requirements such as the subdivision plan.
The Vice President added that the SHFC is also mulling raising the amount that communities can borrow under the CMP.
"Ito ay hindi lamang para mabawasan ang equity ng mga pamilya sa pagbili ng lupa kundi upang mapaayos nila ang kanilang mga bahay."
"May CMP communities kasi na napasakanila na nga ang lupa, pero walang pagbabago sa ayos ng komunidad. Ang gusto sana natin, may improvement din sa lugar at sa inyong mga kabahayan," said Binay.
The current maximum loan amount for the acquisition of undeveloped lots is P90,000 for Metro Manila and highly urbanized areas, and P45,000 in other areas. For developed lots, the amount is at P90,000 and P60,000, respectively. For site development, the maximum amount is P15,000 per beneficiary. The maximum amount for housing materials is P60,000 per beneficiary.
Binay led the distribution of 144 Transfer Certificate of Titles to beneficiaries who have fully paid their housing loans in eight Community Mortgage Program (CMP) projects in Metro Manila during the celebration.
Checks amounting to P52.789 Million were also distributed to 18 landowners representing the initial 50% payment for the land acquired by the project beneficiaries.
The SHFC also paid service fees to CMP-Mobilizers (4 LGUs and 11 NGOs) who helped facilitate approval of loan applications of 32 community associations.
Intensified anti-illegal drugs drive in EV nets 8 suspects
By RPCRD, Police Regional Office 8
October 11, 2013
CAMP SEC. KANGLEON, Palo, Leyte – The top police official in Eastern Visayas reiterated his directive to his men to continue hitting hard on criminal elements behind the trafficking of illegal drugs in the region even as he announced the arrest of eight drug suspects in a series of police operations conducted recently.
"While we are gaining headway in our campaign, all police units must sustain intensified police operations against illegal drugs as the drug menace will always remain as one of our primary concerns," said Police Regional Office 8 (PRO8) chief PCSupt. Elmer R. Soria.
Soria added that recent focused police operations in Leyte, Southern Leyte, Samar and Biliran have resulted in the arrest of eight suspected drug pushers and the confiscation of sizeable volume of suspected methamphetamine hydrochloride or "shabu", several drug paraphernalia and two short firearms.
The police official identified the suspects as Leonilo Orzal, 32; Allan Cabulang, 29; Dario Damaso, 36; Reynaldo Ranola alias Rickman, 47; Roy Villamora, 35; Kemuel Caones, 25; Eric Mendoza, 43 and Carmen Bolotaolo, 42.
Orzal, Cabulang and Damaso were arrested in a buybust operation early Tuesday morning at Brgy. Bunga in Biliran province by the Regional Special Operations Group 8 (RSOG8) under PSInsp. Dinvir Revita that also led to the confiscation of two sachet of suspected "shabu", P500-bill buybust money and several drug paraphernalia.
At 2:30 p.m. Tuesday, a buybust operation by a police team from Calbayog City Police Station led by PSupt. Elmer B. Cinco at Purok 5, Brgy. East Awang in Calbayog City led to the arrest of Ranola and the seizure of two medium-sized sachets containing suspected "shabu"; P2000-bill used as buybust money and one black Cherry mobile phone.
Villamora and Caones, meanwhile, were arrested in a buybust operation by a composite police team from Alangalang police station and Leyte Police Provincial Office under the supervision of PCInsp. Santi Noel Matira at Brgy. San Antonio, Alangalang town in Leyte.
Two small heat-sealed sachets of "shabu" and P500-bill marked money were confiscated from the suspects.
In Maasin City, couple Mendoza and Balotaolo were nabbed in a manhunt operation early Wednesday morning at Brgy. Mantahan by a police team led by PCInsp. Reynaldo Torlao.
Balotalo was arrested based in an arrest warrant for violation of Republic Act 9165 or the Dangerous Drugs Act of 2002 under criminal case number 13-08-3946 issued by Judge Ma. Daisy Paler Gonzalez of Regional Trial Court Branch 25 in Maasin City.
During the arrest, the duo was caught in the act of segregating and repacking suspected methamphetamine hydrochloride or "shabu".
Aside from three sachets of suspected "shabu" granules and several drug paraphernalia, one unit .38 caliber Smith and Wesson revolver loaded with five ammunitions and one unit .22 caliber magnum Black Widow revolver, both without serial numbers, and 11 ammunitions for .22 caliber were confiscated in plain view by the arresting policemen.
The eight suspects are now detained at police station lock-up cells while Soria assured that arresting policemen will actively attend all the prosecution proceedings so that the suspects will be eventually convicted for drug offenses filed against them.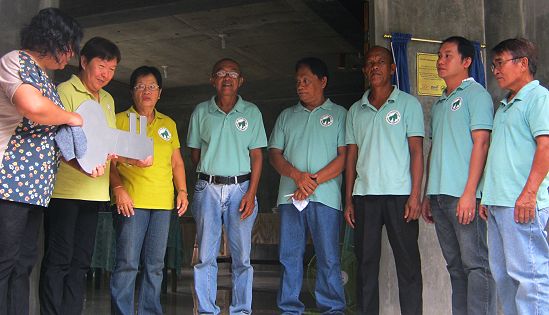 (From left) PBSP Regional Program Coordinator Cecilia Ang officially turns over the multi-purpose center to Hinunangan Mayor Evelyn Tee and South Pacific Integrated Area Development Foundation, Inc. Executive Director Beverly Capena and Board of Trustees.
PBSP, Angelo King boost productivity of So. Leyte farmers with new center
Press Release
October 10, 2013
CEBU CITY – More than 1,000 farmers and fisherfolk of Southern Leyte will now have improved access to productivity with a new building project for livelihood and community development.
Philippine Business for Social Progress (PBSP), Angelo King Foundation, Inc. (AKFI) recently turned over a multi-purpose center for South Pacific Integrated Area Development Foundation, Inc. (SPIADFI) in Hinunangan, Southern Leyte.
The turnover event was led by Hinunangan Mayor Evelyn Tee with PBSP Regional Program Coordinator for Livelihood Cecilia Ang and SPIADFI Executive Director Beverly Capeña and the Foundation's Board of Trustees.
SPIADFI is one of the province's non-government organizations currently implementing programs on community-resource management, sustainable agriculture, women health and safe motherhood, and enterprise development in more than 45 barangays from six municipalities.
Shortage of training venues due to lack of funding, however, led SPIADFI to use small offices for training venues. With the new center, SPIADFI will have its own venue for its conferences and trainings.
The multi-purpose center, worth P500,000 contains a conference and comfort room and display and storage areas and will be used for conducting trainings and providing technical assistance to the SPIADFI's assisted organizations.
The center will also be expanded into a two-storey building so the foundation can cater live-in seminars to their community beneficiaries.
Since 1991, PBSP and AKFI project has provided more than 200 AKFI centers all over the country. In 2011, PBSP and AKFI had already built 74 centers in Luzon, 72 in the Visayas, and 54 in Mindanao. These buildings comprise more than 120 multi-purpose centers, almost 50 training centers, more than 10 technology and vocational centers, and more than 15 warehouses and centers for trading and livelihood.
Two men arrested in Comelec checkpoint for gunban violation
By RPCRD, Police Regional Office 8
October 10, 2013
CAMP SEC. KANGLEON, Palo, Leyte – Two persons were arrested by police authorities in a Commission on Elections (Comelec) checkpoint for violating the firearms ban early Wednesday morning, bringing to 24 the number of violators arrested in Eastern Visayas since the police implemented the gun ban last September 28.
Arrested were Danny Jose, 25 and Victor Siasat, 30, both from Brgy. Matlang, Isabel town also in Leyte, in a checkpoint along the national highway in Brgy. Suba in Villaba town in Leyte, some 100 kilometers southwest from Tacloban City, the regional capital.
PCSupt. Elmer R. Soria, director of Police Regional Office 8 (PRO8) informed that while policemen from Villaba police station led by PSInsp. Clark Chavarria were conducting checkpoint operations at around 2:00 a.m. Wednesday, they flagged down a black single Rusi motorcycle with plate number 2884 HN driven by Siasat with Jose as the backrider.
"Our men noticed Jose, who was carrying a backpack placed in front of his body, who appeared to be uneasy and nervous and noticed a firearm handle from the back pack that was unzipped at that time," Soria said.
He added that verification and inspection was conducted that resulted to the discovery of a homemade gun, locally known as "sumpak", inside the backpack.
The police were also able to confiscate from driver Rosales one bladed weapon locally known as "sundang" tucked in his waist.
"They are now detained at Villaba station lock-up cell as charges for violation of the firearms ban are being prepared against them," the police official added.
As this developed, Soria reiterated his call to his men to strictly implement the gun ban through the intensified checkpoint operations in strategic places, implementation of search warrants, oplan bakal/sita, immediate police response and intelligence-driven operations.
So far, police units in the region have arrested 24 civilians who violated the gun ban, Soria added.
"A total of 14 assorted firearms, 65 different ammunitions and 15 bladed weapons were also confiscated and criminal charges were filed against the violators," the police regional director disclosed.
The gun ban, aimed at curbing the possible outbreak of violence for the upcoming October 28 barangay elections, will end on November 12 or 15 days after the polls.
TUCP asks its representative to return bonus
By TUCP
October 10, 2013
QUEZON CITY – The Trade Union Congress of the Philippines had asked its representative to the Social Security System, Commissioner Dr. Marianita Mendoza to do the right thing by returning the bonus given to her as soon as possible, TUCP spokesman Alan Tanjusay announced today.
In April this year, Social Security System officials sought the TUCP and other groups in convincing 12 million members to accept an increased SSS monthly premium payment from 10.4% to 11% starting January next year.
The TUCP gave its support to the plan because it will indeed help improve the life span of the SSS fund. TUCP also gave its support because it will raise the membership benefits, a 10% across-the-board increase in pension rate among retirees, improve active members' access to claims, and run after delinquent employers who failed to remit employees' contribution.
The TUCP also gave its support to proposed increase provided that more workers can be covered, collection rate should be improved, make operations more efficient and transparent, investments must not only yield but also be safe, and keep SSS salaries and benefits reasonable, not excessive.
The giving of such bonuses, however, was not discussed in any of the consultation process.
The TUCP maintains that while the giving of performance bonus may be legally justifiable by the performance incentives system set by the Governance Commission for Government-owned and controlled corporation (GCG), it deems the giving of monetary incentive at this time as inappropriate.
The TUCP finds it insensitive for SSS officials to give themselves monetary incentives at a time they said the SSS fund is shrinking and that the SSS actuarial fund is only good until 2039.
Coalition launches people's initiative to get rid of the pork barrel system and a massive grassroots educational campaign
Press Release
October 9, 2013
CEBU CITY – The Cebu Coalition Against the Pork Barrel System composed of more than seventy (70) organizations from interfaith, academic, business and civil society organizations today launches a People's Initiative to propose new legislation to get rid of the pork barrel systemically from the country's laws.
The proposed legislation is worded as follows:
IT IS HEREBY DECLARED UNLAWFUL FOR ANY MEMBER OF CONGRESS TO HAVE OR DEMAND ANY ALLOCATION IN THE GENERAL APPROPRIATIONS ACT OR TO MAKE ANY INSERTION IN THE PROPOSED NATIONAL BUDGET OR THE GENERAL APPROPRIATIONS ACT OR TO INTERFERE OR INTERVENE IN THE LAWFUL IMPLEMENTATION OF ANY PROVISION OF THE GENERAL APPROPRIATIONS ACT BY ANY IMPLEMENTING AGENCY OR OFFICE.
THE OFFICE OF THE PRESIDENT AND ALL DEPARTMENTS IN THE EXECUTIVE BRANCH ARE FURTHER PROHIBITED FROM GIVING OR PROVIDING A MEMBER OF CONGRESS ANY ALLOCATION IN THE GENERAL APPROPRIATIONS ACT OR ALLOWING ANY MEMBER OF CONGRESS TO MAKE ANY INSERTION IN THE NATIONAL BUDGET OR THE GENERAL APPROPRIATIONS ACT.
THE OFFICE OF THE PRESIDENT AND ALL DEPARTMENTS IN THE EXECUTIVE BRANCH ARE FURTHER PROHIBITED FROM MAKING ANY EXPENDITURE, USE OR DISPOSITION OF PUBLIC FUNDS WHICH IS NOT PROVIDED IN OR CONSISTENT WITH THE GENERAL APPROPRIATIONS ACT.
HOWEVER, NOTHING IN THIS ACT SHALL DIMINISH THE LAWFUL EXERCISE OF THE POWER OF APPRORIATION AND OVERSIGHT BY CONGRESS.
ALL LAWS WHICH ARE INCONSISTENT WITH THE FOREGOING ARE HEREBY REPEALED AND ANY ACT WHICH IS CONTRARY TO OR IN CIRCUMVENTION OF THE FOREGOING IS HEREBY DECLARED NULL AND VOID.
The 1987 Constitution requires that the Coalition must compile at least 10% of the national registered voters list, approximately numbering 52 Million, or a compilation of at least 5.2 million vetted, screened, viable voters supporting the Initiative. In addition, we will also need to have a minimum of at least 3% of all the registered voters in each of the country's 234 legislative districts.
In order to achieve these numbers, a massive, extensive and thorough campaign of compiling vetted voters' signatures will be implemented initially through each parish in each of the 86 dioceses around the country. In addition, each school, college, and/or university in every city, town, province and region will be canvassed. Finally, the Coalition will count heavily on the many employees of allied business groups, chambers and companies.
Supporting this massive campaign will be a parallel effort of education and information dissemination by parish, social sector, school district, barangay, city, town, and province. There will be primers on the pork barrel system, how it negatively affects all of us, the current scam, and alternatives to the current system.
The Initiative and Education campaigns will be led and conducted by the Coalition's 70+ organizations utilizing their varied and many strengths. They will be complemented with the various partners and allies of each of these 70 organizations. With the help of the Church, School and Business sectors, we are confident that we will surpass the constitutional requirements.
The detailed plans for both the People's Initiative and Education campaigns will be finalized in a National Consultative Meeting to be held on November 9, 2013 at the Betania Retreat House, Nivel Hills, Cebu City.