Region 8 nominee wins national search for Idol ng TESDA self-employed category
By Philippine Information Agency (PIA 8)
September 2, 2013
TACLOBAN CITY – The representative of Eastern Visayas in the national search for Idol ng TESDA, self-employed category bested four other finalists from other regions of the country and was proclaimed National Winner.
Director Cleta Omega of the Technical Education and Skills Development Authority Regional Office 8 said that Dr. Jacqueline S. De Paz, administrator of St. Clare Polytechnic School of Burauen, Inc., 38 years old, married and mother of one boy, by winning the title, has brought honor and pride to Eastern Visayas Region.
Dr. De Paz received a trophy and cash award of P25,000 from a fellow Waraynon Mr. Boy Abunda, who was the keynote speaker during the awarding rites. Mr. Abunda was assisted by TESDA Secretary Joel Villanueva during the Awarding Ceremonies on August 23, 2013 at the Tandang Sora Hall, TESDA Women's Center, Taguig City.
Dr. De Paz also received a plaque of recognition and cash prize of P5,000.00 for being this year's Regional Awardee.
Dr. De Paz is a medical doctor but she made a career change, she trained and became actively involved in technical education and skills development because she wanted to help the families in her hometown, Burauen, especially those who cannot afford to send their children to school to pursue their dream of gaining access to education and acquire productive skills.
Dr. Jackie as she is fondly called by her town mates finds complete joy and fulfillment
In seeing that her kababayans find employment to augment their family income after completing training in her institution which offers training on Food & Beverage Services NC II, Housekeeping NC II, Bartending NC II, Front Office NC II and Household Services NC II.
Dr. Jackie also sees to it that the graduates find ready employment by hiring them as on-call waiters and food server attendants in the catering business she had also set up in May of 2012.
The search for TESDA Idols is being conducted annually by TESDA to give due recognition to graduates of technical education and skills development (TESD) programs who have attained skills excellence and success in their chosen occupation and contributed to the economic growth in their communities, Ms. Elizabeth Canales, TESDA Information Officer said.
The Search has two (2) categories, the self-employed category and the wage-employed category.
The Self-employed Category is open to both male and female TVET graduates who operate a business as a sole proprietor, partner in a partnership, independent contractor or consultant for at least 3 years.
On the other hand, the Wage-employed Category is open to male and female TVET graduates who work at an employer's facility, use the employer's equipment and receive a paycheck whether their work is completed or not, for at least the last three years, Ms. Canales said.
Karapatan calls Noynoy Aquino to resume peace talks, release detained NDFP consultants
By KARAPATAN
September 2, 2013
QUEZON CITY – Karapatan today joined the "Caravan for Peace" as it slammed the arrest of peace consultant, Loida Tuzo Magpatoc, 54, and called for the release of all JASIG-protected peace consultants of National Democratic Front of the Philippines (NDFP).
The "Caravan for Peace" is a joint initiative of the Citizens Alliance for Just Peace (CALL for JUST PEACE) composed of peace advocates from Sulong CARHRIHL, Pilgrims for Peace, Philippine Economic Peace Platforms (PEPP) and Waging Peace Philippines. In July, the same organizations issued a joint statement calling for the resumption of the peace talks between the GPH and the NDFP on the basis of previously signed agreements, especially the Hague Joint Declaration signed on September 1, 1992 and the Joint Agreement on Safety and Immunity Guarantees (JASIG) signed in 1995.
The Hague Joint Declaration served as the framework of the GPH-NDFP peace talks since 1992 but has been called by the Aquino government as a "document of perpetual division"; while due observance of the JASIG has been put to question as the GPH continues to arrest JASIG-protected NDFP consultants to the peace process.
"The JASIG is again violated with the arrest of Loida Magpatoc who was arrested on July 28 in Digos City, Davao del Sur. The arrest shows the Aquino government blatant disregard to the agreements the GPH had signed with the NDFP," said Karapatan secretary general Cristina Palabay.
Magpatoc is a holder of NDFP Document of Identification No. ND978254 using the assumed name Puri Feleo. Magpatoc's arrest brings to 13 the total number of JASIG-protected peace consultants in detention.
Palabay added, "it is clear that the Aquino administration already killed the peace talks between his government and the NDFP as it continues to violate previously signed agreements and by the continued surveillance, harassment and, arrest of NDFP peace consultants and staff on trumped up criminal charges."
Magpatoc, in the course of undertaking her work on the Social and Economic Reform agenda of the peace talks, was arrested for charges of robbery with double homicide and damage to properties. She was detained at the Digos City PNP Station for six days with continuous tactical interrogations by Dept. Of National Defence - National, 10th Infantry Division Task Force Tugis, and CIDG Reg. 11.On August 21, she was transferred at the Camp Bagong Diwa (female dorm) where she is facing nine cases, all false criminal charges.
Meanwhile, NDFP Panel Member Fidel V. Agcaoili sent a protest letter to the GPH Negotiating Panel on the surveillance and harassment against him by the two motorcycle-riding men on 29 July 2013. Agcaoili was in Manila for consultations and meetings with several groups on the possibility of the resumption of the peace negotiations.
Palabay also cited the inaction of the GPH on the enforced disappearance of 10 NDFP peace consultants and staff during the Arroyo government.
"It is ironic that those who seriously work for the resolution of the roots of unpeace become targets of the government's surveillance, harassment and illegal arrest and other forms of human rights violations. It is a shame that the Aquino government mouths peace but cannot stand by all the agreements the GPH signed with the NDFP. Aquino's hullabaloo on peace is simply a psywar tactic of its Oplan Bayanihan," Palabay concluded.
Drug charges filed vs. high school teacher, lady pusher, 2 others
By RPCRD, Police Regional Office 8
August 28, 2013
CAMP KANGLEON, Palo, Leyte – Charges for violation of the Comprehensive Dangerous Drugs Act of 2002 have been filed against four personalities considered as high-value targets following their arrest in separate drug bust operations last week.
A 38-year old woman and a public school teacher are among the four persons arrested by anti-narcotics operatives in a series of entrapment operations in Leyte, Southern Leyte and Samar provinces recently.
Police Regional Office 8 (PRO8) director PCSupt. Elmer R. Soria said the lady suspect identified as Lilibeth Paciencia, 38, of Brgy. Magbagacay, St. Bernard in Southern Leyte was nabbed in a sting operation in said village.
"She was arrested by a police team led by PSInsp. Ariel Nuñez after selling one heat-sealed transparent plastic sachet containing white crystalline substance suspected to be "shabu" to an undercover cop who acted as poseur-buyer," the police official informed.
After the arrest, lawmen also recovered from Paciencia's possession the P500-bill used as buy-bust money and P240 cash in different denomination.
In Leyte, joint elements of Regional Special Operations Group (RSOG8) under PSInsp. Dinvir Revita and Dulag Municipal Police Station led by PSInsp. Alberto Renomeron, Jr. nabbed one Ruel Congzon, a public school teacher of Dulag National High School, during a buy-bust operation in Brgy Buntay, Dulag town.
Seized from the suspect was one sachet of suspected "shabu" with an estimated street value of P500 and the P500 marked money.
Meanwhile in Calbayog City, Samar, a police team led by PSInsp. Aaron Raemon Elago arrested two persons – Danilo Cano, 36 and Reynaldo Singanohon, 41 – in a buybust operation at Purok 2, Brgy. Matobato.
Confiscated from their possession and control were two heated-sealed transparent plastic sachet containing white crystalline substance suspected to be "shabu", the P500-bill with serial number BS640735, two mobile phones and one unit Honda XRM motorcycle allegedly used in their illegal activities.
The suspects are temporarily detained at the station lock-up cells of arresting police units while confiscated items were brought to the Regional Crime Laboratory Office 8 for examination, Soria disclosed.
RIP Pork: Cayetano bent on ensuring passage of Senate Concurrent Resolution No. 4 abolishing pork
By Office of the Senate Majority Leader
August 28, 2013
PASAY CITY – Senate Majority Leader Alan Peter Cayetano is determined to push for the passage of Senate Concurrent Resolution No. 4 which seeks to abolish the pork barrel system.
"I will not let anyone derail the passage of Senate Concurrent Resolution No. 4. The Million People March shows that it is not enough to say 'We are listening to the people'. We need to act now," he said.
The Senator recently filed Senate Concurrent Resolution No. 4 amidst calls for a thorough inquiry into the alleged P10-billion pork barrel scandal, seeking an end to the Priority Development Assistance Fund (PDAF) and pushing to reveal, investigate, and prosecute those involved in the pork barrel scam (R.I.P. Pork).
Cayetano also called on fellow lawmakers to open their books to state auditors for greater transparency and accountability in the 16th Congress.
"The clamor for transparency is great. Let us be transparent. Those tagged in the issue should be willing to submit themselves to questioning during an investigation in the spirit of transparency, accountability and reform," he said.
"Sa investigation, lahat ng lead kailangan mong sundan. So if it leads to the door of a senator or a congressman, whether pamilya niya o staff niya o kamag-anak niya o siya mismo ang ipatawag ng NBI, huwag silang matatakot at ang senador naman hindi niya dapat isipin na insulto ito kung hindi part of the investigation lang," Cayetano pointed out.
It was in line with his call for lawmakers to submit themselves to investigations on the PDAF scam that Cayetano slammed the decision of the Senate Blue Ribbon Committee not to allow the questioning of senators tagged in the scandal in its hearings which will begin on Thursday.
The Majority Leader stressed that the first step the Senate should take in order to protect its integrity as an institution representing the people is for all Senators to allow themselves to be questioned and investigated during the Blue Ribbon hearings most especially those whose names have been linked to the Napoles scam.
Asked about senators' parliamentary immunity, Cayetano said: "Under the rules, we have the option to appear or not to appear before the investigating panel (and be questioned). But under the same rules, we also have the option to waive this rule."
The Senator said that moves to shield members of the Senate from the hearing will be unfair to the Filipino people clamoring for a thorough and transparent investigation.
Cayetano has already opened his books to the public and allowed state auditors to scrutinize his use of the Priority Development Assistance Fund (PDAF) in the past years especially those not covered by the recently released Commission on Audit (COA) report. He likewise urged his colleagues from both houses of Congress to do the same.
The Majority leader further suggested that Senators be willing to sign a waiver declaring that they will disclose to the public all their transactions involving public funds during the ongoing investigations.
"The best way to resolve the issue is for everyone to come clean. No excuses. No exemptions. I am urging all lawmakers to open their financial records to the public in the spirit of transparency, accountability, and reform," he maintained.
Safety awareness
By RIZA GOSTADO, RAFI intern
August 27, 2013
CEBU CITY – The world is now a more dangerous place to live. Walking at night is already unsafe. The death rate in the Philippines is high, at 4.98 persons for every 1,000 people. We can be safer, though, if we are aware. Hence, it is important to read and learn about safety tips to be more aware and hopefully, safer.
Accidents, murder, calamities are just a few threats to our lives that we need to be aware of. However, there are those tasked to keep us safe, among them the police.
"We are willing to die for others to live," said Chief inspector Teodolfo Manatad II of Cebu City Police Office (CPPO), during a recent Urban Development Forum at the Eduardo Aboitiz Development Studies Center (EADSC) of the Ramon Aboitiz Foundation Inc., (RAFI).
The police helps maintain peace and order and they do this through the creation of an integrated anti-criminality plan, extended night watch patrol program, and mobile patrol service.
One service they offer is protection of witnesses of crimes against the suspects and even from the "bad eggs" among the supposed protectors of the people. Here, the media plays a role in exposing such police officers whose actions mar the reputation of the entire force.
Manatad said that if he has his way, he likes that media limit or do away with focusing on exposing these kind of policemen, saying public perception are affected as media is very influential.
In the same vein, the media plays an important role in preparing the public against storms and other calamities and for government agencies, like the National Disaster Risk Reduction Management (NDRRM), to be ready in providing evacuation centers, relief goods, and other services.
"We are requiring the local government units to have their own DRRM plan", said Provincial Civil Defense Officer Florenda Gaviola.
She said that drills on emergency procedures help students and workers to respond properly once disasters strike. This could lessen injuries and loss of lives as they are more aware and therefore more prepared. This is what differentiates the town of San Francisco, Cebu in Camotes island.
In 2011, San Francisco was awarded the prestigious 2011 United Nations Sasakawa Award for Disaster Risk Reduction, particularly for utilizing local knowledge to disseminate critical information and risk assessment, waste segregation, delivery of health services, and related activities at the household level through the purok system, initiated through the Our Cebu Program, a long-term development program of RAFI and the Cebu Provincial Government designed to make Cebu an ideal place to live, work, play, invest, and do business.
San Francisco is now "a place to live, a place to visit," said former mayor Alfredo Arquillano about his town.
He shared that they minimized pollution by controlling the number of public vehicles. More importantly, though, residents are concerned about and are responsible in protecting the environment.
The youth, in particular, worked hard in maintaining cleanliness and as leaders in advocacies that promote awareness related to environment protection.
The forum, which discussed transport management, public safety and security, and disaster risk reduction and management, was attended by RAFI's Young Minds Academy season 7 scholars.
Army foils ambush of CENRO & DAR personalities in Northern Samar
By DPAO, 8ID PA
August 25, 2013
CAMP LUKBAN, Catbalogan City – Troops from Jole-Jole Detachment, 52nd Infantry Battalion (CAFGU) led by SSg Delfin Mallanta while providing route security to representatives from the Department of Agrarian Reform (DAR) and City Environment and Natural Resources Office (CENRO) both of Las Navas, Northern Samar encountered around 30 NPAs in Barangay San Jorge, Las Navas, Northern Samar last August 24, 2013 at around 2:30PM.
Firefight lasted for about 20 minutes which resulted to the killing of Marlon Rebadulla, a member of Cafgu Active Auxiliary of Jole-Jole Detachment. The rebels suffered undetermined number of casualties as indicated by bloodstains seen along their route of withdrawals. The troops also recovered one hand grenade and two loaded magazines for M-16 rifle in the encounter site.
The encounter is a result of timely information provided by the local populace regarding the presence of NPAs along Barangay San Jorge-Las Navas Road who are planning to ambush the "Bayanihan" Team of 63IB and the invited speakers from DAR and CENRO that participated in a consultative dialogue held at Brgy San Miguel, Las Navas, Northern Samar. The Dialogue was organized to address agrarian and environmental protection issues in the said barangay.
Commenting on the incident, Brigadier General Rolando C. Malinao AFP, Commander of 803rd Infantry Brigade, Philippine Army said: "The NPAs once again showed their true color as anti-people. It is disheartening to note, that they want to sow fear and terrorize our workers from the government by disrupting the ongoing programs and activities aimed to uplift the standard of living of our people."
General Malinao also expressed his thanks to the people for providing our troops the timely information. "Through the information provided by the peace-loving people, our troops were able to identify and pinpoint the NPA location and prevented them from staging terroristic activities against our people. It only show, that the people in the area are already with us in our pursuit for peace and development, indeed Bayanihan at its best."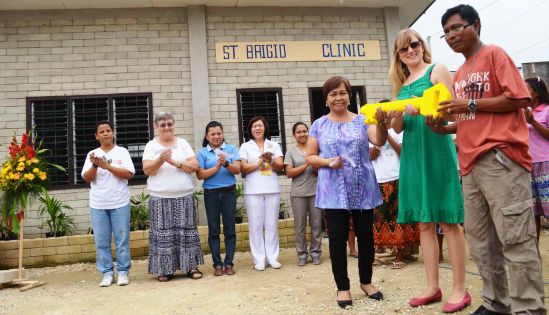 (Foreground, right to left) Cebu City Health Officer Dr. Stella Ygonia and Dianne Duggan of SERVE gives to Tribal Chieftain Felecito Asamsa the key to the St. Brigid health center, symbol of the Bajau community's ownership of and responsibility to the new health center.
Bajau health center opens
By Ramon Aboitiz Foundation Inc.
August 25, 2013
CEBU CITY – The Ramon Aboitiz Foundation Inc. (RAFI), through its Bajau Integrated Area Development Project (BIAD-P), in coordination with the Presentation Sisters of the Blessed Virgin Mary (PBVM) and the Nano Nagle School teachers, turned over a health center to the Bajau community in Sitio Puntod, Alaska Mambaling, Cebu last Aug. 13.
The community health center aims to bring together medical practitioners and representatives from health service provider institutions to undertake collaborative medical services to improve the health conditions of the Bajau community.
The construction of the health center was made possible by PBVM and Misean Cara, one of BIAD-P's funding donors.
The health center was named "St. Brigid", after St. Brigid of Ireland, who was known for miracles of healing. The construction of the center started last Feb. 1, the feast day of St. Brigid.
A group of Bajau women, holding framed pictures of PBVM founder Nano Nagle and Saint Brigid, blessed the clinic with incense, water, and candle.
Dianne Duggan, one of the adult leaders of SERVE volunteers, and Dr. Stella Ygonia, Cebu City Health Officer, turned over the key of the health center to Bajau Tribal Chieftain Felecito Asamsa and to the cluster leaders.
"Nalipay mi nga adunay health center dinhi sa among komunidad nga magamit namo kon adunay medical check-up og trainings bahin sa panglawas (We are glad that we have a health center where we can hold medical check-ups and trainings on health and wellness)," Rosalita Jamare, Bajau cluster leader and health in-charge, said.
The activity was attended by private and public sector partners, such as the representatives from the Committee of German Doctors for Developing Countries (German Doctors), Cebu City Government's City Health Office (CHO), National Commission of Indigenous People (NCIP), and SERVE volunteers from Ireland representing Misean Cara.
SERVE volunteers rendered their service to the Bajau community for almost three weeks from July 13-August 13. They helped in the production of Inter-locking Compressed Earth Blocks (ICEB), perimeter fence preparation, and school tutorials with the pre-schoolers, out-of-school youth, and PBVM student scholars.
The volunteers had the opportunity to know the Bajau culture through a series of games.
BIAD-P continues to support the Bajau community through provision of basic social services in collaboration with various stakeholders. The project is in partnership with Presentation Sisters of Blessed Virgin Mary, University of San Carlos-College of Architecture and Fine Arts, and the Cebu City Government.
The project aims to effectively transform the Bajau community into a progressive, self-reliant community by developing their capabilities to live and work with dignity, to participate in development, and to improve their lives.
BIAD-P is a project under the Integrated Development focus area of RAFI, addressing the foundations needed to develop successful communities. Its other focus areas include Micro-finance & Entrepreneurship, Culture & Heritage, Leadership & Citizenship, and Education.