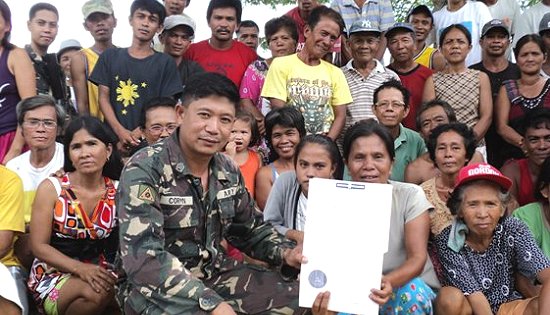 Squad leader Sgt Corpin with Mrs. Josefina Tolerrosa, president, and other members of the Taglawigan Farmers Association during the handing over of certificate of registration at So. Crossing, Brgy. Taglawigan, San Isidro, Leyte on 23 May 2013.
Newly registered associations await projects, assistance
By 19th Infantry Battalion, 8ID PA
May 26, 2013
KANANGA, Leyte – The 19th Infantry Battalion said the military will continue to assist the fisher folks and farmers groups of Leyte's Calubian and San Isidro towns until projects are implemented.
Lt. Col. Joel Alejandro Nacnac, commanding officer of 19IB, revealed that priority projects were finally identified and agreed upon by the members of said farmers and fisher folks associations when consultation was made by an eight-man military envoy in the hinterland barangays of Calubian and San Isidro this week. Sustainable means of livelihood for farmers and fisher folks and water and electrification systems are among the priorities of the said groups.
The envoy was also tasked to formally hand over the much-awaited certificates of registration of the said associations which were issued by the Department of Labor and Employment-Western Leyte Field Office based in Ormoc City.
Mr. Ruben Roche, president of the Taglawigan Fisherfolks Association said the certificate of registration issued by DOLE is already an assurance that appropriate government projects and funds may be downloaded to the association.
Roche likewise expressed his gratitude to the 19th Infantry Battalion and 802nd Infantry Brigade under Col. Rafael Valencia who initiated efforts and resources to fast track the release of the associations' certificate of registration.
Lt. Col. Nacnac said that these newly registered associations were formerly under the "Samahan sa Mag-uuma sa Calubian" (SAMACA) and "Kahugpungan sa Mag-uuma sa San Isidro" (KAMAS), both known to be organized by the New People's Army and struggled for parcel of land to till from the hacienderos.
"The military will see to it that the concerns of our farmers and fisher folks will be addressed immediately by appropriate government agencies," Lt. Col. Nacnac concluded.
Greenpeace commends Court ruling to stop field trials of Bt talong
By GREENPEACE
May 24, 2013
QUEZON CITY – Greenpeace welcomes the ruling issued by the Court of Appeals that granted the 'Writ of Kalikasan' to stop the field trials of Bt eggplant. In their decision, the court ordered the respondents to 'permanently cease and desist from further conducting Bt talong field trials' and 'protect, preserve, rehabilitate and restore the environment in accordance with the foregoing judgement of the court.'
"We commend the Court of Appeals for living up to its constitutionally-mandated role as protector of constitutional rights," said Daniel Ocampo, Greenpeace Southeast Asia Sustainable Agriculture Campaigner. "This landmark decision reflects that there are indeed flaws and lapses in the current regulatory process for Genetically Modified Organisms (GMOs) such as Bt eggplant which exposes our environment and health to unknown long-term consequences and does not establish their safety in any way," stressed Ocampo.
The Writ of Kalikasan is a legal remedy under the new rules of procedure for environmental cases. The 25-page decision highlighted that the decision was based on submissions from both the respondents and the petitioners. After more than a year of court deliberations, the Court of Appeals ruled in the favour of petitioners on the following compelling grounds:
1. The Precautionary Principle safeguards the environment from technologies that will have far reaching impacts when their long-term safety is still not ascertained;
2. The issue of irreversibility of releasing GMOs into the environment even during field trials and despite alleged compliance to existing protocols;
3. Vetting protocols should not be confined within the realm of science but should be brought into the realm of public policy since other sectors beyond the agricultural sector could stand to be affected as propounded by Dr. Ben Malayang, former member of the National Committee on Biosafety of the Philippines; and
4. Current field testing protocols looks at efficacy and agricultural performance and not safety for human consumption or environment.
Atty. Zelda DT Soriano, Greenpeace Southeast Asia Regional Political Advisor, pointed out, "the respondents could not prove wrong the fact that Bt talong field testing is an environmental case where scientific evidence as to the health, environmental and socio-economic safety is insufficient, inconclusive or uncertain and preliminary evaluation indicates that there are reasonable grounds for concern that there are potentially dangerous effects on the environment and human health."
Atty. Soriano explains that for the same scientific uncertainties and health concerns the governments of India, China, Thailand, Austria, France, Hungary, Poland, Germany, Luxembourg, Greece, Bulgaria, Ireland, Peru, Kenya, Tasmania, Australia, Egypt, Algeria, Angola, Benin, Malawi, Namibia, Zambia, Switzerland, Russia and Mexico banned the release of genetically modified crops into their environments and/or the importation for food and processing.
Ocampo added that the decision made by the Court of Appeals will have a resounding impact on the future of agriculture in the Philippines and how food production is done in our country. Ocampo argued that the court's decision affirms what Greenpeace has been saying for years about the flaws on GMO regulations in the country.
"These flaws in the government regulations have led to the sad state we are in – 62 GMOS are imported and fed to Filipinos without their knowledge and consent. While the environment and our farmers are exposed to 8 kinds of GMOs that are allowed for propagation without knowing their long-term impacts," stressed Ocampo.
DAR, NIA bat for irrigation projects to boost veggie production in 3 Leyte towns
By Philippine Information Agency (PIA 8)
May 24, 2013
SAN ISIDRO, Leyte – The Department of Agrarian Reform and the National Irrigation Administration in Eastern Visayas are eyeing the implementation of irrigation projects in order to boost vegetable production in three Leyte towns.
DAR Region 8 Director Eliasem Castillo said the idea came as a result of the clamor of the farmers in Barangay Daja Diot in this town for the construction of an irrigation project in the area.
Director Castillo disclosed that funding for this project will come from the Asian Development Bank (ADB) thru the second phase of the Agrarian Reform Communities Project (ARCP-2).
As NIA is preparing the design, ARCP Deputy Project Manager Herman Ongkiko called on the agency to beat the June 15 deadline for the project to be included in the June 30 National Sub-Project Approval Committee (NSAC) deliberation so it could be implemented the soonest possible time.
In answer, NIA Regional Manager Romeo Quiza promised to give priority to this project.
Director Castillo disclosed that at the moment the area is dependent only on rain resulting to a very low harvest.
He stressed that the project initially will accommodate the vegetable farms of the 90 agrarian reform beneficiaries (ARBs) who currently fetch water from a distance.
According to Ms. Mathilde Vergara, agricultural enterprise development coordinator, the ARBs started their high-value crops production in 2010 in partnership with the East-West Seed Company which adds to their income.
An irrigation system will be constructed in the area especially because the vegetable production of the Daja Integrated Primary Agribusiness Marketing Cooperative (DIPAMCO) is a priority project of DAR under the Agrarian Reform Communities Connectivity and Economic Support Services (ARCCESS), Director Castillo added.
He also disclosed that similar project is being proposed for the towns of Calubian and Villaba, also in the province of Leyte.
VP Binay disappointed over report of Comelec's failure to see to needs of elderly, PWDs
By OVP Media
May 23, 2013
MANILA – Vice President Jejomar C. Binay today expressed disappointment over reports that the Commission on Elections' failed to address the needs of senior citizens and persons with disabilities (PWDs) in the recently held midterm polls.
Binay was reacting to National Council on Disability Affairs executive director Carmen Zubiaga's claim that only two out of the 36,778 polling centers in the country were designated as pilot Accessible Polling Places for PWDs and the elderly.
"The Comelec should have been more proactive in ensuring that they are not disenfranchised simply because our polling centers cannot accommodate their needs," the Vice President said.
"This is clearly something that requires an explanation from the Comelec, considering that the poll body itself had issued resolutions that require polling centers to be more friendly to senior citizens and PWDs," he added.
Binay said he personally saw how some senior citizens had to walk up three to four flights of stairs to reach their precincts. He also cited media reports of senior citizens suffering accidents on election day.
According to the Vice President, the Comelec should now use the time leading to the next elections in 2016 to make the voting process for the disabled and the elderly easier and more efficient.
Binay also said that the growing number of PWDs interested in practicing their right to vote should not be neglected. From 300,000 registered voters in 2010, the PWD sector grew to 362,113 this year.
The Vice President also praised Filipinos who volunteered to help the elderly and PWDs vote on May 13.
"Their willingness to help the eldery and PWDs shows that the spirit of bayanihan is still very much alive in our country," he said.
DPWH implements P87.136-M disaster mitigation projects in Palo
By Philippine Information Agency (PIA 8)
May 23, 2013
PAWING, Palo, Leyte – The Department of Public Works and Highways in the province of Leyte is implementing several disaster mitigation projects amounting to more than P84 million in order to address the concerns of the people of Palo, Leyte.
DPWH 1st Leyte Engineering District Office chief Angel Sia said that one of the projects is the repair, rehabilitation and construction of drainage system along Government Center Road network, Maharlika Highway and Pawing-Campetic Road at Barangay Candahug to Barangay Pawing in the said municipality.
According to DE Sia, the project involves the installation of 772 linear meters reinforced concrete pipe culverts with a diameter of 0.910 meter, and 966 linear meters reinforced pipe culverts with a diameter of 1.220 meters.
Sia added that the project also entails the construction of 250 linear meters lined canal, 48 pieces manhole and stone masonry of 903 linear meters which is funded under the Various Infrastructures Including Local Projects for Calendar Year 2012.
The District Engineer disclosed that the project is under contract with Ferdstar Builers Corporation at a contract cost of P37,214,812.25 and is now 25% accomplished.
The project will minimize flooding and address problems on drainage system within the locality. It has been noted in the past years that the area is flood prone especially during the rainy season, DE Sia said.
Positive effects on the quality of life of the people in the area are foreseen because of the strict implementation of Republic Act No. 6685 or the labor generation program of the government, Engineer Sia added.
Another disaster mitigation project which the Engineering District is implementing in Palo, Leyte is the construction of flood control structure at Sitio Purisima, Barangay Guindapunan.
This project which was completed in April of 2013, entails 892.50 cubic meters structural concrete gravity wall forming part of the restoration and construction of flood control structure.
With an appropriation of P46,921,219.03 under the funding source Disaster Related Rehabilitation Project or Calamity fund for Calendar Year 2011 of the district, the project was undertaken by Yakal Construction, DE Sia said.
Completion of the project will finally minimize scouring of the pavement, address problems on flooding along the national roads and residential areas and improve the living conditions of the people in the area, Engineer Sia added.
TUCP commends actress Ai-Ai de las Alas for coming out
By TUCP
May 22, 2013
QUEZON CITY – The Trade Union Congress of the Philippines (TUCP) commends showbiz actress Ai-Ai de las Alas for coming out in public with her ordeal in the hands of her husband amid growing trend showing more women with the same situation prefer to keep silent.
"She is one brave woman. Ai-Ai's courageous act of coming out in the public and narrate her ordeal will embolden other Filipinas with the same fate but are poor and who felt powerless to come out in the open and confront a growing social problem," said Gerard Seno, TUCP general secretary.
Records by TUCP's affiliate Associated Labor Unions' National Committee on Women collated in November last year showed 12,948 Violence Against Women (VAW) cases were recorded by the Women and Children Protection Center (WCPC) of the Philippine National Police, 69.7 per cent of which were violations of the anti-Violence Against Children and Women law.
"Eight years after the Republic Act 9262 or Anti-Violence Against Women and their Children (VAWC) law was passed, violence against women continues to persist as one of the country's pervasive social problems," said Sis. Eva Arcos, ALU Vice President and general secretary of its national committee on women.
Reported cases under RA 9262 increased from 218 in 2004 to 9,974 cases in 2010. Similarly, VAW cases in all categories (including rape, physical injuries, sexual harassment, etc) increased an average of 26.9 percent annually from 2006 to 2010. The biggest annual increase (59.2 percent) was recorded in 2010 with 15,104 cases, compared with 9,485 cases in 2009.
"The data is very alarming", said Sis. Eva Arcos, General Secretary of the Associated Labor Unions National Committee on Women (ANCW). "The figures are not even conclusive as they are based only from what were reported to the PNP. There should be a system to consolidate VAW information from all sources, and to disseminate such for proper appreciation and intervention."
According to Arcos, many VAW victims still chose to keep their experiences to themselves "to protect the family from shame". She noted that even the National Demographic and Health Survey (NDHS) conducted by the National Statistics Office (NSO) has recognized that a greater challenge now is the lack of concrete information on the extent of VAW in the country as many of these cases go unreported.
"We must provide a listening, just and empowering environment to break the culture of silence. Mechanisms or structures must be in place to prevent and address VAW, with safety, healing and empowerment of victims and/or survivors and accountability of offenders as core goals. Information and education campaign on the law and its strict implementation, including effective operation of intervention structures like local-level women's desks are critical. The use of social media and global solidarity campaigns can help give human face to the extent and gravity of VAW," Arcos said.
Important bills to address children's issues may be passed this Congress, says "Bata Muna"
By Save the Children
May 22, 2013
MANILA – As the Commission on Elections (COMELEC) officially completed the proclamation of the 12 senators who topped the May 12 National Elections, children and children advocates of "Bata Muna: Bumoto para sa Kapakanan ng mga Bata" are hopeful that the 3 winning senators out of the 5 who met them during the series of pre-election senatorial dialogues last month will uphold their promises and give priority to bills that are crucial to children's rights and welfare in the 16th Congress.
According to "Bata Muna" campaigners the three senators-elect Paolo Benigno "Bam" Aquino IV, Francis "Chiz" Escudero, and Aquilino "Koko" Pimentel III gave reassuring responses when the children presented their agenda – which is a mix of policy and program issues both on the national and local level – during the dialogues.
Various issues that concern health and nutrition, children's participation in governance, education and child abuse were presented by the children and the advocates.
"The results of the children's dialogue with the senatorial candidates back then proved to be promising," said Deborah Carmina Sarmiento, Policy Advocacy Manager of Save the Children in the Philippines. "We are thankful that the three senators prioritized us in their schedules and spent time to listen to the children as they expressed their concerns."
"This has given us a ray of hope that the bills that we have been pushing for will finally see the light of day," Sarmiento added. "We are looking forward to working with them in terms of pushing for bills that are important to children."
During the series of dialogues, all three stood against child abuse and promised support on a bill that will ban corporal punishment among children. With their responses, hope springs anew among the "Bata Muna" campaigners as they anticipate the passing of the proposed Anti-Corporal Punishment (ACoP) Bill.
"Lamentably, the ACoP Bill is still pending in the Senate Committee on Youth, Women and Family Relations chaired by Sen. Pia Cayetano while its counterpart version in the House of Representatives was passed in the 15th Congress," explained Sarmiento.
"We saw new hope when Sen. Pimentel expressed openness in collaborating with us on measures that will prohibit corporal punishment. And it is good news that he is also willing to work on inclusive education for children with disabilities," added Sarmiento.
While all three believed that education is the key to development, they laid different ways in addressing education vis-ŕ-vis poverty.
Sen. Aquino stressed on the importance of providing world class quality of education, employment opportunities and entrepreneurship to young people while Sen. Escudero viewed education as a way for a poor child to get out of the cycle of poverty. Sen. Pimentel on the other hand said that he will focus on establishing a culture of science so that the country can produce inventions of high scientific value that will gain global recognition and eventually find a lucrative market.
But nonetheless, the three shared that they are looking at a system of education that will provide the opportunity for children to become producers and entrepreneurs and not just workers and consumers of goods.
When asked about their stand on the Sangguniang Kabataan (SK), Senators Escudero and Aquino expressed the need to reform SK so it will not only serve as a vehicle for children's participation in governance but also to make it an effective platform of governance that will address children's issues.
"Sen. Escudero for instance noted that there can be zero backlogs in classrooms for the entire country in three years if the PhP28 billion SK fund is used for this purpose," said Sarmiento.
On the issue of health and nutrition, "Bata Muna" saw the need to continue reaching out to lawmakers especially on the issue of chronic malnutrition and breastfeeding to address the high rate of stunting among children. Sen. Aquino, for one, promised that once elected, he will continue engaging with "Bata Muna" advocates and other stakeholders so that the issue of stunting among children will be addressed.
"Bata Muna" campaigners vowed that they will continue engaging with these three senators and with other senators as well and provide technical support if needed so that bills important to children will see movement in the Senate. They will also expand their reach to the House of Representatives and to local officials.
"We are still hoping that the senators who did not dialogue with us have genuine concern for children and their issues and that this time around since they are no longer focused on getting a seat in the Senate, they will finally have time to talk and listen to the children," she added.
"Bata Muna" campaigners are hoping that lawmakers in the 16th Congress will finally use a child rights 'lens' and put children at the heart of their discussions on laws, budget and programs. After all, the welfare of the nation depends on the state of children.
Re-electionists win in E. Samar
By MEDORA NB QUIRANTE
May 18, 2013
BORONGAN CITY – The recently concluded 2013 midterm elections revealed incumbent leaders are favored by majority of the province's voters.
Liberal Party bets re-electionist Governor Conrado B. Nicart, Jr. and re-electionist Congressman Ben P. Evardone led in the polls and were proclaimed winners a few hours before midnight on May 16.
Nicart won by a margin of over 15,000 votes over challenger former Sulat mayor Javier Zacate.
Of the ten provincial board members elected, six are also incumbent officials: Atty. Byron Suyot, Joji Montallana, Atty. Celestino Cabato, Gorgonio Cabacaba, Jonas Abuda, Jenny Baldono.
Borongan City voters also re-elected mayor Maria Fe R. Abunda and running-mate Fidel V. Anacta, Jr.
All members of the city board who run for re-election also won: Napoleon Bebita, Dan Villarino, Aurora Anasarias, Estanislao Quelitano, and Jennifer Anacio.
In Dolores, the third largest town in terms of number of registered voters, re-electionist Mayor Emiliana Villacarillo enjoyed a landslide victory over challenger Franc Lucero.
Out of 20 local chief executives who ran for re-election, 15 were successful in getting another three-year term; among them, the incumbent governor's son Conrado U. Nicart III of San Policarpo and Zacate's wife, Virginia Zacate of Sulat.
Giporlos voters also re-elected Mark Biong whose father previously served as town mayor for three consecutive terms.
The COMELEC also proclaimed former provincial engineer Marcelo Ferdinand Picardal as vice-governor – a seat formerly held by now Guiuan Municipal Mayor-Elect Christopher Sheen P. Gonzales.
Despite precinct optical scan (PCOS) machine glitches, reported shooting incidents and transmission delays, the Philippine National Police in the province described the elections as "generally peaceful."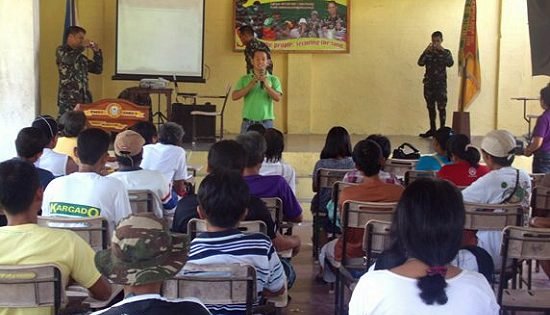 The participants of the training on "Cassava and Sweet Potato Production" at Brgy. Canhandugan, Jaro, Leyte on 16 May 2013.
19IB, VSU push training on Cassava, Sweet Potato Production in Jaro, Leyte
By 19th Infantry Battalion, 8ID PA
May 16, 2013
JARO, Leyte – Another batch of Leyte farmers participated 19IB and VSU's training on Cassava and Sweet Potato production at Brgy. Canhandugan, Jaro, Leyte on May 16, 2013.
The training which was attended by seventy-five farmers from the six barangays of Jaro, Leyte aimed to increase production of cassava and sweet potato as alternative means of boosting the daily income of subsistence farmers.
During the training, participants were oriented with the latest techniques and technologies on cassava and sweet potato production. Management and control of insect pests and diseases of rootcrops were also explained by experts from Philippine Rootcrops Research and Training Center based in Visayas State University in Baybay City.
Lt. Col. Joel Alejandro Nacnac, commanding officer of 19IB said the training was replicated purposely to strengthen the farmers associations in the town of Jaro, Leyte.
He further said that the training was pushed based on the recommendation of the unit's Bayanihan Teams in the area who found out lack of training and technologies as one of the problems raised by the farmers especially in hinterland barangays of Jaro, Leyte.
Lt. Col. Nacnac is now calling the attention of the other farmer's organizations in Leyte, to register their associations particularly in the Department of Labor and Employment (DOLE) in order to avail of the technical and financial assistance allocated for them by the government.