Waiver on secrecy tops Chiz's filed bills for 16th congress
By Office of Senator Chiz Escudero
July 1, 2013
PASAY CITY – Senator Chiz Escudero made good his campaign promise to pursue transparency in government when he filed as his first bill for the 16th Congress a measure requiring government officials and those seeking public office to make public their financial records through the signing of waivers on the secrecy of bank deposits to accompany the submission of SALNs.
Escudero had filed Senate Bill 16 (SBN 16) or the Submission of Waiver of Bank Deposits Bill, a legislative measure he filed way back in 2010 that seeks the mandatory signing of bank waivers. The controversy involving the illegal use of Armed Forces of the Philippines (AFP) funds prompted the filing of the bill.
"This is a transparency move I had advocated for several years ago and it is still an advocacy I am bent to pursue in this fresh mandate given to me by the people. When I went around the country during the campaign I promised our people I will continue pursuing measures to fight graft and corruption, I am only making good my pledge by re-filing this bill, my first legislative agenda in the 16th Congress" the senator said.
Escudero emphasized that "government service is a privilege and not a right, therefore everyone working in and those who plan to join the government should open their finances to audit".
SBN 16 stipulates that all public officials and employees, except those who serve in an honorary capacity, shall submit with the Ombudsman a written waiver in favor of the Ombudsman to look into all deposits of whatever nature with banks or banking institutions, both within and outside the Philippines, including investment bonds issued by the government of the Philippines".
The senator challenged his fellows in Congress to take the lead in the transparency move by enacting this bill into law.
He signed a similar waiver last April 25 when he filed his statement of assets and liabilities (SALN) before the Senate Secretary.
Aussie rights defender says Philippines a paradise for the wealthy and purgatory for the rest
Press Relase
June 30, 2013
QUEZON CITY – "Progress limited, some backsliding: needs to do better, but systemic barriers suggest will not improve," is how Australian Professor Gill Boehringer, Esq. viewed the three years of the Aquino government.
Prof. Boehringer, an expert on contemporary state and corporate abuse of human rights, has written a number of articles on Philippine lawyers, human rights and the Philippine elections and justice system.
In a statement, he illustrated the Aquino regime's track in the past three years, saying the Aquino administration "in order to maintain its anti-people program has dished up through an adoring media the self-serving and contentious message that the economy is doing really well, and receiving plaudits from round the globe; corruption is under attack; and the protection of human rights is improving and is far better than under his predecessor."
But in reality, he quickly added, "it (the Aquino government) has failed to act to effectively prosecute and sanction human rights violators." Prof. Boehringer also pointed to the government's failure "to prioritize Freedom of Information legislation which is essential for a genuine human rights regime."
In July, Prof. Boehringer joins human rights and peace advocates from all over the world who are attending the International Conference for Human Rights and Peace in the Philippines. Prof. Boehringer is set to address the conference on the U.S. government's Asian pivot and the role of Australia as its ally.
"Of course we know that (Noynoy Aquino's) real "bosses" (the rich and powerful) are not the ones who have to worry about their human rights being violated or ignored. The country is following the typical neo-liberal program whereby inequality worsens, hunger and poverty continue at high rates, citizens are driven overseas so their family may have a better income while unemployment, under-employment and child labor remain significant problems," he observed.
"In a country with a semi-feudal political-economic system generating a huge gap between rich and the masa, the former will fight in every way possible to maintain the structure of social, political and economic relations-including relations of coercion, violence and state/corporate terror- which have made the Philippines a paradise for the wealthy and purgatory for the rest," he ended.
Prof. Boehringer is a former Dean of Macquarie University Law School, Sydney, Australia, and Former Director of the Center for the Critical and Historical Study of the Common Law. He was a delegate in the People's International Observers' Mission during the Philippine elections in 2007 and 2010, and personally observed the 2013 elections.
DAR pours in over P31-M worth of support projects to increase productivity of Silago farmers
By Philippine Information Agency (PIA 8)
June 27, 2013
SILAGO, Southern Leyte – The Department of Agrarian Reform recently turned over more than P31-million worth of agricultural support projects to the local government unit (LGU) of this town.
Turned over for the recipient's maintenance were the communal irrigation system (CIS) with a total project cost of P24.8-million; the potable water supply (PWS) amounting to P4.3-million; and the common service facilities (CSFs) with a combined total amount of P2.2-million, all situated in Barangay Hingatungan, an agrarian reform community (ARC).
DAR Regional Director Eliasem Castillo disclosed that the irrigation system which is expected to supply water to about 153 hectares of rice fields in the area and potable water supply that will benefit more than 2,000 residents, were funded by the Japan International Cooperation Agency (JICA) thru the third phase of the Agrarian Reform Infrastructure Support Project (ARISP-3) under the Program Beneficiaries Development (PBD) component of the Comprehensive Agrarian Reform Program (CARP).
Meanwhile, the farm machineries which include four hand tractors; four flatbed dryers; and two threshers were funded under the Agrarian Reform Communities Connectivity and Economic Support Services (ARCCESS) for the agri-enterprise activities of the Hingatungan Agrarian Reform Beneficiaries Cooperative, the Regional Director added.
Director Castillo underscored that with irrigation and the necessary farm implements now in place, agricultural production in this area particularly rice is expected to improve in the succeeding cropping season.
Eventually, household income of the farmers where about 500 are agrarian reform beneficiaries (ARBs) will likewise increase, Director Castillo added.
These projects will greatly contribute to the National Rice Program of the Department of Agriculture in attaining rice sufficiency at least in this province, the DAR Regional Director said.
PROGAY supports US Supreme Court approval of marriage equality
By PROGAY Philippines
June 26, 2013
QUEZON CITY – The Progressive Organization of Gays in the Philippines (ProGay) lauded today's landmark decision on two cases brought before the Supreme Court of the United States (SCOTUS) to bestow equal rights to American same couples in 12 states and the District of Columbia to enjoy marriage rights, adding that much remains to be done before full equality can be guaranteed for lesbian, gay, bisexual, and transgender (LGBT) citizens in other states where there is still no legal rights to marry.
ProGay said the decision to honor family rights to same sex couples by declaring the Defense of Marriage Act (DOMA) as unconstitutional is historic and auspiciously timed with the 44th anniversary of the Stonewall Uprising of New York City, the LGBT community's watershed event in the street battles for gay rights. DOMA was passed 17 years ago by Congress under the presidency of President Bill Clinton and defined marriage as a union of a man and a woman.
"The SCOTUS rulings can inspire LGBTs and their allies in many countries around the world to advance human rights," said Clyde Pumihic, spokesperson of ProGay, which is preparing for a gay pride parade this week in Baguio City to mark the 19th year of the first pride march in Asia and the Philippines.
The SCOTUS also dismissed Proposition 8, California's same-sex marriage ban which reinstates marriage equality for 18,000 couples wed in 2007 and all other couples who plan to marry. Both rulings provide many legal benefits including tax breaks, hospital visitation rights, and parenting choices.
ProGay congratulated the American LGBT community as same sex couples can have more legal basis to repeal unequal laws in 50 states, especially California, which can now marry gays next month. "Marriage equality will not ruin heterosexual marriages and family, and in fact will even strengthen marriage."
ProGay also expressed regret that the Catholic Bishops Conference of the Philippines or CBCP is exerting political influence in getting a popular gay-themed soap opera "My Husband's Lover" suspended by the country's television review board. "Our dear bishops should appreciate that the moral of that TV show is about letting gay men make correct decisions to love their fellow gay men and not be forced into loveless marriages enforced by culture."
Philippine LGBT rights activists have been fighting for two decades now for legal rights, and has been pushing for the enactment in Congress of a law that bans discrimination based on sexual orientation and gender identity.
VP Binay - criminal cases can be filed in PHL vs labor staff in "sex for flight"; hails courage of OFWs who testified
By OVP Media
June 26, 2013
MANILA – Vice President Jejomar C. Binay today said administrative and criminal cases can be filed in the Philippines against labor and embassy staff if incidents of sexual harassment, rape, abuse or maltreatment happened inside the Philippine embassy compound.
Binay said the embassy is considered an extension of Philippine territory. If the offense was committed outside the embassy grounds, then the host country has jurisdiction and the Philippine government is duty-bound to extend legal help to complainants.
"Maaari silang sampahan ng administrative at criminal charges at makakapag-proseso lamang tayo ng criminal charges kung nangyari ang krimen sa loob ng embassy," Binay said.
"Ang embassy ay itinuturing na bahagi ng Philippine jurisdiction. Kapag sa labas ng embassy nangyari ang krimen, saklaw na iyon ng host country. Maaari pa ring magsampa ng kasong kriminal ang biktima pero iyon ay ipo-proseso na sa lugar kung saan nangyari ang krimen. Ang magagawa ng ating gobyerno ay tulungan ang biktima para ipaglaban ang kanyang kaso," he added.
The Vice President cited the women who testified against some labor officials for their bravery, and urged other victims and witnesses to the "sex for flight" scheme to come forward and submit formal complaints and testimonies.
He assured them of protection and vowed that government will prosecute labor and embassy staff found to have committed acts of sexual abuse, harassment, rape or maltreatment.
"Huwag kayong matakot. Ang dapat matakot dito ay 'yong mga nang-agrabyado. Isumbong ninyo agad sa amin ang anumang kaso ng pang-aabuso nang sa gayon ay magawan agad namin ito ng aksyon," Binay said.
"Determinado ang ating pamahalaan, sa pamumuno ni Pangulong Aquino, na protektahan ang kapakanan ng ating mga OFW. Kaya makakaasa kayong tutulong kami sa pagtugis sa sinumang mananamantala sa inyo," he added.
The Vice President said the swift action of Foreign Affairs Secretary Alberto Del Rosario is proof that the administration is determined to address the issue. He welcomed Del Rosario's order to expand the probe to include all other posts.
Binay also said he was informed that the Ople Policy Center, a non-government organization that directly assists distressed Overseas Filipino Workers (OFWs), is also in touch with two former OFWs who are prepared to file complaints of sexual harassment against certain labor personnel.
While these OFWs are not involved in the "sex for flight" controversy, Binay said their experiences at the shelters would help in making sure that what they experienced would not happen to any other OFW seeking refuge in these half-way houses.
RSOG nabs suspect in rape of 15-year old student
By RPCRD, Police Regional Office 8
June 25, 2013
CAMP KANGLEON, Palo, Leyte – The elite unit of Police Regional Office 8 (PRO8) arrested recently an 18-year old out-of-school-youth suspected of raping a 15-year old high school student in 2011 in Dulag town in Leyte.
Eastern Visayas police director PCSupt. Elmer Ragadio Soria said that Anthony Ibañez y Capungcol alias Klote, of Brgy. Alegre, Dulag town, was arrested in a manhunt operation conducted by PRO8's Regional Special Operations Group (RSOG) Saturday evening at the outskirts of said village.
The arresting team, led by SPO4 Ananias Monteroso, was armed with an alias warrant of arrest issued by Judge Rogelio Sescon of Regional Trial Court Branch 7, Tacloban City issued on July 11, 2012.
Accused is facing charges of Forcible Abduction with Rape in criminal case number 2012-04-295 filed by a 15-year old girl in 2011.
Follow-up manhunt operations conducted by same police team also led to the arrest of Ibañez' co-accused, identified as Emily Peleño, 19, charged as an accomplice in same crime.
Judge Sescon did not recommend bail bond for the suspects' temporary liberty.
Accused Ibañez was a suitor of the then 15-year old victim, Erika (not her real name), who was then a third year high school student.
Erika informed the Women and Children Protection Desk (WCPD) investigators of Dulag police station that she was about to report to her classes in the afternoon of November 22, 2011 when she chanced upon Ibañez and Peleño who invited her to go with them to Brgy. Rawis since Peleño, her friend, will get money from her mother who resides in said place.
While hesitant at first, Erika went with the two and they arrived in the area at past 4:00 P.M. After Peleño talked with her mother, they crossed the river and stayed in a nipa hut owned by Peleño's friend.
The suspects then have a drinking spree and despite the victim's pleadings that she be allowed to go home as her mother was waiting for her, the two ignored her until evening comes.
Erika said that she got tired of insisting so she decided to sleep. At around midnight, she was awakened upon sensing that suspect was on top of her. She resisted but Ibañez succeeded with his evil motive.
The victim was fetched by village officials the following day wherein they immediately filed a complaint to the police.
"With the suspect's arrest, the victim will finally get the justice she deserves," Soria said.
Soria added that PRO8 had intensified Manhunt: Charlie, the police' campaign against persons wanted by law for them to face trial on the cases filed against them.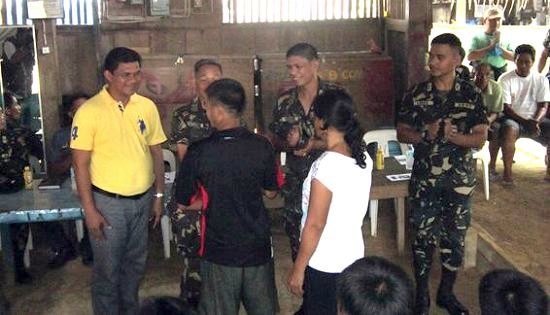 Lemuel Moreno alyas Ka Kulas and his wife Nida Lugares Moreno alias receives P50,000.00 from Col. Mario G Lacurom INF (GSC) PA, Deputy Brigade Commander, 803Bde, 8ID, PA at Brgy Trojillo, Bobon, Northern Samar as remuneration for the two (2) Cal .45 Pistols that they surrendered as part of the AFP's Gun for Peace Program. Also present during the activity is Mayor Rene Celespara of Bobon, LTC Noel A Vestuir (INF) GSC PA, CO, 20IB, 8ID, PA and 1LT Andrew M Linao, CO, BCO, 20IB, 8ID PA.
NPA commander encourages comrades and followers to surrender
By 20th Infantry Battalion, 8ID PA
June 24, 2013
BRGY. MAGSAYSAY, Lope de Vega, Northern Samar – Lemuel Moreno alias Ka Kulas, the squad leader of Seksyon Komite 2 (SK2), Front Committee 2 (FC2), Northern Samar Provincial Party Committee (NSPPC) of the Eastern Visayas Regional Party Committee EVRPC who surrendered to 20th Infantry (We Lead) Battalion, along with his wife, Nida Lugares Moreno alias Mina, Medical Offr, SK2, F2, NSPPC, EVRPC last June 13, 2013 urged his comrades and followers to surrender.
Ka Kulas calls for his comrades and followers to return to the mainstream of society during the giving of immediate cash assistance amounting to Fifty Thousand Pesos (P50,000.00) as part of the remuneration after he turned over two (2) caliber .45 pistols, in a simple ceremony held yesterday, June 23, 2013 at 10:00 o'clock in the morning at Barangay Trojillo, Bobon, Northern Samar.
The said amount was given in consonance the AFP's Gun for Peace Program that provides corresponding amount to former rebels who turn-in firearms as a manifestation of their commitment to leave the revolutionary organization and to live decent and normal lives with their families.
According to alyas Kulas, he decided to surrender after knowing of the program from some of the residents in their former mass base barangays in the hinterlands of Bobon, Northern Samar.
Due to the continued presence of government troops in the barangays that conduct peace and development activities, alyas Kulas and his group has experienced hardships of hiding, moving from one place to another that forced him to realize the futility of his continued struggle since the mass base that they considered their own, are no longer supporting them. According to Kulas, "Makuri an sige tago kay diri na kami ginsusuportahan sa mga tawo nga gin lalauman namon nga mga masa sa mga barangay (It is hard to keep on hiding since the people that we believe to be our mass base would no longer help us in the barangays).
LTC Noel Vestuir, the Commanding Officer of 20IB on his part said that, due to the continued combat and social pressure exerted by the government troops and with the collaboration and support of all the stakeholders to include the people, the movements of the armed NPAs in the hinterland barangays were restricted and they could no longer hide in the barangays since the people are already tired of their extortion activities and supporting the revolutionary movement.
Vestuir said, "With the continued and concerted efforts of all our peace and development stakeholders, we were able to bring the programs and services of the government up to the remotest barangays in the area. This has allowed the people to realize that indeed the government is sincere in bringing peace and development in the barangays unlike what the NPAs are doing, they took advantage of the people's hard earned resources to support their revolutionary struggle".
Vestuir also calls for the remaining NPA regulars to lay down their arms and avail the current programs of the government that could help them as they return to the mainstream of our society. He also thanked the stakeholders as well as the people in the barangays for their continued support to the ongoing peace and development efforts of Philippine Army in the area.
"We will welcome and help those who choose to live in peace, but we will not hesitate to use the full might and strength of our forces to those who continue to threaten the people in the barangays that we are bound to serve", Vestuir concluded.
6 agrarian scholars in EV earn college degrees
By Philippine Information Agency (PIA 8)
June 22, 2013
TACLOBAN CITY – Six more recipients of the Programang Agraryo Iskolar (PAI) in Region-8 joined thousands other graduates who completed college education this school year.
Department of Agrarian Reform Region 8 Director Eliasem Castillo said that three of the scholars graduated from the Eastern Samar State University (ESSU) main campus while the remaining three from the Visayas State University (VSU) Tolosa, Leyte Campus; Southern Leyte State University (SLSU) Tomas Oppus campus and Naval State University (NSU) in Naval, Biliran.
The three graduates from ESSU in Borongan City all took up a degree in Engineering.
Grace Lumaghos and Christian Jay Lopido finished Civil Engineering, while Andrie Caspe completed a course in Electrical Engineering.
Meanwhile Gabriel Abad, Alma Labastida and Aigy Rose completed BS Fisheries (VSU), BS in Information Technology (SLSU) and BS Education (NSU), respectively.
All six graduates are dependents of agrarian reform beneficiaries (ARBs) which made them qualified to avail of the PAI offered by the Department of Agrarian Reform (DAR) as among the numerous support services extended under the Comprehensive Agrarian Reform Program (CARP).
According to Director Castillo, in Eastern Visayas, there were 108 recipients of the scholarship program who have earned college degrees as of April of this year.
DAR started offering this scholarship program to deserving children of ARBs during the school year 2003-2004.
Since then, 2,494 recipients have already graduated from various courses throughout the country as of 2012.
Director Castillo added that many of them have landed better paying jobs in the region and in Metro Manila.
Castillo further disclosed that in 2009, Mr. Omar Jayag, one of the PAI recipients in the Region, placed 5th in the Agricultural Engineering Board exam.
Currently, Jayag is in Belgium taking up advanced studies, Mr. Jose Alsmith Soria, DAR Information Officer said.
VP Binay: Inaction on illegal settling is an offense
By OVP Media
June 22, 2013
PASAY CITY – Vice President Jejomar C. Binay said inaction by local officials on the proliferation of illegal settlers in their jurisdiction can be considered an offense.
"Local government official ako nang matagal. Alam namin na may responsibilidad kami diyan. Inaction is an offense," he said during an interview Friday at the Coconut Palace.
Before becoming vice president, Binay served Makati City as mayor for 24 years. He currently chairs the Housing and Urban Development Coordinating Council.
Binay warned that officials who allow the number of illegal settlers to balloon in their area may be meted with administrative sanctions.
"I suppose at least may warning 'yon. Kasi inaction 'yon, 'yong tolerance," he added.
The Vice President, however, acknowledged that the country's policy on putting an end to illegal settling had been inconsistent.
"Noong 1986 hanggang sa '90s, ilang beses binago. Oops, extension ng one year. Oops, walang tatanggalin. Oops, 'yon nga, may eleksyon. May mga nangangako na hindi kayo (paaalisin). Gagawan ng paraan, etcetera, etcetera. Yun naman ang mga nakaantala dun," he said.
Binay stressed that the government should be firm in its policy on how to address the issue.
He also appealed to prospective barangay official candidates not to use the elections in October to tolerate illegal settling.
As of 2011, Metro Manila has 104,219 informal settler families (ISF) living in danger areas, primarily waterways.
President Benigno Aquino III had approved a P50 billion budget for the housing program for ISFs.
The program, which is intended to be completed by 2016, provided for in-city, near-city and off-city resettlement.
Currently, the National Housing Authority has 10 multi-level low-rise housing projects in various stages of development and construction that will generate some 6,426 housing units for Metro Manila ISFs.
Sen. Pia lauds passage of Universal Health Care Act
By Office of Senator Pia S. Cayetano
June 22, 2013
PASAY CITY – "No one should be left behind."
This is the underlining philosophy of the new PhilHealth Law (Republic Act 10606), says its principal sponsor in the Senate, Sen. Pia Cayetano, Chairman of the Committee on Health and Demography.
"With this new law, we seek to identify and enroll the poorest segments of the population, numbering to about 25 million Filipinos, under the National Health Insurance Program."
"In the past, there was a gap in the law because the poorest of the poor were not covered by PhilHealth unless their local government units or their Congressmen sponsored the payment of their premiums. Only those who could afford to pay the premiums were able to benefit from Philhealth and these would primarily be the formally employed," Cayetano said.
"Unfortunately, not all LGUs had the capability to sponsor the PhilHealth enrolment of their poor constituents, while other LGUs do not see this as a priority at all. And so we were left with a situation where the poor were, by-and-large, left out of the national health insurance system when they should be its primary beneficiaries."
"This measure addresses a shortcoming in the implementation of the original PhilHealth law (RA 7875) by ensuring that the poorest of the poor, including the indigents, unemployed, self-employed, and those from the informal sector, would be enrolled in PhilHealth and would actually benefit from its programs and services," she added.
To give effect to the law's provision on mandatory coverage, she said premium contributions for indigent members would be "fully subsidized" by the national government and appropriated in the Department of Health's budget under the annual General Appropriations Act approved by Congress.
Other vulnerable sectors include the lower bracket of the informal economy, such as street hawkers, market and ambulant vendors. Although these low-income groups may not necessarily qualify as poor in the means test of DSWD because of certain factors, their incomes are still not above the poverty line.
"Their membership shall be entirely subsidized by their respective LGUs, or through cost-sharing mechanisms between or among the LGUs, legislative sponsors (senators, congressmen) and other sponsors, including the national government," explained Cayetano.
"The difficult task of identifying and classifying indigent and low-income beneficiaries will be undertaken by the DSWD. But the agency need not start from scratch since it has been implementing the Conditional Cash Transfer (CCT) program for several years already."
Consistent with its principle of universality and compulsory coverage, she said the law mandates LGUs to pay for the premium contributions of all barangay health workers, nutrition scholars, and other barangay workers and volunteers; for employers to shoulder the premium payments of their household workers (also in accordance with the 'Kasambahay Law'); while DSWD will shoulder the contributions of orphans, abandoned minors, out of school youths, street children, and battered women under its care or those of its accredited non-government organizations.
Lastly, members in the formal economy and their employers, as well as government employees and the government agency they work for, shall continue paying the same monthly contributions as provided for by law.
The National Health Insurance Act of 2013 was signed into law by President Benigno S. Aquino III on Wednesday (June 19).